Head of Household Winner – Holly
Have note are: Jessica, Nicole, and Sam
Nominations are: Sam and Nick Kat
Power of Veto Players are – -Holly, Sam, Nick, Cliff, Jessica and Tommy
Power of Veto holder – Nick
Power of Veto Ceremony – Nick used the POV on himself Holly nominated Kat in his place.
Powers in the game
Christie – Panic
At any of the next four Power of Veto Ceremonies, Christie can turn the Golden Power of Veto into the Diamond Power of Veto and allow the current veto holder pull someone off the nomination block, but instead of the Head of Household naming the replacement nominee, the veto holder names the replacement.
Field Trip
America votes for 3 houseguests to go on a field trip that will put one houseguest's game on the line
Grab your live feeds —-> BB21 Live Feeds Subscription Link
Rank your houseguests —-> Big Brother 21 Ranking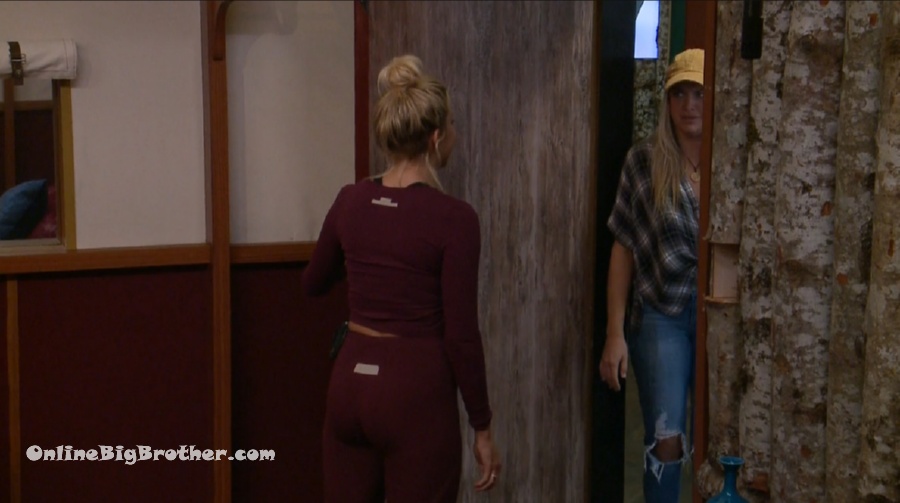 Kat says she's making Cookies for her campaign "but don't tell anyone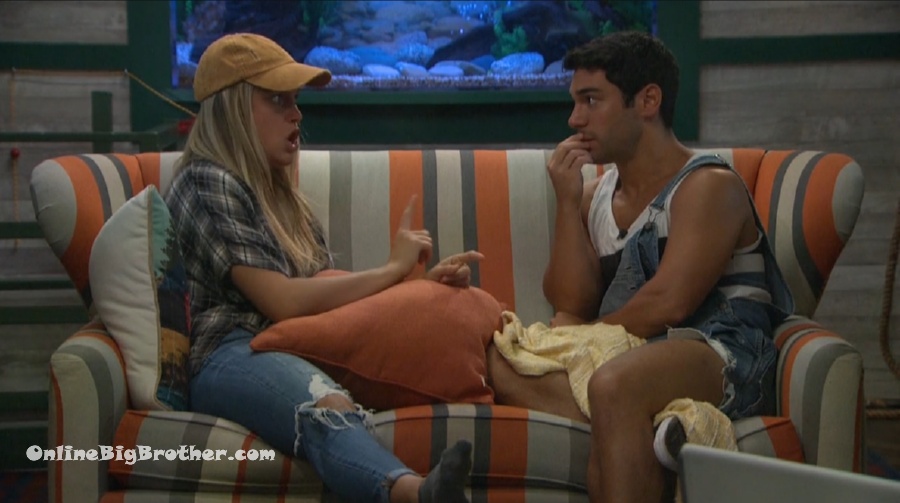 1:16 pm Christie and Tommy
Tommy says Jack asked him if he trusted Jackson. Tommy told him he did. (hard to hear them because of ambient noise and whispering)
Tommy goes on about his conversation with Jack where Holly and Jackson making their own decisions ow came up.
Tommy warns that Jack is a gamer.
Christie about winning HOH "I'm not opposed to letting Cliff win or Like Jess Or Nicole None of them are putting us up"
Christie – I spoke to Cliff yesterday he's not putting us up like he's not
Christie – I don't want to win
Tommy – me neither
Christie – if one of them put Say, Holly or Jackson up or Jack and Jackson up. I'm not using my power
Christie – eventually some of us have to go
Tommy says they still can make it with the 6 "I think we can take them down"
Christie – Cliff thinks he's coming with us me and you (she smiles)
Christie – which is fine I don't care he won't put us up unless someone else takes a shot at him it's not our responsibility
Christie and Tommy agree they won't put Cliff up
Christie about Cliff – He knows this game so well, he knows every blog every podcast
(he never mentioned us)
Christie – I would rather see him with the 6 of us rather than Michie
Christie – I don't trust Michie and Holly in this game.
They trust Holly but not with Michie in it.
Christie mentions that Sis was telling Sam information.
Christie brings up Nick telling her that she's playing a great game everyone in the house trusts her, "He goes not 1 person here if they win HOH next week would put you up"
Christie – I'm like thank you… I don't want to be known
Tommy – he told me yesterday that the only people in the 6 he trusts is me and you
Christie – I don't think he'll put us up
Tommy – I want Nick to take out the boys
Christie says she can see Nick going up as a pawn with Nicole
Christie – do you want to win this next one?
Tommy shakes his head.
Christie says she wants them playing in the double because Jackson will take a shot at her once her power is gone.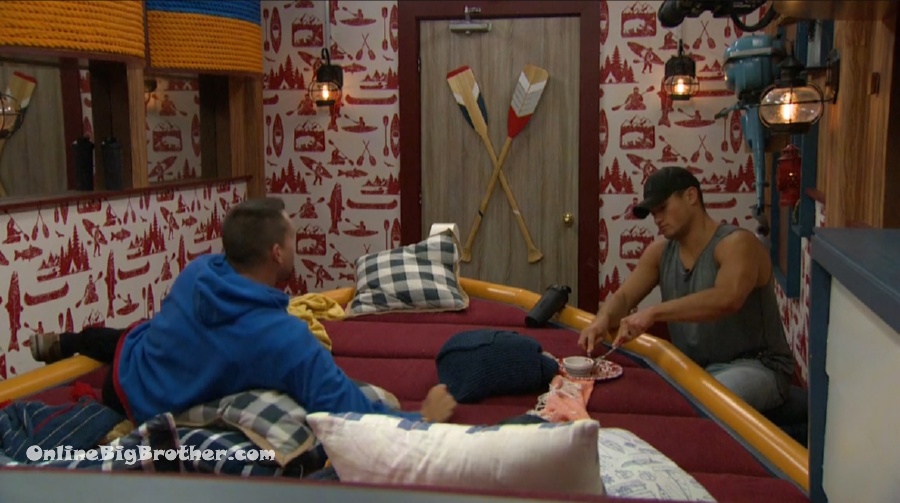 1:49 pm sam and Jackson
Sam has been doing the rounds campaigning to everyone.
Sam tells Jackson that he likes him. Jackson says he likes Sam
Sam – I do like your game .. you have a very good social game and a good social game without even talking much
Sam – I can't offer you much you're really good now .. but in the future numbers get tight
Jackson says the easy eviction is now done, "you're not an easy eviction, Kat's not an easy eviction. This is not an easy week this is now Big Brother this is now getting hard"
Jackson – personally I would rather have you here. This wasn't my deal to have you up against Kat
Jackson – it's two or three weeks earlier than I wish for you to be on the block
Sam – I never went after you guys or talked about, Cliff did I get that. I never broke trust
Jackson – you've never done anything directly to me
Sam – I haven't done anything directly to anybody
Jackson says there are only a couple people pushing for Sam "I'm curious as to why"
Sam – me to
Jackson – is it because you actually done something or do you have sh1t on them they don't want getting out
Sam – I've been in a room where conversations were had and names were dropped
Sam says he knows for fact names were dropped but he can't confront the person because he's being labeled untrustworthy and a liar ]
Sam – If I brought it up it would be wiped under the slate
Jackson says if he was a person making alliance all throughout the house and waiting to see which one panes out to jump ship to he would be nervous about the one that didn't work out coming to surface.
Jackson says people may be worried about the truth coming to the surface so maybe someone is trying to make Nick and Sam look like liars so when they spill the beans no one will believe it.
Jackson – if I was in a position where I was scheming with both sides of the house and realized one half wasn't doing as well as the other I would try to eliminate the other half
Jackson – there's some people that are really pushing y'all as liars (Christie/Tommy)
Sam – I know who they are
Sam says one of those people has "Dropped hardcore names" and that same person is calling him out for dropping names but since that person has labeled him a liar he can't say anything
Jackson – I would rather you here than go home
Sam brings up that information he gave to Jackson/Holly in confidence got back to Christie
Jackson – I didn't say sh1t
Jackson says it's Holly's HOH and he supports her 100% he's not a fan of Kat being on the block he would rather have seen other people
Jackson – the way things look right now you are probably going to go
Sam says he was going to "shake the sh1t" in the BB house to hopefully put cracks in the six
Sam – just so you know whether you believe it or not this is what happened
Tommy interrupts tells them
Tommy – can you guys pause campaigning while we do rehearsals
The stupid dance rehearsal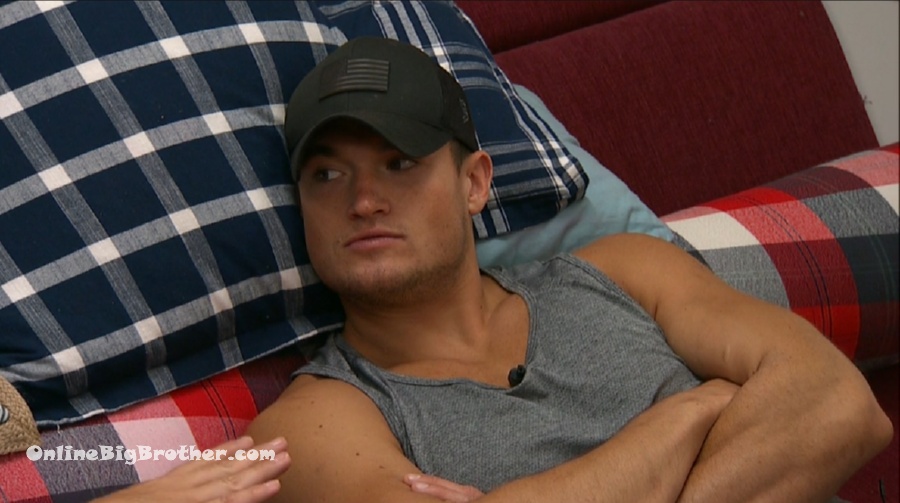 2:30 pm SAm and Jackson
Sam – have you noticed people are nervous about me being in here
Sam says he's going to give Jackson all the dirt he can use it after he's gone but don't name drop him because he still wants to be friends with everybody outside the house
Sam – You know I'm talking about Christie right
Jackson – yeah
Sam – you're name has come up before not as much as jack, Tommy really hasn't talked about it but Christie has She talked about it with me and Nick a lot about going after Jack she doesn't think she can beat Jack
Sam says when Christie would come to him and Nick they really believed her "Bella would tell us don't believe her she's going to backstab you. she's friends with all of them"
Sam – we're like NO we're having DEEP talks with Christie this is legit
Sam starts going over Cliff's HOH when Cliff told him he wants to make a big move, "Jack and Michie"
Cliff asks Sam to talk to the house "Christie and Tommy.. he said alright. he said can you talk to them and see if they will back me if I put up jack and Jackson"
Sam – so .. that's when I left the HOH and met with Christie
Sam says Christie was panicking that she was going up. Sam told her jack and Michie.
Sam – she's like I thought he was putting me up tit for tat.. and I was like no he wants to work with us.. and by us. She's like OHH that's so good
Sam – I asked Cliff wants to know if he puts them up will you back him and she was like 100% if he wants me to vote out whoever he wants I will do it I'll be like his b1tch she goes I will do whatever he wants me to do as long as I don't go up
Sam – I said what about your power she goes it's not a big deal. I'm going to claim when Jack and Michie approach me I'm going to start flipping out that they are bullying me and pressuring me and then I will shut down and not use my power.
Sam – I was like OK that makes sense.
Sam goes on that the plan was to get out Jack and Christie was onboard.
Sam – long story short you then win the veto and Christie is forced to show loyalty to jack and use the power now.
Sam asked Christie what is she going to do she said that she's going to wait until they start talking to her about using her power then will claim they are peer pressuring her.
Sam – then the next day or next house. I touch base with her I asked are we still solid (not to use power) and she's like I don't know they are really pressuring me I hope I don't have to
Sam – I said what do you mean hope you don't have to I thought you said you weren't I told Cliff you weren't
Sam – she said If I don't they will know I am out to get them
Sam says it was that point where Christie flipped on them. She started telling people that Sam and Nick were bullying her to not use the power.
Sam continues the story of Christie telling people that Nick and Sam were peer pressuring her.
Jackson – Yup that is exactly what happened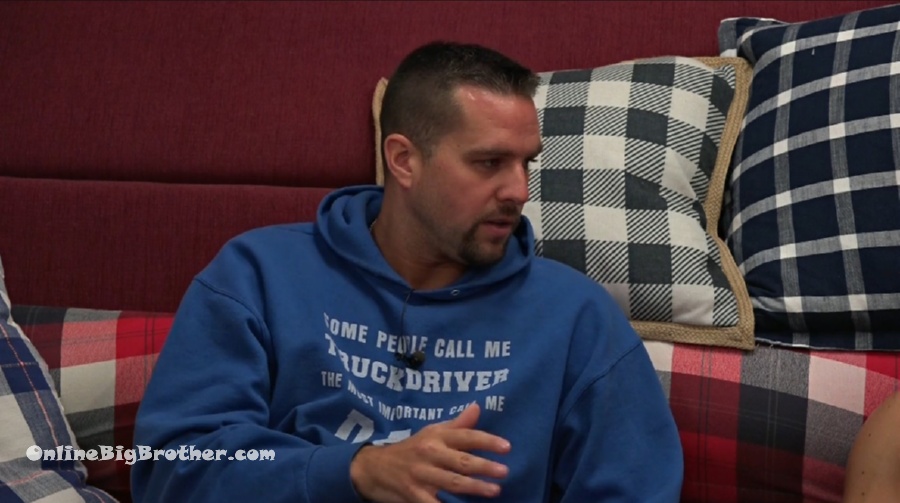 Sam says right now Christie is super nervous
Jackson – so Christie was all GUNG ho to get me or jack out
Sam – yeah. Mostly JAck
Jackson remembers back how Christie was acting "So that was all an act"
Sam brings up Christie flipping the entire script on him just to make him look bad.
Sam – she said I came and attacked her.
After about 20 minutes Jackson knows about the whole Cliff HOH and how Christie bamboozled Nick and Sam after Jackson won the POV. Before the veto win she wanted Jack out.
Sam says he caught Christie in a conversation with Cliff where she was pushing for Sam to be evicted saying the house wants it and Cliff was saying "I'll do whatever the house wants"
Sam adds that later he asked her what the house wants and she told him "I have no idea Sam I want you to stay so bad so bad but it's what Holly wants and Holly really wants you out either you or Nick so I have to do what the house wants"
Jackson – nope nope that's not the case at all
Sam – I've counted out 5 things .. (lies)
Sam – that's why she's freaking out she's scared I'm going to blow up
Jackson – what you just told me will stay but it will not be for nothing it will benefit the right people's games
Sam – why am I going
Jackson – Christie is pushing for you
Sam – right!!! couldn't that be a sign couldn't you push Jack off the record be like YO
Jackson – you want me to do that cause I will talk to him but you said to leave this here until you leave.
Sam – if this helps me stay that would be freaking good.. can you trust jack with that
Jackson – Jack's my boy
Sam – if there was a flipped and I stayed and Christie was blindsided I wouldn't care if sh1t hit the fan
Jackson – If I bring this up to jack he'll want to talk to you about it
Jackson – moving forward. If I told this to Jack and Jack is onboard would you and Nick be willing to work with Holly and myself and maybe even Cliff to get out Christie
Sam – well yeah dude. I told Holly we've never had a problem with you and Holly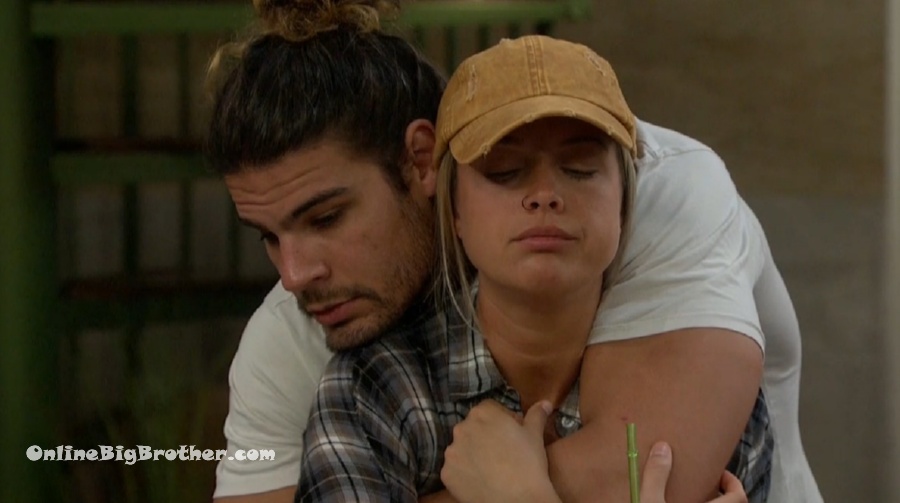 2:49 pm Christie
(the fuse is lit)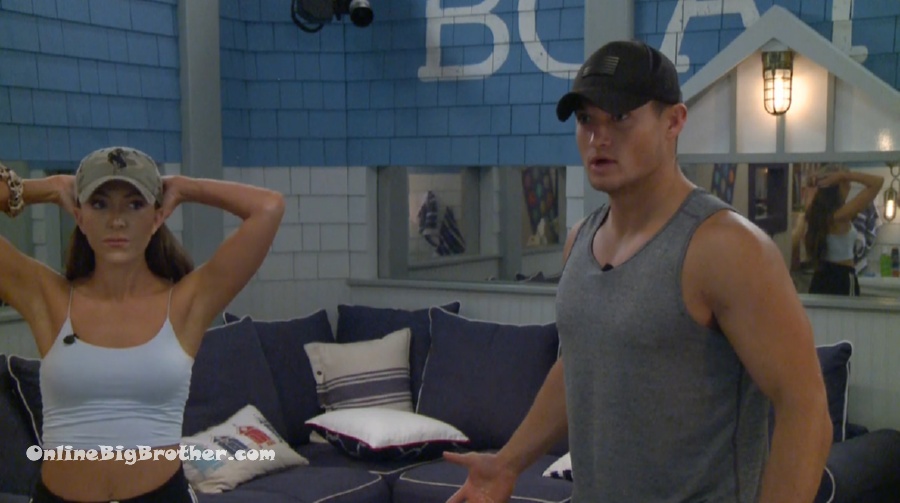 3:00 pm Holly and Jackson
Jackson – This is why I didn't want kat up there.
Holly – why didn't you tell me
Jackson – I'm not going to pressure you. This is your HOH .. Who has been pushing you, Christie!
Holly about kat – She cannot go home she cannot go home
Jackson – we gotta talk this is what my gut has been warning me.. all these question marks I just got everyone filled in.
Holly – the vote cannot f*ing flip .. it cannot flip ..
everyone else just hanging out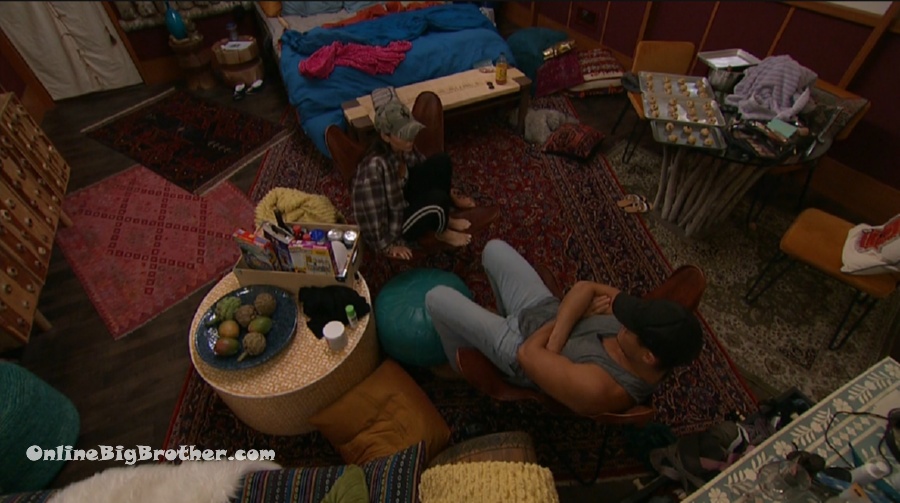 3:10 pm Holly and Jackson.
Jackson starts to fill her in with what Sam said.
Holly – this is the type of sh1t he needed to tell me before. I said to him if he told me serious things.
Jackson says sam will not come after them if he stays
holly – Kat cannot go home though
Jackson – this is why I wanted Nicole
Holly – F*****
holly says she wishes they had a chance to talk more
Jackson says he tried but Christie and all them were always up in the HOH
Holly says Kat doesn't trust Christie
Jackson – will kat put up Christie?
Holly – I don't know
After some talking, they decide to get as much information out of Sam but still have him evicted. Sounds like they want to try and get Cliff and kat to target the other side.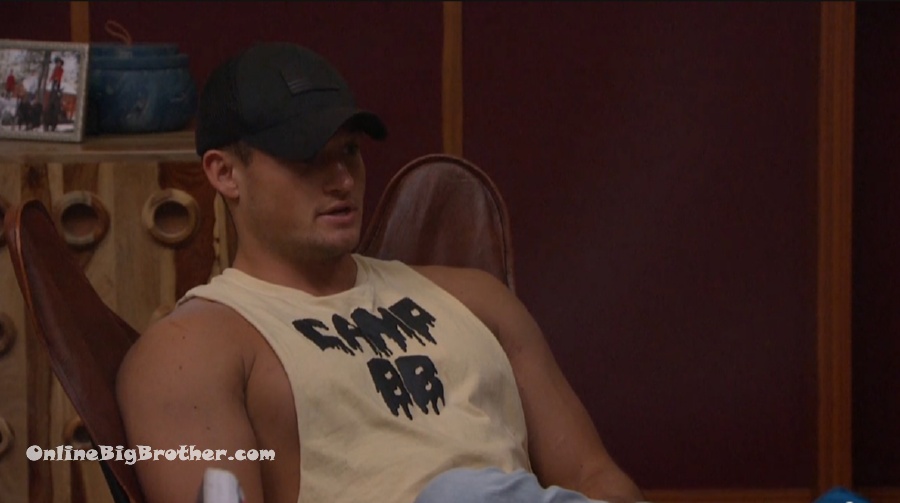 4:23 pm Jackson and Jack
Jackson filling Jack in on his talk with Sam.
Jackson – Christie was 1000% percent on board with voting you out
Jackson says Chrsiies told Sam when asked about the power – I won't use it I will make Jackson and Jack look like they are bullying me to use it
Jackson says Christie was forming an alliance with the other side of the house to cover her bases and was consistently mentioning Jack's name.
Jackson – everything adds up
Jack – why hasn't sis told me
Jackson – she tried to tell Holly but couldn't remember the details of it this took about 45 minutes of Sam telling me.
Jack says that Christie is doing something sketchy with SIS
Jack – I have confidence in my game that b1tch don't scare me
Jackson – I'm not scared of her
Jack – if she wins HO would she have the GAUL. I don't think she's shooting that shot that early
Jackson – she is forming people to do it for her
Jackson – she's been weird all week
Jackson – I f*ing knew we needed to put Nicole up why did Christie freak out so much? She knew if Nicole went up Sam could potentially flip the script on her and she could stay
Jack – of course
Jackson – if Kat goes up there's no way we're voting out Kat
Jackson says Christie may be doing all the dirty work she doesn't want to get caught so she makes other people seem worse than her
Jackson claims his gut has been telling him for weeks about Christie but he's buried it.
Jackson says Christie is trying to pull Sis away from Jack.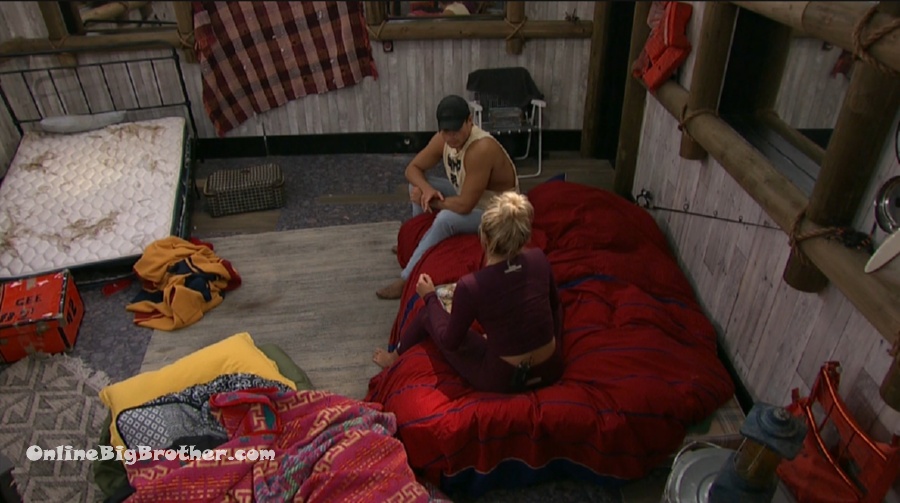 5:18 pm Jackson tells Kat she's staying everyone is voting out Sam.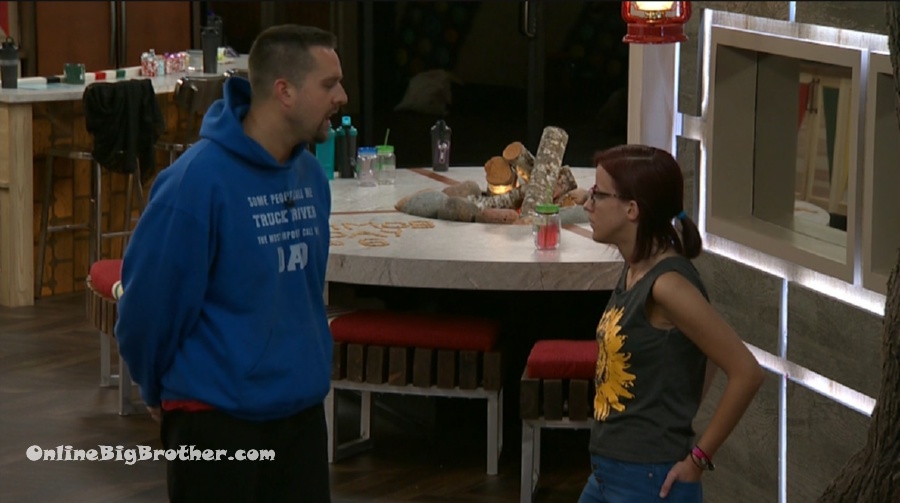 5:29 pm Sam and Nicole
Sam says Michie, jack knows about Christie. Sis knows but she's not supposed to.
Sam – we have a little secret thing.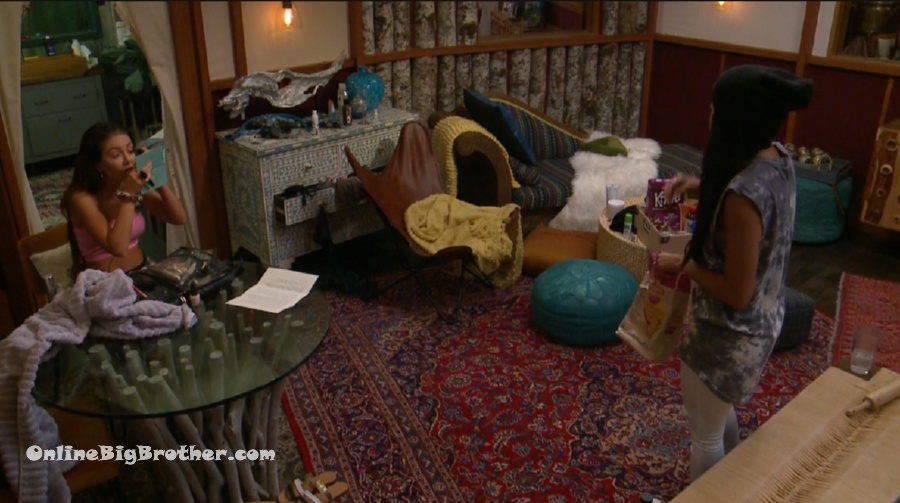 5:52 pm Holly and Sis
(Sam and Christie talked where he brought up the whole thing he's been spreading around. She ran up to the HOH after that conversation and gave her sh1t shooters a christie recap)
Holly about the Info from Sam "You believe it right"
Sis – I do but then Christie came up here and said she had to say whatever to him
Holly – She's trying to get ahead of it
Holly – do you know what Sam actually said to Christie
Sis – I can ask him
Holly – what if she knows that he's told them (Michie, Jack)
Sis – maybe Christie is really telling the truth
Holly – I don't know. I'm afraid she's not. She's worrying me a lot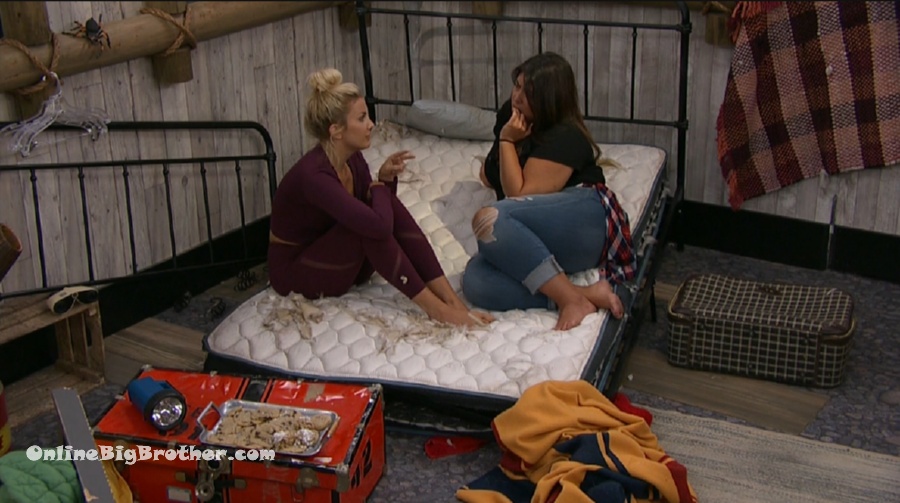 5:40 pm Jessica and Kat
Kat tells her that there's something going on with Christie she's rubbing a lot of people the wrong way.
Kat – Sam has Dirt on Christie
Kat – she was the one that wanted JAck and Jackson up with Cliff
Jess – no no … (Jess will never believe it her idols)
6:12 pm – 6:42 pm
Sam and Jack
Sam filling Jack in. "The full entire story"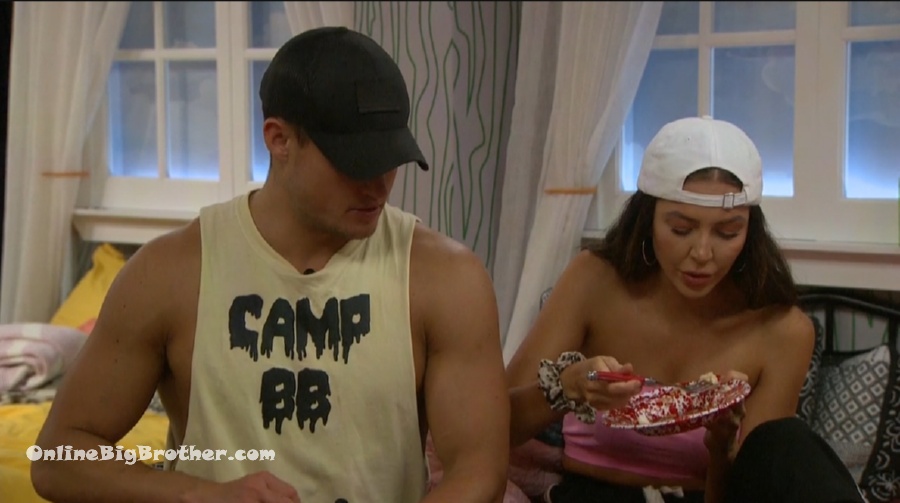 6:15 pm Holly, Jackson and Kat
Kat is worried Christie might campaign against her
Holly says Christie is campaigning to get Sam gone
Jackson – you aren't going anywhere I promise
They talk about after Sm goes they have to stop being buddy buddy. They'll go back to how they were, "b1tchy"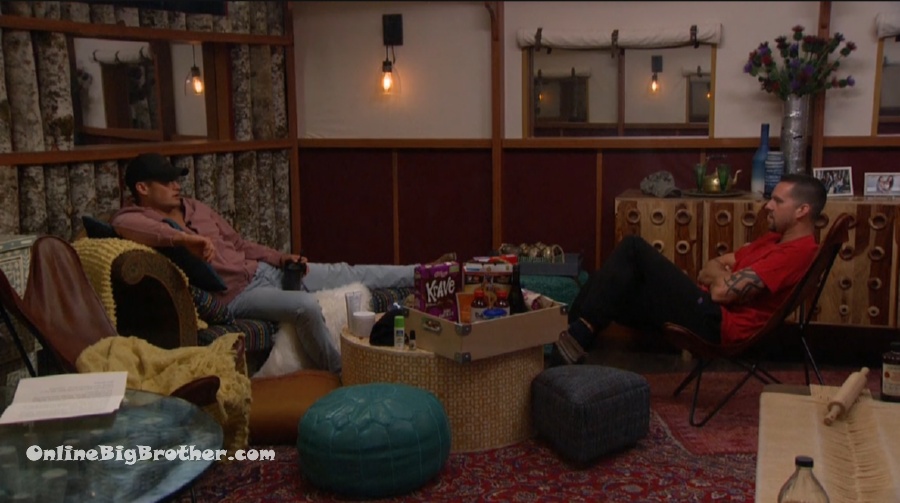 6:41 pm Jackson and Sam
Jackson says Christie has been up to sh1t for 2 weeks now.
Jackson – she was the reason why Holly didn't put up Nicole.. I wanted Nicole up there but it's not my place to sit there and do what Christie is doing push a name down Holly's throat.
Jackson – she's a grown a$$ woman this is her game. My Game shouldn't influence your game. It's best for her game so be it.
Jackson was always wondering why Christie was pushing so hard for Nick and sam.
"I'm sitting there a week or two ago and I was thinking what's going on here .. there's more than meets the eye"
"I've had a lot of connected dots but there's still been a disconnect. If I would have heard this two days ago Nicole would be sitting on the block you would be staying."
Sam says he's not sure jack believes him
Jackson – he does we believe you
Sam says a couple of hours ago when he campaigned to Christie "she was like Sam I still don't know whos going home it's whatever Holly wants I'm doing whatever she wants it's going to be a majority thing. She goes, sometime tonight we're going to get together and we'll decide who goes home"
Sam – she goes you know what if I go up there (HOH) and they want to keep you I'm completely 100% fine with that I would love to see you stay
Jackson – she came in here and said the exact opposite. she was like, it was me and him hashing things out blah blah blah like he's gotta gotta he's gotta go
Sam – Hashing things out? hashing what out? what he f* do we have to hash out
Jackson – she says yeah you know how when people approach you with things like an alliance you can't say no
Sam laughs "no no no no ohh that is irritating"
Jackson – I didn't buy it
Sam – she goes, I'm going to be friends with everyone in this house I respect the game. then she said, If you came out and burned me in the game I probably wouldn't be friends with you after this
7:00 pm Sam and Holly in the HOH. Sam starts filling her in on the story.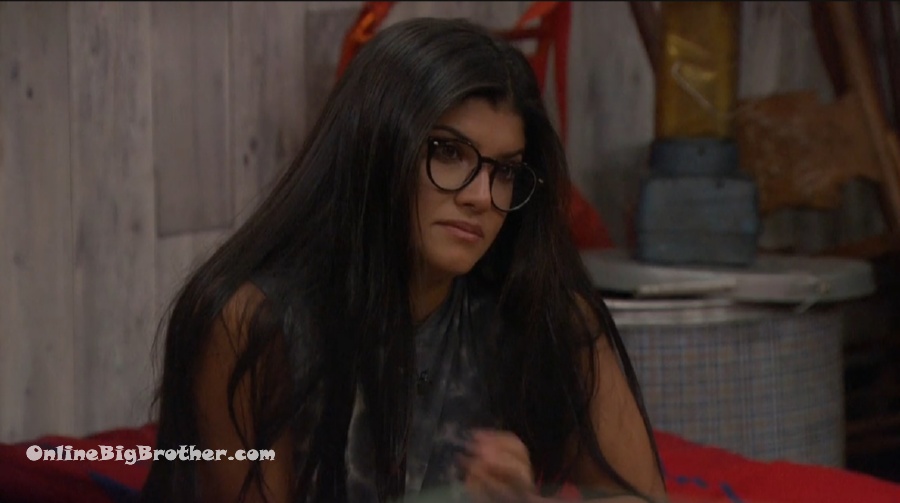 7:05 pm Sis and Jackson
Jackson – I've had my suspicions about Christie for weeks
Sis – what does Jack think
Jackon brings up all his talking points how Sam was never lying and the only person that wanted Sam out was Christie
Sis is unsure Jack believe the story.
Jackson says there are other things that make Christie untrustworthy, "Her gunning for me an Jack "
Sis – other people? that is why I get confused she's ever made that clear to me
Jackson – why would she (LOL no doubt)
Jackson – we need Kat more than Sam. This is why I wanted Nicole up so bad
Sis – KAt isn't willing to make big moves
Jackson – yes she is
Sis – I feel like she'll put me up
Sis – I can't believe she did that I can't believe she was going to say you and Jack bullied her to use her power
Jackson says he's not surprised
Jackson – I believe Sam 100%
Sis – I do too
Jackson goes on about never disrespecting people. (this is 100% DR driven. Holly and him have been putting a lot of energy into Jackson imagine. Jack has been as well. )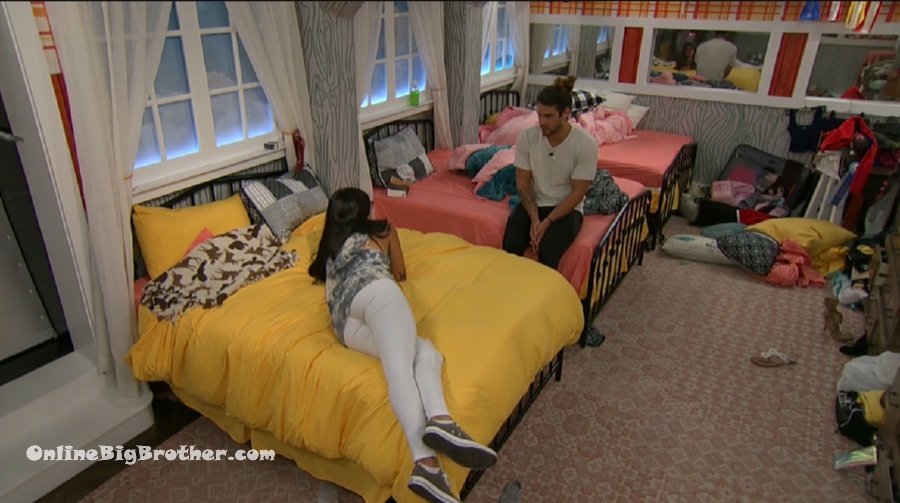 7:22 pm Jack and Sis
Jack – Sam didn't come up with this idea until after he spoke with Michie
Sis – he told me a few days ago
Jack – ohh
Jack thinks what Christie did is fine "It's being taken out of context" (AHAHAHHAAH)
Jack – it holds weight and it's good to know about it I don't think it's good to act on it
Jack says if yo act on it it's like you are fessy and you throw away Scottie
Jack – the 6 is solid
Sis – it's just being blown out of context
Jack – it is and it isn't
Tommy joins them …
jack says Sam is "making a manipulation play against Christie"
7:36 pm
Jack says there's a lot of crazy sh1t flying out about Christie right now
Tommy says they warned Christie about running her mouth.
Jack – certainly doesn't make me feel like flipping a vote
Jack wants them to keep moving with the 6. Jack goes on about how he doesn't believe everything Sam is saying.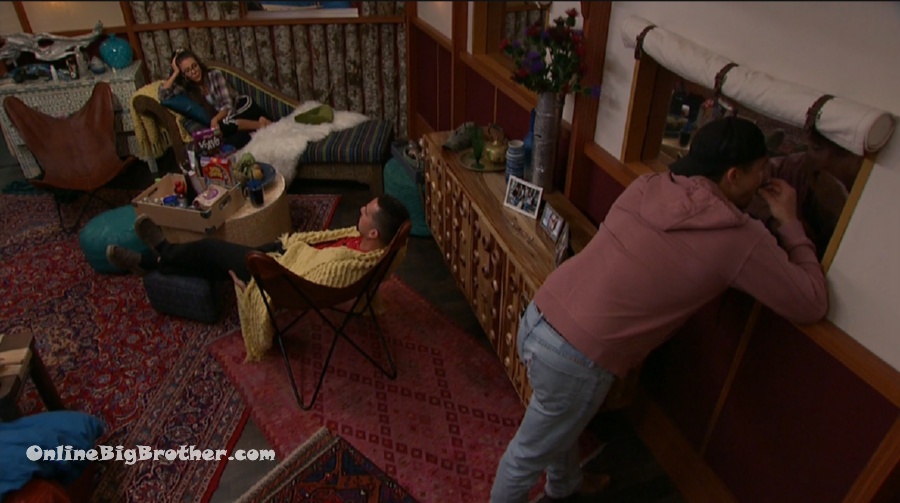 7:43 pm HOH Sam, Holly, and Jackson
Sam still going on about having a lot to offer them
Holly – Sam, I really wish you would have told me before. I can't justify kat going home
Holly warns him about Tommy finding out.
Sam is worried that jack might tell Tommy. Jack told Sam he would just "feel" Tommy out.
Holly – I don't think Tommy should know at this point they are very very close.
Holly and Jackson are talking about pulling Christie in tonight and ask her why she wants Sam out so bad.