Head of Household Winner – Holly
Have note are: Jessica, Nicole and Sam
Nominations are: Sam & Nick Kat
Power of Veto Players are – -Holly, Sam, Nick, Cliff, Jessica and Tommy
Power of Veto holder – Nick
Power of Veto Ceremony – Nick used the POV on himself Holly nominated Kat in his place.
Powers in the game
Christie – Panic
At any of the next four Power of Veto Ceremonies, Christie can turn the Golden Power of Veto into the Diamond Power of Veto and allow the current veto holder pull someone off the nomination block, but instead of the Head of Household naming the replacement nominee, the veto holder names the replacement.
Field Trip
America votes for 3 houseguests to go on a field trip that will put one houseguest's game on the line
Grab your live feeds —-> BB21 Live Feeds Subscription Link
Rank your houseguests —-> Big Brother 21 Ranking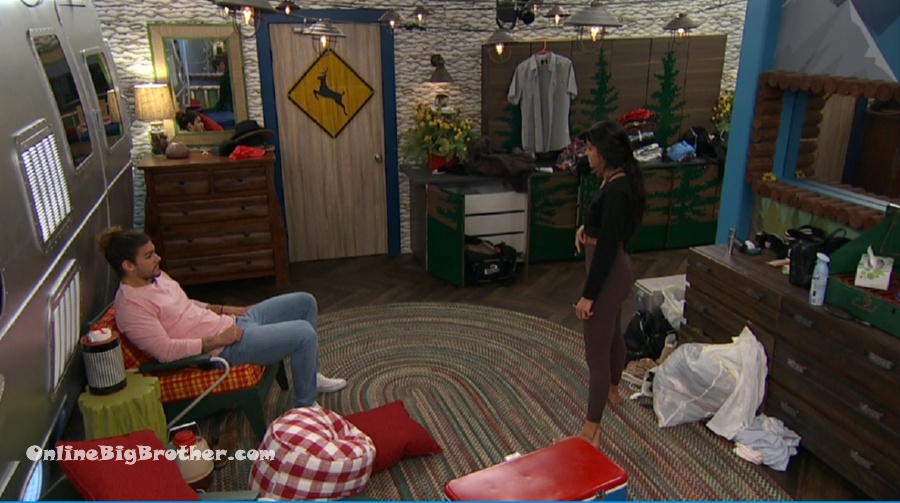 2:10 pm Jack and Sis
They talk about how Jackson is sketching them out
Jack wonders if Cliff is with holly/Jackson or them.
Jack says Jackson is trying to divide them.
They're worried about CLiff, Nicole or Jessica.
Jack – you look great
Sis – yeah its because you work me out
2:16 pm Jackson and Jack
Jackson – I don't know if I can trust Sis and Tommy. Straight up I really really don't. Tommy is fighting this thing f*ing hard I don't think we should tell Tommy about we know her and him went and started a new alliance
Jackson – that is why he's fighting so hard because he is strongly allied with Christie. He even said it to me.
Jackson – my gut is telling me I can't trust Sis and I can't trust Tommy
Jackson says that Kat is telling him that Sis is trying to put a wedge between him and Holly.
Jack – Kat and Cliff are trying to turn the six on each other.. the information they are getting fed is a bunch of bullshit. I think it's a crock of sh1t I thin they are saying Christie and Sis is doing stuff because they are trying to turn it. Cliff is f*ing Brillant.
Jack – Kat and Cliff are feeding you misinformation cause I'm hearing the other side and they're hearing it from Kat and Cliff
Jackson – what do you mean you're hearing the other side
Jack goes on that the other side is feeding Jackson information "they are manipulating your mind and making you feel insecure about Christie, Christie has your back and wants to make it to the 6"
Jackson – so Nick has been lying, Sam has been lying Kat's lying, Cliff's lying they're all lying on the same lies. they all have the same stories at different points the same details.
Jack – yeah
Jackson – if that's the case it's the most elaborate orchestrated f*ing scheme since the JFK assassination
Jackson – so you are telling me that Nick almost 2 weeks ago was telling me shit Christie said. Sam and Cliff are telling me shit details that only came from one of us six. Kat has turned on the people she's had since day one to work a mastermind plan with Cliff week 2 to work against the 6 before they knew the 6 existed
Jackson – is that what you are telling me
Jack – that's what I'm telling you
Jackson – I know you have blind faith in Tommy, And Christie and Sis.
Jackson – you're telling me before the six was even a six they've been scheming this from the get-go.
Jackson – Don't think about it emotionally .. you are playing with emotions right now and you know that. The facts are facts dude. Show no love, love will get you killed
Jackson – how the hell does Cliff know about the rogue vote.
Jackson – you're heart is way too much into this .. I know it's a hard pill to swallow I f*ing know
Jackson – he planned that too you get what I'm saying. Christie has talked about you to Holly directly. Holly told you that that has nothing to do with Kat, Cliff, Nick or Sam that there alone debunks your theory. She has vocalized it to Holly. Unless you spin this and say me and Holly are spinning this to break up the six then you are just going out on a limb and I can't help you
Jackson – the girl is playing this house like a fiddle and she's worked you from the inside out.. Not in a disrespectful way I'm being honest i'm telling you factual information I'm not trying to sugar coat it for you
Jackson – do we need to implode the 6 no that's not what I'm saying bit they can't be trusted
Jackson – to thin that Christie or Tommy wouldn't take a shot sooner than later at either you or me is naive she's vocalized it to multiple people in this house. Unrelated people
Jackson – if Nick, Sam, Cliff, Kat are working together why did Bella go home, Why Did Cliff why is Sam, They have more numbers than we do. I don't make sense Jack
Jackson – we both know your heart is invested with Christie and Tommy
Jackson – they've pulled at your heartstrings.. you have to be able to severe this shit and analyze fact from fiction and listen to the things I just laid out to you
Jackson – what I just told you is beyond a reasonable doubt that's guilty in a court of law
Jack – I need to thin on it. Are you trying to win this HOH
Jackson – YES I need to
Jacks – there's a lot of people gunning for this HOH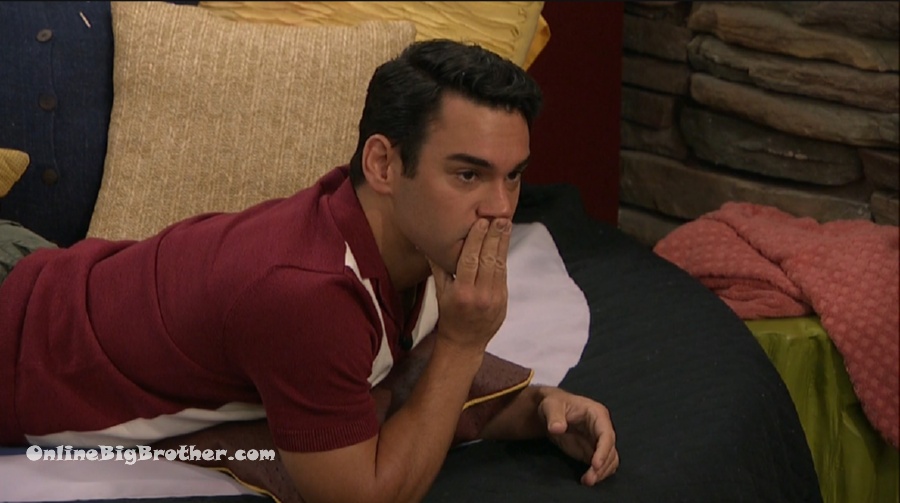 2:44 pm Tommy and Jack
Jack says there is no way he's going with Jackson
Jack says Jackson is trying to split them up.
Jack says they need to pull Nick in.
Jack – part of his sale he's heard stuff that he has Kat and that kat and Holly knew each other going into this ..
Jack – those 2 are tight
Tommy – they're a secret trio
Jack – I don't think they are a secret trio .. the fact that Jackson has slept with both of them
Tommy is pushing that that trio has 2 locked votes in jury.
Jack – part of me is thinking they put this in the water to flip it
Jack – we can't keep Sam.
Tommy – how do you know they know each other … I knew it I f(*ing knew jit
Tommy – we can get Christie to vote out Kat and we Kept Sam. That's three people in jury that know each other.
Tommy – I want to keep Sam and I want him and Christie to make up
Jack – no way
Tommy – it would be f*ing everything.. he (Jackson) doesn't want kat to go home
Tommy – me, you, sis, nick, christie that's 5 right there we can get the whole house to flip
Jack says the only people they would have to worry about is Cliff, Jackson, and Holly.
Tommy says he knows Christie doesn't want to get rid of him.
Christie walks in.
Tommy – I kinda want to flip the house.
Christie says she already knows Kat, Jackson, and Holly is a trio ..
Tommy says they pull in Sam and Nick to take out Holly, Jackson, and Cliff.
Christie – Kat told me if she won HOH she would backdoor Jackson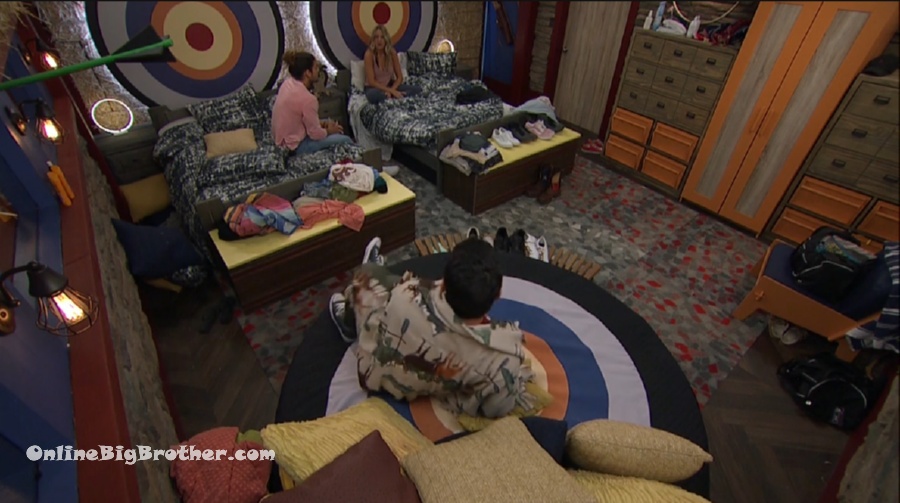 3:00 pm Tommy, Christie, and Jack
Christie swearing that she never said she would put Jack up. Jack says Jackson is trying to get him to join his side.
Tommy – he wants the 6 to split up
Jack fills Christie on the conversation with Jackson.
Tommy and Jack push that Cliff, Kat, Holly, and Jackson are in an alliance
Christie – do we have the votes to flip?
They say they need to talk to Nicole, Nick, and Sis.
Jack says he would rather move with them than with Jackson.
Christie – I feel so played
Jack – Jackson's good
Christie – not by Jackson but KAT, how f*ing dare you
Jack is still worried that Jackson is playing him so that they Keep Sam.