Head of Household Winner – Jackson
Have note are:
Nominations are:
Power of Veto Players are:
Power of Veto holder:
Power of Veto Ceremony:
Grab your live feeds —-> BB21 Live Feeds Subscription Link
Rank your houseguests —-> Big Brother 21 Ranking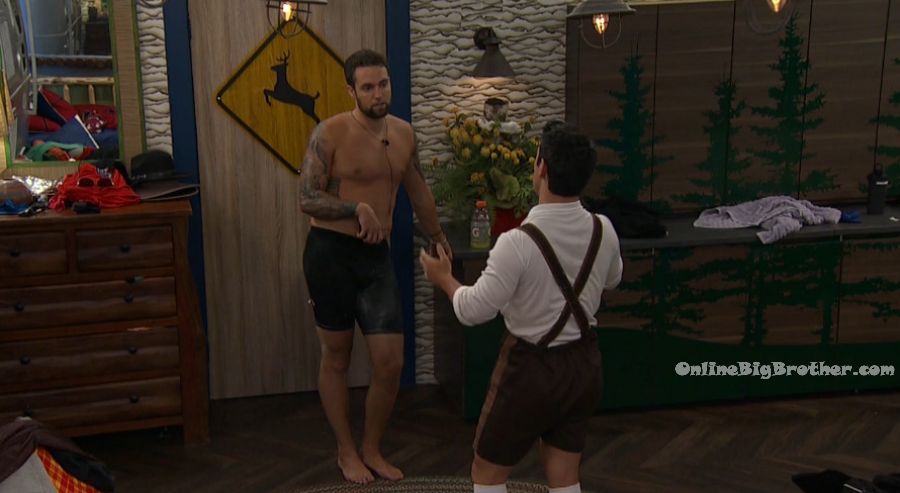 8:20pm The live feeds from being blocked after the HOH endurance competition that Jackson won.
Bedroom. Tommy and Nick. Tommy – I don't even know if its true or not ..but it doesn't even matter. I didn't know that at some point you were pushing me to go up even if it was as a pawn. Nick – when!? Tommy – when Jess was in power. Nick – that's bullsh*t because I never had a say with Jess. Tommy – cool! That's why .. I am not affected by this. I don't care. Nick – I've admitted everything that I've done. I care! Tommy – but I hear information and I either let it affect our relationship or not .. and I would choose not to because its irrelevant. Nick – but come on bro! Jess was trying to put me up .. do you think I had any say with her? Tommy – yeah I hear you. Nick – I already did that once and I wouldn't do it again. I f**king did that with Jack. The only people I was loyal to was you, Nicole and Sis. Even Kat called me out… 5 other people made a deal so why do I get the brunt of it. She thought that I was the one that made it up and that I got Nicole to vote her out. She made up her own mind. Nick – if I picked you (veto pick) would you try an win it for me? Tommy – I would need to think about. I don't think it would be you (nominated). Nick – I told him that I wasn't going to put him (Jackson) up. Tommy – for a split second I had a oh sh*t moment ..like did I do the right thing?! And that now I'm hearing that Cliff and Nicole wanted me out. But now I know for sure .. Kat being gone is an even playing field for everyone. Nick – I'm not even going to bullsh*t him.

Nicole is crying in the havenot room alone. Nicole – Maybe I am too sensitive! Maybe its just me. Maybe what I think is right and morally correct is not. Like I have such a complex right now. Dammit! I am not a quitter. I would never quit .. ever! I am so frickin pissed off. I know I should have just told them off in the storage room but I know .. but I am smart so I didn't. And its not me. As much as I could have, its not me… and when I hold in all that anger and all that frustration, and sadness.. it all just comes out in crying all the time. I deserve better than that.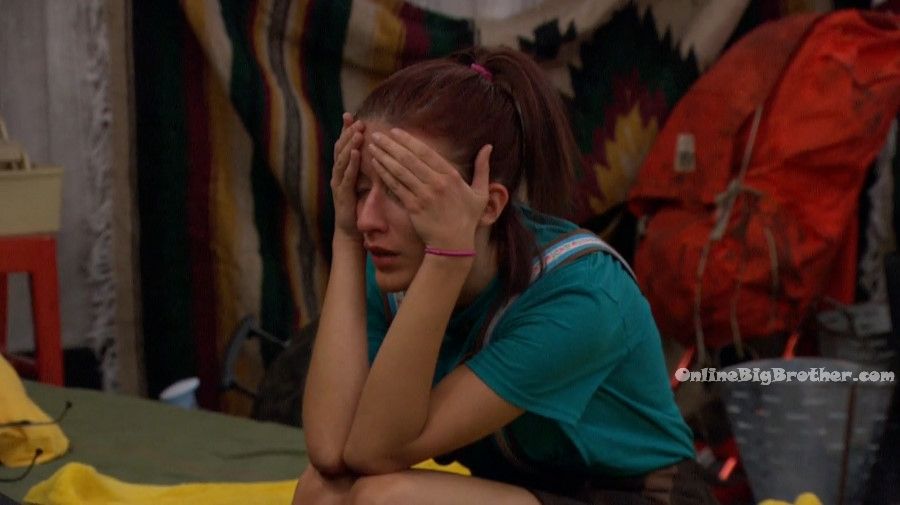 Kitchen. Tommy, Christie and Holly. Christie – she (Kat) went out with just enough savage.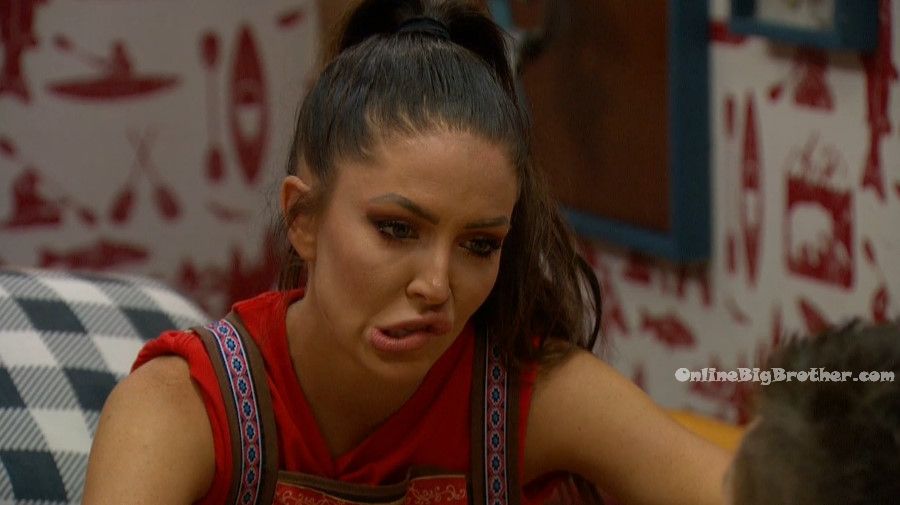 8:36pm Boat room. Holly and Jackson.
Holly – I am so proud of you! Jackson – we're safe! We're safe! Holly – and uhhh second place! Jackson – oh what the f**k! You're half my body size! What are you thinking? Holly – I don't know. I am thinking I don't want to think. I am thinking this is your HOH and I support whatever you do. Jackson – I am going to make some moves! I am ready to take some shots! I am going to right some wrongs. To the six .. we don't HOH's, we don't win vetos.. we don't have anyone. Holly – we don't win anything. Jackson – there are three people in that room. Sounds to me like 2 noms and a replacement if one of them comes off. Holly – I will stand behind you. Jackson – I just need to make sure I have the votes. Holly – Nicole wants to work with people that she respects. You and I are people she respects. Jackson – I want Christie gone! Holly – yup! Jackson – and now its a matter of do I put her straight up or do I backdoor her. I don't know because my pride says put her straight up and beat her in the veto. But she is going to play in the veto anyways. We have nine people. Holly – do you put her up .. I don't even know.. and as the second target is it better to do Tommy or Sis. Jackson – Sis! I told Tommy I am not putting him up. I told Cliff I am not putting him up. And I told Nick I am not putting him up. Holly – talking to Nicole before this .. she was almost willing to change her vote and jump ship from that six. Jackson – Tommy, Christie and Sis that wanted to work together… That was 12 hours before I heard them talking all that sh*t! So in my mind.. that deal is off! They don't win HOH's, they don't win vetos. I heard that with my own two ears. Holly – who would you put up then if you were going to backdoor Christie? Jackson – Jess and Sis. Jess because of her blow up .. but Jess is not my target. She is good with me .. tit for tat. I am going to tell Sis she is not my target but we have to keep the five… low key. Holly – I like that. I like that a lot. Cliff guaranteed them safety for a week .. is he going to vote them out?! Jackson – I told Cliff I wasn't going to put him up but if he is not going to vote that way .. then his vote don't count for me. Holly – Nick is with them 100%! Jackson – but if I put up Christie next to Sis .. they're going to vote out Christie. Holly agrees. Jackson – that's all I care about .. I don't give a sh*t if they come after me. I want Christie gone!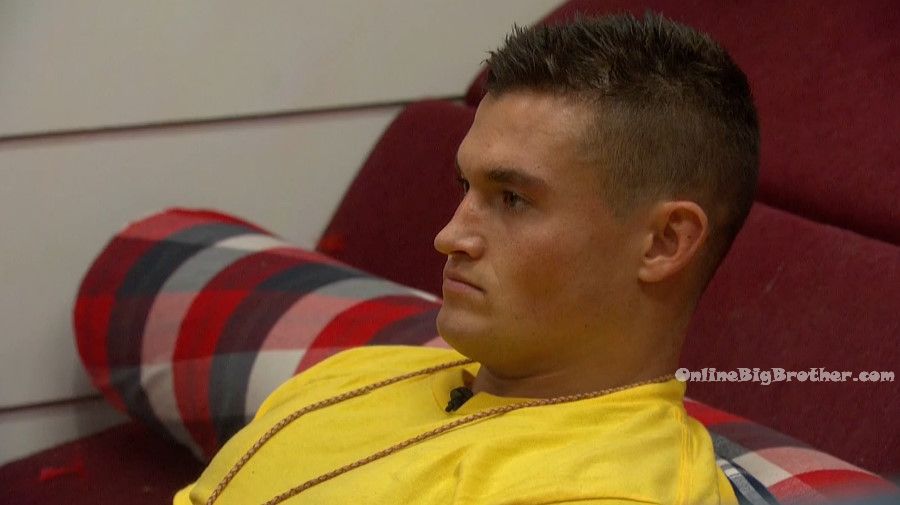 Jackson – if I end up getting evicted because of this move, then I can live with that. I want to take her out! Holly – if Jess remains on the block .. that is one less vote. You know what I mean?! What if you put up Nick and Sis? Jackson – I told him I wouldn't put him up. Holly – bullsh*t! I sat him down today and I said Nick you came to me, you said I was good and I find out you're making deals. You said I was good but you're in the 6 .. so that leaves 3.. that means I am not good. I am not good at all. He was like umm.. yeah. Holly – and I was like how are you saying you have my back when you don't at all? I was planning on throwing this one. So you knew you were joining a team of six and all of them would put me up and you weren't going to win so you didn't have to get the blood on your hands.. but you knew I would go up. Yet you still felt the need to come talk to me and make sure I wouldn't put you up. And he said yeah, I'll own that. I said I was very disappointed in that. That was a weak move. Jackson – he was covering his bases. Holly – Nick is so back and forth. I don't respect that. Whoever is going to sit next to her (Christie) you have to make sure it doesn't take away from our votes. Jackson – it might have to be Christie and Sis. The wanted a war.. they hung me out to dry! The threw me under the bus. Campaigned against me. I loved the trash talk! Holly smiles. Jackson – we killed that.. first and second! Everything happens for a reason..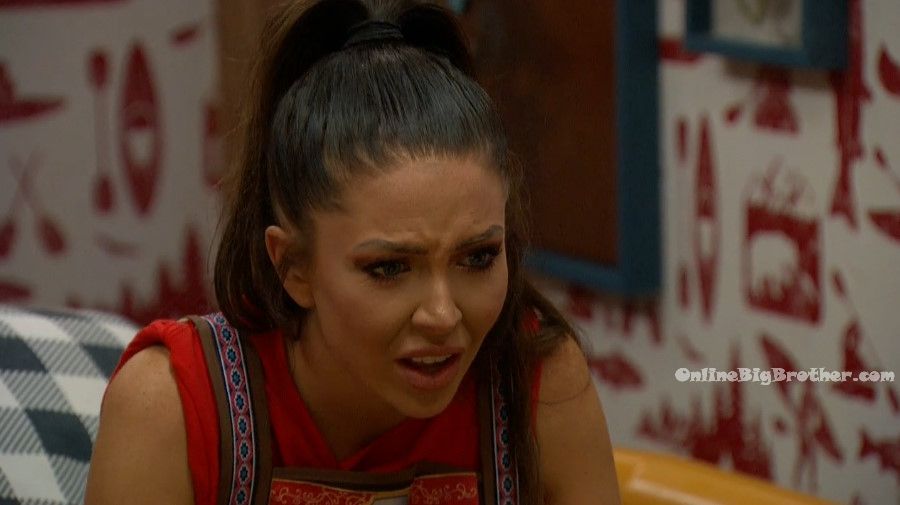 Holly – I just feel like such a b***h. Jackson – she wanted to go too. Holly – I wished I could do something. Jackson – you can't blame yourself for that one. Holly – I just felt like I had my hands tied. Jackson – you did. We both did. Holly – I felt like a bad player. I wasn't able to come up with something. Jackson – there was nothing. This house is run by bullies. Take this energy that you had with kat and focus it on this week. Holly – I hate that she didn't even look at me. My goodbye message was funny though. I was like Kat we SUCK! I was like we're pretty but the worst but we will be best friends after this. This house made me get to know you.. we only met a couple times (outside the house). I was literally like we SUCK! Kat did not trust Tommy at all .. she thinks he is a snake! And really did not trust him. I think he is powerful and manipulative. You want to trust him because of his character.. and he is an actor.. so she shows emotion. I feel like I can trust him. I feel like he is real with me. Of them I feel the best about Tommy. Sis is giving me weird side glances. She is weirding me out. Jackson – I am interested in hearing peoples pitches. "What are Michie and Holly going to do.. they don't win anything". Holly – I am so glad you heard that.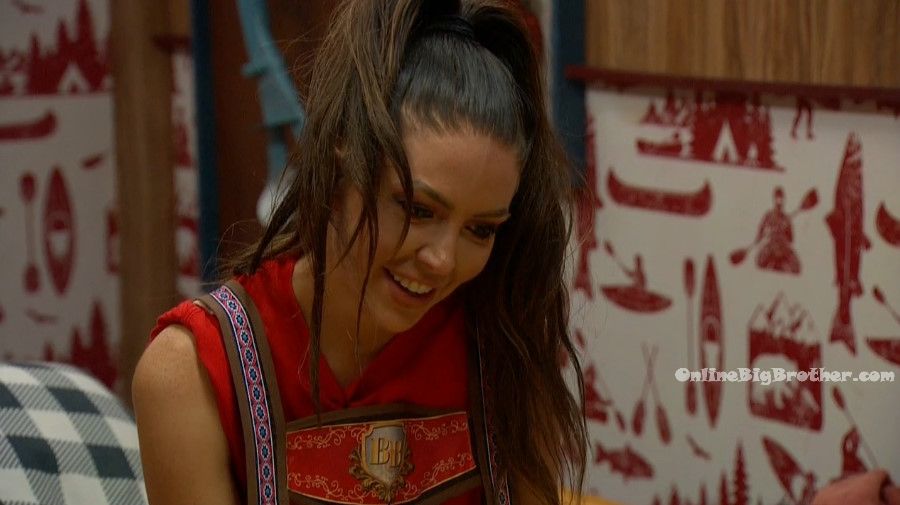 9:20pm Bathroom. Cliff and Jackson.
Jackson – I heard it last night.. Sis and Christie .. they don't win HOHs. And Sis was saying they don't have me, they don't have you, they don't have you talking to Jess. They don't have Cliff. They don't have Tommy. They don't have Nicole. They don't have Nick. They don't win HOHs, they don't win vetos. They have nothing.. all they have is Kat. We have to disarm them somehow. Cliff – we can talk later. Jackson – we will. Cliff – let me say this .. if you need to put me up.. I get it. Jackson – hey Cliff ..I am going to tell you right now .. you ain't my target. Cliff – I appreciate it. I am not going to ask for a consideration on me. Jackson – I will say that because of the series of events last night…I might have to put you up for a front… However… I am not going to do it if at any point I feel like you will go home. I give you my word on that. They shake hands. Cliff – I made a deal to keep me safe. It involved targeting y'all if I won today. Just please leave Nicole out of it. Jackson – I will. I am. Cliff – She's gotten dragged through the mud and I feel so sorry for everything that she's had to deal with. Jackson – I do not want you going home. Especially after what I saw you do out there. Cliff – thank you. I feel like I try to prove myself. If you do (put up me up), they will put me out before (one of them).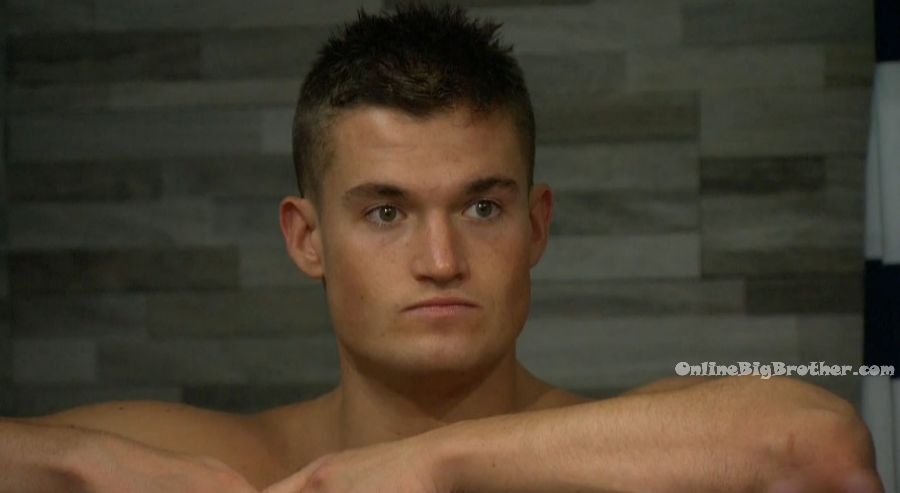 9:50pm The house guests are sitting around chatting about past events..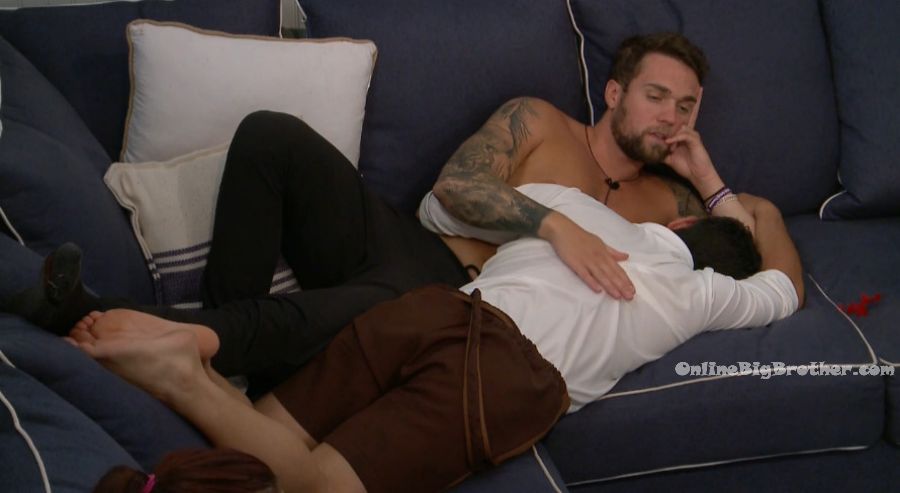 10pm – 10:15pm Boat room. Christie and Sis. Christie – Nick really does play this game with everyone. Sis – that is so weird .. I never heard that he was working with them. I didn't know that. Christie – Kat told me. She was leaving at that point and said I'm not saying this to campaign. If Nick is in the final two.. I am voting for anyone but him.. because he is playing with everyone. He is the puppet master. He is controlling Nicole's game. He is controlling Cliff's game and he is playing Michie and Holly .. and pretending that he is not. And my thoughts (the universe) were always right about Nick. Sis – he's not screwing you over then. Christie – who knows. I hate that he (Jackson) won. I literally wanted it so bad. Cliff did cut a deal and promise everyone safety except for him (jackson) and Holly. I definitely feel scared though. I wonder if Michie would do a backdoor. I feel like he would. Sis – he likes big moves, big things. The only thing I can see him doing is backdooring Nick. Tommy join them. Christie – I am nervous about going up. I just hope that Nick is a bigger target.
11:47pm – 12:30pm Jackson gets his HOH room.
All the house guests rush in to see his HOH basket, photos and HOH letter. There are watermelons all over the room and on his HOH bed. His music is eminem – curtain call.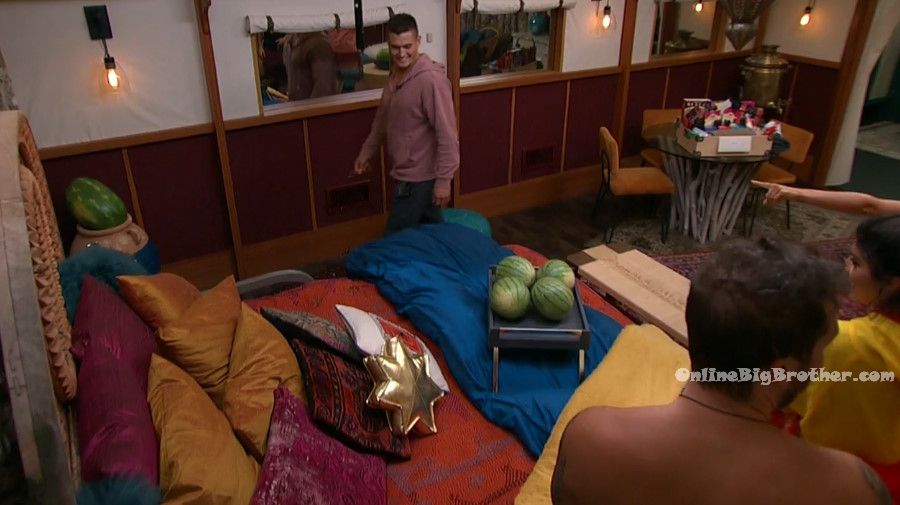 Jackson's HOH letter from his Dad…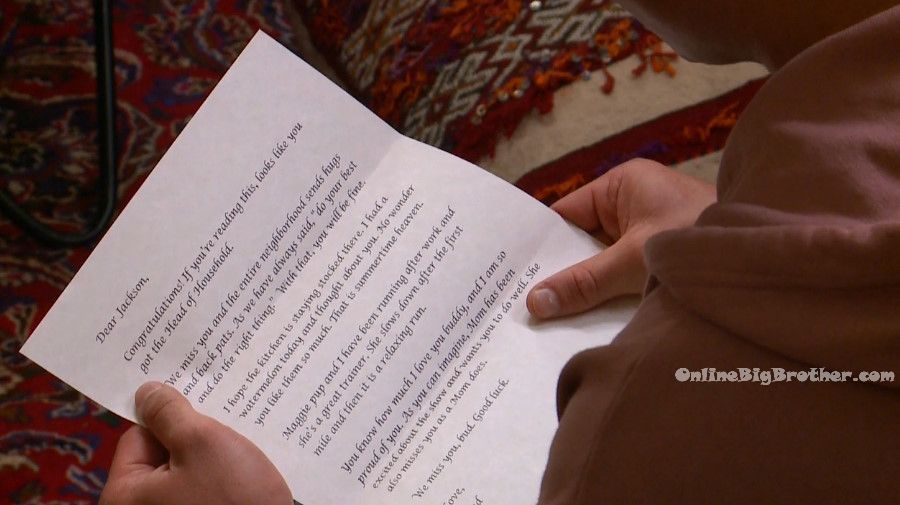 12:50pm Tommy, Nick and Nicole. Nick – I wish I had gone more balls to the wall (in the HOH comp). Tommy – yeah, I thought you were throwing it. Nick – I didn't eat today. And I was stressed about Kat being mad at me. Cliff joins them. Cliff – I did what I had to do to survive another week. Nick – no one blames you.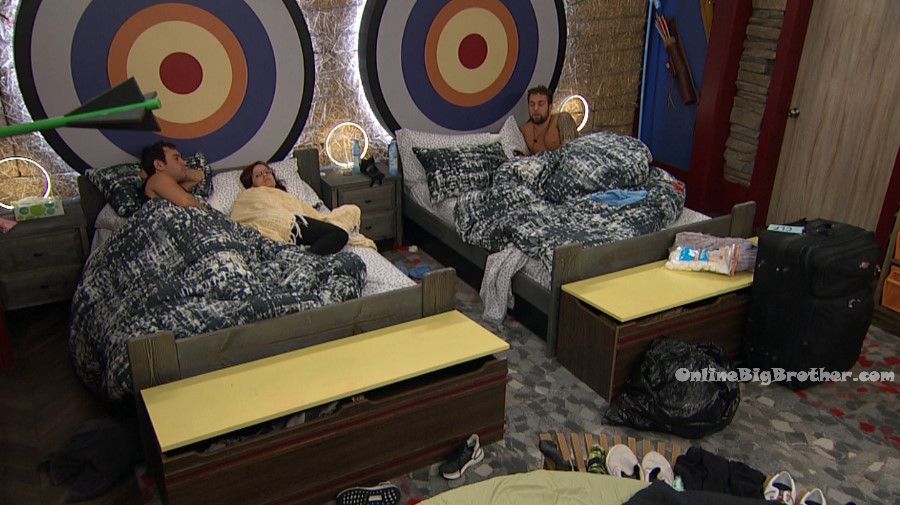 1am HOH room. Jackson, Holly and Jess.
Jess – she didn't play the best game but I loved her to death. Jackson – same. Jess – however when I heard about the whole alliance thing .. deal that I was not a part of. Jackson – none of us were. Jess – I had a feeling that Nicole wasn't down for that. She looked at me and was like what do we do? I said the only thing you can do is switch your vote. I am going to vote for her regardless. She was like do you think Holly and Michie are going to want to do that? And I was like I will talk to them. Because then we're four and we keep her (Kat). And then I don't know what happened .. she flipped. Jackson – I think she took whatever y'all said as a personal attack. I think that's what sealed the deal for her. Jess – what was said? Jackson – she was told by someone in the storage room.. she interpreted it as she was going to be a disappointment to her family and that she was going to be letting down all the kids that she taught. And that she was playing Nicks game and not her own. Thats not like Kat to jab at someone's personal life. I think Nicole took it personally and freaked out. I think that's what sealed the deal for her. Jess – Kat played very emotionally the last couple days. When she heard about Cliff and all the deals he was making her heart was legit broken. Jess brings up how she told Sis she isn't about the mean girl stuff like her laughing at Cliff running in the comp. Jess leaves.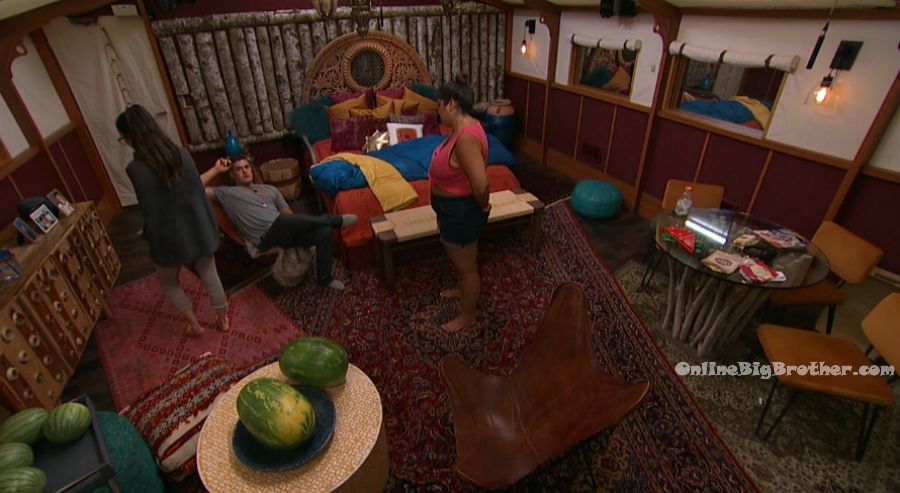 Jackson to Holly – the problem I have is whether I am going to backdoor Christie or put her up straight. And the problem if I put her up straight who am I going to put up after that because now I have to put up someone else .. and if its Sis.. or Tommy. I can't put Tommy up. Or Cliff and then Cliff would go home. If it's Sis vs Nicole… then Nicole could go home. Because I don't know where Cliff is going to vote. Cliffs vote I want to eliminate so I want him on the block. Nicole owes me two big ones. Nicole also wants to work with us. Holly – does Nicole still owe you two big ones though. Jackson – yes. yes she does. And I am going to cash them in this week because I want Christie gone. The problem is just how am I going to do it. I think Cliff needs to be seat one. Holly – if we want to move forward.. if we're drawing that hard of a line in the sand .. and wanting to move forward with Jess and Nicole.. I would like to have Cliff there. Jackson – yes but because Cliff made that deal I don't want him to be potentially swayed. Holly – before you put him up ..I think its best to lock down another day. Jackson – his deal was to put us up. I think I have every reason to put that man up.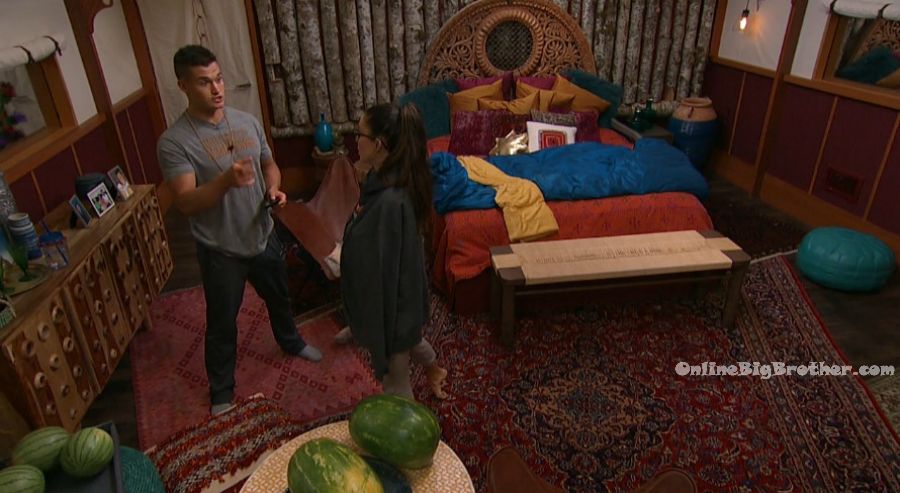 2am Bedroom. Cliff, Jackson, Christie, Tommy, Jess, Nicole, Holly, and Nick are chatting about tonight's HOH comp.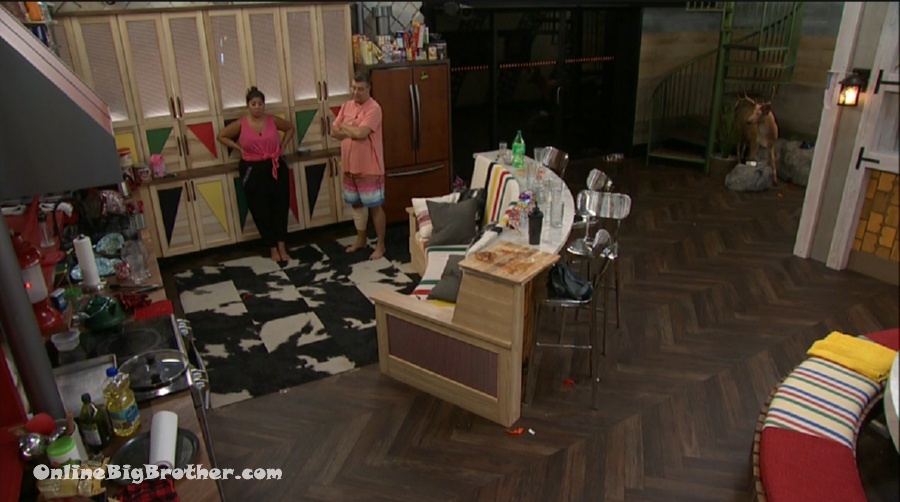 1:40 am Cliff and Jess
Cliff says he did what he had to do for one-week survival.
Jess – there was choice things I said yesterday in heat that like being upset I needed to catch myself and I had to apologize to a few people. that's the game
Jess and Cliff hug "no hard feelings I love you"
Cliff – Sometimes I feel like an imperfect man playing an imperfect game
Jess -aren't we all thought
Cliff – just trying to figure out how to respond until next week
Jess says that Kat was very sensitive she was under a lot of stress and little sleep.
Cliff – I'm just mentally exhausted I don't think I could take another week like that. It hurts me too much (This is how us live feed watchers have felt since forever. ))
Cliff – they pulled too much outta me last week. what happens happens I will accept it and I will embrace it
Cliff – I don't want to lose friends in this game it's already hurt me too much
feeds flip to Tommy and Nick in the bedroom chatting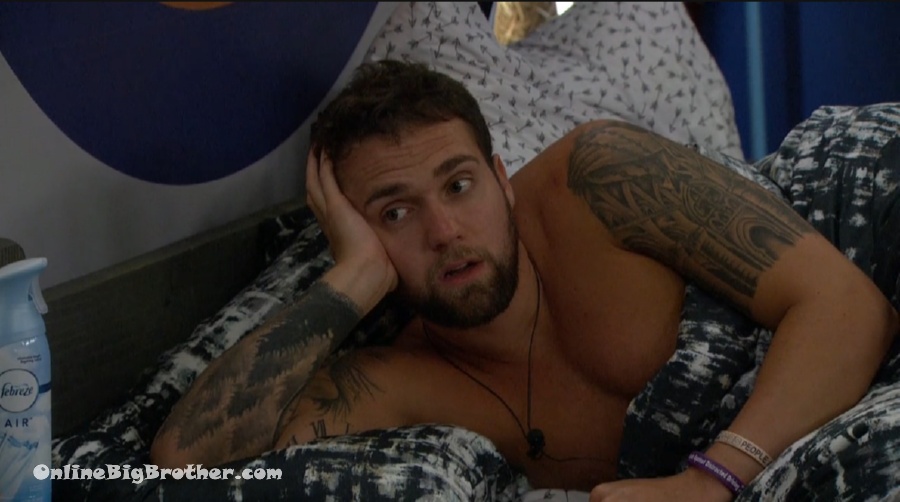 Nick brings up that him and Nicole might be going up
Tommy – I don't think that will happen why would it be you? I wouldn't if I was him
Tommy – we need strong men in this game otherwise we'll get picked apart. we'll be more exposed
Nick – I was one of 6 people that made a deal (NOT an alliance) to keep us safe this week
Nick – I wasn't gunning for the HOH yeah it wasn't protecting you guys it was also giving you a better chance to win.
Tommy – This deal was weird no one was gunning for it (HOH) except for Cliff and Nicole which is f*ed up (weird I say Holly and Jackson really gunning for it and so was christie)
Tommy – no one wanted to get the blood on their hands but also wanted to be safe. It was f*ed up
Tommy – I never realized until today you are throwing it, Chrisite throwing it, Sis is throwing it and I'm not playing that leaves CLiff and Nicole
Nick claims he was ready to win until he had a conversation with Holly and MIchie.
Tommy – I get why Sis wanted to through it but at the end of the week, she didn't need to throw it. Sis was good with Holly and Jakcon but Sis was also f*ing up too she was saying too much
Tommy – it was a mess there was no reason to not be good with Holly and Jackson. They f*ed it up
Nick – who sis
Tommy – both of them (Sis and Christie) They wouldn't stop running their mouths
Tommy – Holy was like I don't know where this is … it came from Jess it was just stupid.
Tommy – if Jess goes up against anyone else Jess can go home because she wasn't' part of this deal. the only loophole in the deal is if there were two people put up within the 6 of us so you have to pick one to vote out
(LOL funny how the 6 is now a THING)
Tommy goes on about "still wanting to honour" their 6 person deal. IF it's Jess and Cliff on the block he had to vote out Jess he gave Cliff his word this week.
Nick – right
Nick says he feels good beside anyone other than sis and Tommy but he doesn't see them going up. HE thinks if he's up next to Christie "you guys would have a tough decision"
Nick – what if he wants me out are you going against him?
Tommy – I don't know. Don't ask me questions like that. I'm going to do whatever I can to keep you safe this week especially you
Tommy – Christie has been running her mouth she did say so much sh1t . it's kinda I don't know I need to talk to him to see where his head is at (Jackson)
Jess comes in
Tommy – I love you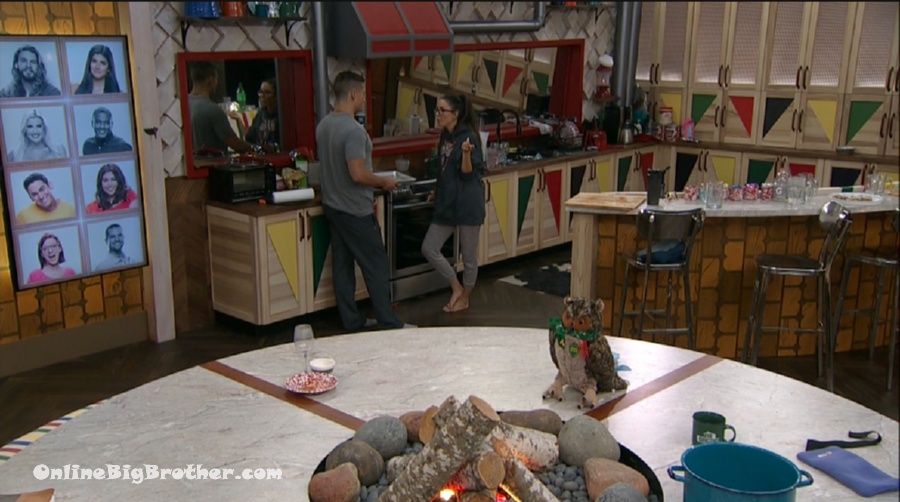 1:50 am Jackson and Holly Kitchen
Holly points out that the shepherd's pie is back in the fridge with no cover
Jackson – we love with animals
Jackson saying that the people that use to clean are all goner, Kat, Jack, and David.
Jackson – those campaign cookies are still here. Do you see how many fruit flies are around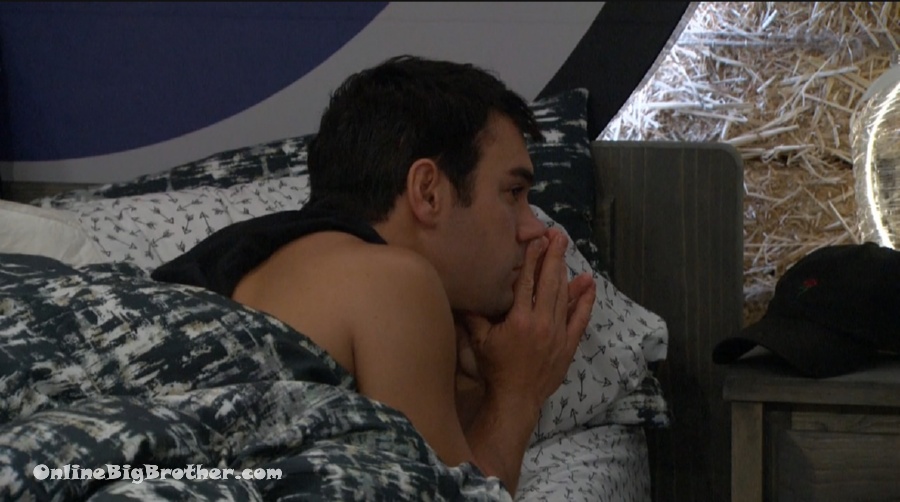 2:13 am Tommy and Nick
Tommy fantasizing about Jess and Cliff going up and Jess "going home"
Tommy says things change week to week he's taking what Kat said with a grain of salt because that happened all last week.
Tommy says he heard from Kat "the house" wanted him out Kat dropped the names of "the house"
Nick – I could probably figure it out, Cliff, Jess, and Nicole
Tommy – she didn't say Jess because she wanted to stay loyal
Nick – Nicole was going to put up Jackson and Christie
Tommy – I love Nicole I'm obsessed with her
Nick – I love Nicole. She got rocked today
Tommy doesn't see things being that bad for Nicole today "she takes things hard I guess"
Nick – she's hard on herself
Tommy – yeah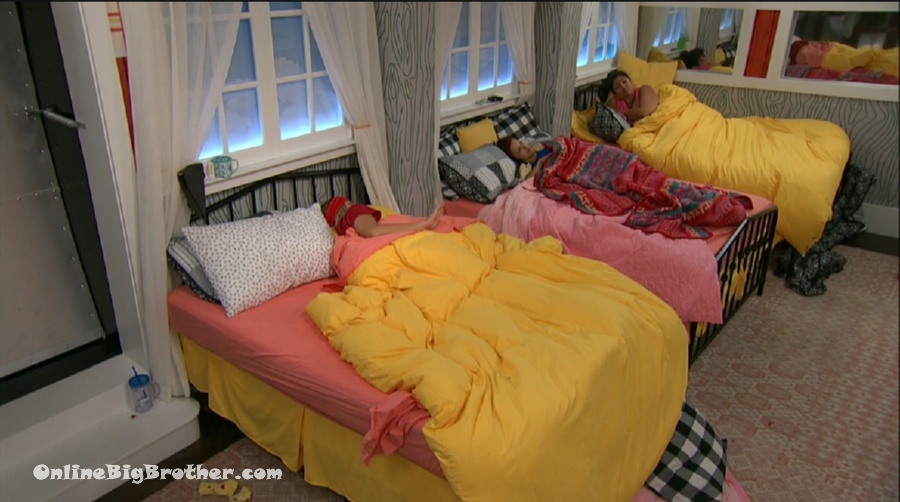 2:19 am Christie, Nicole, and Jess
Christie – I'm surrendering to this game. I'm sick of the fighting I'm sick of the whirlwind I'm sick of all of this. when I go I go. I'm not going to use my words so much I'm just going to enjoy the rest of this game and do my best
Christie – I'm surrendering. to it, I feel like I'm happy and I'm proud at the way I conducted myself and I don't have any regret
Christie – if that's all I got. that's all I got.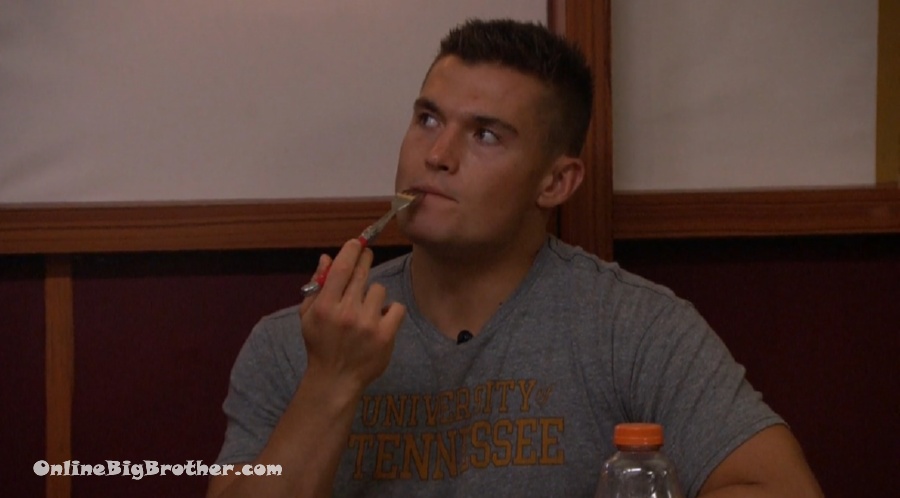 2:20 am Feeds flip to Jackson and Holly having a threesome with a bowl of watermelon
Holly talking about telling kat she needs to make deals and she didn't Cliff did.
Jackson – by putting Cliff up it doesn't put him in a position where he breaks a deal
Holly says she did talk about if Cliff was a voter he would be put in a tough position "he made a deal with Christie I'm pretty sure that deal also means not voting her out"
Holly – having him on the block is the only thing. that deal is supposedly only good for one week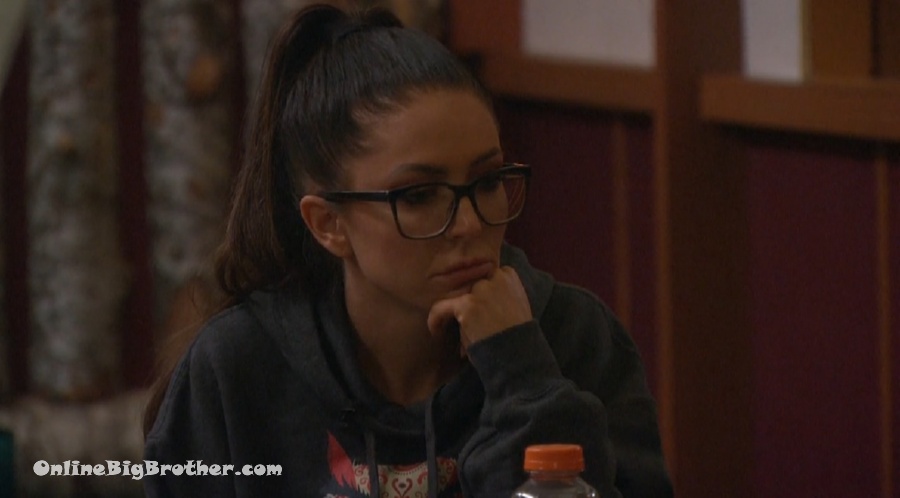 Holly – the thing though. Nicole made the same deal
Jackson – so
Holly – I think she'll break it
Jackson – all I need is three and I will break the tie
Holly – even if you get out Christie it is scary because then you have Tommy, Sis, and Nick.
Holly – Nick I don't know
Jackson – sis that's fine, Tommy that's fine
Holly – Nick and Cliff are tight and I think they have a deal
Jackson – that's fine everyone has deals with everyone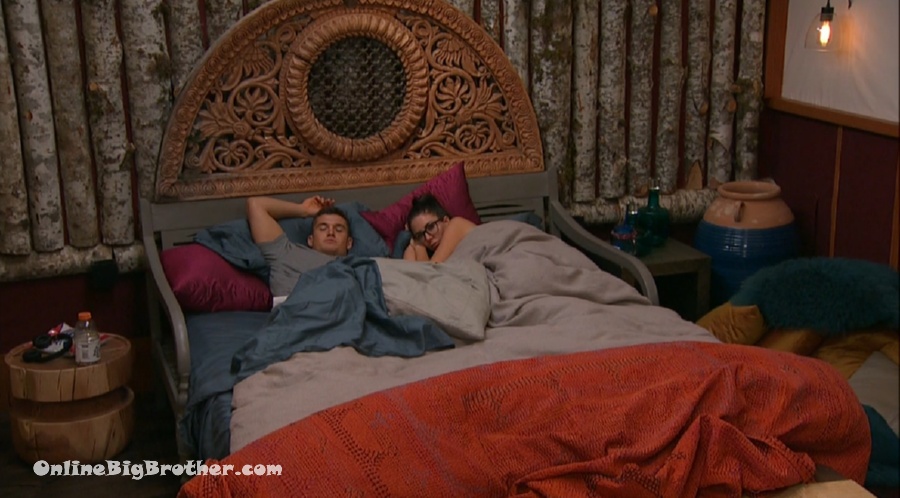 3:02 am Jackson and Holly
Jackson – so I think I'll tell Christie that I'm going for Cliff and the person I want to talk to first is Nicole and then Nick.
Jackson – I just need to know Nicole will vote in my favour with Jess to keep Cliff.
Jackson – if Christie comes off the block I'll put Sis up. straight up
Holly – okay
Holly – Christie stays off the block again
Jackson – I'll tell Tommy and Sis if they win and take Christie off I'll put the other person up whoever is remaining
Jackson – one of them three is going home. If Sis wants to see Tommy go out the door than she can use the veto on Chrsitie Tommy will take her place. If Tommy wants to see Sis go then that's fine Tommy if you want to see sis walk out the door then take Christie off. Sis will go up .
Jackson – Nick if you want to see Christie come off the block that's fine Nicole will go up.
Jackson – I'm not going to sugar coat sh1t this is my HOH and I'm going to do…. I am tired of playing other people's games.
Jackson – I'm tired of playing Christie's Big Brother. I'm HOH this week dammit I'm going to make some moves I'm going to ruffle some feathers and make waves..
Jackson – I'm going to make the moves people have been too scared to do
Holly – every single person in this house is scared of Christie
Jackson will tell them straight yup he knows CHrsitie is coming for him "Best luck in the veto"
Jackson will tell Christie – "If you take yourself off Tommy will go up or Sis will go up " (music to my ears)
Jackson – one of y'all three is going home this week
Holly reminds him of Jury votes.
Holly – they feel like they've bought Cliff
Jackson – that's great Cliff can't do sh1t while he's on the block I've taken away that deal they've made. Putting Cliff on the block wipes out that deal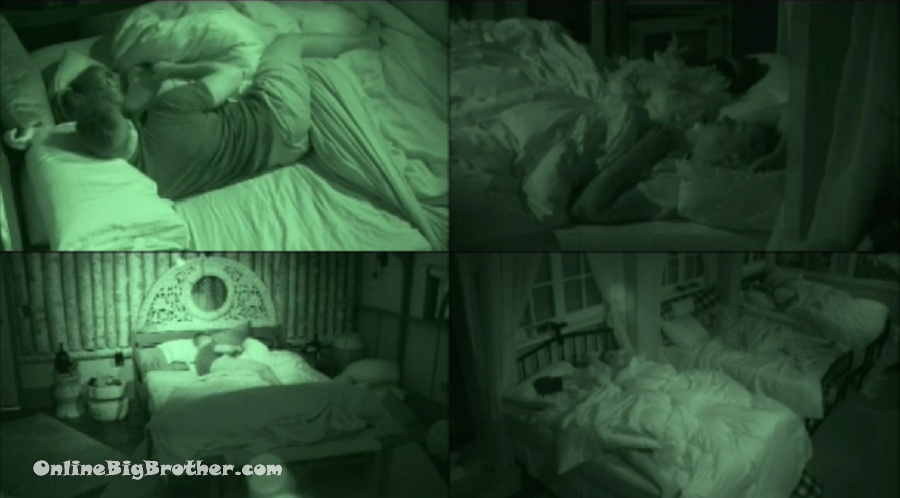 5:20 am zzzzzzzz
OBB wouldn't be possible with our your support!
If you are one of the generous people that donate to help keep the updates coming, we're giving out a bit more this year. Check out this page for more details: OBB Members