Head of Household Winner – Jackson
Have note are:
Nominations are:
Power of Veto Players are
Power of Veto holder –
Power of Veto Ceremony –
Grab your live feeds —-> BB21 Live Feeds Subscription Link
Rank your houseguests —-> Big Brother 21 Ranking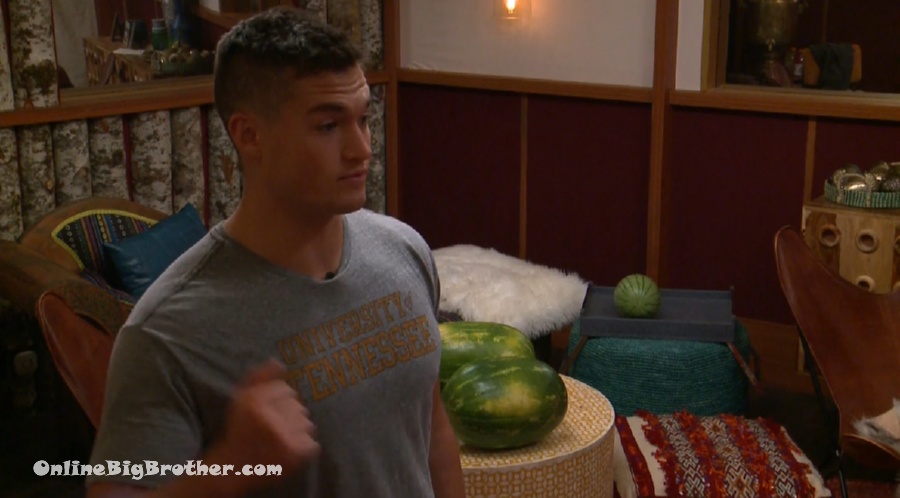 9:24 am Holly and Jackson
Jackson – here's what I'm thinking I thought about it a lot last night.
Jackson – If I put up Christie and Sis that leaves both of them on the block and only one of them can come off with the veto. There's a small number of people the odds of Christie and Sis playing are HIGH anyways
Jackson – If Christie is on the block and SIS wins the veto and she's not on the block she can protect Christie. I got 2 of the 3 safe.
Jackson adds if Sis and Christie are up and one of them wins Veto Cliff goes up as the replacement nomination. Says that now Cliff and Nicole have to vote out one of the two so they are not going back on their deals.
Jackson – same with Nick he has to vote out one of them. And if one of them comes off well okay. Nick wins the veto fine I'll put Nicole up there, If Tommy is gunning for it okay that's fine.. I'll put Cliff up there and I already have 3 votes to get Sis out.
Jackson – I want to make sure people's votes are going in my direction I'm just going to say screw it shoot my shot and put Christie and Sis up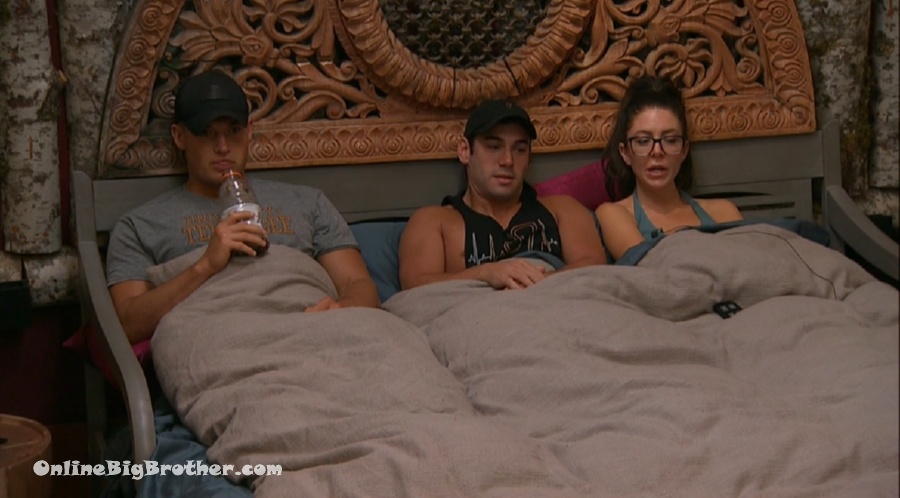 9:42 am Tommy joins Michie and Holly in the HOH
Tommy – This is great this is your second chance.
Tommy claims he doesn't know how many people were really going to nominate them because from what he's hearing everyone was throwing the competition.
Tommy says Nick and Christie were throwing the HOH competition (ohh tell Christie this)
Tommy – I'm happy to be as involved as you want me to be or as uninvolved as you want me to be (uninvolved please)
Michie – I need to do what's best for my game
Michie – I need you to always know I trust you and I have your back next week and I told you during the comp I'm not putting you up I'm sticking with that.
Michie says he's keeping his conversations one on one. He's not going to talk about other people to Tommy, or Christie, etc
Tommy warns him he's going to hear a lot today.
Tommy says they may hear that getting Kat out was about "you two" . "that was how I kinda had to put it, It was really about everybody she was working literally everybody but me"
Jackson asks Tommy who is Christie talking about when she says "The Liar"
Tommy doesn't know (hehe)
Jackson again reassure Tommy he's not going up but other than that he's keeping his plans to himself. What he decides to do doesn't include Tommy and doesn't impact how Jackson feels towards him.
Tommy goes on how gr8tful he is that he's not going on the block. "I just want to keep working together that's it, I'm loyal to my people from day one"
Tommy leaves..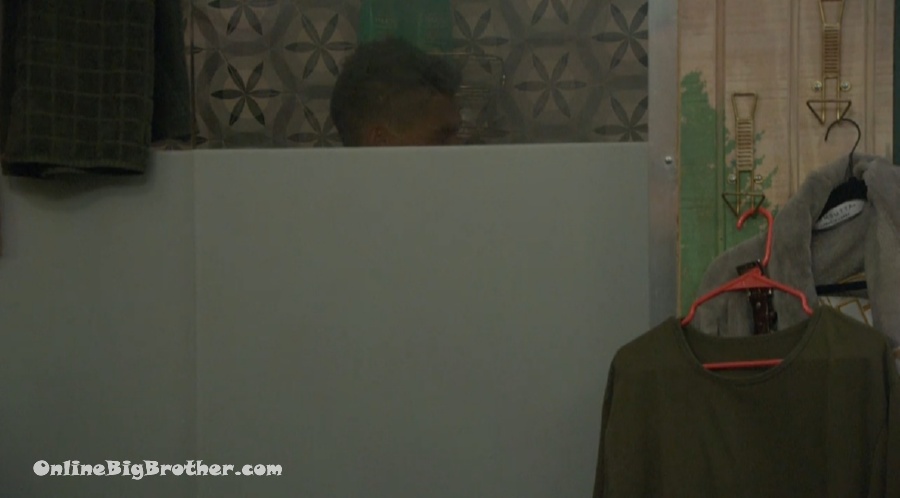 Holly says Tommy is trying to do damage control for Christie ans SIS
Jackson – yup it ain't going to work
Holly – how he's like I'm loyal to my people.. so where we the people weren't loyal to us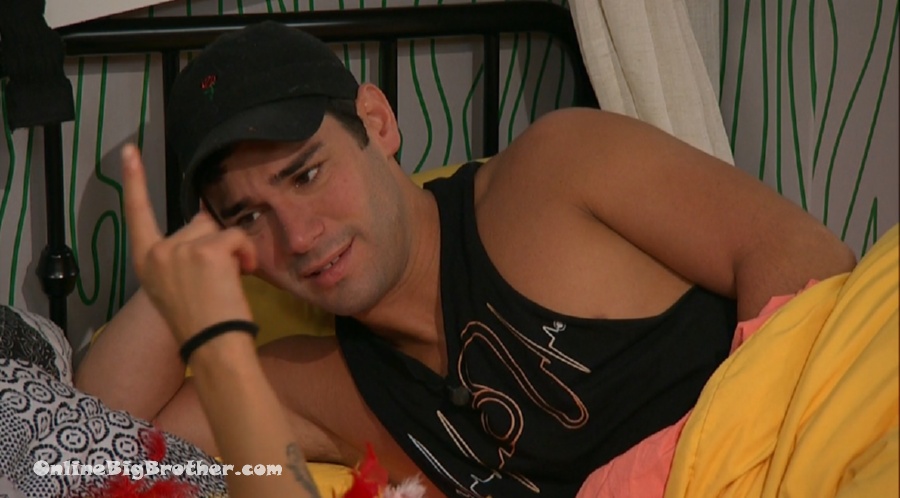 10:02 am Tommy and Sis
Sis gets the costume removed today
Sis – I'm really scared he's going to try and take a shot at Christie
Tommy – she did run her mouth a lot
Tommy – if he takes a shot at her it puts us into a bad position its part of the original team we can't go against him we have to respect his nom but I also want to protect her
Tommy – If Jess is sitting on the block we have to vote to evict Jess according to the deal.
Tommy – if I were him I would ..
Sis – he should put up Nicole and Cliff
Tommy – that's what I would do to then after veto If one of them wins it I would put up Christie in that case. If I was him. I would start off by rebuilding all the relationship that have broken
Sis – that's not his game he doesn't care about f*ing relationships
Tommy says he told him that everyone was throwing the comp they weren't planning on putting him and holly up
Sis says she knows Nick has her back but he might be put in a situation where he throws them under the bus.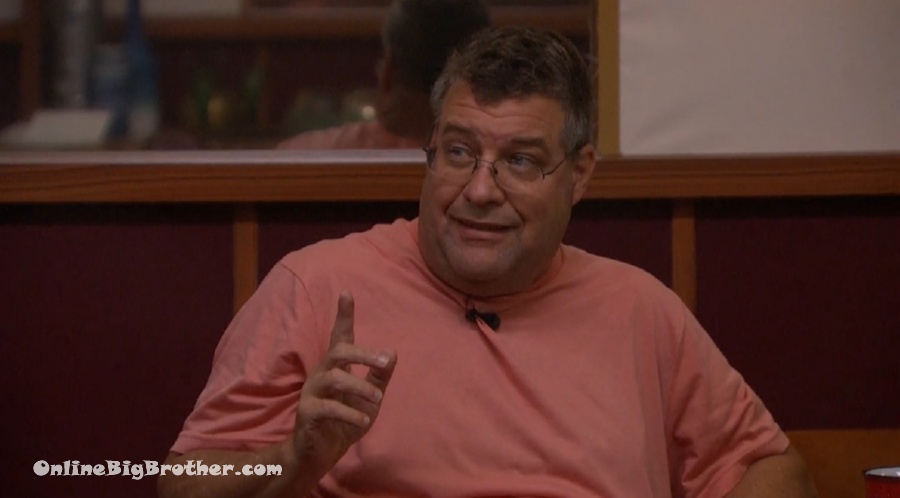 10:14 am Cliff and Jackson
Cliff talking about why he made the deal with Christie and Nick etc. He was on the block and had to save himself.
Cliff – Michie it wasn't me it was every single person that said These are the targets to protect ourselves.(Holly/Michie)
Jackson says Cliff is like "The FDR of deals"
Cliff – it was brought to me, If you want to stay take the agreement
Cliff – I know I've gone back and forth mt back was against the wall I did what I had to do to survive
Cliff – I also turned down a 4-week safety from JAck to save you I hope that carries some weight
Jackson knew about that.
Jackson – I told you last night I'm not putting you up if there was any chance of you going home
Jackson – for the first 1/2 of this game I feel like I've been playing someone else's big brother
Jackson says he would like to work with Cliff/Nicole and potentially with Jess
Cliff – I will vote the way you want me to vote I will give you that guarantee. .with one caveat. If Nicole is up there I'll tell you man to man I would have a hard time.
Jackson – that's not happening trust me I want to work with you Nicole and jess moving forward.
Michie – I don't believe in pussyfooting around when I have my eyes on someone in this game it's only fair to take a shot I don't know it I will never me HOH again I 'll be dammed if I sit back and take this thing lightly
Michie says he feels like his performance in mental comps is poor so he needs to make his move now there might not be another HOH he can win.
Cliff – Man to man I'll look you in the eye and tell you
Michie – you'll see in my nominations it's not going to pull on your heart. I'm going to put you in a spot where you don't need to break your deal. I don't want you to be stuck in a rock and a hard place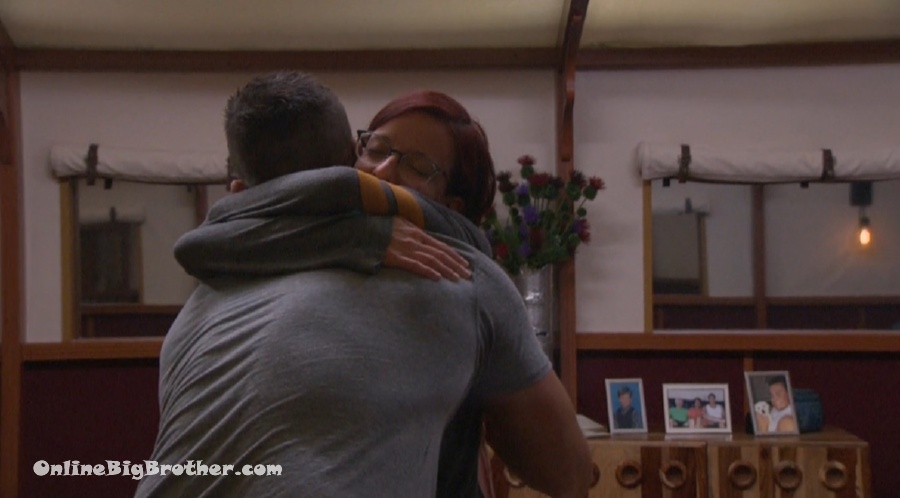 10:31 pm Jackson and Nicole
Jackson tells her she's not a target and neither is Cliff.
Jackson – if you see the block it will not be if there's any chance you can go home I will not risk it
Jackson – if you are not on the block would I be able to count on your vote in the direction I like
Nicole – yes, I trust you
Jackson – I would like to work with Cliff and I would like to work with you
Jackson – To be completely honest I have my mind made up unless you lay the f*ing hammer down nothing you say will get you in trouble. I am a vault.
Nicole is shy to tell him something.
Jackson – you can trust me
Nicole – I had such a hard time yesterday the way I saw it was if Kat stays you guys are not out on a limb if I voted out Cliff I was going to have many many angry people but I already had my choice going into the week who I was closer to in this game and that's why I wanted to keep Cliff.
Jackson says there are 6 votes this week he only needs 3 votes to make "things" happen. If Nicole or CLiff are on the block he will break the tie in their favour.
Jackson – things can go really well this week as long as we don't' wavier
Jackson – I love you girl
Nicole – I love you more
They hug jit out
Jackson – It broke my heart seeing you cry because you don't deserve it.
Jackson tells her the only time Nicole or Cliff would go up is if the veto is played or there's some twist. says if you go back on your word now that's jury votes lost.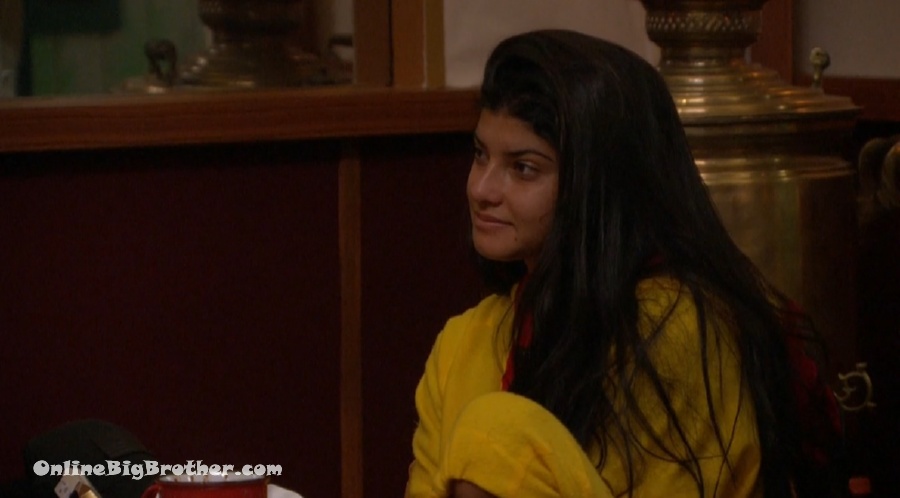 10:48 am Sis and Jackson
Sis – one .. congratulations that was sick
Sis – two .. whats my points… I'm nervous.
She asks him where his head is at
Jackson says he's not telling anyone sh1t he's doing what's best for his game "Don't' take me not giving you any information thinking you are f*ed. You are walking out of here with as little info as everyone else"
Sis – I've always had your back I've always had Holly's back. I've always been loyal beside what was said in camp comeback because I was upset.
Sis – I never say much about anybody. I just keep to myself
Jackson – I've talked to Tommy, Nicole and Cliff there's a lot of options and there are also very few options going into this week. this makes it though especially with the dynamics in this house and where I stand right now. This week is going to draw lines in the sand whatever I want to or now Day 44 day 58 there's 2 halves of the house.
Jackson says on a personal level he trusts her. tells her it's not good for his game with her walking out the door.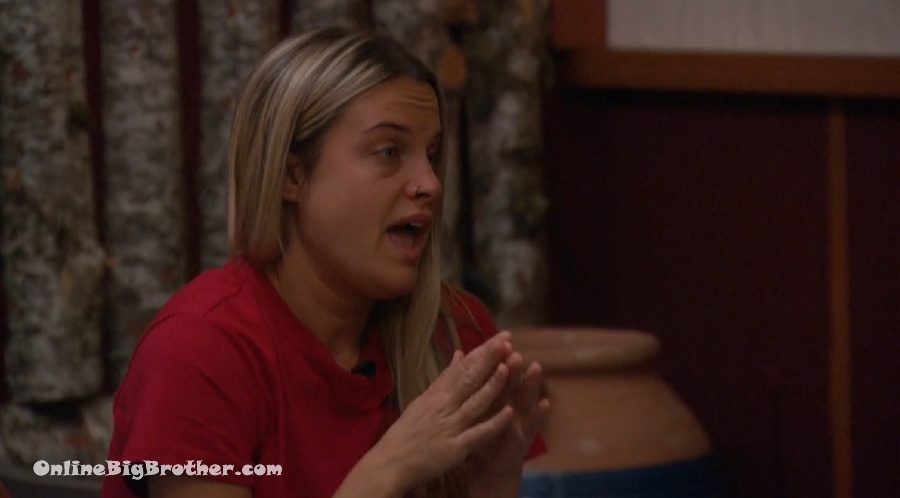 11:04 am Christie and Jackson
Christie – I'm so surrendered to this game. I don't believe anything anymore.
Jackson says if he didn't win the HOH he would be on the block this week.
Christie agrees with him
Jackson says all that was left were Jess, Holly and him.
Christie retells last weeks event that caused last weeks drama.
Christie says it was brought to her they should keep Cliff. "all i heard me, Tommy and Sis were on his radar. IN my mind I'm not f*ing keeping Cliff"
Christie says the "deaL" was brought to her saying "you good"
Christie says she was brought into this pack and it became a group thing, "just so you know it was not an alliance there was no handshake no talk about a final 6" (LOL no talk of final 6)
Jackson tells her he doesn't know what he's doing. (lie)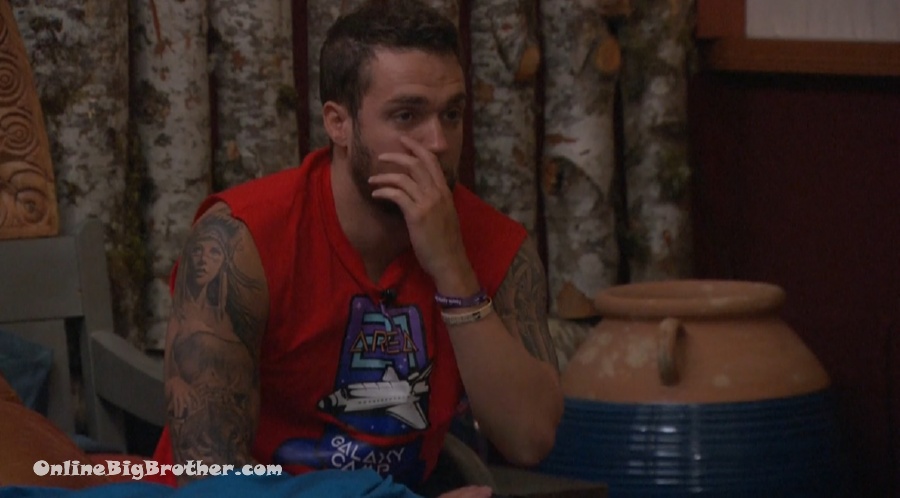 11:40 am Jackson and Nick
Jackson not telling him anything other than he's doing what's best for him and that whatever said after the nominations should be game-related not personal
Jackson – you and I are good
Jackson says he's got nothing to worry about at least until the veto. Michie also told him there's no backdoor plan.
11:48 am Nick humps Tommy .. again
Nick humping Tommy before Nominations #BB21 pic.twitter.com/V5aH70HEqC

— OnlineBigBrother.com (@bigbspoilers) August 16, 2019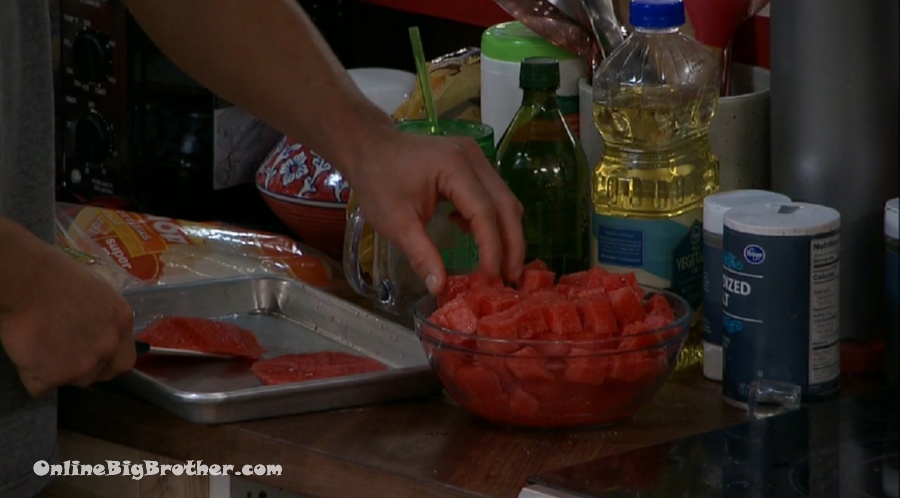 11:57 am Jackson getting ready to talk with Jessica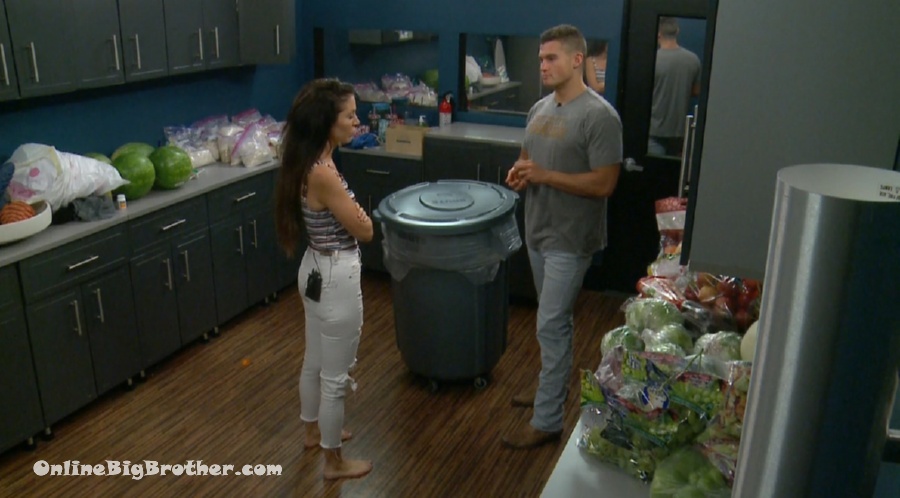 12:44 pm Holly and Jackson
Jackson – Christie and Sis
Jackson adds that Cliff gave him his word put it on his heart, "Nicole did the same thing"
Holly – what about Nick
Jackson – I'm going to talk to him after noms about details. I just needed Clif and Nicole the rest I'll fill in after.
Holly – Holly, Jess, Nicole and Cliff if he stays off the block (To evict Christie)