POV Holder:
?
Next POV
July 25th
POV Used
?
POV Ceremony
July 27th
HOH Winner Team 1:
Jackie
HOH Winner Team 2:
Vanessa
Nominations 1 :
?
Nominations 2:
?
Battle of the Block Winner
?
Next HOH/ Next BOB
July 30th / July 24th
Original Nominations:
?
Current Nominations:
?
Have Nots
?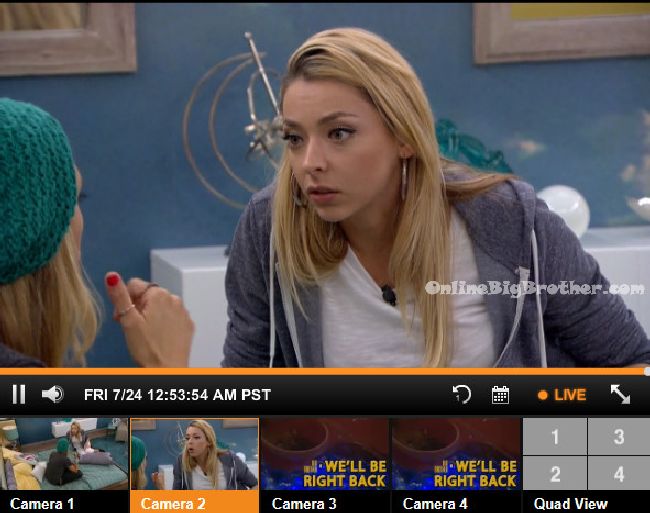 TRY the Big Brother 17 Live Feeds FREE for 1 WEEK:
Click here to ensure your live feed subscription supports OnlineBigBrother.com at no extra cost to you.
12:50am Second HOH room –
Vanessa tells Julia to tell Jackie that she put her up and would understand if you put me up but if you don't I could promise you safety till top 6 or top 7. Promise her top 7. Don't tell her you're a twin. That's giving her information for no reason. Just know I am not coming for you. Vanessa says that Jackie want's to backdoor Austin or Steve. You're not the target but she will make you the target if you give her a reason. I would understand if you put me up and we would be even if you did. Just promise me I'm not you're target. Julia tells Vanessa she wants her to tell Jackie about the twin thing. Vanessa says she (Liz) is going to think the same way as you do right? Julia says yes, Liz knows that showmances don't last. Vanessa says especially if he (Austin) is throwing you under the bus. His words were to Jason that he had his (Austin) permission to target you if they kept Liz. Vanessa says Shelli, You, Liz and Clay are going to be good. Vanessa says that Jackie is the only one that doesn't really know who you are. Plant the seed of doubt that you wouldn't care if Austin was here. Vanessa laughs and says you can promise to not put her (Jackie) up and then your sister can. Julia leaves. Jackie comes in and tells Vanessa that Becky is on board with going up with Clay to throw it. Vanessa says you have my word that we will use the veto on you to take you off.
1am Second HOH room – Jackie & Vanessa talk to Meg and Jason in the second HOH room. Vanessa says I assume everyone thinks that I was working with Austin and Liz. I have credible evidence that he betrayed me. I was 95% sure it was true until I got him in the room and asked him. I asked him straight to his face and he lied. Look how I did my last HOH .. if you lye to my face you're done. Vanessa tells Meg and Jason that she loves both of them. James joins them. Vanessa gives them the speech again. I've been wanting to work with you guys. I was looking for a reason to work with you. Its very likely there are twins and that they're with Austin. Austin is a better backdoor target than front door. Jackie said she wanted remain in power. Jackie says it doesn't matter. Jason says it would look better if it wasn't you (Vanessa) betraying him. Vanessa says and Jackie has a reason to put up the Liz.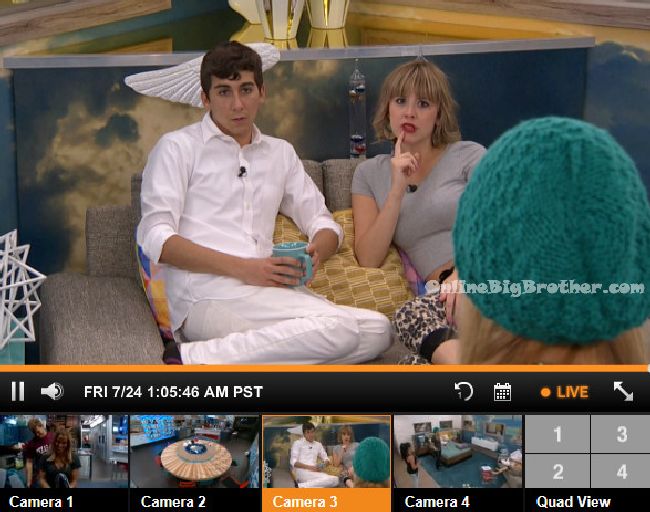 1:20am – 1:40am Vanessa says Jackie is happy to put up Liz. On my side we got Clay to volunteer to go up with Becky. Here is where we need one of you to go up with Liz. We are willing with Shelli & Clay to make a final 8 deal (Jackie, Vanessa, Meg, Jason, James, Clay, Shelli, Becky). Meg says Clay and Becky will win and so you need someone on your side (Jackie) to throw it. Jason says I came in saying I would never throw a comp. Jason says its different to know you're staying up there till veto. Vanessa says its best for one of you to go up because there's two of you to vote for the other. You have my word I will not vote against you. Jackie says and you're coming off and then it's Liz and Austin remaining. Jackie says if Austin wins and takes off Liz then we put up Steve. Vanessa says we can't talk about it much and need to keep it a secret for it to work. Jason says well I'm afraid to sit next to Steve. Vanessa asks why would we keep Steve? Vanessa asks what do you think James? James says 2 out of the 3 of us have been on the block this week. Meg says James you've been throwing my name under the bus all day. Meg says here's the thing if you volunteer to be the pawn and you go home.. Vanessa says you will not go home. James says if you want to draw froot loops thats fine. Vanessa says we can't put up Becky & Clay if one of you doesn't agree to throw it. Vanessa says with this we are forming a new form of loyalty. I am down and think we could go really far together. Jackie says and with double eviction coming up we need to stick together. Jackie says I will promise you on my dead body .. not my dead life .. I will promise you that you will stay! I will die for it! No one can brainwash me, I will not get brainwashed! F**k That!! Vanessa asks what is the reasoning for putting up Clay? Jason says you can say you're putting up Clay because you haven't seen him play and put up Jackie because you haven't talked game with him. James says that he is willing to go up as the pawn to throw it. James says if any of us win next week can I just have a week off. They agree to it. Jason explains what Austin had told him the other night about the twins and how he was okay if the targeted Julia.
– THE PLAN –
Vanessa will put up: Clay & Becky (With the intention of them winning and dethroning Vanessa)
Jackie will put up: Liz (Julia) & James (With James throwing the Battle of the Block)
– Austin is the main target with Steve being the backup target.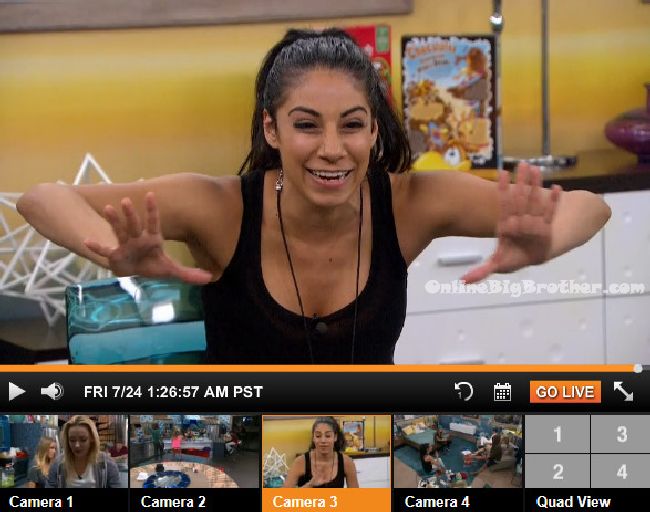 Meg says that she is glad to talk game now without having to talk about Audrey every day. Vanessa says we need a final 8 name. They agree to "Dark Moon" alliance. (Its something Audrey used to always say.) Jason says Audrey this is what you always wanted while you were here and not that you're gone we're going to do it. Meg tells Vanessa from the outside it looks like you are closer to Shelli than Clay. Meg tells James I am not letting you still be up there on Thursday .. we need win veto. Vanessa says the only thing that justifies what Austin said is that he is thinking with his wrong brain. Jason says he's just trying to get a little nookie in jury.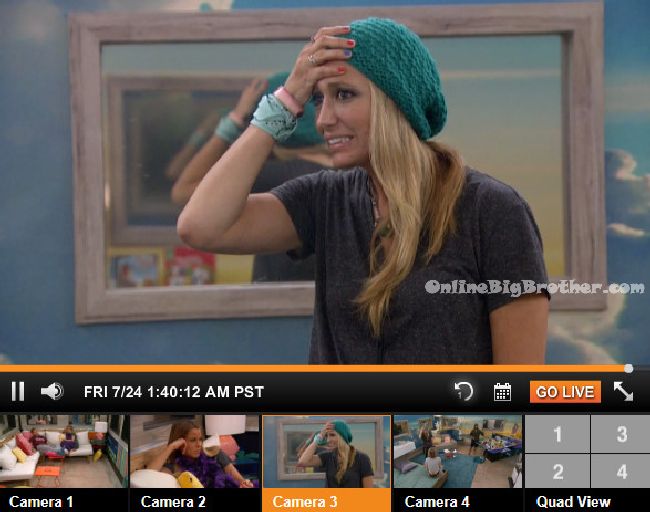 1:40am – 1:50am Cabana room – Shelli and Clay. Shelli says I think I bond more with Liz than Julia. The cameras switch to Julia talking to Jackie. Julia tells Jackie I know I put you up so I would understand if you did put me up. Jackie says I'm not sure what I will do because there are other options but if I do put you up .. you're not the target. Julia says I respect it and I will not have any ill will. If you do then we would be even. I want you to know that you are not my target. Jackie asks how Julia feels about Steve. Julia says I think he is a genius and has been throwing competitions. Julia says if you don't put my up I would guarantee you top 6. I am not working with Austin. You're not my target at all. Julia leaves. James talks to Jackie and says that he will do it but thought it would be better if it was Meg. He says but I know she would freak out. James says It will be the funniest comp ever if I am going to throw it. I'll be tripping over my boots. Jackie says that Julia said she would be okay if I put her up.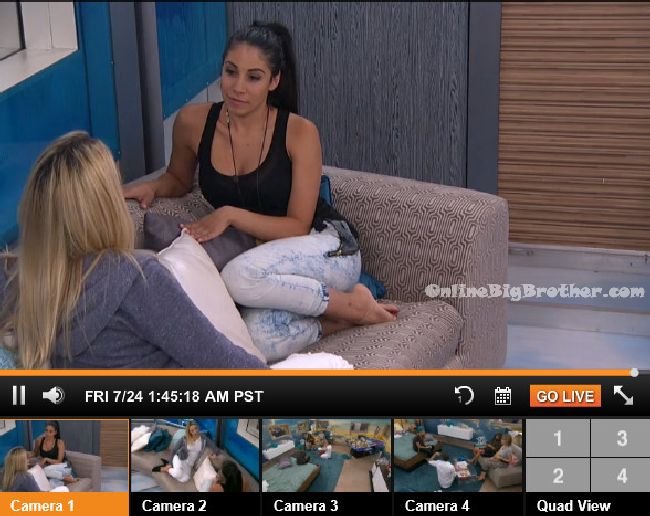 2am Second HOH room Austin talks to Vanessa. Vanessa says tells him she is not putting you up. She is putting up Liz. Her main target is Steve. I don't know who she is going to put up as her pawn. I think she will probably put up whoever put her up which would be James. I am going to talk to Shelli and Clay and get one of them to volunteer to go up .. most likely Clay. Vanessa says I'm worried Jackie will backdoor me if I get dethroned. Vanessa says I would put up Becky as my target. Austin says they would win over Liz and James. Austin asks why wouldn't she just put Steve straight up. Vanessa says because then if they win BOB ..then Liz and Steve come down. Austin says I'm scared Liz will go home. You don't think the house would flip and get her out. Vanessa says she doesn't think so. Vanessa says I think Jackie would much prefer to get out Steve. She would rather the twins come in and then they would be bigger targets than her. Austin says what if I went up for you and threw it. Or would that be too risky .. too obvious that I would be throwing if for you. Vanessa says she needs to talk to Clay and Shelli. She tells Austin to send them up. Austin tells Meg, James and Jason that he volunteered to go up if the plan is to get Steve out. If we can all just get on the same page.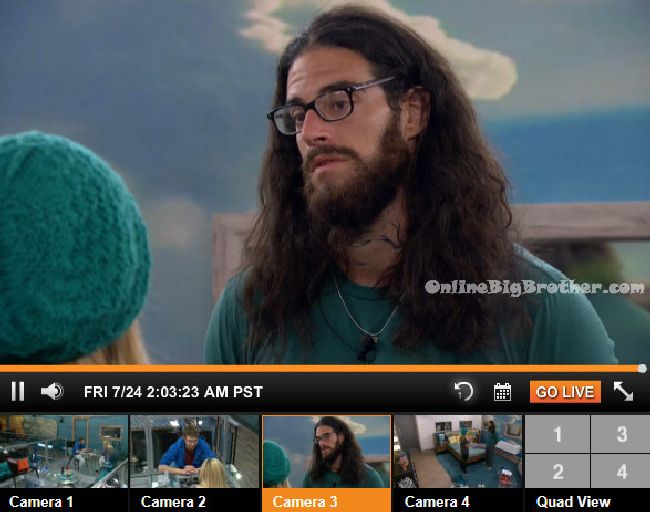 2:10am Cabana room – James, Jason, Clay, Becky, Meg, Shelli and Jackie talk about the alliance name "Dark Moon" for their final 8 deal. Austin joins them. He sends Clay and Shelli up to the HOH.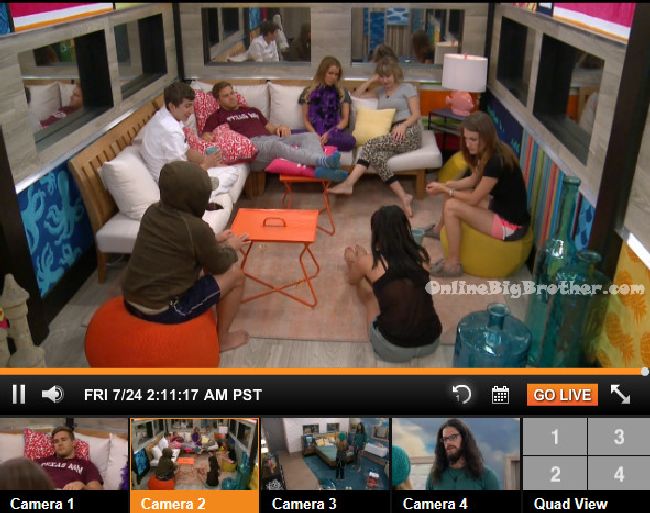 2:15am – 2:30am Second HOH room – Vanessa talks to Shelli and Clay. Vanessa says I feel bad but not really because he (Austin) lied straight to my face. Becky and Jackie join them. Vanessa fills them in on her conversation with Austin. They laugh about how once Austin is gone Steve can sleep without ear plugs, there will be a lot more meat and protein. Jackie says that James volunteered to go up. They comment on how mad Meg got about not wanting to go up. Vanessa says I really think this is going to go fine.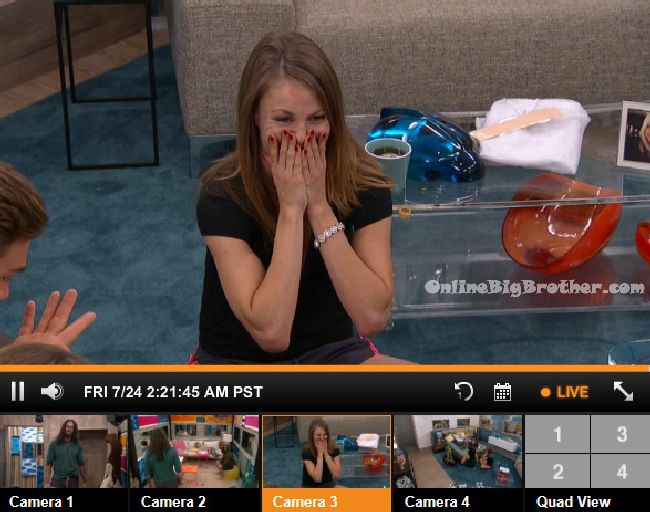 2:30am HOH room – Vanessa says the only person I haven't talked to is Johnny Mac. Austin says he's asleep. Vanessa asks is he playing this game or not?! Vanessa tells Austin that she is almost 100% positive that Becky is the other vote. I am going to put her up. Vanessa says and between Clay and SHelli I got him to volunteer. Austin says as much as I want to go up and be the hero to save her (Liz) it would be too obvious. Austin asks what if you get dethroned? Is he (Clay) going for it? Vanessa says yeah he's going for it. Austin says that Julia is play chess with Steve. What is she doing?! I've told her to hang out with other people. She's only making it worse for herself. The problem is people like Liz and not her (Julia). Austin says right now no lines are drawn. Vanessa asks I don't get why Johnny Mac didn't talk to me. Austin says I don't think he is really playing the game. Him alone has done nothing for the show. He isn't going to win HOH. Vanessa says he just throws comps. Austin asks so we can use the veto on her (Liz)? Vanessa says yes. Austin says so I can win it and use it on her. Austin says I won't shave my head .. its a moral thing.. for wrestling.. its an integrity thing. Vanessa says I would do it. I will shave my head for half a million. You wouldn't do it for Liz? Austin says don't put that on me. Vanessa realizes she (Jackie) is putting up one of my closes Liz and I am putting up one of her closest Becky. She is going to hate me. Austin says the hero in me wants to go up throw this for her but I can't.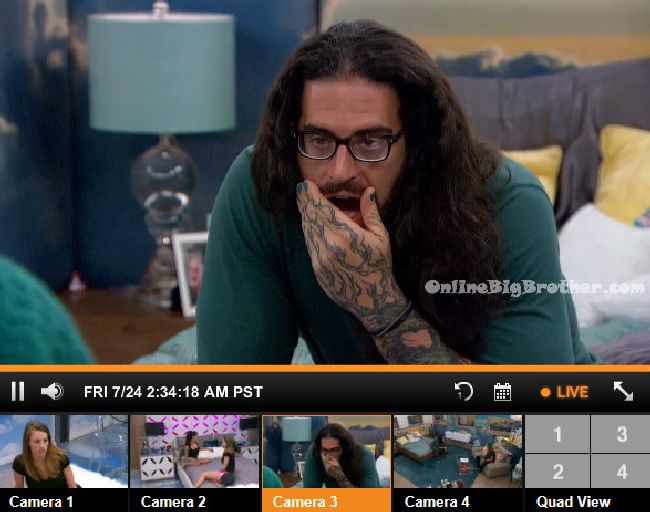 2:45am HOH room – Jackie, Becky and Jason are talking. They talk about how if Jackie needs to pick the havenots she should pick Austin and Liz. They haven't done it since week 1 .. that's where they fell in love.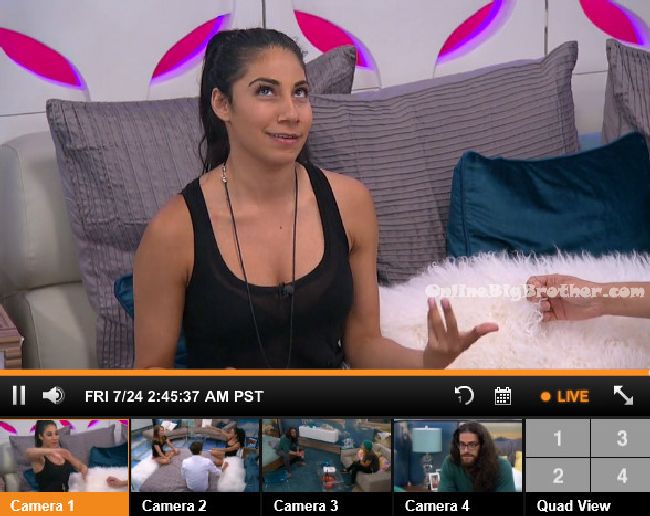 Share it YO!!
Tweet