POV Holder:
?
Next POV
July 25th
POV Used
?
POV Ceremony
July 27th
HOH Winner Team 1:
Jackie
HOH Winner Team 2:
Vanessa
Nominations 1 :
?
Nominations 2:
?
Battle of the Block Winner
?
Next HOH/ Next BOB
July 30th / July 24th
Original Nominations:
?
Current Nominations:
?
Have Nots
?
10:44pm Austin and Jason HOH
Austin pushing Steve being the target this week. (Sigh)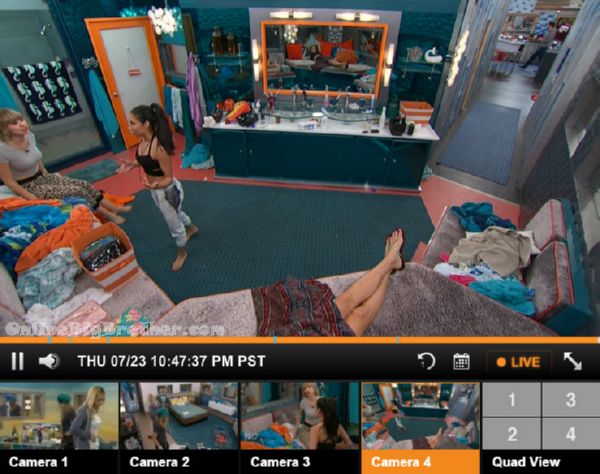 10:47pm Becky, jackie, Meg
Jackie saying she's good with everyone
Meg gives her advice "Make deals be smart about it"
10:48pm HOH Austin and Vanessa
Vanessa says she didn't want to be HOH
Austin wanted to win HOH he was so close "I'm so angry"
Vanessa – we're going to have to talk a lot.. I'm going to talk to you last..
Vanessa – A lot of people have a strong feeling about the twins
Julia comes in.
Vanessa says she has a solution she needs to work things out.. "I need to talk to Clay and Shelli first"
Vanessa – she thinks I'm totally fine with her keeping it (HOH) I'm 100% not fine with that
Vanessa – you guys gotta trust me I'm loyal…
Julia leaves
Austin says there's a big movement everyone downstairs wants him out.
Austin says he talked to JAson. .
Vanessa asks if Jason knows Austin knows there's twins.
Austin says Jason is the one that wants Julia gone right away.
Austin says he outed the twins Jason want them in. He told him the twins cannot confirm with him.
Vanessa – you are going to do damage to yourself if you open your mouth.. don't lie to me every if you lie to me I'm going to be pissed..
Austin – I'm not
Vanessa – I hope you are telling you the truth
Austin – yes I am
James comes up "You mom is gorgeous.. she's replaced Meg"
Vanessa – She's a milf"
Austin asks if he should talk to Jackie or wait
Vanessa – the key is I'm hiding the fact we are working together
Austin leaves.
Vanessa – Austin just lied to me point blank to my face i'm, loyal but I'm not stupid.. why did austin lie to me.. why
(Vanessa's strategy seems to be finding reasons people lie to her blowing that up then using that as a reason to get someone out.. Htye've been doing it a a lot this season.)

11:08pm Becky and Jackie Have nots
Becky telling her to try and keep herself safe through double eviction.
Jackie says right now she doesn't have any targets
jackie recommends if Austin is the target she cannot make it obvious.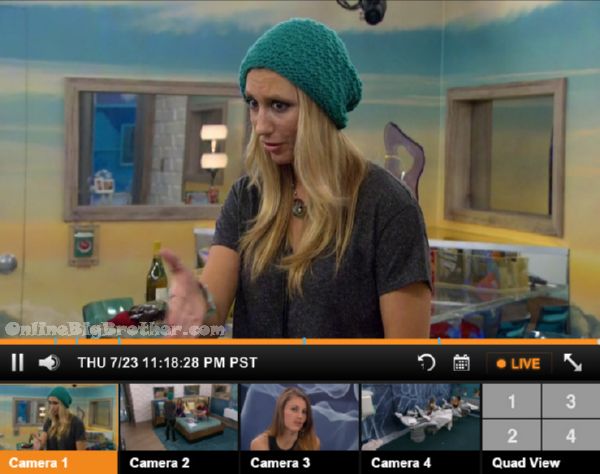 11:16pm Vanessa, Shelli and Clay
Vanessa – I'm stressed.. she want to put up Liz and Steve
Vanessa – she loves you guys she wants to work with you guys.. I had to let her think I'm OK with it.. It's not good for us
Vanessa is unsure she wants to save any of them ..
Vanessa explains Austin lying to her face 100% "I don't trust him.. he's not working with me.. he has so much information with us"
Vanessa – he has the whole thing about Jeff
Shelli says he doesn't have enough it was him that wanted Jeff out.
Vanessa proposes they come close to Jason, Meg, Jackie about the twins.. they turn on Austin and get him out. and keep the twins.
Jackie comes up .. Vanessa says she's fine with Jackie having the power.
Clay asks who does she want out this week
Jackie – we're thinking Austin and Liz
Jackie says she's putting up Liz and a pawn, Liz is the target but if POV is played (She wants it to be ) Austin goes up.
Jackie leaves, Shelli – "I love her, Vanessa I love her.. she trusts us and now we can form something"
Vanessa wants them to work with Meg, James and Jason.
Shelli says it's brand new now Audrey is gone.
Vanessa keeps going on and on about Austin lying
Shelli – it's not about lying why did he tells JAson in the first place…
Vanessa says if Austin knows he's going up everything is coming out.
Shelli and Clay want Austin out before the twins.
Vanessa says there's a 30% chance steve throws the BOB for her there's a zero % chance he would throw it for Jackie.
Vanessa says they should get JohnnyMac to throw it on the other side and she nominates one of James, Jason, meg.
Shelli suggest she put up Steve and Becky
Vanessa can't because Jackie wanted to leave Steve as the backdoor plan.
Vanessa is recommended she puts up Clay/Shelli and Becky with JohnnyMac and Liz up on the other side. JohnnyMac throws the BOB.
Clay is fine with the plan if JohnnyMac is on the other side.
Now Vanessa is suggesting Austin and Becky
Clay is worried if it falls through and he's up against Becky he's going home.
Vanessa suggesting they let everyone have one vote for who they want up and if a person doesn't vote it's a vote against them
Shelli isn't keen on this idea
Clay suggest him and jason nominated.
Vanessa suggesting Austin and Clay going up that way if something goes wrong Clay will never go home over Austin.
Shelli wants Becky and Clay vs Liz and JohnnyMAc in the BOB.
Vanessa says if for some reason Becky and Clay lose the BOB clay could go home.
Vanessa say the other plan they take out someone from the other side. She wonders if they can make JAckie think they are going to throw the competition and they don't.
Shelli and Clay don't think so it's too dangerous.
Vanessa suggests she backdoors Jackie.
(She's going through all possibilities)
Vanessa will not put up JohnnyMac she'll put up James, Jason and Meg.
Vanessa – Austin isn't stupid if he sees JohnnyMac up against Liz he'll know what the plan it.
Clay going back to saying putting him and Austin up having them win the BOB.
[envira-gallery id="123628″]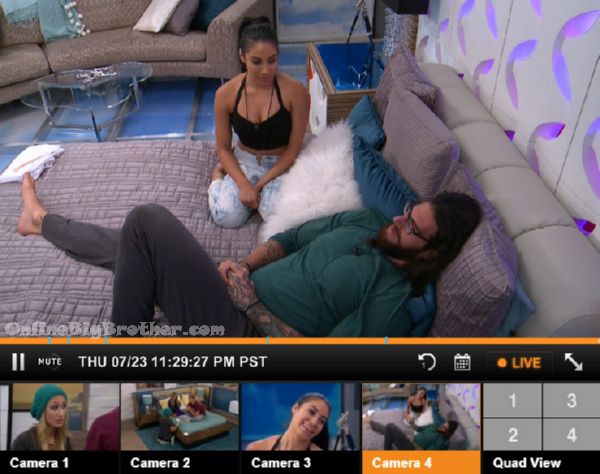 11:24pm Austin and Jackie
Doing a combination of flirting and chatting.. she's not impressed.
12:01AM HOH Jackie, Shelli, Clay and Vanessa
Jackie says AUstin is telling her there is a twin buck saying he cannot confirm it.
Jackie does not want to put Meg up
Shelli asks her who she is connected to more Meg or Becky
Jackie – yeah.. I dunno it's tricky
Vanessa tells her if Meg goes up she will never go home against Liz.
Jackie – you have to guarantee those votes
Vanessa – we need 5 votes.
Clay says they have to get rid of Steve, Twins and Austin.
Jackie thinks it's an amazing idea to put up Clay and Becky on Vanessa's side
They have Jackie convinced to put up one of Meg, Jason, James against Liz.
Vanessa – it's better AUstin goes and the twins stay.
Vanessa says she really wants to work with Jason, Meg and James.
(So looks like the plan is for Clay/Becky to go up on Vanessa's side and Meg/LIz up on Jackie's side)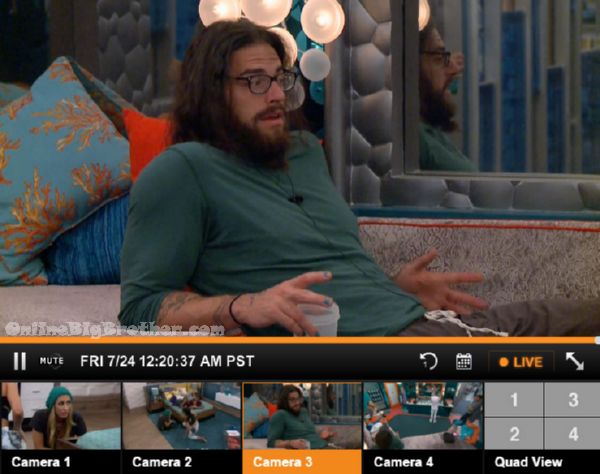 12:16AM Austin and Julia
Recommending she goes up to the HOH and makes a deal with Jackie. Austin recommends she plays the angle she can promise JAckie 2 weeks of safety and she "might" have 2 votes.
Austin – you have to do something or you'll go up.. you might still go up even with that.
12:28am HOH Vanessa and Steve
She tells him there's a plan in place and he's not part of it. ".. I'll fill you in on the details later this week there's information you'll need, I don't want to give you any now .. Just know your loyalty is number one to me and my loyalty is number 1 to you"
Steve – Yes
Vanessa – You are not getting backdoored there's none of that sit easy and let what happen happen
Vanessa – " when I break sh1t down for you you're going to be shocked "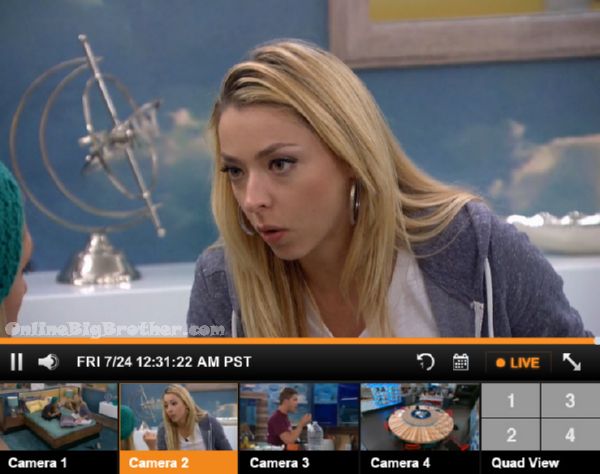 12:29am Vanessa and Julia HOH
Vanessa saying the best she can do is make sure Austin isn't up against Austin. "I don't know who's she's putting up next to you"
Vanessa says she's not the target she's going up but to protect Julia she's going to give her some information later.
Vanessa says she want to keep the HOH power, "I think she's wants to backdoor Steve"
Vanessa – I love Austin he's not thinking clearly right now.. he's not thinking with the right head if anything it's bad for you.
Vaenssa – He wants to make it to Jury with Liz at all costs.
Julia says she doesn't think Liz likes him "We don't talk about it I know she's not attracted to him"
12:41am Vanessa tells her Jason pulled her into the bathroom and said Austin told him that Austin tried to make a deal to save Liz and he said he didn't care if they targeted Julia. Julia was getting the feeling that Austin would want to get rid of her once her and LIz were both in the game.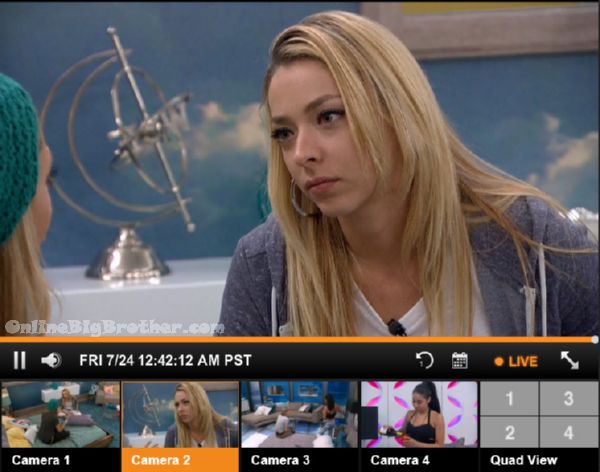 Live Feed subscription gives you CBS All Access thousands of archived shows. Live Shows like Big Brother, all the Big Brother Seasons, and 24/7 coverage of what is happening inside the Big Brother House. Plus there's flashback that lets you go back to any second of the feeds and rewatch what happened. Simon and Dawg will index the season just watch the parts worth watching. All this for $5.99 a month try it out 1 week free. Support our efforts and get your feeds via a link on this site. Live feed subscription Sign up
[polldaddy poll=8994045]
Share it YO!!
Tweet