3am
Vanessa tells Jason/Becky/Jackie I feel bad but I shouldn't. He lied to me. Becky says I'm going to dethrone you with honor tomorrow. Vanessa says that was basically the most awkward conversation with Austin ever. He offered to go up and throw it. Jason says he wants to go up so he can win it because he's nervous. Vanessa says no, he wants to go up and throw it to save Liz. Jason says he said something different in the hammock room. Vanessa is worried Steve will hear something. Meg says the only person that will talk about it is Austin. Vanessa says I'm not a bad person, I'm not a bad person am I. Meg says if you told him the truth now it couldn't happen. You're going to tell him the truth just not yet. Everyone leaves except Jackie and Vanessa. They agree the plan is perfect. Jackie asks what do I say if JMAC comes to talk? Vanessa says offer a deal if I don't put you up if you won't put me up. Make a deal and move on. Vanessa says if they (Twins) knew that Austin said he only wanted to get Liz to Jury. They would both want him out.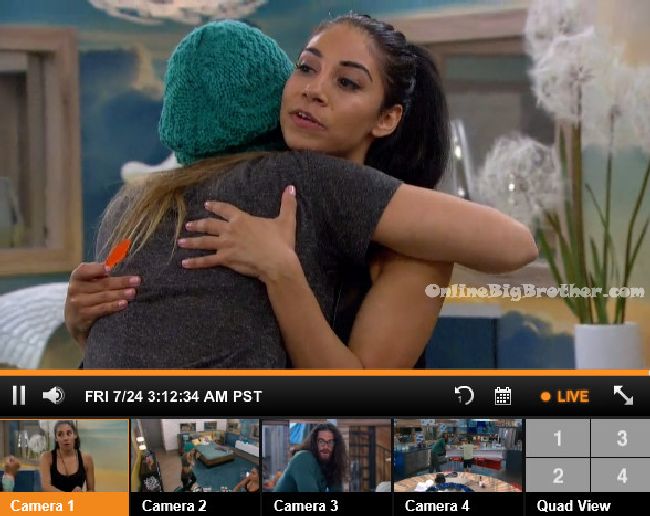 3:15am Bathroom humor – James tells Steve the last time he got a$$ was when his finger slipped through the toilet paper.
3:20am – 3:30am Austin tells Julia to start talking to Meg, James and Jason a lot. We are done with Johnny Mac and Steve. They're the next two to go in a perfect world. Julia says okay. Austin asks how her conversation went with Jackie. Julia explains their conversation. Austin says I think she is going to put you and James up. Julia asks why James? They close. Austin says he put her up week 1. Austin says that everyone is on board with Steve as the target. Austin says I almost want to volunteer to go up so I can throw it to save you two but it will be seen too much like a set up. Best case scenario is Becky and Clay win and you and James are up and Steve gets backdoored and goes home. They don't want you out. Austin says no one wants Steve here. He is sketchy, he throws things and everyone thinks he's America's Player. Austin says if Liz stays up we have to votes to keep you. I am 100% sure you're not the target. The target for everyone is Steve. We have BOB and Veto. Everyone is going to play to get Steve up. You can't be seen hangin out with Steve alone .. its like Audrey this week. Julia asks why JohnnyMac? Austin says because he's sleeping right now.. he's not connecting with people.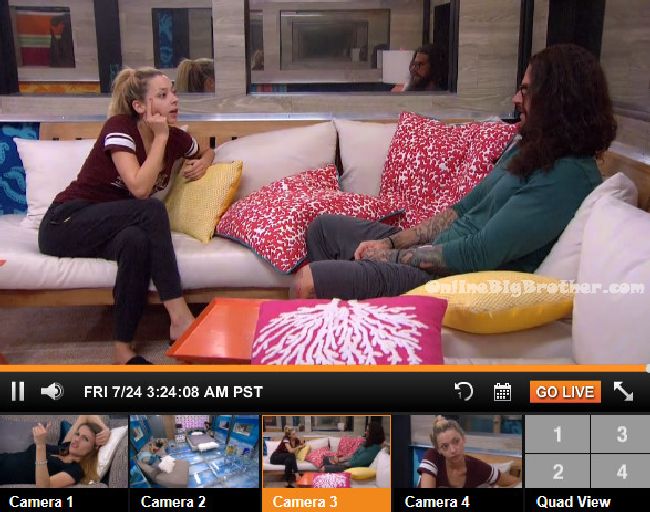 3:35am – 3:50am HOH room – Jackie and Vanessa agree this plan is perfect. Vanessa says you'll have no blood on your hands. Vanessa I am an extremely loyal person and no one will know about my deals unless you f**k me. I can't believe that is really it. Is that it!? Jackie says and James says he is really going to throw it. It will be funny. Vanessa says and Becky and Clay are going to beast it. Becky joins them. They talk about how they can go after the twins after Austin. Becky says we have to get one out before jury because they're two votes. Vanessa says the women are dominating season 17! Jackie says James hates it. Vanessa says 7 out of 10 HOH's that's crazy! Vanessa goes to bed.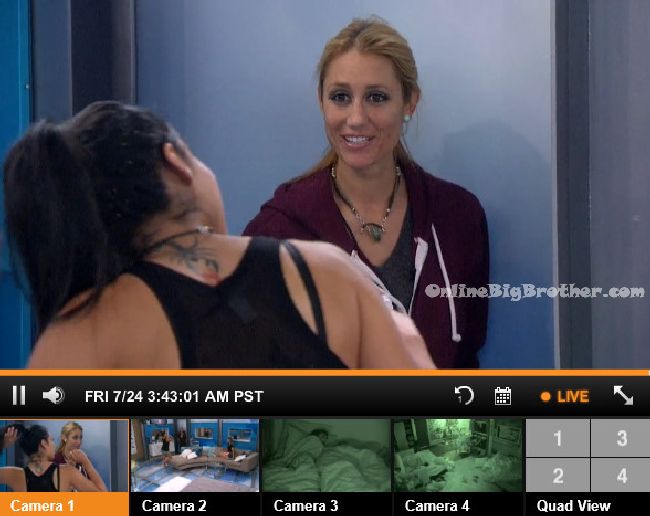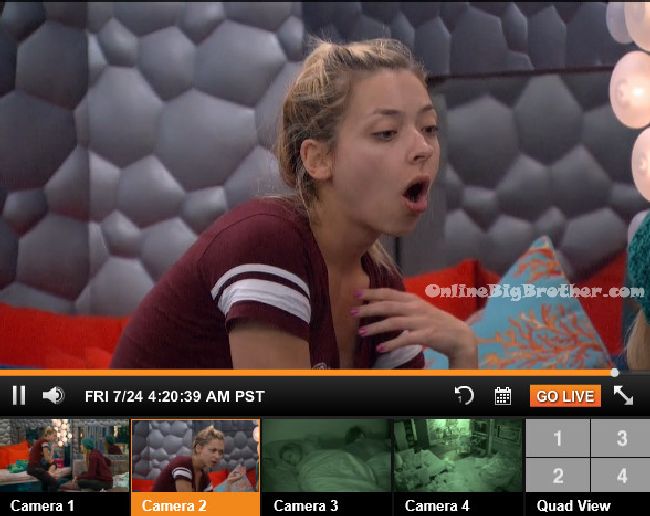 4:15am – 4:35am Bathroom – Vanessa tells Julia that the talk she had with Jackie was good and that Jackie actually said she likes you most. Julia asks do you know who the person was that voted to keep Audrey. Vanessa says I have had an alliance with Austin and the only person in the whole house. I had a final 2 deal with him. This is before you guys came along. This is since day 2. I have your guy's back 100%. Julia says I know. Vanessa says they'll probably put both of you on the block together. I will fight for you and which ever one stays I am your girl. I have no one. You guys can trust me 1 million percent. Everyone would kill me if I told you. The thing with Austin. He didn't even ask before he just went and did all this stuff ..like what the f**k. Julia tells Vanessa that it was Austin that voted to keep Audrey. Vanessa asks why? Julia says because he wanted to cast doubt on Steve. Vanesssa asks he told you? Julia says yeah before though. Julia says you should tell Clay and Shelli that. But what, are we going to confront him about this? Vanessa says here's what's going to happen .. we may not ever need to. If Jackie just backdoors him .. her excuse will be you lied to me about the twins. And she now knows because Jason F**king told her. Everyone now knows .. everyone even knows your name. He won't even know the full extent of why he is going home. Maybe I will tell him on the last day.. but I can't because he knows so much info about all of our alliances. We don't want him to be mad we have to make him think its coming from her side. He did it to himself. He was disloyal. He tried to get a little too tricky. ANd he lied to people that he should have trusted 100%. You know that about me by now don't lie. I saved his a$$ with the fast forward. I'm the one that let him know that Jace was getting backdoored. I'm the one that took the fall for him and got all the blood on my hands when we were HOH. Julia says and he threw the veto. Vanessa says enough is enough ..how many times am I going to be stupid. Julia says I thought we could trust him but that's it .. the only person is you. Vanessa says he said upstairs that even if you go out .. its not the worst case because she (Liz) won't work with us as long as your sister is in here. Liz won't work with him. So he wants to split you guys up. Julia says this guy!?! He told Jason that we are coming in after the 5th eviction. Vanessa asks did he tell you that he already told them your name? Julia says no. No! Vanessa says so he is totally taking you for a fool. Julia says he is such a good liar. I can't sleep because I am sleeping next to the enemy. He told Jason that he doesn't mind if we evict you as long as he gets to jury with your sister. That's all he cares about ..sleeping with your sister in the jury house! Julia says its laughable .. you don't even care about this money. Julia says I am not even going to hint to Liz that I hate Austin. Vanessa says don't, I will have to tell her. Me and Shelli will tell her. Julia asks you will tell her right? Vanessa says I will, I won't leave her in the dark. Julia says you have to tell Shelli and Clay that Austin voted to keep Audrey. Vanessa says thats good to know now because I started to think Clay was America's Player. Julia says Austin told me to stay away from Johnny Mac and Steve. Why they're harmless. Vanessa says they're just pawns.
Austin comes in and Julia runs to the bathroom. Vanessa tells Austin I have to do a DR session. Austin says that he wants to murder Steve. He won't stop moving!! Vanessa says you can't. Austin says we just have to get this to work tomorrow. Austin says Johnny Mac should just go up because he didn't talk to you/jackie. Julia says right before eviction Audrey asked me in front of Shelli if I was a twin. I said no! Then I said you're my twin! Jackie comes out the the DR and Vanessa heads in.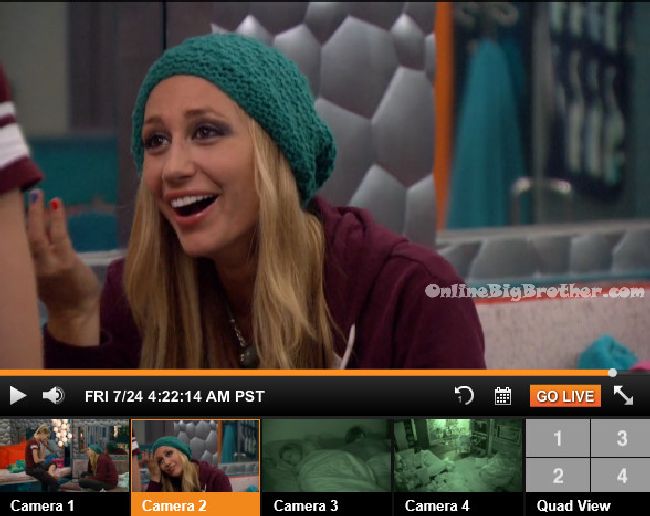 4:50am Vanessa is in the diary room while everyone else is sleeping..
Live Feed subscription gives you CBS All Access thousands of archived shows. Live Shows like Big Brother, all the Big Brother Seasons, and 24/7 coverage of what is happening inside the Big Brother House. Plus there's flashback that lets you go back to any second of the feeds and rewatch what happened. Simon and Dawg will index the season just watch the parts worth watching. All this for $5.99 a month try it out 1 week free. Support our efforts and get your feeds via a link on this site. Live feed subscription Sign up
[polldaddy poll=8994045]
Share it YO!!
Tweet