Head of Household Winner – Jess
Have note are: No Have nots this week, Jack, Tommy and Jackson were given punishments as part of the veto.
Nominations are: Jack and Jackson
Power of Veto Players are – Jessica, Jack, Jackson, Kat, Nick, Tommy (Nicole – Host)
Power of Veto holder – Jessica
Power of Veto Ceremony – Jessica didn't use the power of veto
Powers in the game *** LINK ***
Grab your live feeds —-> BB21 Live Feeds Subscription Link
Rank your houseguests —-> Big Brother 21 Ranking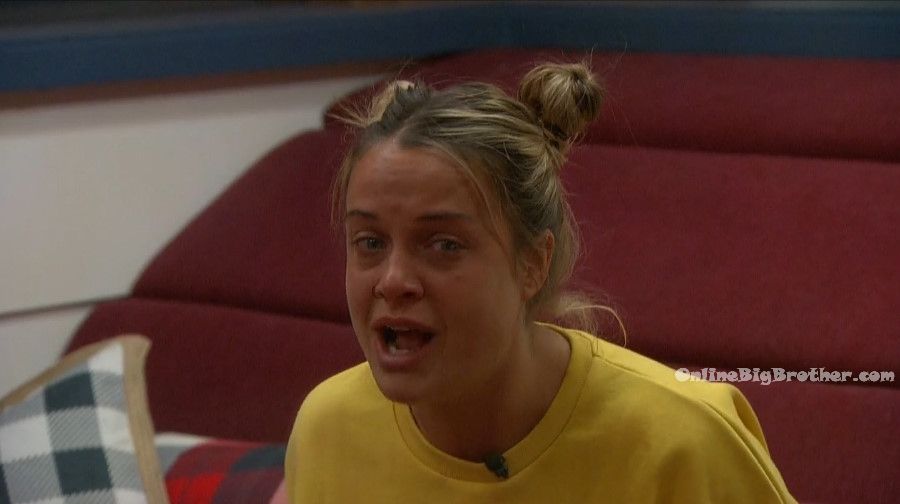 1pm Boat room. Jackson and Christie.
Christie – I just want you to know .. and I'm going to cry.. please don't make fun of me! Jackson – I'm not going to make fun of you. The reason why I said that was because Sam told me that you cried to him 3 or 4 times.. Christie – that is so not true!! I never cried to Sam. Jackson – this is where it came from.. it wasn't just me being a d*ck. Christie – I can only have my truth in this game. I never cried to Sam. I never had an emotional or personal relationship with Sam. With Sam it was purely game .. me trying to get a little information from him and stay loyal to the the six… while still maintaining a front to him gamewise. The things that I did say about you were based on an isolated incident between me and you outside the HOH room regarding a power. I was already feeling so much pressure form Nick and Sam at that moment. And I went up stairs and I was like at least I am with my people. I can feel safe and they have my back. I shouldn't have based you raising your voice at me once as a stigma about you. I do love you. I will swear on my sister that I never once said I would put you up or backdoor you or come after you. In my dream world I would have wanted to go to the end with the six. And yeah I probably would have take the first shot at you. I have my girls, then I have Jack who says he would lay on a knife for me and then I have my Tommy. Jackson – I knew that. Christie – I don't need a man in real life or in here I don't like a male figure telling me what to do. It was an isolated thing.. and maybe Nick and Bella played on it a little to get me to go to their side. But I want you to know that I didn't have intentions of turning on you prematurely.. ever! I hate the things that I said and how things escalated because of day 44. The things that I said weeks ago were being brought to light now in an attempt to break us up and it worked. And I thought we could have f**king demolished this game. I want you to know that if you get out of here and you are worried about your character, I will be the first one to stand up.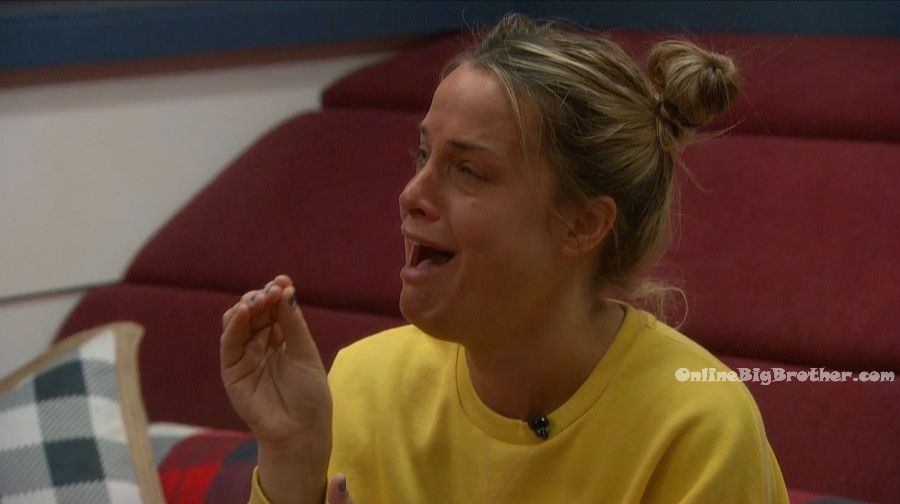 Jackson – I am because I heard things on day 44 and from other people .. and I've heard things with my own ears. Everyone lies in this game. We lied to Ovi. We've lied to Nick and Bella. But I've never lied to the six. That was where my loyalty was. I know what I am and I know what I'm not. I know what I've said and I know what I've not said. I know what I've done and I know what I haven't done. It is terrifying to me that my name and my character is getting slandered because this is national television and especially things as if I am disrespectful to women. I got cranky when I was a havenot, won the veto to take myself off the block and then you were backing out using the power to take Jack off. I know that I am aggressive. I know that and I hate it. Everything I do is aggressive. I know I have a temper but I am never going to say anything $exu@l, demeaning or demoralizing to you or insult your character. Christie – I made a generalization about you and if I could take it back I would. Whether you stay or go I don't want you thinking I think that way about you. Outside of here I will have your back and stand by you. I believed in us so f**king much! The only thing that I told Cliff was about you bring the rogue vote. Jackson – the way it was presented to me was that you were plotting against me, you were coming after me and that you told him that I was the rogue vote. So I was like biam .. it all must me true.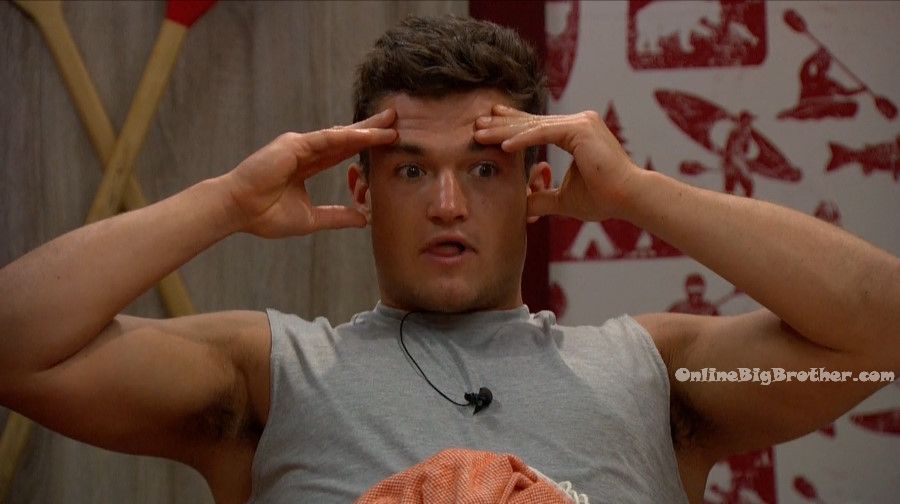 Christie – I love you Jackson. I am sorry. They both hug. Christie – You're a good man and I will stand up for you outside this house. I respect you. Jackson – I am sorry for my wrongs. Christie – I do want you to know how sincerely sorry I am.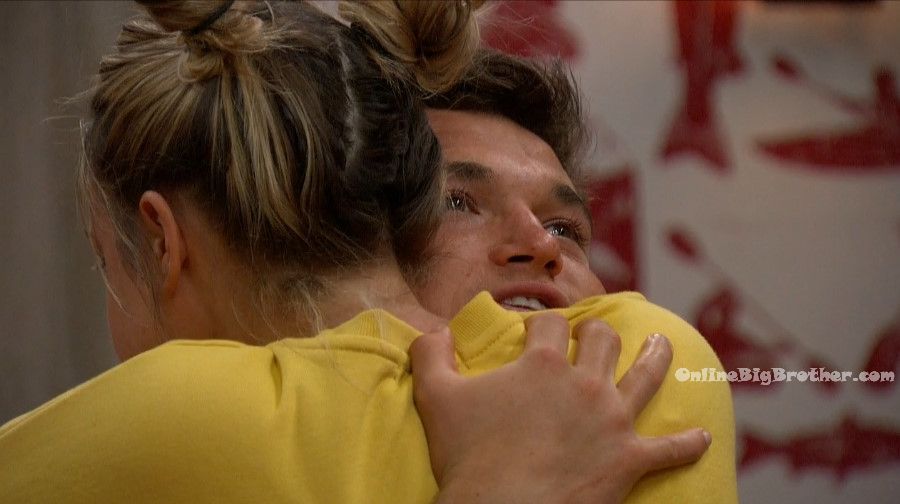 2:24pm HOH room. Jess and Nicole.
Nicole – I want to make sure I, we clarify because I don't want people looking at this and thinking they are stupid. We're aware that Michie is a threat and that Michie could very well take any or all of us out but right now Jack is a nucleus that a lot of people are attached to. With him they're all (tight together). Jess – its such a fine line because I don't want to throw Michie under the bus. People are literally saying good versus evil. Big Brother switches the feeds. Nicole – I was talking to Tommy the other day and I regret some of the things I said because I know he's very strategic. Big Brother switches the feeds again.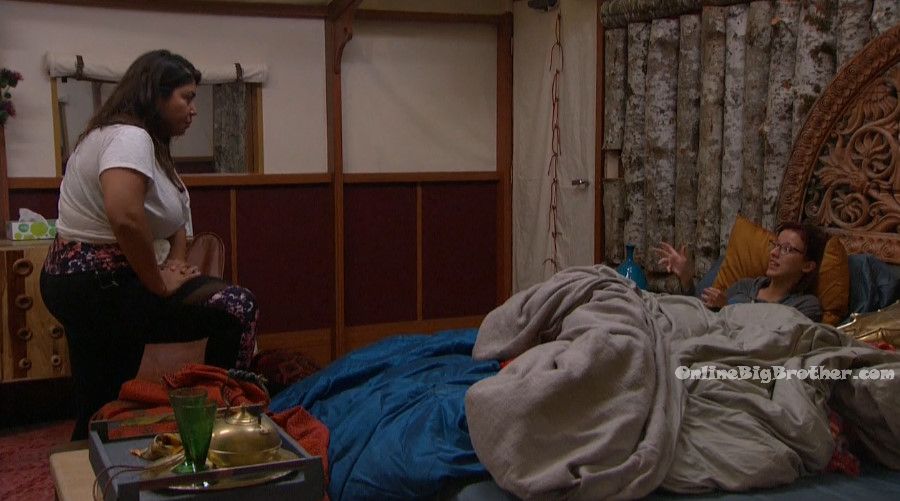 Sis and Christie. Sis – after your talk with Jackson do you still want to win HOH? Christie – I kind of have to. I also have to trust in the universe. I have to see what kind of comp it is. If its something I can destroy that I am going to go for it. If I feel like its not my comp, I am not going to go balls to the wall and end up killing myself over it. I still feel like I need to secure my safety. I still would rather not have to get blood on my hands. See what happens.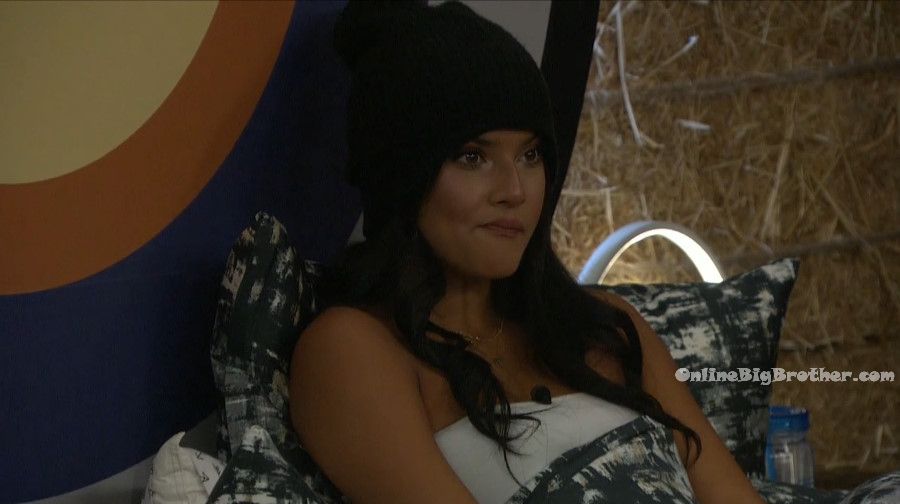 2:27pm Jack, Tommy and Sis.
Jack – the big thing is that I have to get Kat not to tell Jackson. I thought this was really fool proof and the more I think about it .. there are gaps. Like different ways that Jackson can leverage it to work for him. But Nick dug it, the way I formulated it. he was shaving his bush while I did it. Tommy – no way. Why is he even doing that.. what's the point!? Are you guys sha.. Big Brother switches the feeds.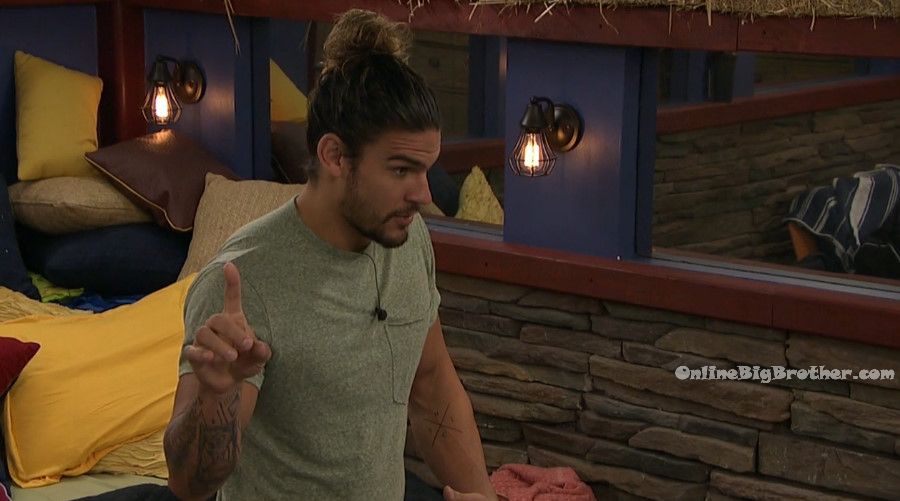 3:10pm Jack and Cliff.
Jack – I think it is pretty safe to say that if she (Jess) votes a tie break she votes to keep Jackson. Cliff – I would guess that's the case. Cliff – you know the last time we talked there was a couple weeks of safety and I needed it. I felt like I was a target otherwise. And I knew it was just a couple of weeks and then that was that and things were back to the way they were. If we worked together are we talking about me getting in with that group and in meetings and stuff like that? Jack – depends on what you want. I know you're a man that makes deals and likes deals but I am in a position where I know you're a powerful player and a very skilled player. If its something that you want.. I have built my way in this game with the integrity to a position to allow it to be what you want it to be. And to be within that you have played a trustworthy and honorable game and I would LOVE to work with you. When we talked about the 7 and the 8 I was always pushing for you to be a part of that. Cliff – my strategy has always been patience and looking for a place to land.. looking for people that I can support and vice versa. I bought those two weeks which was great but I am still looking for people I can fall back on. If Jackson goes .. I don't know how Holly falls into this one way or another. Jack – what I am offering here.. I don't want to jeopardize.. so what I wanted to offer you is a deal of eviction immunities from multiple people that I trust. And I will give you my word and I am a man of my word. I do know that Tommy and Sis would like to give three weeks evictions to you. I on top of that will offer 4 evictions. These are both in the understanding that you wouldn't put us up. Or I offer an alternate of a shorter term .. 3 weeks but you can put me up as a shield. I plan on going up in the next couple weeks in order to defend people's games. I want to be a shield and I want to earn trust. Cliff – if I flip on this I am going to piss off some people. At that point I am going to need to put you up so much as a shield, its going to be out in the open. If we are working together as a posed to being separate, I don't see any need to put you up till we get to the point where no one else is left. If we do come out of this I would want us to go into meetings with Tommy and Sis. Cliff – I am not saying yes or no. I am waiting to see how some people fall. Jack – I am going to try and make a move to where this is more of a house move.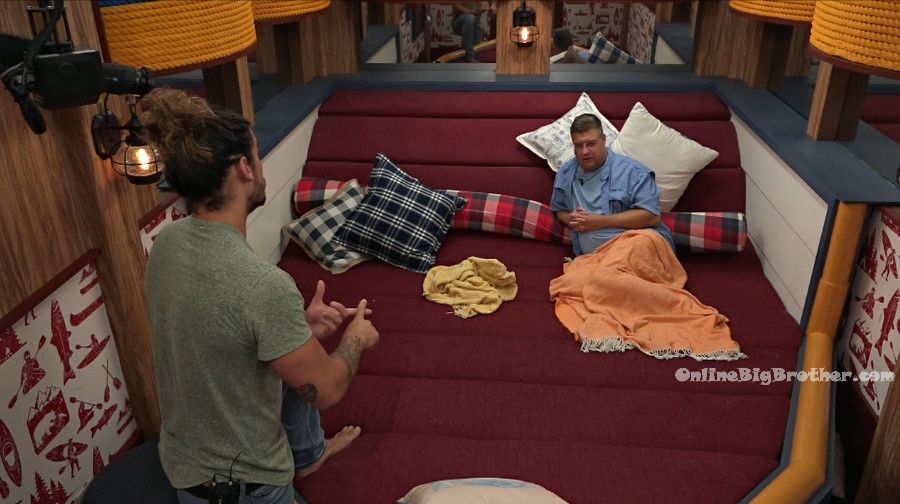 Jack heads to the bedroom and tells Nick, Tommy and Sis – I think Cliff is going to take the deal! I think he's going to take the f**king deal! He might take the f**King deal but he won't tell me at noon tomorrow.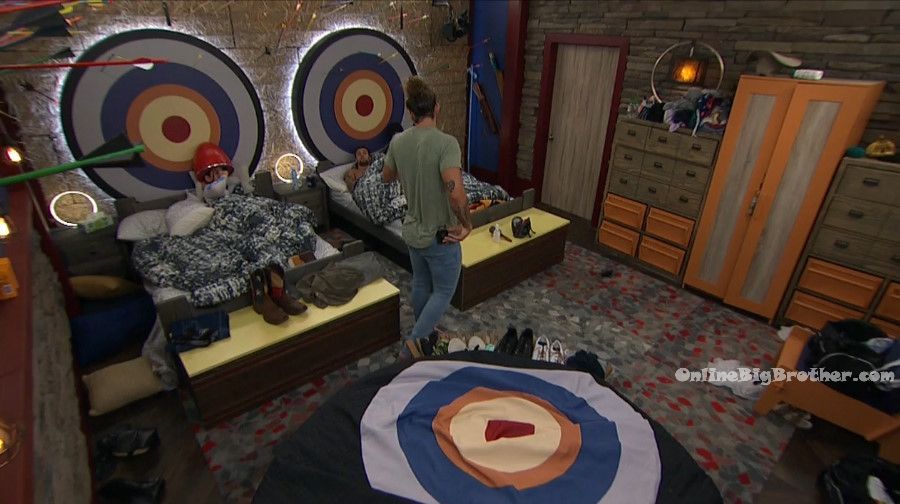 3:44pm Boat room. Jackson and Tommy.
Tommy – I want to be on the right side of the vote. I am going to be putting some feelers out and I would be f**ked up if I didn't do my best to stand by Jack. The writing is one the wall and he is going, I am in your corner. Moving forward I am in your corner and I want you to know that. I am not dating Jack. I don't have a personal vendetta against you. There is no reason for me to not vote wit you if you're staying. And I f**king love you. Jackson – I love you too. Tommy – I just want to be on the right side of the vote. Jackson – whatever you do, do its not going to change anything between you and I. Wherever you cast your vote I won't hold it against you. I have no bird, I have no bush, I don't hold it against you. They hug and leave the room.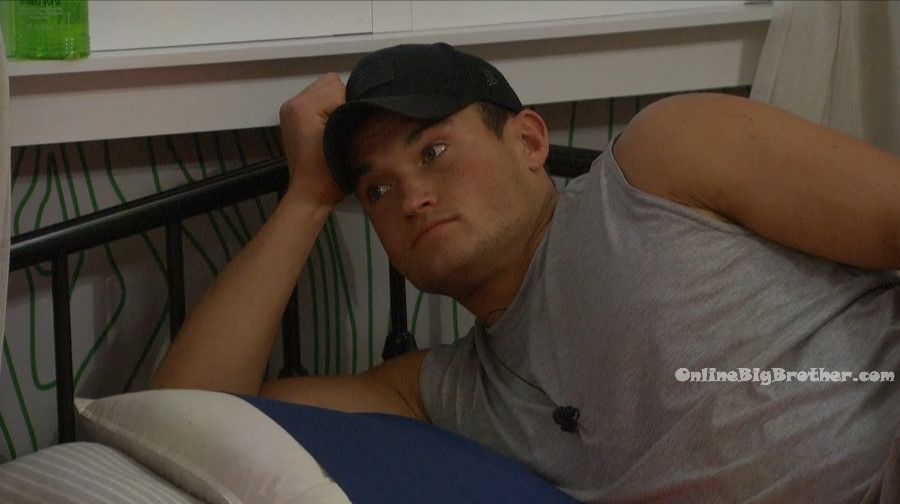 3:50pm HOH room. Cliff, Nicole and Jess.
Cliff- he said that he (Jack) is going to talk to me again tomorrow. I don't intend to ever tell him that I am not going to do the deal. Tommy and Sis join them and the conversation ends.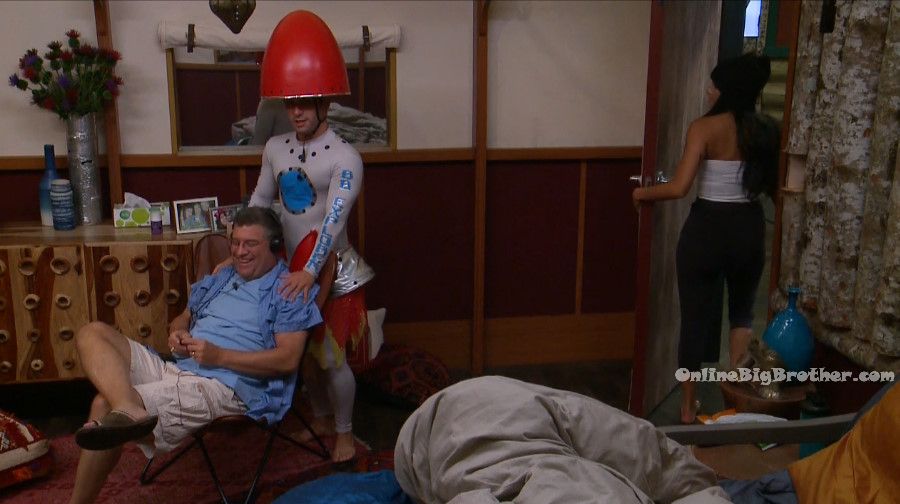 5:45pm Bedroom. Kat and Holly.
Holly – Jack even campaigned to me and asked me to vote for him. Kat – Cliff said that he (Jack) wanted to move forward with an alliance of him, Cliff, Christie, Tommy.. Holly – they want a new six and they're replacing me and Jackson for Cliff and Nick. That's what they're trying to do. Kat – basically their targets are me, Nicole and Jess… or something. I don't know, Nicole was really upset about it. But dude .. he is not going to be here. Holly – I want to stay close to them but I don't want to be like we're in an alliance. I would rather work with people I respect. If I do stay close with Sis, I do have to go back to pretending that I don't like you. Kat – just talk sh*t about me behind my back. Holly – okay. I was doing that before.. but I also don't like doing that. I don't like pretending to be a mean girl. I might say some passive aggressive things. Kat – do it. They both agree that they would be surprised if Christie makes it through the double eviction.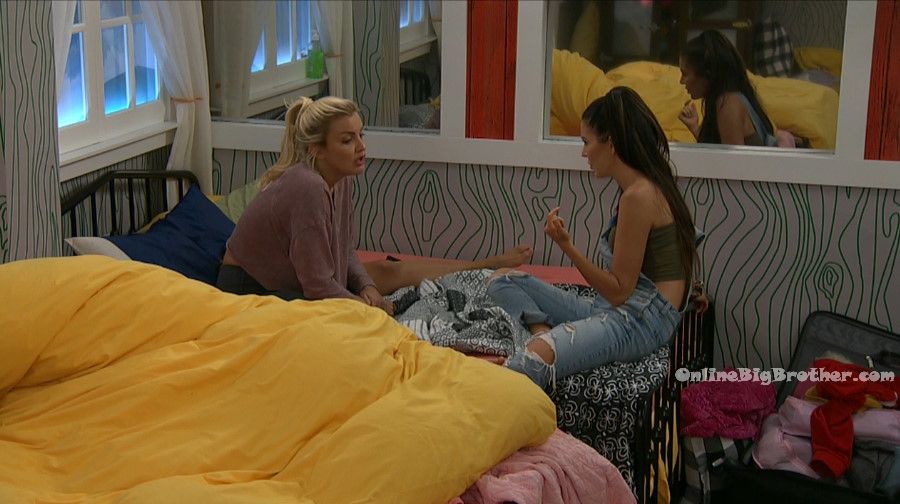 5:57pm HOH room. Jess and Jackson.
Jackson – in the event of a tie.. Jess – you already know where my vote is going to go. Jackson – but also out of respect for you I just wanted to reaffirm where we are… I am not coming after you. I at no point wanted to come after you before. I also want you to know that the relationship we've build is genuine. I've always had your back. I genuinely care about you and Nicole. Jess – I love you as well. Jackson – nothing you've done this week will ever change that. If I do go tomorrow, well then its my time. I want you to do whatever is best for your game.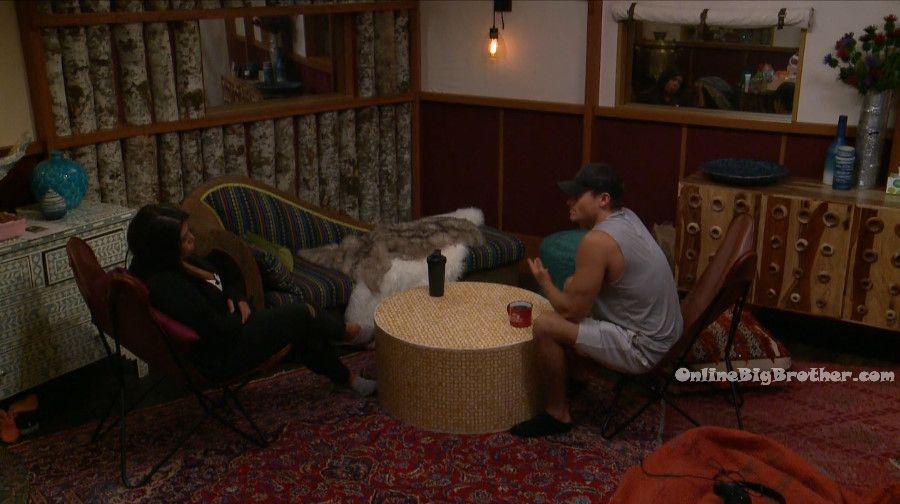 6:02pm Big Brother switches the feeds to the kitty cam.
8pm The live feeds return to the house guests in the kitchen.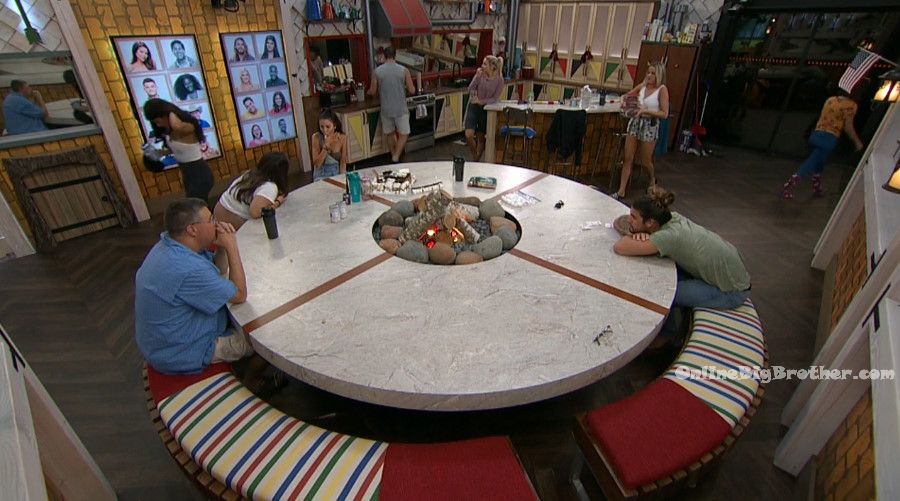 8:04pm Bedroom. Cliff and Nick.
Cliff – I was thinking of telling them before hand so that there is no melt down tomorrow. Tell Kat and Jessie that they've got this little thing and I don't care about it. I mean that was so many weeks back.. if they know ahead of time. Because the way Jack portrayed it to me.. he used the word blackmail. He said this is kind of a blackmail tactic if I have to force Kat to vote on our side. I would almost rather they know ahead of time so what the hell.. say what you want I don't care. Nick – they're going to to know it was you and then they're going to target you. Cliff – what, you mean that I told them? Nick – yeah. I've asked Kat about it before and she said no to me. Honestly it wasn't a bad move for Kat anyway .. if you were going what's the difference? Cliff – And I don't care if Kat was working with them. We were all playing different sides. Jack joins them. Jack – it comes down to this decision makes a rift but if I make it a majority thing, then other peoples games can still live. Cliff – whatever you want to do I get it either way. Nick – it would be us six… me you and them four versus the other side. Jack – f**k that's a good team! Cliff – Well I'm not saying anything now but I will certainly be thinking about it tonight and they will be pissed but there is only so much you can do. Cliff leaves. Nick – I would tell Kat sooner than later in case he spills. Why did you tell him anyway. Jack – I didn't know he was going to lock and load it. Nick – I told him not to say anything. I am sorry. I'm not trying to f**k you but you need his vote and if you blow up Kat's game you blow up Kat's game.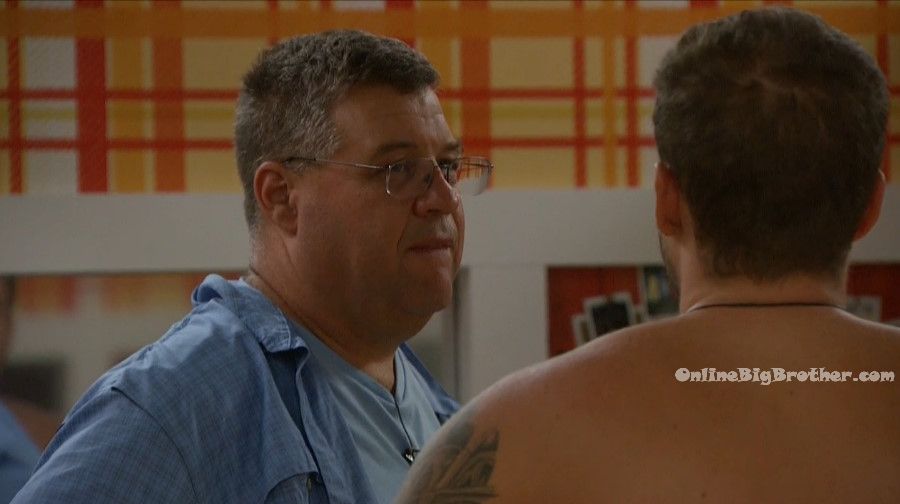 8:23pm Boat room. Nicole and Jack.
Jack – I am a big fan of you and your game. I know that we don't speak a lot of game but I don't remember you speaking a lot of game with Jackson. So we're kind of in the same spot. Its not me campaigning against Jackson and me trying to bury him. Moving forward with my game I want to move forward with clear communication with the whole house. And I know going through this next week I would be a target and I would happily be a target and a shield moving forward. I want to rebuild trust with everyone. And you're a great person. Nicole – thank you. Jack – I am loyal to a fault and I want to show just how loyal I can be.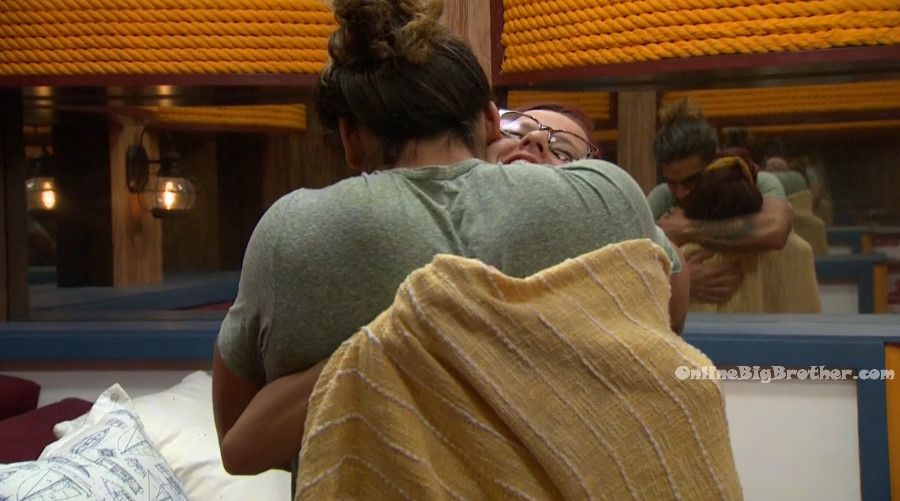 8:44pm Boat room. Jack and Kat.
Kat – I feel like there is a great chance that you will stay. Like would you go after Jess because she did put you up. She is one the closest people. Neither one of you would take a shot me, well maybe Jackson. Would me, Jess and Nicole be on your radar? I do think you've been a big leader in the house but I don't think you've been making all the decisions. I do think you have a good shot.
10:15pm Jack scares Sis.
Jack scares Sis #BB21 @bigbspoilers pic.twitter.com/3KJvMbbJ1X

— Dawg (@DawgsBigBrother) August 8, 2019

10:17pm HOH room.
Cliff – I will tell y'all but you have to remain very calm. I think I might know what Jack might have as this bomb that he is setting to put off. Jess – really?! Cliff – I didn't promise to not say anything. He had said because he is really hitting on Nick and I. And he has something that could drive a wedge and it has to do with the week that I got voted out of the house. Kat – oh I know what it is. Nicole – I know what it is. Cliff – he said that you were aware of the flip but that you did not flip and you still wanted to give information to them. That's it, that you knew about the flip well ahead of time. But because you didn't tell Jess in time it created a wedge between you two because you didn't know about .. Jess – that was it? Cliff – it was said that it would be used as a blackmail tool. Kat – please no Jack .. no! She laughs. Cliff – he said he was telling me to build trust. Kat – I can't wait for him to pull that out.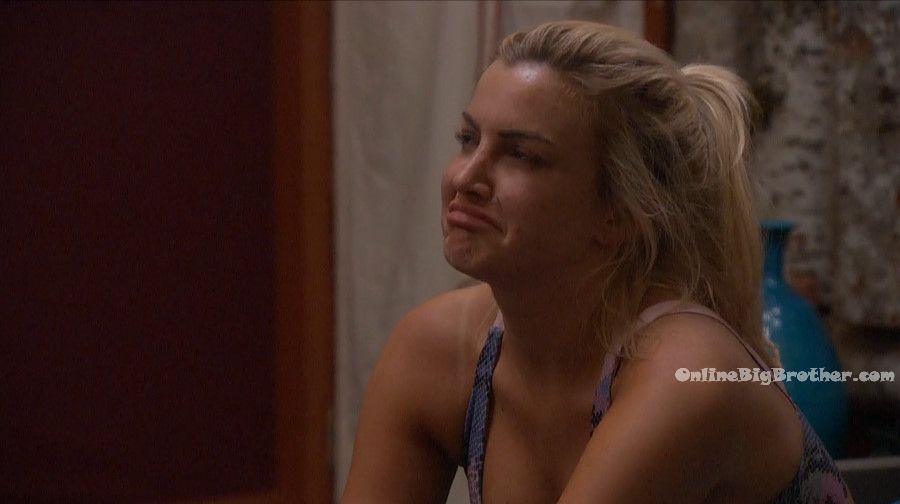 10:25pm Bedroom. Jackson, Tommy and Jack.
Jackson – everything that we say into these mics go not only into the big one's house but also to millions of Americans across the country. Good and bad, no reason to bring anything personal into the game. In 49 days we have lives after this. And I know that people are doing everything they can to stay. I am not a liar, I am not a snake, I am not evil. I have a life that I am trying to go back to after this.. I've got a job, family, friends, people, cousins, ex, people from college. Everything we say not only affects the person it said about but also the person that's saying it. This is just a game. Sometimes things said in this house that can ruin peoples lives. Jack – I am really concerned what is running in your mind because it hasn't even occurred to me to go on that level. Jackson – I'm not saying you. Win or lose were good. They all say I love you. Jackson leaves the room.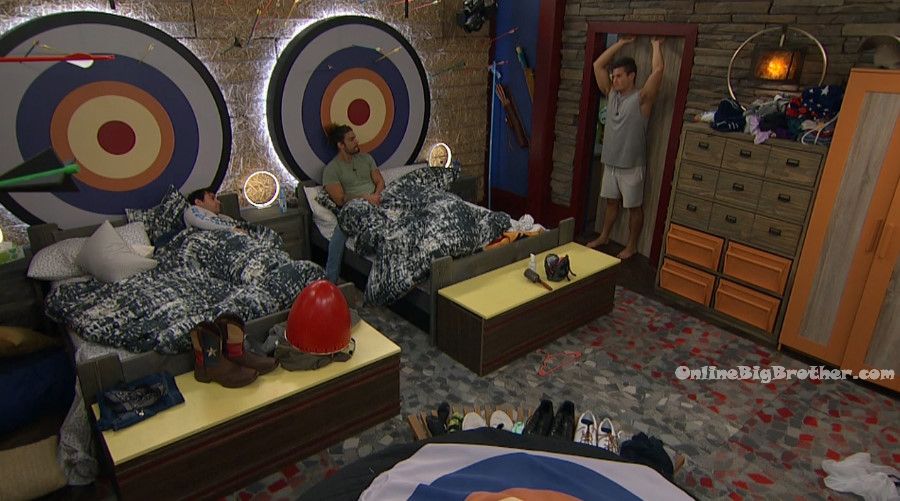 OBB wouldn't be possible with our your support!
If you are one of the generous people that donate to help keep the updates coming, we're giving out a bit more this year. Check out this page for more details: OBB Members