Head of Household Winner – Jess
Have note are: No Have nots this week, Jack, Tommy and Jackson were given punishments as part of the veto.
Nominations are: Jack and Jackson
Power of Veto Players are – Jessica, Jack, Jackson, Kat, Nick, Tommy (Nicole – Host)
Power of Veto holder – Jessica
Power of Veto Ceremony – Jessica didn't use the power of veto
Powers in the game *** LINK ***
Grab your live feeds —-> BB21 Live Feeds Subscription Link
Rank your houseguests —-> Big Brother 21 Ranking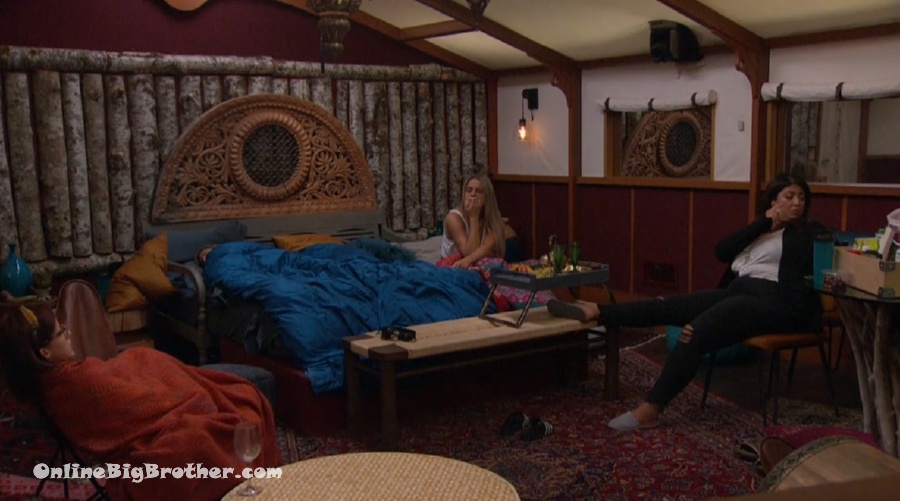 10:20pm Nicole, Cliff, Kat, Christie, and Jess
Christie – have nots again this week.. I don't mind being a have nots again
Nicole says the sleeping arrangements are fine and she doesn't mind the slops
Nicoles's worst is the shower
The rest of the girls don't mind the shower as much. Christie hates the food.
Jessica says it's rough on her stomach.
Christie goes on how much fun it would be for her and Kat to be have nots against "it was fun". adds it would also be fun to have Tommy in there with them but that would be nice "to the poor KId"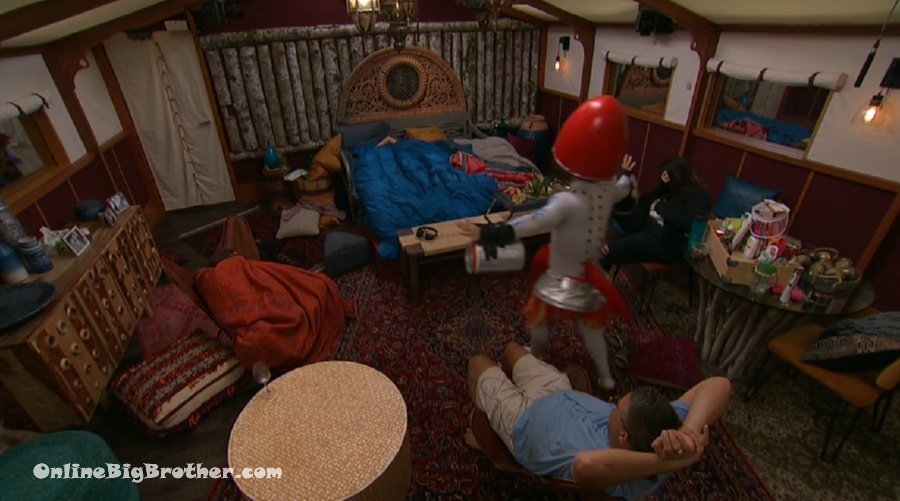 Christie leaves. Tommy comes in says he's travelling at the speed of smell.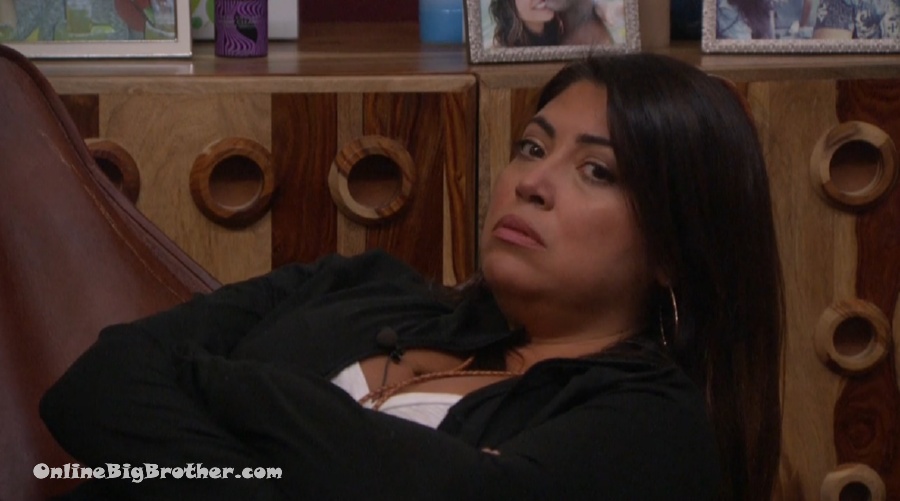 The angels have a meeting. Talking about having the votes to get Jack out and if they should tell Tommy and Christie.
Kat doesn't think they should. She doesn't want them to use their votes to get Michie and Holly back on their side.
Nicole – how do we avoid them all day tomorrow? If I am getting ready in the bathroom and Tommy comes to me.. I don't want to come across as indecisive and all of a sudden JAck goes home
Cliff and Jessica say if Chrisite and Tommy vote to keep Michie it's not changing his targets and it won't change Michie's target (Christie/Tommy)
Cliff – "I would target Chrisite and Tommy and if one of them win the veto I will put SIS up in their place"
Kat – who is the bigger threat Christie or Tommy
Cliff – personally I think it's Tommy
Jessica – So do i
Kat agrees.
Nicole – if you put Christie up and she stays you're going to hear it and hear it and hear it… and hear it
Kat – That's why I want to put up Michie and Tommy and then if Tommy wins the veto I can put Christie up
Cliff – IF Christie wins Veto and pulls Tommy off
Kat – then I put Sis up
Cliff – I want to Break up Christie and Tommy they are the smartest players in the game
Nicole – right now the nucleus is Jack, Christie, and Tommy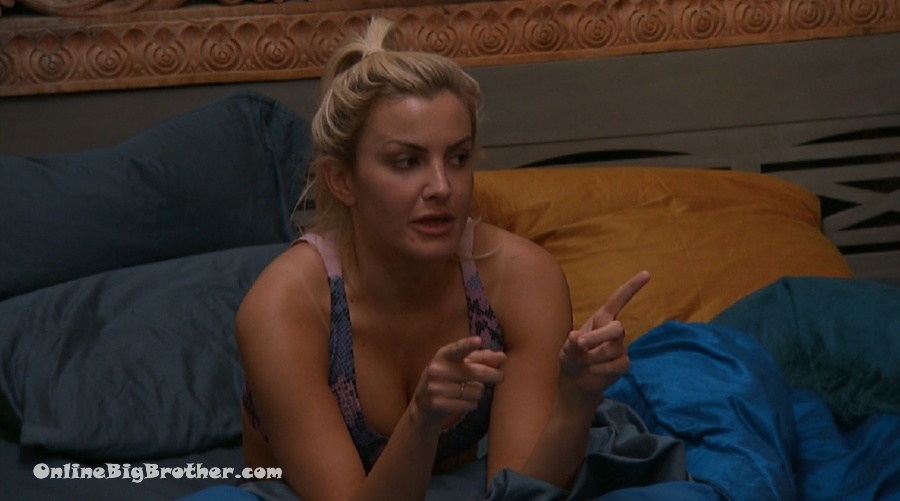 Cliff – I love Tommy as a person but.
Cliff and Nicole both point out how Tommy has been following them around, "He was an observant person"
Cliff says when he was HOH Tommy knew how many times Sam came up to talk to him and how long he stayed for each time.
Kat – I hate that you feel like you are walking on eggshells.. why can't I just live my life
Cliff – Christie is going to freewheel a little bit she will feel very isolated and I'm not sure how she will handle that
Cliff – Tommy can latch onto a whole lotta people in this house
Nicole – If Christie goes Tommy can integrate with a whole lotta people if he goes and she's alone she'll try to latch onto people but she'll be a basket case. you are going to hear it. I hear it already
Everyone laughs
Jess – she will implode
Cliff – she already caught me in the boat room talking about how she's glad we got stuff firmed up between us
Nicole brings up Christie telling them all about the dream team a few weeks ago. Nicole mentions She was part of the dream team yet Christie was going around saying she doesn't want Nicole to win HOH "I don't know who she will put up"
Cliff – she's playing both sides (Christie)
Jess – when she talks to me about Jack she says I don't care I want him to go I respect your HOH
Jess thinks Christie will vote her way.
Cliff mentions if Christie and Tommy vote out Jack it'll make it harder for SIS to come after them strictly for their votes against Jack. It also takes the heat off Nick and Cliff because they'll say look it wasn't just us that flipped on Jack. "It wasn't a one-vote margin"
Cliff thinks Sis will target him.
Nicole – Not only do I not trust her I don't know her.. I have never sat down and said HEY..
Jessica – right now we know whatever comes outta their mouths is pure fabrication. Jack has given everyone here weeks and weeks of salvation
Nicole and Kat "not me"
Nicole – he campaigned to me this morning no deals no promises
Nicole says Jack told her he dismissed people early in the game and he was only loyal to his own people he apologized she wasn't in his group so she was dismissed.
Nicole – gee thanks that makes it better. Moving forward he wants to show me he's still loyal
Nicole – Basically you're now relevant. Now I need your vote now I care. So you are admitting you didn't think I was a valuable game player to you
kat – same thing no deals
Cliff – he said the same to me buit he respects my game play so much
Kat – he respects my gameplay but I really don't know what I'm doing so thanks
Nicole – the offer to you and Nick must have been legit because me and Kat got Sh1t
They laugh
Cliff – to some degree I believe them they would keep me safe because they would be busy getting your three out then it would be my turn and that would be the end of it
Cliff – he's too strong with the social game, the physical game and the mental game he's got to go (Jack)
They go on about how charismatic Jack is
Jess – I just want to say though I never bought his sh1t for one minute
Nicole – I never said I bought it I just perused the window.
They laugh "window shopping"
Nicole brings up the day then the 6 shooters were in the HOH all fighting about Nicole and they wouldn't let her in on the conversation. After they were done Jack went to the balcony and yelled down to the rest of them "Another one bites the dust"
Nicole – it was directed to me
Cliff – I remember that.
This morning that song came on in and Kat/Nicole both laughed.
Jessica called into the Diary room.
Cliff – they are so cocky
kat is worried if Tommy, Sis or Christie win HOH
Cliff – hopefully, they go after Michie
Cliff wants to push those three to put Michie and Holly up using their 4 Angels alliance as a threat "if for some reason you don't you'll have 5 people coming after you next week and only one of you can compete in HOH"
Nicole – I don't want to divulge that because they still view all of us as individuals
Cliff agrees. They might put two of them up or take that information to Michie and Holly
Cliff says if the 3 win the noms will be a combination of Michie, Cliff, Nick
Cliff – depending on how they think things fell out and who they blame and all that stuff.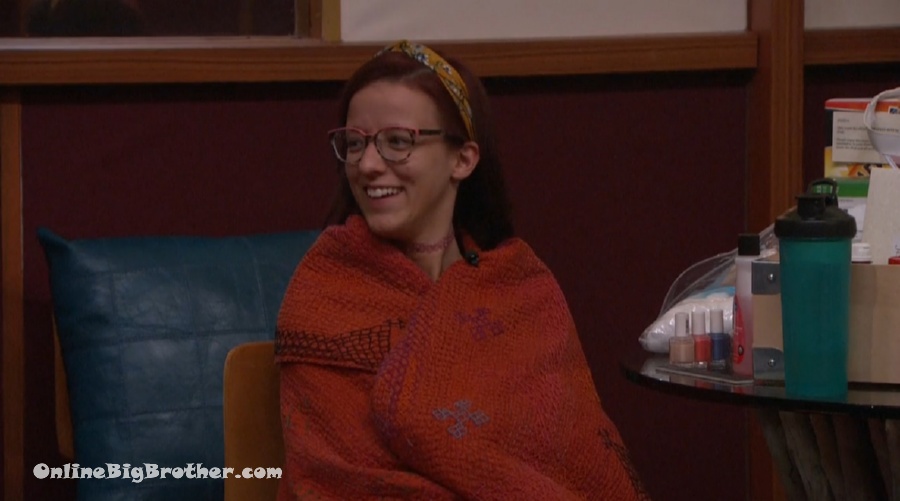 10:50 pm Cliff, Kat and Nicole
Talking about how the 6 dismissed them.
Cliff says the 8 had a strong group they would have picked them off one by one.
Nicole bring sup when she realized the 6 were all working together
Cliff – and they called me out for identifying there was a group of 8
Cliff says he got lucky and there was a series of COmpetition he was able to win to get back into the game win HOH.
Cliff points out that they are as scared as the 6 are right now because they've all been on the block and the 6 really thought they were going to win it.
Cliff says even with Jess as HOH 'they' still think they are stronger than they are. (Sis, Jack, Christie, Tommy)
THey comment on how there are some mean people playing the game and they hope it's just gameplay
Kat – playing mean it's gameplay.
Cliff- I think jack's only seen one season.
Cliff thinks if you only watch the episode they focus on the deviant and sneaky stuff because that's what gets the ratings.
Nicole – Christie always shocks me the things she'll say under her breath
Kat – she says MEAN things
Cliff – YEah
Nicole – the jokes. I'm sitting there thinking you preach like Peace, Love, Good Vibes, Positivity energy, Karma and that's why I see through it because how can you preach all that and say things (She's fake as sh1t like Tommy and it goes beyond BB game fakeness)
Nicole – how can you be so different from what you preach. That's what upsets me about her
Nicole – when she's in a room she's the loudest She's the one that is right no one else is right
Nicole – I just can't take it when she gets on that Octave. Fake
Nicole says she feels bad for any of them that will end up nominating her.
Kat – you can't put her up and not have her go home
Nicole – if I put her up and she doesn't go up it will be constant. I thought you were my friend I thought you were a good person.
kat goes on about CHrsitie wishing there was a twist so both noms stay "girl this is Big RBother don't you watch the game"
Cliff – what Twist were you hoping for when me and Nicole were on the block.
They talk about the 4 right now using that Jack is so loyal as a reason to keep him. Cliff brings up how stupid this is because none of them are part of that group.
Cliff – we got to be worried we don't get too Cocky ourselves but we're dealing with some mental midgets. they have not thought this thing through they are WAY to arrogant to start with. Now they are paying the price.
Nicole brings up them telling her that they were at the top for so long and now at the bottom, they feel what it is like.
They talk about jack and Christie thinking they are the people that determine the boot order of the game.
Nicole – they decided that. they deiced the hierarchy and the order people are going to go nothing can change and that's why they are having a hard time swallowing
Cliff – this whole idea of his (jack) this BOMB. They want us to turn on each other the way they turned on each other
Kat – it's not even a bomb .. (it's a masterpiece lol)
They talk about the final 4 being angels and how great it will be.
Cliff says a group of four at their stage of the game is more powerful than a group of 8 at the beginning.
Cliff – we're manifesting our path to victory
Nicole – I can't deal with that word either.. everything Ohh I manifested this house I manifested that plant I manifested that bed.
Cliff – I like her Karma stuff too if it's meant to be it will happen the world gives us whats meat to be if he say it was meant to be
Cliff says if they get rid of Christie and Tommy Sis will attach to Nick, "I already see the two of them hang out a lot and she'll make it more if Jack goes home"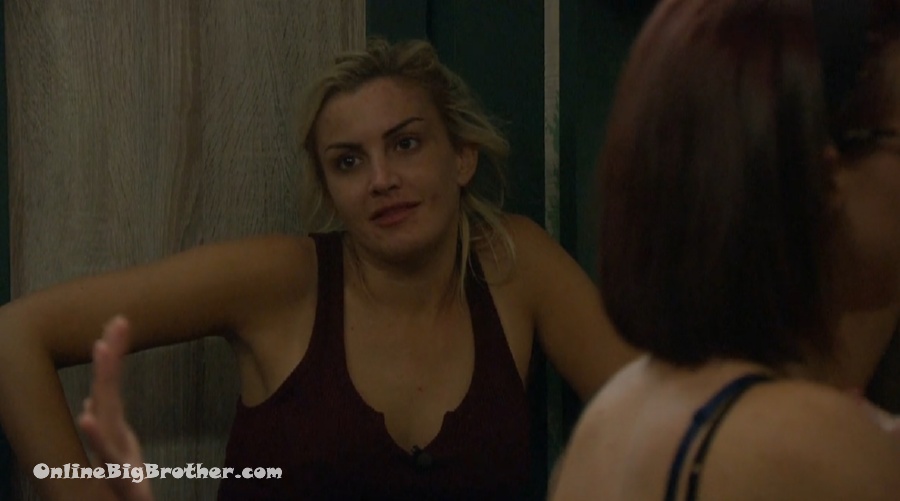 12:40 am Jess, Nicole, and Kat
Jess doesn't think Christie and jack are as close as they think
Jess says Jack basically through Christie under the bus to her.
Nicole – they've all master the art of scapegoat to each other
They go on about Tommy and Jack being the most dangerous on the other side of the house. It's been those two that have been flipping the vote and last week Tommy got caught'
Nicole – Christie's louder
Kat – Christie is in no way in my final thing but she's going to take shots and Holly and Michie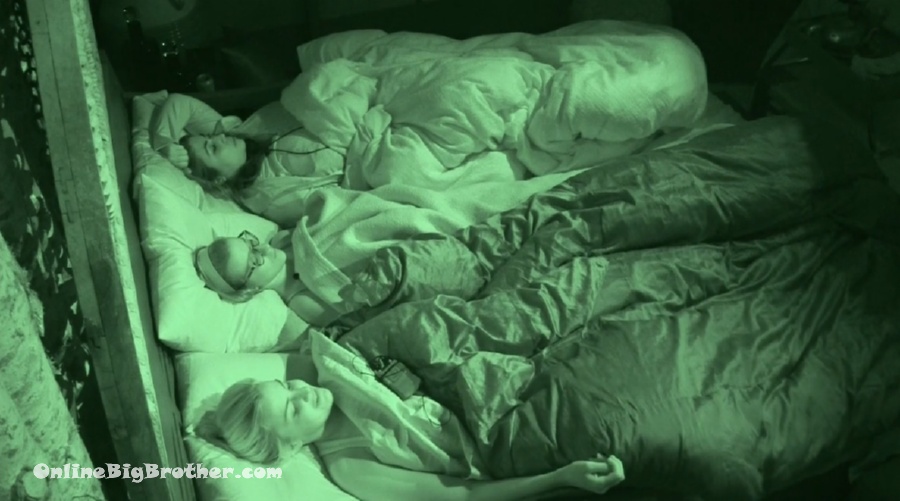 1:25 am The angels

1:25 am Michie and Holly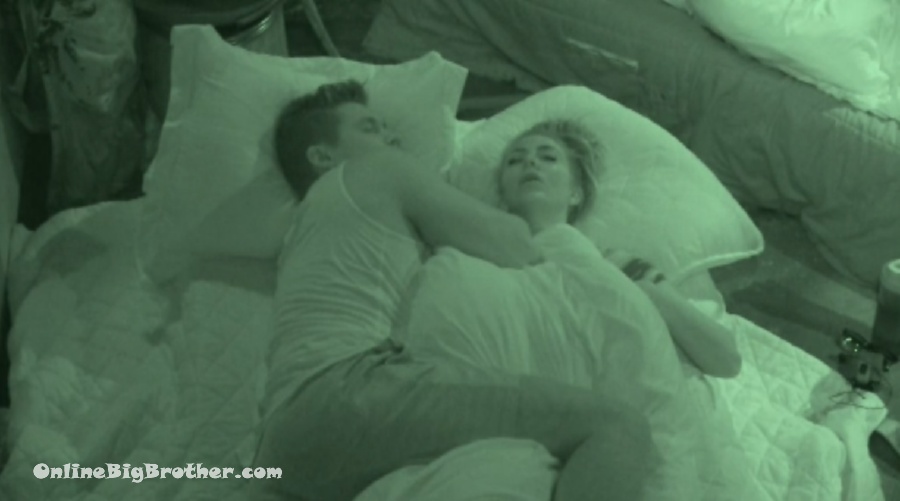 5:36 am Sleeping
7:11 am Sleeping
(Next update will be the live show. Jack is being evicted there's almost no chance that Holly and Nick will both their votes from the conversation the angels looks solid. )