Head of Household Winner – Jess
Have note are: No Have nots this week, Jack, Tommy and Jackson were given punishments as part of the veto.
Nominations are: Jack and Jackson
Power of Veto Players are – Jessica, Jack, Jackson, Kat, Nick, Tommy (Nicole – Host)
Power of Veto holder – Jessica
Power of Veto Ceremony – Jessica didn't use the power of veto
Powers in the game *** LINK ***
Grab your live feeds —-> BB21 Live Feeds Subscription Link
Rank your houseguests —-> Big Brother 21 Ranking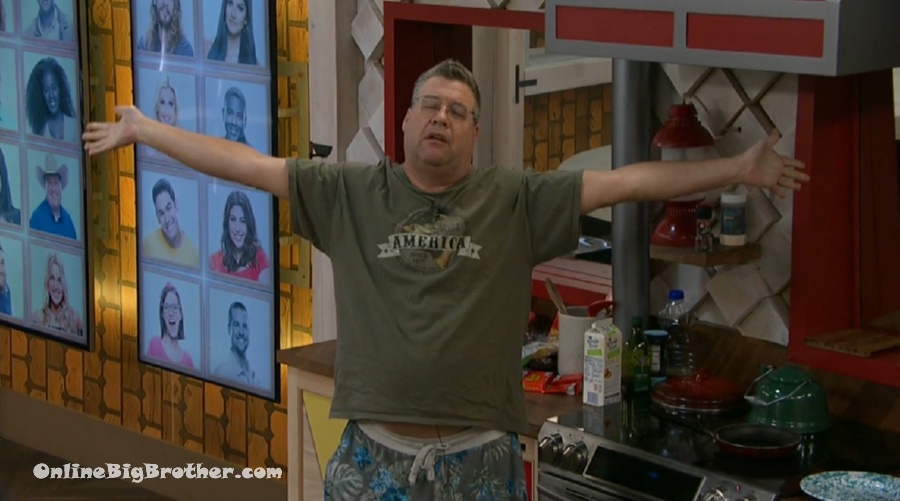 10:30 am Houseguests getting up
Cliff says good morning to his family.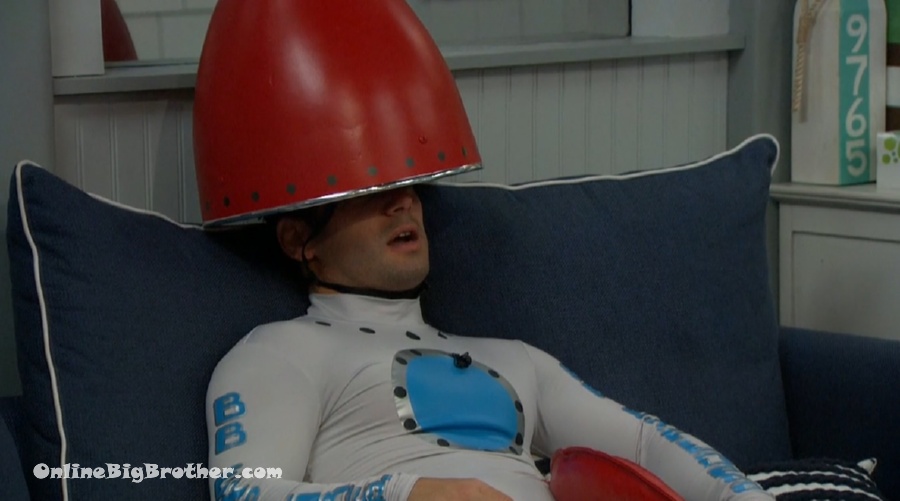 10:36 am
Tommy says he was only called at 3am last night. Mentions he's got 4 more days in the costume.
Tommy says the HOH room was locked last night. He couldn't do his "thing" without waking them up and he didn't want to do that. He needs to tell them to leave the door open otherwise he'll have to wake them next time.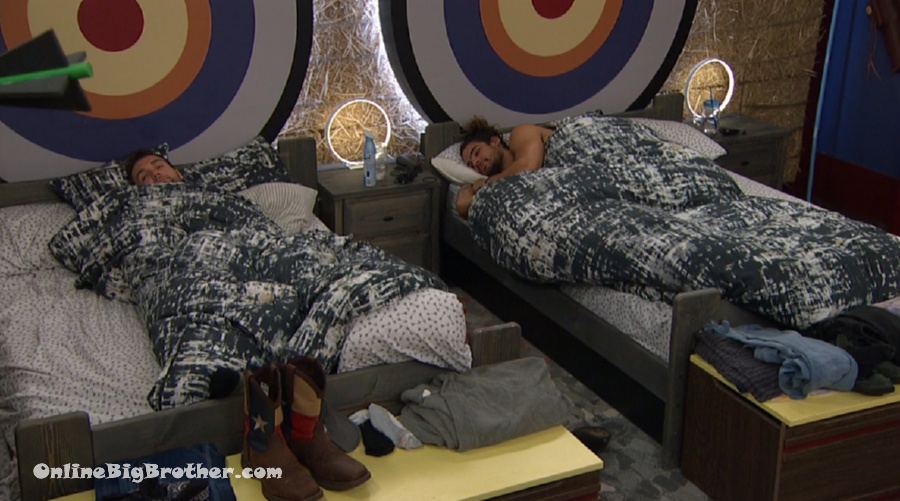 11:00 am Jack, Sis, and Nick
Nick – Hey Jack Just in case tomorrow is your last night I say you blast off in her That's what I would do and just play the guessing game it would be fun
Sis – Excuse me no thank you
Feeds flip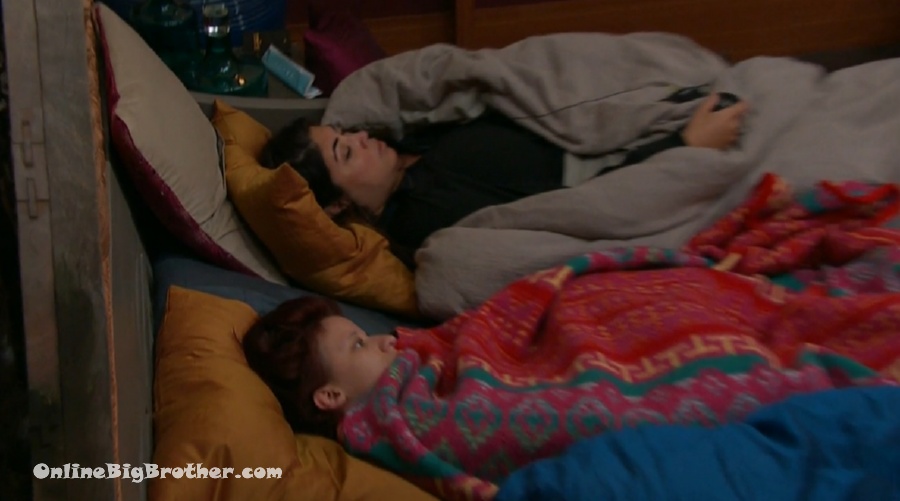 11:08 am Kat, Jess, and Nicole
Jess – we need them to vote for Jack.. it's the only way that Holly and Jackson are going to have ammunition, the reason
Jess – I don't want to do to people what is being done to me. I'm not dishonest if people lie to me it doesn't mean I'm going to lie back to other people.
Jess wants Jackson/Holly to go after Tommy/Cristie/Sis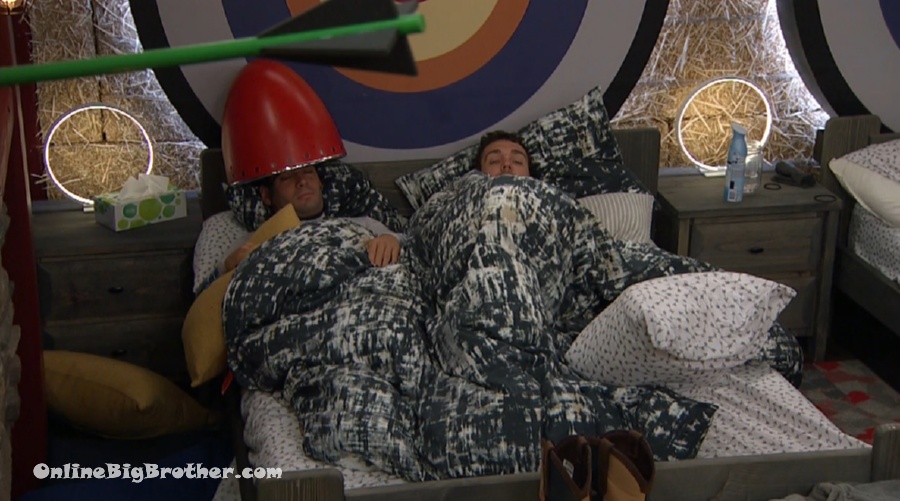 11:20 am Tommy and Nick
Tommy – I have a favour to ask you. Can you let me know how you are going to vote lat minute it can be but I want to vote how you vote
Nick – Yeah
Tommy says there are two definite votes for Jack "Why do I need to vote for Jack we're just friends, I would rather prove my loyalty to Jackson moving forward if he's staying and to the house
Nick – it's going to come down to Cliff
Nick mentions he had to vote Sam out.
Nick – what do you think Jackson want to talk to him about
Tommy – I don't know .. Jackson was saying I'm not even campaigning that's his way of being a stand-up guy
Tommy says Jackson already campaigned
Tommy doesn't think Jackson will put him up to his conversation with him last night cleared that up
Christie and Sis come in all worried about Jackson wanting to talk to Jack.
Nick – they just want to hash it out they were friends.
Christie says Jackson or Holly will be putting her up so she needs to win this next HOH.
Sis says jack's plan is going to work he'll stay.
Jessica, Nicole, Holly and Kat are called to change their batteries in the storage room. Nick comments what if they don't get to vote
They laugh
Nick – we would need like two votes
Christie – I was thinking we got to get these mother f***ers some penalties votes lets do this today
Nick – you can't bait
Christie – I know I was mentally thinking it
Christie- What Can I do to really f*ing piss him off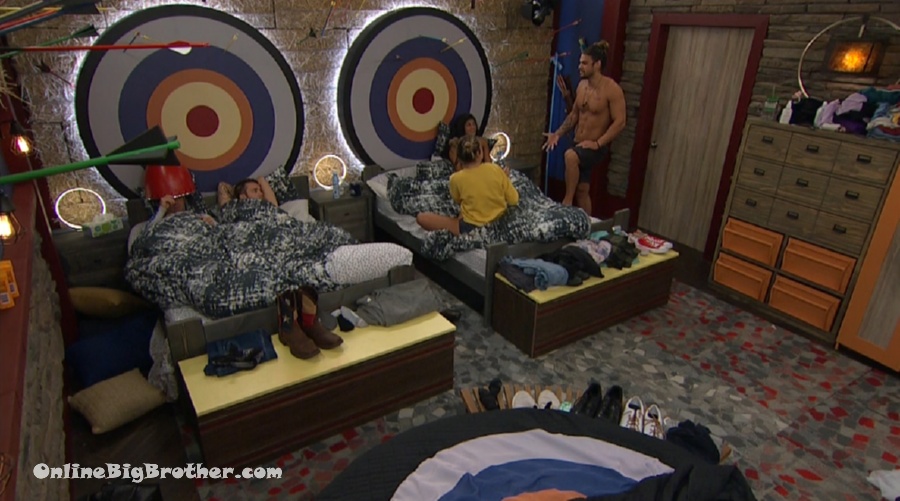 Jack says he's doing a general campaign today and dropping it tomorrow.
Christie tells him to keep it very vague he doesn't want Jackson to know so he can counter offer
Nick leaves.
Christie says she has a good talking relationship with Cliff, "we have talked a lot of game"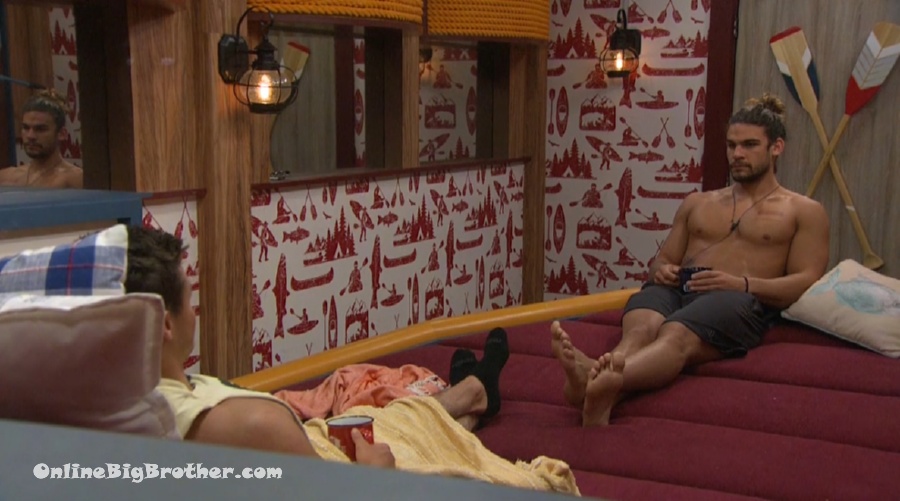 11:40 am Jackson and Jack
HASHING it out
Jack – we're still boys
Jack says what he did was a bad game move.
Jackson – that was really f*ing stupid for everyone here we are going into double eviction and the majority is with Cliff, Jess, and Nicole.
They chat in length about living in LA and doing things together after the show is over.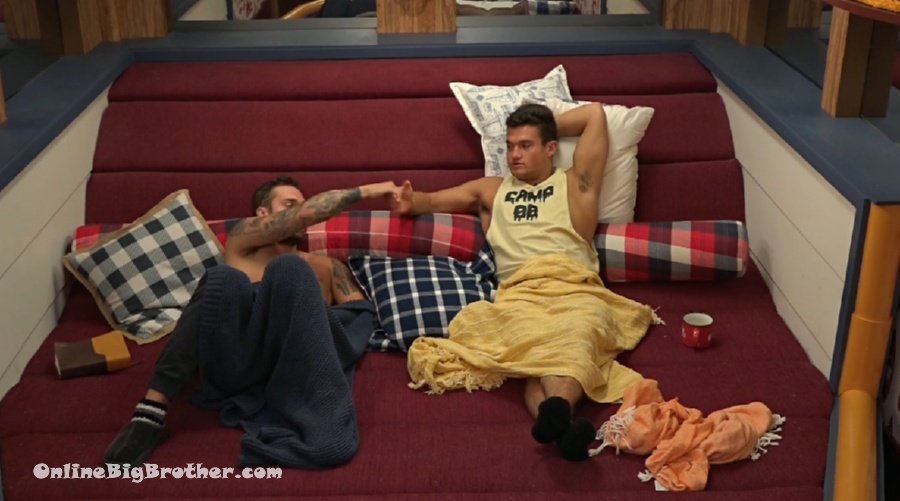 noon
They talk about who Christie would put up Beside Jackson, Holly or Cliff
Jackson – I will see the block every f*ing week
Jackson campaigns a bit tells Nick he's not a target of his.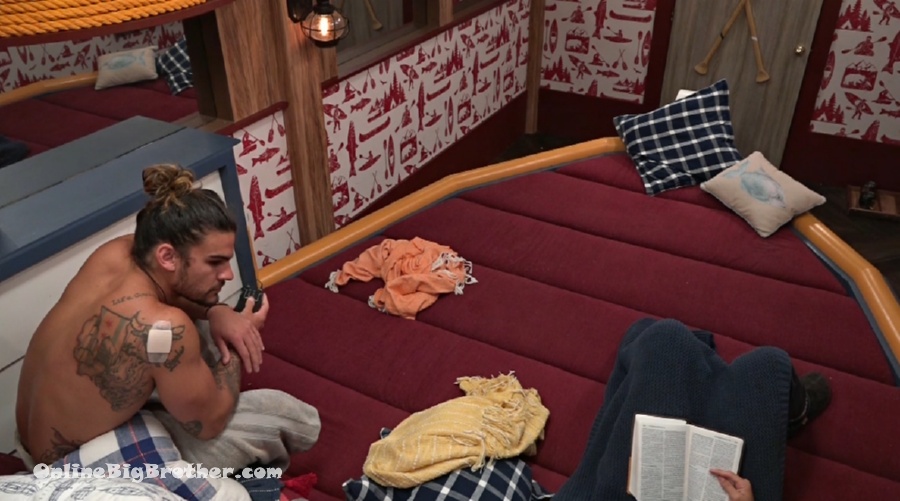 After Jackson leaves, Jack comes in. Nick says he believes Jackson.
Nick – I want you to stay
They start talking about the logistics of Jack's campaigning.
Nick – I would love that as a 5 bro
Jack – I wanted us to work with you so bad.
Nick – You, Tommy, Sis, and Nicole, I want Christie but when I see her talking to Holly and KAt.
Nick says they can cut Christie at 6
Jack doesn't think Christie will survive the game until 6th
Nick – I told you if You have Cliff I swear on everything we make it 5 – 4 (Cliff won't budge)
Nick – I trust Christie more with you in here.
Nick – you, me, Tommy, Sis. I would love that bro. I would love to get to four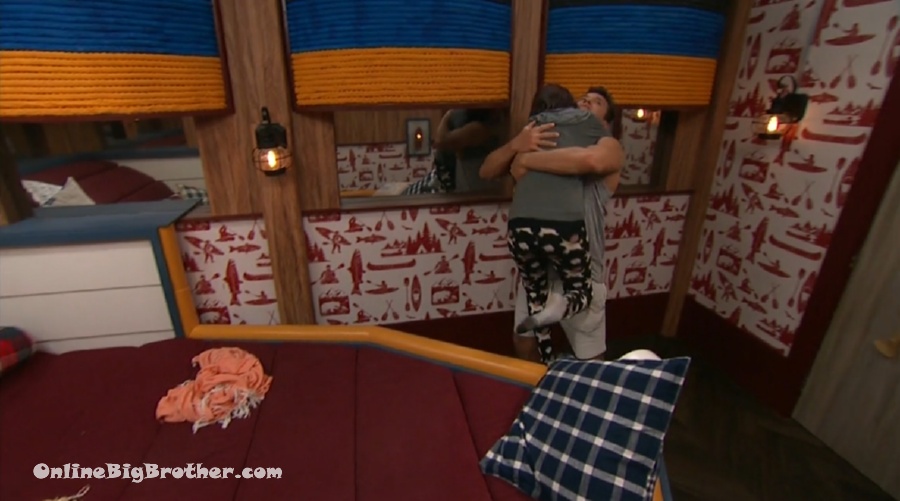 12:21 pm Jackson and Nicole
Jackson campaign tells her he's always had her back since day one she knows who his targets are.
Jackson – I think we have the same people on our radar
Nicole – possibly
Jackson says she's as far down on his list as someone can go.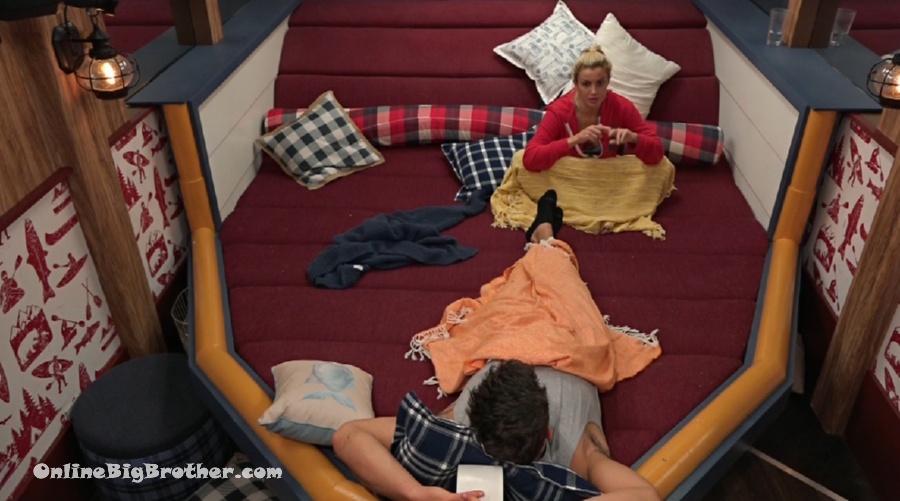 12:38 pm Kat and Jackson
Kat's final 3 includes Holly and Jackson. tells him he might go up as a pawn if she wins HOH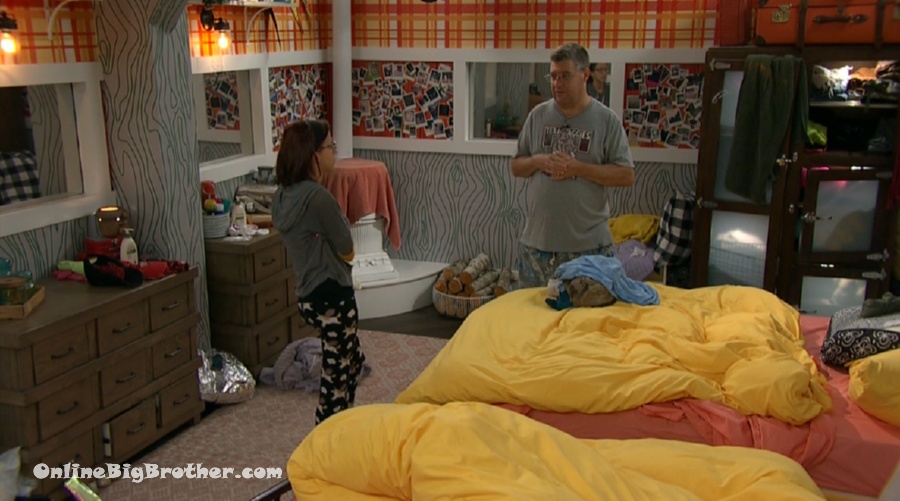 12:40 pm Cliff and Nicole
Cliff says they will be fine as long as Christie, Tommy or Sis win HOH.
Cliff says as long as they are being played by Holly and Nick Jacks being evicted. He's not Seeing that be the case.
Cliff – we were a force we were power players.. my dream is having the four of us and all 6 of them in the jury house watching us compete it brings a smile to my face.
Cliff – who would your two targets be? Mine would be Christie and Tommy
Nicole – I would probably Sis .. I don't know if directly
Cliff – Sis is going to be pissed at me. She's not going to be happy and I think she will play a personal game she thinks I'm going to flip and keep Jack.
Cliff – when I don't she thinks she's been played and he's been played
Nicole – they think they have Christie, Tommy, Sis, You
Cliff – and Nick
Nicole – they haven't really said anything to me
(Updates again will be late between 1 and 8 )