Head of Household Winner – HOLLY
Have note are:
Nominations are:
Power of Veto Players are –
Power of Veto holder –
Power of Veto Ceremony –
Powers in the game
Christie – Panic
At any of the next four Power of Veto Ceremonies, Christie can turn the Golden Power of Veto into the Diamond Power of Veto and allow the current veto holder pull someone off the nomination block, but instead of the Head of Household naming the replacement nominee, the veto holder names the replacement.
Grab your live feeds —-> BB21 Live Feeds Subscription Link
Rank your houseguests —-> Big Brother 21 Ranking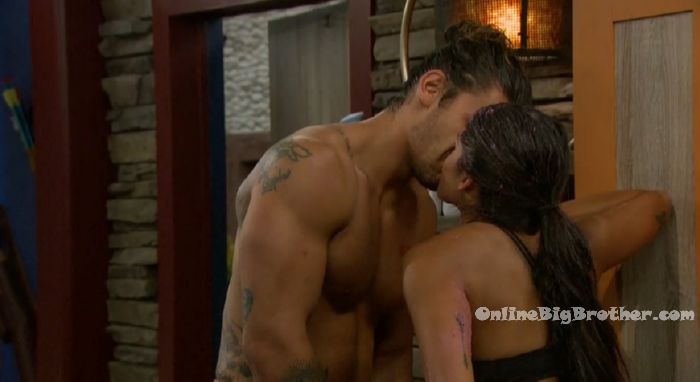 9:50pm When the live feeds return –
Bedroom. Jack and Sis. Jack – This wasn't your one. You will win one though. Sis – you're right. Jack – Even if I have to throw one to you. Sis and Jack head out of the bedroom. Jackson – wow! I am happy. Jack – I know you are. A "W" is a "W".
Bathroom. Tommy – WOW! That was amazing! Jack – another week! Kat jumps in the other shower. Jess talks with Kat. Jess – hopefully she (Holly) feels good becaseu I woke up today with sore fign.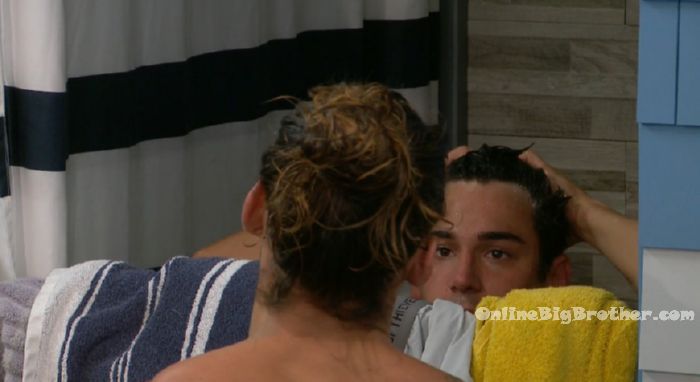 10:10pm Kat – maybe this will be a good opportunity for her to fill the Leadership ship. You killed it! Today was a f**king day. I don't want to talk about it too but… Kat – he is so meant to me. So meat. Sis – why though!? Kat – I have no idea.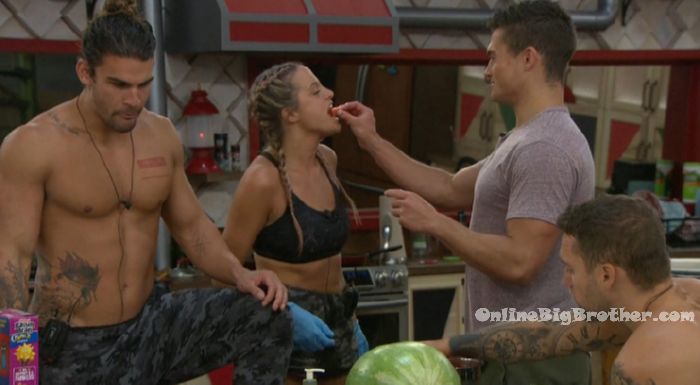 10:38pm Bathroom. Bathroom. Holly, Christie and Sis. Holly asks them if they want to sleep up in the HOH room with her. Christie – don't you want to share it with Jackson? Holly – we can alternate.
11:12pm Jackson and Holly.
Jackson – you killed it out there! Holly – thank you. I really want to sleep with you up there obviously, obviously. Jackson – I want to wait until I get HOH and reward myself. Holly – why? I mean I want you to sleep up there at least part of the time but I felt it was better for game because I feel really left out sh*t you know?! Jackson – I agree. I am going to wait till I win HOH. Holly – I was thinking this is probably smarter because Sis and Christie have gotten super super close and we're at the bottom of the six. Jackson – dude, I'm not sweating it. Holly – okay. Jackson – you're going to get hit with people. Holly – I know, I'm a little nervous about it. Jackson – you went from playing a rookie game to being in the spot light. Holly – I know but I was really, really tempted to throw it. Jackson – you did not hang on that long to throw it to somebody. Holly – I know, I know but I was so tempted to throw it. Sis was upset because she really wanted me to throw it to her. Jackson – give her a nights rest to get over it. Holly – I don't want her to get petty and let it fester. Jackson – you're HOH!? I will deal with that.. I'll talk to her. Holly – I am just trying to cover all our bases. Jackson – that's ridiculous, you don't encourage someone to throw it after they've been up there for 2 hours. No. She would be saying the same thing to Jack if he had won. She will get over it. Holly – at lease make sure to give her a bug hug and talk to her. We're not in the real world. Jackson – I know. You did good. Sis joins them. Jackson – Sis you did a hell of a job. I hope you didn't think anything I said was against you? I just didn't want her to throw it. She'd been up there for two hours. Sis – I know, it just annoyed me but I am over it.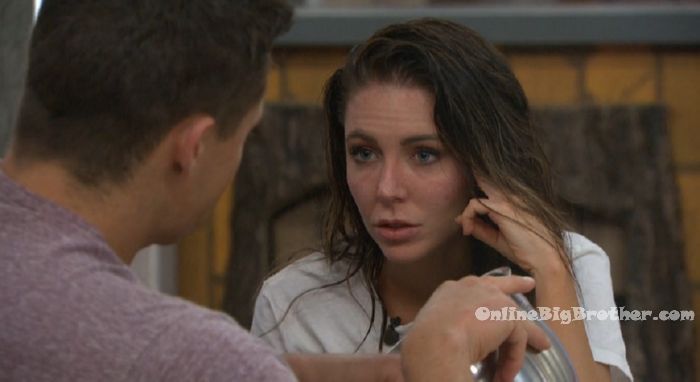 11:24pm Kitchen. Jackson, Jack, Holly, Sis and Tommy. Jackson – dude our body weight wasn't meant for that comp. Jack agrees.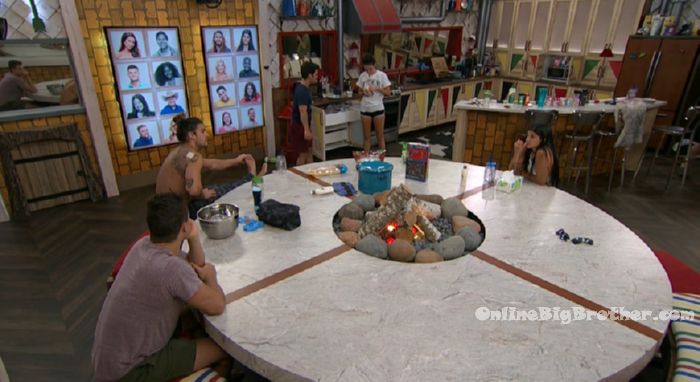 11:35pm Bedroom. Nick and Sam.
Nick – I guess once I fell it didn't matter which one of them won. Jackson pulled me aside out out there and said I am going to do what I can to not get you up there this week. I know he probably doesn't want to but they're going to get pressured. Nick – my campaign is going to be short. I am glad that I told you guys before you won HOH that if I won I was never going to touch you. And jury is coming up and if you want to win the game who would you rather be in there to vote for you .. me or Jess? If you want Michie next week throw me up. Cuz I want him to be there. Just throw me up there next week. I don't care .. but I do care .. it just gives us another week.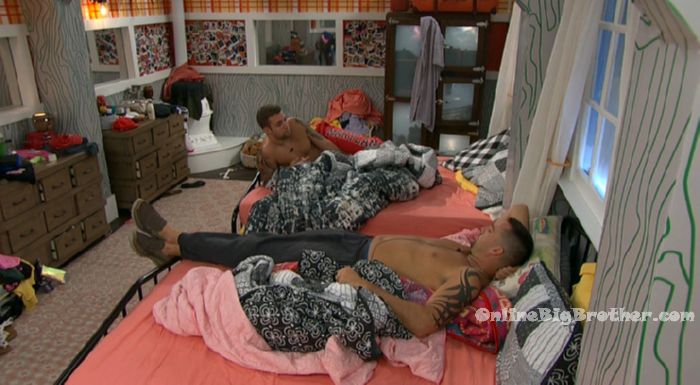 11:33pm Bedroom. Jack, Christie and Sis.
Christie – I am going to talk to Michie because I feel like he has the most control over Holly. Jack – okay, I will touch base with Michie. Christie – I don't know what Michie is thinking with Sam and Nick. They both have to go up. I would never push someone or pressure someone but Holly came in here and she said she was thinking Nick and a pawn. That is not safe. He has been picked for every veto so far and if he (Sam) wins it and takes Nick off then neither of them go home. Its not worth it, they both have to go up. Jack – I will touch base with Michie. Christie – its too risky to leave Sam off the block. Jack – I'll touch base with Michie tonight. Christie – coolio!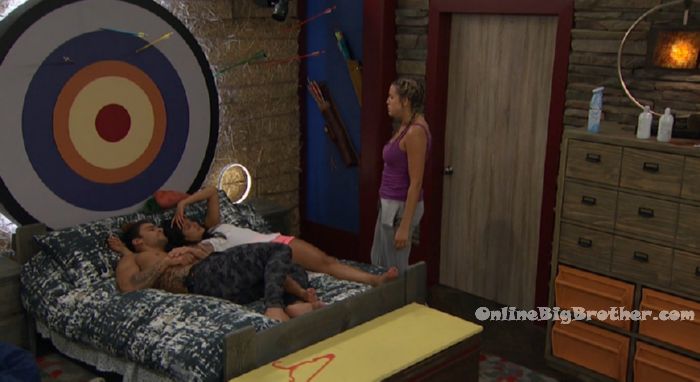 11:45pm Living room. Holly and Jackson.
Jackson – I am so happy to be out of that room. Holly – if Christie and Tommy have some punishment were they're chained together then. If that's the case then she won't be able to sleep up in the HOH. Holly – I just think gamewise its smart. Jackson – I dont want to put a target on your back. What are you thinking? Holly – Nick and Sam. Jackson – do you want to talk about it, noms are tomorrow. I'll come up later. Holly – they're the only two that have come up to me to say they want to talk. Jackson – if I were HOH, I would put up Nick and Sam. But for you to put up Nick and Sam it is f**king bold. You put Nicole and Sam. Holly – what if Nicole ends up going though? Jackson – you put Nicole and Sam and if Nicole comes off you put Nick up there. You would be putting up two guys. Holly – I was originally thinking Nick and a pawn but if Sam gets picked and wins and pulls Nick off they both stay. We can talk about this later.
12:40am Holly – Who wants to see my HOH room?! They all head up to the HOH room. They all look at her photos and HOH basket. After everyone but Jess and Sam leave. Sam is listening to her HOH music.
1:40am -2am HOH room. Jess and Holly. Jess – it happened because it was just your time. Its going to suck because obviously no one wants to be in that position but if you ever felt like someone was a threat. If you ever felt like someone was coming after you? Holly – I know. Jess – you'll have time to think about that. Holly – now that I don't have time. Jess – ti will probably be tomorrow. Holly – I want to talk to everyone that wants to talk. Sam stops listening to her HOH music and leaves the HOH. Holly to Jess – how are you feeling? Jess – I am afraid that you're going to put me up. Holly – you're not going up. Jess – good, I gave you a massage yesterday and I hoped that helped! Jess laughs and hugs Holly. Holly – I hope you wouldn't think I would put you up. Jess – I would never assume that someone wouldn't put me up. Eventually we're going get to the point where everyone has to go up. Jess then makes her plea as to why she shouldn't go up on the block. Jess – these hands will be at your disposal to give you massages so that you can win HOH's for years to come. And I have always told you that I would always be honest with you and I will always be a vote for you. Holly – you make a compelling argument. Jess – I just don't think I would ever be a threat to you. Holly – I am hoping it won't be a crazy hard week. It just honestly sucks. Jess – this is the last week before jury. You're going to save the people that best serve you to win this game. Like you and your gut will know who. That's the only way people can play is to trust your own gut. I'm not looking to put you up. You're not a target of mine. Jackson joins them.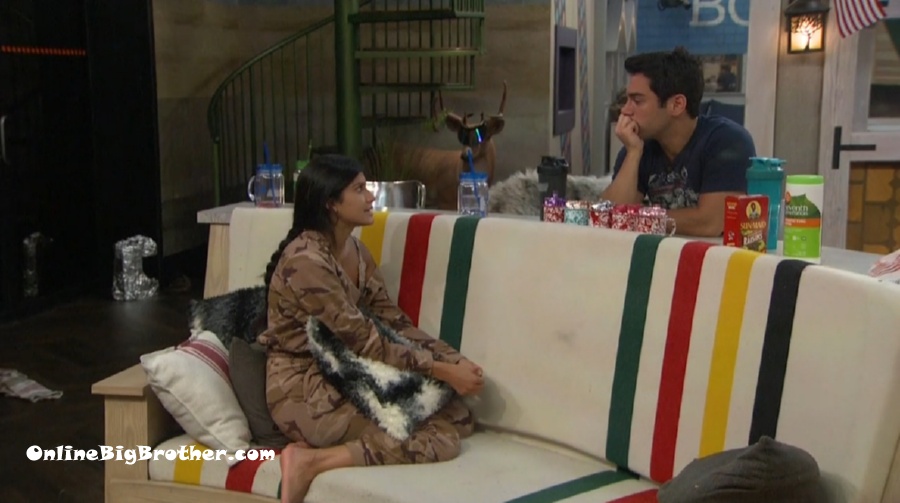 2:34 am Tommy and Sis
SIs says she thinks they are good for a while. Tommy agrees.
SIS – I was thinking Jackson's not going to do anything until we get to the six but then I was thinking what if he tries to do something before the six
Sis says that Jack told her that Jackson will never get him out.
Sis – reassurance there's a final 2
Sis – Michie seems influential over Holly
Tommy – I know
Sis – Jackson is …
Tommy – he's rubbing people the wrong way
Sis – really
Tommy – I'm like do I want to talk to Jack about it and let him know. See what he thinks about giving Jackson a heads up
Tommy says the way that Jackson talks to Kat "people don't like it"
Sis – I bet Jack is one of those people
Tommy – if you look around the room when he talks to her people are just like …
Sis – ahh sh1t
Sis doesn't want Jackson to bring Holly down
Tommy says kat and Christie came to him about all the things Jackson does, "Hiding the towels.. All that s1ht stupid sh1t"
Sis says Kat and Jess are close there's no way that Kat isn't telling Jess stuff.
Sis – her and Jess are like me and Christie, Granted I don't tell Christie everything the majority, Whatever
Sis – I just feel good though especially going into the double eviction
Tommy – I do too
Jess joins them telling them Kat is sleeping in the have-nots tonight.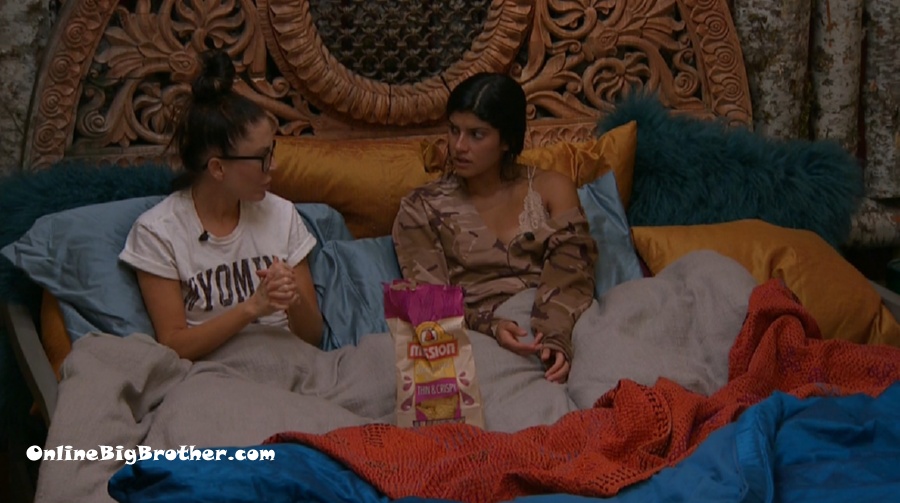 2:58 am Sis and Holly
Sis – I'm so happy for you holy f*
Holly – we literally thought about it should we shower
Sis – Jack was hinting he wants to shower too. in my head, I'm like if we do I'm sorry you have to do a lot of work.. We're going to be so sore tomorrow
Holly – the majority of the entire house fell 2 hours before us
Sis – I'm happy we proved ourselves especially in front of the six-shooters
Holly – I'm really worried because next is a double eviction
Christie joins them. They start talking about Jack's ex and the feeds flip.
We temporally flip back to the HOH conversation where Christie is talking about Bella having "F* you money" because she claimed she bought 1600 dollar boots. Feeds flip back to Jackson.
3:10 am
Jackon in the kitchen .. eating, making coffee, farting being Jackson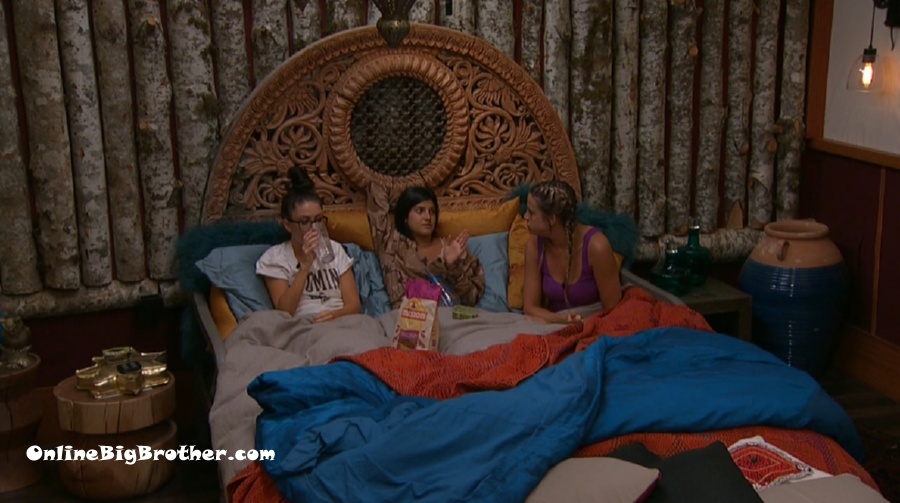 3:20 am Sis, Christie, Holly
Sis says she's worried about Nicole
Sis – hopefully we can get out Nick or sam
Christie says Nicole is not good at any competitions, "she sucks.. she's first-round out"
Christie – why would she throw them… she has no allies. Jess doesn't trust her 100% she would not care if she went home. Jess would feel safer with us girls than Nicole.
Sis – Jack was telling me that Nick today was talking to Jackson and telling him thing you said about Jaciosn week two. I don't know jack didn't tell me what you said. Apparently, it's not sitting well with Jackson.
Christie says Sam and Nick were bullying her to not use her power (F* off with that bully sh1t)
Christie says she was attacking her to not use the power and Jackson attacking her to use the power.\
Holly fills in that she walked in on the tail end of the conversation between Nick and Jackson. Holly adds in that Jackson is going through personal issues and when he heard from Nick what Christie said about him it didn't sit well.
Christie – I love Jackson I would never do that
Feeds flip back to Jackson chugging coffee
Christie says Nick thought he could turn Jackson and holly against her.
Holly brings up Kat always saying that Jackson disrespectful to women
Holly – I'm like can you please stop saying that the internet will take that and run with it. You really really need to stop saying things like that because what we say in here it carries weight when we generalizer a person like that it has repercussions on their entire life
CHrsitie – I feel like Kat overdramatizes everything
Sis says everything Nick says is a lie.
Holly heads downstairs for s second.
Tommy joins them CHrsite says to Tommy and Sis that she's so happy THEY won HOH.
Sis gives Tommy a scare #BB21 pic.twitter.com/KPGx8JLNMi

— OnlineBigBrother.com (@bigbspoilers) July 26, 2019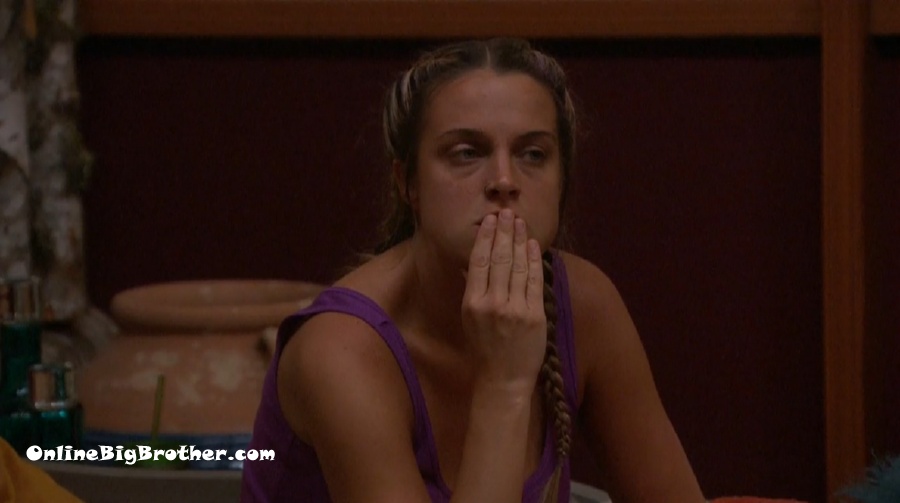 3:45 am Tommy, Christie, Sis and Tommy
Holly, I don't know if I want Nick or Sam gone.. I honestly don't know
Holly – he still gets money for his family and he's always talking about making ti to Jury
Christie – you put them both up you leave it up to them.
Holly is wondering if she should put them both up or put up one and a pawn
Sis – it's safer to put both of them up
Holy – one of them is going to stay I don't want them to come after me
Tommy- it would me a lot to the house even the girls if they're not a paw this week
Holly was going to suggest Kat as the pawn "It would make the house think we're not working together"
They tell Holly Kat would be pissed to be a pawn.
Holly mentions using Cliff as a pawn
Christie – with Cliff we promised .. (You promised.. put Cliff up PLEASE. I want to be able to write that post tomorrow please )
Holly says if Sam or Nick win the veto Nicole would go up
Christie – you called a house meeting to stand with the house then you voted against the house
Christie goes on about being so mad at Nick for ambushing and bullying her.
Christie is going to go over the conversation she has in the bathroom with Nick where he ambushed her and he used what she said to run to Jackson and get him to turn on her.
4:00 am They start talking about how hard it will to beat jack and Jackson in the final . Christie says she would feel great sitting next to any of them in the HOH room.
Christie says that jack and Jackson have a final 2.
Christie- with us any one of us it will be a coin toss
Tommy- Nick and Bella where they went wrong they played too hard too soon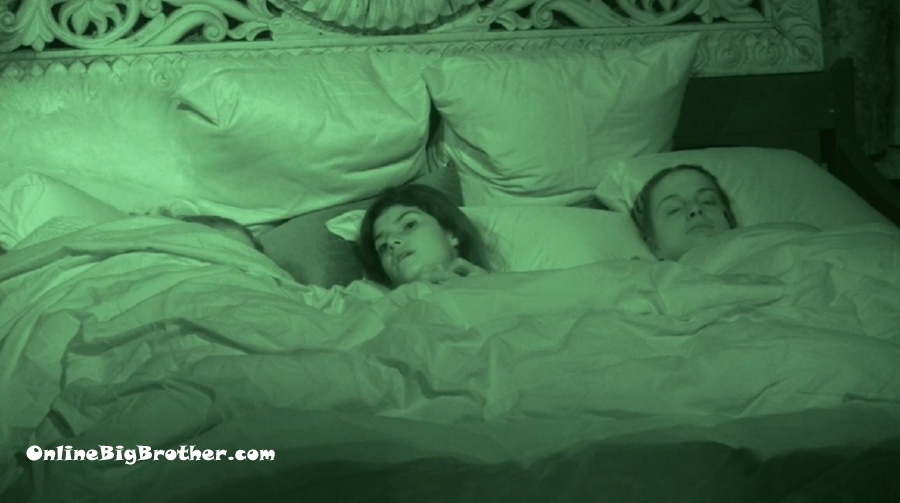 4:25 am Sis, Christie, and Holly
Talking about shower s$x.
Christie – the shower must get kinda inconvenient no
Christie – do you always turn the water on and actually take a shower or do you just use it an area now
Sis – we turn on the shower, Do whatever and then I shower after
Holly – same
(must help with the rashes)
Sis – even if we're in the bed
Holly says the shower running helps with the sounds
Christie – the feeds aren't going to show people having sex that's just porn and that's not even entertaining game
Sis – it's CBS there's no way
They talk about how MASSIVE Jackson is because he's been eating none stop
4:36 am Christie and Sis kindly warn Holly whatever Nick and Sam tell her will be a lie.
4:42 am Looks like they are finally going to sleep. Tomorrow will be nominations where Holly is putting up Sam/Nick or Nick/pawn. Possible renoms/pawns I've heard discussed are Nicole/Cliff and Kat.
7:20 am Jackson is up making a fruit salad for the US army.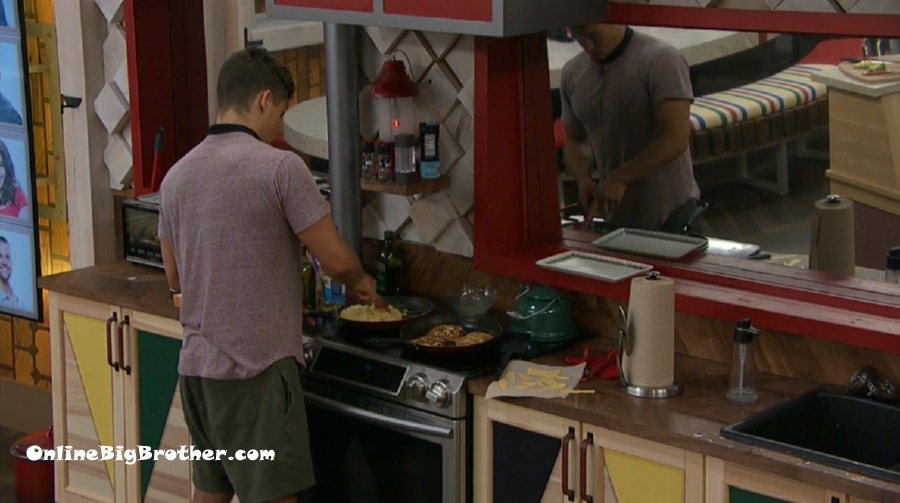 8:00 am Jackson makes Eggs and French Toast
OBB wouldn't be possible with our your support!
If you are one of the generous people that donate to help keep the updates coming, we're giving out a bit more this year. Check out this page for more details: OBB Members