Head of Household Winner – Cliff
have nots are: Tommy, Christie , Jackson, Kat
Powers in the game
Jack – Chaos
After chips have been drawn for a Veto player draw, Jack could force a re-draw for the players. This power could only be used once and is able to be used until there are six players left in the game.
Christie – Panic
At any of the next four Power of Veto Ceremonies, Christie can turn the Golden Power of Veto into the Diamond Power of Veto and allow the current veto holder pull someone off the nomination block, but instead of the Head of Household naming the replacement nominee, the veto holder names the replacement.
Grab your live feeds —-> BB21 Live Feeds Subscription Link
Rank your houseguests —-> Big Brother 21 Ranking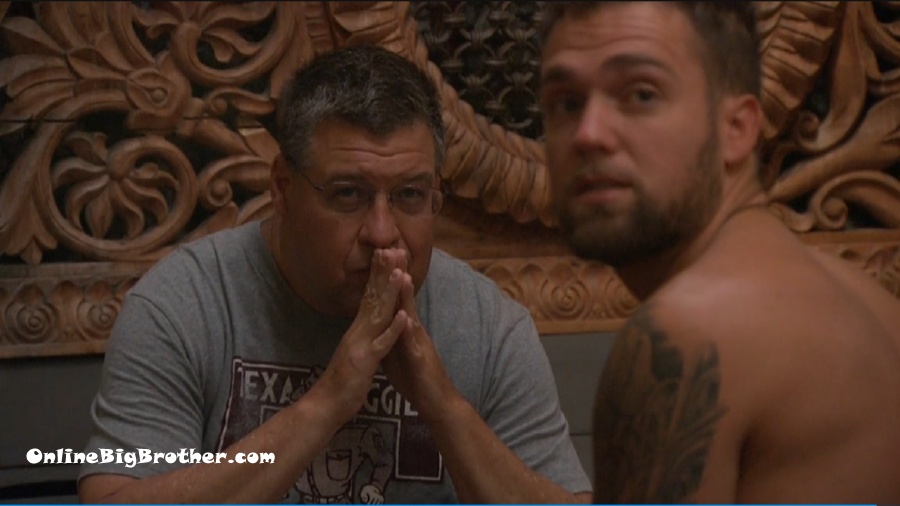 10:21 am Cliff and Nick
Cliff – couldn't sleep worth crap in here
Nick – Noms are today by the way. I know you said I was safe when you won
Cliff – I want to talk to you
Nick – well we all got blindsided
Cliff – I know … I still want to work with you
Nick – I know
Cliff – BUT there is a BUT. There are people trying to throw you under the bus
Nick – I'm sure Jack and Christie are all throwing me
Cliff says enough has been said that he knows Nick/Bella are "separate from other people"
Nick – it's pretty obvious now
Cliff – I don't want to leave that group of six people alone one has got to go I think I have to
Cliff says all he's got are the people that are not part of that group people like Nicole
Nick – do you trust her she was spending a lot of time with them yesterday and so was kat
Nick – I told Bella I gotta take my shot next week. I'm top on their pecking order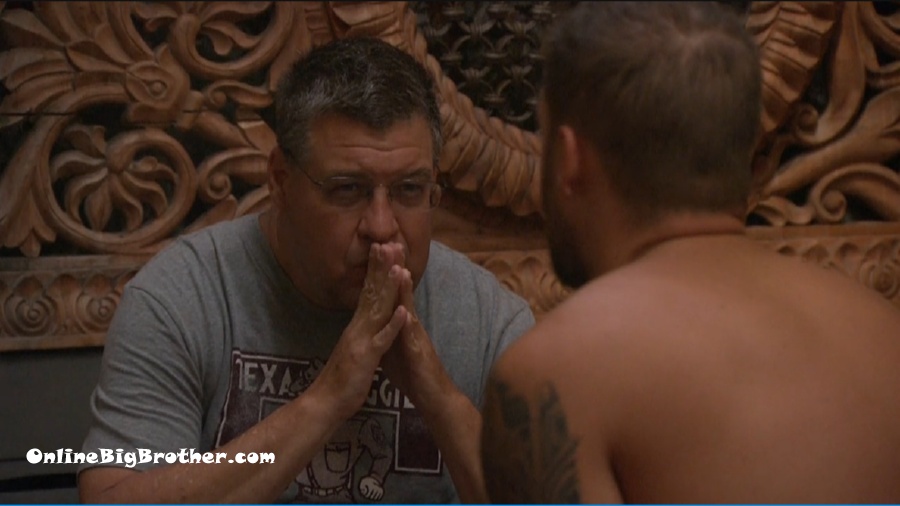 Cliff pushes how serious he was working with Nick and Bella
Cliff – I'm not going to put you and Bella up that's not what I'm thinking about right now I need your help to figure out how to approach this
Cliff says Christie told him about her power, "it's the Diamond power of veto… 3 weeks" (kinda)
Cliff – that worries me a little bit
Nick says that it was Christie and jack that masterminded the whole getting Cliff out
Cliff says the tricky thing is if he puts Christie and Jack up the POV and Christie's power gets played and they put up Sam "then they have the numbers"
Nick – I know
Nick – if I win next week I'll put up jack and Jackson I should have done it last week I f*ed up they took the first shot
Cliff – they are all paranoid
Nick – ohh did you see how sad they were when you won
Cliff – I'm sure they were.. they're scared out of their boots and they should be
Cliff says what Christie heard in the boatroom was blown up
Nick – you gotta do what's best for your game.
Nick – I trusted Christie and Tommy we made a five.
Nick – jack is awful for my game he's running the game right now
Cliff – I know
Nick – it was him and Christie that did the flip Christie is so enamored with this kid like LOVES him
Cliff – Jack
Nick – yeah. Oh my GOD loves him says if she was into guys he would be the one and Jack .. Christie reminds Jack of his EX
Nick – if you put up Jack and Jackson and one of them comes down you put up the one of the other six as the replacement. The only thing is if one of them wins veto
Nick – you can't be scared of the power .. I don't know if she's going to use it on someone that isn't herself.
Cliff – I know
Nick – Jack could easily put me up and if Jack puts me up I go home it is what it is
Cliff distances himself from Nicole says it was OVI that brought them together
Nick – Jack is my main target. Michie says whatever Jack says
Cliff – If I get out Jack this week where do we sit next week
Nick – get out Michie or Christie
Nick – I like Christie but she f*ed me I don't trust me anymore .. I would put up Michie .. I don't know if I would put up CHirsitie because she has the power right away .. Michie and Holly or Michie and Sis
Cliff – here's the deal you and I. We talked about working together
Cliff – you're not the target I'm looking at this week. Jack could be the target .. if I do that I need some support
Nick – Me Bella and Sam .. try to reign in Jess …
Nick says he's good with Nicole .. they hashed it out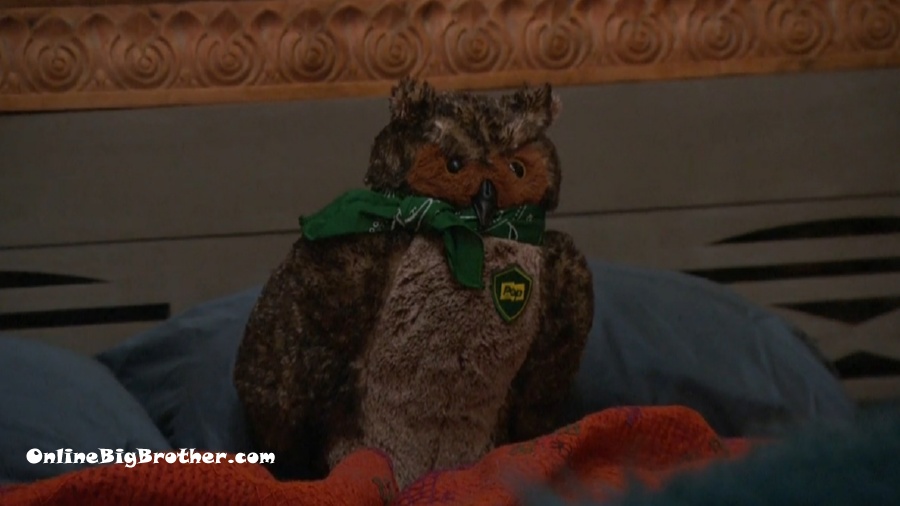 10:31 cam 2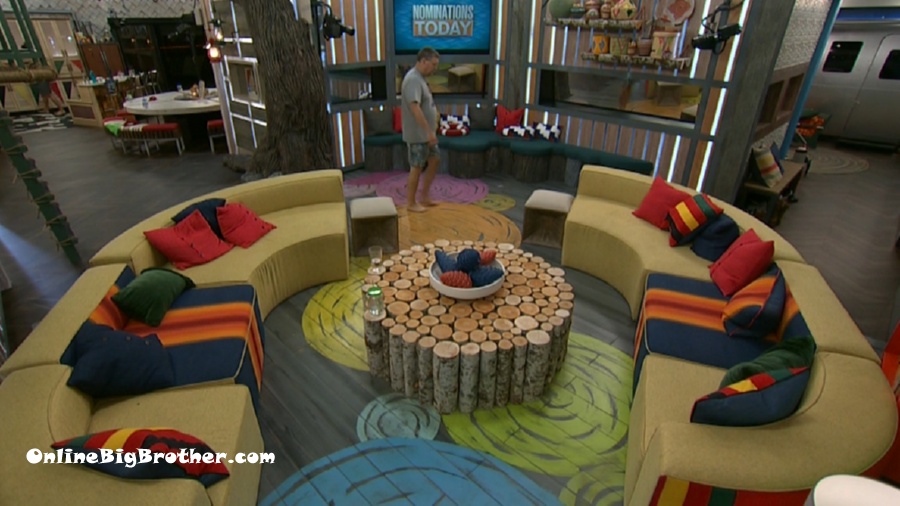 10:33 noms today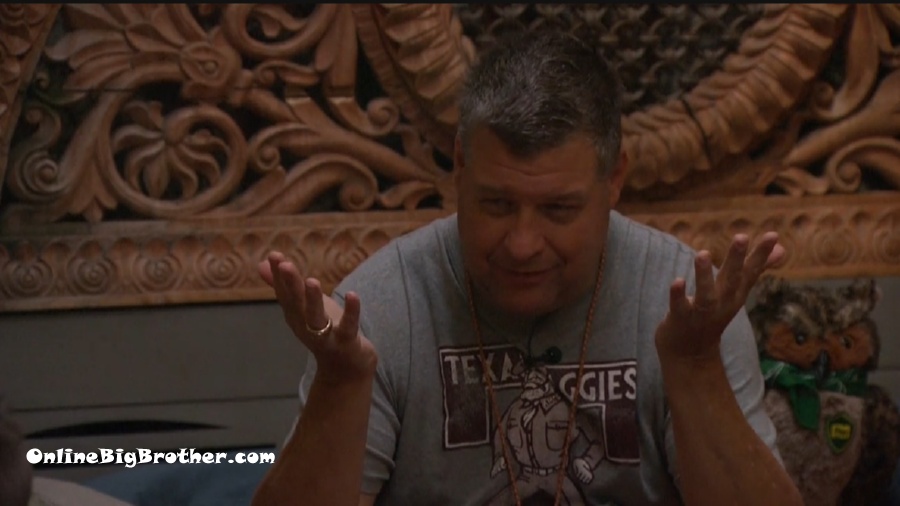 10:51 am Sam and Cliff
Sam tells him about them trying to make a 9 person alliance with him he always knew he was at the bottom. Sam says if jack would have won Cliff would have been evicted when Cliff won camp comeback "everyone was losing their mind"
Sam says he heard there were rumors about a 6 person alliance.
Sam – do you want to make a big move? If you don't make a big move you're gone next week
Cliff – it doesn't do me any good to take out Kat and Jess
Sam – numbers are in your favor if you make a big move
Sam – Christie is trustworthy but I know she's playing her own game.
Sam hard to follow says Nick and Bella are not working with the other couples now.
Sam pushing the targets onto Jack, Michie, Holly, Sis. (tough to follow)
Cliff – how tight are christie and Jack
Sam – they're tight but we have talked numerous times about getting jack and Michie out.. Jack is the major one we need to get out..
Sam says Christie is playing both sides just in case.
Sam – when her and I talk like on our own like she has no remorse if jack or Michie had to go cause they have to go we're not all stupid they're HUGE HUGE targets
Cliff – how tight is michie with everyone I always felt he had my back a little bit but then he voted against me yesterday
Cliff – I don't consider Michie as big of a target and jack
Sam – the house still likes Michie. If you put Jack and Christie up jack will try to get everyone to flip to [vote Christie out]
Sam 0- Michie would vote out Christie to keep Jack and they would still come after you next week
Cliff says if he put up jack and Jackson he is going to talk to Christie and Tommy and tell them they need to watch his back.
Cliff – I'm not going to worry about the powers there's only so much I can do.. If Christie has a power, Michie has a power and Jack has a power
Cliff – Jack is on my list at the very top
Cliff – if I can get Tommy and CHristie to work with me it's water under the bridge what happened yesterday I'm worried about who would come after me next week
Sam says Christie would vote with Cliff this week "We all know Jack has to go"
Cliff – Jack vs Michie or Jack vs Sis.. I don't care about getting rid of SIS I don't want everyone to turn on her
Sam thinks Christie would vote out Jack over SIS
Sam mentions if Cliff puts up a couple it strengthens what Christie has been saying in the house.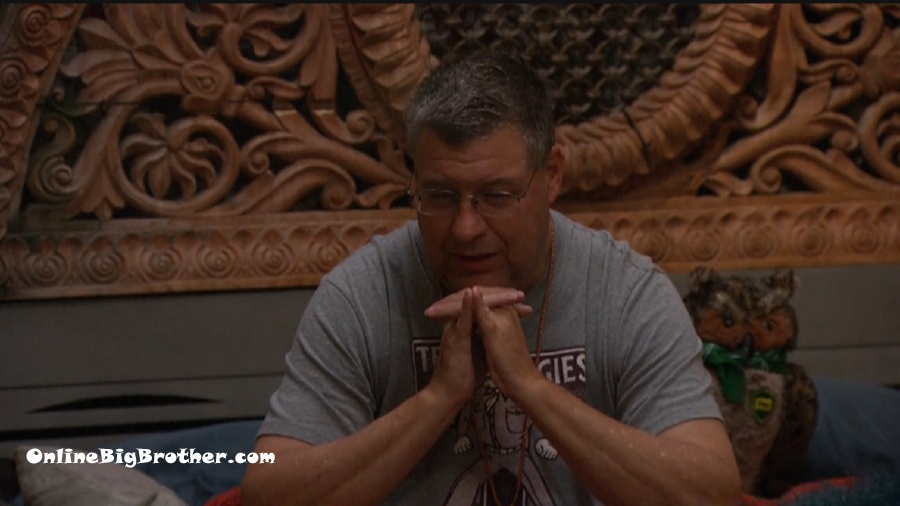 11:08 am Bella and Cliff
Bella says Jack and Christie have a power
Cliff – I know they are going to come after me if they get a chance
Bella says there's 6 of them and they won't be picking at each other until all of them are gone.
Bella says he's got her, Nick and Sam's behind him.
Cliff says he is putting up 2 big targets he has to regardless of the power
Cliff warns her that given all the powers in the game an outsider might end up oni the block
Cliff – we're all taking a bit of a risk this week
Bella – they want you out so bad. so bad
Cliff – I know
Cliff – I don't see my path moving forward not involving y'all
Cliff doesn't think Christie will use her power unless it's on herself.
Bella says Christie was really pushing for them to get Cliff out prior to the HOH being played. She says that Tommy, Christie, Sis and jack are the core 4 and Michie and Holly are on the outskirts
Cliff isn't worried about Jackson and Holly he doesn't think they will come after him in the short term.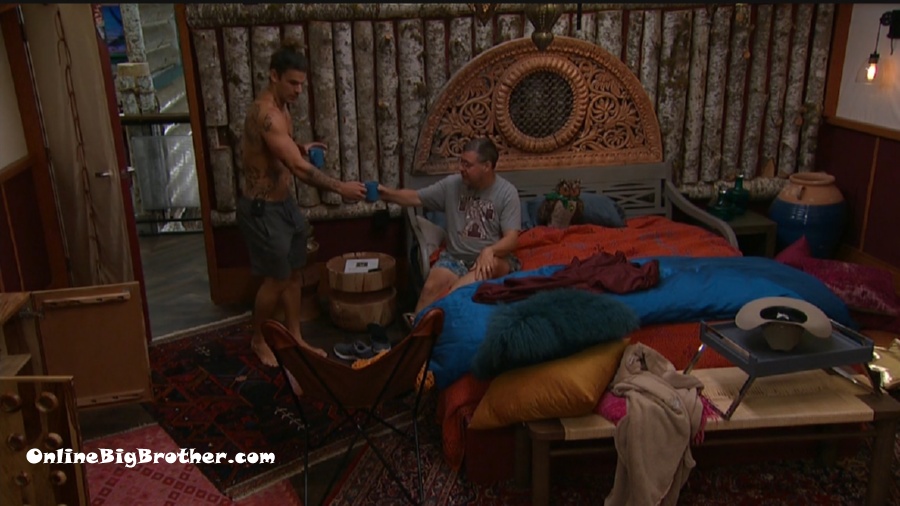 11:22 am Jack and Cliff
Jack comes in gives Cliff a coffee says he's cleaning the fridge
jack – this week ash been incredible watching him compete has been awesome
Cliff – it was a gut punch yesterday
Cliff says he was never picking targets he says when he was listing the couples group Sis and jack were first and Tommy/Christie was last he never said he was targeting them.
Jack – I love your journey I love your story (what a douche)
jack goes on about Nicole being a wonderful person "we made a play to stand against what is being done"
11:36 am Kat and Cliff
Cliff asks out of the four who would she not want to vote out
Kat says she would hate to vote against Tommy and Christie.
kat – I would put up Jack and Sis and Tommy as the pawn
Cliff says the only reason he would putu Tommy up is as a pawn.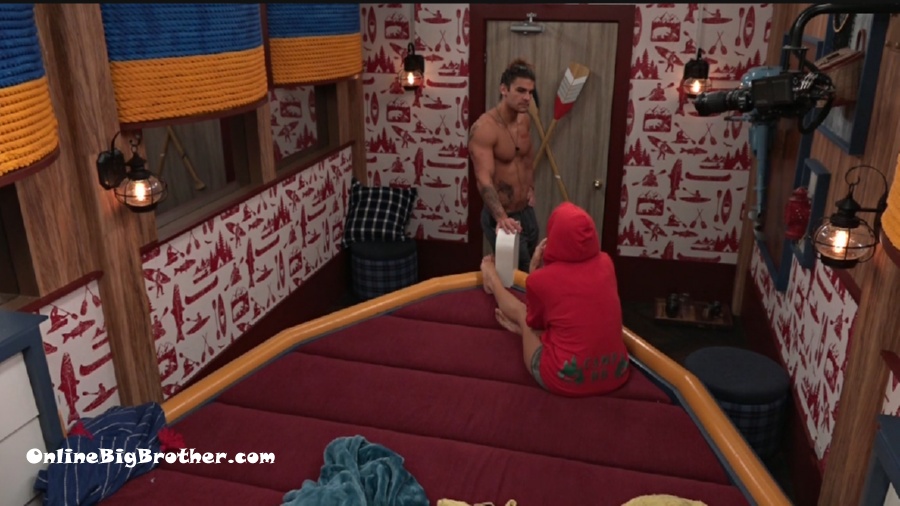 11:43 am Jack and kat
Kat saying that Cliff is leaning towards putting people up that haven't been put up
jack goes on about Nicole being a victim last week and he stood by her but voting for her to stay
12:13 pm Feeds down for Have nots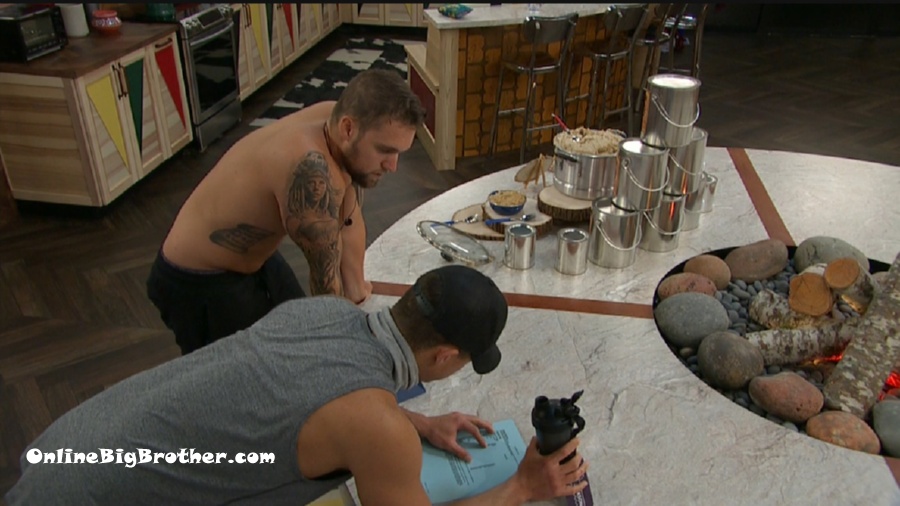 1:37 pm Feeds are back slop cans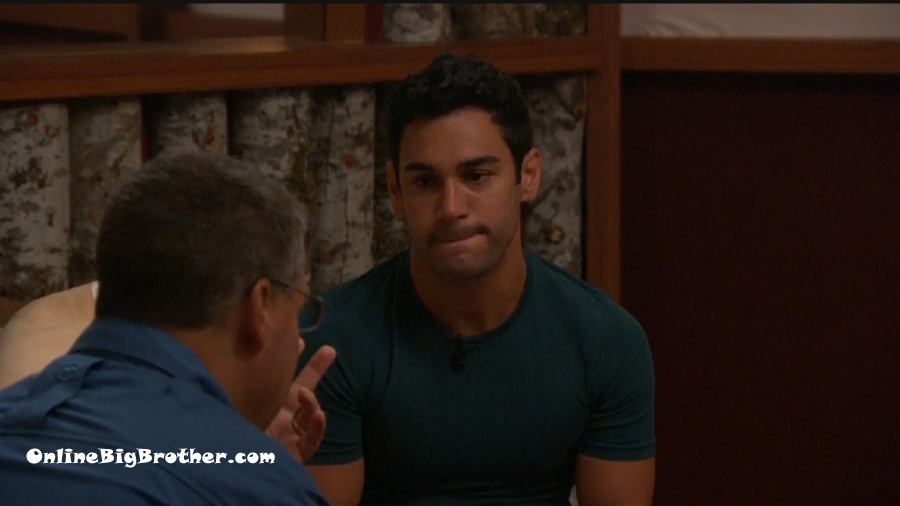 1:41 pm Cliff and Tommy
Tommy- I will shoot it to you straight .. I would love to see a version of this game where you and I get to be on the same side. really I would
Cliff – I'm trying to think of an option for that (but it's tough)
Cliff says he has ideas and those ideas and those ideas do not include Tommy or Christie
Tommy – if one of us were to win you were not going on the block this week ( didn't you all vote him out .. .wtf)
Tommy – it's scary to say that out loud because I'm really showing all my cards (ZOMG)
Tommy – it's scary to do that… you don't know who to trust (not you)
Cliff tells him he's not targeting any group with these nominations he just trying to reduce the numbers
Tommy – I love that we stood up with what is right because it goes past the game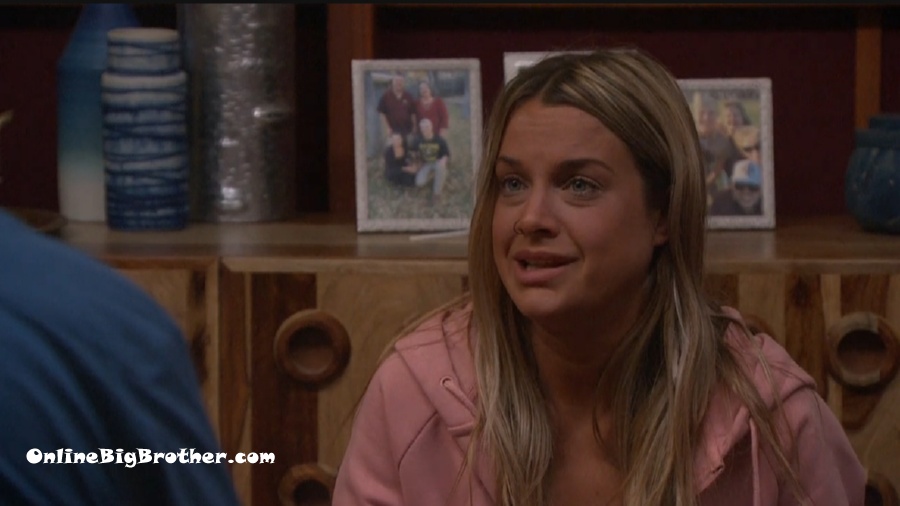 1:54 pm Christie and Cliff
Christie – Sam pulled me aside this morning and asked her if Cliff put up Jack and Michie which way she would go
CHrsitie – we started off as a group of 8 which was awesome then we turned into 9
Christie says her heart is that Michie and they are more solid and Nick/Bella were flip-flopping she doesn't like what they did to Bella "It's not what I stand for"
Christie – Nick said it himself he doesn't give a sh1t ..
Christie – What is Sam trying to do
Cliff – it is a bit of a numbers game for me. There's a lot of people on the block before and I don't think they should be
Cliff – it comes down to Nick and Bella vs all y'all ..
Cliff says on a personal level he likes Nicol but on the game level he
Cliff doesn't like how Nicole or himself were treated
Christie – Sam was trying to get me to turn to try and have some amunition.. my response to him .. Jack and Michie he's putting up Jack and Michie if I know Cliff He's not disclosing what he's doing
CLiff – from a numbers and point Nick and Bella are not the targets this week because the shots are fired I have to protect myself this week.. I hope you understand I wasn't planning on targeting anyone until further in the game.
Christie says she's the first person to get kicked out of the 6.
Cliff – I don't want to target you and I don't want to target Tommy
Christie says Tommy is good for the three of them. His social game is strong and that helps them moving forward.