Head of Household Winner – Cliff
Power of Veto Ceremony results – Kat uses Veto on Jess. Nicole is the replacement.
Powers in the game
Ovi – Nightmare (Dead unless he comes back?)
During the night, Ovi could secretly wake up the house and call a new Nomination Ceremony, with the Head of Household naming two new nominees. The original nominees would have immunity for the week. The power is able to be used for the first six Nominations.
Jack – Chaos
After chips have been drawn for a Veto player draw, Jack could force a re-draw for the players. This power could only be used once and is able to be used until there are six players left in the game.
Christie – Panic
At any of the next four Power of Veto Ceremonies, Christie can turn the Golden Power of Veto into the Diamond Power of Veto and allow the current veto holder pull someone off the nomination block, but instead of the Head of Household naming the replacement nominee, the veto holder names the replacement.
Grab your live feeds —-> BB21 Live Feeds Subscription Link
Rank your houseguests —-> Big Brother 21 Ranking
9:05pm – 11pm Big Brother blocks the feeds for the HOH competition.
Bathroom. Jack, Sis and Jackson. Sis – we can figure something out. Jack – no, I go up on the block and I win. That's how it happens. I go up on the block and I win the f**king veto. Jackson – Holly and I already talk to him. He still wants to work with us. When we were sitting out there I said if I win this you're safe and he said you're too. So what I am saying is that me and Holly will talk to him. We can say that there are 6 people that will have your back if you go after Nick and Bella and we can still do this thing. We have to play the cards that we're dealt. Get your 39 seconds of venting and then after that flush it and be a big boy. Let play this f**king game alright?! Lets play this game! Get your sh*t together.
Bathroom. Cliff and Kat.
Kat – I can't believe this! The story line is amazing! Cliff – we should be good. Kat – well I hope you're not going to put me up. Cliff – no we're good. I will get you involved up there in what we need to do going forward. Kat – I know, I can't wait to talk but I mean.. Cliff – we'll talk tomorrow. Let it marinate. Kat – I can't believe it! I can but I can't .. so exciting!! Cliff goes to the washroom. Jess joins Kat. Jess – I'm feeling so good right now. Kat – I know. Jess – that was crazy. They hug. Kat – we will be good. Kat leaves. Cliff comes out of the washroom. Jess – I'm so friggin' happy for you. Cliff – we'll talk. We need to flip this around. We need to talk to people and see. I've got a lot more targets than I had this morning.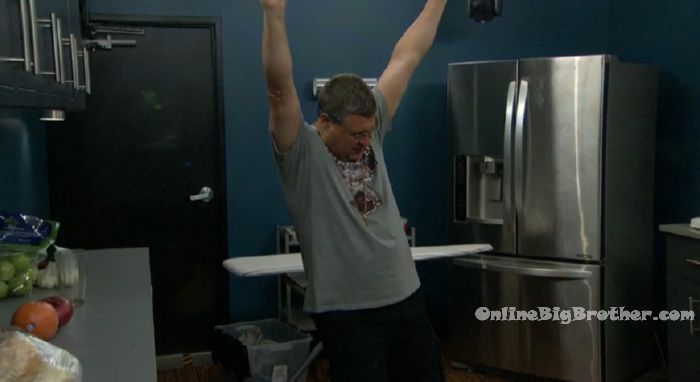 11:09pm Storage room. Cliff.
Cliff – Day 30, evening… lets call this victory dance number two! I'm dancing alone now but I bet I have a lot of people coming to be my dance partners. I don't quit! I don't give up! You don't tell me what I can't do! You never tell me that I can't do something. I love them all and its not personal but there are targets in this house now. We're going to play a slightly different game for this next week. Cliff heads to the bedroom. He finds his hat puts it on and says – there's a new sherif in town and you can call me Cliff Hogg but if you want you can just call me BOSS! Mic drop!
Cliff "Day 30 evening… lets call this victory dance number two!" @bigbspoilers #BB21 pic.twitter.com/GbsYfiiGhM

— Dawg (@DawgsBigBrother) July 19, 2019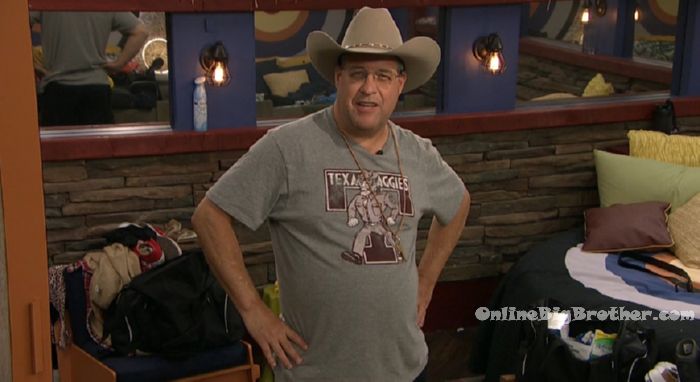 Jess to Nicole – I think that we don't have to worry about this week. I really do and I am so happy for that. Cliff is going to change some sh*t up! Nicole – balls to the wall. I need to make sure I talk to him though. People will be like in his ear. If I had won and people were like Cliff was campaigning against you .. I would be like yeah! Thats how the game works. I am so embarrassed. Even if I wanted to throw it, it wouldn't be like that. Either it makes me look like a dumb sh*t or I didn't care and threw it. I swear I'm not that stupid. Jess – Cliff just literally said to me ..anyone that's been on the block doesn't need to worry this week. Kat joins them. They all hug. Jess – they can't make this sh*t up.

Bedroom. Jack, Tommy, Christie. Jack – none of this is was we planned. Him coming and then winning. Tommy – I told her everything. I said we believed you from the beginning. Kat – I think they're all freaking out.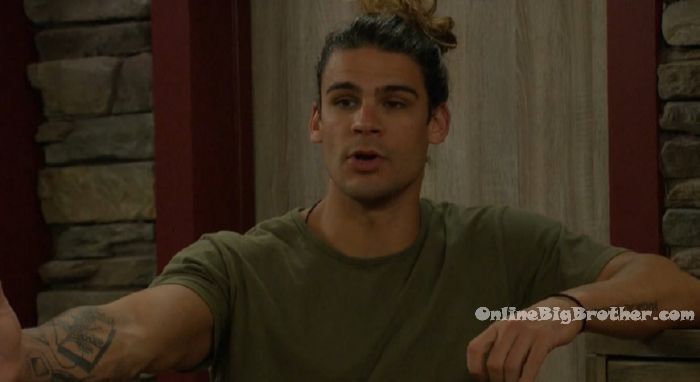 12:15am Boat room. Jackson & Holly. Jackson – should I offer up a pawn? Me? Holly – no! I mean maybe if we're desperate. Against who? You and Nick? Jackson – I don't know but Christie has a veto power. And maybe I can keep Christie – off the block. A pawn against Nick or Bella? Make it look like he is coming after us. Holly – I don't know but we need to figure out something .. like forming a new alliance. Jackson – it might be the best option for our alliance. Put me up as a pawn, and Sis is safe. It keeps you safe. And allows us to go after Nick and Bella. Christie's power can keep me safe. Holly – yeah. Jackson – that might be our best bed. I will talk to Christie.. first before I offer that up. Jackson – kat will vote to keep me. Jess will vote to keep me. Holly – you'll have the votes on your side.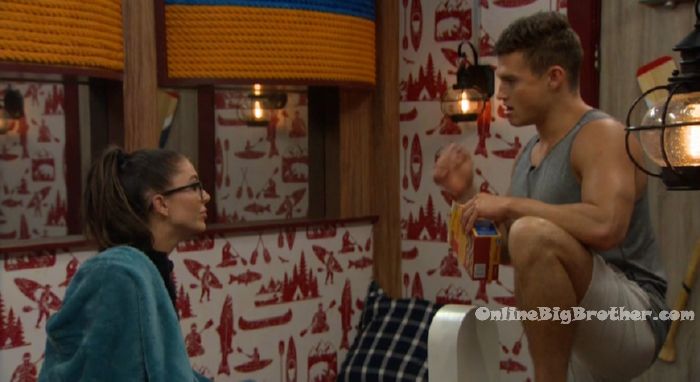 12:20am Christie and Jackson. Jackson – Would you use your power on me? Christie – on you? Why you? Jackson – Cliff has wanted to work with me and when we were both outside during the break we both looked at each other and said we're fine. Jackson – we maintain this facade that we don't like each other. And that he is coming after me because of the banishment. But he won't just put up Nick and Bella. So we need to make it look like its good for him to put Nick and Bella. Also that it doesn't blow anyone's cover. Put Nick up and put me up as a pawn. It does a bunch of things ..one it keeps you and Jack safe. Two it keeps me and him (Cliff) a secret. It puts one of them up. Christie – what if someone else wins the veto? Jackson – you have control over it. Christie – yeah but it depends on who wins it. Jackson – ok that fine .. then we get him to put up Bella and Sam. I just wanted to find out if you would be winning to use the power. Christie – yeah of course. Jackson – If I am up there we have Kat, you, Holly, Sis, Jack, Nicole. I just wanted to ask you. Christie – I would use it on you.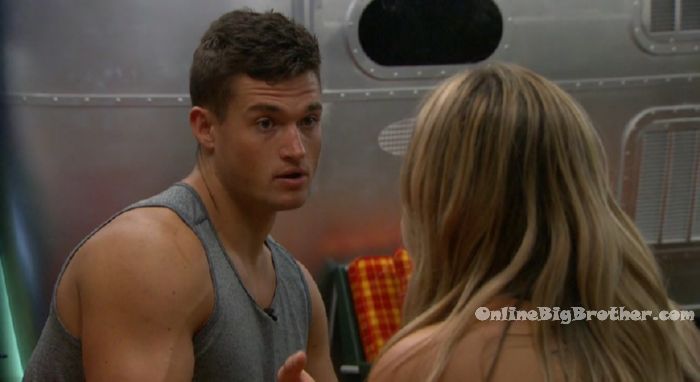 1:03am Boat room. Jackson and Sis.
Jackson – here is the plan. The plan is to get out Nick and Bella. He likes Nicole and he distanced himself because she thought she was. Let him know that Nick and Bella are. We still have the numbers to keep me safe. Sis – but who would he put you up against? I guess we would have to see who wins the veto. Sis – who do you want to go first. Jackson – tI don't care how its doe. hey are going home this week.. one of them. I couldn't win HOH… like hands you lemons, lets make some lemonade. I want them gone! Keeps Jack and you safe.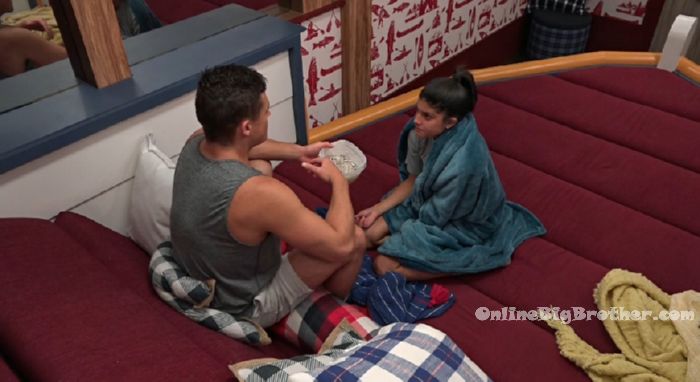 1:55am Tommy – this game is nuts. We couldn't tell you the trust because we couldn't risking it getting out.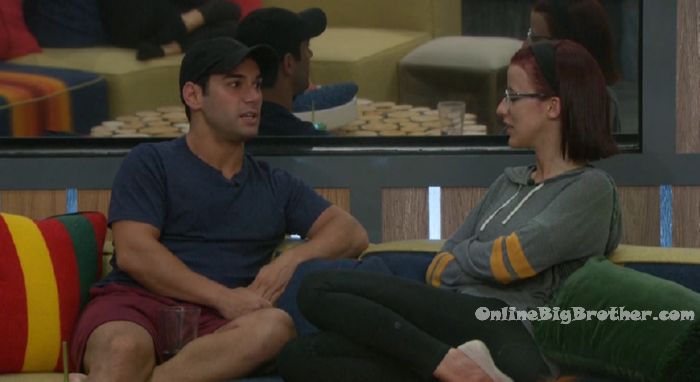 1:55am Nick and Bella. Nick – I am so happy that Cliff won. Next week if I win, I am just going to take a shot because I am going to bring one of them down with me.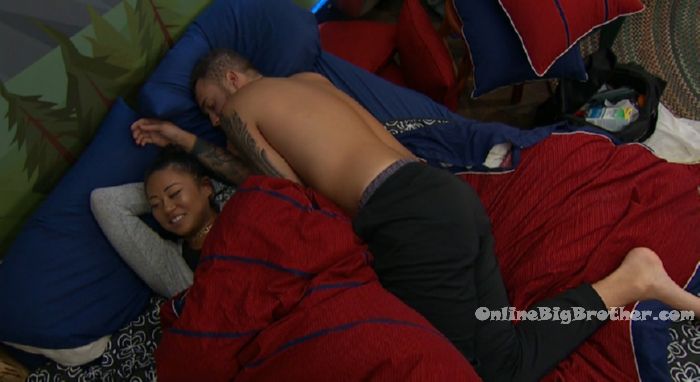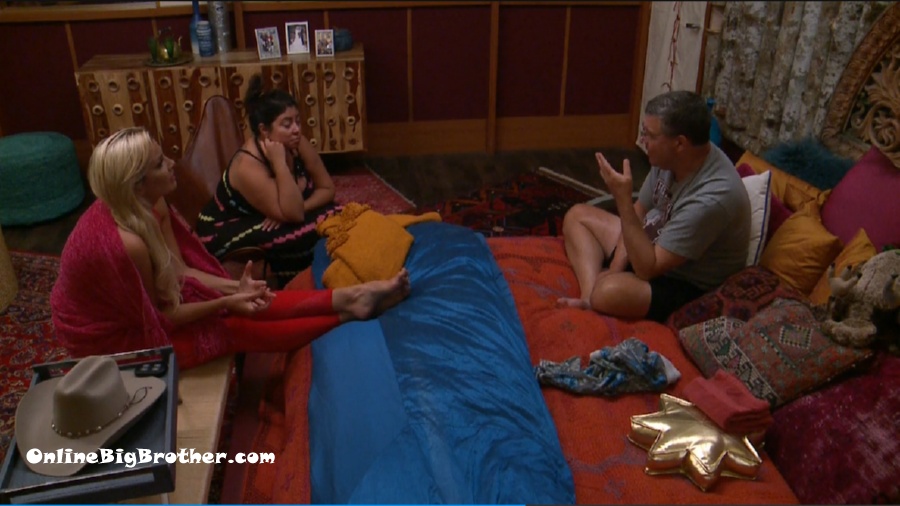 3:20 am Cliff with Kat and Jess
Cliff – there's potentially going to be some blood on my hands..
Kat says there's the 6 person alliance and a 3 person (nick, Bella, Sam)
Kat – there's a couple in that 6 that are freaking out you just won because they evicted you
Cliff – as they should be
kat – I know they are going to try and convince you to get rid of Nick, Bella and SAm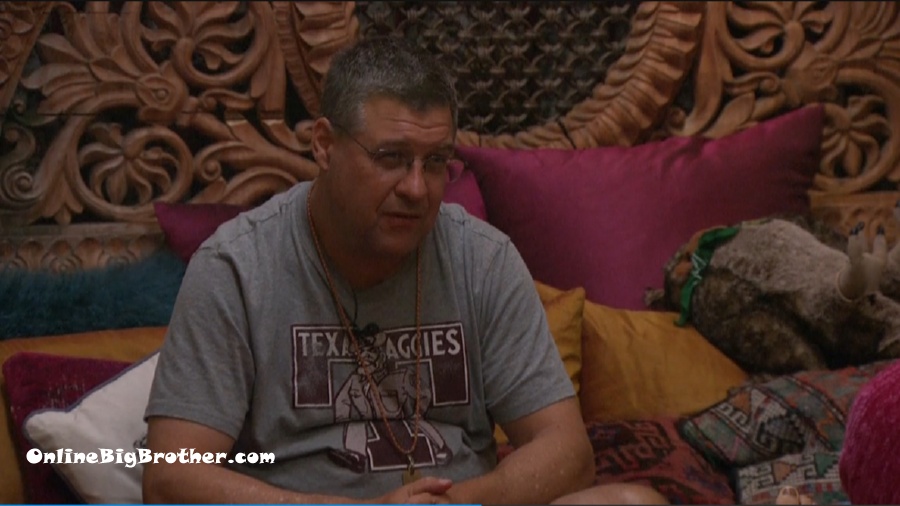 Cliff – I'm sure they'll try
Kat – play for your game
Cliff says there's Kat, him, Nicole, Jess and Maybe Sam as a group they are all outside of the couples if they can get one couple on their side they can get out whoever they want
Cliff – we don't have to be threatened by the couples
Cliff says he has no plans to put them on the block.
Cliff – all of us working together is our best chance in this game
CLiff says he doesn't want those 6 people to end up in the end and they all end up the trash heap of the season.
Cliff – it was me vs, Tommy, Michie and Jack
They say Jack was about to win the HOH and they were all panicking. They wonder why Christie told people about her power. Cliff says she told like it was a threat.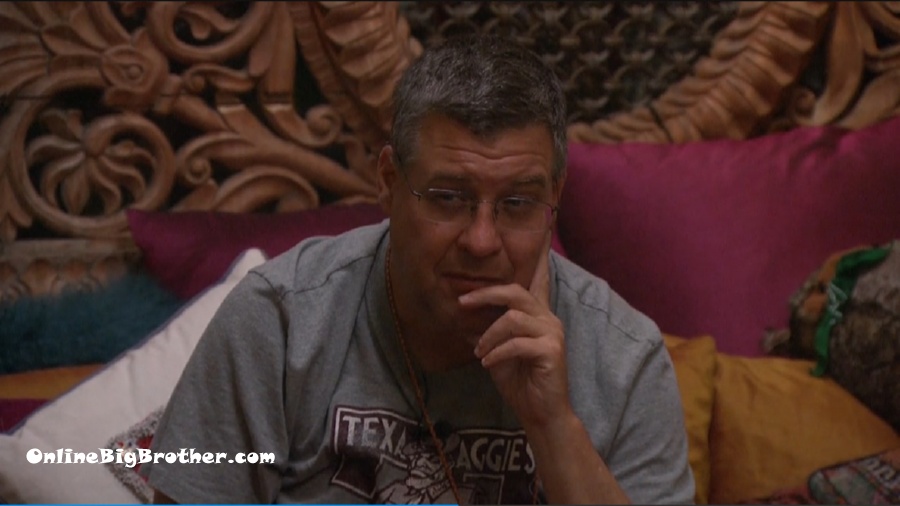 3:57 am Cliff, Kat, and jess
Cliff – it may have been decided last minute to send me home but Jack has not looked me in the eye for awhile .. before the eviction ceremony. HIs tone with me changed these last few days.. it's one of the reasons I wasn't so certain .. he was talking to me differently
Cliff – his name is definitely on the list
Cliff says he's bothered that Holly, Jackson voted against him "out of all the couples that voted against me I trust more those two"
Cliff isn't considering them adds that those two are the type that if they see the waves changing direction they might hope on board.
Kat – me and Holly are close
Jess – Holly doesn't have it in her to be manipulative
Cliff – by process of elimination, you can all see who I'm looking at Christie, Tommy, Jack and Sis. If Christie has this Diamon power of veto perhaps not her
Kat – all the things Kemi got evicted for Sis does all of that but worse. Have you noticed in the gratitude circles she's always like I don't want to do this I hate this
Kat – that name one memory so far, She couldn't even name one. She always says she's tired, She's always board, she never does dishes
Kat – I personally wouldn't target Tommy because he does not wrong but I also think he's going to get very far in the game
Jess – yeah
Cliff – there's two things 1 I think he'll get very far everyone loves Tommy and I love Tommy it would never be personal against him
Jess – you have to consider the votes. You don't want to put someone up that isn't going to go
Cliff – I know
Jess says if Jack was on the block a lot of people will vote him out
Cliff – especially if he's going up against a Tommy it may make it any more towards Jack..
Cliff doesn't want to get Tommy out says if he loses some of the people on the couple's side he might float over to them.
Jess – Christie would never vote Jack over Tommy (Vote out Tommy over Jack) I think she got a bad taste in her mouth for Jack trying to hijack her HOH
Nicole joins them.
Cliff – I'm not going to be intimidated into making a decision it'll be what works best for my game our game
Cliff – I don't want to target anyone that's been on the block before like we all have been
Cliff – we all been the expendable type that doesn't get any respect from anyone else I would love to do something we all agree on and we all support together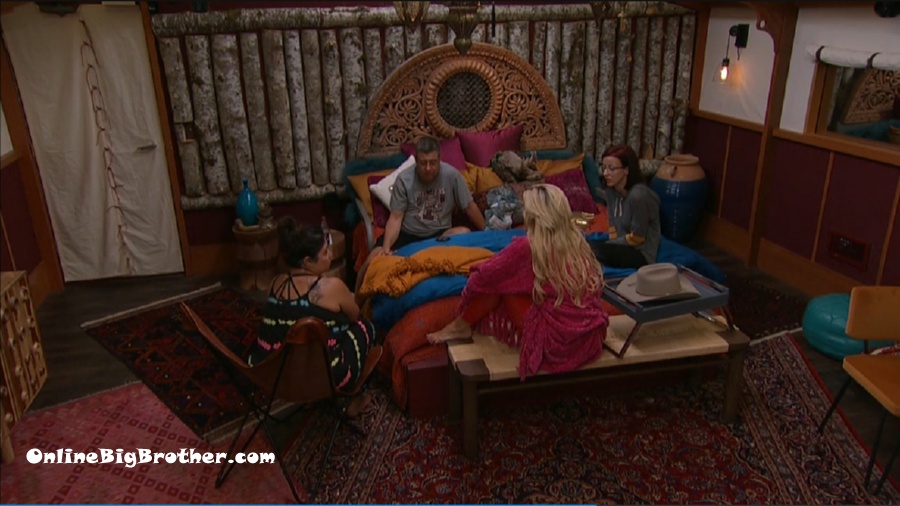 4:15 am CLiff, Nicole, Jess and Kat
Cliff wants to see who throws who under the bus.
Cliff says he knows Jess and Nicole have issues with Nick and Bella but that doesn't mean he's going to rule out working with them yet.
Kat – right now they don't have anyone
Jess – right now even though I have issues I feel like I'm in a way better place with them now
Jess says there are other people in the house playing a much dirtier game and getting away with it.
Kat mentions why are they all bottom of the totem pole who decides this totem pole
Cliff – the people in power are the ones that are coupling up all of us that are down at the bottom aren't hooked up with a showmance.
Cliff – If I put someone up it's because they are a threat to me moving forward not because of what they've done in the past.
Cliff says he's not really looking at Jackson he thinks Jackson wouldn't put him up.
Kat says the people outside of them she would for sure not put up are Jackson and Holly
Cliff – yeah. I'm not leaning that direction
Cliff – they did vote against me
Jess – but out of all the couples they weren't against you
Cliff – people do what they feel like they have to do with their game.
Cliff says Jackson and Holly are not his primary targets.
Cliff – let's have a week where we have some power and control.. If someone throws out a power then there's only so much I can do
Cliff Bella worries me more than Nick
Nicole – absolutely

4:42 am Kat filling Jackson in
Says Cliff wants to take out an alpha male Jack. "he also thinks about putting up Nick he doesn't trust Nick"
Kat says Jackson and Holly aren't on Cliff's radar.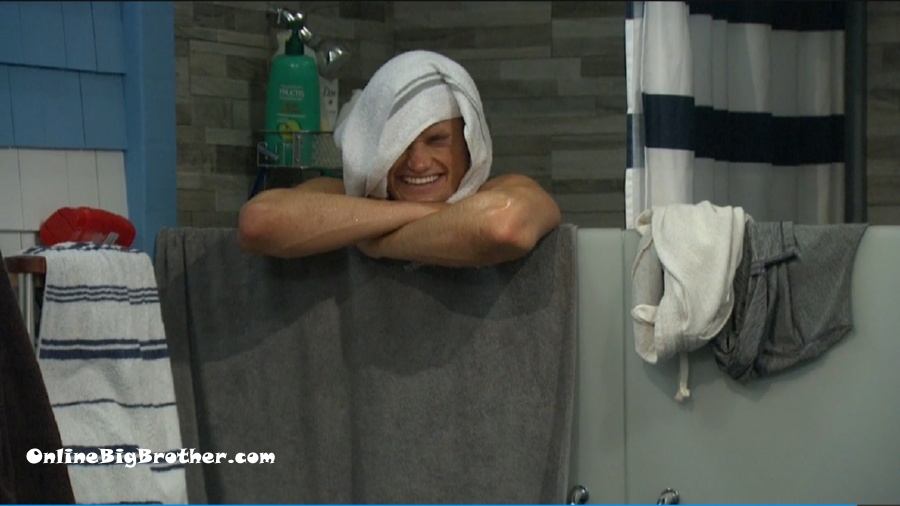 5:20 am Jackson and Kat
my moms going to kill me .. bonked two houseguests
Jackson – that's f*ed what David said about seconds
Kat says she would never get with him after saying that
Jackson – that was f*ed you don't say that
Cliff showing off some fancy foot work #BB21 pic.twitter.com/umk6McEJgm

— OnlineBigBrother.com (@bigbspoilers) July 19, 2019
A little something EXTRA for those who Tip / Donate:
If you are one of the generous people that donate to help keep the updates coming, we're giving out a bit more this year. Check out this page for more details: OBB Members