Head of Household Winner – Jess
Have note are: No Have nots this week, Jack, Tommy and Jackson were given punishments as part of the veto.
Nominations are: Jack and Jackson
Power of Veto Players are – Jessica, Jack, Jackson, Kat, Nick, Tommy (Nicole – Host)
Power of Veto holder – Jessica
Power of Veto Ceremony – Jessica didn't use the power of veto
Powers in the game *** LINK ***
Grab your live feeds —-> BB21 Live Feeds Subscription Link
Rank your houseguests —-> Big Brother 21 Ranking
1:15pm Jess, Cliff, Christie and Tommy are sitting in the kitchen chatting about the memory wall photos.
Cliff – we're starting to see some grey .. black and white pictures, aren't we? Christie – I know its very weird. Cliff – we're starting to get to a whole different part of this game all of a sudden. Christie – I think next week will be kind of scare .. if it is a double. Its nerve racking for sure. Jess thinks that doubles are special two nights. Christie – oh no. Cliff – I think they've done it both ways. Jess – we'll see because if they don't give us liquor tonight. Christie – they would have to close the yard too. Cliff – and finish with Michie. Christie – the double eviction is terrifying. Tommy – is someone in the DR? I want to ask if they can make the helmet lighter. Its really heavy and giving me a headache. Cliff – go ask? What's the worst they can say? Christie – especially if its causing you pain.
Christie – no matter had happened if we had had that huge blow up or not, it would have been the same way. You (Jess) won HOH, probably would have been the same noms for your own logical reasons. Veto would have been the same. You still won the veto and wouldn't have changed noms. Whether we had that fight or never had that fight, one of them were still going so either way it would be hard. Things happen the way they're supposed to in the world and in this house. You really did a great job. You used your heart, your gut and your brain and your game. Tommy – you're HOH gold. Christie – you're handling everything flawlessly. Jess – one of them leaving is going to give everyone an even playing field. Christie – that's true. Everyone is on their own. They were the two most strong dominant forces. Jess – and they both put me up for different reasons.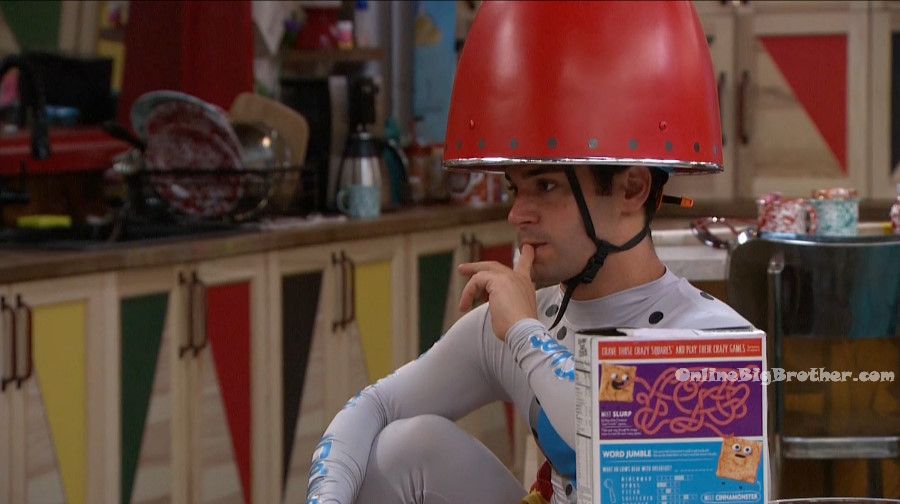 1:22pm Backyard. Jack, Nick, Kat and Sis.
Sis showers in the backyard with the hose. Nick – 9 + 99 for sure! Jack – on second thought send me to jury. Nick – do you want me to send her with you if you go? Jack – I can wait a couple weeks. Nick – that will be my reasoning.. Sis I don't have anything against you but I promised Jack you would go to jury in a couple weeks. Sis – I think I would be pissed. Jack – half a million dollars pissed… yeah I would be pissed.




Boat Room. Jack and Nick.
Nick – she (Nicole) is solid. Jack – I can't hand out too much (safety) that it gets spoken about and if overlaps. That's impossible you can't hand out that much. I do have a certain amount that I can dish to Nicole and I do want to protect her. I do like her. Nick – to a certain point .. until we get out Cliff, Jess, Kat, Tommy, Jackson. But you don't have to give her too much leeway. Jack – but is a certain amount going to enticing … what do you think the right number is? Like if I am talking evictions. Nick – not including this double.. if its a double? Jack – well I would include the double. Nick – three, I don't know. Jack – okay. I don't know if that's going to be the right number but I do want to ballpark.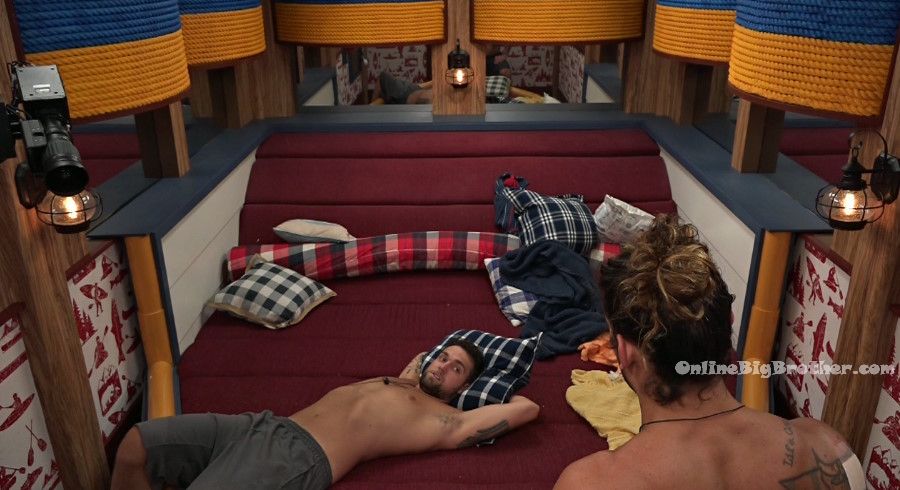 2:20pm – 3:25pm Bedroom. Jack and Tommy. Jack – I was just speaking with Nick privately wondering what I have to do as far as Nicole. Coming into negotiations.. I can't give may weeks of immunity like working together and stuff but I know that Nicole is a big piece to you. Because I know that Nicole pushes Nick. He doesn't want to double cross Nicole. So I have to figure that out.. its another 3 week thing but I don't know if its good enough. Like how many weeks does she think that she can get on the other side with Jackson and Holly? Tommy – I don't think they're doing anything. Jack – Jackson is really confident right now. Like Cliff woke up every time Jackson went last night (alien punishment), which is really cool and all .. maybe he is just saving face. My key is to not lose my sh*t. Tommy – I think its two of them .. Cliff and Nicole and then Jess has to be on board. You're doing good. Jack – I've accepted both possibilities. It f**King sucks but.. if there is a battle back .. I am coming back! Tommy – oh 1000% percent! I know that with all my heart. Jack – and the cool thing is if there is a battle back.. At some point I in campaigning I will say that Holly wanted you (Cliff) gone but I don't know how I am going to play it. Tommy – also Kat is playing both side. Jack – f**k Yeah she is! The main trigger for me is how much she is lying and it pisses me off that she is in a power position but still lying. I was going to blow up her game in my exit speech. She is basically the reason why I go. She is lying about knowing Holly when she does. I will literally use my entire eviction speech just to submarine her game. I don't give a f**k! Tommy – it is really messed up what she's doing. Christie joins them. Christie – how's it going? Jack – It's still leaning towards…. making sure I have everything packed. I think Kat runs the house right now and she decides. Christie – how does Kat run the house? Jack – Kat and Jess run the vote on the house. Tommy – Kat is playing both sides .. its so f**ked up. (That's what you wanted her to do!) Tommy – Kat was being a mole for the first half of the game .. does Jess know that? That she was on our side? Christie – or that Kat knew about the vote flip for Cliff? This is all the stuff that has to be said in campaign speeches. Tommy – you know they're playing dirty too so shouldn't feel bad. Jack – what I did to Jackson wasn't the cleanest plan. Christie – you still haven't apologized to Jackson and he doesn't deny that you broke trust. That was his opportunity to say dude you didn't break trust, I never said that. That was his opportunity to say you knew about that day 3 stop trying to make it like it was news. Nick joins them. Jack – I'm going to blow this motherf**ker up.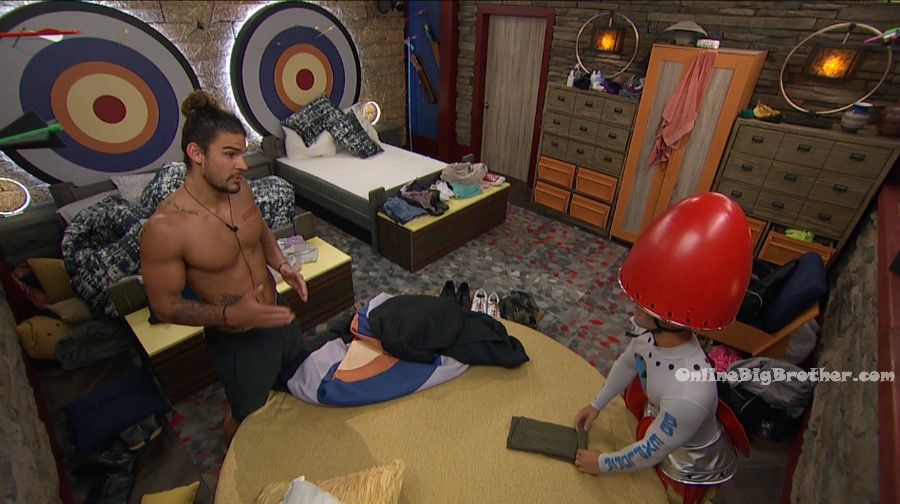 4:25pm Boat room. Jack, Nick, Christie and Sis. Christie tells Sis that Jack is going to tell Jess that kat was a mole the entire first half of the game. She knew about the vote but didn't want anyone to know because she wanted to be the mole. You don't get information if you run everything back. And he is basically going to be like you wanted to be informed. Christie – and you chose to not vote with us so that you could remain the mole. Jack – You feel like I keep you out of the loop. Or am I basically going to go up to Jess and lay it all out on the line? Air all your dirty laundry. I will just let that sit and then if she doesn't do anything by tomorrow morning .. I will be like okay we have two options.. we can figure this out or I can go up and tell Jess that you didn't tell her. Sis – wow. That's good. We may have to jump if Tommy got wind that she (Kat) is going to tell her (Jess). I am going to beat her to the punch and bringing all three of you up there and I am dropping it.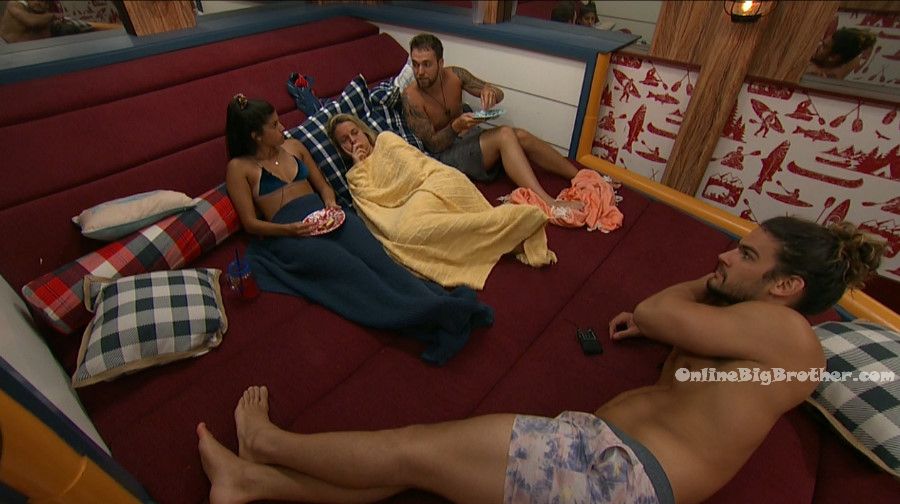 6pm HOH room. Jess, Nick, Jack, Nicole, Tommy and Christie. Jess is telling them about he daughter.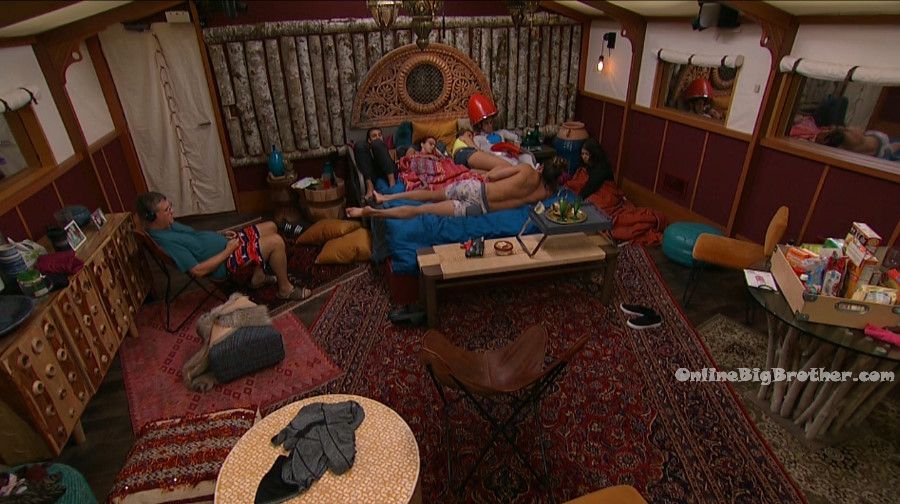 7:35pm – 7:47pm Camp Comeback room. Holly, Kat and Jackson.
Holly – It worries me if Nick were to win because I have no idea how it wold go. Like who he would even target. He might get sucked in by them and then come after us. I doubt it but eventually Nick is going to have to choose sides. He can't keep walking on a tightrope between both sides. Kat – I feel like after we get you through this week, we're going to be good. Unless I am slightly afrase that all this sh*t is going to come back and bite me because my names been in everyone's mouth.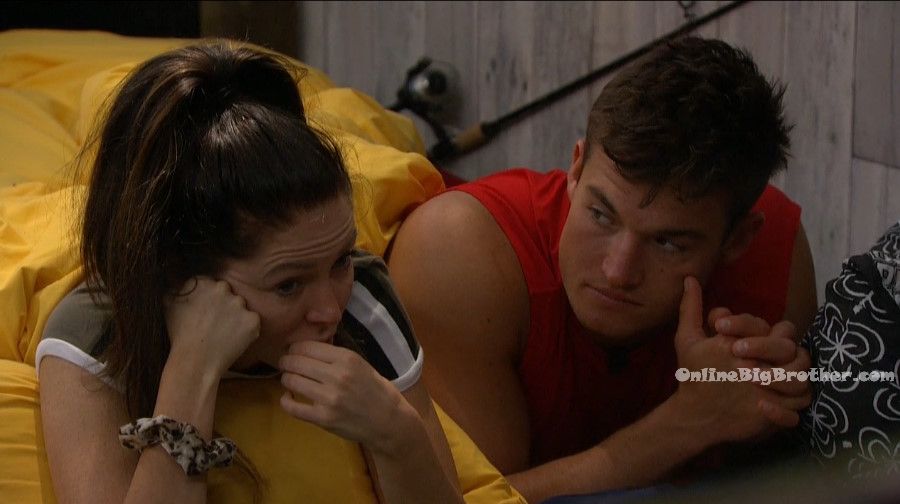 8:30pm Bedroom. Jack, Tommy and Sis.
Tommy – its a fine line between a threat and your life is on the line. Jack – and I need you to work with me. I want to work with you. But I am not going to try and read between the lines… She knows f**king Holly and she is tight with Jackson. He f**king buried her and she still forgives him. She trusts him. I will say that I am going to go up to Jess right now ..I'm not going to say anything but you have to figure this out. And then I go to Jess and say I've got truths in this game but I don't want to have to tell them. And that way if Kat does go and Tell Jess then I can be like I f**king warned you. And then we go to Cliff and say Kat knew about your vote.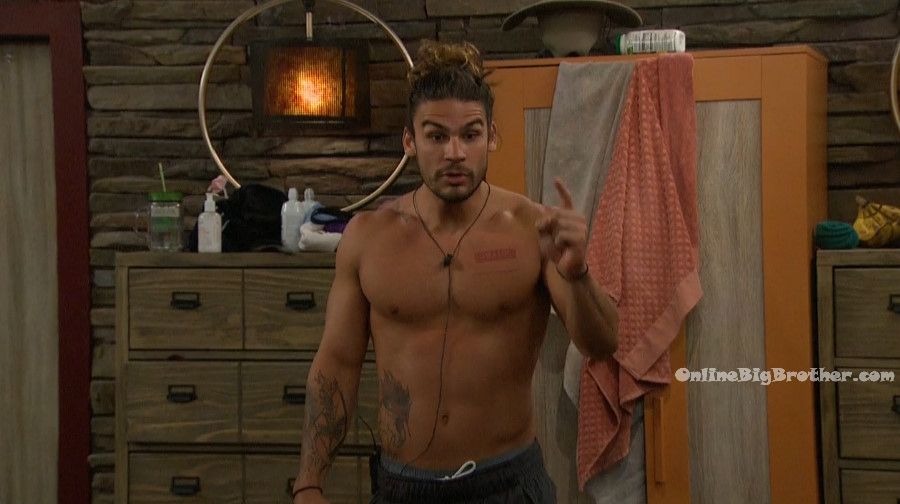 8:45pm – 10pm Hammock. Nicole and Jack.
Nicole is upset and missing her family and friends. Jack – this is work and you're going great. Nicole – I am just mad because I never give back as much as I give. Jack – you're a great person. Nicole and Jack chat about random things and life outside the house.
10:25pm – 10:45pm Boat room. Tommy, Jackson and Holly.
Tommy – I was just telling Holly and no matter what happens, like I will be loyal to you if you're here. Jackson – appreciate it. I am going to be completely honest. Jackson – like I came into this house wanting to take nothing personal but I know for a fact that things have been made personal behind my back. And things have been said about me on a personal level behind my back to other people. Being on the outside of those conversation is hard. Tommy – its no secret that I am boys with Jack and I love you. I have to have his back through this campaign. Jackson – its just sad hearing about how things are being twisted about me. No one can ever say they haven't lied in this house.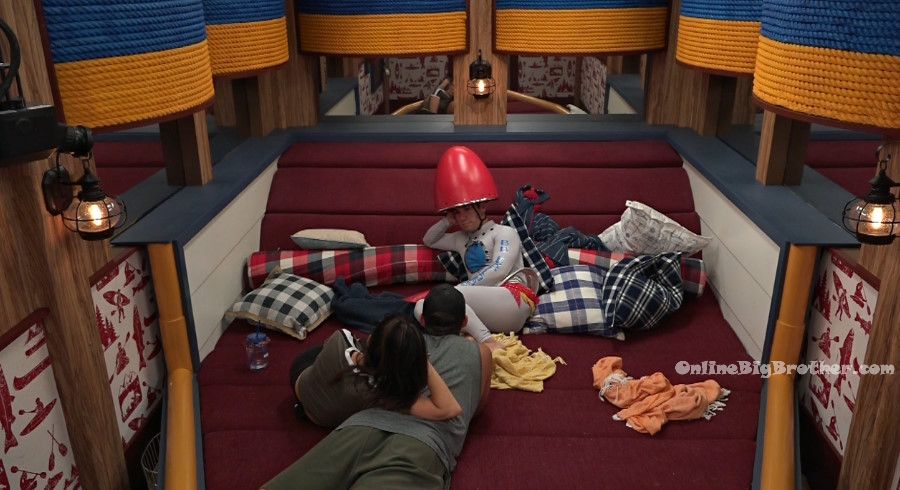 10:55pm Boat room. Kat, Holly and Jackson.
Kat tells them that she did her goodbye messages. She says for Jack she said – Do we (Holly & Kat) know each other, do we not? Well, it looks like you're going to have a lot to think about in the jury house! Jackson – OOHHHHhhh SAvAGE! Kat – then I was like whoops, just kidding .. see you on finale night! It was funny!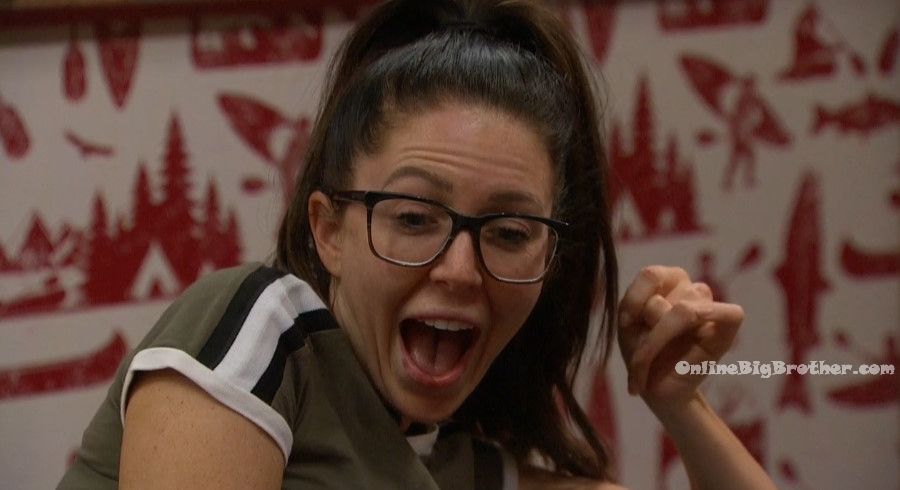 10:56pm – 11:25pm Bedroom. Jack, Tommy, Sis and Christie.
Christie – Jackson hasn't campaigned to a single soul. Holly is wiping everyone's a$$ for him. Jack – I've got this! I can do this. Christie – it will rub people the wrong way if he doesn't. Jack – he will though. If I pull this off, it will be huge. Christie – I am not being negative, I just can't let you go yet.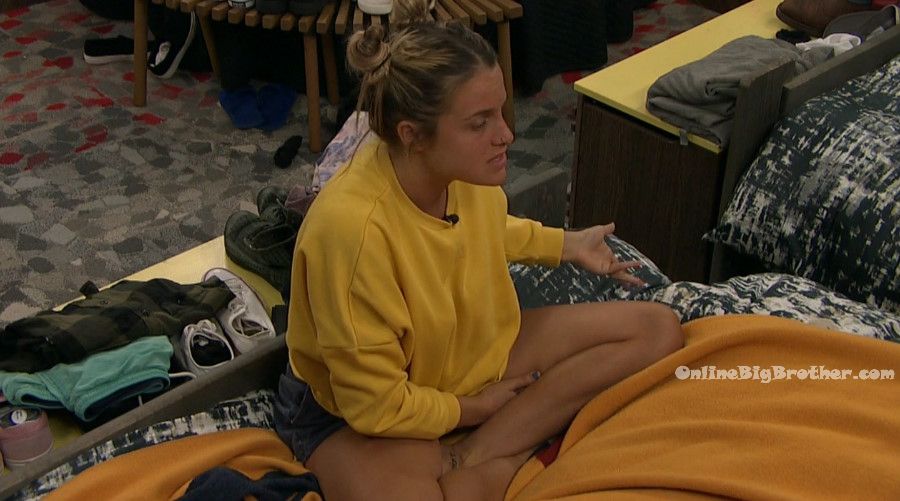 OBB wouldn't be possible with our your support!
If you are one of the generous people that donate to help keep the updates coming, we're giving out a bit more this year. Check out this page for more details: OBB Members