Head of Household Winner – Jess
Have note are: No Have nots this week, Jack, Tommy and Jackson were given punishments as part of the veto.
Nominations are: Jack and Jackson
Power of Veto Players are – Jessica, Jack, Jackson, Kat, Nick, Tommy (Nicole – Host)
Power of Veto holder – Jessica
Power of Veto Ceremony – Jessica didn't use the power of veto
Powers in the game *** LINK ***
Grab your live feeds —-> BB21 Live Feeds Subscription Link
Rank your houseguests —-> Big Brother 21 Ranking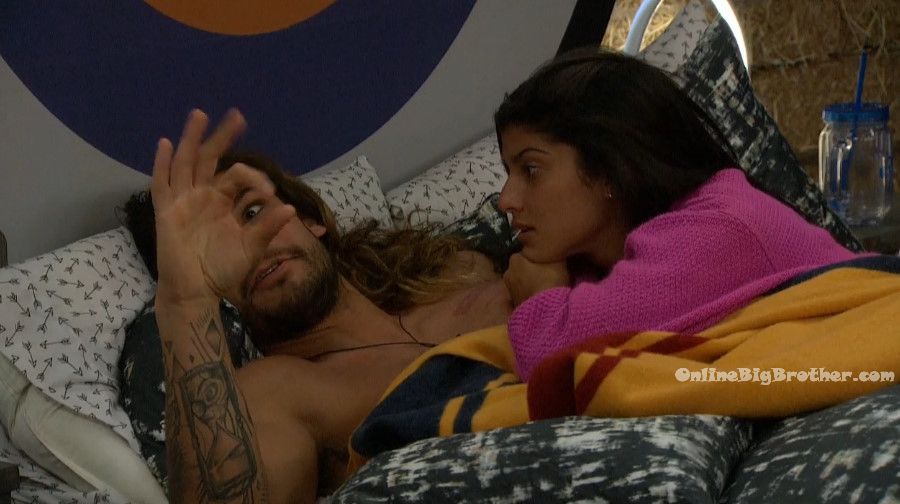 11:40pm Bedroom. Jack to Tommy and Sis. Jack – Yo! Can I gossip for a second? I walk out into that kitchen.. F**king Kat, Holly and Jackson! Could y'all motherf**kers be any dumber? I literally accused you motherf**kers of knowing each other and now all your going to do is hang out??! Like Holly and Jackson were laying in this bed today and Kat comes over and sits right next to them. Are you out of your f**king mind?!! Tommy – its so obvious! Jack – its so f**king obvious! Its too bad I'm going to send ol'boy home. Is there any benefit.. does this still benefit us …so Nick is going to be talking to Jackson and Holly when I go talk to Kat so that when they come out .. when Kat comes out .. she goes right to them.. so that we'll have that in place. Its f**King good! So is there a benefit if we do tell Jessica .. or is it all lost at that point? I think what is going to happen is she is going to take the deal and swear on her life that I have her vote on everything! And she is going to figure out how to push it. However is there a deal where we all go up and tell her and blow this game up… is there someway that Jess is going to turn to my side? Like is her distrust in Kat going to be that big? I think that if I build up enough rapport with Nicole and I get Cliff in .. she will turn to Nicole and she will be like yeah you should keep Jack. Right?! Jackson doesn't talk to Nicole for sh*t. Tommy – I'm a little confused. Jack – if Kat doesn't take my deal .. because this is all on her .. she is going to convince Jess to evict Jackson. If she doesn't take it and is like no I have to keep Jackson. F**king do what you need to do. Like go blow up my game. If we just go blow it up .. does it just stop there? Is Jess just going to get real pissed and forgive Kat and still want to send me home? Or if I get in good graces. Tommy – I think it has to be you going up to Jess not us. Sis – I agree. Jack wonders if he should offer Cliff 3 weeks of safety and he gives me 3. And if he is not .. like Jack I just need to protect my game at this point. Then be like okay 3 and then you can put me up. And if he is like I'm so sorry. Be like OKAY! Sis, Tommy and me all guarantee you 3 weeks. Tommy – I don't know.. Jack – okay, I will say Sis and Tommy have your back for 3 weeks, I will offer myself but you can take me out but I've got you for 3. You've got my word. You can shoot me. I don't care. Bought and paid for on everything and you can ask Sis and Tommy. But I think Kat is buying it! She is f**king buying it! Tommy – I don't know if its that great of intel. The point is that you always wanted her included.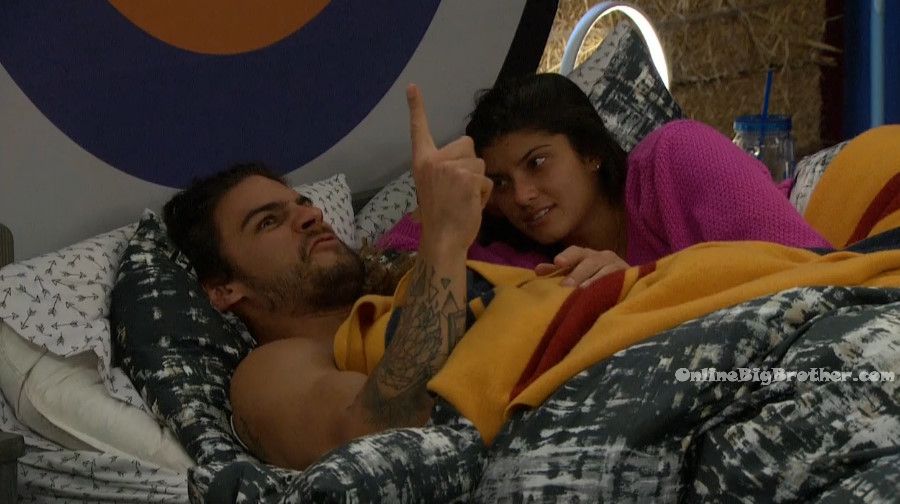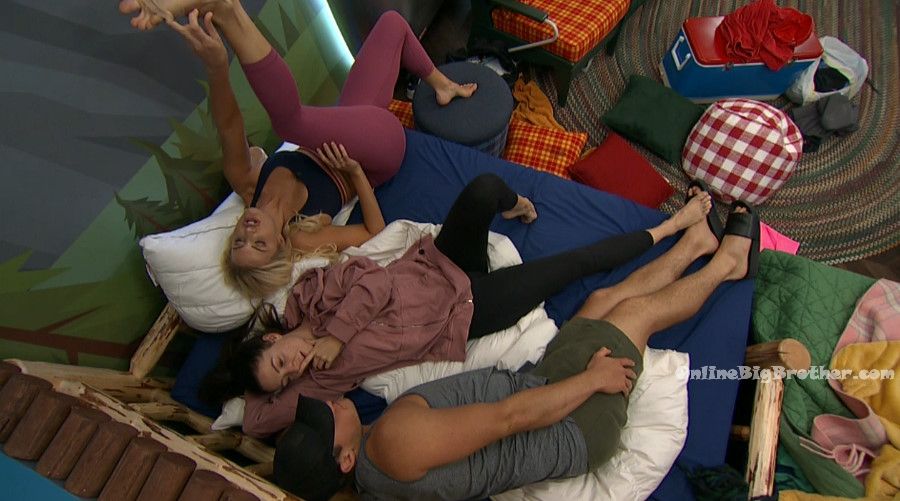 12:40pm Storage room. Jackson – you know where I stand. I am not going to campaign against him tomorrow. I am not going to campaign against him. He has burned me but I am not going to do it. Cliff – okay. Jackson – Its not out of disrespect or that I don't want to. Cliff – I've got you. Whatever you feel comfortable with. You know you've got my vote. Jackson – and you know where I stand its all the same. Cliff – I appreciate it. I hope after this one .. if its a double eviction .. I hope y'all have me and obviously I've got you. Jackson – absolutely!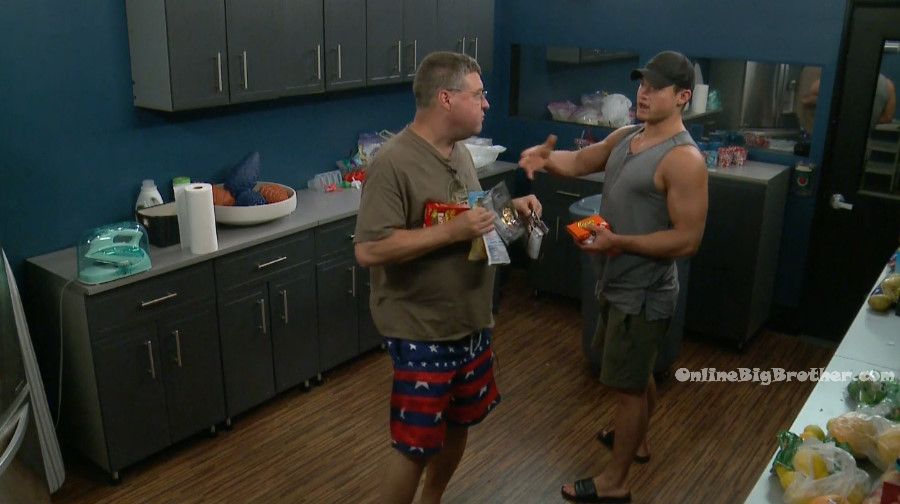 1am HOH room. Kat, Jess, Nicole and Cliff.
Nicole – my vote is already locked in. Kat – Tommy says that he wants to vote with the house. Cliff – does he really or does he just want to know how we're voting? Jess – so what did you say when he said that? Kat – that Jess wants us to vote how we want to vote. This is big brother, we're already in jury. Cliff – I said that if I can let him know before, I will. Jess – they want to be in the know. Nicole – Christie's whole argument was like my dream team is you, you, you, and you. Kat – she is lying. She wants to play both sides. Nicole – I see through it. Cliff – if that is the case maybe we force them to make a claim and not tell them one way or another. Jackson told me last night he is debating what kind of speech to give because he supposedly has some information that would blow up Jack's game and someone else that would still be in the house. He said that he doesn't want to say it without Jack being there. He says if he says it, it would guarantee to make him the number one target. Which there is part of me that says do it and make yourself the primary target. But don't say anything that is so stupid that anyone would have any reason to flip a vote. But I don't think that's the case. Kat – I think he is pretty good. Cliff – so I may say hey if you want to blow up Jacks game or whatever .. this is your chance. Kat – I think that he should because if he doesn't Christie and Tommy are going to think that that six still exists. Because if one of them wins HOH they're going to come after us but if he blows that us they might not. Nicole – where do we stand with Sis? Because I just can't read her. Jess – Nick trusts Sis. Cliff – I would boot her. She will take it personal when Jack goes and she will come after us. kat – her game is to flirt with all the guys. She has Nick thinking that she would have been in a showmance with him if Bella hadn't gotten with him first. Nicole – I can't read her and don't trust her worth sh*t. Cliff heads to bed.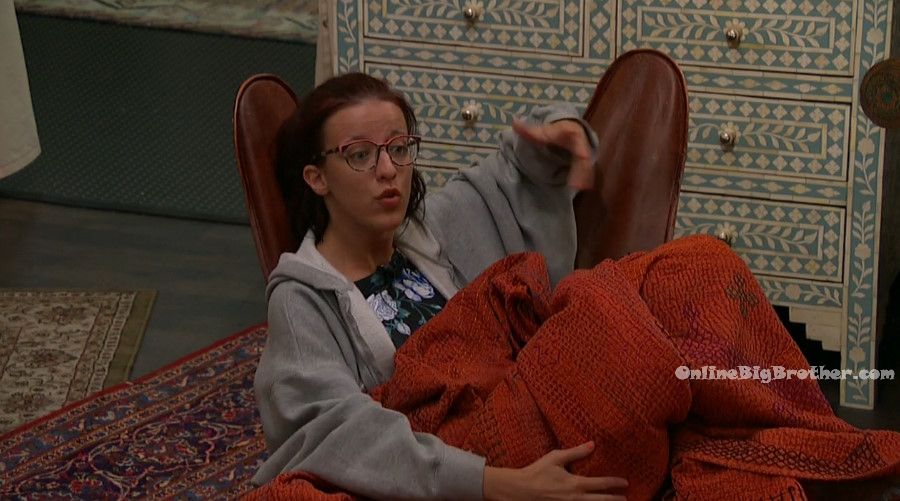 1:54am Bedroom. Jack, Sis, Tommy and Nick go to sleep.
3:35am All the house guests are sleeping..
OBB wouldn't be possible with our your support!
If you are one of the generous people that donate to help keep the updates coming, we're giving out a bit more this year. Check out this page for more details: OBB Members