Head of Household Winner – Holly
Have note are: Jessica, Nicole and Sam
Nominations are: Sam & Nick
Power of Veto Players are – -Holly, Sam, Nick, Cliff, Jessica and Tommy
Power of Veto holder – Nick
Power of Veto Ceremony –
Powers in the game
Christie – Panic
At any of the next four Power of Veto Ceremonies, Christie can turn the Golden Power of Veto into the Diamond Power of Veto and allow the current veto holder pull someone off the nomination block, but instead of the Head of Household naming the replacement nominee, the veto holder names the replacement.
Field Trip
America votes for 3 houseguests to go on a field trip that will put one houseguest's game on the line
Grab your live feeds —-> BB21 Live Feeds Subscription Link
Rank your houseguests —-> Big Brother 21 Ranking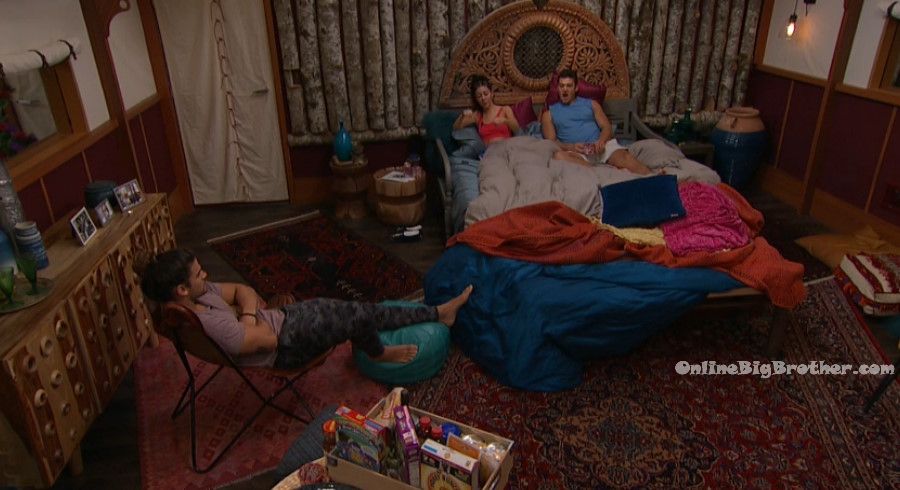 12:10pm Jackson, Jack and Holly.
Jackson is b***hing about the mess in the kitchen / fridge. I was about to have a BF! A b***h fit! The conversation turns to talking about Nicole. Holly – the way she (Nicole) walks and stuff, I don't think she is hiding anything. Jackson – Maybe Nicole is a super genius. Holly – yeah she could be. Jack – nobody knows what she tested on the Wonderlake. She's kept everything to herself. Jackson – and who's to say that the answers she give are legitimate. Jackson – when I took the Wonderlake for my restaurant gig.. I got to about question 39 ..similar to another experience I had (taking it for BB). But even for the restaurant they never told me what I got.. they hired me so I was not completely incompetent. Holly – I know I hate not knowing. Jack – is there any benefit to keeping Sam? Are there any benefits? Can I get a pro / con? Jackson – only if me, you and Holly went separate from the six and teamed up with him and trusted he could stick to it. Jack – but Nick is still in the house. Jackson – exactly so it would have to be Nick and Sam. Jack – or are you just gaming too hard and making chicken salad out of chicken sh*t? Holly – exactly. Jackson – this is not me pitching an idea this is me digging deep to find a pro. Is if you grabbed Sis, me and Holly and made a separate 6 to cover ourselves on both ends. These words have to stay in this room because if you go and tell Christie it will seem like I'm plotting against her when I'm not. But at some point us 6 are going to have to make a move on each other. Jack – are you .. are we making a move too soon? I'm not going to say anything. Jackson – I'm not saying we make a move on Christie and Tommy now. You have to start thinking long term .. are you going to get someone else to take the shots or are we going to take them ourselves at 6. That's the half million dollar question. This is not me plotting against our sic. Jack – I am always a pro / con guy. You have 1 pro against 8 cons. Holly – there are twice the number of people that are in our alliance. Do we really need to start taking shots now? Jack – I think we're sitting in a good spot to not agitate it.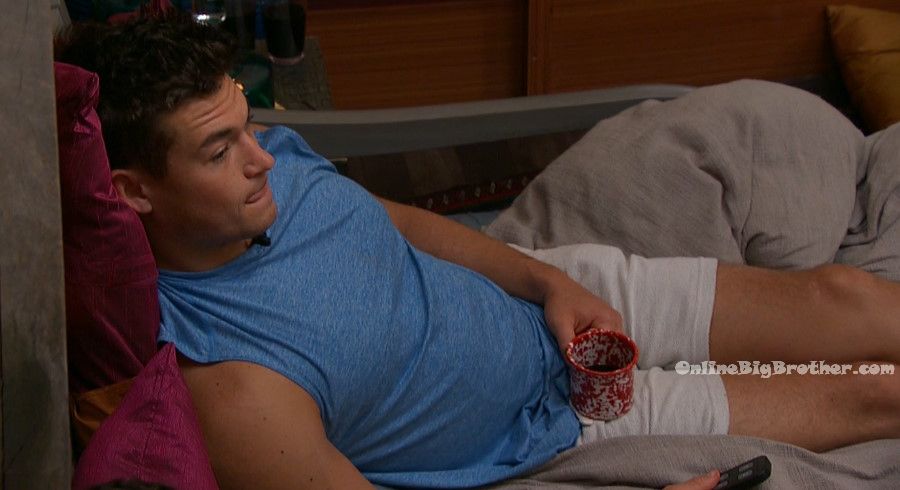 12:40pm HOH room. Holly, Jackson, Christie and Tommy.
Christie is telling them about her photographic memory. Christie – that's why when we get down to eight, seven, nine.. and if we have visual memory people left.. I promise I will win. Jackson – oh you will. OTEV is yours. Christie – I promise. Jackson – and god forbid something doesn't happen to you when you're going up and down you are going to crush that. Christie – I love Cliff .. and right now he is golden but he scares me with stuff like that. Holly – DUDE CLIFF IS AN ANIMAL! Jackson – three sheep with one leg yesterday! Sam joins them. Christie – he was f**king wrangling them. Sam – do you want me to give you my word? Its 17 letters (for the spelling comp). Christie – don't give it to me yet.. you might still be here.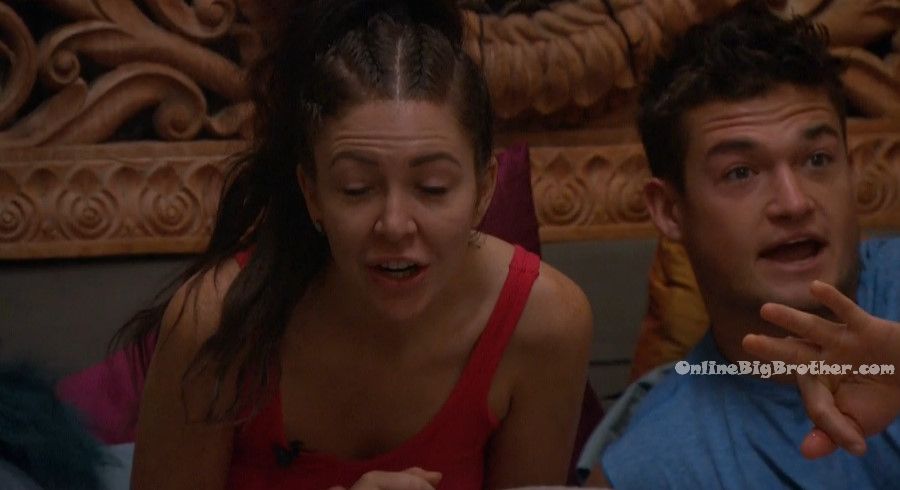 1pm HOH room. Holly, Christie, Tommy, Sis and Sam are chatting about the veto competition yesterday.

1:04pm Tommy sucking up to Nick now that he's staying..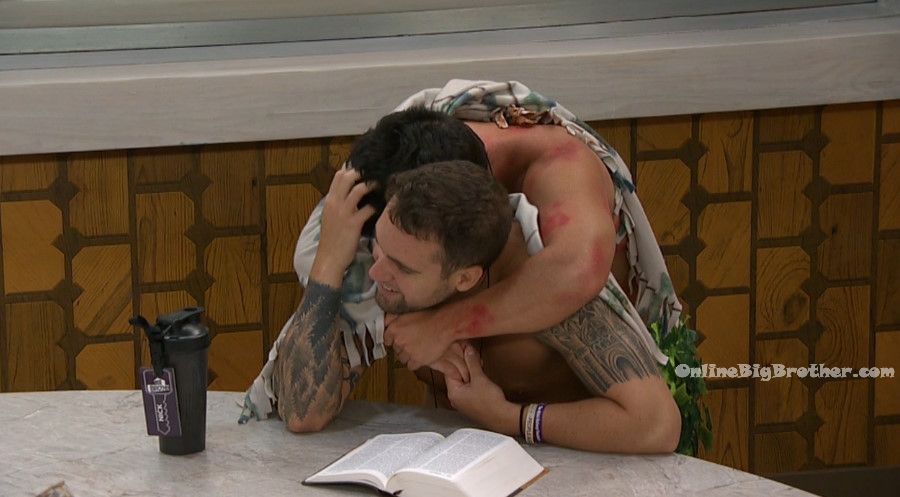 1:44pm – 2:30pm HOH room. Sam and Sis. Sam – I was talking to Jack and Christie and they were like don't even worry about the noms to like campaign after. The thing is I have no idea how I would even say anything.. because if I go to Holly to put someone up so that I stay.. which then looks shady. Right, because what would I say? I was just wondering who you would put up .. I think you should put up so and so. Sis – yeah just wait till noms. Sam – if she (Holly) is like who do you think? And I'm like oh Jess isn't a threat.. I don't want to name drop because when Christie was hinting towards me to not name drop. Sis – yeah then don't name drop .. just wait. Sam – it is what it is.. I will just wait. Even if it is Kat .. she might spiral. Sis – I will let you know if I hear anything. Sam – even if I asked Holly who she would put up and she said Nicole or Kat ..and then I was like you should put up Nicole.. she would be like why so you can stay? You know what I mean?! Sis – yeah. Sam – If she did put up Nicole then there might be hope but if she puts up Kat then its like I'm going. Nick, Kat Jess, Cliff, Jackson, Nicole and Holly come up to join them. Nicole and Jess play backgammon on the HOH floor. They chat about past seasons of big brother.
2:50pm Tommy and Christie come out of the diary room with their poison ivy treatment on. Tommy starts freaking out about how he doesn't feel good and can't breath.
Christie & Tommy with their Poison Ivy Treatment #bb21 @bigbspoilers pic.twitter.com/ecIysnEfrG

— Dawg (@DawgsBigBrother) July 28, 2019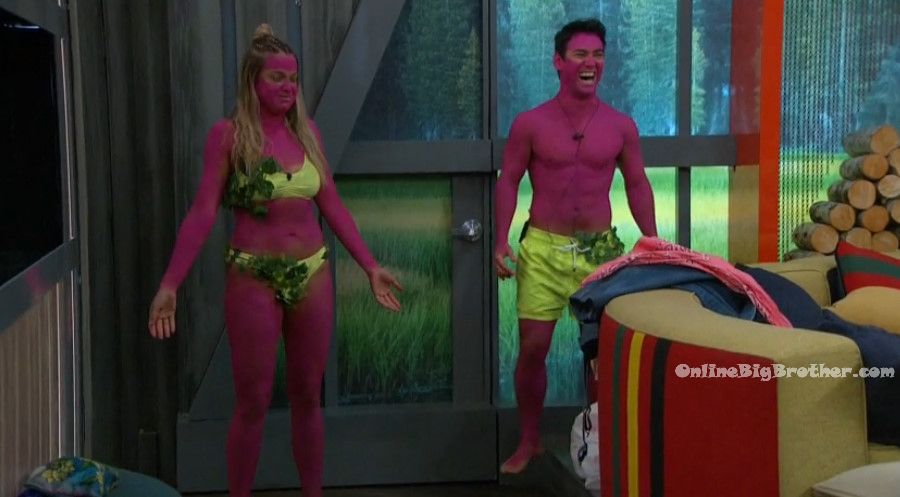 They start choreographing a dance.
3:15pm In the backyard. Nick and Nicole. Nick – it feels so good to be safe! Holy sh*t! Nicole- I'm proud of you. Nick – who do you think is going up? Nicole – I have no idea. Nick – neither do I, I hope its not you. There are really only 3 choices. Nicole – I am a little scared but I'm hopeful. Nick – but, I don't think Sam has a chance to be honest with you. Unless someone does something really stupid in the next 4 days. I am trying not to think about it because it doesn't involve me anymore .. and I have to focus just on me. Me and him talked about that before the comp. If you win, don't campaign for me and if I win I won't campaign for you. So if I vote to evict him, I will say only because he said, I vote to evict Sam. I am just going to lay low now. Nicole – that's good advice.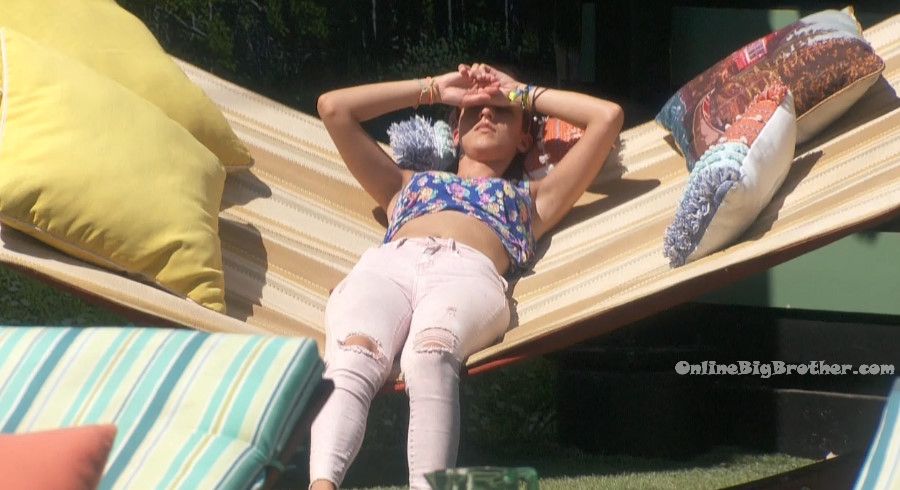 3:45pm Boat room. Tommy & Christie. Tommy – not the next one but the one after that is when I really want to start winning. Christie – the double eviction? Tommy – I didn't want this veto. Christie – you didn't. Tommy – nope, I didn't. Its still too early to be painting a target on my back. Christie – did you throw it a little bit. Tommy – I just didn't care.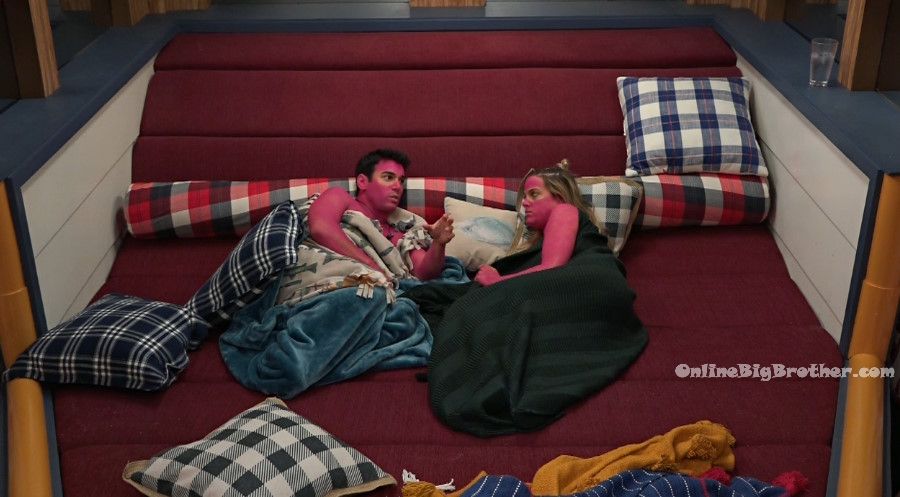 4:15pm – 4:35pm The house guests are suntanning .. Meanwhile up in the HOH room. Christie – is telling them all the places they will go and where they will stay.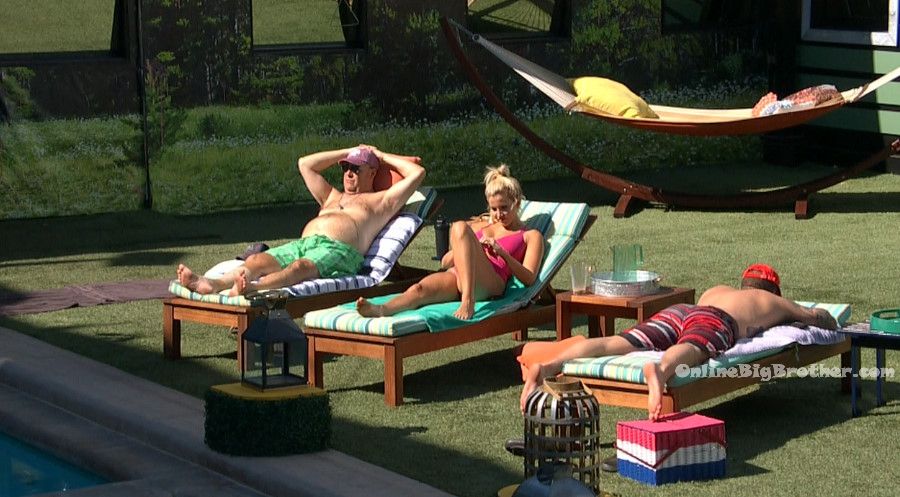 5pm Backyard. Cliff and Jack. Jack – how do you feel going into the double elimination? Cliff – to be honest I think the second elimination would maybe help me a little bit because its not going to be some long drawn out athletic event which is not my strength. But I tell you this before it happens I would want to sit down with y'all and figure out which way people wanted to go and if I was to win it what would help me and all that. Jack – I know personally if Jess and Nicole were to win it I would have to make sure I have my I's dotted and T's crossed. Cliff – yeah. Jack – just so that I'm not a priority. You have to make it through that double elim. Cliff – yeah, its so quick. There is no campaigning. Jack – yeah and I have never been one to campaign much. If I'm up, I'm up. Jack – I think we're sitting good going into this next week with going after Nick. Cliff – I know you promised me a couple weeks of safety. Jack – you're beyond that with me. Cliff – I am happy with that and somewhere down the road I am always happy to make something happen. Its not my strength to do the back handed stuff. Jack – I die by that. Sam joins them.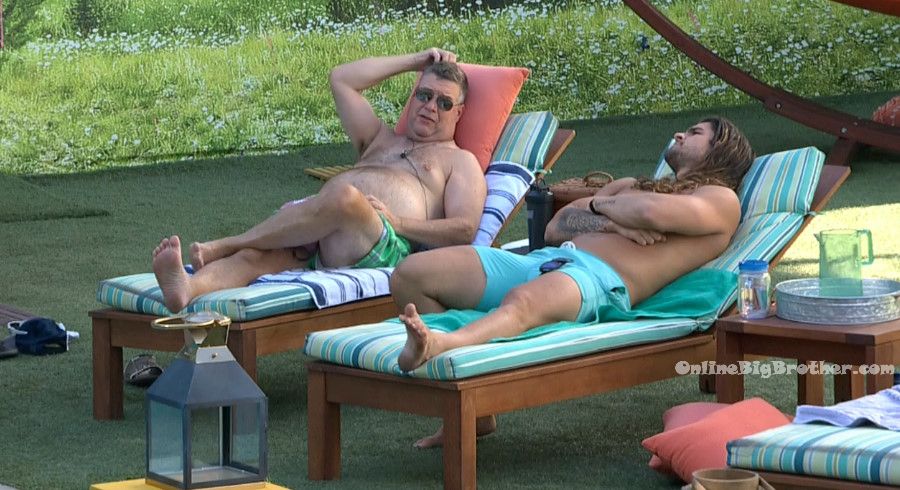 5:10pm – 5:20pm Boat room. Tommy, Sis and Christie.
Sis – If we get Sam out this week, I would rather get Nicole out next week instead of Nick. Tommy – same. Christie – Cliff, Jack, Sam and Nick are outside in deep convo. What were you saying? Sis – I would rather get Nicole this week and Nick next week. Christie – I agree. Sis – but Nick does sketch me out though!! Christie – Nick does love you though. Sis – no don't say that. That's what I thought until. Tommy – Nick loves you. Christie – yes he lied about you and me but that was when Bella was here. I do think that he is only dangerous with Sam and Nicole here but if we're getting rid of them .. then he will have no one. Tommy – he is going to need somebody and you can be that person to bring him back in. Sis – I don't even want to try because when I do I get screwed over. Tommy – you guys should have a one-on-one. Sis – we are tonight.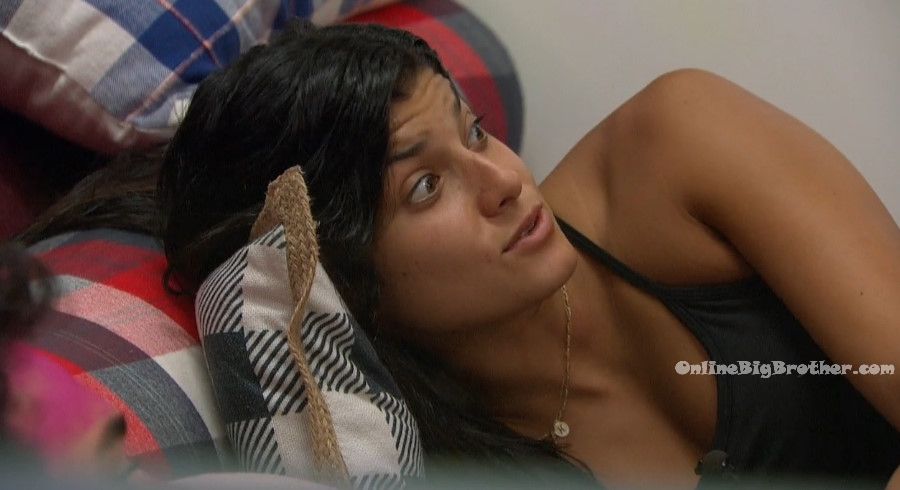 5:38pm Backyard. Nick and Sis.
Sis – how are you? Nick – I'm happy I'm safe. I told Tommy I needed to win this one so that I can stay and rebuild trust with everyone. I need to win the veto and then I need to win the HOH. Sis – can I? Nick – I don't know how to prove it to you other than winning this HOH and not putting any of you up. Sis – I don't care about them. Its more me. Nick – trust me. Until I.. Sis – I don't want you to just prove it to me once. Nick – I won't put a time period on it. You'll just have to let me do it. Jack joins them.
5:55pm – 6:05pm Sam to Jackson – how do I even campaign without throwing anyone else's name out there. Like how do I say can you put up someone that's a bigger threat than me so that I stay? Or do I say it just like that. Jackson – If I can be completely honest with you.. off the record if I had my way.. I would want Nicole up there. I wanted Nicole to go up as the original nomination but I'm not going to push it on her. Sam – If that was the case I would have a better chance with that because she was involved with the original Bella scandal. If I go tell Holly that? Jackson – I would just try and be as diplomatic.. and cordial .. I don't know if cordial is the right word. Just try and be the best version of yourself. You can bite your tongue and tuck your tail or get creative and look for ways you can benefit her.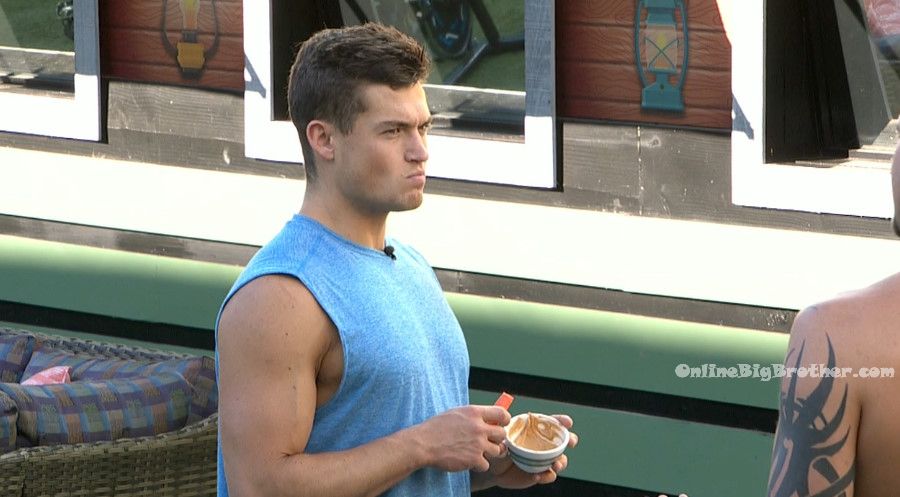 5:47pm – 6:15pm HOH room. Kat and Holly.
Holly – the only thing I worry about is Cliff's angels coming after me. And I am not saying a single thing about that to anybody. Does anyone else know about that? Kat – No, I just told you. Holly – I don't want Cliff's angels to come after me if I target you.. if they think I am targeting you. Kat – well heres the thing about Cliff's angels, I don't necessarily trust them. I do trust Jess but I don't think she has any game play. Like I trust her but its not like she's a mastermind and we're going to make big moves. Kat – I don't trust Nicole at all. Holly – I don't ether. Kat – I could say no do go after her yet because then Jackson will come after me. I don't think any of Cliff's angels would come after you because I don't think they're as close as they should be. I think Cliff had my back. Holly – I definitely want to sit Cliff and Jess down. Kat – I a slightly afraid that Jackson will flip the vote and get me out. Holly – that will absolutely not happen. Kat – I just don't want to become everyone's pawn. I am totally fine going up as a pawn just as long as I don't get votes against me. Holly – I need to stay on Jack's good graces but its starting to piss me off that Jack is RUNNING this game. Kat – so top secret information.. So Christie and Tommy last week were like we're not going to the final 6 with couples.. so they wanted to break off and work with me, Cliff, Jess and Nicole. And they made it know with Cliff that they wanted to work with us. And now that kind of fizzled and it might have been because Cliff was HOH. Tommy has pulled away and Christie hasn't talked game with me which is good because I didn't want to this week. So I do know that them two were making plans to break away from the 6 so those two are already plotting their next move. The only person in that 6 that I am worried about getting rid of me is Jackson. And its not him directly, its him putting it in someone else's ear. Holly – he is one of the last people I would worry about. Kat – okay.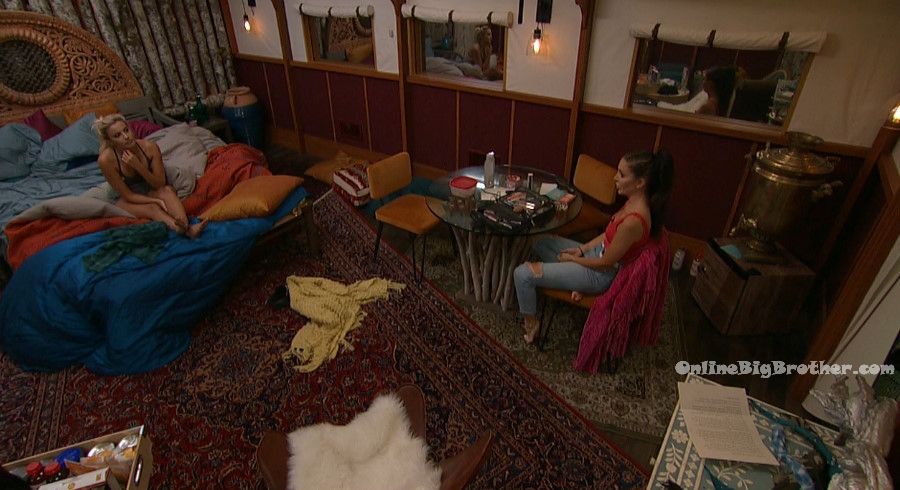 6:35pm HOH room. Holly and Sam.
Sam – are you getting stressed out? Holly – yeah why? Sam – I was scared to ask you but my life is on the line. I don't know how to do pre-nom campaigns. I told Nick that our friendship is done. No more talking. He was salty about it but I was like this is my game. If I were to stay in this game I would keep my distance till the end of the game. I have never come after you, lied to you, or back stabbed you. I am just wondering if there is another big threat that can go up next to me? Is there anyone that you've second guessed? Holly – no, that's the problem. Sam – I am desperate. Holly – if you were to stay .. what kind of people would be your targets? Sam – if I were to be working with you.. I would assume it would be with Michie as well. Holly – that would be something we would propose to him after maybe. I think I would be able to trust you. I wouldn't have a problem with that. But I don't want to go against what the house wants and lose trust. I said it to everyone though this morning… I don't want Sam to die by my sword.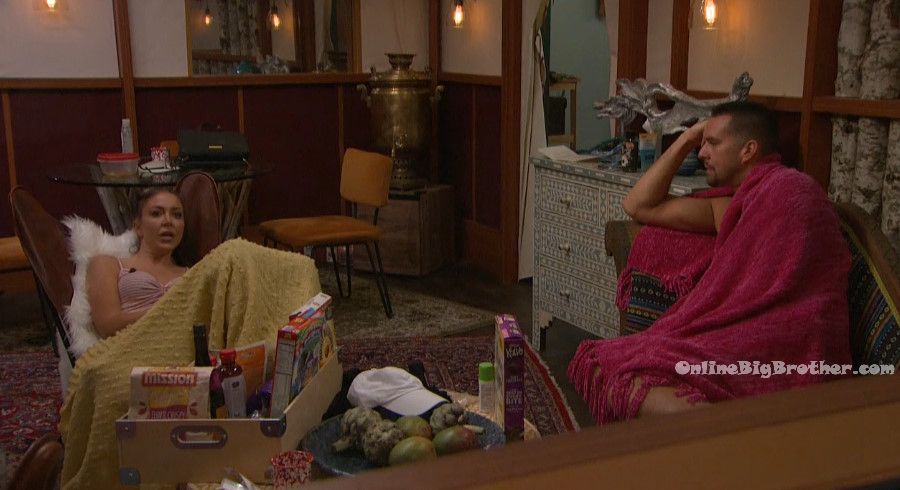 6:50pm Nicole crying to Jess about how she's lost so and its hard to tell people she loves them because of the fear of losing them.

7:35 pm Nicole, and Holly Casual chit chat in the HOH.
Holly – I'm stressed out
Nicole – I'm sorry
Holly – I don't like being HOH .. I don't know who people do this (play the game)
Holly says there's two targets int he house "with everyone… everyone in the house supporting me on
Nicole – I think so
Holly – I don't know what to do
Nicole – I'm sorry
Nicole – I look forward to moving forward
Holly – I wish someone would have pissed me off.
Nicole where's your head in regards to a target
Holly – I don't have one
Holly says Nick was the one she wanted out along with everyone in the house.
They go over the drama associated around Bella.
Holly – we're honest and open and blunt…
Sis joins them …
7:52 pm Chit chat …about last season Sam being a robot.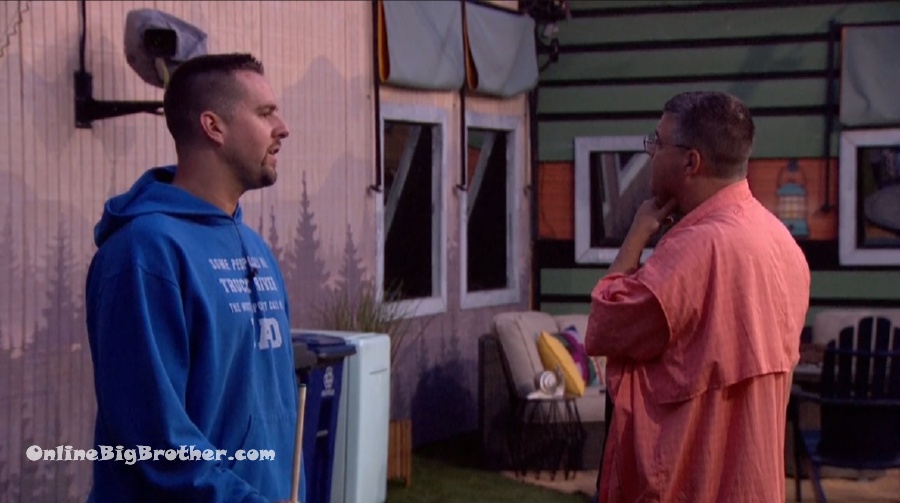 8:08 pm Sam and Brave Cliff
Sam – if I'm going up against kat I'm screwed do you know who I'm talking about? I might stand a chance 9Nicoe)
Cliff – yeah, I know who I'm talking about
Sam says he's not burning them. (Nicole)
Cliff says if there's anything sam needs cliff to do just let him know
Sam – ok thanks
8:55pm Backyard. Sam and Sis.
Sam – if you told Jack don't say anything. He wouldn't tell Christie? Sis – Not if I told him not to say anything. Sam – are you positive? Sis – yeah. Sam – I said all you have to do is put up someone else and then let me campaign. I was like you don't have to campaign for me because then it will look like you're picking a side. I was like all you got to do is let me campaign. And if anyone comes to you saying we should keep Sam you would be like oh yeah cool, okay. I was like I'm better for your game and I'm "funner".. come on. Sis – who did she say she is putting up next to you? Sam – she was like who are you thinking? I was like who would be a threat next to me? She was like ah I don't know maybe Nicole. I was like there you go. She was involved in that scandal. I was like give me a fair fight. A fair chance.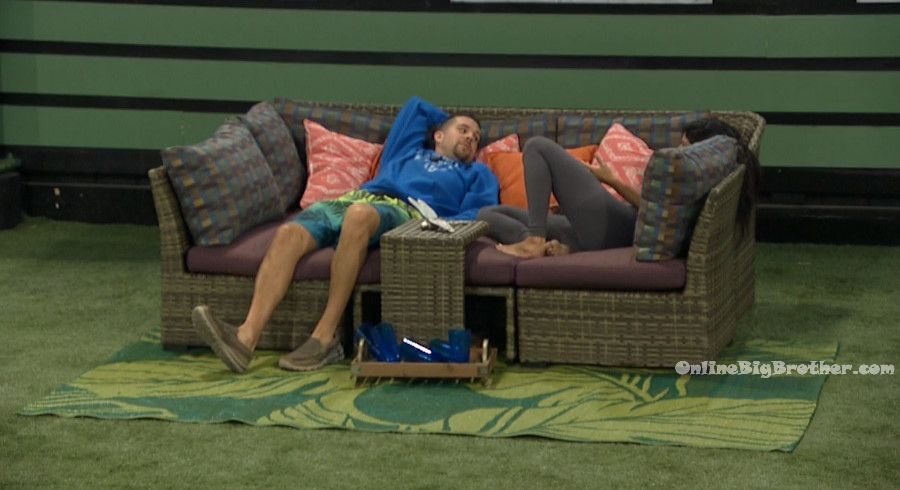 9:30pm Backyard Hammock. Cliff and Nicole. Nicole – I love him (Nick) but.. Cliff – Here is the thing I see Nick as a vote but I don't want to align too closely with him because there is also a big part of me that says he's a big target. If we keep our distance from him and let them vote him out next week. He was so aggressive on how he won that thing yesterday I hope they see him as a competition threat and they would want to get him out before he wins an HOH. Nicole – yeah. Cliff – In some ways it would be interesting if he won this next HOH. Let him get the blood on his hands. I don't have anything against him but to some degree I think he is a sinking ship. I would love to see him win HOH. Nicole – me too. There are only four or five people Holly could put up.
11:20pm – 12am Bedroom. Christie and Jack.
Christie – I always just want to think so may steps ahead. I felt like I was getting really anxious about the next few weeks. Sam and Nick can't stay together. Holly and I haven't talked too much. I went to bed with knots in my stomach. This is all going to go away. My brain does not stop. I need you to be more aggressive with my mind. Jack- We're all in sh*ts creak.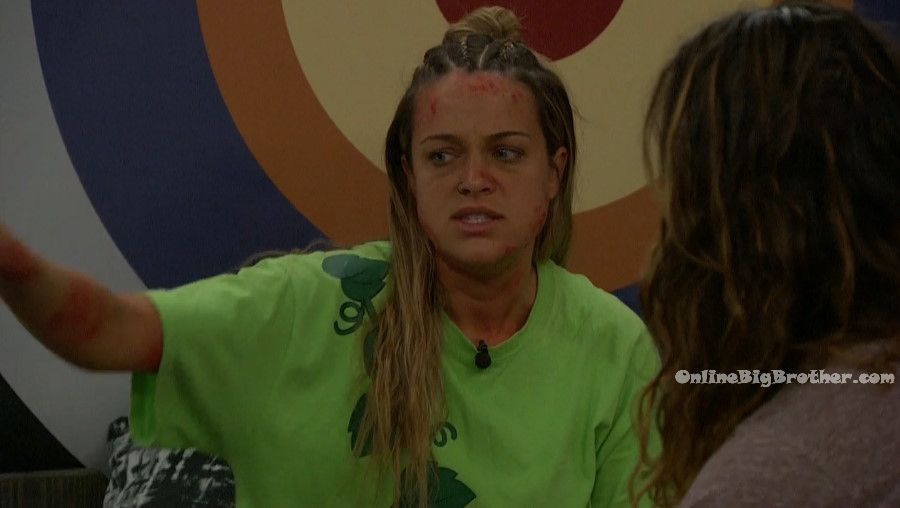 12:40pm – 1:30am Bedroom. Tommy, Jack, Sam, Christie, Jess and Cliff.
Christie – you're saying that you voted for Bella because you were close to her and you obviously wanted her to stay.. were you not hardcore pitching to a group for Bella to stay. Saying that it was stupid to not keep her. Sam – I would have liked to keep Bella and I'm sure conversations happened but wasn't going around out of my way trying to pitch to keep her, Nick was. Christie – I don't obviously know who you're going up against …But I do want to know like where my vote would fall. I literally love you as a person. You know how I feel about you were very much present to the conversation and trying to .. you know Jack to be the one to leave. And we.. not we, other people were basically stupid for wanting to vote Bella out. Sam – that was Bella's speech. Christie – I am sorry, I'm not trying to put you on the spot. Sam – Bella felt that way and that's what she said in her speech and I had been in the room which I had said before but I don't recall going around trying to pull people off to the side saying you need to do this, you need to do this. This what you need to do. The odds were stacked up against us but yes I was in the same room with Nick and Bella when they were talking to people. I also think that the person saying this are not realizing the damage its doing to the other person. They could easily throw out yeah Sam pitched to me but was it really Nick. Christie – I heard you were very much a part of pitching process. Like how would you not keep her. You and Nick were pressuring me not to use the power… so that coincides. Sam – I wasn't hardcore pushing for people to keep Bella.. I'm sure I wasn't completely silent the whole time because it was stupid. Christie – that you were trying hard to convince people to keep bella. Jess – don't lie same. Sam – when we were all talking about the same thing? You're going to put that all on me. Jess ME!!? Jess – you said it!? Jess – did you not say that?! You guys are a three, you come in as a three. Sam – but Nicok and Bella were there. Why do the get food into it. Jess – they were pitching. You guys are a three. Christie – I am not saying I this because I want to get Sam in trouble. Jess = I am a straight shooter. I am saying it all in love.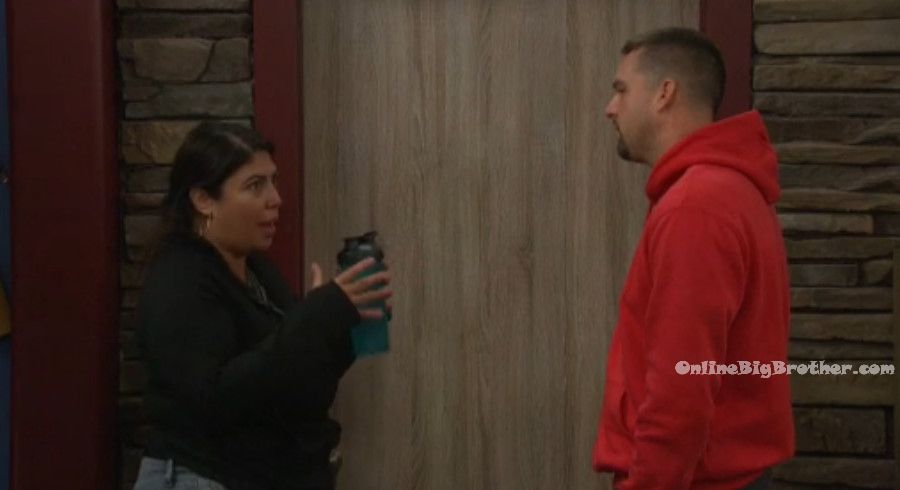 OBB wouldn't be possible with our your support!
If you are one of the generous people that donate to help keep the updates coming, we're giving out a bit more this year. Check out this page for more details:
OBB Members