Head of Household Winner – Holly
Have note are: Jessica, Nicole and Sam
Nominations are: Sam & Nick
Power of Veto Players are – -Holly, Sam, Nick, Cliff, Jessica and Tommy
Power of Veto holder – Nick
Power of Veto Ceremony –
Powers in the game
Christie – Panic
At any of the next four Power of Veto Ceremonies, Christie can turn the Golden Power of Veto into the Diamond Power of Veto and allow the current veto holder pull someone off the nomination block, but instead of the Head of Household naming the replacement nominee, the veto holder names the replacement.
Field Trip
America votes for 3 houseguests to go on a field trip that will put one houseguest's game on the line
Grab your live feeds —-> BB21 Live Feeds Subscription Link
Rank your houseguests —-> Big Brother 21 Ranking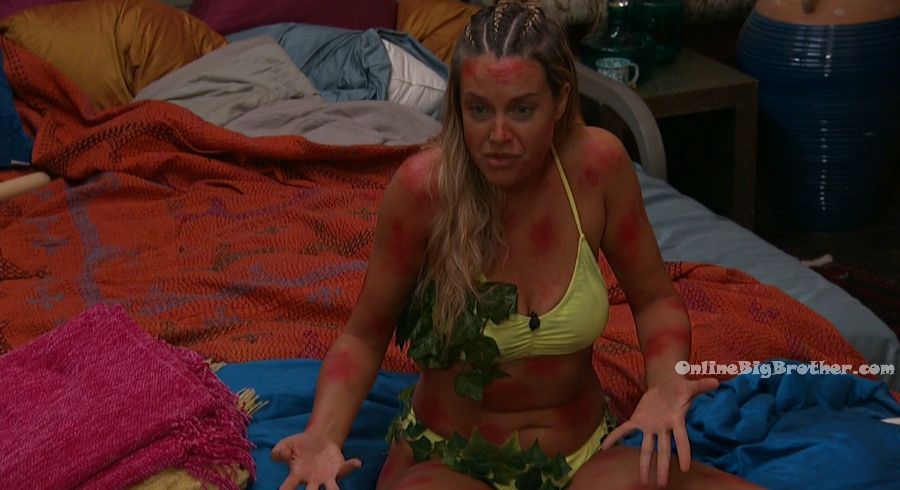 8:35pm HOH room. Jack, Holly, Sis, Christie and Jackson. Christie – everything happens for a reason. Maybe this was supposed to happen so that this is Nick chance to redeem himself. I still don't trust him at all. He's a crazy liar. But my be Sam is the bigger threat. Christie – I just convinced kat that she will stay over Sam. She is gungho to go up. Jackson – she is going to spiral. Holly – we do have to decide how we are going to manage Nick and everyone's relationship with him. This is going to be an extreme analogy ..A relationship with Nick is like an abusive relationship. He breaks your trust, he lies, he manipulates but then he is so lovey dovey and pulls at your heartstrings. Its back and forth and back and forth .. and then he makes you feel special and you come back and he reels you back in and he is damn good at it. Christie – Yes he pulls on heartstrings but I do not trust him. Holly – you need to know that deep down in your heart. Christie – I either use my power next week or it expires. Kat joins them. Jack – Nick could win HOH. Christie – I use it (her power) as leverage. If he does win it, I threaten him that I will use my power if he doesn't put up who we want and I'll f**k with his HOH. I will use it as leverage or I will use it to backdoor him. And will will all collectively come up with who we want out. Christie – and if Nick does win HOH that means the six of us plus Tommy compete in the double elimination HOH .. that's PRIMO! PRIMO! The odds are 7 people playing against 3 people for the double elimination HOH. That's so good. Holly – so I have two options .. if I put up Kat obviously she is a pawn. The only other option I am even toying with is putting up Nicole. But if I am going to get my hands bloody doing that .. I am seeing her a$$ home. Christie – and then Nick and Sam stay together?!?? She shakes her head no. Kat is the way to go. Squash that we're working together. It would be an unanimous vote and everything will be alright in the world. It squashed that you're (Kat) working with us so Nick will feed you info all week. You can't tell anyone though.. not even Jess. Christie – this is you.. what do they call it. Jackson – initiation. Christie – this is your initiation.. survive the block and you're in. Kat – I can't promise I won't be slightly paranoid. Christie – oh god.. challenge accepted. They agree that no one else can know. Tommy – so what are we not saying? Holly – Don't say that she volunteered. Don't say that she is going up as a pawn. Cliff joins them. Everyone clears out to go eat dinner.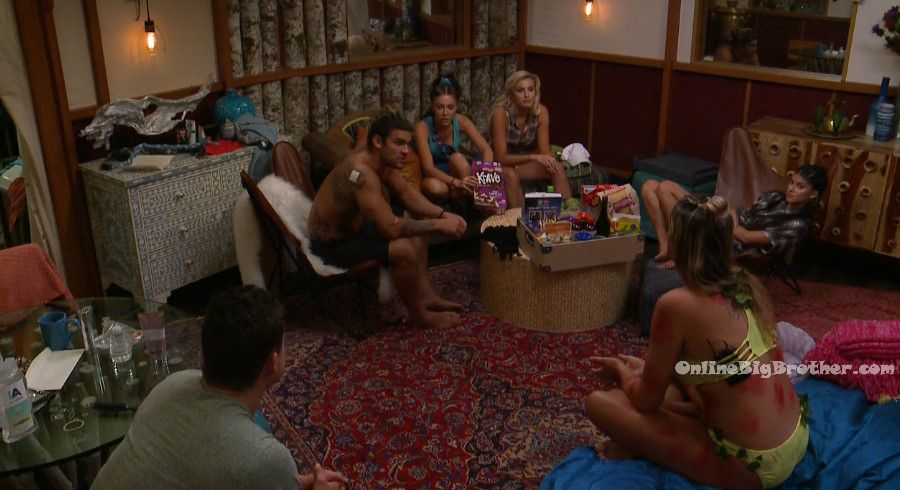 8:52pm Boat room. Sam deep in thought.
9pm – 9:40pm All the house guests are chatting and eating dinner.
9:46pm Bedroom. Kat and Nick. Kat tells Nick that she is going up on the block. Nick – no! Kat – its just a feeling. Nick – Me and Sam discussed it if either of us were to come off we wouldn't vote against the house to gain trust. If Sam stays up on the block he is going to go. He literally didn't do anything. Kat – that's why I'm worried about going up. Nick – you know I love you and I've got you. I wouldn't worry about going up. I don't think you will but you wouldn't go if you did. Kat – my strategy coming in here was to be low key and win the first HOH. Nick – you were not low key the first week and you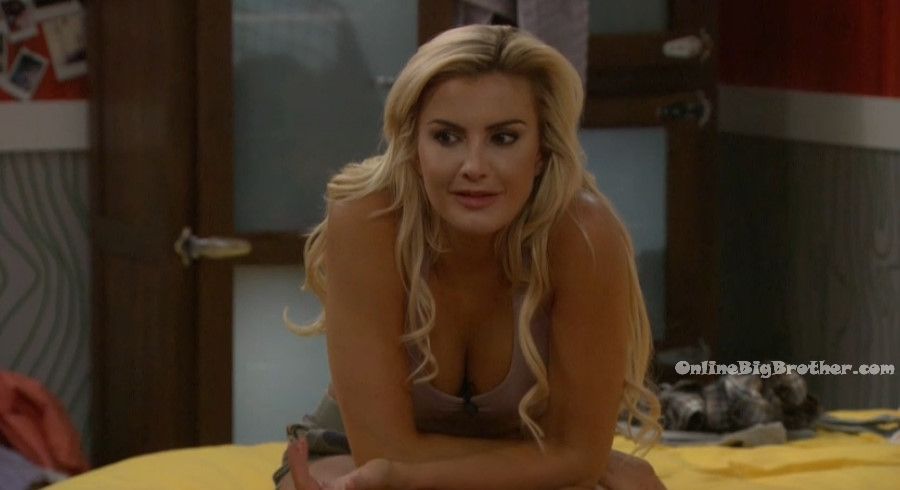 9:53pm HOH room. Holly and Sis. Holly – I feel so bad that Sam is going to die by my sword. I just feel bad. Sis – but he doesn't have to Holly. Holly – but I feel like if he stays in the game it is going to end up biting me in the a$$. Sis – why do you think that? Holly – because he and Nick win comps. I wanted to send Nick home. He was my target the whole time. Sis – I want Nicole out. Holly – I want her out too. Sis – Sam will put up Jess. I asked him how do we know you wouldn't and he said he wouldn't have the for votes. Holly – he would put two of us up. I do not trust Nick. Sis – its you're HOH, you do whatever.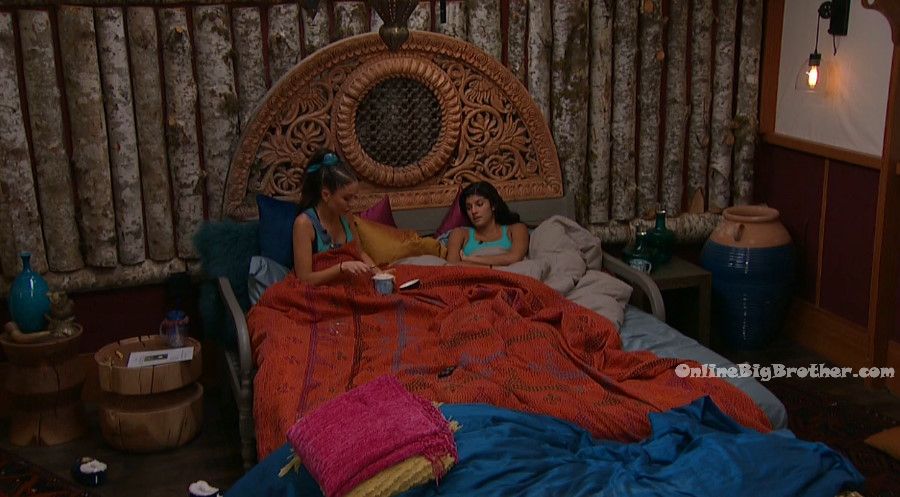 11:15pm Bathroom. Sis, Sam and Jess. Sam talks about his job. Sis talks to them about how she wants to travel with Christie or do something with Instagram. They continue chatting about random things.
11:30pm – 11:43pm Christie and Sis. Christie – Holly seems like she is always in such a bad mood. Sis – she's just always tired and sleeping. I don't get it. But we were talking for a bit and she doesn't know what she wants to do, which one is better for her game. Christie – what? Nicole or Kat? Sis – Nicole or Sam to go. Christie – if she decides that she wants to keep Sam, then they are definitely working together. Her, Nick, Sam and Michie. Sis – well when I first got up there Michie was like Nicole. I said either one could go up and I will vote how you want but other people won't be happy if you put Nicole. And then all you guys came up and she she was like Sam, Sam needs to go. Christie – I just don't get why she thinks its better for her game. Sis – she says that she doesn't trust Nicole. Christie – Nicole isn't ever going to be HOH. Like she is never going to win a comp. I am calling bullsh*t honestly. I am not going to say this to anybody because I am not going to red flag anything I am calling bullsh*t. Michie and Holly are working with Nick and Sam. Sis – you think? Christie – yes! What benefit would she have putting up Nicole!? Nicole hasn't won a single thing. I get that she's not trustworthy but who cares she is NEVER going to be HOH. Sis – that was one of her points.. why send her home when she can't even win anything. Christie – I have to be completely honest I am not going to vote out Nicole. No! Sis – then tell her. Christie – and neither will Tommy. Sis – then tell her. Christie – and neither will Jess. And neither will Kat. Sis – the other reason why she didn't want to put up Nicole ups was because she was afraid Cliff and Jess would be mad. Christie – yeah, I am not going to vote her out.. she would be really really dumb to put on the block. And if she does that and starts to rally votes for Sam. It means that they're working together and that Sam is lying to you because if he is making them feel that secure to keep them .. they are working together. He wants Jack out. Do you think he (Sam) is going to sign a deal to be loyal to us? No! I want you to go with your gut but Sam is really good at this game. I believe that if he stayed over Nick he would be loyal to us but staying with Nick.. I am not saying any of this to Jack because he would go back and tell Jackson. But if Nicole and Sam are on the block together .. I am telling her that I am not voting out Nicole. I am not planning to speak to her about it until after the veto meeting because I am afraid if I spoke up about it .. they would put me up. Don't say anything. Sis – I haven't said anything. Christie – I believe you. I trust you so much. Sis – part of me wants Sam to stay because he does have my back but I just dont want him and Nick staying together. But I also feel like if Nick wanted to put me up, I could get Sam to talk him out of doing it. Sis – I trust Holly. I trust Jack but he can be sketchy. Christie – he is sketchy but he has your back. Sis – he has been kind of flirting with Kat which annoys me.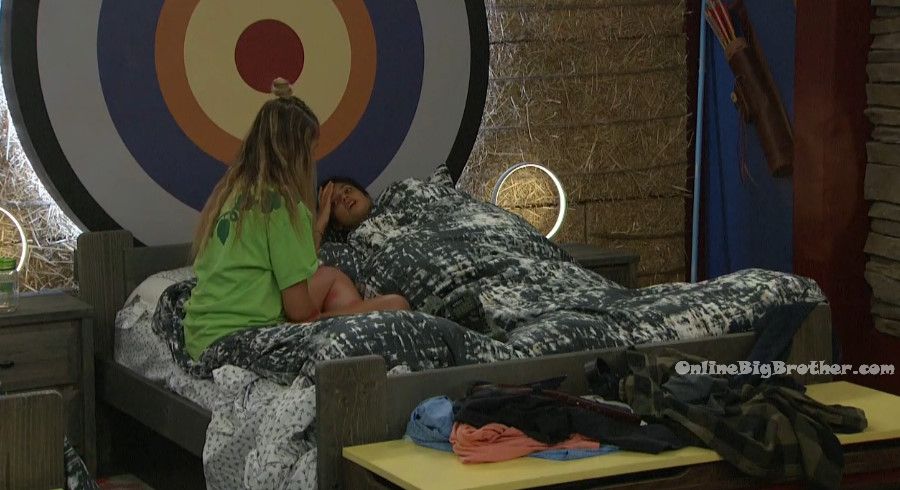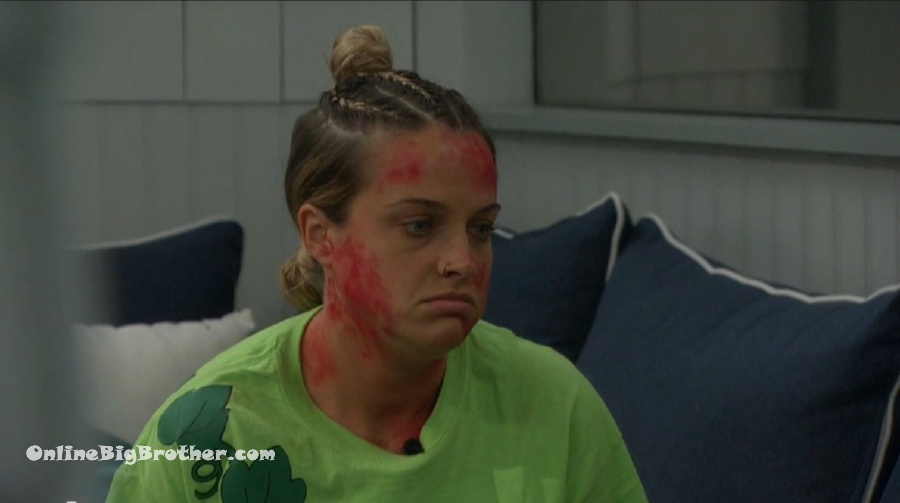 12:36 am Christie and Tommy
Christie says there's no reason for Holly to put Nicole up "unless she wants him (sam) to stay"
Tommy – I had a feeling like that was happening so I had a convo with her today
Tommy says he told her whatever her plan is he'll do whatever she wants. Adds that he said that so she feels comfortable with him and includes him in her decision making
Christie – something's up, Well I'm voting Sam out
Tommy – I want to make sure we're not excluded from those plans
Christie – we are
Christie – what the f* is Holly doing like what the f* is she doing? why is she letting Jackson play her game for her (why not let Christie play her game for her)
Christie – use your f*ing voice Holly .. she's just a statistic it's all over the place. Just the way she talks about the guys she's dated tell her what to wear what not to wear
Christie – this is a big brother game this is the chance of the lifetime you have a boyfriend day five (not everyone has a outside friend in the game)
Christie – now he's running her game .. Jack knows what's going on
Tommy – how do you know
Christie – cause I know
Tomm y- should we ask him
Christie – no he's not going to tell us.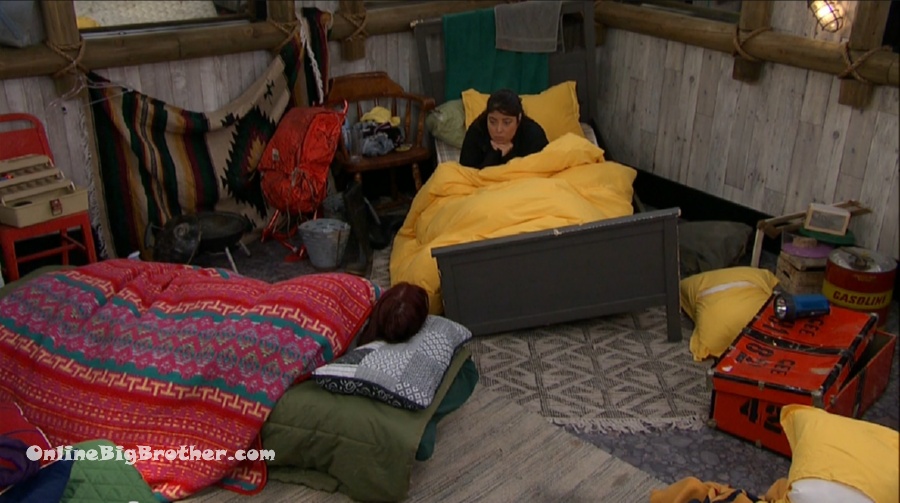 12:50 am Nicole and Jess
Nicole says it will be nice for once they win something so they have a
Jess – we have to go balls to the walls
Nicole says nobody sees the 4 angels as a cohesive unit.
Jess – no they see us as floaters.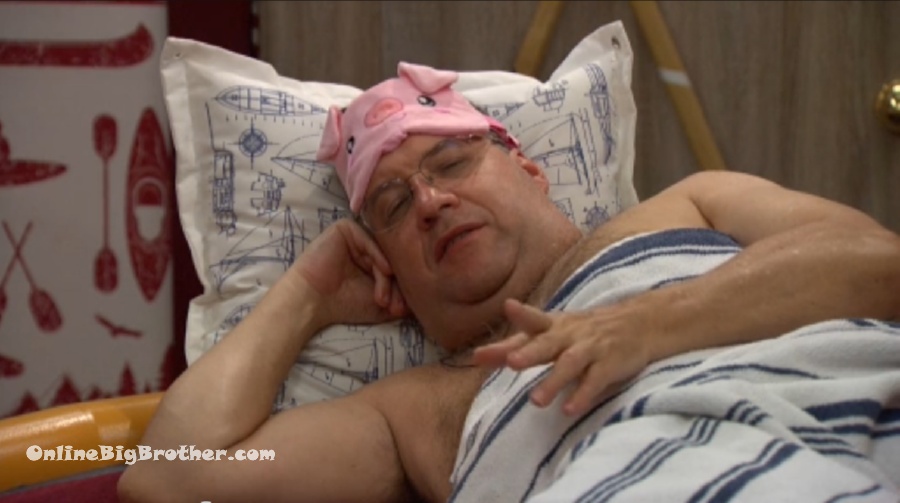 1:30 am chit chat.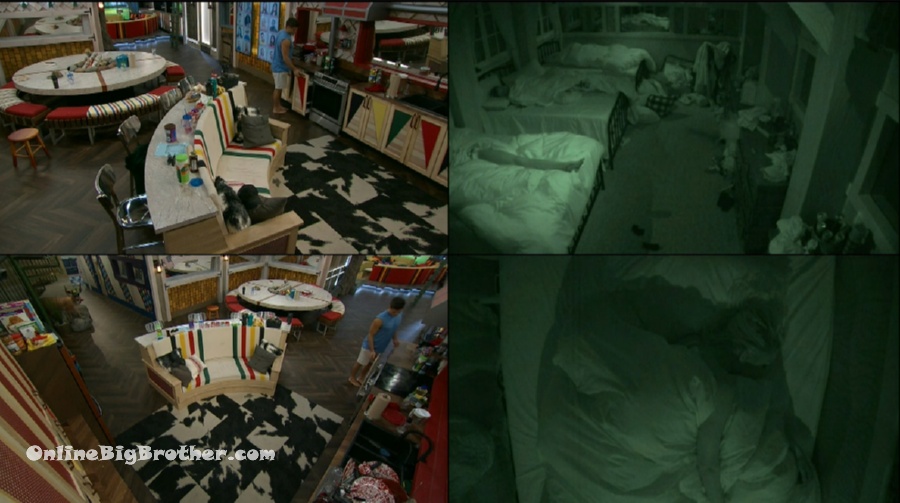 5:50 am everyone but Jackson is sleeping. snacking.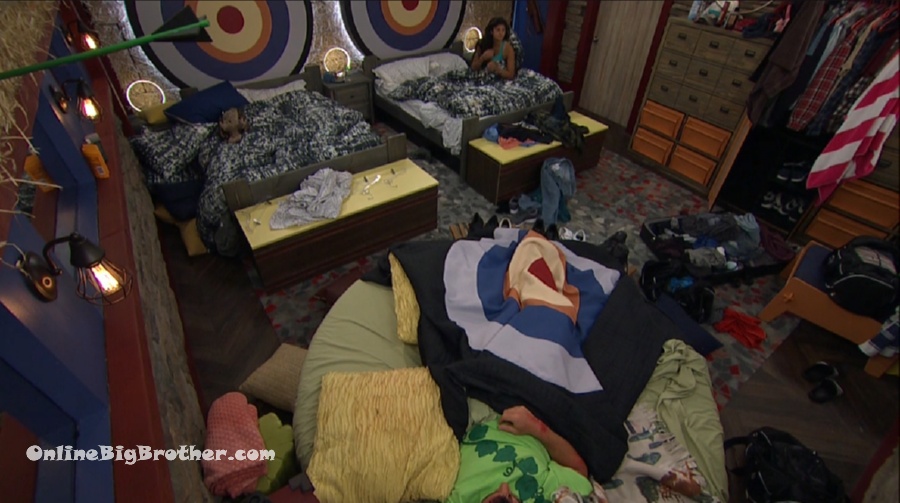 10:40 am Sis and Tommy
Tommy – it should go Sam then Nicole
Sis – it also scares me to have nick here that long. I really don't trust him do you trust him
Tommy – I do
Sis – see I trust Sam
Tommy – Who does Nick have?
Tommy says he's in good with Nick and he hasn't told him anything about working with someone.
SIs – me and Christie both know if he won he's putting both of us up
Tommy says Nick is going to do what the house wants if he won HOH and he will use that as proof he's ready to get back with them "He literally said that"
Sis – Ugh you know how upset I would be if it came down to use 6 Cliff, Kat, and Him and I go before them. I would be so pissed
Tommy- I was thinking that too
Sis – like that's not how it's supposed to go
(can't wait for final 6 :( )
11:22 am Christie, Jack, and Sis
Christie freaking out about the unknown this week says she went to bed with knots in her stomach "That's my biggest struggle not micromanaging everything"
Christie starts to cry "everyone seems so calm and cool.. my brain doesn't stop. Stop laughing at me"
Christie – I wish I had a stop button (we all want a stop christie button)
Jack says everyone is dealing with teh stress in different ways.. blah blah blah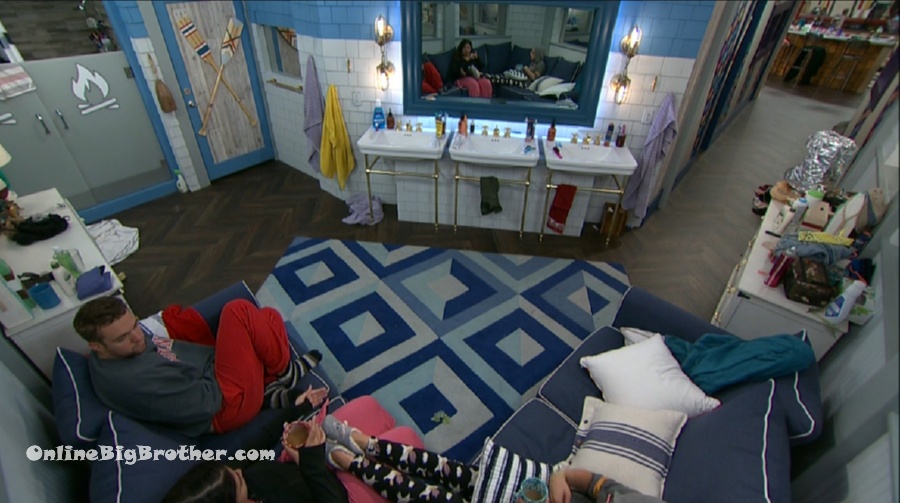 11:30 am Jessica, Nick, Nicole
Jessica giving 1 million reasons why she sucked at the endurance competition.
– I knew I wasn't going to win it.. but I didn't know you could maneuver into your pose so when I started watching the girls go into one side and lift up their leg.
– I could have totally done that I just didn't know you could do that.. so I was like Ohh sh1t as my legs were like splitting I'm thinking if I fall the wrong way I'm f*ed I'm going to go to the hospital you know like 240lbs like falling .. 200lbs like on my like on any side would have screwed me it could have done something to my neck
– I'm thinking fall safe fall safe
– I saw Jack had the cords in between his legs If I had known that I would have lasted a little bit longer
– I could have held onto one side.. I thought this sucks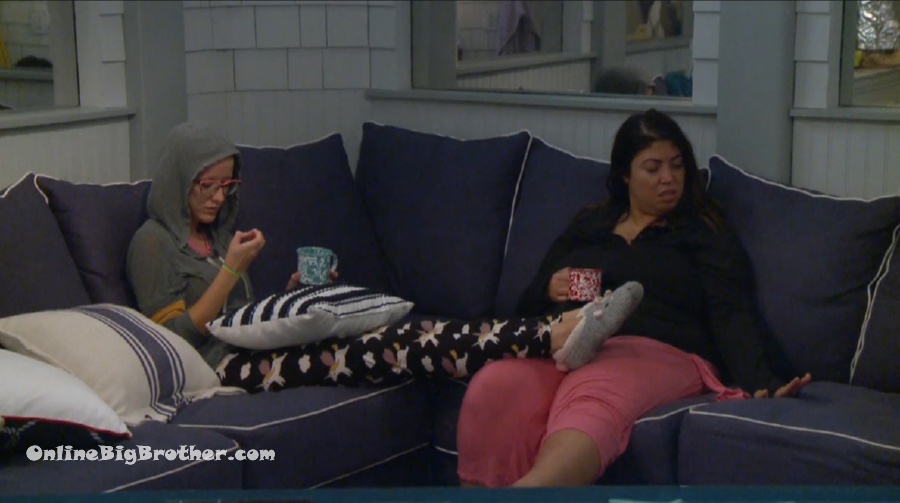 11:47 am Jessica and Nicole talking about doing their nails
OBB wouldn't be possible with our your support!
If you are one of the generous people that donate to help keep the updates coming, we're giving out a bit more this year. Check out this page for more details: OBB Members