POV Holder:
Steve
Next POV
July 3rd
POV Used
Yes
POV Ceremony
June 28th
HOH Winner Team 1:
James
HOH Winner Team 2:
Jason

1


Nominations 1 :
Steve, Jackie
Nominations 2:
Becky, Johnny mac
Battle of the Block Winner
Becky and Johnny Mac
Next HOH/ Next BOB
July 2nd / ?
Original Nominations:
Becky, Johnny, Steve, Jackie
Current Nominations:
Jace, Jackie
Have Nots
Austin, Da'Vonne, Liz, Vanessa
Watch the first week of the live feeds for FREE with the 1 week trial!
Click here to ensure your live feed subscription supports OnlineBigBrother.com at no extra cost to you.
12:50am – 1:30am Bedroom James is talking to Audrey. James says okay so we'll let everyone one know who's been working, who's been conspiring. You've still got the next HOH. That's more than what Jace has. He's being humble about it. Audrey asks how am I not being humble? There were two people that were pathological in there. How do I defend myself against that? When they will always back each other up. I have nothing to lose by being honest now. I've had a really strong feeling about things and I tried to vocalize that. James says I know you had all these paranoid thoughts but why did you not just talk about it first. Audrey says then this big spectacle was made and I think they got what they wanted from it. A huge spectacle was made by two people. James asks are you just going to sit in bed and be defeated? Audrey says I don't know what else I can do. Audrey says there's been a person that consistently caused friction with people and now I'm in her crossfire. You basically fed into their agenda. James says the first time Jace came up to me I did feed into it. You were just a different person that we knew a day ago. Audrey says I didn't come up with the conspiracy theory that they were wearing all black. James asks who did come up with it. Audrey says I don't know I was sitting on the couch with all of them when it happened. Audrey says The only thing I can offer anyone is that I'm pissed because I've been set up. My only agenda is to right all of my wrongs. Jace is emotional and irrational. Audrey asks what Jace really the person that came up to you to backdoor Jason? James says yeah and I went along with it. James says I just wanted to tell you that you exploited your game more than you had to. I don't know if you America's player or the saboteur. James asks when you signed up for this did you say yes to would you lie, cheat and steal to win the money? Audrey says I said I would play with my best integrity! Audrey asks were you in the room when Day was implying Becky was making racial jokes. When she was making passive aggressive racial jokes? James says no this is the first time I've heard about racial jokes. What you just did, right there .. you shouldn't have even done that. Audrey says I only have so many examples to try and show people that this person (Day) is full of sh*t. James says there is no way Becky is racist.. she plays basketball and dates black people. Clay and Shelli join them and the conversation ends.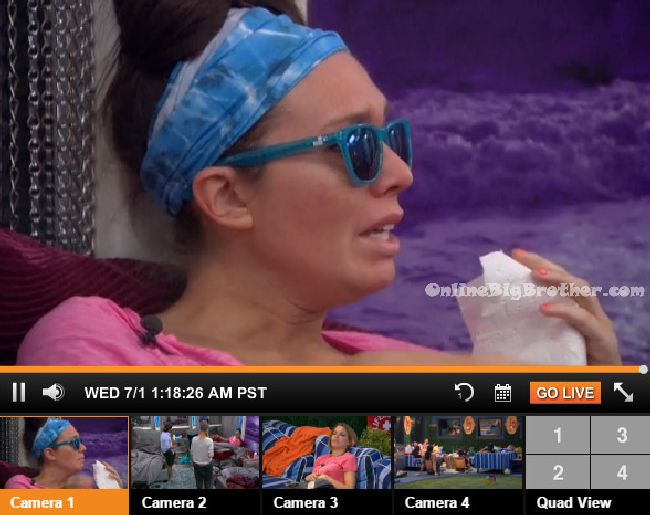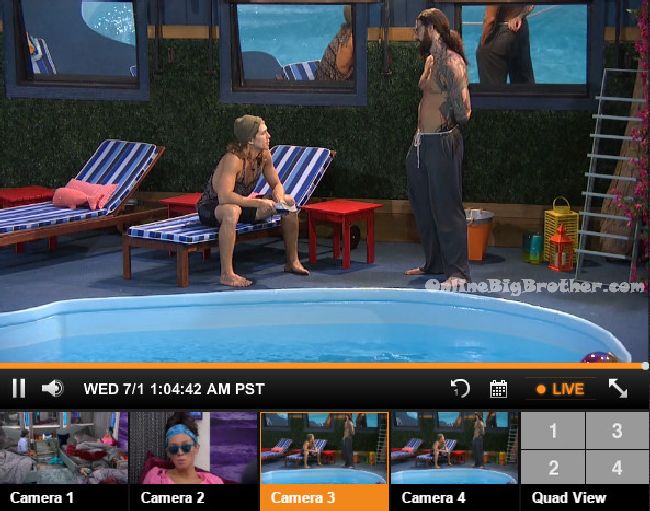 1am Backyard – Most of the house guests are sitting around chatting. Over by the pool Jace is talking to Austin. Jace says I am going to blow up on everyone! Everyone but the people I care about. Jace says I am putting everyone on blast! I don't give a f**K any more! And I'm going to say I don't want to be here with you pieces of sh*t! I'm pissed off, I'm really really REALLY PISSED OFF! I've been getting played this entire time! I am F**king done! I'm going out guns blazing! I'm throwing everybody under the bus… her, them, all of them. Every single one of them. Because they've all been a part of it. I don't need a single vote from any of them. These pieces of sh*t! These are terrible, terrible people! Austin says why don't you just chill for a bit and think about it from a strategy position. Jace says its done. These people are horrible, they're wretched. They can just sit and lie from the very beginning. Day 1. Austin says but things flip all the time. Jace says I don't want to sit in here with these horrible people. I hope America can see it. Austin says maybe just go to bed and think about it. Jace says all of these people are horrible except for you, Liz and Vanessa. Austin says Maybe just don't single us out. Austin walks away and whispers he's losing it.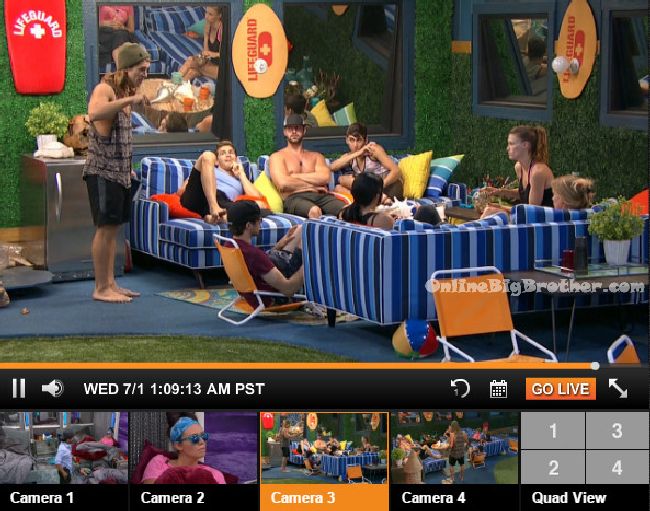 1:10am – 1:40am Jace goes over to the others and asks them what is an alliance if everybody that is in that alliance is going to throw everybody else under the bus. Then it was never an alliance. None of you people are really together. You're all talking sh*t behind each others back. No one has anyone elses back. YOu think you have friends in there .. no one has friends in here. You're all talking sh*t about each other and it gets around. Every single one of you is talking sh*t about the other. This is the worst season of big brother in the history of big brother because not a single alliance that has been made is an actual alliance. Everybody is against each other. So why are you playing. Not one single person has made something solid in this house. Every single one of you has turned your back on each other and its sad. I've never seen a season that is this bad. Clay asks where are you going with this? Jace says I'm just letting you all know. Clay says well thanks for the information. Jeff says there is partial truth to that. I see what he is saying. Jason asks where is Day because she would have snatched his wig! Jason asks where did they find this bit*h!

1:45am In the bathroom. Jace is talking to Vanessa. Jace says I am going to go out of here with my head held high knowing that I maintained my morals. And these people cannot. Vanessa asks have you talked to anyone back there (Diary room). You can talk to someone you know. Jace asks like a psychologist? Yeah I talked to the producers and they're not helping me. They want to keep me in here so it doesn't look bad on their show. I would rather prefer to leave. Vanessa says but you made a commitment. I didn't think any amount of money was worth being around people that I couldn't trust. Jace says you probably shouldn't be even talking to me. I'm already damned. Vanessa says you might come back. Jace asks why would I want to come back? These are horrible wretched people. You're a good person, so is Liz and Austin. Austin joins them and says that 500K makes people do things they normally wouldn't. Vanessa asks how old are you 24? Jace says 23. Vanessa says I'll tell you about a learning experience for me. When I was 24 or 25 I was in the gambling world. In the gambling world you don't always win. Before that point in my life you work really hard and you get an A. If you're good at something you're rewarded. In gambling you have to learn how to lose. I saw what it was like to not have things come so easily. Jace tells Austin and Vanessa I will leave with my head held high. I've said everything I needed to say.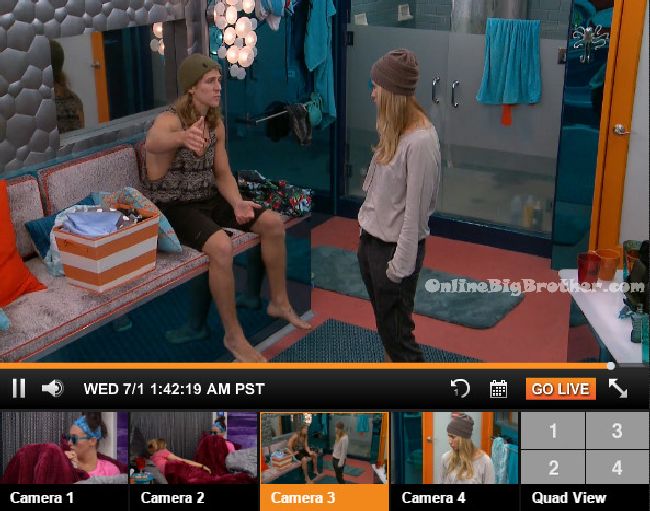 1:50am – 2am In the bedroom – Shelli is talking to Audrey about everything all over again. Shelli says they way they acted in that meeting was not an act that was raw true emotions. Audrey suggests asking each person individually to see if they're lying. Shelli says I don't think I know enough about the scandals to know what is real. Audrey says they're making things up. Shelli says maybe you've done a little bit of that to. When you would get information you would come back and tell me how you manipulated the conversation. Audrey asks why would I tell you that though.. I didn't trust you. Audrey asks have you said that to throw me under the bus? Shelli says no. Most of the things we've talked about I have no idea about. joins them. Clay joins them and asks if Shelli is going to stay in here. Shelli says this girl needs people here for her. She's been alienated all day in this bed. I had to bring her a sandwich because she couldn't come out and eat. That's just not right!? Its cruel! This is a human being and its cruel! I get it I avoided her all day because its a game. Audrey says what I really like about you is that you investigate things. And that you see my integrity. Audrey says a lot of this stuff is a complete lie that people just farted out of their a$$. I took accountability for the things I did. Audrey tells Clay you're giving energy to them instead of having my back. Clay says there have been multiple instances where you've lied and that's what I'm not okay with. Audrey asks how are you going to feel when this plays over and you see that you've hurt someone that's had your back. Clay says I've had your back 1000%. We invested so much into you and all this happened because of you .. you've risked our game. People wouldn't even talk to us because of how close we were to you. I came up to you numerous times telling you I love you as a person and we'll be friends outside this game.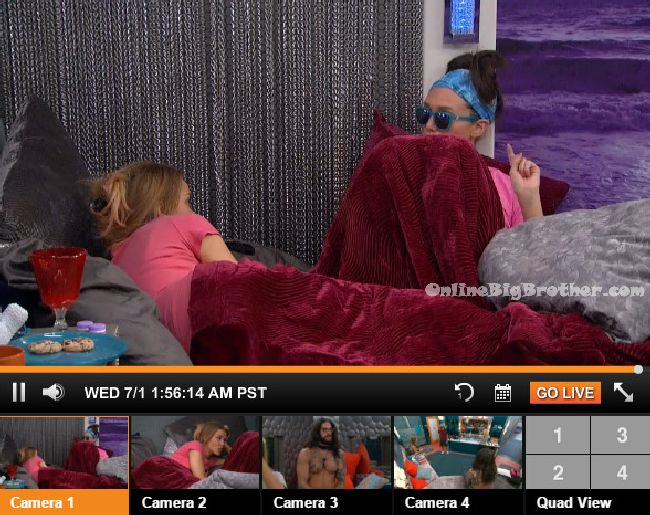 2:10am Up in the HOH room – Johnny Mac, Meg and James. Meg says I heard him (Jace) going off out there. And its not right! And that's really what pissed me off! James says he heard Jace say this is the most horrible cast of big brother. Meg says he said there's not a single good person here and that we're all liars. He doesn't want to be here one more day with all these horrible people and now he is down there with Jeff. Johnny asks did people go to bed in that room yet? Meg says no. Johnny says I just don't want to get cornered. Meg says sorry it just really bothered me ..there was no need for him to say nasty things about people. James heads down to the bathroom and tells Jace it wasn't cool what he said in the backyard. Jace says you need people in this game you can't win it alone. James says I know that.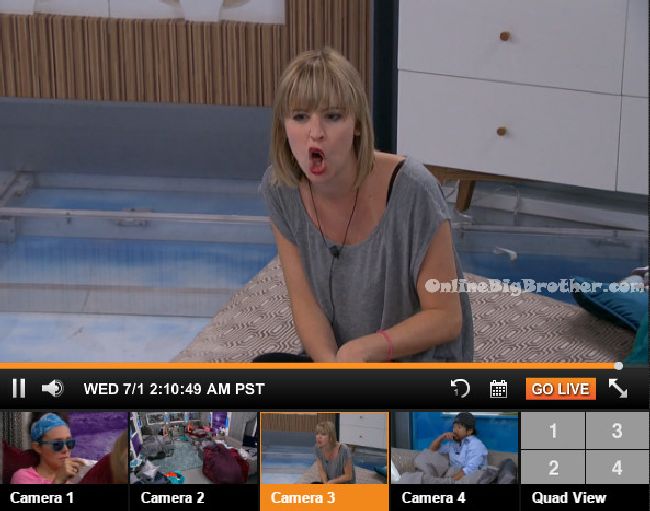 2:35am In the cabana room – Jeff tells Liz, Austin and Clay that Jace told him out of everyone in this house I've never heard anyone get thrown under the bus more than you. He said you better watch out for yourself .. anyone you're aligned with .. you better just bail. Clay says f**k. Jeff says I feel bad for you (Austin). Jeff says I'm about to go up and see who's in the HOH room. Clay tells him that Audrey is up there taking a shower. She asked for an escort. Liz asks did you escort her? Clay says no Shelli did. Austin asks you need an escort, this is big brother. Clay tells them about the talk he had with Audrey. Clay leaves.
2:40am In the bathroom – Jace tells Clay there was one time I said I thought the football jock was coming after the skater dude. And I want you to know that I didn't mean anything by it. I don't want you to take it out of context because I really do like you. You're a really good dude. If for some reason they sequester me .. I am going rogue. I told the producers I don't want to be here. Jace says its tough for me because I really do have very high morals. You're a good kid and I would like to see you win. Jace says I am really worried about getting out of here and having a lot of hate. Jace says I had your back and never would have turned my back on you. Jace says my real dream is to preach equality through my music.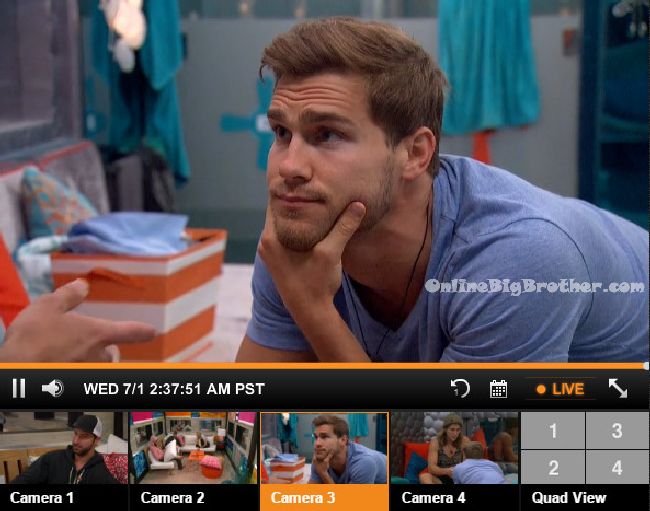 In the bedroom – Jason says I feel bad for her but we didn't make her do that. We were in the argument too. We could have confined ourselves to our beds too. I don't know how to open up a conversation with her because I don't trust her. I don't have people in my life that I don't trust and I don't want to her to get out of here and see that I was fake. She says she doesn't want to be ostracized because she is still talking game. James says in her mind she thinks she has done nothing wrong and says that she apologized to people. I don't know who she apologized to .. not me, maybe Vanessa. Jason says she was queen in this house and could have just relaxed but she didn't. In my real life I would have x'd her out days a go. I cannot pretend that everything she did is okay because none of us did her like that. She should be apologizing to the whole house. She did everyone of us dirty. If I just forgive her she thinks its okay.