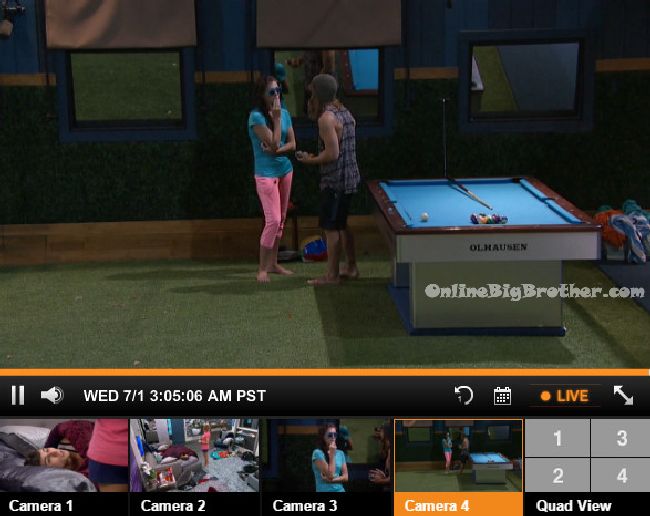 3am Backyard – Jace tells Audrey I am sorry for all the fights we had. Audrey says I don't hold you responsible for it. Jace says tonight I blew everything up. Did you hear about that? Jace tells her about how he called everyone out. I know I'm a dead man walking. Audrey says I have something that I think could flip Becky but I don't know how to prove it. Audrey asks did you or did you not mention the backdoor plan for Jason. He said that you came outside and approached Jeff about it. Jace says its not true. It was never my plan. Audrey says I think it was James. Jace says it was. Audrey asks what about the song? I heard you said it was me. Jace says I actually did say that to defer. I will fix that for you to help your game. Audrey says I think I know who it was. Jace says I will never tell you. I'm not throwing anyone under the bus. Audrey tells Jace that you know those things we do (goodbye messages) I did mine right after we… Jace says so its mean. That's okay. Audrey tells Jace that Steve is on board. Jace says that's because I scared him. Audrey says no its not he realizes who he wants to play with.

In the living room –
Clay is talking to Shelli and James about how he horrible feels about the way Jace and Audrey have been treated. Jace comes and apologizes to Shelli and says that it wasn't a personal attack against her. He tells her that he loves her and she's a great person. Jace then heads outside and tells Jason that it wasn't a personal attack against him either. Jason says there are loyal people in this house. Jason says that there were a lot of people that had Audrey's back and she ran them through the mud .. Clay included and that's why he feels like that.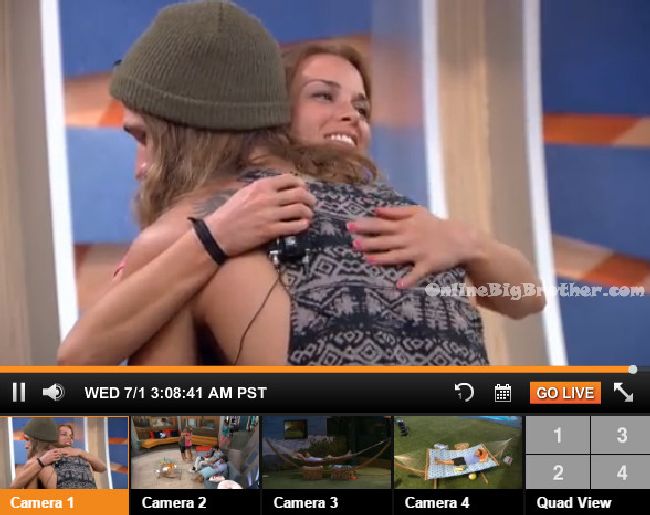 3:20am – 3:30am Up in the HOH room –
James tells Jeff and Meg that he thinks that all the anger has calmed down in the house and now the mood has now changed to remorse. Meg asks remorse? She was just escorted up here to take a shower. I'm sorry but I've never seen someone isolate themselves so much. James says that Clay feels like sh*t because Jace told him that this was his dream to come be here on big brother. And Clay was part of backdooring him. Right now Clay is really upset. Meg asks where is Clay!? James says talking to Jace. Meg says I'm going to not, I'm going to not! Jace just finished saying we're all horrible people! This is all of our dreams to be here. James says that Clay thinks Jace deserves to be here over him. Jeff says that Clay is mad and upset with himself because he made two separate alliances. He should have never done that. Meg says Audrey isn't a horrible person either ..she just played the game wrong!!! That's all that it is. Jeff says you can just forget about our little 8 and start thinking about who we can trust. The alliance is broken up. When it gets restructured it has to be a secret. James tells Meg and Jeff I want to work with you two. Meg and Jeff agree. James asks who else are you thinking? James says maybe not Day. Meg and Jeff agree. James says then maybe not Jason either because of how close they are. James says right now its hard to recruit. Meg says right now with Audrey being the next out we have the whole week to figure it out. James says its hard because we might bring in another mole. Meg says I would choose Jackie over Becky. Becky I feel would turn around and knife me in the back. Jeff says I really want to work with Jason. James asks Jeff have you heard anyone else target me other than Austin. Jeff says just Austin. They talk about
Aryn Gries and her making racist comments
. Meg asks so who are we talking about working with. You, me, possibly Jason, Jeff, possibly Liz and Rockstar (Johnny Mac). Meg says Johnny would be down. He likes me. Jeff says he likes me too. Jeff says if not Liz then maybe Jackie. James says maybe Liz and Jackie. Jeff says I want to say Austin but I don't know. James and Meg say they don't trust him. James says I already know he is targeting me. If he wins I know I'm going up. Meg says I think we should just all stay low and let some of the crazies take out the crazies. Jeff asks why would Jace say that out of everyone's name why is my name the one that he's heard being thrown under the bus the most. Meg says you came in here knowing you were a target.
Use FLASHBACK to SEE what they can't show you on TV: 1 Week free Trial
3:50am – 4:15am Shelli tells Clay this is just a game. Just be cognisant of how you speak to people. Clay says I do have love for her as a person. Shelli says when you talk to people just remember how you were raised. Clay says someone came to me 3 months ago and asked if I wanted to be on Big Brother and I said sure. This has been his (Jace's) dream. Shelli and Clay start talking about their lives outside the house. Jeff and Meg come into the bedroom and get into bed.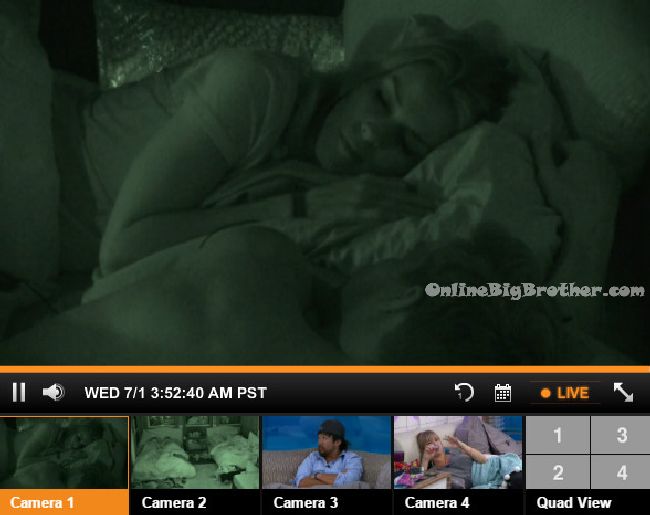 4:15am – 4:40am Jason whispers to Meg. I was trying to put a little good Karma Jace's way. Her (Audrey) only question was did Becky make a racist comment because she is trying to use that as her only leverage against me and Day. And what Becky said was an example of what Aryn had said in her season and not even a real comment. Jason says of the few things I could hear Clay and Shelli whispering about over the last hour was something with Becky's name. Meg asks Audrey and Shelli? Jason says no Clay and Shelli. Meg says I want to talk with you later .. gamewise. Jason says okay. Jason says I am going to lay out with Becky tomorrow because I'm not going to have these little f**kers running around trying to make something that is nothing. Jason asks where the f**k did they find these people.
Jeff tells Clay that the people from that original 8 are all trying to jump ship.Jeff says you can't be 75% with us and 25% with them. It's all or nothing. Jeff says we want numbers .. it can't just be me, you, shelli. We need at least 5. They say Meg and Jackie too. Jeff asks what if we got Jason but no Day. Clay says I think its good to have Jason but I don't think we can get him without Day. Jeff says we just need to lay low right now. Clay says I don't think Jason can just jump ship. Jeff says Meg is working on Jason right now.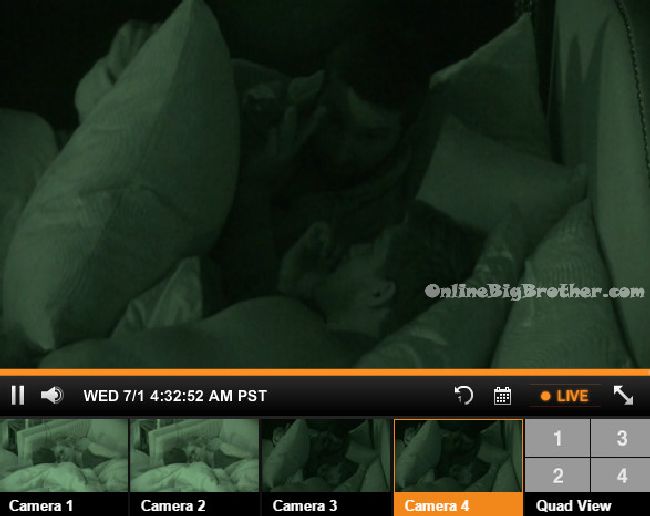 4:40am All the house guests are asleep..
Live Feed subscription gives you CBS All Access thousands of archived shows. Live Shows like Big Brother, all the Big Brother Seasons, and 24/7 coverage of what is happening inside the Big Brother House. Plus there's flashback that lets you go back to any second of the feeds and rewatch what happened. Simon and Dawg will index the season just watch the parts worth watching.
All this for $5.99 a month try it out 1 week free. Support our efforts and get your feeds via a link on this site. Live feed subscription Sign up

[polldaddy poll=8954355]
Share it YO!!
Tweet