POV Holder:
Steve
Next POV
July 3rd
POV Used
Yes
POV Ceremony
June 28th
HOH Winner Team 1:
James
HOH Winner Team 2:
Jason

1


Nominations 1 :
Steve, Jackie
Nominations 2:
Becky, Johnny mac
Battle of the Block Winner
Becky and Johnny Mac
Next HOH/ Next BOB
July 2nd / ?
Original Nominations:
Becky, Johnny, Steve, Jackie
Current Nominations:
Jace, Jackie
Have Nots
Austin, Da'Vonne, Liz, Vanessa
Watch the first week of the live feeds for FREE with the 1 week trial!
Click here to ensure your live feed subscription supports OnlineBigBrother.com at no extra cost to you.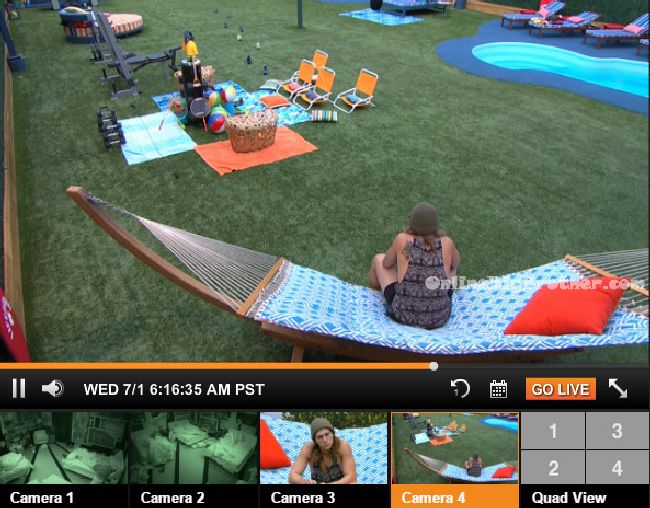 9am – 10:25am Jace was up at 5:40am making a shrine of items in the backyard. Big Brother wakes up the house guests at 9am. When the live feeds return – Jason says that Shelli commented that Audrey was being ostracized or bullied. Vanessa and Jason both don't think it was like that at all. Last night I Jace just to be aware not to be yelling with the bible in his hand. I was just trying to give some knowledge/good karma points. And then I tried to do the same thing with Audrey and she turned it all around saying you didn't say this or they didn't say this. See you'll do anything to turn this around on other people. Jason says thanks, you've done shown that you're a trash bag. This place is ridiculous no one will leave the game for 1 f**king second. Jason says Day was like … Listen I'm a homosexual male I've had my share of bullying and bad experiences. But when I was trying to be nice she couldn't even leave the game for a second. Jace took it like a champ. They talk about how the eviction is tomorrow. It's a long time to know you're going home. Jackie says I feel like I've been flying under the radar lately because of everything happening. They talk about doing a BB prom later. Jason says I may show up. Jason talks about trying to say a few nice words to Audrey. She couldn't separate game and still tried to turn it around to her benefit. Jason says not for my benefit, trust me I am never working with that Hoe again! Jackie says if that was her reply obviously she is all right. Jason says that's why her game crumbled because she can't show she has a soul for even 10 minutes. She showed me that the personal connection meant nothing to her. People aren't like this in the real world. SHe was just a vapid hole of bullsh*t. But oh well I tried. James joins them. My whole thing is to try and do damage control but at the end of the day its just a game. Johnny says its a weird thing because this is our life. Everyone heads in but James and Johnny. James says whoever gets HOH next week its going to get worse from here. Johnny says I've got you. James says I know you do man. How do you feel about this experience? Johnny says its getting ugly but I still love it. Big Brother calls Johnny to the diary room. James comes back. Johnny says its so awkward Jace asking all the time for the vote. It's not there, I'm not going to flip the vote for you. Big Brother tells the house guests to go outside for a lock down.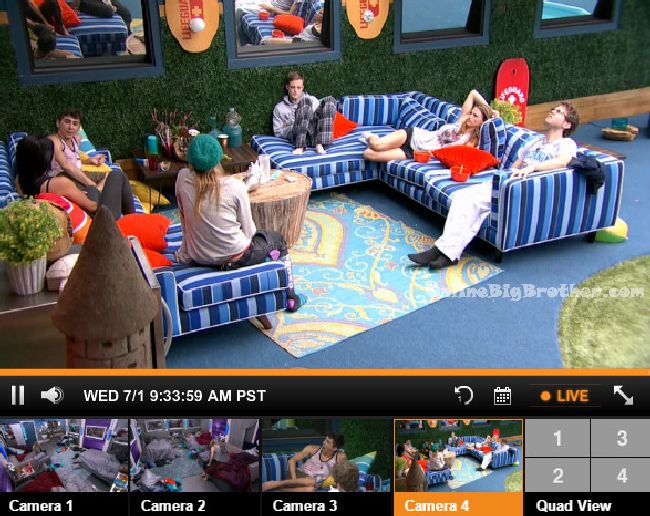 10:30am – 10:55am Hammock – James and Becky are talking. James says I just think all the drama this week was unnecessary. Becky agrees. Meanwhile Jeff and Liz are on the lounge couch. Jeff says nobody in this house trusts each other. It's kind of sad. I don't know why it got to that point so quickly but it did. We're acting like a caddy bunch of girls. Liz says Jace said he plans on doing something today like a rap. He's probably going to zing-bot us. Yesterday he had an anxiety attack it was bad.
In the hammock – Jace tells Vanessa I don't think I'm gone yet. I've got a plan. You might not want to work with some of the people. I'll tell you the plan first. I'll tell you the people. You, Austin, Liz, Steve, Shelli, Clay, Audrey. The reason why I think Clay is because last night he broke down feeling so bad that he was a part of the plan to backdoor me. He wishes he could change places with me. I could offer it to him to right his wrongs. Steve feels bullied. We could all meet in the storage room. What can I offer you guys. I would offer you safety for the entire game. I would be your loaded gun. Vanessa says I don't think Shelli and Clay would do it. Jace says this is my last play. If they're on board I will wake you up at 4am to go to the storage room. Jace says I made up a name that people have been calling him (Steve). "geek squad McGee" I felt really bad about making it up after. When I go out I'll whisper to him that it wasn't true. Vanessa says there are worse things. Jace says if Clay isn't able to listen to reason, I'll be going to Becky. Vanessa asks Jace to just not throw my name out there. I'm in such a bad position already. Jace says I'm not doing my poem because I have a very compelling speech but I'll do my poem for you right now. Jace tells Vanessa I understand if you don't want to do it. Vanessa says If you can get the numbers I would be stupid not to. Jace says I have a feeling they might throw me a life line.. not these people, the producers. Jace says you're right though, Clay probably won't do it. If I can be compelling .. maybe.
11am Big Brother tells the house guests this is a lock down. Please go inside and close the sliding glass door. Everyone heads inside. Jeff says that if James could be an animal, he would be a bonobo monkey. Its the horniest monkey of all the monkeys. In the bathroom – Jace talks to Liz. I have 1 last play. Liz says oh my god. Jace says I stayed up till 9am last night. Its my hail mary. Jace then talks to Steve. Jace says I did that speech last night so everyone would think I was mad at them and not suspect it. If I have 7 people, 8 including me it will change the game. I will wake you up at 5am this morning.. go to the storage room and wait. Steve asks what are the names of the people? Jace says I can't say because I don't want to implicate anyone. Steve goes to the washroom and Jace whispers to him saying "If you tell anyone I will know!"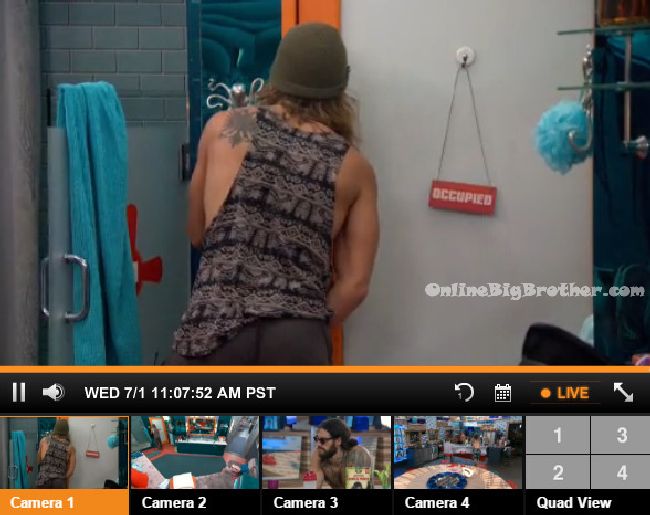 In the storage room – Jace talks to Clay. If I can get the votes would you be willing to vote for me? Clay says yeah. Jace tells him he'll wake him and Shelli up at 5am if I have the votes to stay. If you need a shield I will be there for you. If you need a gun I will be the gun for you. See if you can convince Shelli. The meeting will be tonight and it has to be some where that James can't see because James is power hungry. They leave the storage room and then Jace tells Clay in the cabana room that no one would ever suspect it after what I said to you last night.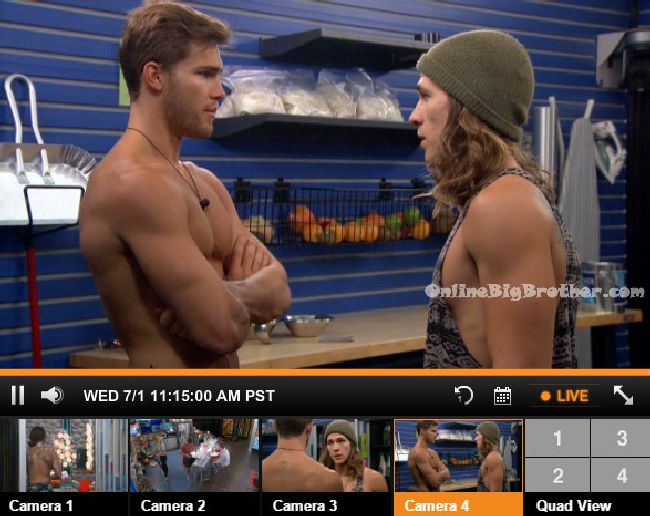 11:25am Bathroom – Austin talks to Jace. Austin tells Jace not to believe Clay he told Jeff information that I told him specifically not to tell him. Jace tells Austin about the plan to wake people up to have a meeting in the storage room. Austin says people will say they'll vote one way and then not do it.. then we'll be left hanging. Austin needs to be put in a position of put up or shut up. Jace tells him about how Clay was in tears last night feeling bad for being on board with back dooring me. I'm going to tell everyone that James is a little man that is power hungry. Jace says this is my last play. Austin says okay.
11:40am In the HOH room – James says its kind of creepy how Shelli has 10 years on Clay. Jeff says its obvious Clay is a good looking guy. But I think she is showmancing him to get further in the game. James says if we get to the point where we need to break that up we would need to backdoor Shelli. Jeff says oh definitely but how bitter would Clay be. James says I think anything we tell Clay he will run and tell Shelli. Jeff says she is a floater. Jeff says grab a life vest floaters. James says grab a life vest Shelli! James asks if anyone but Audrey wins HOH do you think everyone will put up Audrey? Jeff says I don't think Clay or Shelli would backdoor her (Audrey). They would go after Day. James says Day's game play hasn't been smart either. Any time she gets into it with people she blows sh*t out of the water. Like when Audrey kept trying to get me to call house meetings. I ain't doing it. Jeff and James take a nap.
11:55am – 12:10pm In the cabana room – Austin tells Liz that Jace's plan is to pull us all into the storage room at 5am. But I just don't trust Clay. He said Clay was crying last night because he felt so bad but I just don't believe him. He (Clay) is playing like Audrey. He's playing both sides. Austin says Jace can't go from I quit to I'm playing again. And that shrine what was that?! I just don't know if I want to even get caught in the storage room. Right now I think we can trust Jeff. Liz says we have to not f**k that up. Austin says that Audrey said Becky made passive aggressive racial comments the first week. Liz says Becky called the girls alliance the "Black alliance" because we were all wearing black. Austin says that Clay and Shelli were already talking like lets grab Audrey and bring her in. They're already trying to flip back. How do we expose Clay and Shelli without implicating ourselves. All these people are the worst. You can't tell them anything without them going back and telling people. No one wants to compete for anything .. they just want safety. Safety in numbers. Liz says we have to win HOH. Austin says James having it for 2 weeks has made him power hungry. All we have to do is say he's making derogatory comments against the women. Liz says that Jeff was saying Clay & Shelli were talking about what type of house they would build and paint colours. What 33 year old woman would go for a 23 year old kid. He's a kid. We need to wait to throw him under. Austin says this whole alliance thing is going to melt down and then they're going to see who they can trust. They'll see that I was loyal to Jeff. They have a terrible alliance. A bunch of weak weak people. Day and Jason are flighty as f**k. We need to pin Day and Jason against Clay and Shelli. But how do you plant that seed without it leaking out who started it. Austin says I have to use Audrey right now. But Clay won't listen to a word she says. I have to run this by Jeff. Liz says this whole Audrey thing is key. Austin says I know it bought us another week. Liz says she just cant win. Austin says she's going to make power plays though.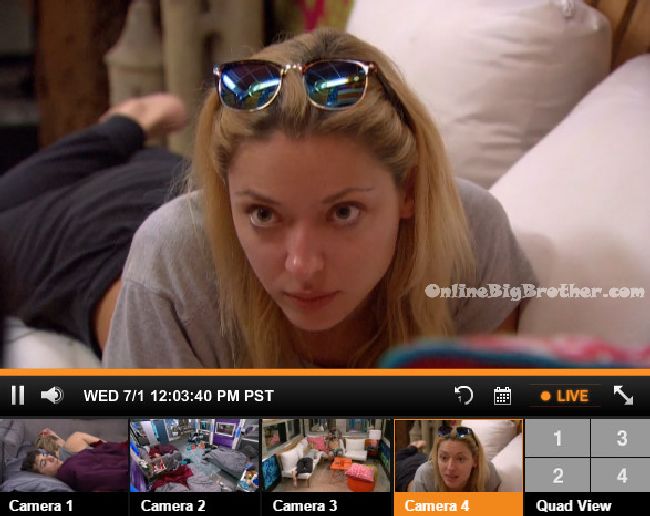 Live Feed subscription gives you CBS All Access thousands of archived shows. Live Shows like Big Brother, all the Big Brother Seasons, and 24/7 coverage of what is happening inside the Big Brother House. Plus there's flashback that lets you go back to any second of the feeds and rewatch what happened. Simon and Dawg will index the season just watch the parts worth watching.
All this for $5.99 a month try it out 1 week free. Support our efforts and get your feeds via a link on this site. Live feed subscription Sign up

[polldaddy poll=8954355]