Head of Household Winner – Tyler
Have nots – Bay, Janelle and Enzo
Nominations – Janelle & Kaysar
Power of Veto Players are –
POV Host:
Power of Veto holder –
Power of Veto Ceremony –
Safety Suite – Enzo wins Christmas is his plus one.
Live feeds —-> Grab your Live feeds here. Try it free.
Rank the houseguests —-> Big Brother 22 Ranking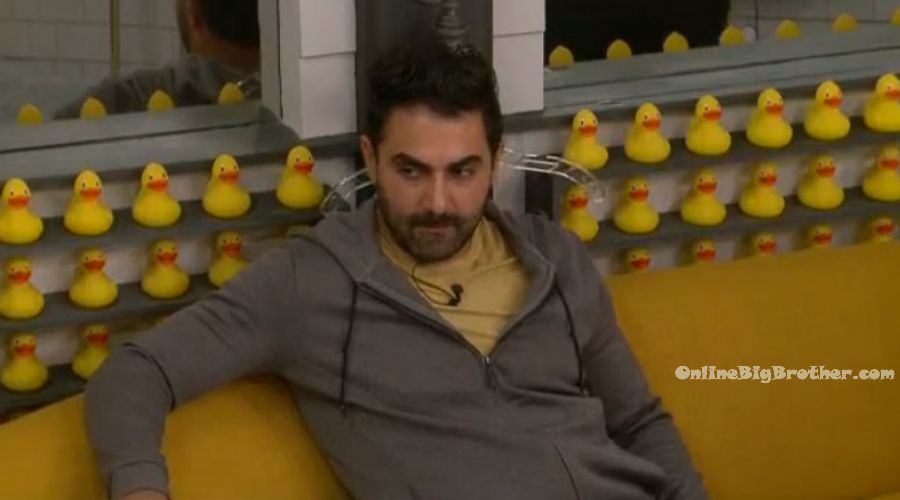 4:47pm – 6:06pm Big Brother blocks the feeds for the nomination ceremony. When the feeds return we learn that as HOH Tyler nominated Janelle and Kaysar just as he said he would.
Christmas – I wonder when I get my punishment? Kaysar – probably later today. Christmas – they're all so custom. I wonder what it will be for me? Bay – probably something fitness.
Storage room. Enzo and Tyler.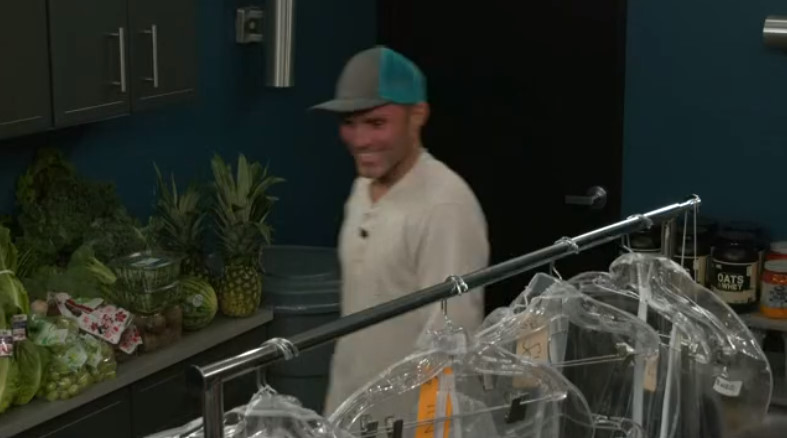 6:10pm Tyler heads up to the HOH room to listen to his HOH music and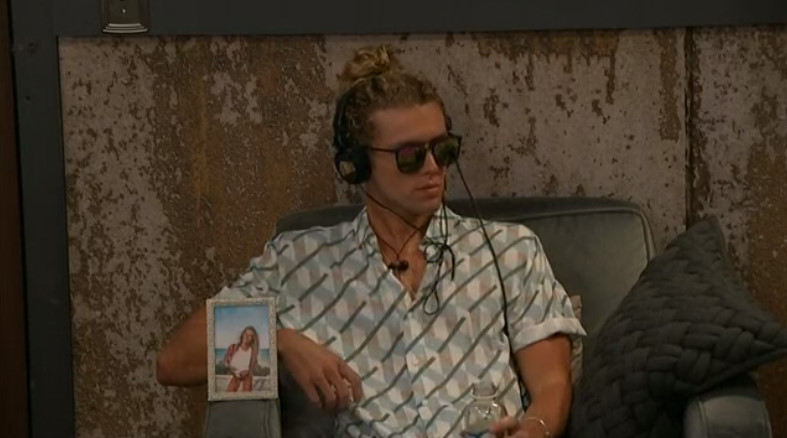 6:18pm Bedroom. Dani and Cody.
Enzo – that's it yo! They're f**ked! He's cold blooded yo! Cody – one of them are going home unless they add some bullsh*t.. and then I would just walk out. Dan – that will be next week. If there is some America's voting for the next twist or something .. she (Janelle) will get it. Enzo – definitely! Definitely for sure! Dani – Enzo who knew you were going to be the brawn. Cody – they're (Janelle & Kaysar) going say stuff about the people they were talking with the first two weeks. Its not going to be bad for us .. unless she throws you (Dani) under the bus. Would you get pissed? Dani – no because no one believes her.
6:40pm HOH room. Tyler and DaVonne.
Day – she is known for vetos. That is what she's known for… and that's what you're known for. So its going to be clash of the titans. Tyler – and I'm gunning! Day – if she happens to win and take herself off then there is Kaysar but the question is who are you going to put up next to her. Tyler – it would have to be someone that you all don't have too solid of a relationship with. I guess it doesn't matter because it will just be us. Day – we have the votes. Tyler – it honestly doesn't matter. Day – if she doesn't come off the block then we need her gone. Tyler – if she doesn't go home this week she will likely get a power .. she's Janelle. Day – we were trying to figure that out and the next thing probably will be powers. Day – I really hope I get picked. I want to play. Tyler – if I get House Guest choice I am picking .. I don't know if I want to sell out the group yet. I want to find out who will really be gunning for it.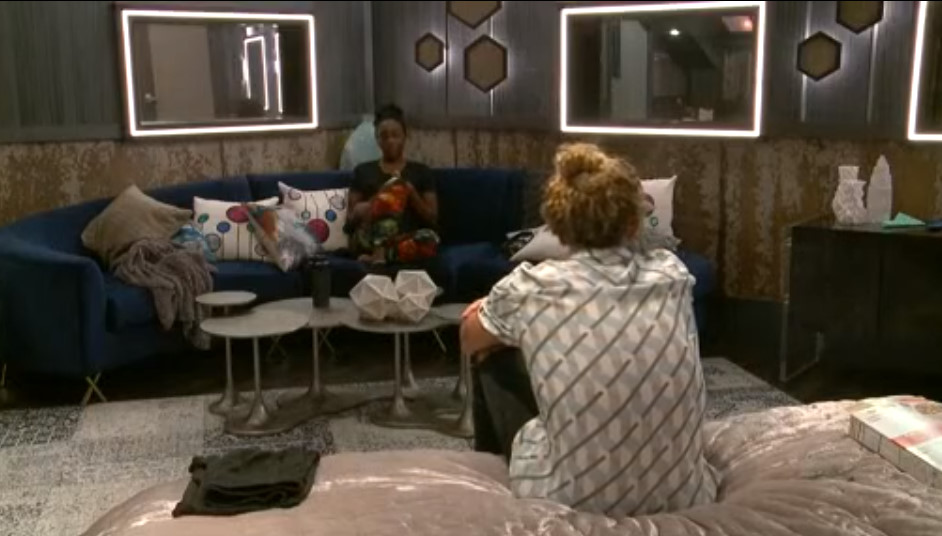 7pm Bathroom. Janelle, Day and Kaysar.
Kaysar – we just have to fight and see what happens… but its not looking good. Day – ya'll got vetos to fight for tomorrow .. together… so what happens? Kaysar – its not looking good. Day – ya'll going to try and convince him (Tyler) to put one of you up with a pawn? Janelle – I am done doing this whole convincing thing. Kaysar – I already knew this was going to happen. Janelle – he told us he was going to put us up. He said that every single person in this house wants us out. Day – ok! Kaysar – and that's been the case since day one. Janelle – and no I am not convincing him to put up any of you. Day – there is a veto to be won. If you come off the block who is a bigger target than you? Janelle – Memphis. Day – ohhhh.. gotcha! Janelle – they have something with Memphis though. Then who goes up .. Bay?! They'll put Bay up. Day – I don't think so .. he received a lot of sh*t on the outside for the way he treated her.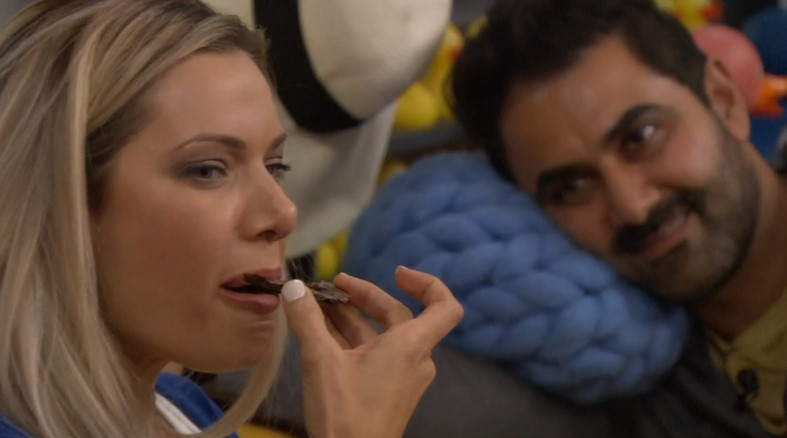 7:45pm Bathroom. Janelle, Ian and Kaysar are chatting.
8:45pm – 9:05pm The house guests are in the living room tossing a ball back and forth to each other in a circle. Next they play charades.

10:55pm Outside the HOH room. Kaysar and Bay.
Bay – I am good at people. I don't like people. Kaysar – what do you mean you're good at people. You're very good at being sociable but you don't like to do it all the time. You're an introvert. Bay – I am an introvert. It sucks though because I know I am missing out on so much. Kaysar – that's why I was in bed all day. Bay – its exhausting. These people keep going and going and going and I'm like how do you keep going?! Kaysar – the extroverts get their recharge from the groups. Bay – I just like my space from everybody. Kaysar – I don't want to be floating to jury. I hope I didn't offend anyone by coming on too strong? Bay – the foundation just wasn't right. Tyler joins them. Tyler – this is another day down.. this is day three of your slop. Bay – its not really the food. I just want to have a positive attitude in here.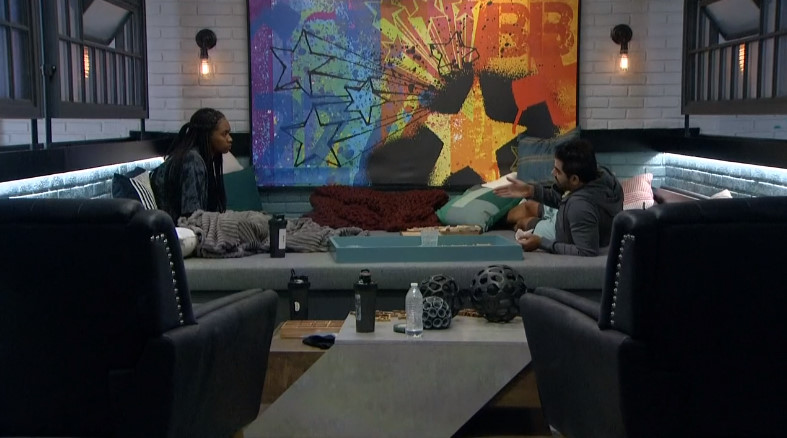 11:36pm HOH room. Bay and Day.
Day – are you alright? Bay – no, I miss you. I am trying to avoid you but I miss you. I think I've to to be letting you avoid me. Day – yeah but .. you made Nicole cry. Bay – why? Day – because ..when you were downstairs having the vocal conversation with her with the David situation with her.. And I was like well you won. And you said well it took you a couple tries and a couple guys to get there. Bay – is that not true? Did I hurt her feelings? Day – its true but it hurt her feelings because she is really sensitive about that. Bay – how am I supposed to know that? Day – she is sensitive about it.. I feel you. That is stuff she has going on in the outside world. It has nothing to do with you. I promise you. But it is something she is battling with the outside world. It isn't your burden to carry. Bay – immediately, I don't care about that.. how am I supposed to handle it because there is two things .. Nicole has come up to me already twice .. Do you hate me because of Janelle?! What is going on? I have no problem with that .. there are no issues. The other day she came up to me and said that it took her a few tries with the guys. I was repeating her exact words. I didn't watch the season. I didn't even know about Cory until she mentioned it. If I said anything on accident that offended her I would apologize. Day – you don't have to apologize .. just be an ear but not tonight. When you talk to her its not you .. its the statement that bothered her. Bay – if I had been thinking I probably wouldn't have said that because Nicole is a sensitive chick.. I would have just laughed about it.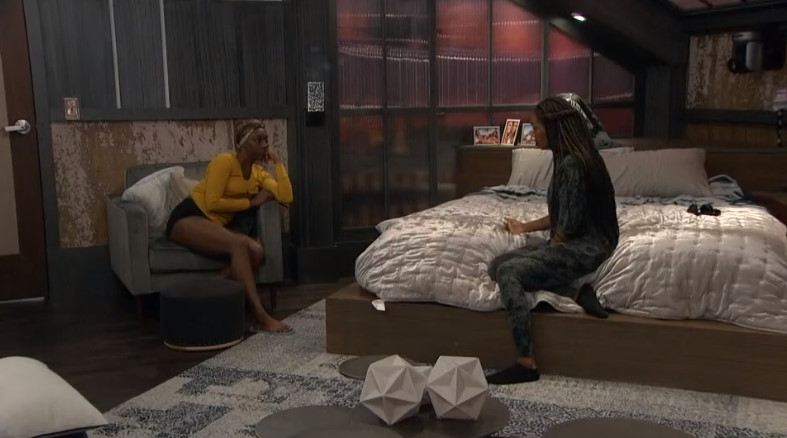 Bay – so she can throw a random dude on you? Day – that's a fact she and Dani have been teasing me all day about this. And then when Cody said it in there I was like wait is this sh*t getting around? Bay – Cody brought it up on his own. Day – Cody said that you brought it on to him. Bay – I am evicting .. I am literally self evicting. Day – why?! Bay – because this is dumb sh*t Day! What?! Cody comes into the room earlier and was like are Day and David flirting?! And this is so stupid because you and David are not a thing… so why is this a house drama?! Day – you're right its not and I don't want it to be. Dani and Nicole have been joking about it since day two. I don't mind them joking and teasing about it as long as they know there is nothing there. Keep the Joke a joke between us. Now its no longer in the fun circle. Bay – so when do I apologize to Nicole. Day – you don't have to. Bay – so she thinks she offended me? Day – The tone of the conversation was as if she said something to make you believe she was trying to jeopardize you friends game. Bay – oh so she thought I was being defensive of you. Day – correct. I said I don't think she was being defensive but her points were very valid because we aren't here for that. It is a very big deal for all of us to be in this house and we cannot afford it to get f**ked over by a showmance situation. I think she just wants to let you know that she was joking. Bay – Its just a whole miscommunication. Okay, I am not coming out of my room for the rest of the week. Day – no. She is trying to prove that she can come in here and do it without a guy.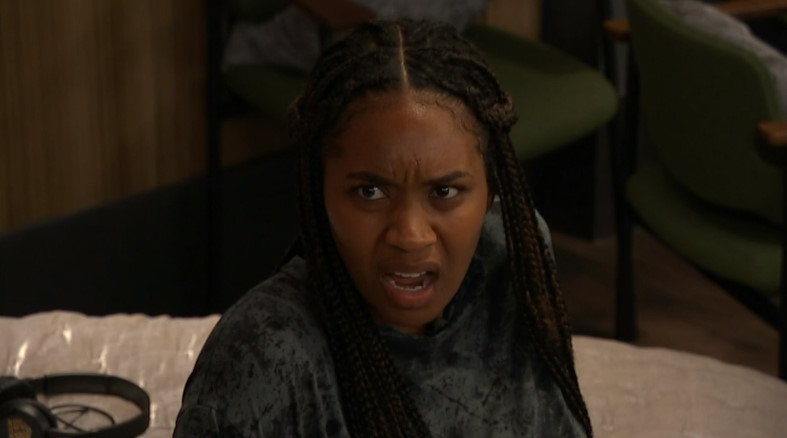 12:45am – 1am Living room. Tyler and Dani.
Dani – what did Kaysar say? Tyler – he was apologetic at first and understanding. He kind of just owned it. Dani – that is good. Tyler – to both of them.. I kind of just told them. Dani – did they go up together or separate? Tyler – separate. I just told them.. I know you guys have had my name in your mouth this whole time making sh*t up. And he was just like I know man. I am sorry. Dani – at least he owned up to it. Tyler – he owned up to it but then he was buying into his bullsh*t again and trying to get me again. Dani – he is a good talker. Tyler – I was like you and me were closer than me and Cody in the beginning of the game. I am just going to be straight up this whole time. If you guys are going to flip on me then flip on me. Dani – who? Shut up! Oh my god! Tyler – I don't have the patients any more. Dani – no one is going to flip on you.. the only one would be DaVonne. She wants to so bad. Tyler – we literally had to force her not to. Dani – isnt that so sad. Isn't it crazy how calm it is and then after tomorrow its going to be crazy. You cannot let her (Janelle) beat you. Tyler – I won't. I am definitely giving it 100%. Dani – and if it is anything that you can block her .. then block, block, block. Tyler – it might be one were we compete one at a time. We haven't had that yet. I'm good at those.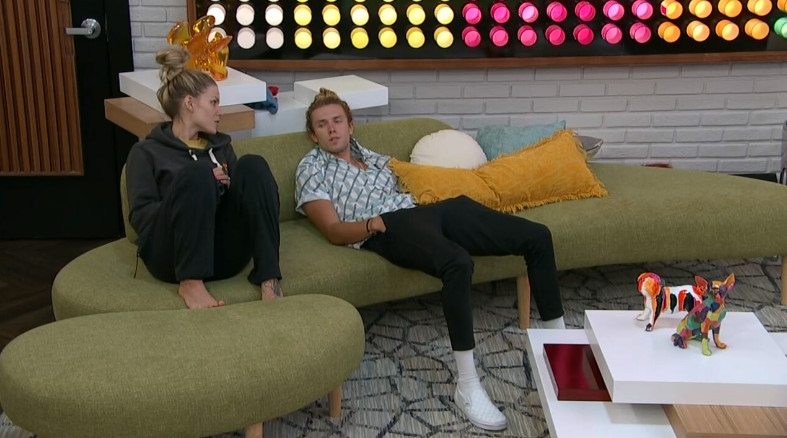 1:41 am
Kevin and Da'Vonne
Casually chatting about the game. Kevin says he met Kaysar outside of the house and didn't like him then.
Kevin – he's actually the one person I hung out with
Da'Vonne – did you enjoy i
Kevin – no
Da'Vonne laughs
Kevin – had the same conversation with my girlfriend my season Lydia.. I said he was a douchebag.
Da'Vonn e- her edit made her look batsh1t crazy is she
Kevin – no she's a lot like Bayleigh..
Kevin says 'they' can edit it to make her look crazy and mean or they can make her look like she's joking.
Da'Vonne talks about what they do after J/K go
Kevin – I think we have a short term plan.
Kevin and Da'Vonne both think they are good with the big alliance in the house (LOL Da'Vonne is first one targeted after J or K go.
Da'Vonne – then Enzo picked her instead of me that scared me
Kevin back with the brain worms.. "That's because we're good with that alliance"
Kevin – they were like Da'vonne we got her I've had conversations with Kevin we good but Christmas she's been babbling so we need to bring her back
Da'Vonne says they need a plan when the big targets are gone. (Sigh, new school)
Da'Vonne says they know there's three targets in front of them right now.
Kevin – if we don't win power within those 3 we could become a casualty
Kevin mentions it's already week3
Da'Vonne – we should have been sucked into something now.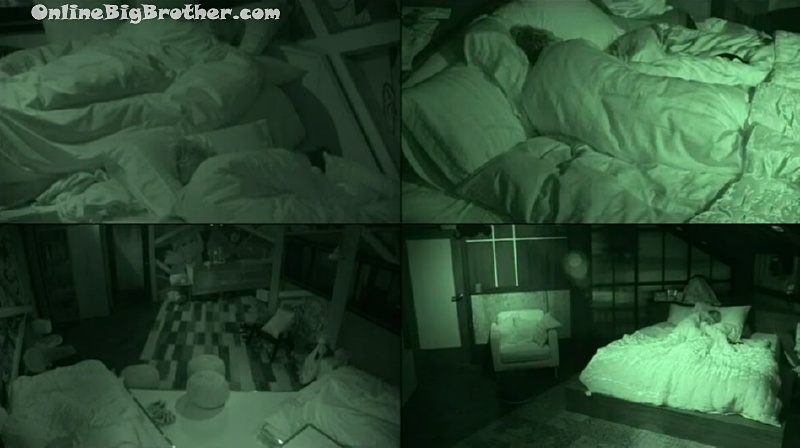 2am All the house guests are sleeping..
4:12 am Sleeping yo
6:50 am Feeds kick to stars.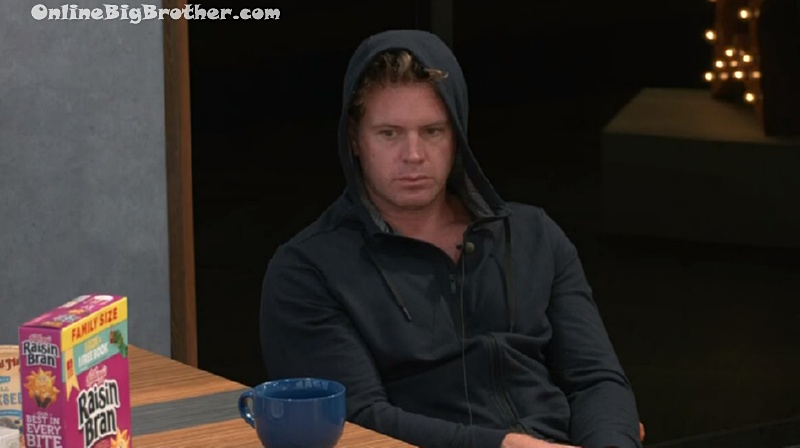 7:38 am Memphis is the first one up