POV Holder:
Victoria
Next POV
July 19th
POV Used
Yes
POV Ceremony
July 26th
HOH Winner 1:
Frankie
HOH Winner 2:
 Cody
Battle of the Block Winner
Jocasta/Amber
Next HOH/ Next BOB
July 24/July 25
Original Nominations:
Brittany/Victoria(Cody) Jocasta/Amber (Frankie)
Final Nominations:
Brittany & Donny
Have Nots
?
POV Players
Cody, Brittany, Victoria, Caleb, Nicole, Zach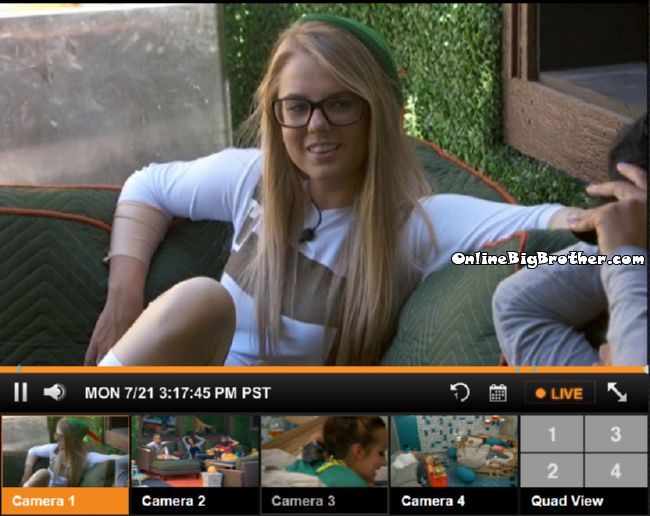 3:28pm Backyard Hayden, Jocasta and Nicole
Talking about the prank a bit. Hayden says it would have been good if they had "did it"
Nicole explains as soon as Hayden woke up all they thought of doing was scaring him.
Jocasta asks Hayden what his 5 year goal is.
Hayden – "To be married, have kids, have a house, have a job and live in the country":
Jocasta laughs "Sounds like Nicole's goal and I didn't even ask her.. that's kinda weird"
Jocasta pretends that HAyden is Nicole and Nicole is Hayden. SHe Asks Nicole (Hayden) what haydens 5 year goal is.
Nicole impersonating Hayden "I want to be an actor I don't want anything serious with a girl.. drink alot of beer.. Go to the Bar pick up girls.. nothing serious bounce around from place to place.. it will be fun"
Hayden laughs – Part of the 5 year goal is to just drink beer
Nicole – "I don't want famly I don't want kids I don't want a life"
Jocasta asks Hayden (Nicole) what he thinks of the 5 year plan
Hayden (Nicole) says "It's stupid and I don't see the point of it.. I keep \forgetting how young he is.. he's like a 9 year old boy"
More houseguests are waking up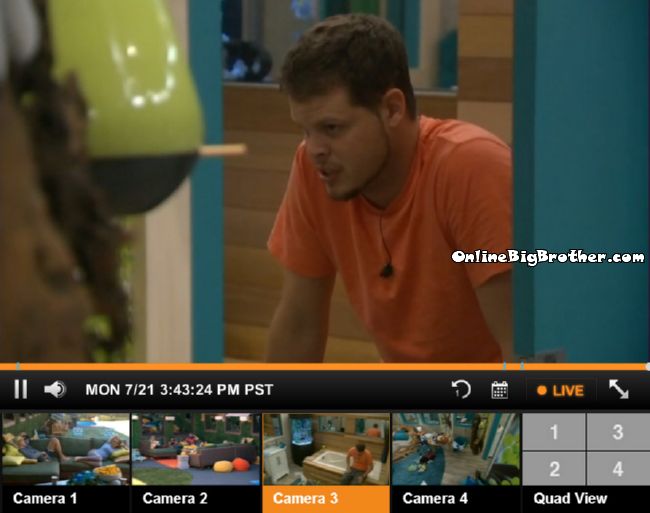 3:41pm HOH Cody and Derrick
Derrick says Hayden and him talked to Donny he's all set he knows what the plan is. (Get Brittany out)
Donny told Derrick up the reason Cody put him up was because he wants Brittany gone. Derrick thinks they are good with Donny. Derrick warns that Brittany is going to stir the pot before she goes.
Derrick – Theres no chance in hell she is staying with Donny up there
Cody – I have to keep sh1tting excuse me (Cody heads into the bathroom.. i know TMI)
Derrick says Brittany in the house is bad for business. They can trust her but she's going to turn on them first chance she gets. Cody says Brittany told him if she's going out this week she's going to be bitter. Derrick points out everyone is bitter when they leave.
Cody – Ohh man dude i'm pretty pissed if she would have won the POV.. " Cody goes through how pissed he is at Caleb for not getting the POV so the Nominations would stay the same he grabbed the 5 thousand dollar prize and let Victoria get the veto.
Derrick says Brittany isn't loyal to them she trusts them but she doesn't want to finish in 5th place. Derrick suspect Brittany will ride with them but once someone is there to make a deal to get her father she'll cut them this is why she's got to go.
Cody – How do we work in working with Donny
Derrick – he thinks we all are working together.
Cody says he's getting heated about Caleb because he "Dicked" him this week. He's having trouble letting it go.
Derrick says when the time comes for them to cut Caleb he can be the one that tells Caleb he wanted him gone week 2. Derrick says if he gets the chance to take caleb out he's going to take it.
Derrick brings up Victoria coming up to him and saying she's surprised Caleb didn't go up because if he did he would have gone home. Derrick thinks this is evidence that Victoria will vote Caleb out.
Cody says he told Victoria that last night she's just parroting what he said.
Derrick – Do you realize how good of a position we're in right now… we're running the house me and you"
Cody says his brother would have been like "Why the f*** didn't you put this kid (Caleb) on the block he F*** D1cked you" Cody had trouble last night trying to figure out who to put as the replacement nomination. .
Derrick says Cody was making a mistake putting Caleb up because Caleb will never put him up because Caleb is all about the alliance. Derrick stresses that putting Donny up was the only way to guarantee Brittany goes home and keep the alliance intact.
Derrick – "The only person that would take me out is Jocasta and she doesn't have the votes to do it"
Derrick adds the house would have looked at Cody like he was Devin if he put Caleb up and kept Brittany. Brittany was his target all week then all of a sudden he picks a new target. Derrick thinks it was a bad move and glad Cody didn't do it.
Cody and Derrick agree Brittany is thinking Derrick will vote to keep Brittany.
Derrick says Brittany will realize it wasn't her game play it was her personality that doesn't work in the game. Cody knows says Brittany already mentioned something like that he feels bad for her. (Something about not using her "Words")
Derrick – She's use to get her way because of how she looks.. I would rather take my chance with DOnny who said to you he wants to work with you already
Brittany rolls in. Brittnay to COdy "You are being called into the Diary room.. have to get questions out of you… " Feeds cut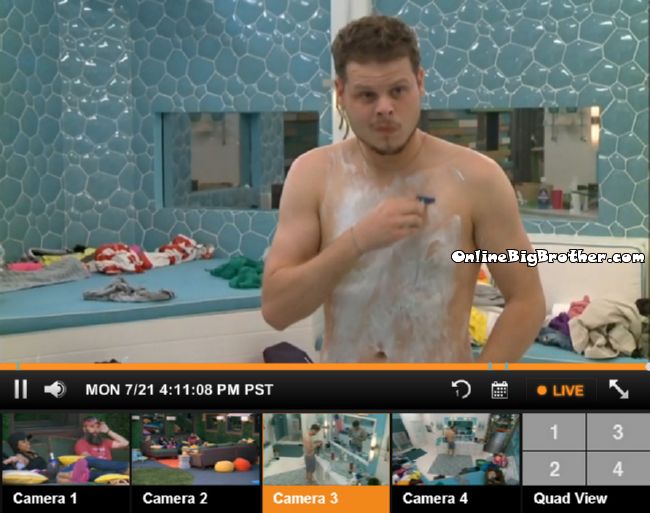 With a live feed subscription you can go back and rewatch all the events we highlight in this blog.
Try It Free! Get 24/7 access to the house for 48hrs before you decide!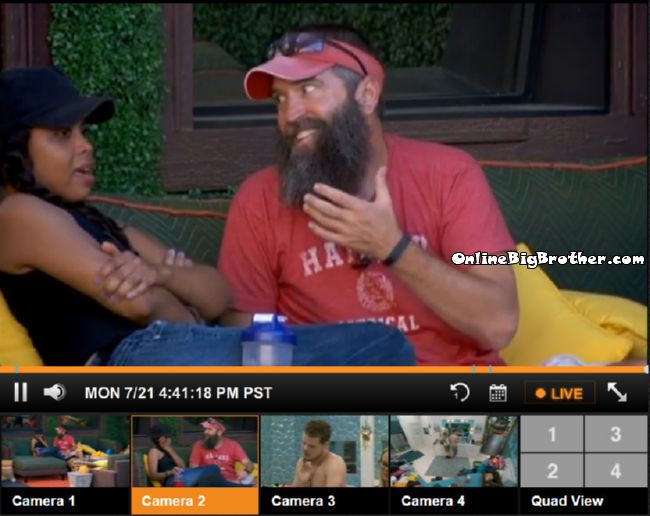 4:35pm Backyard Jocasta and Donny
They agree the house is going through the people just like Devin was saying in order.
Jocasta – That's the largest Alliance that i've seen in the game
Donny says they probably don't meet all together like a group of 8 they are a group of four with people on the side.
Jocasta says she doesn't trust the "Girls" Christine and Nicole. Jocasta told Christine something about Frankie and she ran to Frankie and told him. Frankie came to her and brought it up.
Donny knows that they cannot trust anything with Christine suggest she never once say anything important. Jocasta starts to cry says she doesn't want Donny to leave. he tells her not to worry he's going to be fine, "lets ride this week out you know you are safe and I'm feeling good.. see look i'm smiling" (See image above)
Donny says theres a leader somewhere that is dictating all this "Cause I don't think Cody would put me up"
Donny points out that that guys have Cody on 24 hour watch everytime you go up there Either Derrick/Frankie are right up beside you
Donny – when I win Head of Household I'll say the first two people up here in the HOH are nominated. I need time to think.. I'll have it thought of by then"
Jocasta – They are threatened by you and Brittany
Donny points out that as long as they survive this week you never know what will happen the big alliance may start turning on itself depends on who wins HOH.
Donny – Man can you imagine what they are saying about us.. they're a big group they can't talk about each other.
Donny – "There's four people that haven't been on the block yet.. Christine, Frankie, Cody and Derrick"
Donny – You have to think about who you would put up if yo won head of household"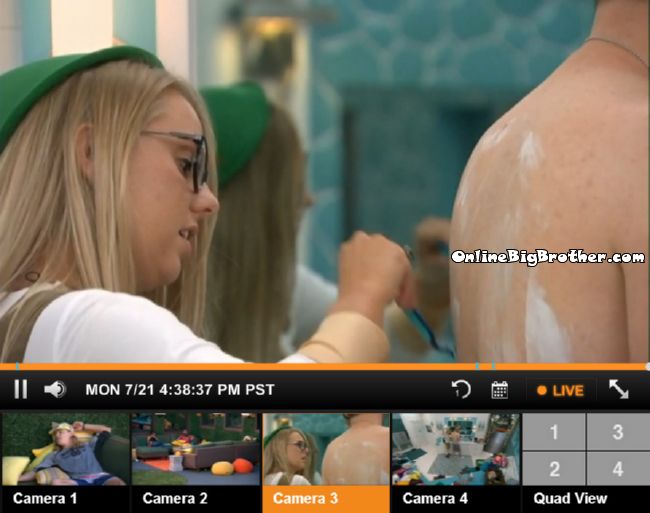 4:38pm Bathroom Nicole and Derrick
Nicole shaving Derrick back.. Talking about COdey wanting to put Caleb up. Derrick says he talked to Cody last this morning and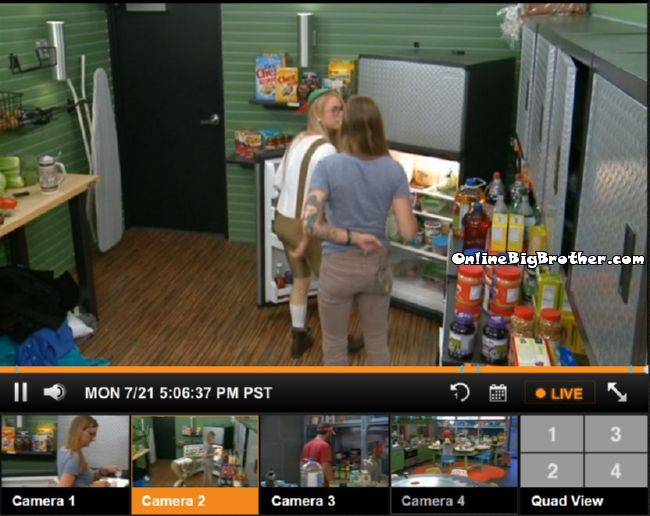 5:06pm Storage room Christine and Nicole
Nicole asks if she knows what almost happened today. Christine says she did hear about it.. Cody changed it 5 minutes before
"I would have been furious.. Frankie saved us"
Alliances (Some Of these are dead)
Zankie = Frankie/Zach
Bomb squad = Caleb, Amber, Frankie, Derrick, Cody, Christine, Zach, Hayden
Team America = Donny, Derrick, Frankie
Nicotine = Christine/Nicole
Not a showmance= Hayden/Nicole
Los Tres Amigos = Derrick, Cody, Zach
The bottom Feeders = Derrick/Nicole
We hate Devin = Christine and Zach
Outsiders = Brittany, Victoria, Jocasta, Donny
Old timers = Jocasta/Donny
Stalker = Caleb/Amber
Quad Kings = Derrick, Zach, Cody and Hayden (still being built)
Trilogy = Nicole, Christine & Hayden
The Detonators = Derrick, Frankie, Zach, Christine, Cody
Final 2 Deal "The HITMEN" – Cody & Derrick
More polls here https://www.onlinebigbrother.com/big-brother-compendium/big-brother-16-polls/
[polldaddy poll=8198814]
[polldaddy poll=8194643]
Share it YO!
Tweet