POV Holder:
Paul
POV Competition
June, 24th
POV Used
Yes
POV Ceremony
June, 26th
HOH
Nicole
Next HOH
June, 30
Roadkill Competition Winner:
Frank
Original Nominations:
Paulie, Jozea, and Paul
After POV Nominations:
Paulie, Jozea and Bridgette
Have Nots
?
9:28pm Backyard Frank, Zakiyah and Da'Vonne
Frank says the person that talks to Tiffany the most Is Paulie, He's confident Michelle will pick their group over Tiffany.
Frank brings up him and James talking to Bridgette earlier and Frank asked her who she's voting for. James said "Now Don't lie"
Bridgette squeaked out "Whatever the house votes"
Frank said "You're supposed to say whatever I vote"
Zakiyah impersonates Bridgette "whoever the house votes
Frank laughs…
Zakiyah – I've been getting the stink face.. From Bronte
James and Bridgette join them.
(Bronte and Bridgette are suspicious but still think Jozea is staying. It's Jozea that's confident he's staying)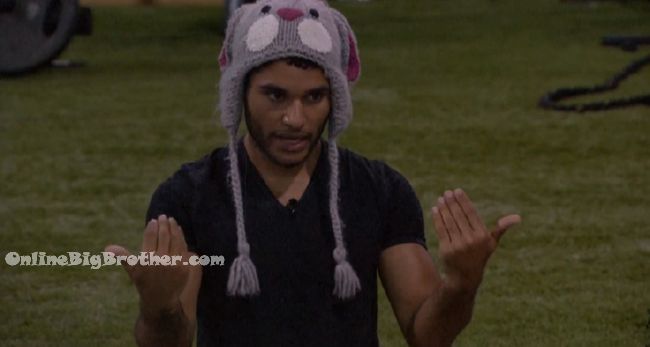 9:36pm Hot Tub JAmes and Da'Vonne
They agree the other side is going to try and take out Tiffany.
Da'Vonne – she's a good target
James agrees they should keep Tiffany around for a bit and let the other side deal with her.
Jozea joins them.
Da'Vonne – you ready for Thursday
Jozea – hey
Da'Vonne – you don't sound ready
Jozea just doesn't like the feeling of being on the block.
Da'vonne and James can relate.
Da'Vonne wonders if they will bring a player back this season, asks if they'll have to send paulie packing twice..
James leaves..
Jozea says he sees "Tiff" talking to Zakiyah a lot he thinks she's trying to pull Zakiyah away.
Jozea – the house loves Bridgette and the house loves me
Jozea – it's 100% looking like Bridgette zero or 1 .. maybe michelle votes her out and everyone else sway one way.
Jozea brings up Michelle coming up to him telling him it's 4 against 7.
Jozea says Frank told him he's got his vote.
Da'Vonne – easy week I like easy weeks..
Jozea wants an easy week, adds he would be heartbroken and cry if the house flips.
Joeza wants to play an "hanshake game" he's a warrior he doesn't want they're to be any shenanigans tomorrow.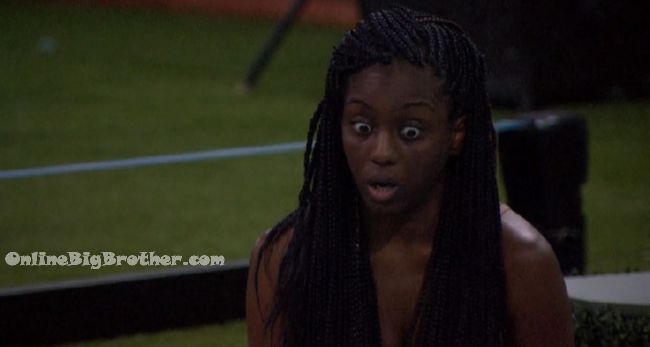 Talking to Jozea will do this to you…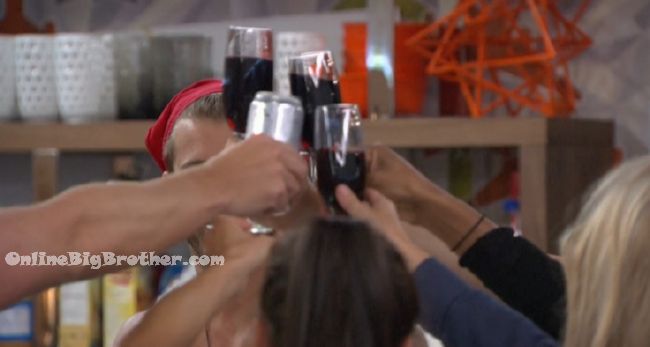 9:44pm They get Alcohol and play pg-13 never have I ever. At 10:10 Paul, Jozea, bronte and NAtalie head to the backyard where Bronte and NAtalie run.

10:11pm Paul and Jozea on the giant lounger, Bronte and Natalie running and AJmes/Bridgette in the hot tub
Wondering why everyone is saying james can "Endure" Jozea wonders how out of shape last season must have been for James to win the endurance. Paul points out james is short and has a belly. James and Bridgette talking about Meningitis. The vet's side of the house calls james inside to play never have I ever.
10:26pm Victor comes back after being in the kitchen, laughs says he hopes they have a competition tomorrow because everyone in the kitchen is chugging wine and beers. Bronte says this is why she's not drinking. Jozea doesn't think they'll get enough alcohol to be sick tomorrow. Bronte and Vic think it's enough to give them a headache.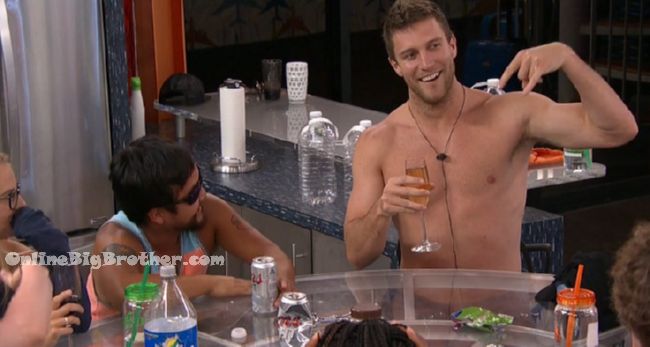 10:16pm Kitchen the 8 pack
Teasing the players in the backyard for naming their alliance the revolution. Michelle wants them all to tell Jozea they're glad he's staying for the 4th of July.
10:32pm talking about bronies. They start to do a rap..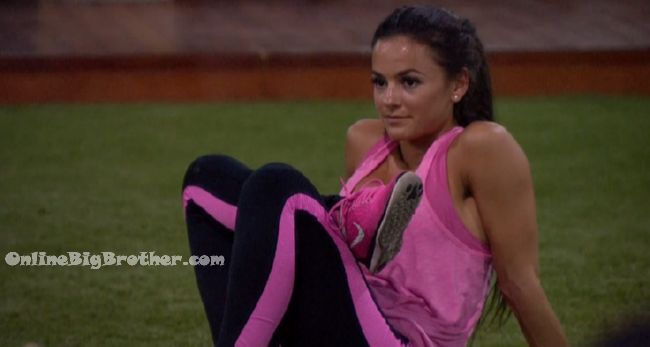 10:52pm Victor has been training Natalie and Bronte. Bronte keeps mentioning how much fun everyone is having inside wants to join them. They work out hard.
FLASHBACK and watch everything you missed: Live Feed 7 day FREE Trial!
Frank chugging the wine.. #BB18 @DawgsBigBrother pic.twitter.com/yn54chSl8S

— OnlineBigBrother.com (@bigbspoilers) June 29, 2016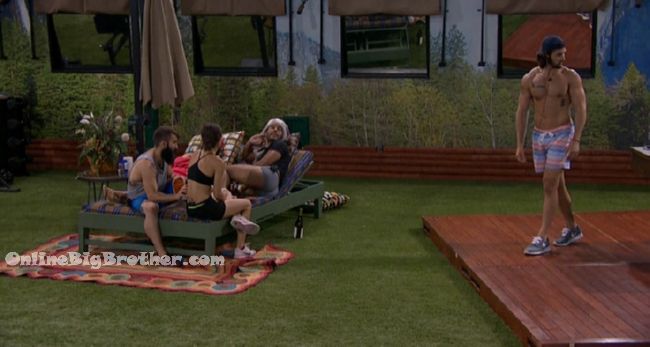 11:13pm PAul, Bronte, Jozea and Bridgette
Paul says the rest of the house is all drunk inside. (Not including Natalie)
Paul mentions that Zakiyah is extra f*** up "Talking all gangster"
Bronte – well Bridgette we came in last place for the laundry.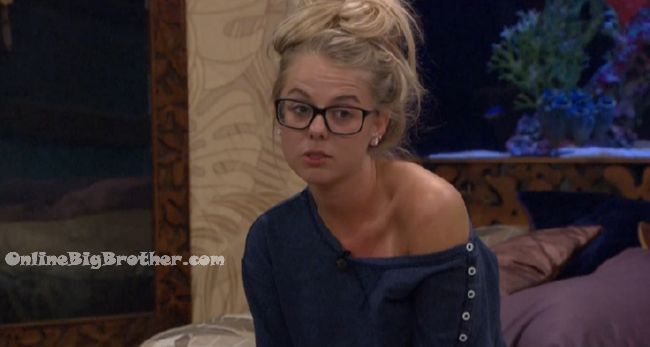 11:16pm Nicole and Tiffany in the HOH getting ready for bed. Tiffany says she really wants to win the HOH, "I'm not scared of anything"
Tiffany – I want to talk to you about something…
Michelle comes in, "James is the worst for slipping up… who knows what he's saying to those girls.. we need to distance"
Tiffany leaves..
Michelle and Nicole talking about their "Buzz" going away.
Michelle is hiding under the covers.
Nicole gets mad at Michelle for hiding, "You're super cute and you have a great personality"
Tiffany comes back says she's looking forward to be a have not. she wants to lose weight, She's thinking about eating slop even if she's not on slop.
Nicole says Caleb did that her season and stayed in shape.
Tiffany thinks Paulie will win the HOH because it'll be endurance.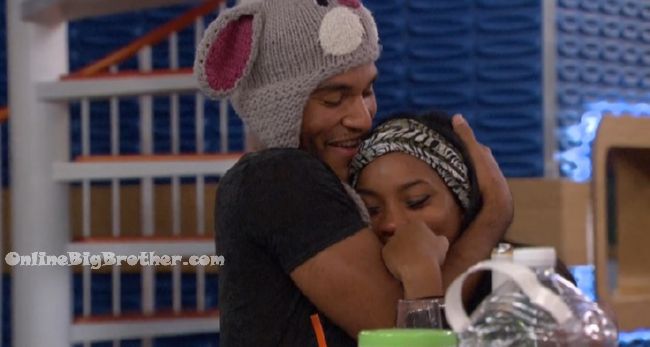 11:48pm Hugs
For the Natalie fan club. (sign up in comments)
For the Natalie Fan Club #BB18 @DawgsBigBrother pic.twitter.com/mc9hYwcrdO

— OnlineBigBrother.com (@bigbspoilers) June 29, 2016