POV Holder:
Paul
POV Competition
June, 24th
POV Used
Yes
POV Ceremony
June, 26th
HOH
Nicole
Next HOH
June, 30
Roadkill Competition Winner:
Frank
Original Nominations:
Paulie, Jozea, and Paul
After POV Nominations:
Paulie, Jozea and Bridgette
Have Nots
?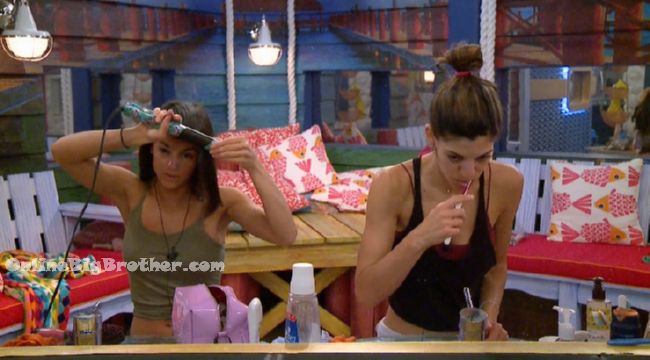 10:18am Bronte and Natalie are the only ones up.
Bronte says she told Paul and Jozea about Natalie's gut feeling Jozea is going home.
Natalie is worried that the whole house will know now.
Natalie says she's so tired she got no sleep last night, her head is pounding.
10:26am bunch of girls are up mentioning how quiet it is with all the boys sleeping. There's also construction sounds going on from the backyard.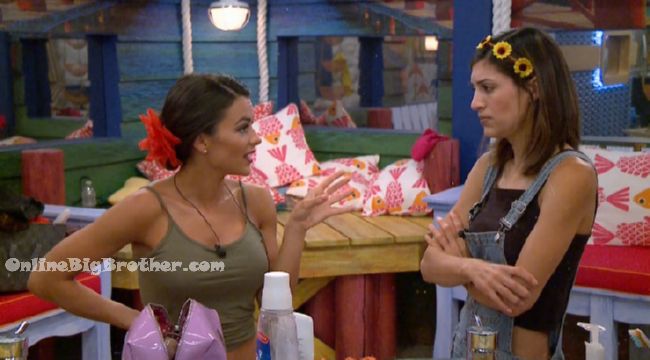 10:56am Bronte and Natalie
Bronte says if Jozea goes home it's because Zakiyah and Da'Vonne aren't on their side. Bronte says the other side of the house is going after the boys they are working with first after that they are the targets. They still need the boys are their side. She's not sure if they can rebuild an alliance with elements from the other side. They seem really solid.
Bronte – it's too late to stabilize something with them
Natalie suggests they see what happens after the eviction. They have to take care of themselves.
Natalie – 100% Jozea goes home because of Zakiyah, Da, James..
Natalie says the guys (Vic, Jozea, Paul) have alliances all over the place "They have an alliance with Frank .. with Tiffany.. Cmon"
Bronte – they're screwing this up for sure
Natalie – they're mouths are so big.. .I'm not going to be surprised if Jozea goes home
Natalie – they are loud they let everyone know their opinions
Bronte – we get associated with them
Natalie says they can still be with their guys but they have to distance themselves publicly.
Brionte says they need to stop trying to decide who tells the truth they have to assume everyone is lying.. Mentions that's how Cody and Derrick played.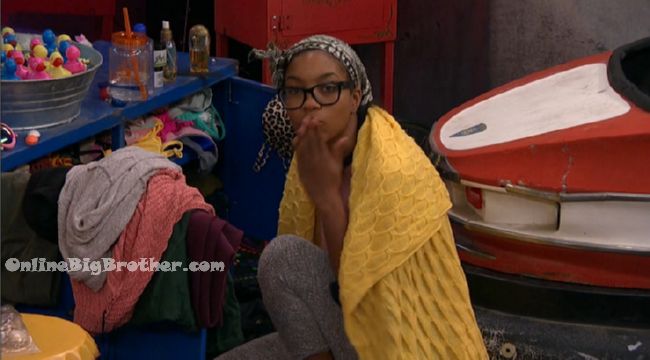 11:13am Zakiyah talking to the cameras
Gives shout outs to her family.. Says today is eviction day "It's going to get real"
12:16pm Feeds have been on fish for awhile.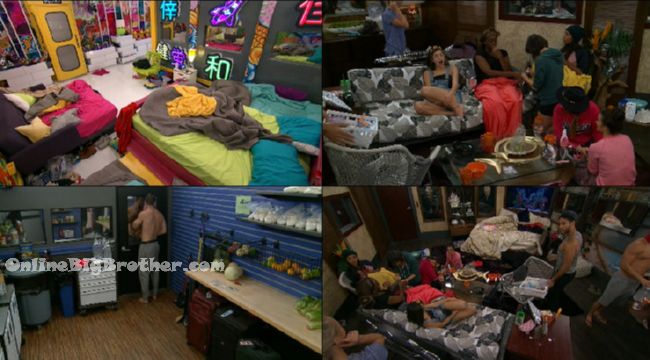 12:53pm Feeds come back the HOH Lockdown is over the houseguests are now free to walk throughout the house getting ready for the live show.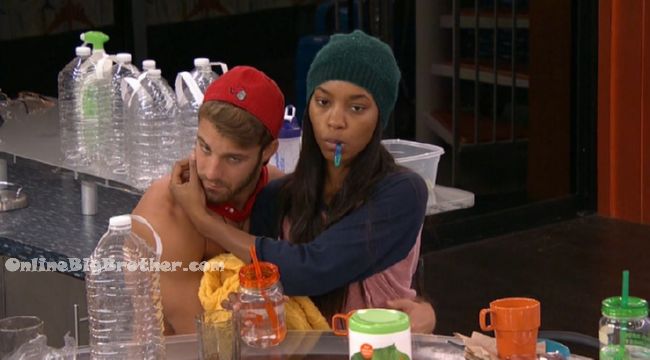 1:02pm Chit chat..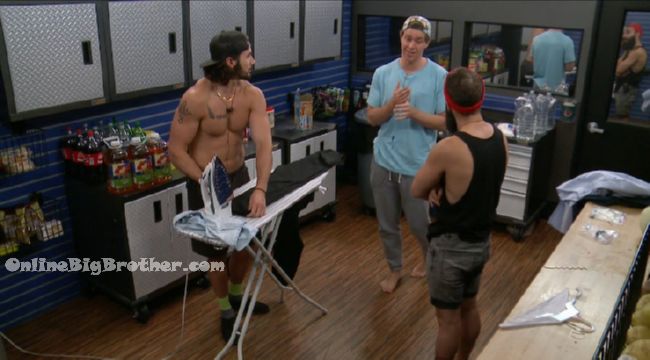 1:13pm Storage room Victor, Paul and Frank
Victor – Frank we gotta win HOH today
Paul – you're (Frank) not a target we are
Frank says if his team win HOH he can get into their ear.
Frank – After that that shit with Tiffany last night I could put the target on her..
Frank – Tiffany and James is that what i'm thinking
Paul and Victor agree.
Paul points out that James has it out for Victor now
Frank that must feel intimidating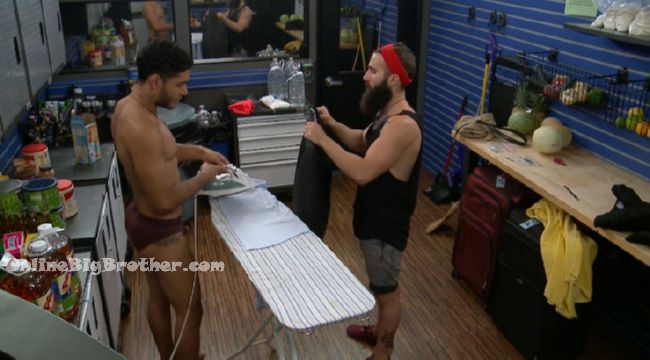 1:34pm Jozea and Paul Storage room
Paul tells them Frank really wants Tiffany out, "I can't imagine him lying.. If he's going to say that sh1t to us.. Why would you blatantly lie to our faces"
Paul adds that Frank can sway his team if any of them win HOH to keep them safe.
Jozea – he's playing both side
Paul – Ohh 100%
Paul – James and Corey on the block.. Or if it's James and Tiffany with Corey as the road block
Jozea – that stupid a$$ bridgette will be next.. Dumb a$$ f***s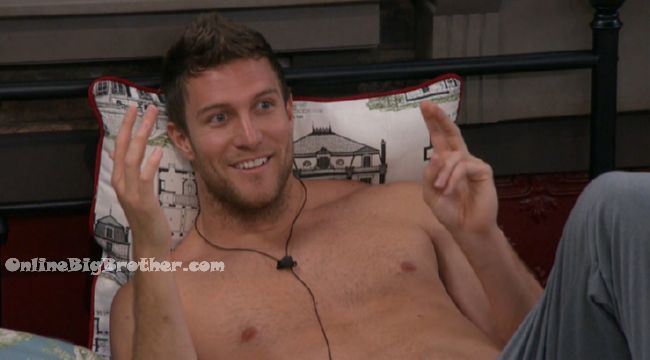 1:41pm Corey and Nicole
Corey saying that Frank is covering all his basses with the other side. He thinks Frank might vote out Paulie so he can maintain good relations to the other side.
Nicole thinks Da'Vonne might do it too she doesn't want all that blood on her hands, 'She's been lying to them for 2 weeks" (Lying to Jozea). She says Frank and Da'vonne voting the other way will force a tie.
Corey and Nicole is pissed, Corey says Frank is using his stuff to cover his tracks.
They start counting votes.
Corey – I love the guy but he's using my stuff now (Frank)
Nicole – he's playing hard.. And fast..
Corey is about to blow Frank up tell everyone he was the roadkill.. Corey is going to tell Frank if he votes out Paulie Corey going to target Frank.
Nicole – He's a competition beast.. He'll probably win the HOH
Nicole suggests he waits until after the HOH
Nicole – If Paulie goes home I will be so mad…
Corey – It could go either way..
Nicole is worried now that Paulie's going home.
Corey – I need to talk to Frank..
Corey mentions how Frank screwed up Tiffany last night, Michelle thinks Frank is being selfish.
Nicole thinks Da'Vonne and Frank are in on something.
Nicole – "I can tell she's up to something.. I trust Frank more than Da'Vonne"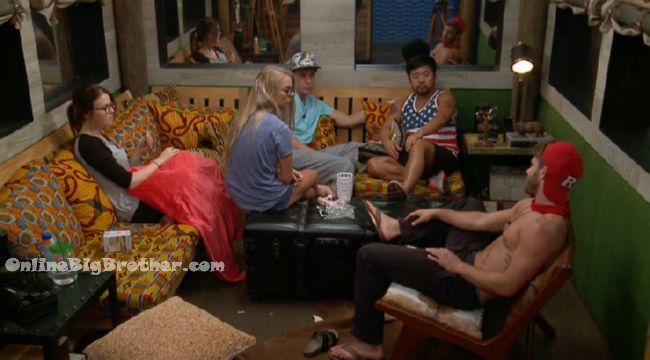 2:09pm Nicole, Frank and Michelle
Frank tells them they need to tell Jozea he sucks at makeup.
Frank's going to tell the other side "No offense I know the game better than ya'll"
He'll explain to them he's not going to vote off one of the houses strongest competitors that is also on his team.
James and Paulie join them and they start to scheme..
Bridgette joins them and they are silent.. Frank changes the topic to chit chat..
Corey helps Paul out wit his hair.
2:42pm
Everyone frantically getting ready for the live show.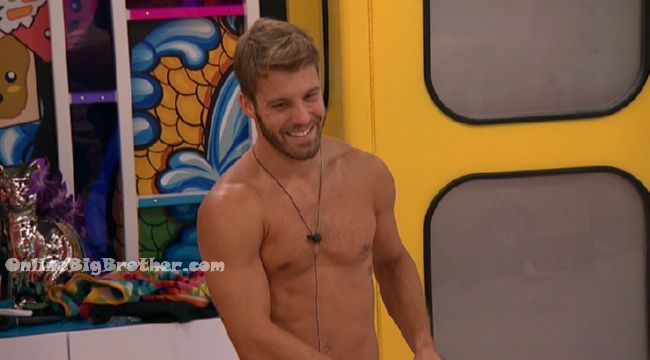 2:49pm PAulie and Frank
Frank can't wait to see the vote
Paulie – It's going to get HOT..
Paulie says he's going to find out IF Bronte and Natalie are voting him out.
Paulie – You don't get a threesome by not asking
Frank – Vic is so paranoid right now.. he just told me he's in game mode..
Frank says Victor is a idiot.
Paulie – You gotta me more smooth than that
2:54pm Jozea and Victor in the storage room. Victor says Frank is voting out Paulie. He thinks they also have Michelle's vote. HE's worried they lost Natalie but they may have Tiffany.
3:01pm Paulie tells Natalie Jozea is not staying. tries to ger her to vote Jozea out. She tells him she knew about the vote for a while now. She made a mistake promising a vote to Jozea early on. She's going to stick to her word but it doesn't mean she's with those guys.
3:09pm Natalie telling Bronte Jozea is getting voted out. Bronte still can't see Da'Vonne and Zakiyah flipping on them. Natalie tells her they have to mentally prepare.
Natalie thinks the two of them are safe but they have to still win HOH
3:12pm Nicole and James talking about how their 8 pack is too big of an alliance. James is going to throw the HOH so they can get Victor out.
Feeds go to Jeff… they won't come back until after the show airs on the east coast. Get your feeds cause tonight is going to be isnano
FLASHBACK and watch everything you missed: Live Feed 7 day FREE Trial!