POV Holder:
?
Next POV
July 26th
POV Used
?
POV Ceremony
July 28th
HOH Winner 1:
Frankie
HOH Winner 2:
 Zach
Battle of the Block Winner
 Nicole/Christine
Next HOH/ Next BOB
July 31/Aug 1
Original Nominations:
ZACH's Noms (Christine & Nicole) Frankie's Noms (JOcasta & Victoria)
Final Nominations:
?
Have Nots
Nicole, Caleb, Christine, Derrick
POV Players
?

7:27pm HOH Caleb and Zach
Caleb saying we'll probably make it big in the music industry.
Celeb really really wants to do movies like the next big transformer movie or GI Joe, "I was supposed to be in the recording studio before I came but so much was going on"
(once again Zach is trapped in the HOH with Caleb.. Caleb proceeds to give Zach a ear beating for quite some time)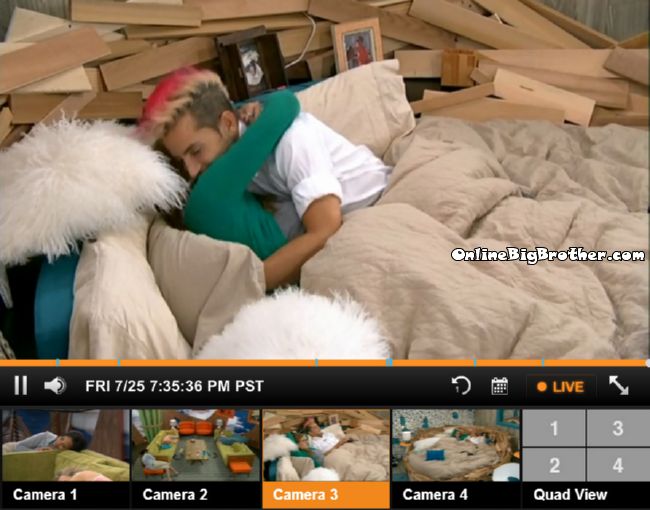 7:35pm HOH Frankie and Christine
Frankie telling her it was the best way to keep her safe having her in the BOB playing against the two weakest players in the game. Christine hugs him "I love my Frankie"
(Feeds were cut for around 15 minutes)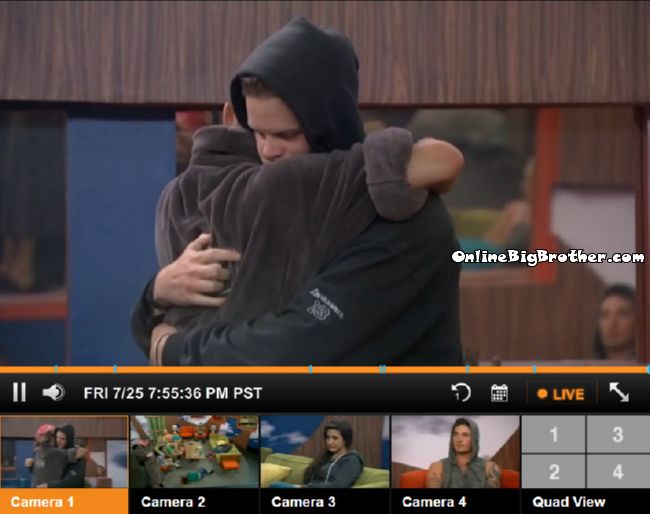 7:46pm Derrick in the Have nots (His grandfather died this morning)
looks like he was crying he walks out Frankie gives him a hug he says he needs to go into the Diary room. Nicole – Are you OK Derrick"
Everyone reading a bit of the letter looking very somber some crying.. Frankie reads the letter "Unbelievable .. he wasn't married to his grandmother.. "the other one
Frankie – Another BIg Brother first..  unbelievable this morning"
Frankie is going to ask if he can eat Derrick's slop for the week because Derrick will be weak, cold tired and sad.
Derrick comes back from the Diary room says he appreciates their concern, "It is what it is.. part of life.. they recorded a message and it's going to play it at the funeral.. Im worried about my dad he's was close.. my dads a mess right now.. has such a big heart"
Frankie says if he wants to speak in private to the live feeders and TVGN his HOH room is open. Derrick says he did a whole thing in the Diary room for his family.
everyone silent…
8:10pm Frankie was he ill when you came into the house. Derrick says no he lived in a home with his wife assisted living. He was 86, "Lives 10 minutes from me.. he was veteran he fought in the war"
8:32pm Everyone hugs Derrick he thanks them all for being there for him.
Go back and watch everything from Day 1 on the Live Feeds Try It Free! Subscribe now to the official BB16 Live Feeds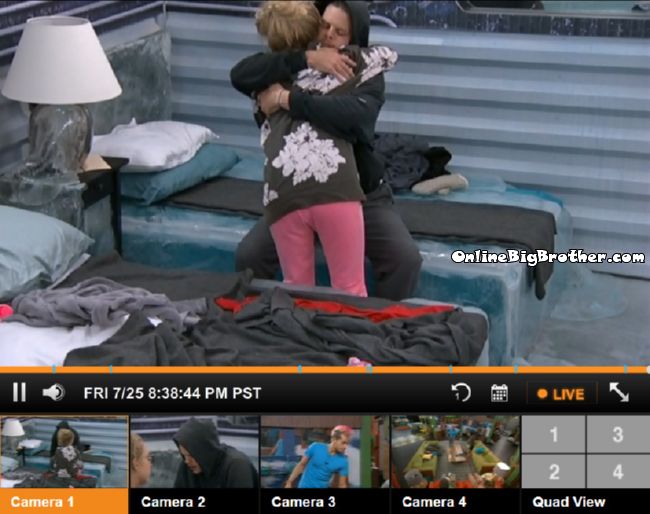 8:34pm Have nots Derrick and Frankie
Derrick says he's not a very emotional person like Frankie. Derrick he got to do a personal message but he bawled the entire time so he's going to go in and redo it. Frankie says he's going to be Derrick's rock because Derrick game him the HOH and let him see a picture of his Grandfather.
Frankie says he's going to ask production if he can go on slop for Derrick.Derrick appreciates it but the slop really doesn't bother him too much, "You don't have to do that"
Nicole comes in says she wants to personally thank him for letting her emotions out, "You are one of the most kind hearted genuine people I have ever met I love you and adore you"
Derrick – "Thank you"
Nicole – I'm here for you anything I can do for you"
They huge, nicole says she really worried now because Cody says "It comes in sets of threes"
Victoria comes in asks if he needs time alone or if she can come in and talk. Derrick needs a half hour to collect his thoughts.
Victoria – "Love you"
Derrick _"Love you to"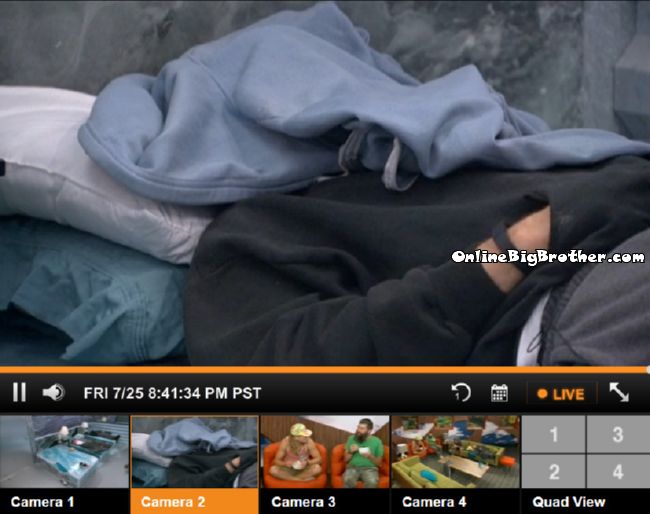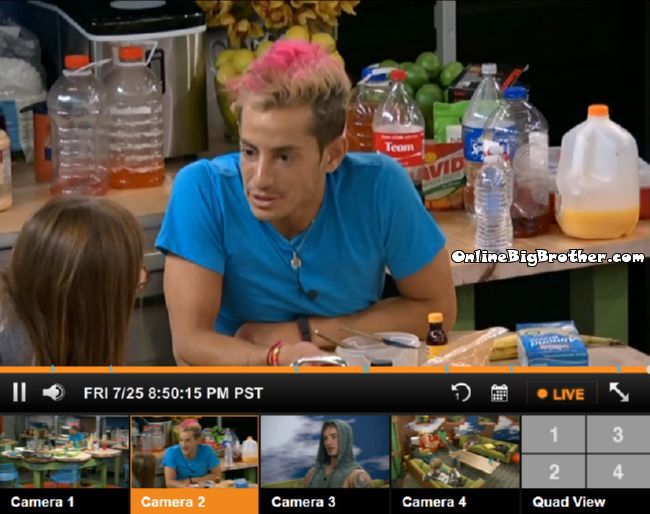 8:50pm Frankie and Christine Kitchen (Feeds keep cutting and out)
Frankie hopes to win the Veto so he has all the power this week. Talking about Zach, Christine thinks he's a saboteur. The following people are going to self destruct Zach, Caleb and Amber.Frankie brings up his super fans and students theory and how the students are getting picked off one by one. Christine says jokingly she hates Amber "I hate her so much" (because she said something that showed she doesn't know anything about the game"
They think Jocasta watches the shows but doesn't live and breath the game like Frankie and Christine do. Christine says Jocasta isn't worth a hill of beans.
They comment on how annoying caleb is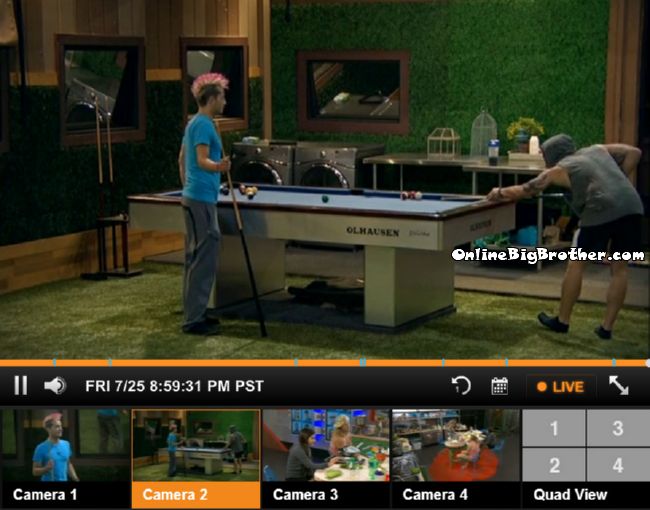 9:00pm Pool Frankie and Caleb
Frankie – "If someone uses the Veto I will be pissed after this now another death in the house it's too Much" (Odd way to put it)
Caleb – that is why when you get houseguest choice pick wisely
Caleb says if anything happens to his family he's going to leave the game. He's not going to let anything keep him from his family. He prayed to god to put a wreath of protection around his family while he's gone.
Frankie says thank god he won the HOH because Zach would be stomping around with ah power trip, "Everyone is so happy I won except for Victoria and JOcasta and even they are happy in a weird way"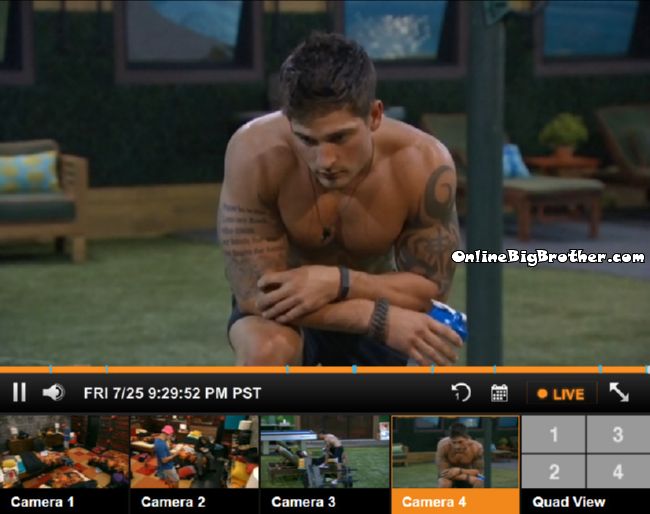 9:26pm Caleb and Jocasta
Caleb says Frankie, Nicole, Hayden and Christine told Zach that Amber was targeting him. Caleb told Amber that and all she told him "I'm good" He adds that Amber went to Derrick and Cody and said she's not talking to anyone anymore.
Caleb went to Amber after and told her he's trying to help her. She said she was good he should just go hang out with your boys. She blew Caleb off.
Jocasta – Where was I during this
Caleb says he's not looking at Amber anymore.
Caleb – For all those things I've done she's never thanked me once for it;
Jocasta – Really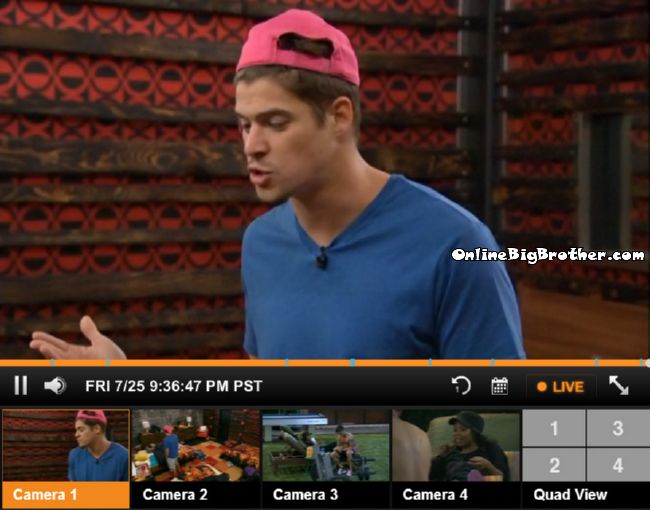 9:36pm Derrick and Zach
Derrick mentions how strange it is he just threw the HOH comp to Frankie becuase his Grandfather dies and now he losses his. Derrick -"I'm a month in Theres no way I'm leaving"
Zach – I like to get blood on my hands I don't care dude..
Derrick tells him to keep an eye on Donny because Derrick doesn't talk to him. ZaCH – "Hopefully caleb or Amber don't win the veto"
Zach – "Victoria is a f***g joke dude.. you're about to go on the block if you don't win and you are worried about getting makeup on your shirt"
Zach – We got to get Amber out before Caleb right
Derrick – I would think so depends on who wins the veto ..
Zach starts to leave – I want you in my ear every day .. I'm here for you if you need anything
Derrick – Thanks bro

Alliances
Zankie = Frankie/Zach
The Detonators = Derrick, Frankie, Zach, Christine, Cody
Final 2 Deal "The HITMEN" – Cody & Derrick
Trilogy = Nicole, Christine & Hayden
Team America = Donny, Derrick, Frankie
Old timers = Jocasta/Donny
Nicotine = Christine/Nicole
(Defunct or unknown status)
Bomb squad = Caleb, Amber, Frankie, Derrick, Cody, Christine, Zach, Hayden
Not a showmance= Hayden/Nicole
Los Tres Amigos = Derrick, Cody, Zach
The bottom Feeders = Derrick/Nicole
We hate Devin = Christine and Zach
Outsiders = Brittany, Victoria, Jocasta, Donny
Stalker = Caleb/Amber
Quad Kings = Derrick, Zach, Cody and Hayden (still being built)
One way to support this site that doesn't cost you anything extra is making your Amazon purchases through the links below Amazon.com OnlineBigBrother Link
For Canada use link Amazon Canada OnlineBigBrother
More polls here https://www.onlinebigbrother.com/big-brother-compendium/big-brother-16-polls/
[polldaddy poll=8207784]