Cody did campaign hard in the morning to Alex, Jason, Kevin. He wanted Alex to put Raven up instead of him they vote Matt out then. Of course this isn't happening.
Power of Veto Ceremony results. Matt used the Veto to save Jason. Alex nominates Cody to go up in her place.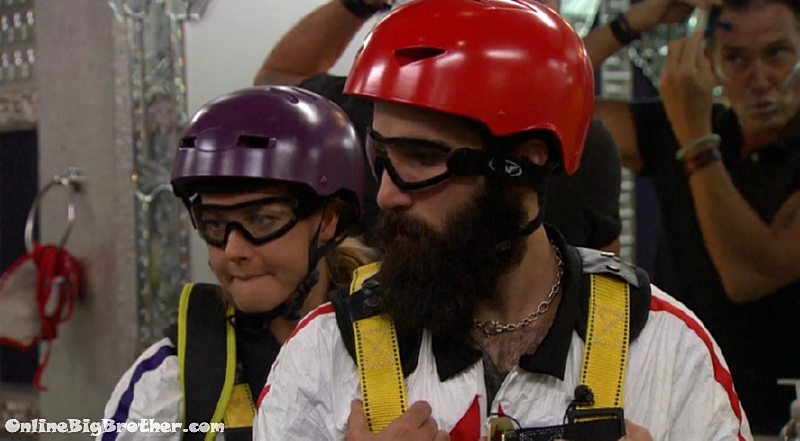 12:16pm Paul tells Christmas they got 7 more hours better enjoy it. (costumes)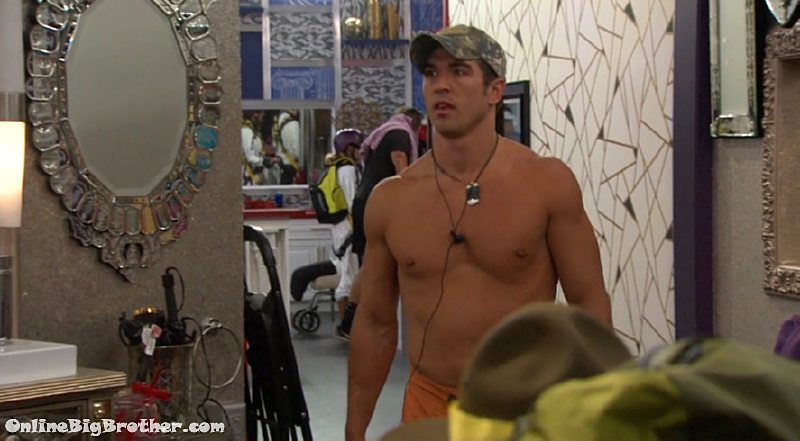 Cody walks by Alex and Jason
Alex – he did gain 10 lbs.. this house really puts the pounds on
Jason – I think Mark's bad too
Alex says Mark can suck it she'll kick him in his Baby d1ck"
Jason – he doesn't have a baby one
Alex – have you seen it.. he's got a baby one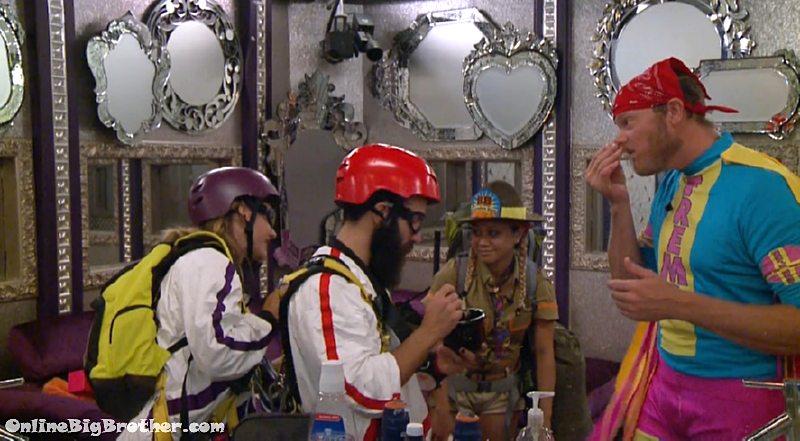 12:30pm Paul and Christmas going on that Everyone is happy that Cody is up except for Kevin.
Jason tells them they don't have to worry about Kevin at all.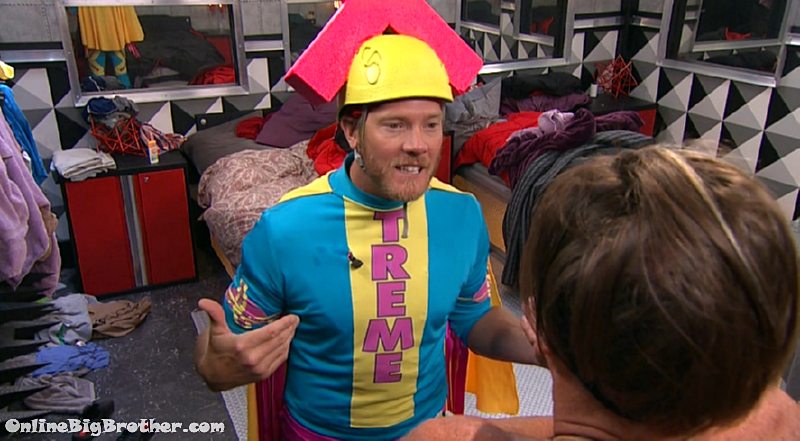 12:24pm Kevin and Jason
Jason saying that Christmas and Paul are telling people he's not happy now that Cody is going up and going home.
Kevin – I'm voting Cody out. just like I voted Jessica, Dominique..
Jason – I said kevin genuinely doesn't like somebody hurting
Kevin- Absolutely, I want Cody to go.. I'm voting against him
Kevin – now he's out in the yard… I want to go out in the yard like I always do every day. Am I friends with him if I go to the yard?
Keivn I don't like Cody..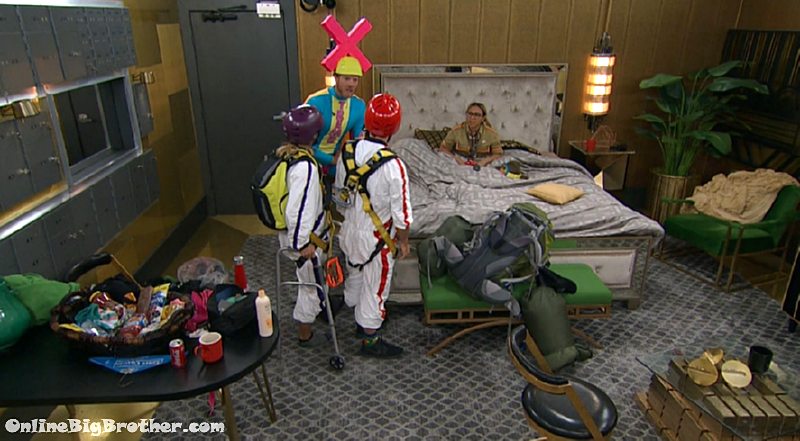 12:20pm HOH Alex, Jason, Christmas and Paul
Jason relays what Kevin told him when he mentioned people are questioning his mood now that Cody is up.
Alex – he's going to extremes because he's doing something shady
Jason – what's he doing though.. what could he possibly be doing
Paul – he's not the only person that hasn't been enthusiastic (about Cody leaving)
Jason – who gives a sh1t Cody has been up his b*tt like a razor blade, (HUH)
Paul is pissed because Kevin is "Humoring" conversations with Cody.
Paul explains that Cody "that mother f*er" is targeting Paul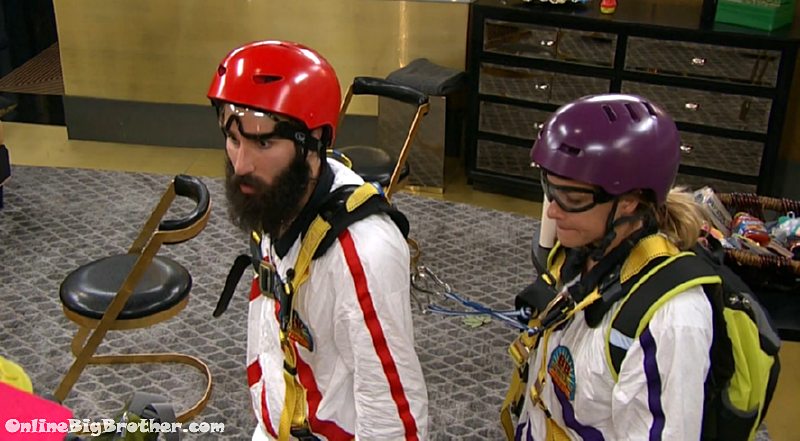 Paul – I'm going to put his a$$ in check and if that means he's going to come after me.. lets go old Man (So you all see the pattern yet?)
Jason – he loves you
Paul – I know he does but I need to put his F*ing a$$ in check
Alex – does he really love us or is he playing us
Alex – he thinks we're a bunch of stupid kids
Jason – he's playing his game ass backwards.. I'll tell you this right now..
Paul – he's told all of us it's me and you to the end I'll protect ya
Jason says Kevin never had that conversation with him
Paul calls horse shit says Kevin has had a final 2 conversation with everyone
Jason says not wit him
Alex claims that he did he said it was Kevin, Alex and Kevin till the end.. "that's the same thing"
Kevin joins them.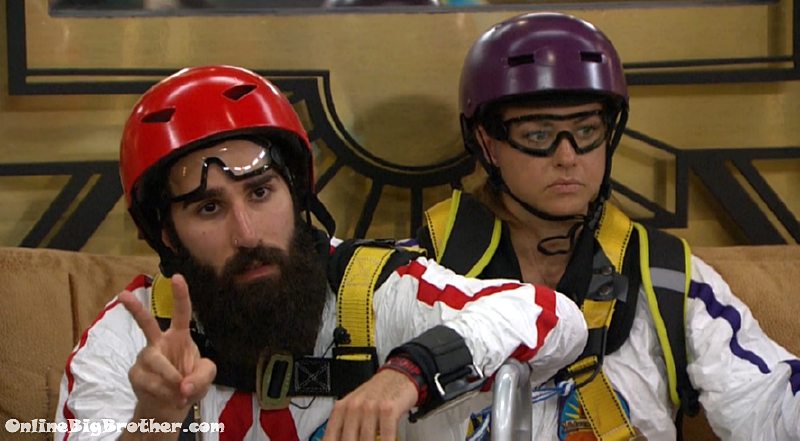 They start talking about throwing a vote to Elena to rattle her.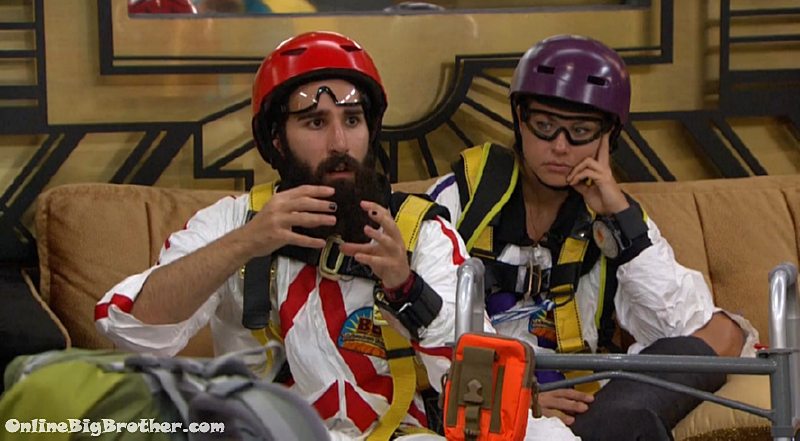 Paul – As cool as a guy he is he's playing this game really well.. He keeps chumming it up with enemies with the off chance he'll win he's not coming after him.
Paul says Kevin hasn't really done anything for them other than be chummy and a friend.
Alex says Josh has done more than Kevin for their game.
Jason says Josh drives him f*ing nuts
Paul – Josh got f*ing Jessica outta this game
Paul says Josh has told him he will never go after Paul, Xmas, Kevin, jason and Alex.
Paul – we have serious threats.. If mark and Elena win who are they putting up? Not Kevin.. One of us..
Jason – if he wins HOH (they're safe)
Paul – of course he won't.. But do you think he'll win HOH
Xmas doesn't think Kevin will win HOH
Jason – why can't we get Mark and Elena out..
Paul – this isn't changing the tide.. No .. (meaning Mark elena still out first)
Alex – it means we stop talking to him because he's dangerous.
Xmas – He's gunning for Matt..
Paul – matt has done d1ck for Kevin
Paul says Kevin saying he's missing his family is bullsh1t.
Paul tells them the same story he's been using about how Kevin told him that some of his kids don't even live at him anymore he only sees them once a year.. He doesn't miss his family, "I'm a grown a$$ man" Paul says Kevin told him. Etc etc..
Alex – he's lying to our f*ing face.. He;s in the DR making fun of us saying he's playing us..
Alex about Kevin – Don't buy into his bullshit..
Paul – I'm giving you my word If I win HOH next week I'm putting up those two sacks of sh1t up..
Paul says it would be Great if mark gets another week of Slop.
Christmas mentions how Kevin was getting made a few weeks ago about being a pawn.
Paul says out of the two Mark or Elena he really doesn'T give a f* which one goes.
Xmas – he's a better competitor and he's pretty f*ing smart
Alex points out that Elena is trying to regroup socially while Mark is more like "F* it"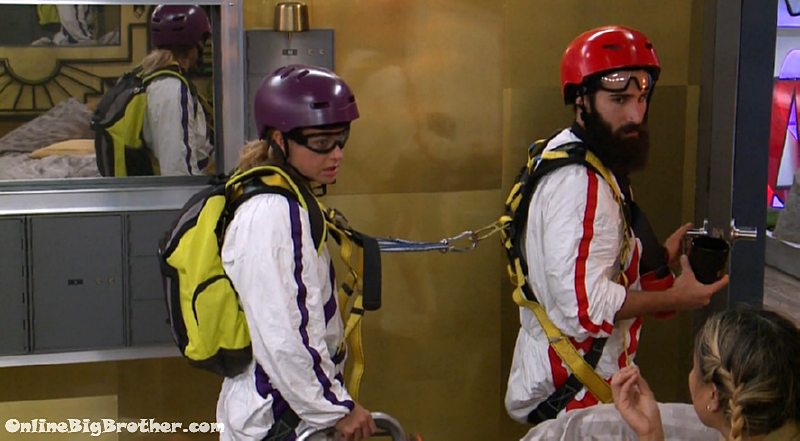 12:59:53pm Paul about Mark "He's a f*ing a$$hole"
Xmas about Elena "She's more paranoid"
1:19pm Kevin and Mark
Kevin is pissed that he's being accused for him talking to Cody. Kevin says Cody came to him and after that he told everyone. Kevin is sick of this shit he can't win at the physical competitions so he needs to be social and hang out.
Mark tells him he's got his back..
Kevin adds if you are going to say that he's talking to Cody then have something to back it up.
If you plan on buying anything from Amazon. Use this link Amazon home
Doesn't cost you anything and we get a small cut.
Links to the ranking system
Rank your house guests here
For those of you that like Statistics here are some expanded reports.