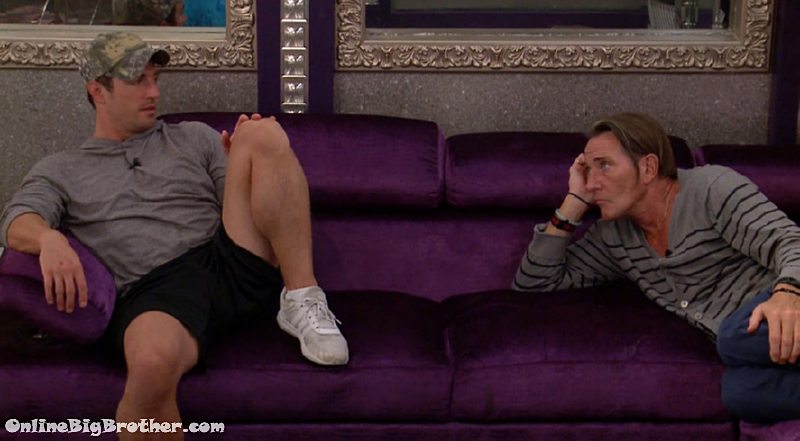 9:00pm Cody, Kevin and Paul bathroom
Kevin says he's hungry, he might just wait until Alex has to make hot dogs.
Kevin asks Paul if he would be allowed to make some hot dog. Paul doesn't think Production will let him the hot supplies are for Alex's punishment.
Xmas – you smell so nice..
Kevin – thank you
9:07pm Alex and Jason rolling around they're "too Full"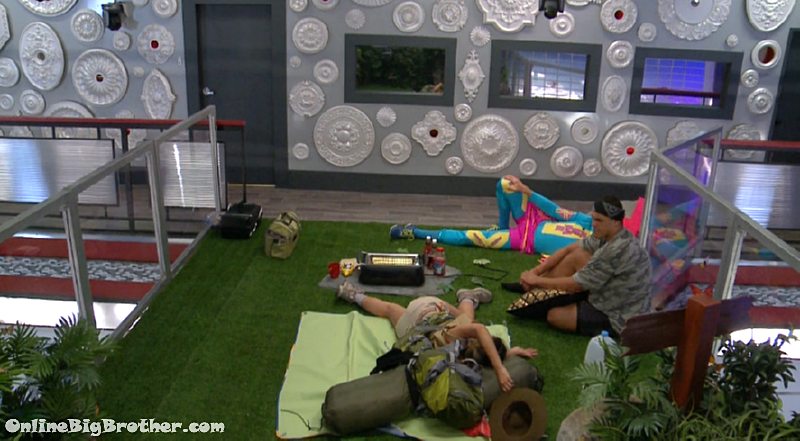 JOsh comes up to them.. Looks at Alex "OH MY GOD YOU'RE BuZZEd… you're buzzed"
Alex – I'm full as f*
Alex – i'm too full to be buzzed
Alex show him with her hand how much she drank
Josh – that's a lot of beer
Alex – yeah but we ate a lot of food, I'm so full
Alex list off to josh all the things she ate in 1 hour: Fries, Salad, steak, Lobster, potato, 2 Beers, brownie, Ice Cream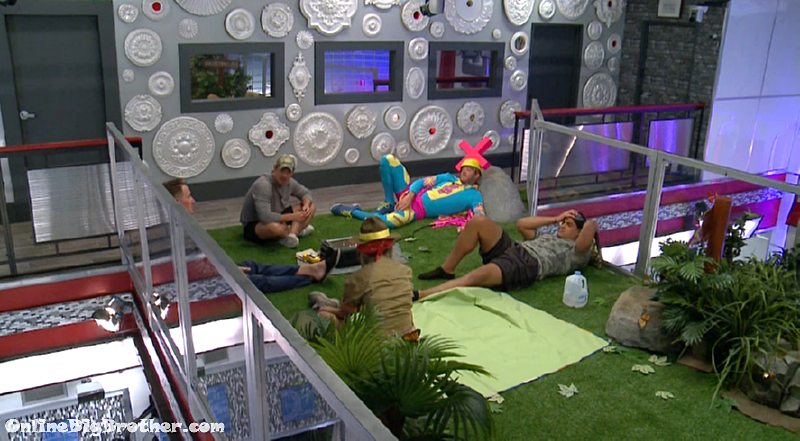 9:24pm Alex, Jason, Kevin and JOsh on the Sky bridge. Alex calls Cody up to hang out with them.
Chit chat.. Cody mentions that the camera is never on him anymore.. (unless it's in the morning because COdy wakes up 2 hours before everyone else)
Kevin, Josh and jason Sky Bridge..
Kevin – does Tiger (Alex)have a soft spot for Cody…
Jason whispers she's just trying to freak out Elena..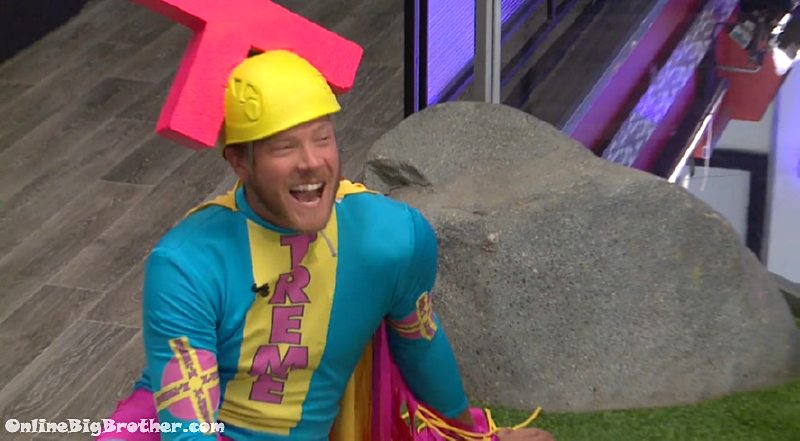 9:34pm the left side of Jason's face is swollen some people think it's the lobster other's think it's the onion..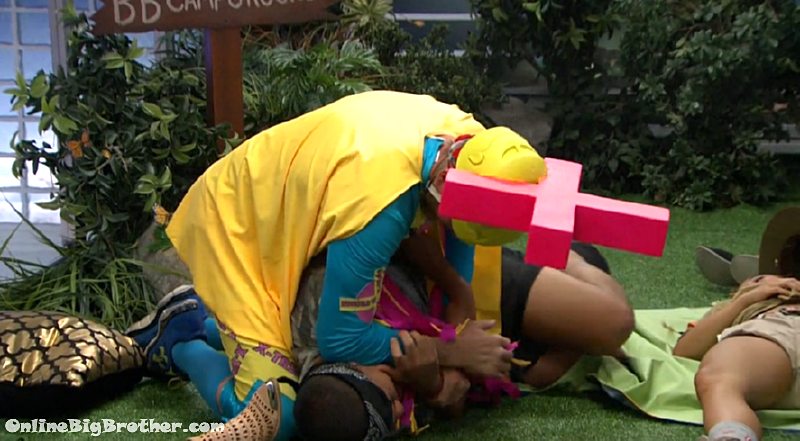 JOsh and Jason start wrestling..
Josh – No NO NO please Whistle.. I can't breath… My nick .. My neck .. pleas Whistle My neck.. For real my Neck…
Elena – Jason you look ridiculous your whole face is swollen
Josh gets a bit scratched.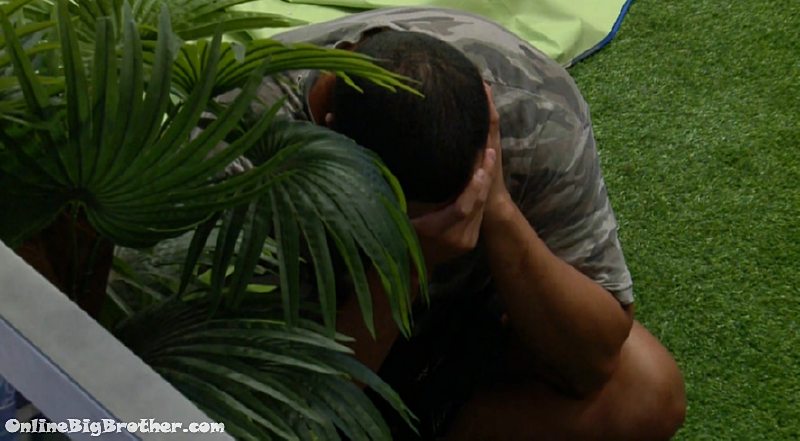 Elena – how do you eat cereal in the middle of the night then go back to sleep… (Matt)
Josh – when I was HOH i left the TV on sometimes… and he's eating cereal..
Kevin – I thought he pisses I didn't know he ate cereal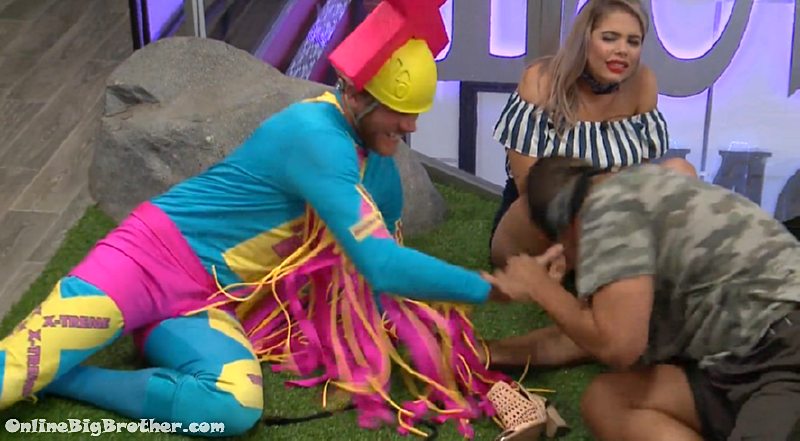 Josh and Jason back to wrestling..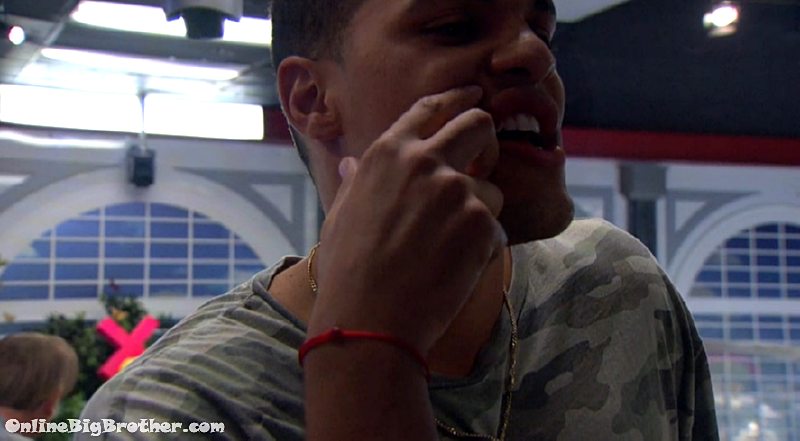 Josh – he thinks I'm a bull
Josh gets his eye hurt.. Pulls out ketchup and Mustard threatens to spray Jason down… Josh wants him to say sorry for hurting his eye. Jason says if any of that touches him Josh is going down like a ton of bricks.
Jason – If that sh1t f*ing hit me I'm hurting you…
Jason – if that hits me.. I'm dotting your eyes..
JOsh – say you're sorry and you won't smell like mustered and ketchup all week
Kevin – He ain't saying he's sorry
Jason – if any of that shit hits this outfit I'm going to f* you up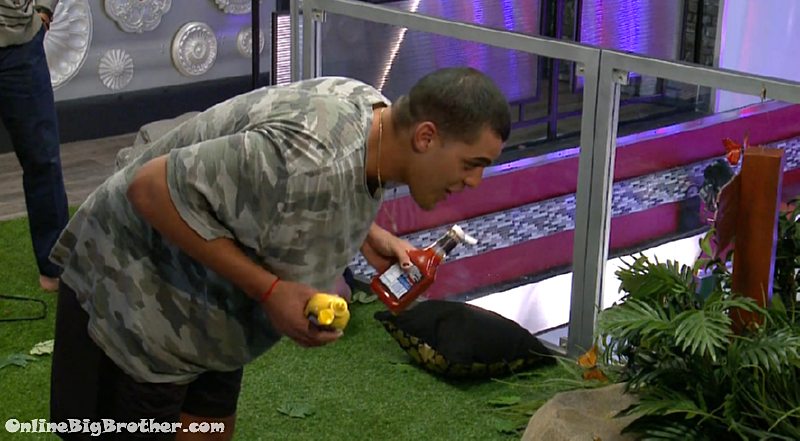 Josh – Say it.. Say I'm sorry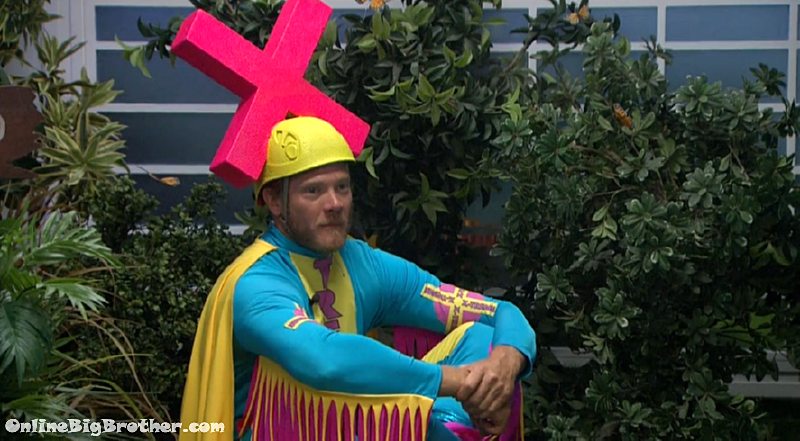 Jason – it's not happening.. you better think of it long and hard
Josh – you got a minute and a half..
Jason – you better apologize right now ..
Josh – look at my eye…
JOsh – I'm sorry that's what you need to sorry
Jason – apology accepted you just went about the right way about it..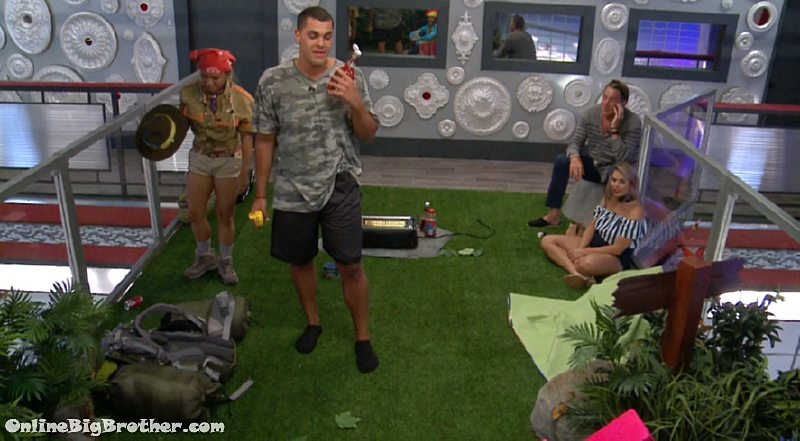 Kevin – JOsh josh give me that..
Kevn – Josh stop man…
Kevin – Chill.. Stop stop./. relax.. he's a strong dude…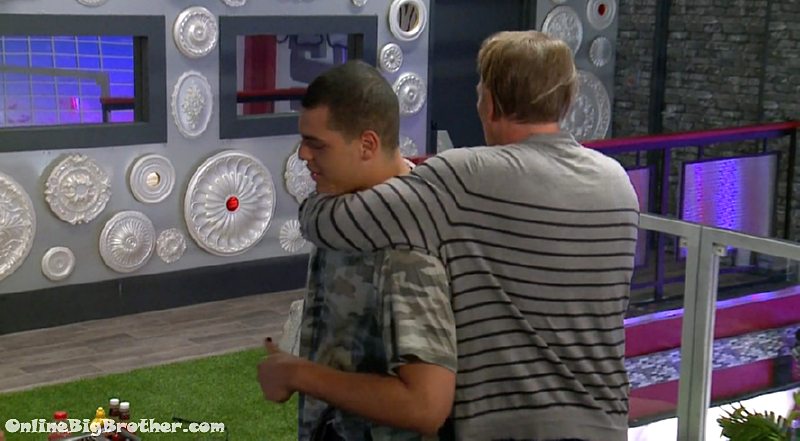 Josh – he almost killed me
Kevin – you're antagonizing him..
Josh – he thinks I'm a bull #BB19 @DawgsBigBrother pic.twitter.com/IvYX4ndT0V

— OnlineBigBrother.com (@bigbspoilers) August 14, 2017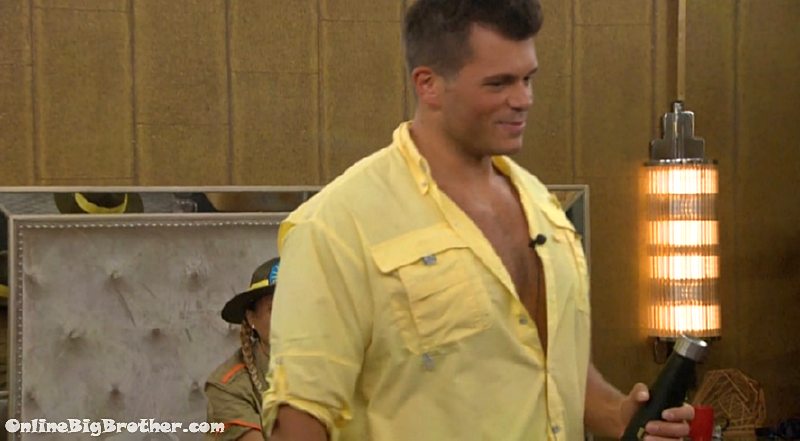 10:11pmHOH Mark, Alex, Cody, Matt, Raven, Jason..
Mark says he's drunk. "I'm spinning a little bit"
10:39pm Cody, Alex and Jason
Cody is trying to stay in the house and team up with them to take out Paul.
Cody says he took a shot nobody else is going to take a shot at Paul.
Cody – if you put me up can you help me to get the votes..
Alex says that Paul is slowly losing his grip. People in the house are getting paranoid at how strong Paul is.
Alex – right now he has the whole house untied..
Alex – this isn't a traditional session people aren't fighting to win.. there's wanting to ride our coattails.. there's only a few winners..
Alex – if we can get enough people out and get enough people to stay we could potentially get Paul out.. ( What the fuck )
Jason – we've talked about that even more.. I feel like that's no sh1t .. like I feel like that he is going to be.. this week is going to be f*ing crucial if it's a double evict…
Alex claims that she single handily imploded his alliance "They were strong and tight I infiltrated and destroyed it"
Jason – destroyed it …
Jason tells Cody it's a risky deal what he's proposing the house will sh1t the bed.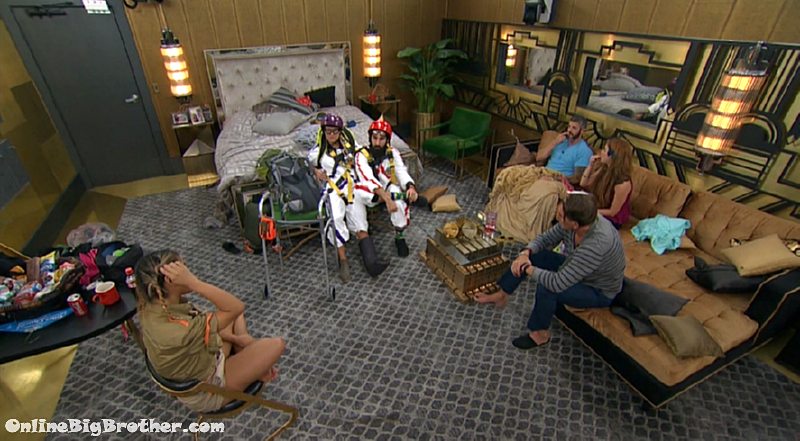 11:39pm HOH
Talking about Cody campaigning to Alex.
Paul talking about Cody around the house.
Paul – I thought it was Josh's BLOB A$$ in the bed it was Cody..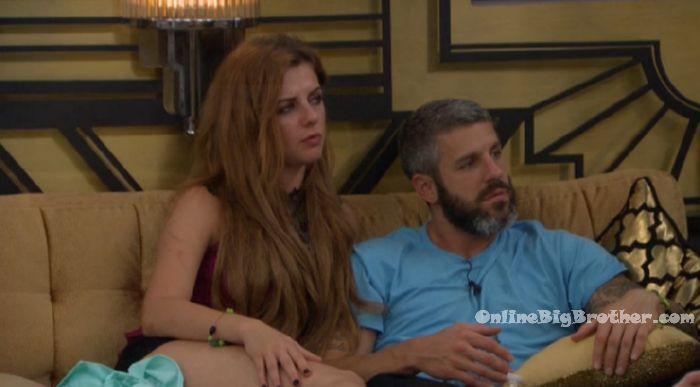 11:55pm HOH room. Alex, Matt, Raven, Paul, Christmas.
Elena joins them. Matt – are you excited with your trip to Colorado with him (Mark). Elena – no. When he asked me I asked wouldn't you rather go with Josh? Elena then leaves the room to go to bed. Alex tells Paul that Cody thinks he is the devil. You have so many cool names. Paul – he said I was the devil? No way. Alex – yes. Kevin will not relinquish his hold on him. He needs to stay glued to Jason right now for whatever reason. Paul – why? Alex – I don't know, he won't let him go anywhere by himself. Paul – can you explain the devil thing? Alex – Jess tried to make a deal with the devil. Matt – dude he is obsessed with you. Paul – that was to get you (Alex) out. But you knew that. Alex – he said that Elena and Mark convinced Jess to do that. Paul – nope that was fully her idea. Alex – she said that you were the devil and there was no way she was ever going to keep it no matter what. Paul – so that's what the deal with the devil was.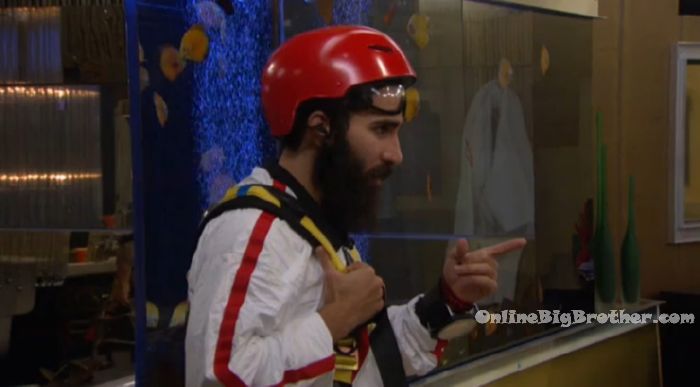 Check out our BB19 Ranking Grid. . rank your houseguests here
Alex – when I have to deliver the hot dogs he will probably follow me to see where my head is at. Paul – deliver his hot dog first and then ours. If he is following you I'll get up and follow you. Paul – so when you do put Cody up what are you going to say? Alex – no, I thought I would just do it. Paul – I am curious what his veto speech will be. Can I just follow you around all day so that he can't talk to you? Christmas – that would be hilarious because I have to follow you. Alex – Jason called him out on his showmance. How that was a stupid thing to do.. you sunk your own ship because people didn't like her. Cody said people liked her. Jason said he didn't like her. Jason apparently told Jessica day one that they weren't going to get along.
12:30am Bathroom. Mark and Elena.
Elena – I'm nervous for you (taking the havenot temptation and getting another 2 weeks as a havenot). Mark – don't be, I'm winning Thursday (HOH) either way.
Mark "I'll tuck you in"
Elena "Looks like you're already tucked"#BB19 @bigbspoilers pic.twitter.com/I6BNGTLJ39

— Dawg (@DawgsBigBrother) August 14, 2017
12:40am HOH room. Paul, Raven, Christmas and Alex.
Alex – what I don't understand is what does Elena need to pay for after where she needs so much money. Christmas – it doesn't matter, all it shows is that her word means sh*t, her loyalty means sh*t. Paul – did you not tell him, if we don't get rid of him .. the house will? Alex – that's what I told him. He said you need to draw lines and that we're going to go out right after. Christmas – that's pretty sh*tty.

See what they can't show you on TV Try the live feeds for FREE!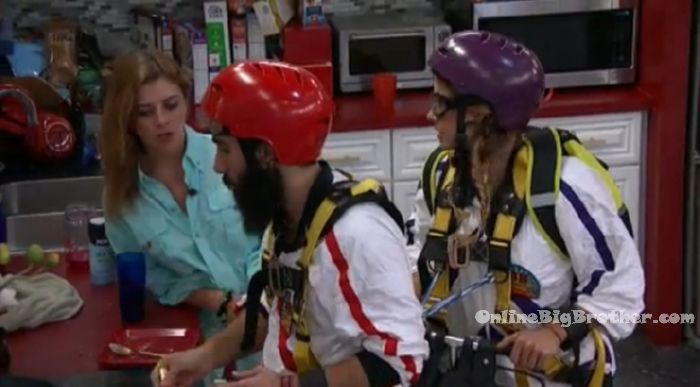 1:15am Kitchen. Paul – if Mark gets two more weeks I will literally laugh my d**k off. Raven – he went to go get the key? Paul – yeah. Raven – has he come out yet? Paul – I don't know, not out of the closet. Raven – why would Mark go get the key. Paul – because he is a v@gina. If he gets two more weeks I will blow my load. He won't be able to compete. Raven – he wants to be on survivor. Paul – he can't last two days without eggs. If he gets the two weeks, I will f**king die. Raven – I love this game.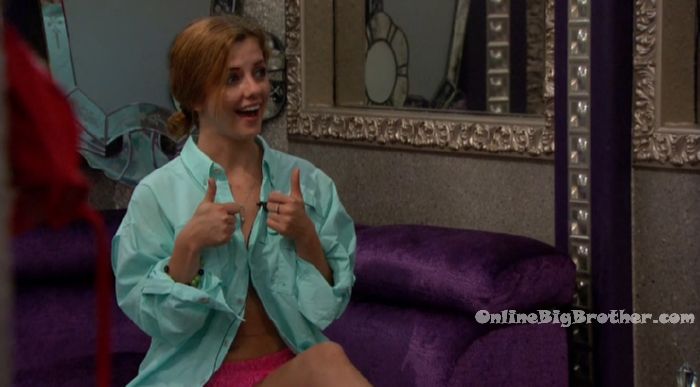 1:35am Havenot room.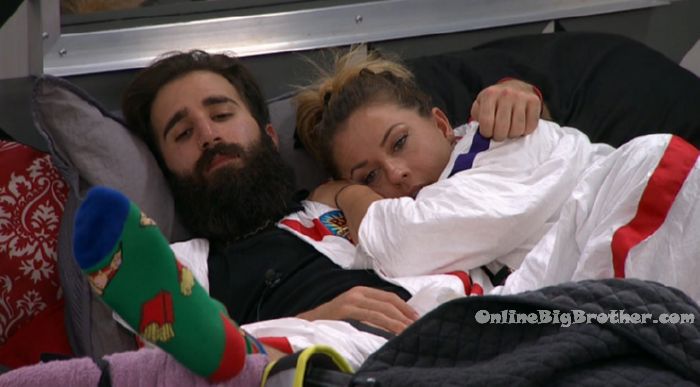 1:50am All the house guests are sleeping..
2:10am – 2:40am Backyard. Kevin and Mark playing pool.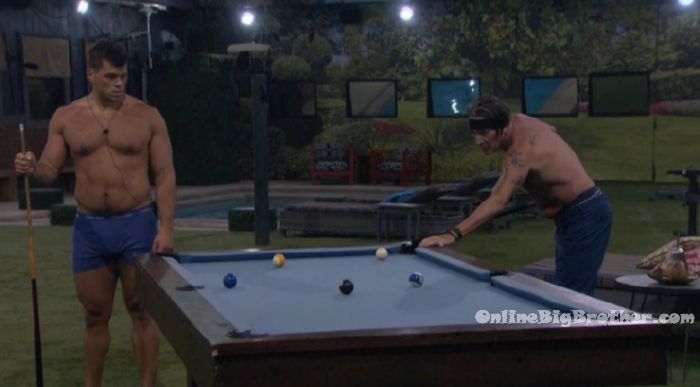 Matt doubling up on his game..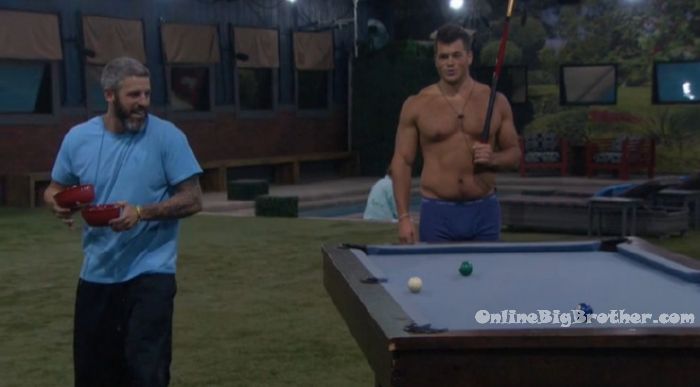 2:45am Matt and Raven head to bed.
If you plan on buying anything from Amazon. Use this link Amazon home
Doesn't cost you anything and we get a small cut.
Links to the ranking system
Rank your house guests here
For those of you that like Statistics here are some expanded reports.