Mark goes for Purple…
He gets Green! meaning he's a have.
Mark Gets GREEN! now a have #BB19 @DawgsBigBrother pic.twitter.com/weyhX6sY7r

— OnlineBigBrother.com (@bigbspoilers) August 14, 2017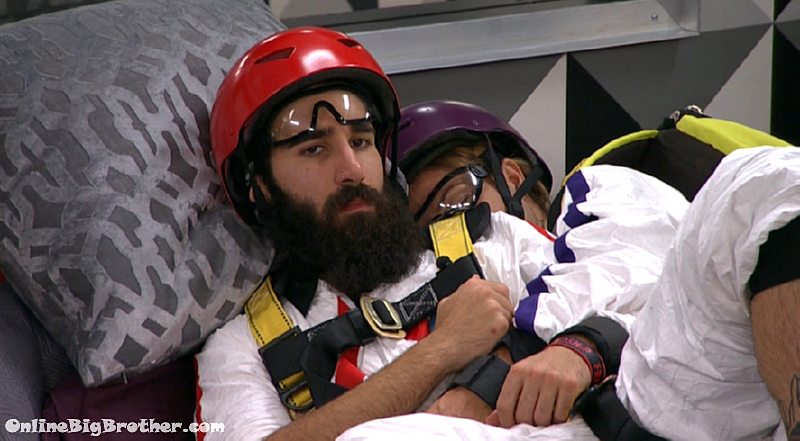 2:00pm Christmas and Paul Have nots
Paul – Mark is such a sack of sh1t
Xmas – such a f*ing dick head
Paul – I'll do my best to send his a$$ out next week
Xmas – dude that will be so f*ing satisfying
Xmas – he's such a F*ing d1ck head.. Like No F*ing consideration for anybody else.. No wonder him and Elena are f*ing playing together because they're just the same.. . What a f*ing d1ck head..
(I believe they are pissed because Mark is suntanning with his bum cheeks exposed and it's making Matt/Raven so uncomfortable they don't want to go outside. Also Mark took 2 of Paul's Pillows. If you want to see Mark's suntanning check out my twitter page. )
Xmas – you don't have to like somebody to still not to be a D1ck head to them.. (ZOMG!)
Xmas – walking out with the greed f*ing key in his hands..
Xmas – we're in the home stretch
Paul – everything is easy it's just this f*ing helmet
Paul about Kevin "when I talk to him tonight i'm going to put his a$$ in check"
Xmas – yeah because he's been having conversations with mark 2:30 in the f*ing morning.. Not finishing the pool game..
Paul – if we don't scare him a little he'll keep f*ing doing jit
Xmas – mmmmhmmm..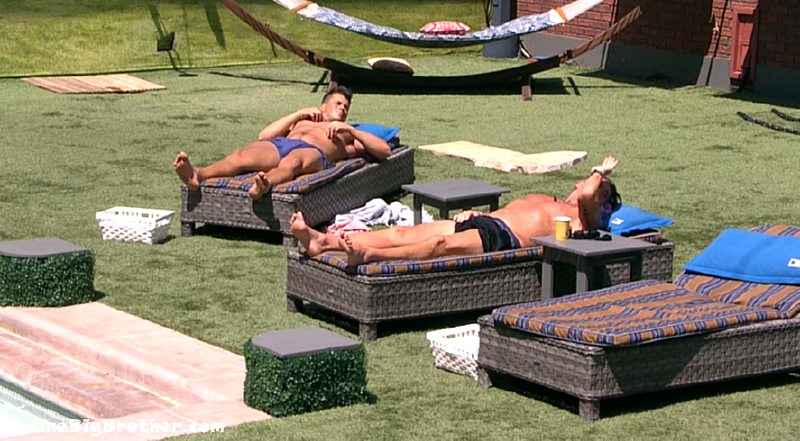 2:14pm Kevin and Mark
Kevin says the best thing for them to do is relax outside all those people in the house scrambling around talking game.
Mark – you can talk all the game in the f*ing world… Cody's going home..
Kevin says he's getting shit on for talking to Cody.
2:25pm Production is letting everyone sleep and chill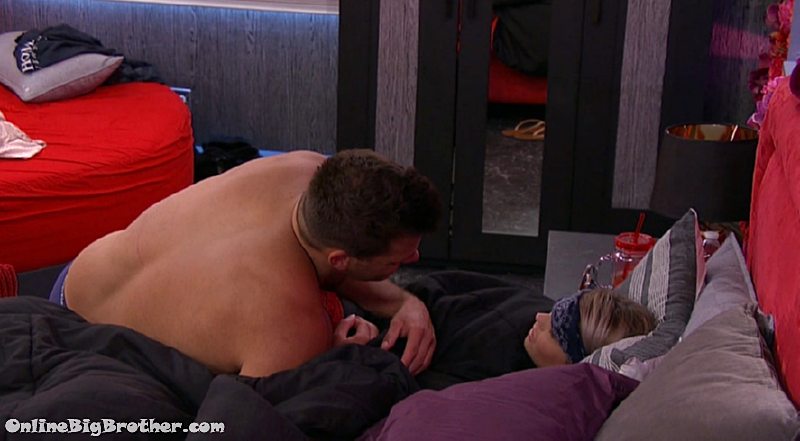 2:31pm Mark and Elena
Mark – all we have to do is win the HOH. I'm on a roll..
Mark says Kevin seems to be getting pissed. Something about people saying he's talking to Cody.
Mark mentions that Raven asked Cody if he wanted Chicken tacos. Kevin noticed it.
Mark said 1000 percent that he went for the Have not temptation because Josh was saying he's sleeping in the same bed as Elena..
Elena – good lord Mark..
Elena laughs
Elena – what a romantic gesture..
Mark talking about targets if he wins HOH.
Mark – Christmas goes home.. that is a waste.. I'm not going to touch Matt and Raven cause I want to keep their trust.. I'm not touching Jason or Alex..
Mark – WIth Paul if I use him as a Pawn he won't be happy about it
Elena – he wanted to use you as a pawn
Mark – Yeah and I was f*ing pissed
Mark – I don't want to touch Kev but I might have to.. with Josh on teh block.
Mark – I can't depend on anyone beside you
Elena – I would put you up if I won
Mark – don't backdoor me give me a chance to play Veto..
Elena – ok deal..
They kiss…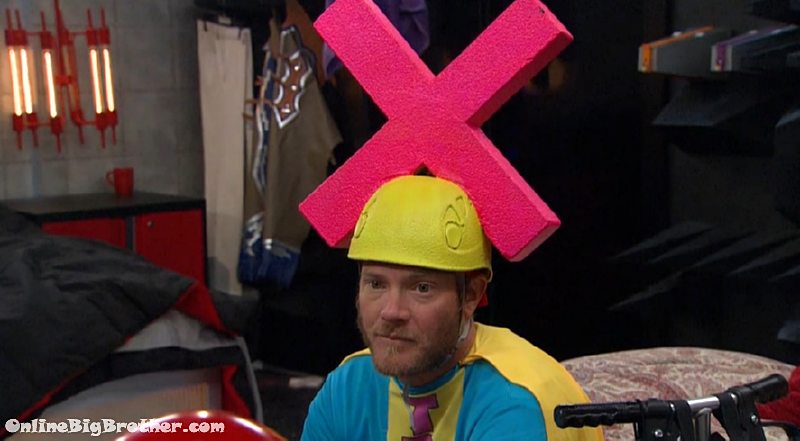 2:35pm Jason, Paul and Christmas (Sleeping)
Paul – I'm going to put him in check today… I'm telling you if Mark and Elena win they aren't putting him up they're putting one of us up..
Paul – I'm going to call Mark out on all his bullsh1t.. that guy is a f*ing prick dude.. he's walking around like he's got the vacation now I'm getting HOH.. F*ing sack of sh1t.. (here we go again)
Paul about Mark – I'm trying to get that giant sack of sh1t out
Paul about Mark – you giant Vag1na
Jason laughs
Paul – now Cody's not talking to anybody.. he would have jumped right back to mark and Elena it would have been those three..
Paul – Matt and RAven will never go with them, Matt will never go to Elena.
Jason says Matt and Elena aren't that annoying anymore
Paul points out that Matt threw a comp to get on the block won the veto didn't use the veto on himself.
Paul – he doesn't what he says what he's trying to do, he's not trying to f* around..
Paul says if they get COdy and Mark out on this next Double eviction nothing is stopping them.
They laugh that Mark might put Matt and Raven up. Paul says Mark might do Xmas/Josh and Back door
Paul – we'll sic Josh on him Thursday to rattle his bones a little bit
mark comes in..
Paul starts calling COdy a prick saying that he came into the house with a personal vendetta against him.
After Mark leaves..
Paul – I hope it's double eviction.. I f*ing hope.. If I win I'm picking you to play the Veto and you pick me..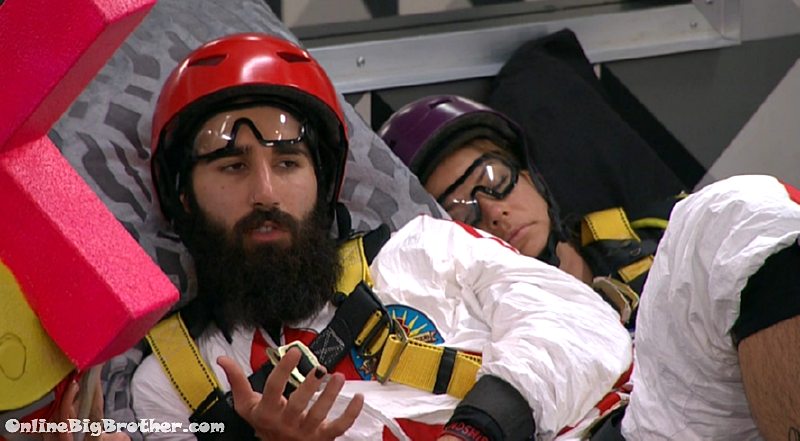 2:54pm
Paul thinks the HOH will be endurance.
Paul – just make sure you have good energy.. we'll sleep before (HOH on Thursday) .. we'll rattle him up (Mark) and then we'll have Josh talk sh1t to him when we're in endurance
Paul – WE're doing good
Paul says he's going to "poke" Kevin tonight
Paul – I'll be like FOOL don't f*ing look at me like that I see what you are doing .. Like what is it.. don't..
Paul – don't be just looking at me you got something to say.. say it
Jason – exactly .. I mean f* you
Jason – you think you're outta the loop
Paul – you're a idiot
Jason – pull your head outta your a$$
Paul – hopefully it'll be aggressive.. I'll be like hey what are you doing.. why do yo think you're out of the loop
Jason – he'll be like Huuuu Uhh h bub bub bub bub.. .then he'll chill
Paul – then we'll be here and talking.. start joking around..
Paul – I got to explain to him the costumes are annoying.. we're not a good mood.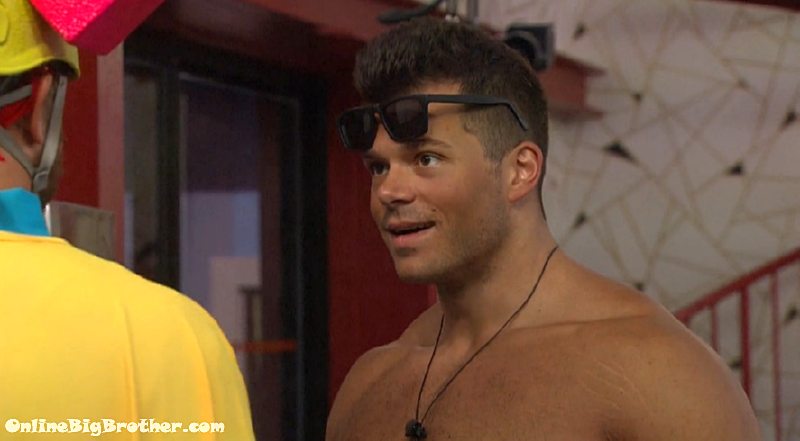 2:59pm Mark and Jason Kitchen
Jason says Cody was campaigning hard to get Matt out.
Jason – it's going to be 7-1
Mark – HOH Thursday, you good?
Mark – you guys close to Josh alliance wise
Jason says he's just with Alex
Mark says he just has Elena.
Mark – I feel good with Alex.. I really want to win (HOH)
Mark says if Elena wins HOH he's in her ear he can tell her to leave Alex and Elena alone.
Mark says he has to win HOH to smooth things over with them.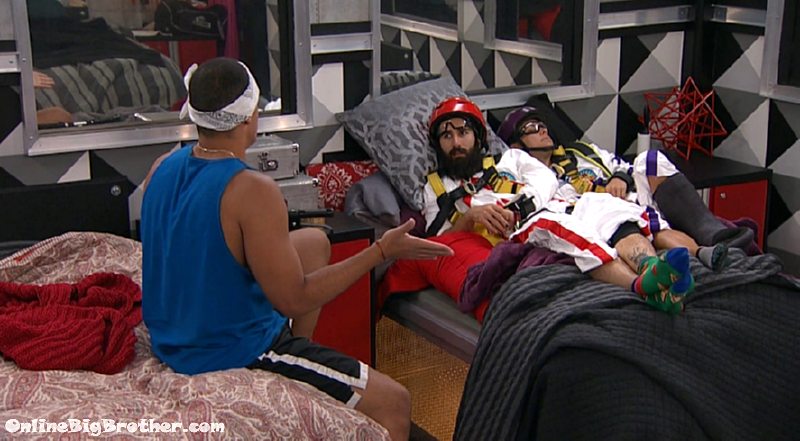 3:06pm Have nots Paul, Josh and Christmas
Paul calling Mark a sack of sh1t saying that Mark stole 2 of his pillows
Josh – not only are they shady they are also greedy
Josh says Elena and Mark never do any cooking..
Paul – we get that Fool out next week
Josh – I'm going to win HOH and make that fool's life a living hell
Josh says Cody was trying to flip the house on them three and Kevin was in on it.
Paul – I'm going to push his buttons today.. (I hope Kevin destroys you)
Josh – I was fooled by him.. I thought he had our back..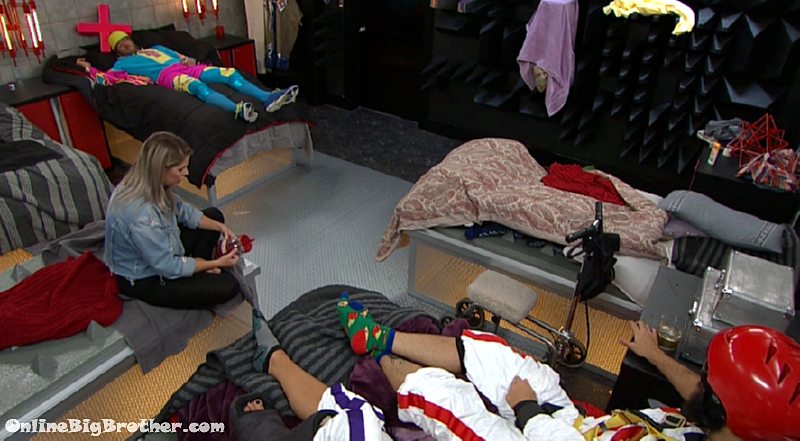 3:35pm Paul, Christmas Jason and Elena
Paul calls Cody a C*ck head because he was trying to rally the house against him this morning. Paul says that Cody. Paul says if he had won the veto Cody would have campaigned to him but instead of being against him he would include Paul in his plans.
Jason says Cody was really slick this morning, "Pulling on my gut strings" (HUH)
Kevin joins them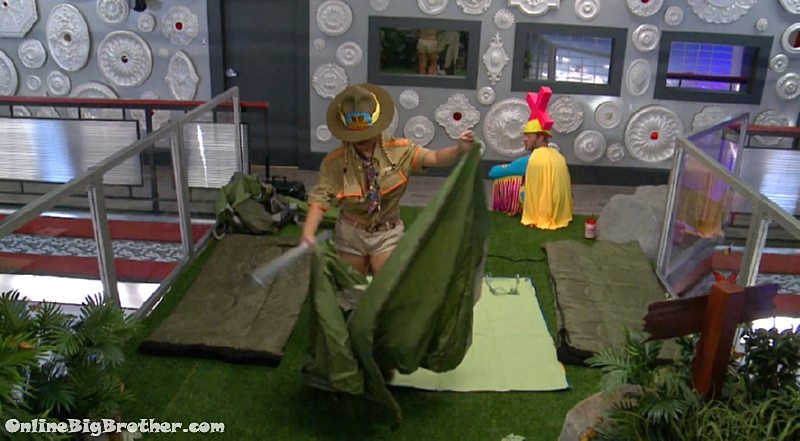 4:00pm Trumpets sound. Jason runs to help her. Alex has to haul the camping gear to the storage room and get the hot dogs. Then go up to the sky bridge assemble the camping gear and make the hot dog.
Alex says she's made hot dogs 6 times so far.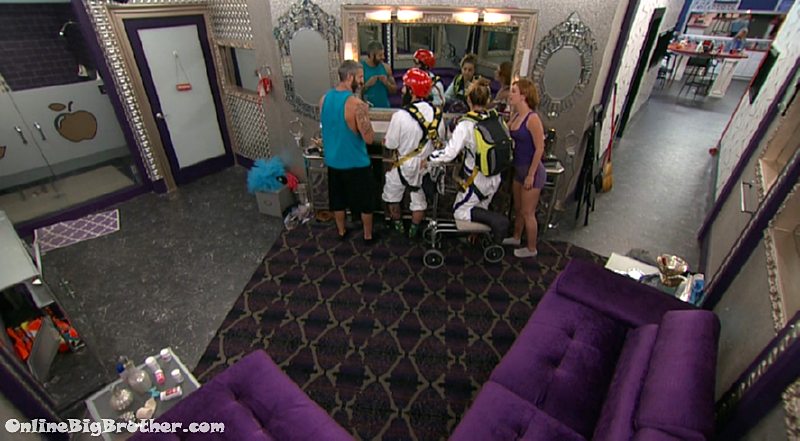 4:11pm MAtt, Raven, Xmas, and Paul
Raven says that Mark told Jason that he wants to vote out Matt and Keep Cody.
Paul to Matt – you ready to go ham in a couple days..
Kevin comes by. they tell him
Paul – is he insane..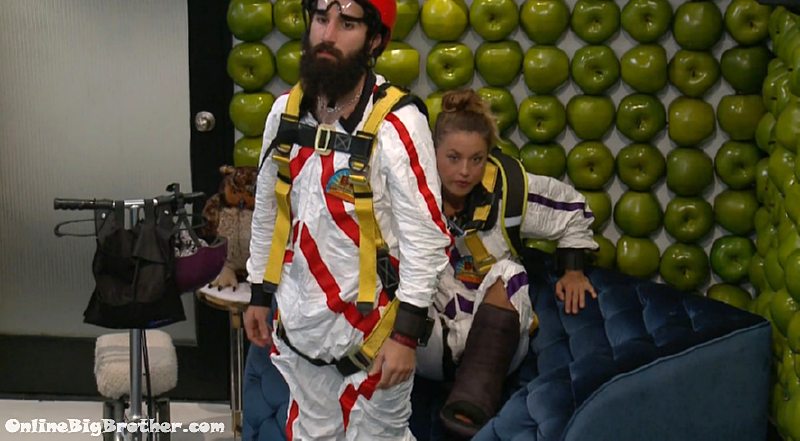 4:45pm xmas/Paul raven and Matt Paul doing his new favorite thing calling Mark a Sack of sh1t ..
Earlier Raven was complaining that she hasn't been called into the DR for 2 days.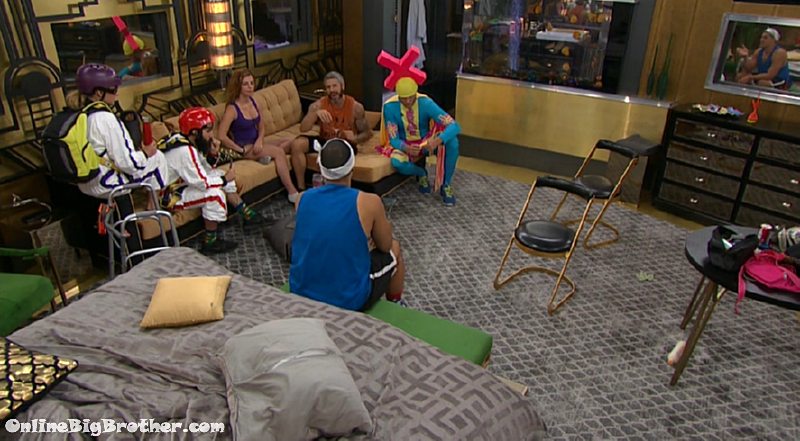 4:53pm HOH JOsh, Matt, Raven, Jason, Paul and Christmas
Plotting against Mark.. Sack of shit piece of shit.. etc etc…
They plan on dropping some truths on Elena and Mark to rattle them on Thursday.
Paul says he can't wait for Mark to leave.
Raven calls him the worst.
Matt says he eats all the cereal. (LOL hahahaah)
Raven mentions how he ate all the Gorilla munchies.
Etc etc.. sack of sh1t.. piece of sh1t.. the worst.. Eating all the food..
If you plan on buying anything from Amazon. Use this link Amazon home
Doesn't cost you anything and we get a small cut.
Links to the ranking system
Rank your house guests here
For those of you that like Statistics here are some expanded reports.