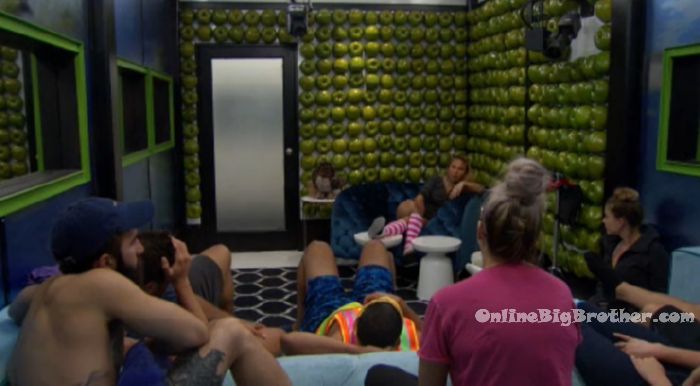 Check out our BB19 Ranking Grid. . rank your houseguests here
9pm Lounge room. Mark, Paul, Christmas, Alex, Raven, Matt, Elena.
Josh – I'm just going to win HOH, give an epic speech and put them back up. Paul – I am never f**king with Raven. Josh – f**k no. Raven – she just kept coming at me and all I've done is helped her. Josh – I will say Jessica is scary when she gets mad. She had veins coming out. They're going to try and stir the pot, even if they don't win. Paul talks about how now its a dud week after he worked so hard to make it happen.
Mark and Josh best buds…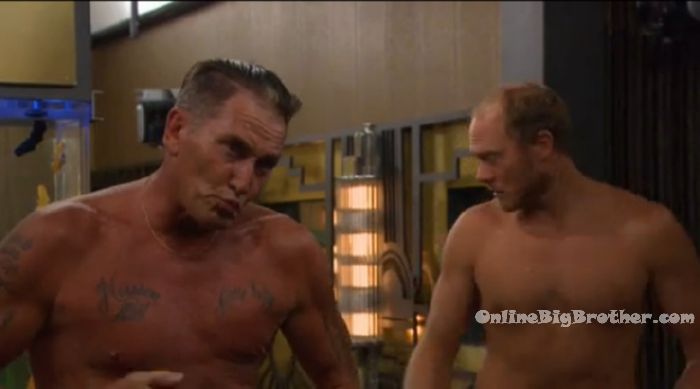 9:10pm HOH room. Kevin and Jason.
Kevin tells Jason that his house was taken from him in 2008. He and his wife had saved for 25 years for it and it was taken from them. Josh – why? Kevin – my father went to prison and I was indited. They seized it from me. I had neighbors bidding on it. I went outside with a bat and called the police. Jason – that is horse sh*t. Kevin – my father went to prison and I had to get money to pay for his lawyers. Me and my kids had to leave the neighborhood they grew up in. They had to leave all their friends and move to a new town. Then we rented for 7 years until 2016. Then I bought my house where we live now. Otherwise I was paying $3,000 a month rent, just rent. No mortgage. You know what I started doing .. drinking. You start blaming yourself. My reason for being here is for my sanity. My daughter went to highschool and stayed in the ladies room for 2 months and I had no idea. When your daughters are crying and there isn't anything you can do about it. I started drinking really heavily… like 3 times a week. After the life I lived and all the money I gave to people, I had nothing to fall back on… nothing. Try being 55 and having nothing to fall back on. You want to go rob a bank and then you don't care if you go away. These motherf**kers complain about how many Instagram followers they have. F**K OFF! Jason – remember that when you wonder why you're here. My wife told me this wasn't up my ally but I wanted to do it because its the biggest stage I've been on. Kevin – these motherf**kers aren't going to beat me at nothing and this is their game. I haven't even seen it. My kids used to yell at me to watch the show. And I would be like no, I'm going to the bar. Its just about social skills and being a human being.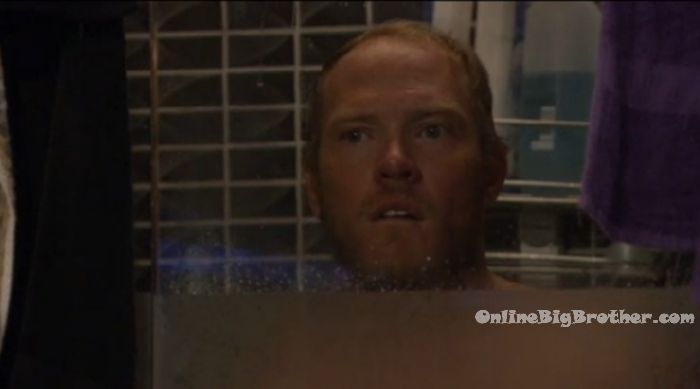 See what they can't show you on TV Try the live feeds for FREE!
9:20pm Havenot room. Jason and Alex.
Alex – talks about her fight with Mark this evening. He was scared. Why is everyone in this house such a v@gina? No, that's an insult. Why are they such a b***h? Jason – I'll tell you why I'm a v@gina. Alex – he (Mark) is probably going to want to talk to me. Anything I say Jessica said.. back me up because you were "there". Jason – sure, that's good. Alex – so now you think they're back to no using it? Alex – no, because they f**k us all the time.

9:36pm Storage room. Jessica and Cody.
Jessica talks about the lady in the diary room – The only thing she could have done better was to come in there and give me a hug. I don't know who that woman was but I'm a big fan. Super sweet. Its nice to have someone that was just so nice. Cody – yes. They head to the bedroom. Jessica – this is just crazy .. all of it. Jessica – here's another fun fact. 5 people have won all the comps out of 17 people. Cody – you can do me a favor, don't engage with anybody except me.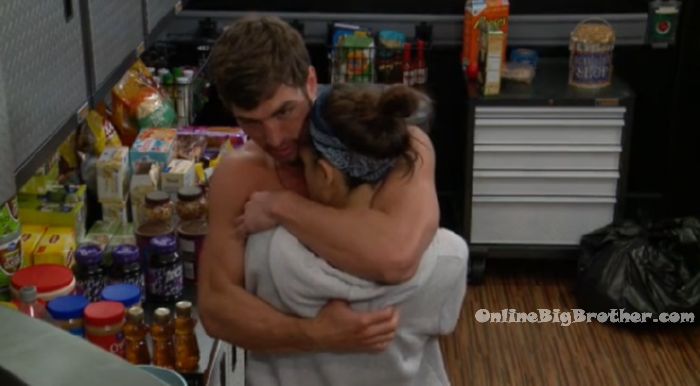 9:45pm Bedroom. Kevin, Mark, Jason.
Mark – that sh*t that happened to day was crazy. Jason – my a$$ was slammed so tight.
9:45pm HOH room. Matt and Raven.
Raven – I don't think Jessica is going to be friends with me outside the house. Matt – its so sad. I really like Jessica. Raven – I like her as a person too. Matt
Raven – I think I won that screaming match. Momma didn't raise no southern bell but Momma didn't raise no b***h either.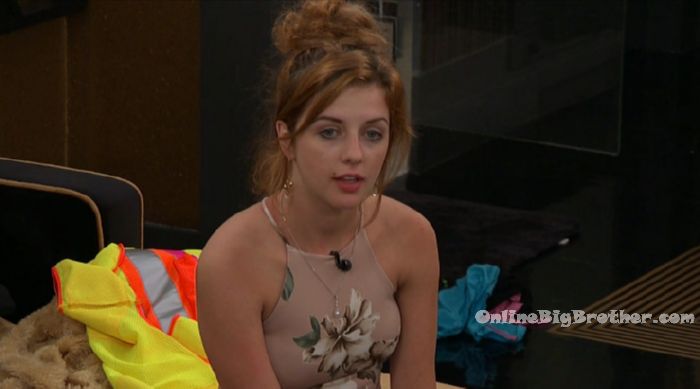 11pm Bedroom. Cody and Jessica.
Jessica – we have a very good possibility of being split up right now. Cody – tell me how you want it to go down and I'll make it happen. You want me to play for safety, I will and I'll win it. Jessica – even if I have the HOH I would still compete for safety. I would still compete and getting comp wins under my belt, but yeah I still want to go home. Cody – I will keep getting safety and HOH and if I could torment these people for as long as I could. Elena joins them. She tells them that they handled it well today. Me and Mark do love you guys. I am not going to intentionally hurt your feelings.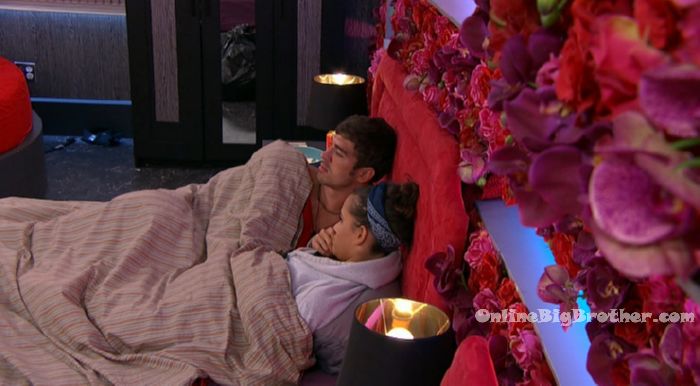 11:05pm HOH room. Paul, Mark, Kevin, Josh, Matt, Raven, Jason.
Paul – its weird that she (Jessica) didn't want to use it. There is something more to the hex that we don't know. If that's the way it was I would tell all y'all to lick my nuts. Seeing how there is no sh*t on my mattress and no one is licking my nuts… I am thinking there is something else we don't know. Christmas – she said you don't know what you've done. Jason – we don't, enlighten us. Josh – it did say a curse for all of your. Paul – maybe they can't compete in the safety comp. They didn't in this one. Do we all agree that Jessica gets evicted first? Everyone says yes!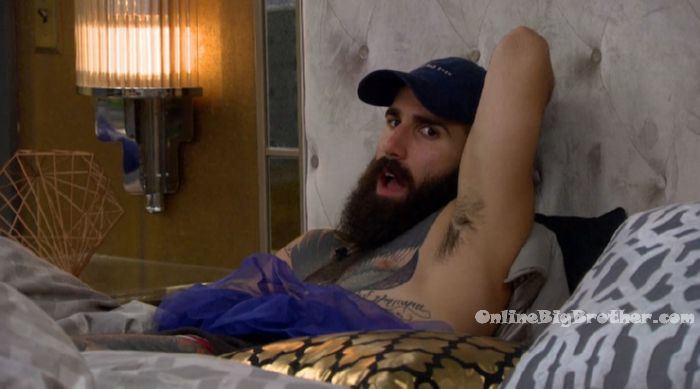 12:37am – 1:30am Bedroom. Christmas and Kevin.
Christmas – I am so excited for our hot chocolate date tomorrow. Kevin – our rendezvous at 9:30? Christmas – yeah. Listen, I don't want to upset your wife. Kevin – why is she going to be there? Christmas – no. Kevin – why not? Christmas – I just always want to make sure we behave appropriately. Kevin – its fine, don't worry about it. Christmas – you're looking so good with your haircut. We're going to have hot chocolate under the stars. Kevin – are you saying you can't control yourself? Is that what you're saying? Christmas – no. Kevin – I might not be able to control myself. Christmas – no I have some very good self discipline. Don't look at me with that cute smile. Kevin – maybe we need a chaperone. Christmas – maybe we have one on standby. Kevin – we'll have Elena on standby. Christmas – I like her a lot personally but game-wise she has been a little fish (flip floppy / playing both sides). Kevin – we haven't done that.
12:25am – 1:40am HOH room. Josh, Mark and Paul.
Mark – anyone who puts their life on the line and gets shot at .. so when Jess was talking about it, she was right. This is not the right atmosphere for him. Paul – I totally resinate with the guy and I already thanked him for his service but at the same time we did not sign up to be put in danger by his attitude or passive aggressive demeanor, violence. Mark – I see a different side to him than you guys. I am not disagreeing with anyone going at him or messing with him. I just hate when I see someone being attacked. Josh – you're not wrong for that. Mark talks about how Josh and other people don't need to keep kicking them when they're down. Josh – I completely agree with you. If anything I feel for her. I feel bad for her but I feel no sympathy for him. He has made my life a living hell in here. Paul – I thanked him for his service but he doesn't try to get to know anyone. No one signed up for him to be rude, aggressive or a bully.
2:40am All the house guests are sleeping.
Links to the ranking system
Rank your house guests here
For those of you that like Statistics here are some expanded reports.