Head of Household Winner – Christmas
Have nots – No havenots this week
Nominations – Bay & DaVonne
Power of Veto Players are – Christmas, Bayleigh, Da'Vonne, Nicole, Ian and Dani.
POV Host: – David
Power of Veto holder – Christmas
Power of Veto Ceremony – Veto not used.
Powers – Christmas, Dani, David
Live feeds —-> Grab your Live feeds here. Try it free.
Rank the houseguests —-> Big Brother 22 Ranking
Veto Results:
– Christmas Won the Veto
– Dani won the Home Gym
– Day won the 5K
– Nicole got the Slop-tard punishment
– Bay has to do 500 laps riding a tricycle on a track
– Ian didn't feel well so he didn't play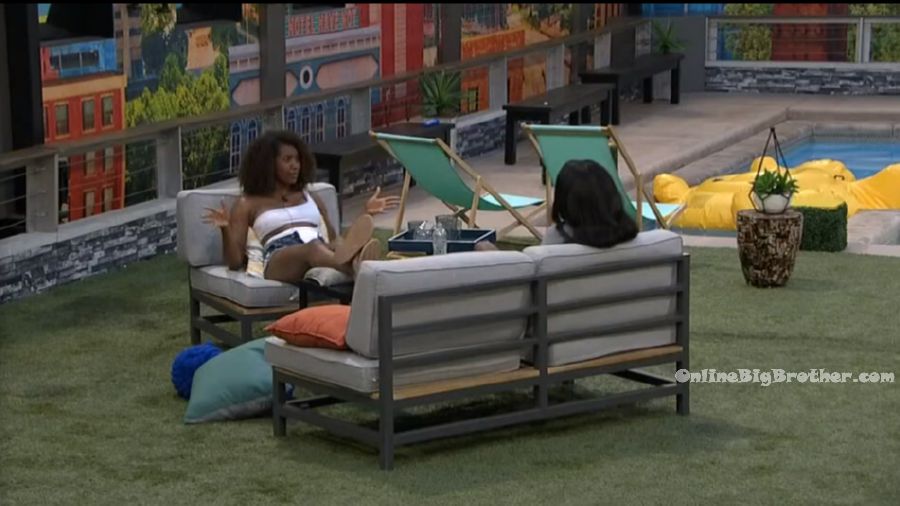 7:05pm Backyard. Day and Bay.
Bay – that girl deserves to be here more than I deserve to be here because this is your world! I got recruited off of instagram. I've never seen the show before two years ago. I came in, I got my husband.. I am good! So as much as I try .. I am trying to catch up. I haven't been watching these games my whole life. I haven't figured out .. I am still nervous to compete. I can't wrap my mind around all this. I am trying, I am trying .. but I am behind the curve. So if I were to choose I would choose her. She is a great representation. When I was coming in .. I can say this to you now .. You're the mean queen. Big Brother cuts the feeds. Bay – he attempted .. it was just a day late and a dollar short. David – yeah. Its frustrating. Bay – I feel at least better knowing. I am okay being the gullible one. Day – you're not gullible. Its your heart and I am telling you that's not a bad trait. People just take advantage of that and prey .. P-R-E-Y on that in this game. That is it, honestly and truly but that is a lesson for the outside world as well. Bay – the bible says when someone strikes .. even seven times .. turn the other cheek. So that's what I do .. even if it makes me look stupid. David – I don't think it makes you look stupid. I think some people when they play this game they go into a mode where they detach themselves or it can be heartless. Bay – I feel you but for him.. I am not giving him that excuse because for two years I've been tortured online from him. We've had texts, we've had threats, we've had everything. We've had him saying things to other people about me and Saggy. Big Brother cuts the feeds. Bay – literally we got asked to go to Thailand and Fiji with Angela and Tyler .. me and Swaggy and they said if we're there …they won't come. Big Brother cuts the feeds. Day – I don't watch seasons that I do .. but I am going to watch this sh*t! Bay – you can give me the summary.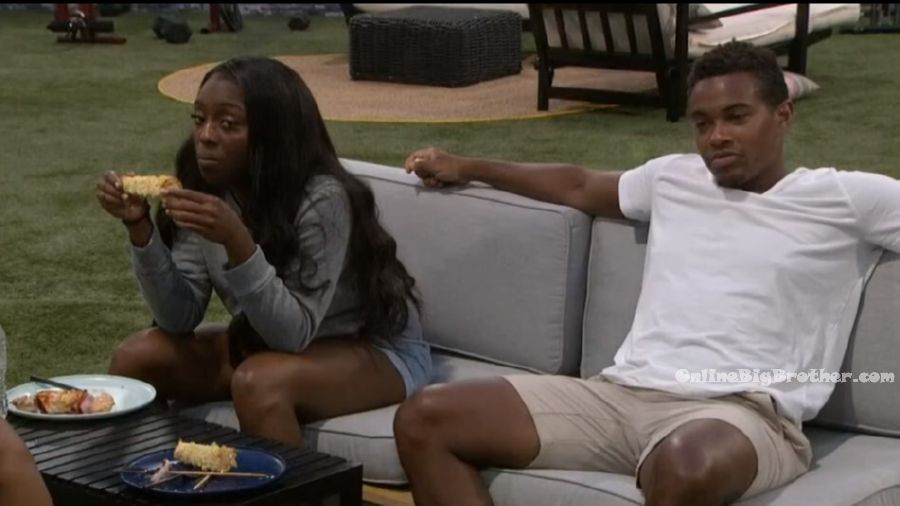 Backyard. Enzo, Cody, and Ian.
Enzo – I'm about to go listen to Miley Sirus. Cody – WHY?! Enzo – I am vibing it. I'm going to listen to Miley Sirus and go to bed. I'm tired Yo! The noms are locked! Cody – yeah, don't talk to me. Enzo – I know bro. The noms are locked! Cody – we're all going to the f**king jury. Ian – unless there's a twist! Lets not get ahead of ourselves. Cody – I'm not going to talk differently because there COULD be a twist. If there's a twist I am booting his (Enzo's) a$$ out! Enzo – the only reason why I want to win HOH is not for the power its for the liquor yo!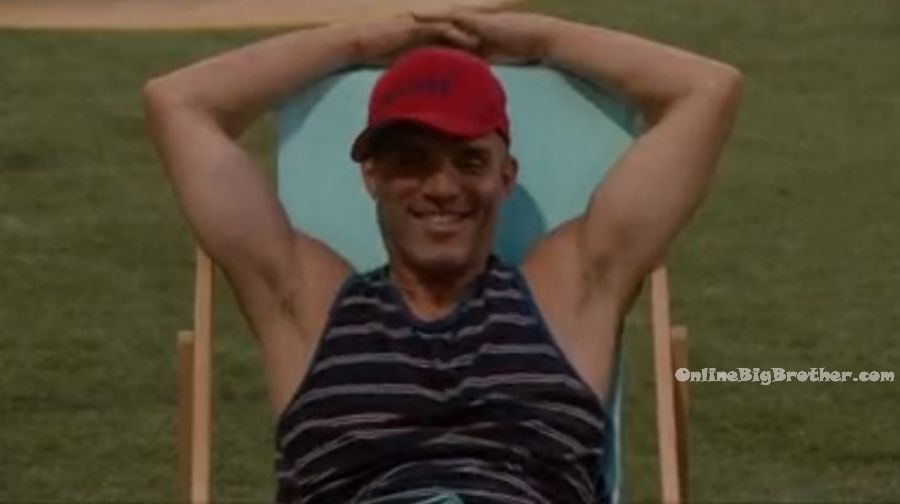 7:25pm Kitchen. Day and Dani.
Day – I think I need to campaign hard …or I am going to go home. Dani – Don't campaign too hard. We will get you the votes. I don't think it will be as hard as we thought. Day – who are you going to go to? Dani – I am pretty sure we can get Cody and Enzo. I know you think we can't but I think we can. He said whoever you want to go with I will vote with the house. Nicole, Me, Ian, Cody, Enzo, Kevin. Kevin is the one that told me that he doesn't know if he is voting for you. Day – he is telling people that. Dani – just to say it? Day – yeah. That is six right there. So its Memphis. David you're not getting. Tyler you're not getting. That's it! You're good girl! Do your thing. Don't push too hard. Don't say too much. You're good. I promise. You know I would tell you if you weren't. Day – yeah I am holding you to that. Dani – do your thing. Go to everybody. IF there is any hesitation I would 1000% on my life tell you. I didn't think Cody and Enzo would be so easy but I think they will. Its stupid for their game to go against everyone. It could be a double, it could be endurance. I am down for anything. I am not afraid of anything or anyone. So what is the deal with the untouchable? I think that is crazy if that is the reason why she put you guys up. I am your campaign manager. Its a game and I am really really good. I just feel bad. I don't know what to say when she talks to me. I really like her so much and feel so bad. Its the part of the game that sucks so much. And I know that you're like literally losing your best friend. And you guys will always be friends forever after this. Day agrees.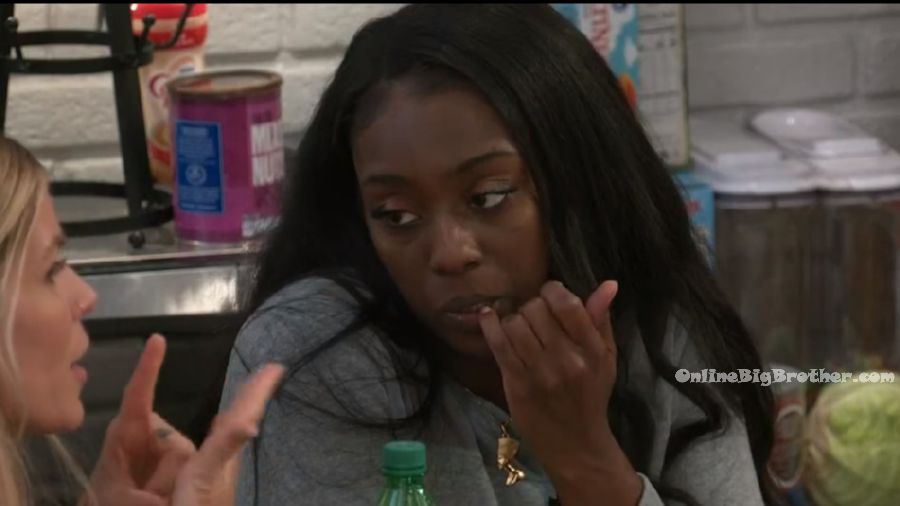 7:50pm Lounge room. Day and Tyler.
Day – so what happened? Tyler – she (Christmas) told me that it wasn't good for her game to backdoor someone this week. Day – I don't know the direction this house is going to go in .. I don't know what is going on. Tyler – you've got my vote! Day – UHHHH?!?!! Why though? Tyler – Bay gave me information. Day – oh. So moving forward what is it that you want to do? Tyler – I don't know .. I feel like I am at a reset point. You know what I mean? Now that we are here .. at jury .. I am like whatever. You know what I mean? I got you the same way I had you before. Day – okay. If you had told me I don't know Day .. I am having second thoughts.. I would have been like.. Tyler – I know .. I didn't have second thoughts .. I was told that I am not .. that is against the whole rules of everything. Day – have you talked to her (Bay)? Tyler – no, I talked to her before. Day – she feels really bad for throwing me under the bus. Tyler – she didn't throw you under the bus .. I think it was a slip up. Day – there was no malicious intent behind it what so ever. I think she feels responsible for me being on the block and its eating at her. And I feel so bad. I am glad that you reset because I need you in this game. Tyler – me too. I hope this can be something that builds us for the future. Now that we're here.. we're here. I think both of us thought we were gone this week. Now that we're in jury ..I'm here to stay and I am going to make sure you stay. Day – I'm proud of you. They hug.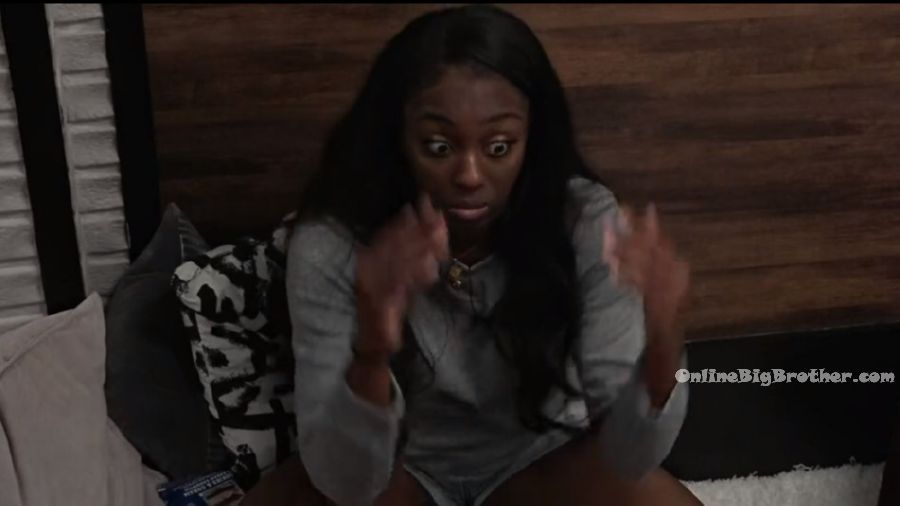 8:15pm Lounge room. Bay and Ian.
Bay – One, I have become a big target in this house. So I know for a fact that if I stay it eludes some tension from you. Ian – correct. Bay – So that is the biggest thing that I can offer. The second thing I can offer is that since I am a big target it means that I am going to have to try a winner at some of these competitions. I can also let you know that I don't have a power so that means that there is even more pressure on me to win because if I don't have a power I cannot keep myself safe. When I do gun for these things .. I have targets in mind … I believe these people don't negatively affect your game in fact I think it can help you in the long run because you have great relationships in this house that means its going to be hard for you to move forward .. so you are eventually going to have to take out some of these people that you have remained friends with. Ian – yeah it is tough because I am friendly. Bay – you are friendly and people love you. With that said it is going to be difficult. Plus the house is in a weird limbo position… the house is going to blow up soon so what I can promise you is that I can look out for you and at least give you information. I will say this people will be after you because you are a winner in this game. That has been said multiple times. People have said Ian and Nicole ..there has to be something done about it. So I would appreciate you considering the points I have given and help keep me in the game. Bay then tells Ian how Tyler offered himself up to go home and asked Christmas to put him up but that she would not do it. Ian – may I ask another question.. a phrase that I keep hearing is untouchable. What does that mean to you? Bay – it means if I got HOH .. this is a person that I would not nominate. Ian – ever? Bay – yes. Ian – so its a final 2 deal essentially. Bay nods. Ian – okay, thank you. Bay – for me having a black winner is very important to me in this game so what I am not going to do is attack another player of colour. Ian – gotcha! And I agree with that quite a bit. And coming in here I said I would not actively participate in eliminating a POC (person of colour) in the first two rounds.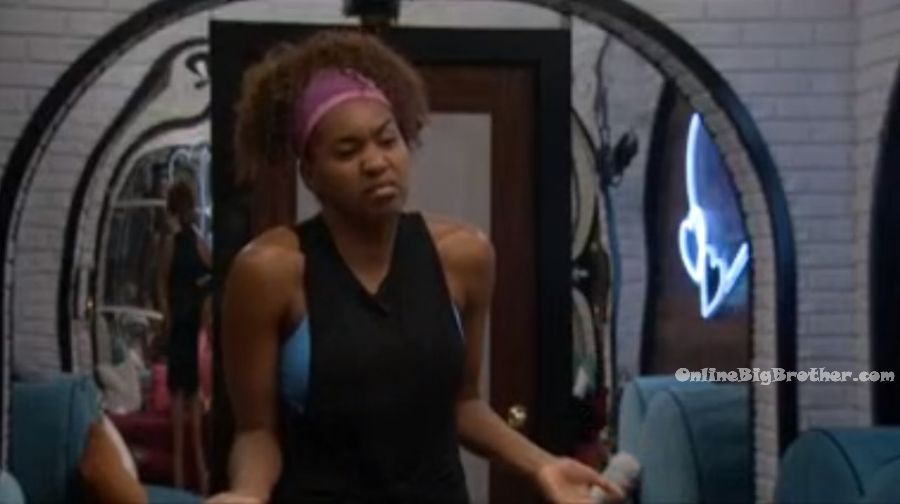 8:35pm Bedroom. Kevin, Day and Bay.
Day about her conversation with Tyler – when I tell you that Jesus himself had to sit on me he said now I feel like I can restart and play the game. Bay – I told you! That was the plan the whole time. That's why I keep saying he is trying to get me out.. because he can't play with me in here. Are you surprised.. everyone thought I was crazy! Everyone thought I was crazy .. and now you understand why.. this was my whole season. Day – that motherf**ker said I feel recharged, like I can restart and play this game now. He said we're at the jury point so now I am in it! Bay – I know its me.. I know for a fact. I know when people are setting me up. I know the verbiage. He does NOT want me in the jury because he thinks I am going to pollute the votes. Day – they want me in jury because even with everything that Nicole did .. I still voted for her. I am going to light that jury house up if I am in it! Bay – GOOD! Day – I am going to light it up because that is sh*t! Bay – yeah I am used to it by now. And ya'll better work over time to make sure he doesn't win. And he is right! I did pollute the jury against him.. because he is an a$$hole! And all of my friends were like which way should we vote and I was like not him.. so yeah, I cost him $450,000! Sure did! Sure did! And little Miss Angela had to sell her Range Rover .. you're welcome sweetie! Day – I was furious! I am not mad because he came up with a plan.. this is big brother… he talked about the cause… he used the cause as part of his game. Bay – he shouldn't have used BLACK LIVES MATTER!! Kevin – the way things are set up .. this fool is going to skate to the end unless we do something about it. It was definitely a game move. So come Thursday LIGHT THEIR A$$ES UP! Day – he twisted up his lips to say anything else about black lives matter. Jesus is my fist!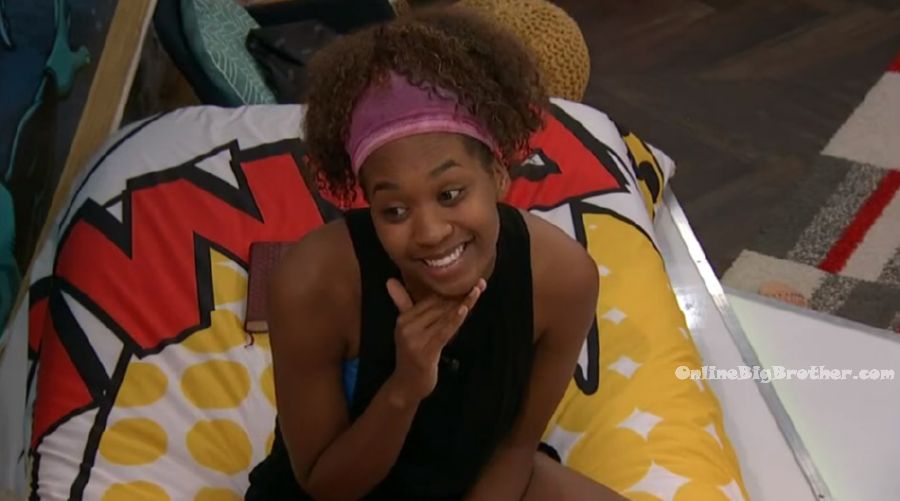 8:50pm HOH room. Cody, Enzo and Tyler.
Cody – the girls that are going to be left it will be whoever stays, Nicole, Dani, Christmas. Enzo – the are definitely like there is a guy alliance we have to stick together. Christmas is doing her sh*t on the side with Memphis and whoever the f**k else. I know who the f**k I am going after. Cody – the next few people are Kevin .. pull his power if he has one .. David, I don't know where he lies anymore. We tried to help him. I know that if Memphis wins again .. we're not going to go on the block. If Nicole wins we are not going to go on the block. Enzo – I don't know how Dani feels about it. Cody – Im sure she's going to ask if we knew. Enzo – I'll be like talk to Bay about it.. I'm not getting involved. Cody – I don't think Dani would put us up because there is still a lot of people in the house. She would during a double though. I so badly want to clip David and Day. Enzo – I am flipping the whole house if I win HOH.. I don't give a f**k YO! Cody – Kevin, David and Day need to go so that they don't pull them in because then they have the numbers.

9:30pm Cody, Kevin and Dani are doing the dishes and cleaning the kitchen.
Backyard Couches. Memphis and Tyler.
Memphis – I don't know dude.. I think its so bizarre to see them (Ian & David) hanging out constantly. That is super weird to me. Tyler – weird. Who do you think we take out next week? Memphis – take your pick! I don't think we need anyone right now. Tyler – like Ian we don't need him anymore. Memphis – I mean I am worried about David from my angle because I think he would probably put me up. At least with Ian we could manipulate him to put someone up. Tyler – Day is way smarter than David. Memphis – yeah Enzo or Ian we could.. Tyler – Enzo f**king loves you. Memphis – get them to put up Kevin and DaVonne up. But what is the chance this motherf**ker is going to win HOH. Zero! Tyler – exactly! At the end of the day as long as its not two of us up there we're fine. Memphis – we just have to continue to win. Tyler – where do Day and Kevin fall now.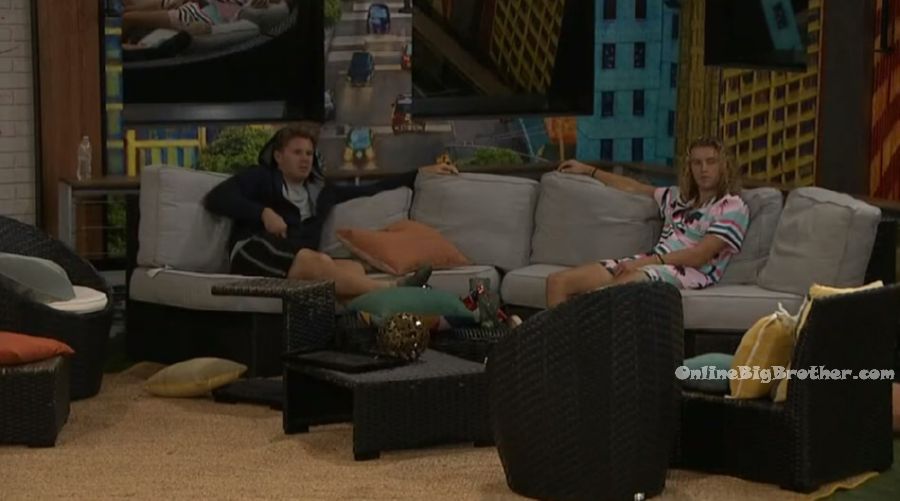 9:48pm Bathroom. Christmas and Dani.
Christmas – she is f**king trying to get Tyler to throw himself up there on her f**king grenade? Because of her (Bay) she refuses to squash what happened between him and her on their season. Day joins them and the conversation ends.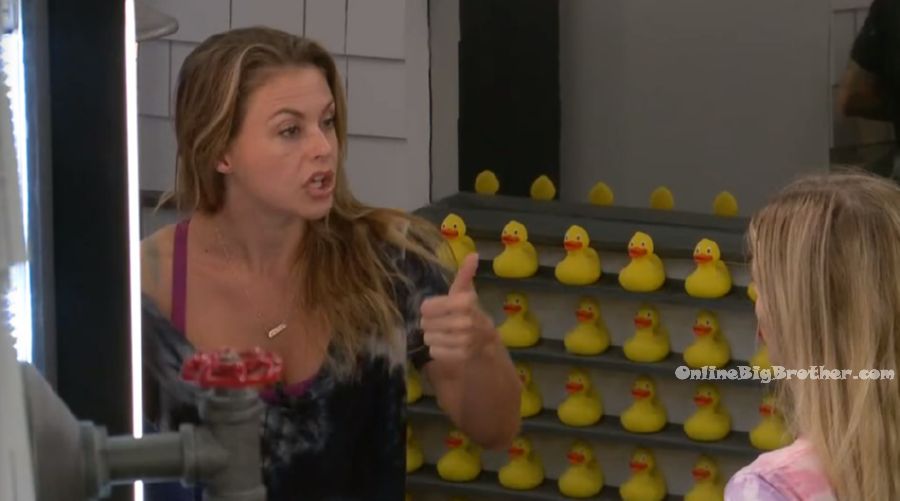 Show your support by making a donation.
If you're enjoying our live feed updates this season, please consider donating.
Any amount is greatly appreciated! Your donations go directly to paying the fees required to run this site.