POV Holder:
Frankie
Next POV
Sept 6th
POV Used
No
POV Ceremony
Sept 7th
HOH Winner
Frankie
Next HOH
Sept 10th
Nominations:
Cody and Victoria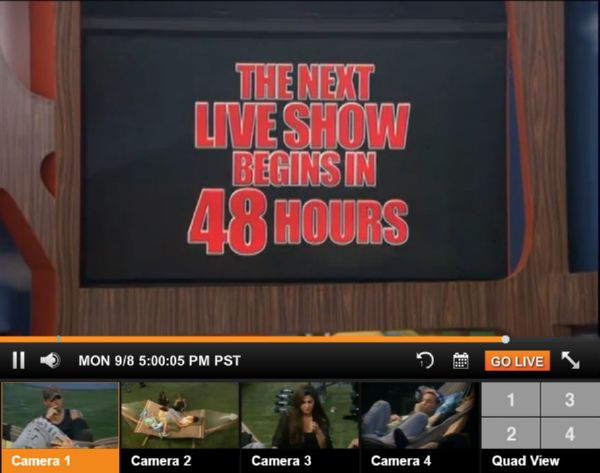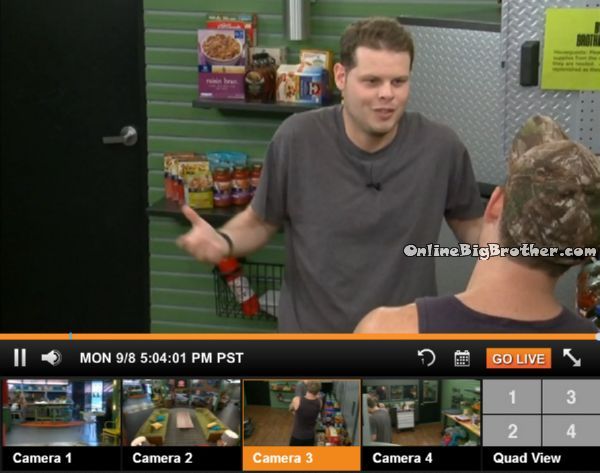 5:03pm Storage room Derrick and Caleb
Caleb is going over some of the things Frankie has told him.. Frankie has been stressing to Caleb how Caleb is a good guy. Derrick says he's giving everyone complements because he's hoping they take him to the end. Derrick says nobody is going to take Frankie to the end he's won '12' comps, "Yeah Frankie i'm going to take you to the end so you can smoke me"
Derrick tells him if Caleb or Cody are in the end Derrick is voting for them to win over Frankie. Derrick warns that they can't control Frankie winning all the competitions he's going to get a bunch of votes. Derrick says for Frankie to get to the end he'll need to have won all the vital competitions that is very tough to beat. Derrick knows Frankie sees Caleb is close to Cody and Him it's apparent. "There's a brotherhood there"
Caleb tells him about Frankie saying people will vote to give Derrick the money because he's got a daughter and a wife. Derrick doesn't think that is how people will vote, "This is big Brother not Ellen.. If I got three wins and he's got 13 look who's winning"
Derrick adds if Frankie makes it to the end he's pretty much won the game himself with all his competition wins. On there way out Derrick thanks Caleb for telling him about what Frankie said. Derrick says it doesn't bother him at all. (But I think he does)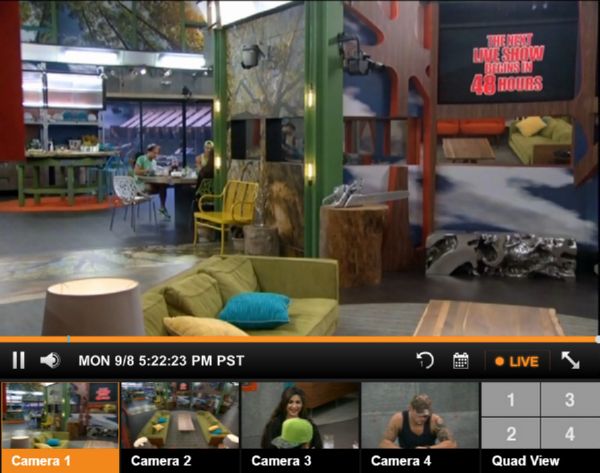 5:21pm They are eating dinner. Caleb brings up Frankie constant smacking and slurping while he eats. Frankie says he can eat proper at fine restaurants but most of the time he eats like a pig.
** Nobody has noticed the sign on the main TV it's been up since 5 and most people have walked by it.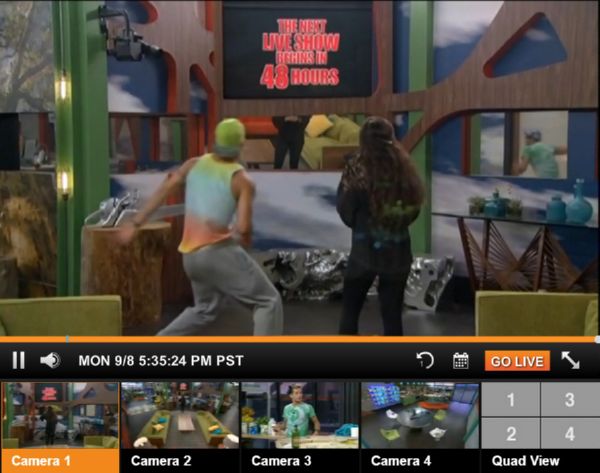 5:35pm Victoria is the first to see that the live show starts in 48 hour
They all starts screaming.. Frankie – I was right I was right I was right
Frankie – that has been up for half an hour we never noticed.
They head out to the pool table to play a couple games. Everyone speculating what this means with the season. Caleb thinks Big Brother 16 ends on Sunday.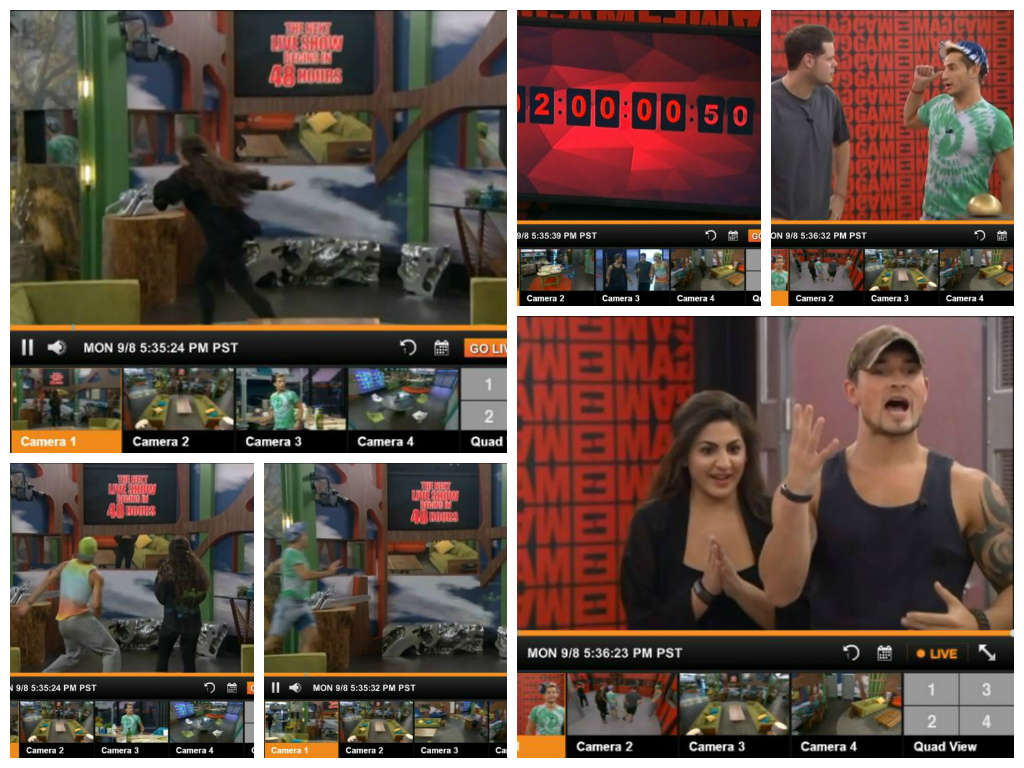 5:43pm Cody, Derrick and Caleb
Agreeing they are the final 3 they can pull the last few wins out and make it.
Derrick – we're not f***g losers.. that guys is so nervous he's using my f***g kid..
Derrick – If I win the Veto he's going home.. on my word on my family.. as long as he's not HOH..
Frankie comes back. they go back to talking about the Wednesday live show. Derick doesn't think it's a excitation. Frankie thinks they each get to play in a competition with their Big Brother Doppelganger. (This was a twist Idea of Frankie's were production picks a past player that best mimics their game play and they compete in a competition against them. People actually give this theory credence)
Caleb starts suggesting that maybe in 48 hours they bring in all the celebrities they want to see.
Caleb says all he heard was screaming from Victoria when she found the message.
Derrick – I thought it was the mouse.
Derrick saying if all the buttons did was speed up the game then it's good for them, Less campaigning and downtime. "They are like man this season is so bad just push the button lets put them out of their misery"
Derrick still going with the theory that there isn't an eviction on Wednesday it's still on Thursday. He's in a minority with this opinion.
6:01pm Victoria comes back "The message isn't there anymore.. I think Julie is going to pop up on the screen"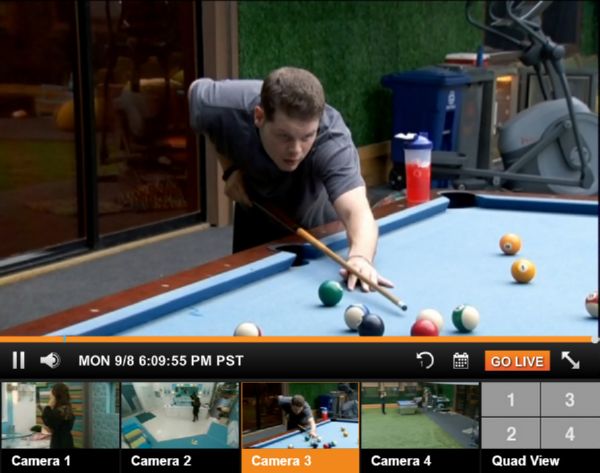 6:09pm Pool Caleb, Cody and Derrick
Caleb – old Frankie boy paranoid hoping he gets to to play in that next HOH
Derrick says he wants to win the money so bad but if he doesn't win it he wants Cody or Caleb to win it, "on everything, dead serious"
Cody and Caleb feel the same way.
Derrick – I'm dead f***g serious.. and for some reason I get nicked out he ain't winning… Just for the comment he made to you he ain't winning it.
Derrick – use my f***g families name in your f***g mouth for strategy..
Derrick says one of them is winning 1/2 a million and they are buying if they end.
They go back to speculation of the Wednesday show..
Cody suggests that maybe their season is not doing well so they want to end it early.
6:53pm Chit chat and speculation