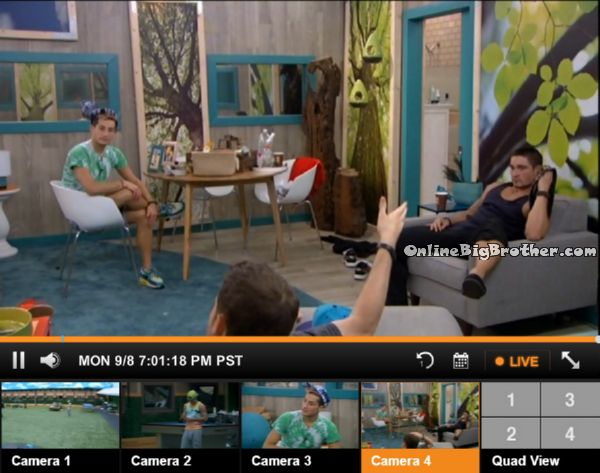 7:00pm Frankie and Caleb
Talking about the perfect scenario where Caleb wins the HOH and Frankie wins the POV. Derrick comes in says he can't sit there and watch Victoria tweezer Calzone's (Cody) eyebrows.
Talk goes to speculation..
Derrick says he was told by someone (Outside the house production perhaps) that this year slept more than other seasons. Feeds cut. When they come back Frankie is saying they don't sleep more they just sleep during the day.
they talk about the boredom being really bad. Derrick thinks if production gave them something to do they would be more exciting. He explains they can only talk about the same thing so many times, 2 weeks to go, Why did Christine get booed, what's the gold button..
Victoria joins them..
They figure out that the show has been moved to Wednesday nights because of football.
Frankie says if he doesn't get to compete in the button competition that is f*** up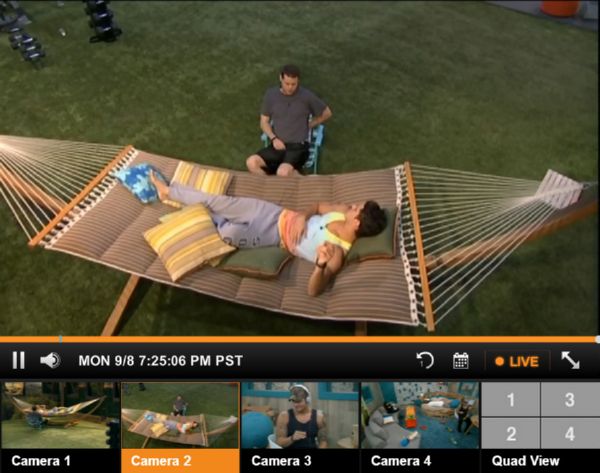 7:25pm Cody and Derrick Hammock
Cody is worried that Caleb thinks he can beat Frankie in the end.
Derrick knows there is a possibility Caleb might flip. Says if they take Cody out then all that is standing in their way to final 2 is Derrick. Derrick says Caleb told him he's got a final 2 with Frankie but Caleb is Claiming he's not honoring it.
Derrick says he's not going to look like a sucker he is not flipping his vote he's voting for Cody to stay. If Caleb flips the vote will be one/one and Cody will go right behind him will be Derrick unless he wins straight out.
Derrick doesn't think they can beat Frankie in the final 2 but maybe not Caleb. Both him and Cody have made some enemies in the house.
Derrick says Dan Goosling played twice the game that Ian played and he didn't win.
Derrick and Cody will not vote Caleb to win the money if he votes out Cody on Wednesday. Derrick says Caleb doesn't know anything about the game and because of that he's played honest.
They start studying… Cody says he's got everything down. Derrick mentions feeding Frankie false information about the BOB wins.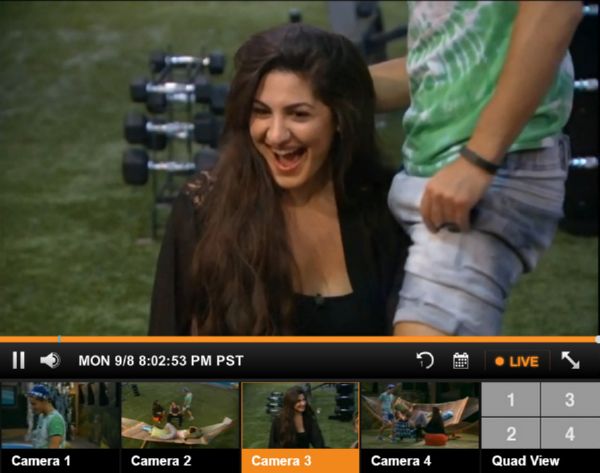 8:03pm Frankie doing his Ricky Martin Evita impersonation. (I laughed pretty hard at this)
Frankie – he was playing Ricky Martin at no point was he playing Che.. I still loved it..
Frankie says Rickey Martin sold out so that's all "They" care about. Mentions that the Evita role was terrible "But hey she's Argentinian"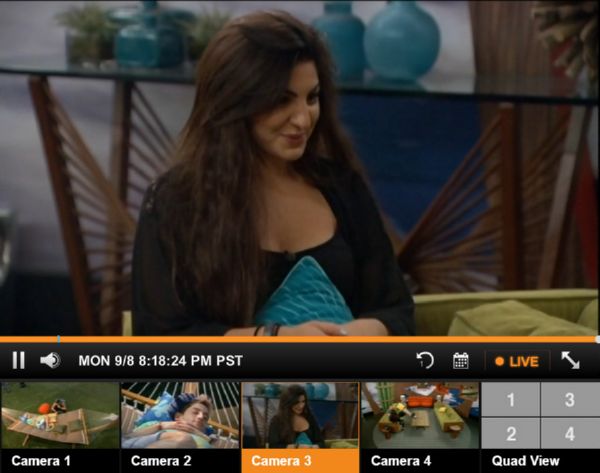 8:17pm Living room Derrick and Victoria
Victoria saying she thinking of telling Frankie if Cody wins HOH he's getting rid of Frankie.
Derrick – I don't know..
Victoria – I don't want to stir the pot..
Victoria – Caleb wants to take Cody final 2, 90% it's a fact… Cody is not taking Frankie.. so what good is it getting rid of me.. if it's 1 and 1 frankie is choosing.. what good does it do if Frankie keeps Cody.. . what do you think "
Derrick – it won't work. Cody is a stand up guy he's going to call you out.
Victoria says Cody has been public about not being the biggest fan of Frankie.
Derrick warns her if she does that Frankie will go straight to Cody and tell him straight in front of ther.
Victoria – It just sucks I don't want to go out like this.. I want to go out with class.. .
Derrick says it's up to her she goes out with class or guns blazing. "Thats the decision you have to make i'm not going to make it for you"
Derrick tells her what he is proposes won't work because there is no one to confirm what she's saying it's literally her word against Cody's.
Derrick tries to scare her into not stirring the pot. Says she runs the risk of being secluded by Cody, Frankie and Caleb. Explains once she tells Frankie cody is going to come up to her and she better be prepared to tell him she's fighting to stay in the game. Cody will start campaigning against her.
Derrick says he's going to get evicted right after Victoria because of her, "Not in a bad way a good way".. because we're so close and you'll be in the jury… Derrick adds that Frankie is already saying that Derrick has Jury votes because of his family.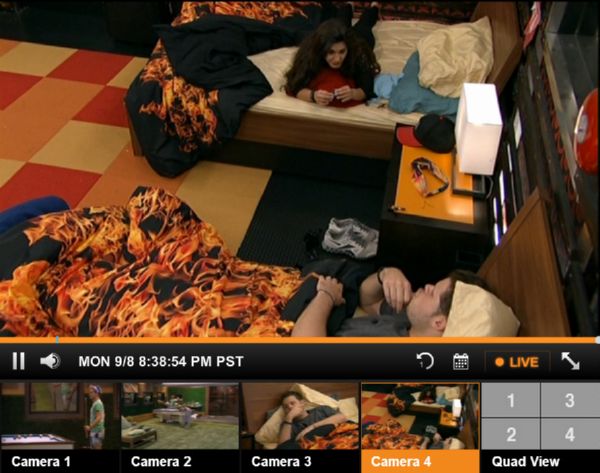 8:39pm Derrick tells Victoria he's got, Nicole, Hayden, Zach and Victoria's vote. Derrick is worried him being close is going to make him a target because they know Victoria will vote for Derrick so if Derrick isn't in the final 2 Victoria will have to vote for one of the other boys. Derrick suggests if the house didn't think she would vote for him it would help him. Derrick will tell the other guys he told Victoria he won't vote for her. She will have to be legit pissed at him.
Victoria – that will be hard..
They agree to do it Tomorrow night at 5.
Derrick – do you think you can pull it off.. will it work though.. but if there is a twist and you stay and I win HOh i'll put Frankie on the block.
They scheme about how to get Frankie to think Derrick has no votes in the jury..
Derrick – Cody Definitely thinks we are going to the end together.. and I will if you are not here.
Derrick suggests she tell Frankie that Nicole told her Jocasta, Hayden and Donny hate Derrick and they will not vote for him.
Derrick says when she's talking to Frankie before she cast her Jury vote she can say she was playing him all along congratulations you get second place.
Derrick says they can crush Frankie on national TV, "That will be Epic"
Derrick – I don't think people have done that before on that level
Derrick says if Frankie is dumb enough to take Derrick to final two because of what Victoria tells him it will be epic.
Derrick – if that works it will make Big Brother history
Victoria says she's going to do it has a giant grin on her face.
Derrick wants the house to think they are not friends anymore. She can tell Frankie she's pissed at Derrick because he's not going to vote for her. Then during the Finale Derrick will tell them all he's fiends with Victoria and it was a ruse.
Derrick wants her to say Loyalty is everything to her and mention Derrick stabbed her in the back.
Derrick doesn't want to do it tonight because it'll make it harder on Victoria she'll have to act longer. He suggests she does it Tomorrow.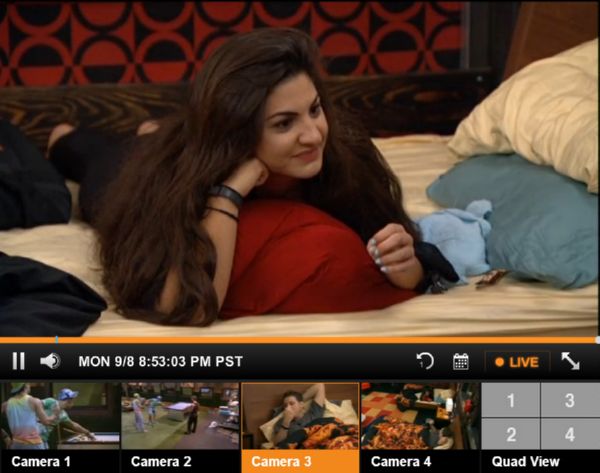 The Live Feeds are archived. You can go back and watch everything that happens
Try It Free! Subscribe now to the official BB16 Live Feeds
9:15pm Derrick runs to the backyard where teh guiys are says they will have to tell Victoria she is going home. Frankie suggests they say "Do you want to watch the final 4 play pool"
9:41pm Everyone around the pool table. Frankie wants to make white fish, "I want White fish so badly"
Cody wants to request alcohol. Victoria says they won't get it it's too late.
9:58pm Pool and chit chat..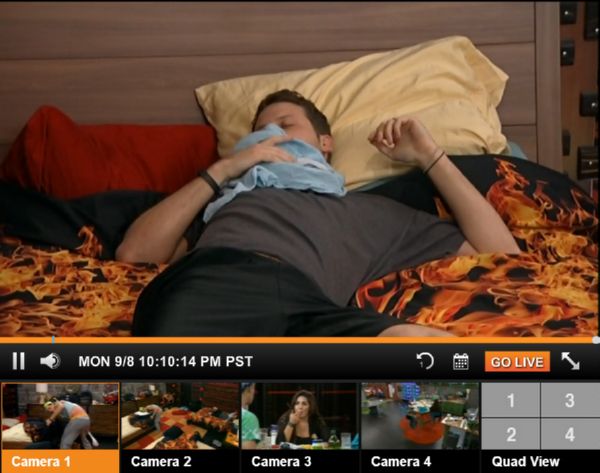 10:10pm Derrick, Cody and Caleb FIRE ROOM
Derrick says he'll regret not telling Victoria so he's got to do it he respect her enough to do that.
"I've been cool with the girl the entire game it's a man thing, if it hurts me it hurts me if it doesn't it doesn't. I have to do it.. if I don't it will make me a a$$hole on TV I've been defending the girl the entire time… I have to tell her the truth."
Derrick – with my luck she'll win a twist and HOH possible if it happens it happens
Derrick – Who knows she might be cool with it.
Caleb – me personally I don't think they can throw something in that alters his nominations
Derrick – I Think it will be a side things after the noms..
10:23pm Derrick and Frankie Fire room They plan to go to bed early so they are ready for whatever production throws at them tomorrow. Frankie asks him what's the temperature in the house. Derrick thinks their four is solid but he's worried about Victoria. He's worried it's going to look like betrayal. Frankie doesn't think so he leaves.
Derrick talks to the camera. He calls getting Victoria to trick Frankie that her and Derrick are not close and the Jury hates Derrick A Dan Goosling funeral move.
10:44pm Pose down
"DANG.. DANG"
Victoria DANG
Cody – DANG
Caleb – DANG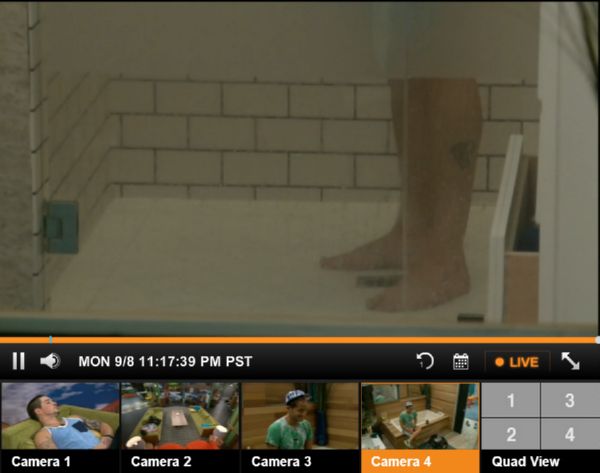 11:08pm Victoria and Derrick HOH
Derrick is in teh shower. Victoria says everyone is going to sleep she wants to talk when he's done she'll be in the hammock.
on her way downstairs she meets up with Frankie he tells her he's going to bed.
11:17pm – 11:30pm HOH Derrick and Frankie.
Derrick says he's going to have the talk with Victrola tonight in the hammock. Frankie turns the water on says he's going to take a bath and figure out what to write in his blog.
If you liked our site please consider leaving a donation using pay pal below. Thanks!
[polldaddy poll=8285104]
[polldaddy poll=8285104]
[polldaddy poll=8290611]
Share it YO!
Tweet