POV Holder:
Frankie
Next POV
Sept 6th
POV Used
No
POV Ceremony
Sept 7th
HOH Winner
Frankie
Next HOH
Sept 10th
Nominations:
Cody and Victoria
3:23pm Pool
3:30pm Caleb and Frankie Pool Caleb can't wait until they get out of here so they can party and he can be "real with them". Explains he's real with them now but can't be more himself. Frankie feels the same way. Says he's "constantly creating" content on social media, "I'm a lunatic"
They start talking about bringing Derrick to the end and how people may give him a vote because he's married, has a kid and "Needs" the money. Frankie wonders how the jury will pick. Caleb will look at comp wins and loyalty. Caleb thinks Frankie will have a tough time winning because people may see his sister and see she's a multi-millionaire. Caleb thinks they all have good reasons for winning the money.
Frankie says he would never accept money from his sister, "I'm going to work my a$$ off dfr my own money.. Mom and dad are fine.. no amount of money can cover for what my Mom has done for my sister"
Frankie says his sister would give him a job on her crew.
Caleb – hair and makeup
Frankie – No.. dancer or choreographer
Frankie says he's happy to play the life as a struggling actor.. he would like to be famous.
Caleb – I'm sure ji'll struggle numerous times.. but with the right people standing next to me i'll be just fine… i might get out of here and go to Acting school and become a HUGE actor.. god what am i doing here I need some guidance.. I need some help.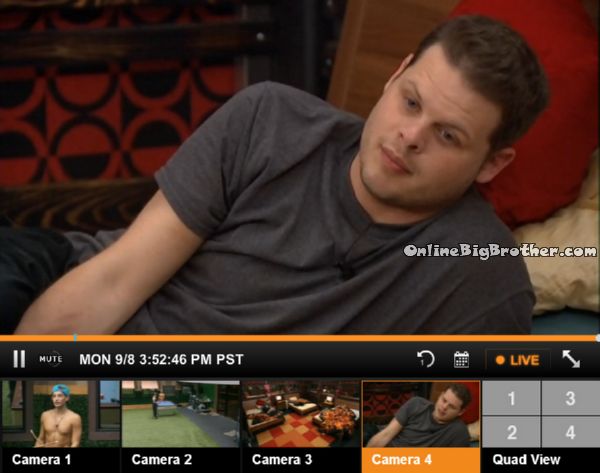 3:32pm FIREROOM Derrick and Cody
Derrick showing Cody the cut. He says the house is starting to get to people everyone is on edge
Cody says Caleb is on edge because of Frankie.
Derrick – If Frankie gets the opportunity he'll take Caleb to the end.
Derrick says he got pissed at the Diary room they were asking if the other night when Victoria hopped on his bed if he was "Going in for a kiss". Derrick asked them why they are asking him that got heated.
They start talking pet peeves Cody mentions Caleb being a one upper. Defines one uppers as people that don't feel comfortable in themselves they always have to one up you. Derrick brings it back to the kiss question from the Dairy room.
Derrick – I'm ready to go bro.. I was wow I'm married with a f***g kid and you ask me that'
Cody – they can ask you one question that rattles in your head.
Derrick – that is what you are showing that is what you are asking me.
Cody thinks they pick and choose parts of the Diary rooms.
Derrick – it was weird I had no idea where they were going.
Derrick says Victoria looks at them all like her older brothers sure she looks at some of them as attractive but nothing else. Derrick says he's worried if Cody wins HOH, puts up Caleb and Frankie and Frankie wins the Veto Derrick will go home. Cody doesn't think Frankie will pick Derrick over Caleb. Derrick doesn't think so he's sure Frankie will cut him over Caleb. Frankie knows he won't take anyone over Cody.
They agree they need to win the Veto coming up.
Derrick – it all comes down to that one Veto comp we win that we're getting at least 50 thousand dollars.
Derrick – If I get nicked you better f***g win that Finale HOH and take yourself.
Derrick says he's going to be fighting in the Jury house for Cody, "Caleb is a good dude but you deserve it more than him.. these people in the jury house are f*** mesmerized by him"
Cody says Caleb didn't have much game for the first 1/2 of the season he hasn't done as much as they have. Cody thinks he'll tell everyone about the hitman because they have no idea about how they controlled the game.
Cody says Hayden is bitter because he trusted him and Cody backstabbed him. Nicole isn't as bitter because she never trusted COdy fully, "That's part of the game.. who the f*** cares.."
Derrick says if Cody gets to the final 2 with Caleb it's going to be close but Derrick thinks he'll get the win
Derrick says Frankie has money this is just a game to him he's willing to take risks they are not. Derrick thinks Frankie shouldn't have won that Veto because it's really showing him as the biggest threat. Frankie's pride got in the way.,
He could have made a big game move and taken Victoria down put me up .
If Derrick wins HOH he's going to put up Frankie and Caleb, "The only one that can't win the veto is Frankie"
Derrick says if Caleb wins the veto he'll take out Frankie but Frankie will take out Derrick.
Lockdown called.
3:54pm Derrick gets a badge for his finger.. Looks at the giant band aid they gave him Tells Cody 'I swear they are busty my balls"
Derrick says the Doctor will be there at 8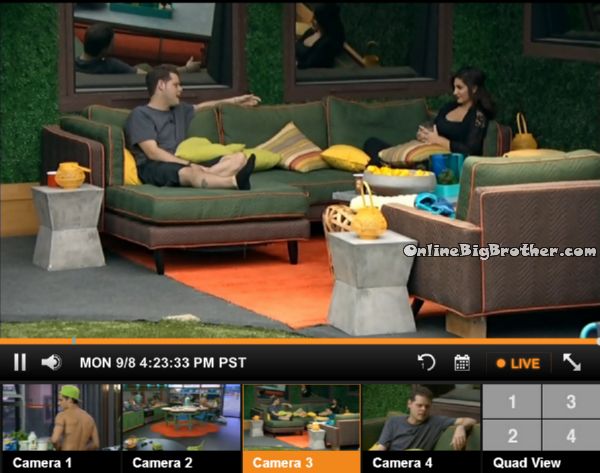 4:23pm Derrick and Victoria
Victoria is saying there's no point for her to campaign, "There isn't anything I can do"
Derick – it not' necessary us all working together.. I can't win with them.
Derrick says the guys think he is working with them but he's telling Victoria he's not. "I didn't come here to get out 4th place.."
Derrick says he wasn't working with Christine.. Nicole thought he was and so did Christine but that was apparent last week when because of him she went home.
Derrick says there might be a twist coming
Derrick – Would I rather go to the end with you of course..
Derrick explains if he votes to keep Victoria Frankie will break the tie so Victoria would need to convince two people which won't happen.
Derrick – the whole house is on standby we're all on pause.
Derrick stresses that come thursday he might be on the block and Victoria is safe.
Victoria tells him about her nightmare about Derrick getting evicted Donny was in it. .
Derrick says Donny never liked him he had no issues with Donny.
Derrick – everything will make sense when we get out of here.. 1 more days.
Derrick says he would vote to keep Victoria if she really wants to but because she's not adamant about it he'll vote her out as to not threaten his game.
Derrick says Frankie isn't taking him to the end but he thinks Caleb will. Derrick adds Caleb thinks he's more liked in the jury but he really isn't.
Derrick – If Frankie takes Caleb I'm voting for Caleb.. and so will Cody
Victoria – me to
Derrick – That three.. Caleb will crush him..
they don't think Frankie has any chance to beat Caleb.
Caleb joins them
Caleb and Derrick trying to figure out why Donny didn't like Derrick. Derrick thinks it's because he's a city boy and Donny doesn't like fast talkers.
(It's funny how worried Derrick is about Donny, he's been saying repeatedly how much he liked Donny and how Donny had the problem with him. Derrick is lying to cover his tracks with fans. Christine getting booed weighs heavy on Derrick's and Cody's mind)
If you liked our site please consider leaving a donation using pay pal below. Thanks!
[polldaddy poll=8285104]
[polldaddy poll=8285104]
[polldaddy poll=8290611]