POV Holder:
Jenn
Next POV:
Sept 1 (Saturday)
POV Used
YES
POV Ceremony
Aug 27 (Monday)
HOH Winner:
Frank
Next HOH:
Aug 30 (Thursday)
Original Nominations:
Dan And Danielle
Current Nominations:
Danielle And Britney
Have Nots
Dan
Last Evicted Houseguest
Boogie and Ashley
Pandora's Box POwer
Ian did NOT use his veto power
7:14pm Cam 3-4 hot tub Danielle, Britney and Ian
Danielle asks her what was wrong today she didn't want to take a picture with her. Britney says last night she was really down and depressed and she felt that Danielle was never really there for her.
Britney says all season she was there for Danielle. All those times when Danielle was crying Britney was there for her comforting her.
Danielle says she never knew Britney was mad she asked Shane and Shane said no.
Britney: "It's OK Danielle I was just irritated.. I don't care.. I was only mad at you for like 5 minutes.. I wasn't mad at you at all today"
Danielle: "I didn't know you were genuinely upset.. sometimes you get in a negative mood and I thought it was better just to leave you alone"
Danielle: "I'm sorry you felt like you were not there for me"
Britney: "Any word on who is going home"
Danielle: "I don't even want to know"
Britney: "I just think it would be nice to know these last couple days"
Britney says that she is confident that Ian wants to work with Dan. Britney thinks that Frank will try and pull Ian in he's acting like he hates Ian right now but in the end he needs Ian to increase his numbers. Britney warns her if they lose the number advantage to Frank they will easily lose what's left of the game.
Danielle: "Ian is convinced that this weeks is endurance or they will do a double eviction"
Britney: "There is no way" Feeds cut..
Britney says that if it's endurance it's really good for them because either Ian, Britney or Danielle will win it. Britney: "I will make Ian throw the HOH to me"
Danielle: "Well.. that's a mean thing so say.. You would force them all"
Britney: "HUH.. that was a mean thing to say?.. "
Britney points out that was a awkward response.. they talk like this together all the time.
Britney: "I don't understand Danielle now that I am on the block you want to be mad at me and start something.. What is it you know that you are going to stay and you don't want me to be by your side.. "
Danielle: "No no no I did not mean that… I just thought it was mean thing to say.. I'm sorry "
Britney: "Is it your plan to start a fight with me so it's less awkward… when you say that is a mean thing to say.. that is so awkward.. "
Britney: "It's just you and me out here.. I didn't realize that I needed to watch what I say …"
Danielle starts to whine about the house flipping on her and being against her
Britney has trouble understanding why she thinks the house is against her. Britney says that it's a bit passive aggressive of Danielle to say that to her.. Britney thought they were close enough to say whatever they wanted to each other.
Britney tells her that she left her husband and her job to come on this show, she's not happy she's going home, she's not happy she up on the block with the person she is closest to and she's not happy that she cannot do anything about it because she will not campaign against Danielle. Danielle apologizes up and down for what she said, she doesn't want them to fight.
Britney: "At least Dan has apologized to you he never apologized to me.. Ian doesn't want you out but Dan wants me out Danielle.. I'm Dan's target" Britney explains to danielle that Dan wanted 2 things this week A) he wanted to get off the block and B) he wanted to get Britney out. Britney says that Dan accomplished both those things with Franks HOH. Britney hates being on the block with Danielle she would rather it be anyone else.
Britney: "Look Dan wanted me on the block and once I go home he will rope you back in.. everyone in this game has the mentality as long as it's not me that is how everyone feels.. I'm not going to blame people this is a game and you have to do what you have to do to survive.. but what Dan did to me was shiesty.. what he did to you was cruel.. he ran upstairs told Frank a bunch of verses out of the bible got himself off the block and used your emotions to seal the deal with Frank.. "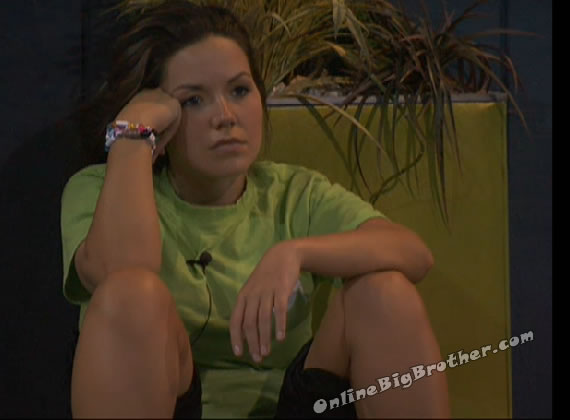 Britney: "what he did with me is different than what he did with you.. he told everyone that you were dead to him and now he wants to work with you.. he used me he used you and he used Frank.. Like Ian said we were all Duped by Dan Gheesling"
Danielle: "I don't think he wants to deal with me anymore"
Britney: 'He does
Britney: "Frank tells me in the kitchen this morning.. and that is why you have to go.. you think that makes me feel good"
Danielle: "Nobody wants you to go home"
Danielle now swears that she never knew Britney would go up she was as shocked as everyone in the house when Jenn used the POV to take Dan down.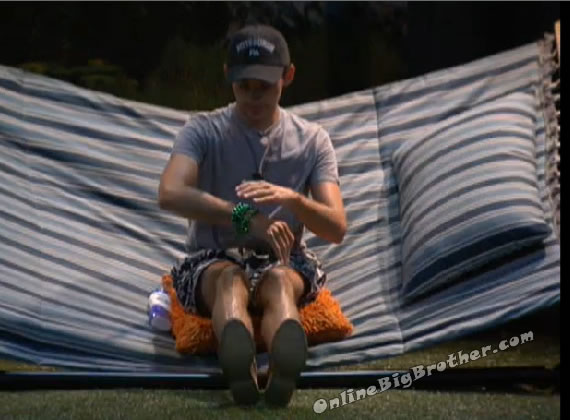 8:10pm Cam 3-4 Shane, Joe and Ian
Ian tells them if he wins HOH he'll toss Jenn and Frank on the block. His speech will be as follows
"Frank nominations without you is like halloween without candy"
"Jenn you wanted Frank out so bad during the live show now you have a chance to campaign against him and get him out yourself"
Shane and Joe laugh, "Comedy Gold".. Ian: "TV Gold"
Ian tells them he now has to think of Britney's goodbye speech. Shane agrees..
Ian jumps on the hammock starts rocking it hard.. A new player comes into the backyard sits beside Joe stats talking about them having to do something exciting tonight. Joe mentions they have another day of laying around. ? suggests they play "Bags" tonight, Joe agrees asks her when. ? whats to work out first. Shane is also in the back yard playing around with some rubber balls..
8:34pm Cam 3-4 Dan HOH
Chilling
8:40pm Cam 3-4 Frank and ?
? and Frank are both confident that they made the right move and it's all going to pay off. Frank says this coming week they get the next one out. Frank telling her that Shane and Joe are 100% on board to getting Ian out next week then Dan.. Frank to her that once he can play HOH again he'll throw it to her so he can play for the following one.
Jenn says that the "DR" did a medical check on her to make sure she's OK, She's thinking that the HOH on Thursday is physical. They reassure each other that they are still solid and they have their backs.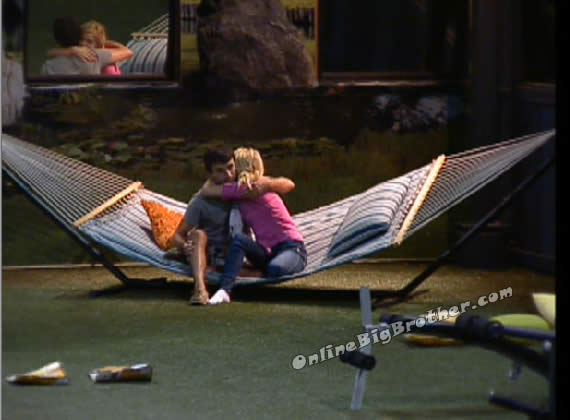 8:53pm Cam 1-2 Hammock Ian and Britney
Ian says that it looks like she doesn't have the votes to stay.. the reason is that they think Danielle is stronger in competitions .
Ian promises her it will be avenged, Shane or Ian will win the next competition.
Britney: 'I hate him.. I hate his laugh.. His voice"
Ian: "Frank is really a douche bag.. the thing that really kills me is Jenn was clamouring for us to take out Frank.. she has no accountability"
Both of them share in mutual disgust in Frank and Jenn.
Ian says that the only person Frank might win against is Jenn.. she has done shit (More importantly who is she?) Ian volunteered to be on Slop for the first part of the season what's so great about what she's doing. Britney says she would vote for Jenn over Frank but if Ian can make it to the end she will vote for him. Ian will try to get the quackpack back together. Ian: "I'll get him.. I hope it's a double this week he can go home talk to Julie in his carrot costume"
Britney: "Thanks for telling me"
They hug and Britney heads to talk to Danielle
9:06pm Cam 1-2 Britney and Danielle Arcade room
britney: "Ian told me that you are staying.. Good Luck"
Danielle breaks down and starts crying
Britney :"It's ok.. it's ok… you don't need to feel like this"
Danielle: "I don't want you to go I don't want you to go"
Britney: "It's fine I know you will win at HOH"
Danielle: 'Britney no…. I'm sorry.. now I am alone"
Britney says she can put some safety pins on her clothes and hang out with Jenn. Britney tells her that Dan is powerful in this game if she wins HOH she needs to put Dan and Frank one of those 2 have to go next week our they will not be able to win.
Danielle: "what can I do Britney to make you feel better"
Britney: "The best thing you can is just help me survive these next 48 hours"
Danielle: "Want to play with the badminton.. or lets hid Ted and watch Frank look for it"
Danielle: "I want to light Ted on fire"
Britney: "This season it's Danielle sweet girl alabama and Jenn i eat canned baby hearts
Share it YO!!
Tweet