POV Holder:
Jenn
Next POV:
Sept 1 (Saturday)
POV Used
YES
POV Ceremony
Aug 27 (Monday)
HOH Winner:
Frank
Next HOH:
Aug 30 (Thursday)
Original Nominations:
Dan And Danielle
Current Nominations:
Danielle And Britney
Have Nots
Dan
Last Evicted Houseguest
Boogie and Ashley
Pandora's Box POwer
Ian did NOT use his veto power
4:05pm Cam 3-4 HOH Shane, Frank and Joe
Shane: "I don't know what I will be doing.. but if I vote to keep Britney you won't hold it against me"
Frank: "As long as she goes I don't care"
Shane: "I am leaning towards keeping Danielle because BRitney has had a chance to play this game and Danielle hasn't"
Frank: "For all of us it is better if BRitney goes.. it's better to keep Dani because if she wins HOH it keeps you off the block"
Frank: "i want Ian out then dan out"
Shane: "I want Dan out first"
Frank: "I want Ian out because of the competitions I don't think Dan is very dangerous"
Frank: "Ian is the most dangerous player in the game"
Joe: "I cannot stand Dan.. it's not that he's proven he's a robot under the skin.. he's not a human being inside this house"
JOe: "He'll kill his first born child to win.. thats not dan outside of this house"
JOe: "I don't care who goes home this week.. Ian told me to pop a squat and when we were negotiating he treated me like a fu**** 2 year old"
Frank really plays up that dan is so unlikable he'll be easy for them to get out but Ian is tough because of the mental competitions.
Joe wants to sign a final 4 final 5 deal.
Joe says they are throwing away our key ally with Britney so we need some type of guarantee that we will get Dan and Ian out next. Joe wasnt to have a signed contract and have a man to man hand shank
Joe is worried about Jenn and Daniele. Frank tells him they can have a final 5 deal with Jenn and Danielle and once they get to that point they have to play for the comps to win.
Joe doesn't want an agreement with what they are going to do specifically he just wants them to agree to work together and try the best they can to get the 3 of them forward in the game.
Joe has thought Deep about it a lot this is a game changer .. this is a turning point.
Frank says that Dan will nominate Jenn and Ian. Shane thinks it will be Frank and IAn. Frank say no that won't happen. Dan saw something in Ian during the pandora's box comp.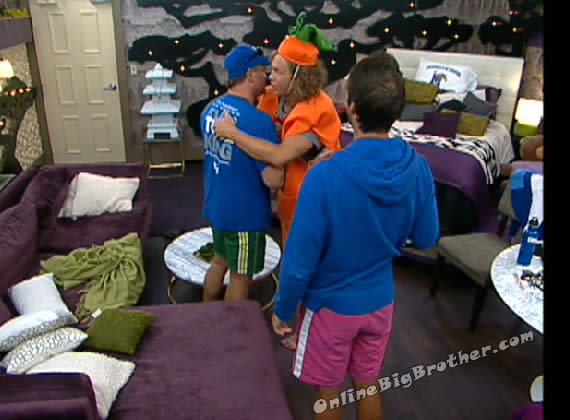 Joe: "What do you think?"
Shane: "I'm willing to move forward"
JOe: "How to do you want to move forward with this and Brit.. I already said I'm going with Shane"
Shane :"I'll just have to tell her straight up tonight"
Shane and Joe agree to do it tonight.. Frank says the three of them will make it to the final 3 chairs.
Joe: 'This will be the best season ever to have 2 of best competitors ever in the end"
Frank says when Britney goes out 4 to 1 Ian is going to feel really alone..
Shane goes to use the toilet.. Frank tells them when production came in to set up his computer they took a giant dump in the HOH bathroom.
Joe tells Frank if they do this they will control the house there is no on that can tought them.
Frank :"Next week looks pretty good for us regardless of who wins"
Joe is worried that Ian will get wind of their deal and cause drama.
They all shake on it and form the carrot pack.
Shane: "We just cannot let Dan or Ian win HOH"
Joe leaves.. Frank says that nobody will want to bring Joe to the final three. Frank says that they can roast Joe in competitions so they will cut him and the 2 of them will go for the end. Frank says it's like Dan and Memphis takeing Jerry.
Shane: "This is the houses worst nightmare you and me together"
Shane leaves….
Frank start gloating about yet another alliance he is in…
4:45pm Cam 1-2 Ian, Britney, Danielle and Dan
Ian: "I will fall on my sword for this alliance.. If it's double eviction this Thursday I will go him if it means one of us original 5 make it to the end" Ian says that Frank can offer nothing to Dan Frank cannot win the next 2 HOH's. Ian doesn't care what happens to him in this game anymore as long as someone from the quack pack makes it to the end. He doesn't want Jenn to win she was a floater.
4:50pm Cam 3-4 Kitchen Britney and Shane
Shane tells Britney that they are still up in the air about what they will do.
Ian joins them: "What's going on"
Shane: "Just trying to keep Britney safe this week"
Ian "same"
Ian says that Frank and Dan do not have a long term thing in the game.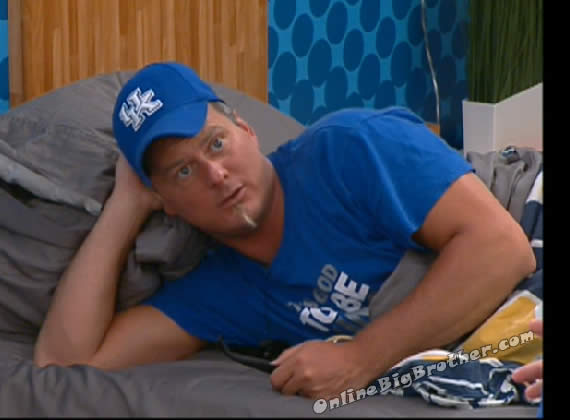 5:11pm Cam 1-4 Joe and Shane
Joe is saying that he's still trying to process all this.. Shane just talked to Britney.. I told her you are sleeping Joe: "This is the best thing for us.. you don't get a 1 in 3 shot for 500 grand" Shane: "or a 1 in 3 shot at 50"
(LOL so looks like the carrot pack is legit. Sigh.. So if the votes stay the way they look right now Britney goes home 4-1 and we have a house full of alliances. Still too many players in the house. this season is all about house flips.. do you think it will flip again or is Britney done for)
5:50pm Cam 3-4 Shane and Danielle
Danielle says that Britney told her she wants the final 3 to be all girls. Shane says that what he figured because she cannot win against him.
Danielle: "That doesn't matter to me.. I want to sit beside someone that I care about"
Danielle: "It's kinda hurting my feelings how Britney is acting towards me.."
Danielle heard that Shane was voting for BRitney to stay and she got so scared she whimpers tells Shane that he's all she's got in this game.
Shane claims he knew something was up with Britney today. Danielle thought that being on the block with Britney was going to be fun. Danielle: "She's being so mean to me.. I'm on the block because I didn't want Britney to go up.. I sent Janelle home because I thought she was going after Britney… I don't want to go home."
Danielle says that Britney has been telling her that she wanted someone else to take Shane out because she didn't want the blood on her hands. Shane says that 3 weeks ago Britney told him taking her to the final 2 because she deserved it more that danielle.
Shane: "She's playing a dangerous social game"
Danielle now starts to whimper about Ian going around saying
Danielle: "He needs to SHUT UP… He's never been on the block i've been on the block 2 times"
Danielle: "You make a guys deal today"
Shane: "I made a 1 week deal with Frank because he kept me safe this week.. Frank wanted a final 3"
Danielle: "Did Joe make the deal to"
Shane: "I don't know.. he may have.. I kind of think Frank wants to pull me and Joe in"
Shane tells Danielle that Joe and him are voting for her to stay… She's save this week.
(Yup britney's goose is cooked… :( )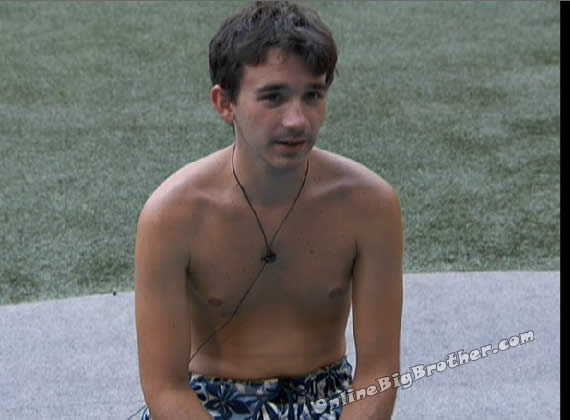 6:18pm Cam 3-4 Ian, Shane and Joe
Ian: "Where's your heads at boys"
Shane: "I dunno.. 50/50"
Joe: "I'm going to keep Danielle.. mainly danielle is stronger in competitions and Frank is going to be gunning for me if I don't"
Ian: "I hate to break it to you Joe but Frank isn't gunning for anyone for 2 weeks."
Joe: "I want Dan on the block and I know you want Frank.. I'm going to have a talk with Britney and tell her my decision"
Shane: "Ya i'm thinking about voting for danielle to stay to"
Ian understands and thanks them for telling him early.
ian: 'This is what irritated me with the whole thing.. it's not Dan he did what he had to do.. my main issue is with Frank and Jenn.. she gets on this train about me betraying frank.. well just so you guys know in the arcade room everyone other than Ashley and Frank was clamouring for those 2 to go up"
she has zero accountability.. and she walks around like she's innocent"
Ian: 'Franks social game is piss poor.. if you are not on his side he treats you like shit.. Jenn's social game was good but it is now piss poor"
Joe leaves…
Ian: "I am willing to move forward with Dan 100% .. from a moral standpoint what he did was reprehensible… I will vote for any faithful quackpacker until the end.. "
Shane tells ian he trust him more than dan.
Ian: "I honestly think Dan will try and get Frank out next week if he can"
Ian: "We get Frank out of here.. I'm going for Jenn.. "
Shane: "then Joe" (Ohh shit powerhouse you getting duped)
Ian: "I'm voting Brit to stay and nothing is changing that.. I will enjoy my last few days with her… and if I go to the Jury house I'll hang out with her there"
Ian smirks.. "the sweet thing about all this is Frank cannot play in the next 2 HOH and he didn't even get Dan out"
Ian points out that Frank's entire HOH was a waste for him. All he ended up doing was take out someone that Ian was allied with and who may have been going after him
Shane: "that was just hearsay.. "
Shane: "I trust you unconditionally.. Ian"
They start chatting about the comp on Thursday they wonder if it will be endurance.
Share it YO!!
Tweet