Head of Household Winner – ENZO YO!
Have nots – Dani, Tyler, Da'Vonne
Nominations – Kaysar & Kevin
Power of Veto Players are – Enzo, Kevin, Kaysar, Tyler, Bay, David
POV Host: Memphis
Power of Veto holder – Kevin
Power of Veto Ceremony –
Safety Suite –
Live feeds —-> Grab your Live feeds here. Try it free.
Rank the houseguests —-> Big Brother 22 Ranking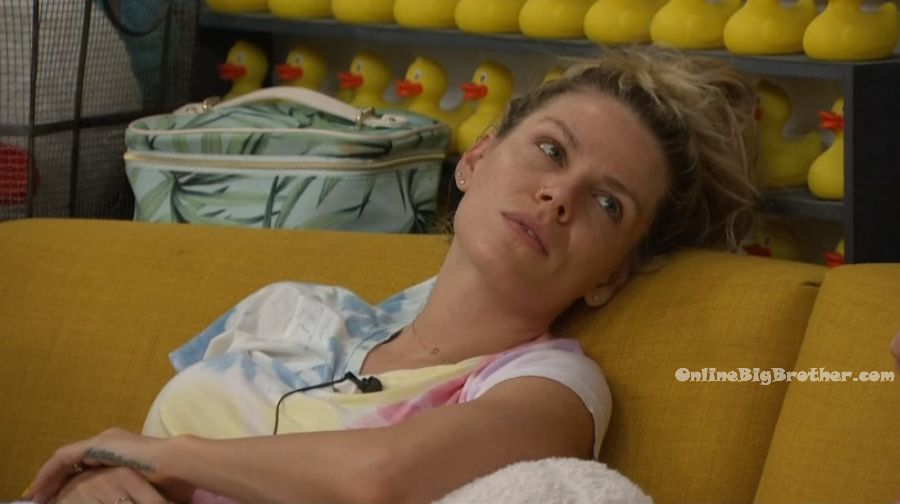 12:30pm Bathroom. Dani and Christmas.
Dani – what is the plan ..are we giving him (Kaysar) the run around or what's the deal. Christmas – I don't know. All I know is Enzo is going to talk to everybody today to decide. Dani – yeah that's what he told me. Are we giving him the run around? Christmas – no, if an obvious pawn goes up. Just say you're voting with the house. I just can't lie like that. Dani – I know. I am the same way.. which is why I was so uncomfortable last week with Janelle. Christmas – I wouldn't be able to look at him without him knowing I was lying. I don't want to see him spin like he does. Dani – That's why I am wonder what the best way is.. Christmas – I think it depends on who he puts up and how they handle it. Dani – yeah. Because I feel one way or another but I'm not sure which way he will spin out. Christmas – Iam friends with him. I am friendly. I have no problem telling him what I told him. I do mind set work with him. I don't do game strategy. Lay low as game strategy.. because no one wants a dooms day guy walking around. I don't tell him any information on anybody. I just don't want him to throw my name out there. Dani – I know .. same. I think realistically .. the has said so many lies in this house already that nobody would believe anything he says .. so like I think all of our group is so tight it doesn't matter what he says.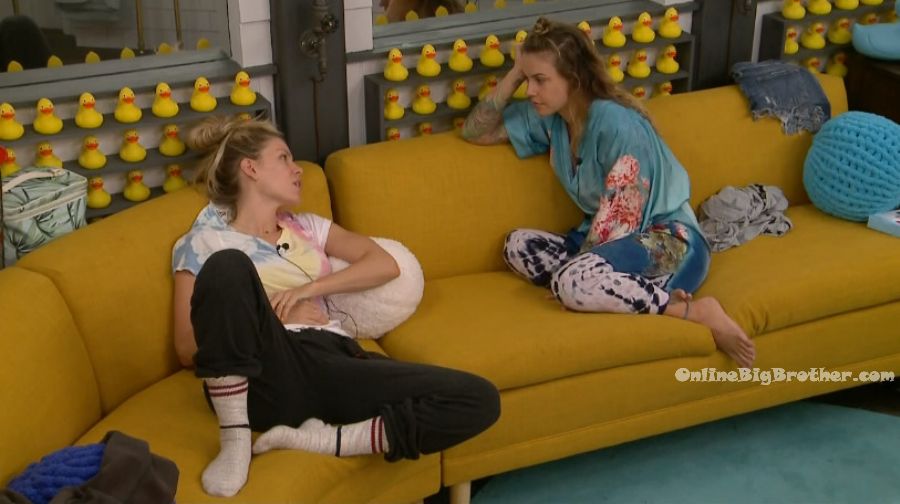 Bathroom. Ian and Christmas.
Ian – what are you thinking is going to happen? Christmas – he is going to talk to everyone again today and from what I know its going to be a pawn. He wants someone that would… Ian – definitely stay. Christmas – definitely stay and take it with grace. Even last night I said if you need to use me .. use me. Ian – My thing is I will take it with grace but I don't think I would stay. I think for me there is risk. Christmas – I think you would absolutely stay. We would have Kevin, Me, Nicole, Dani.. Ian – at the beginning of this week, Kevin and I made a pawn pact. That if we were against Kaysar .. we would vote out Kaysar. Christmas – good. And there's Tyler, Cody.. It should be unanimous. Ian – yeah it should be. Christmas – how are you with the girls? Ian – I think I am okay. The last time I was a pawn if I didn't win veto I would be 500K poorer. So there's that.. you know?!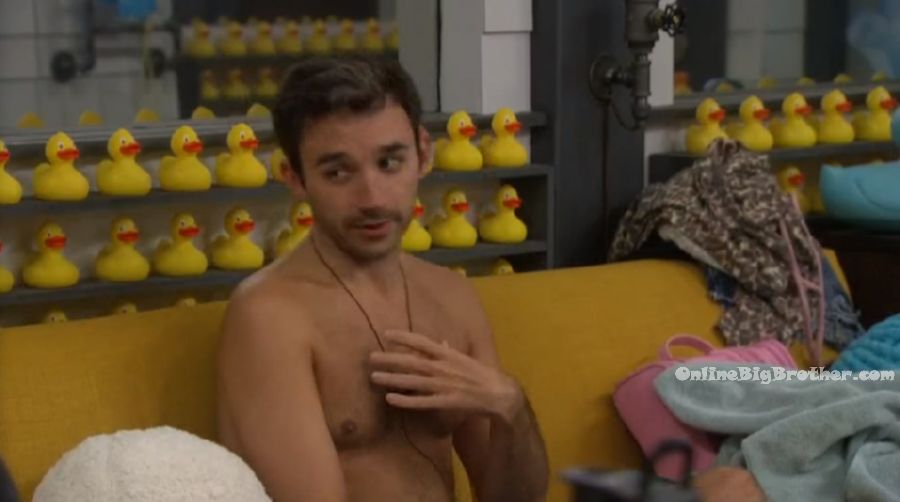 2:05pm Bathroom. Kevin and Ian.
Ian to Kevin – Congrats on winning. Kevin – thank you and obviously the same pact is in play. I think you're good though. You have my vote .. you don't even have to worry about it. Ian – thank you. I want to work with you ..we just have to take it little by little. Kevin agrees.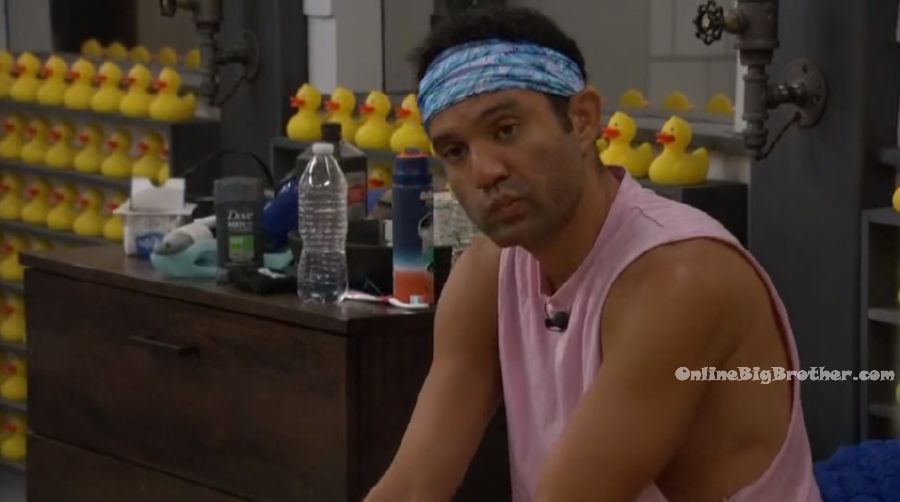 2:30pm – 2:40pm Bedroom. Bay and Christmas.
Bay – what is going to happen with Memphis? Christmas – he will get better he just has to take care of it. Bay – He can't even run. I am worried about him. It doesn't look good. Even on Thursday when the HOH is happening .. how is he going to get upstairs? Christmas – multiple times a day. Bay – or even next week he is supposed to be a havenot. How are you with the other girls? Christmas – I am pretty okay. I feel good with Day but we don't talk ever. But I think she is just playing close to home. Dani and I have a similar mom experience. She just asks me general questions. Same thing with Nicole too. Bay – do you think us as girls we could .. not like an alliance but protect each other. Christmas – however it is presented .. it should be presented as strategy not gender. Bay – I know David would have my back but he is going crazy. Memphis would have yours but.. Christmas – he is f**ked up. The guys that we would love and trust .. need us. Bay – and Kevin his a$$ was on the line yesterday.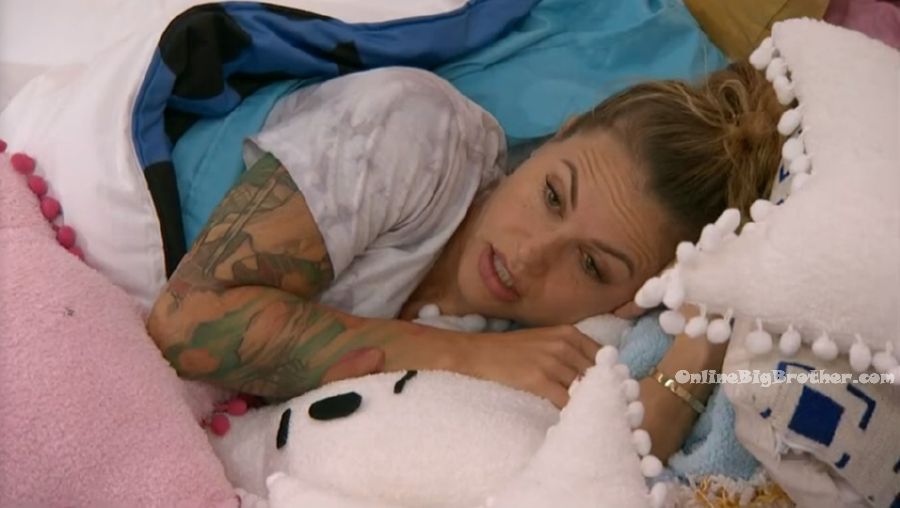 3pm – 4pm Nicole and Ian.
Nicole – He (Enzo) is going to talk to you today. He asked me if you like him and I said you do. He said okay good because I like him. He's my man. I just want him to know that he has our votes to get Kaysar out and that we will NOT flip. Ian – of course. Nicole – so make sure you make it clear that you are not close to Kaysar and you will not flip. Because he is afraid it could be five / five and he would have to break the tie. And no funky business of throwing in a weird vote. If Kaysar stays .. it is not good for me or you. He's got to go. I just wanted to make sure you're voting him out. Ian – yup! 100%! Ian starts studying the days / events of the season.
3:15pm Enzo and Cody are working out.
Christmas and Tyler.
Tyler – who do you think he is going to put up? Christmas – I think maybe David or Ian. Tyler – Ian is a vote for us.. Christmas – I think we have the votes to keep him over Kaysar. After Kaysar .. Bay probably needs to go next. IF she is in jury she is going to have a personal vendetta. Tyler – no one is going to want to get her out .. so they're going to pawn it off.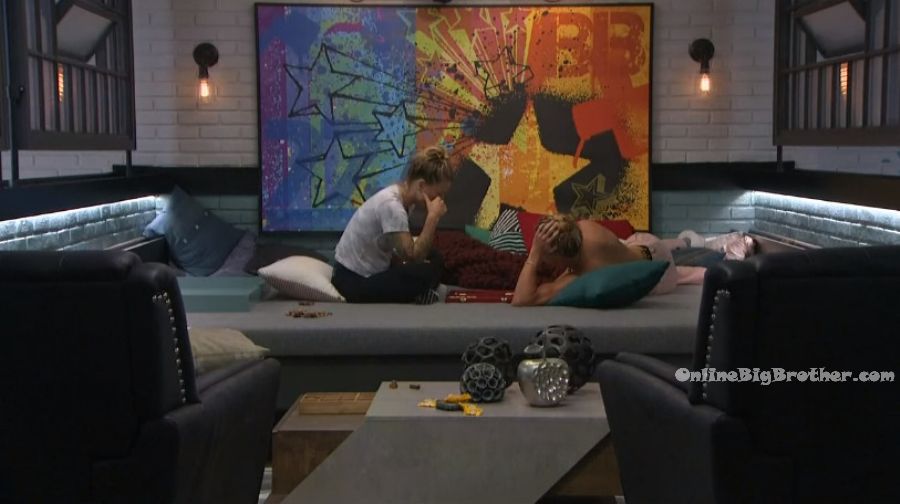 4:20pm HOH room. Enzo and Kevin.
Enzo – I was like you're making my decision so easy .. for her (Christmas) to f**king go up. She was like well you saved me with the plus one. You know what I mean. Kevin – that good. Enzo – she said whenever you're ready you and me go get her. And I was like it makes my decision easy because you never know when people are going to volunteer for this sh*t. Kevin – that means she wants to work with you. Enzo – that's it. We have the votes. You're going to tell her that you're going to vote for her to stay. Kaysar is going to be gone .. that's it! We will talk to her later today. She will go on the block. That's it. You're good ..everyone loves you.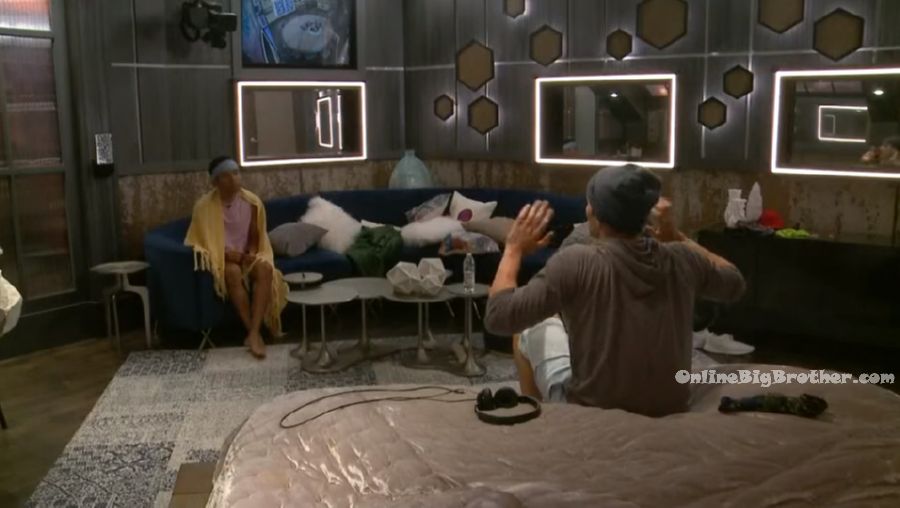 4:33pm Big Brother opens up the backyard.. The house guests run out and scream thank you BB!!!
4:50pm Memphis and Cody.
Memphis – I think it is going to be David or Ian unless he pulls something out of his a$$. Cody – I don't know. Memphis – I mean it doesn't really matter .. I think everyone agrees we have to get out Kaysar. Cody – but its like you burn a relationship.. when you put someone else up they essentially know that you're at the bottom of the totem pole. Memphis – yeah, yeah, yeah. Cody – that the good and the bad of being a pawn. You know where you stand. He could just put up David. I wouldn't be opposed to him going either.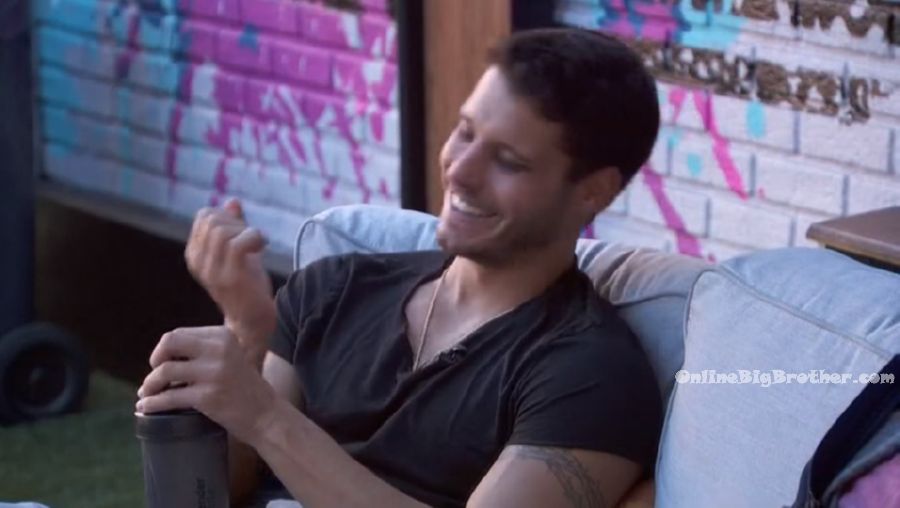 5:05pm Bedroom. Kevin and Christmas.
Kevin – I really liked your speech.. that was very motivational. Christmas – good, good! Kevin – I was like damn people underestimated me. Christmas – not anymore. Kevin – I feel like I could be a good asset. Christmas – definitely. Kevin – and I talked to Enzo and he said that he would connect with you .. its going to be good. Christmas – wait .. to put me up? Kevin – uh.. Christmas – like to replace you? Kevin – no! (LOL) Christmas – okay.. lets just be clear about things because I don't want to go up. I don't know who he is going to put up as the replacement but I don't think it matters. I hope who he picks won't hold it personally. Kevin – so he hasn't talked to you at all? Christmas – no, I haven't been able to catch him. What do you think he is going to do? Kevin – he said he wanted to get all three of us together. Christmas – lets get up there. They both head up to the HOH room.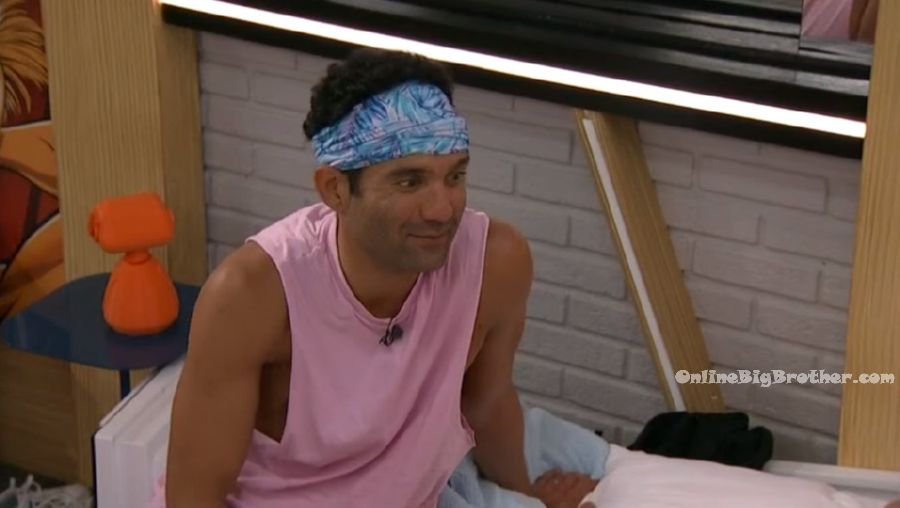 5:20pm HOH room. Enzo and Christmas.
Enzo – I can say I gave her the plus one. IF you're willing to be the pawn for just this week. That's it. Christmas – Okay I am good with it .. I just want people to think that I need to be up there regularly. Enzo – exactly! Christmas – that is my only concern. Enzo – that's what I am going to say that I did the plus one for her so she is doing this. That's it .. we just have to stay loyal. We may tickle someone in ..here or there later. We just stay strong and get past this next week because that's jury and then we have to start going strong after people. Christmas – I was just talking to Kevin and he didn't tell me that, that was the plan. He said that was something I would have to talk to Enzo about. Because he wasn't going to tell me what you were doing. Enzo – he is so f**king loyal that kid. Yo he can win sh*t! He proved that! We're good! We're solid. You're staying. We're good. Kaysar is going! Plus you've got friends in this house .. I've got friends. Christmas – who is next? Enzo – Whoever wins HOH we talk about it. Christmas – good we have to brainstorm. I like that. Enzo – I always said that its your HOH .. you decide. Its your hands that are getting the blood on them. To the end, I am staying loyal to you. I trust you and Kevin. He came up 10 minutes after I nom'd him. I know I can f**king trust him.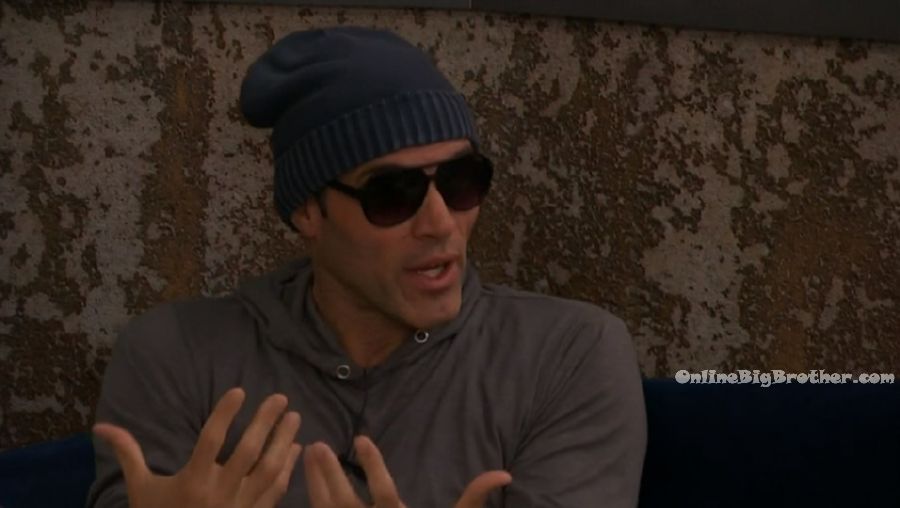 5:45pm -6pm Kevin joins Christmas and Enzo.
Kevin – are you okay with being.. Christmas – yes, its what needs to be done. Enzo – and what I am going to say is that I used my plus one on her. Christmas – and I am repaying my debt to him. Enzo – everyone knows what's up Kaysar is gone. Christmas – I am not going to say that I'm not going to be nervous. Enzo – they're not going to let 4 girls go out. (LOL OMG can you imagine!) I've got you! I've got the votes. You've got friends in the house. Christmas – this is probably the last cordial week. Kevin – and I will make sure it follows through in that direction (Kaysar gets voted out). Christmas – anyone else it would be a black mark against him. There are a lot of emotional players in the game and I am not like that.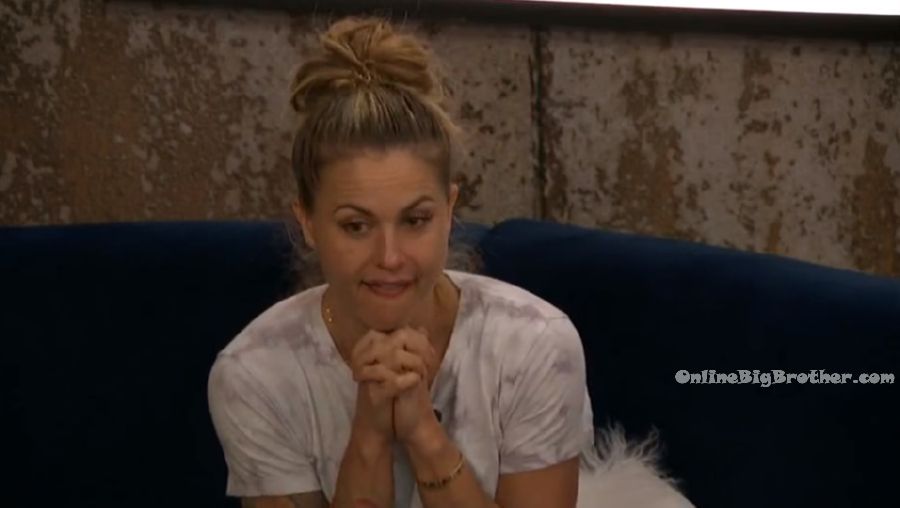 6:25pm Backyard workouts and pool
6:40pm The live feeds are blocked and then the feeds switch to the kitty cam… Before the feeds cut someone near the studio yelled "Nicole and Cody are playing everyone" (In the backyard – Couches: Christmas, Kaysar, Memphis. Playing Pool: Cody, Ian, Tyler)
7:05pm Still showing the kitty cam..
7:45pm The feeds are still blocked.
8:40pm Still nothing
9:56pm No feeds for you..
Show your support by making a donation.
If you're enjoying our live feed updates this season, please consider donating.
Any amount is greatly appreciated! Your donations go directly to paying the fees required to run this site.