Head of Household Winner – ENZO YO!
Have nots – Dani, Tyler, Da'Vonne
Nominations – Kaysar & Kevin
Power of Veto Players are – Enzo, Kevin, Kaysar, Tyler, Bay, David
POV Host: Memphis
Power of Veto holder – Kevin
Power of Veto Ceremony –
Safety Suite –
Live feeds —-> Grab your Live feeds here. Try it free.
Rank the houseguests —-> Big Brother 22 Ranking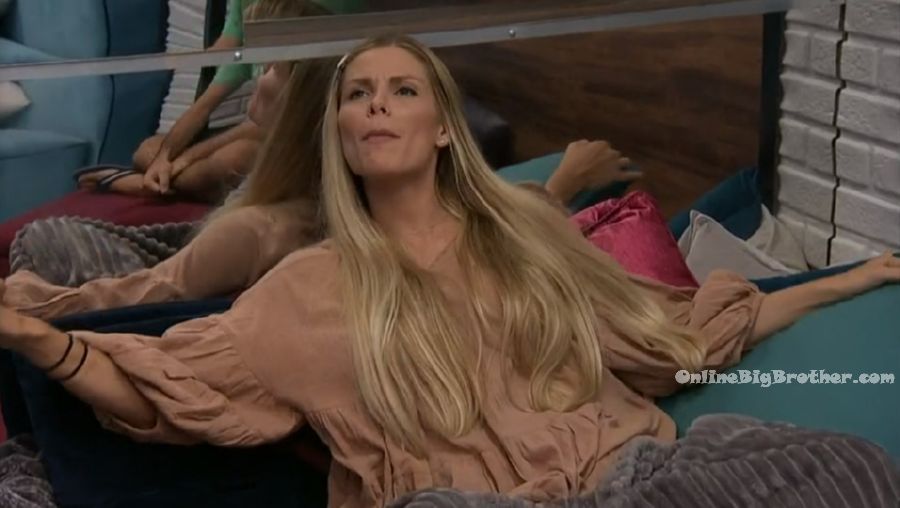 6:35pm – 10:20pm The live feeds were blocked due to someone outside the studio yelling "Nicole & Cody are playing everyone!"
Lounge room. Cody and Dani.
Cody – we're not on the same side in this house. Dani – you're on the same side .. you're just not on the same page. Cody – I don't understand why she is so hell bent on David. Does she not realize.. Dani – because it is the same thing with us .. when you hear someone say your name. in our minds .. you're gone! Its the exact same thing. So she is worried that he is going to win and he is going to come after her. She acted funny when she started lying to Tyler and I for two days. Cody – She is worried the he is going to tell David something. Dani – yeah. Cody – I kind of what to have a conversation with David to be like what did you say to Day!? And has she ever pressed you .. where did she get the all guys alliance. Dani – its not even worth it. Cody – right now she is skeptical of him. He (Kevin) said that he is a free agent and no one wants to pick him up. Dani – he told me how he really wants to get into something. He is looking for an alliance. Cody – but the problem is that if you do anything with Kevin and don't include Day.. DONE! So it is almost like I want to help you so much and I wanted to have something.. but like the only way he can help is if he targets Ian, Christmas or Memphis? So its like how can he really help .. you know other than being a vote. He is not going to be good to us unless Day is gone. Dani – no they're tight. Cody – If it came down to it he would vote how Day wanted and not how we wanted. Dani – agreed. Bay would be the better one to get out first. Cody – David is really like .. Dani – he is not going to just do whatever Day wants. Dani – I don't agree with that. Cody – who is he going to follow? Dani – I agree but I don't think he is a lost puppy just following her around. I think he is a lost puppy but I don't think he will do whatever she wants. Cody – he has proven that whatever he heards from Tyler and I .. he is just going to bring it to Day and Bay. Dani – I don't thing Day is going to try and win HOH either.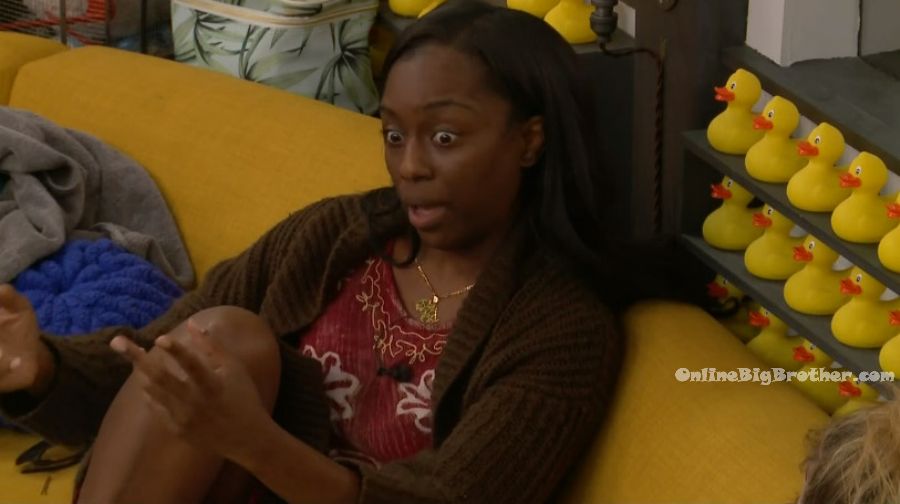 Bathroom. Day and Christmas.
Day – I don't want Kaysar to go. You don't want Kaysar to go. Bay doesn't want Kaysar to go. Kevin doesn't want Kaysar to go. Did him and David repair? Christmas – I don't know. I think it depends on who is on the block. Who David would choose .. you know what I mean? Is that four or five? Day – that is four without David. Christmas – so that is five with David and Enzo would be the tie breaker. Day – what about Ian? Christmas – it depends on who is up there. And Kaysar is a wild card. Enzo would have to put a person up and say why and give the house a reason. Otherwise the house is going to be like .. well that's just a pawn. Unless he puts a person up and he says why .. I don't think he wants to divide the house. Day – that is so scary Christmas because how long are we going to play this game and not want to upset the house? That is terrifying because I don't want to become collateral damage for not wanting to upset the house. That is not why I came here to play. Christmas – well is there anyway you could talk to Enzo tonight? I know that Kaysar has talked to Enzo and said I can be helpful to you. I am a bigger target. Let me help you. I don't think Kaysar knows that Enzo has a good relationship with us other people. I don't think he understands that there are people that will back him. Day – Yeah. We just need to nudge. Day – was trying to think about how to talk to him (Enzo) by not putting myself in danger and not jeopardizing names and three .. making sure its effective and it gets through. He is not just lost in the sauce. Christmas – he has never said any names to me. It could be an opportunity to extend an olive branch.. be like I am going out on a limb here and this is for long term game. Day – saving Kaysar .. I think he is great guy.. but game-wise.. Christmas – that buy is nuts! Day – but it is always one target in front of us. Day – my concern is me, you and Bay. Its been a long time since I've seen a season go the way this one is going .. 3 girls gone! Big Brother switches the feeds.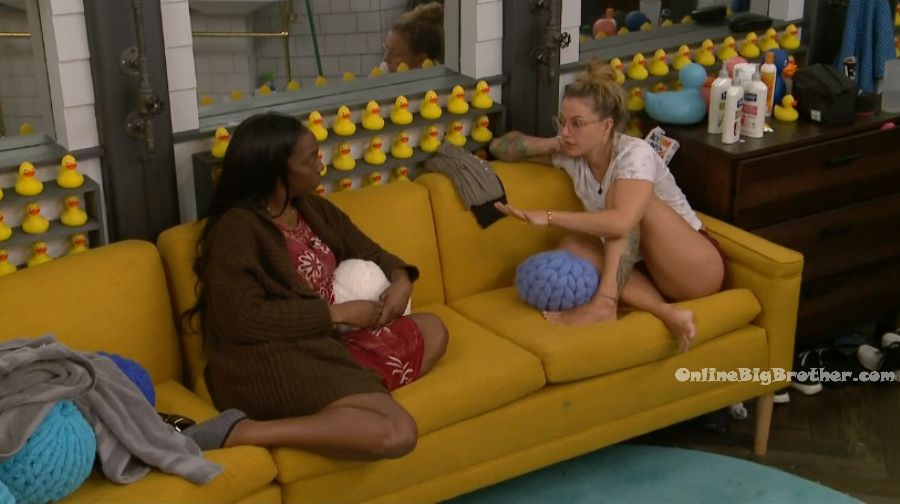 10:50pm HOH room. Enzo and Kaysar.
Kaysar – look I understand your position and I know this is game.. at the end of the day .. You're playing for yourself. I get why you're making the decisions you are in this house. It is very apparent to me. I am not going to go out there and blow up your game. Enzo – alright. Kaysar – But at the end of the day… to me it seems like you obviously have something good. But I question whether or not it is THE THING. Especially after what happened today (Studio wall yeller). You have to be thinking about your game and the pecking order is and where Enzo lies. It would be foolish to think like .. you're the only game in town. Enzo – I know bro. I don't trust anyone this season. I don't trust anyone!! Kaysar – you have to trust someone. That's why I said you better win sh*t this season. Kaysar – I have no one.. I am a sitting duck. No one is going to bat for me I can guarantee you. That is why I was telling you I am a free agent and why I am down to work with you. I know there are people like Cody and Tyler that want me out of this house. Enzo – what can I do for you? What do you want me to do? Kaysar – you still have control .. you're the HOH .. you have influence. Enzo – so who are you thinking I should put up then? or are you just?!?! Kaysar – I don't know .. I don't want to throw out names. Enzo – you know what I mean?! Kaysar – lets have a man to man conversation. I am a dead man walking right now. I am going to go home in a few days.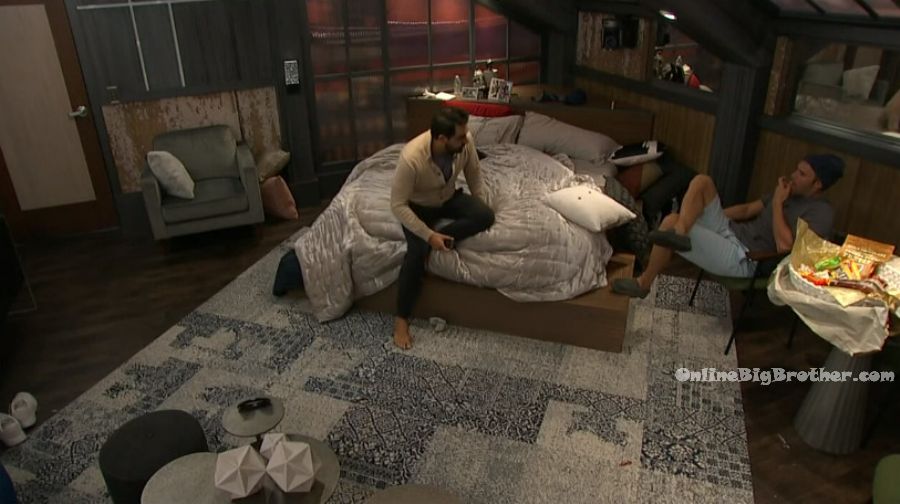 11pm Enzo – I am going to be honest with you .. you are the target that they want out. I am not bullsh*tting you! kaysar – it was obvious the moment you put me up next to Kevin. Enzo – you played three times .. you know. I am playing my game too by doing what I'm doing. I am open to listening to anything. Kaysar – I am a huge target. ..One I could be an ace in your pocket, Two I am a dead man walking.. Enzo – I have to put up a nominee tomorrow. Kaysar – you just give me a chance.. the only person that has pissed anyone of is David. I want to work with you dog. Are you on the same page with Dani, Tyler, Cody and Nicole? Are you in that sh*t!? Enzo – I keep them close to me because they're f**king monsters in this game. Dani I think is playing the best game out of anyone. Kaysar – she is, she is crushing it. Enzo – Tyler is cold blooded. Cody – is a comp beast. So you have to keep them as friends, allies, anything. Kaysar – how are you going to stay safe when sh*t gets really wild!? When Cody and Tyler come to you saying take this motherf**ker out… so you're doing their business. Enzo – you make good points but I am going after people too. Kaysar – without getting your hands dirty .. you put David up and I will try to secure the votes. If we don't do something about it ..they're going to be final 4 before you know it. You have to give me a second chance. I will never blow up your game. Enzo – let me talk to everyone..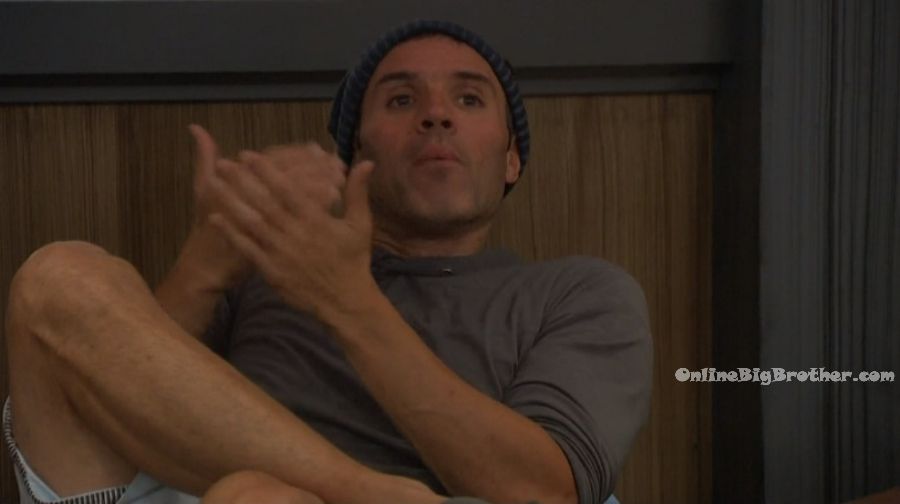 11:25pm – 11:35pm HOH room. Bay, Day and Enzo.
Enzo – he is f**king trying hard. He is boys with Dave and .. he is like look I am a dead man walking. He is like the only way I could stay .. and this stays between us.. If you put Dave up. And I was like I have a good relationship with Dave. He is like I think I could get the votes and then down the road we could work together. I told him that I will listen to everyone. Enzo – between us I think Dani is running the whole house. Ian scares the sh*t out of me.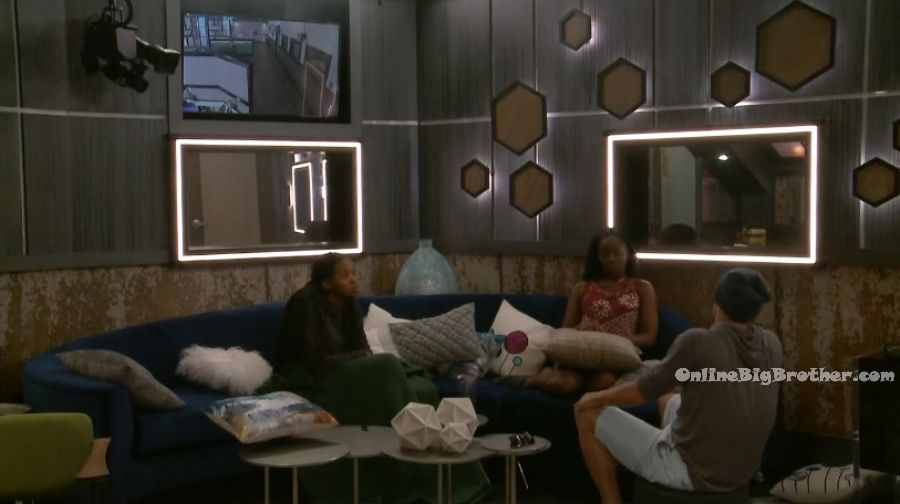 11:35pm – 11:50pm Day and Enzo.
Enzo – She is sprinkling everything.. why is she (Dani) is every room. You're savvy you've played this game three times before. I've played this game before too. That is why I keep her close but I know what she is doing. She is in everyone's sh*t and if she needs to drop a seed .. Day and Enzo .. that is what is going on YO! Day – there are a lot of people in this house that want her out.. The votes are locked! Day – this is me dumping it in your lap right now .. Cody makes me nervous. I don't know what he is doing. He is everywhere. Cody is in a lot of pots. Enzo – look I don't think he will come after me or you or Bay. He calls Tyler the Derrick of this season. Tyler and Bay join them.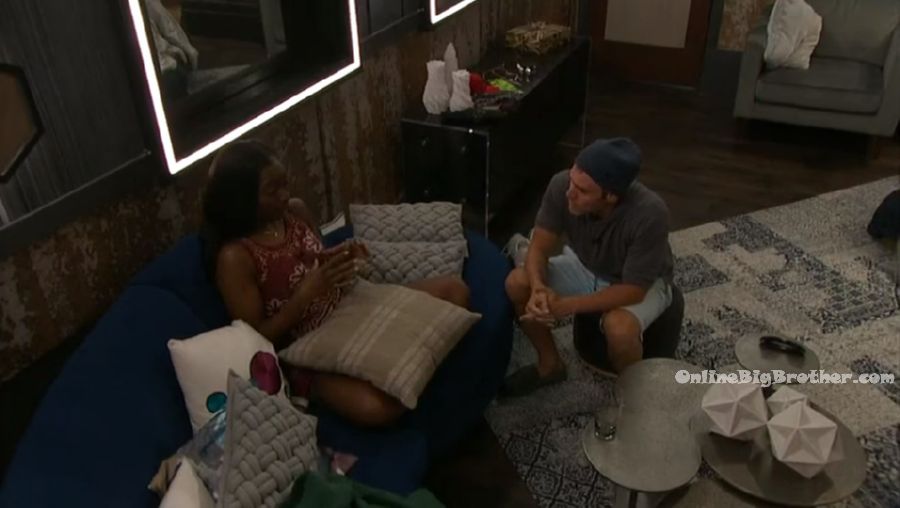 12am HOH room. Enzo, Bay and Day.
Enzo – lets get rid of Kaysar. Bay – who are you going to put up? Enzo – between us .. I am probably going to put up Christmas because no one wants to go up.. She f**king volunteered. She was like you saved me with the thing (Safety Suite – plus one), I'll do it. Bay – it makes sense since you saved her. Kaysar goes home, that is it. I am not going to tell Cody. Daay – do you really believe that the six that we have are really going to make it to the six? Enzo – we're going to do damage but when you have someone like a Dani in it .. its going to get f**ked up. She throws little seeds out and goes into every room and makes sure its sprouting. Bay – two separate people came to me and said something she said.. and Kaysar was one of them. Tyler, Cody and Dani join them. Enzo tells them all that he is putting up Christmas because she volunteered. Enzo – vote f**king Kaysar out .. don't f**k me up! Ian joins them.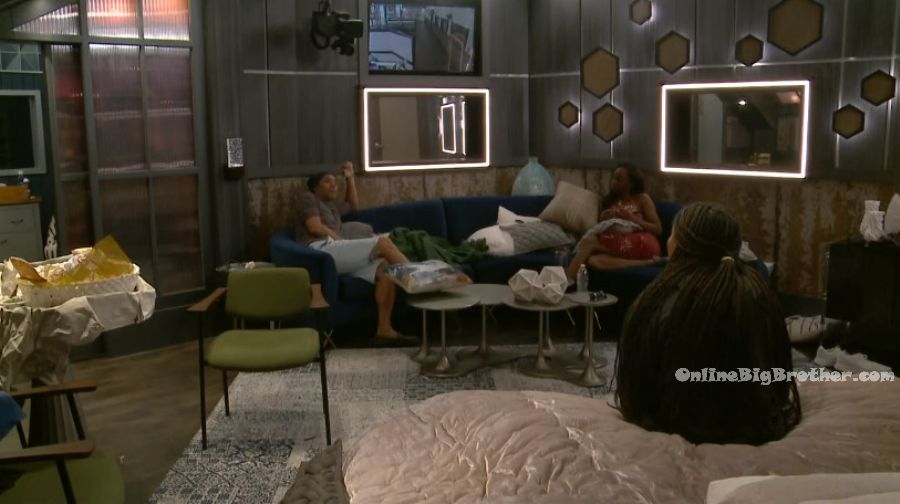 1:15am Lounge room. Kevin and Cody.
Kevin – it forced me to have conversations and stuff that I wouldn't have normally had. Cody – and I am not going to beat around the bush with Kaysar.. I don't even care who is going on the block next to him.. Enough things have happened where I will not beat around the bush .. you do not have my vote. The trust is broken. Kevin – the real nail in the coffin was the performance at the veto ..the drive was not there.. there are other people that were at risk like myself.. you have to sh*t your pants in my opinion .. break a leg .. you have to injure yourself. To me I respect actions. There really isn't an effort to play the game. Cody – to be honest I just feel that with you. I didn't feel that with Janelle or Kaysar.
1:45am HOH room. Christmas and Enzo.
Christmas – if you put me up .. I am starting to think that people might automatically associate us because when someone goes up as a pawn ..they are either disposable or they're tight tight and trust each other completely. So that is a concern that we might be seen that way .. especially since the last two weeks .. like you saved me and now I am going up as a pawn for you. I don't think either of the girls (Day or Bay) should go up so I am still willing to go up. I think David would still be a good option. He has caused a lot of turbulence in the house .. spinning Day and Tyler against each other. I think he would be a good option .. because he has already been on the block.. when he was on the block he kept his mouth shut, was really respectful. I told him I got you and I made sure he was calm. Even though he isn't completely he stable he is going to win something soon. I just wanted to run that by you. Enzo – I just don't trust David. I think Kaysar has a plan in play with him. He's like David, David put David up. Christmas – Kaysar thinks he has me, Day and Bay and he doesn't have us. I am certain I can have Nicole, Ian, Cody, Tyler and Dani. That is enough to have a split even if the house is confused. Enzo – I just feel safer with you up there because I know it is done. I know he is gone.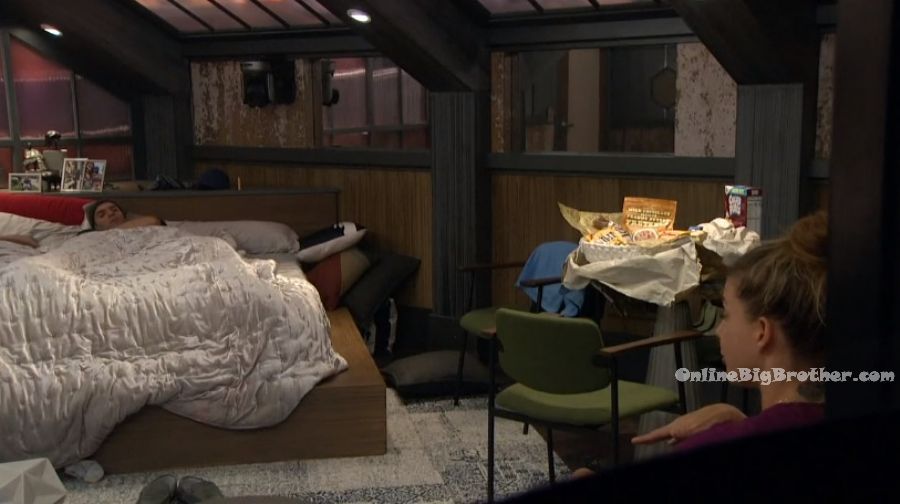 2:50am HOH room. Enzo and Tyler.
Enzo – Kaysar was like you peaked my interest when you said something about Dani. When you said that was all you wanted to know about… why? Because she is playing the whole house and I wanted to see if she was playing me. That's what he said. I was like holy sh*t yo! We have to make a move. I don't think this is the right week ..but YO! She is f**king all our games up. Tyler – I was telling Cody. I was listing to music and Nicole was right here.. Dani came in from talking to Day and Bay in the havenot room. She said they want to have a meeting to me and Nicole is right there. I was like who wants to have a meeting. Enzo – Dani doesn't give a f**k.. she is f**king all our games up. Tyler – then she just leaves and Nicole is like I know about the slick six. Enzo – what the f**k!? Tyler – Dani leaves and I am trying to lie to Nicole. Enzo – why didn't Dani let us know about that. Tyler – eventually I was like I am sorry Nicole .. I didn't know you knew about this. Enzo – I asked Kaysar .. where the f**k did this come from? About Tyler and Cody.. where the f**k did it come from?! I was like was it you and he was like no. I was like where the f**k did it come from? He said f**king Dani! That's what he said.. that's it Bro! What the f**k Yo! My thing is this .. do we make the move now and keep Kaysar or do we get rid of Kaysar and go after her next week through Christmas or somebody because I could get Christmas to get rid of her. Tyler – after that happened with me I asked Bay if Dani adds fuel to the fire to get Cody and me out and she said no but I think she does to Day. Then I said she adds fuel to the fire to get Bay and Day out .. and after I said that Bay was fired up!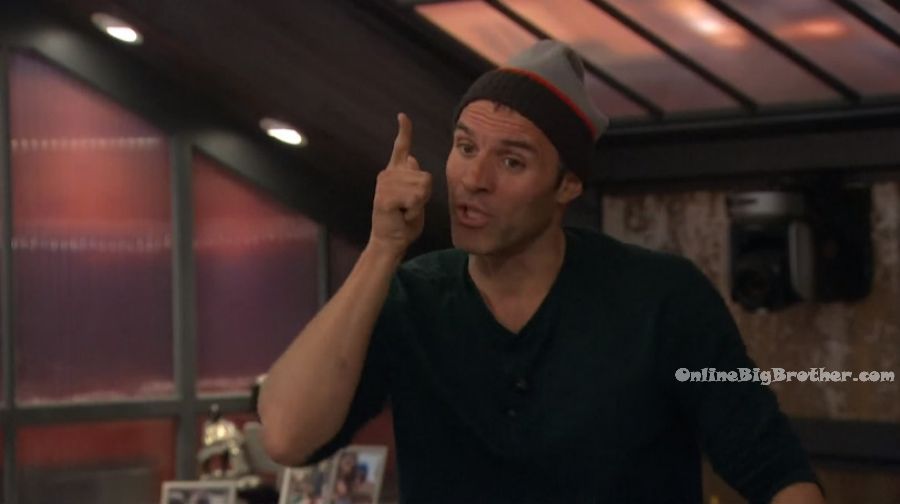 3:35am Enzo – for her (Dani) to disrespect us like that and tell NicoleF .. Now NicoleF knows all our game. That sh*ts got to stop bro! Tyler – backdoor her .. I don't give a sh*t. Enzo – we already have people that are ready to bounce on her for next week. Next week is a double eviction .. boom we f**king make moves. I trust you and Cody. Tyler – Cody says we wait on backdooring her. Who knows what kind of sh*t she will make up. Enzo – so we get rid of Kaysar this week but we just know. I just don't want to let this opportunity squander right now. Tyler – if you put her up she will spill everything out. Enzo – I think Kaysar will spill everything out.. about you, Cody.. I don't trust nobody but you and Cody! I think this week we play safe and get rid of Kaysar. Tyler – I will backdoor her. All my my season I was backdooring people .. this sh*t is boring. I'll say hey make a shocked face if you're in an alliance with Dani in this house.. Dani get on the block! Enzo laughs. Tyler – that's how it has to be done. Her mind has to be driving her nuts .. its not healthy. Maybe we feel it out tomorrow. Enzo – that means Nicole has to go too yo! There is so much work to be done yo! Get rid of Kaysar this week. That's done. He is coming after you and Cody anyways. He said you, Cody, Dani and NicoleF are running this house. Its just too much bro.. its got to stop. Its hard for me to play nice because I just want to f**king do it yo! Lets just play nice and not let Dani know that we're on to her.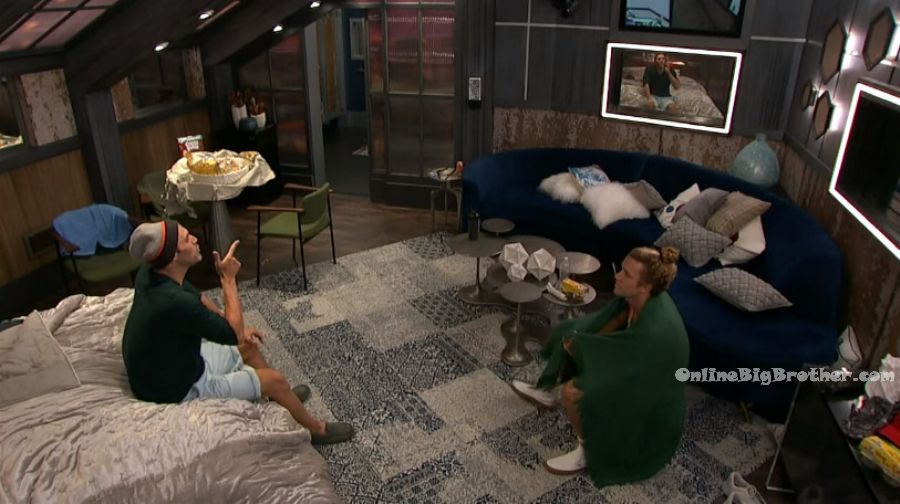 3:40am All the house guests are in bed..
Show your support by making a donation.
If you're enjoying our live feed updates this season, please consider donating.
Any amount is greatly appreciated! Your donations go directly to paying the fees required to run this site.