POV Holder:
Jenn
Next POV:
Sept 1 (Saturday)
POV Used
Yes
POV Ceremony
Aug 27 (Monday)
HOH Winner:
Frank
Next HOH:
Aug 30 (Thursday)
Original Nominations:
Dan And Danielle
Current Nominations:
Danielle And Britney
Have Nots
Dan
Last Evicted Houseguest
Boogie and Ashley
Pandora's Box POwer
Ian -> Has a veto power
***POV Results
1) Dan in solitary dance party for 24 hours
2) Carrot top wears a carrot suit for 24 hours
3) Danielle and Britney are handcuffed for 24 hours
4) Jenn has POV, Burns clothes and is on slop for the rest of the game
5) Frank gets "chum" bath 24 hours (Frank was also Disqualified from the competition)
6) Shane took no punishments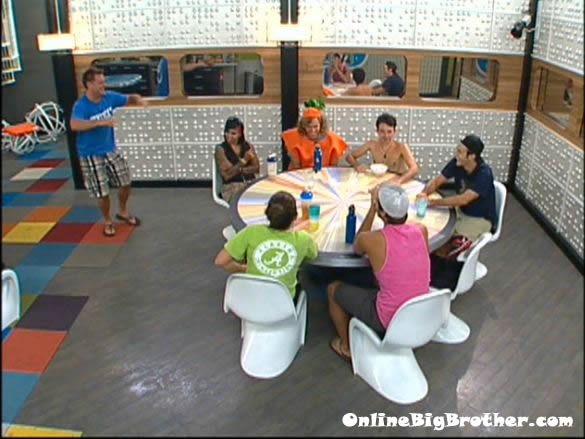 12:40am Danielle, Joe, Dan, Shane, Frank, Jenn, and Ian are all sitting around the kitchen table talking. They all watch as Danielle and Joe are playing the hand slapping game. Britney is in the diary room. Ian comments and asks what could they want from her? Ian then tells everyone this is what it will look like next week. Ian starts talking about how knows he was cast as the nerd and that he has wanted to play this game since 2001 before a plane flew into a tower.. Frank stops Ian and tells him not to make light of 9/11. Jenn agrees with Frank. Frank starts to talk about 9/11 and tells them that it had a huge impact on his life but says that doesn't want to go into it. Shane and Jenn head out to the backyard. Jenn tells Shane that she won't be sent out by someone like Ian. Jenn tells Shane she has been uncomfortable with Ian all night by his behavior and words. Shane tells her they will get him out next week. Shane heads inside to go to bed. Joe tells Jenn and Frank that the kid will be gone next week. Joe says that he has eight days here left! Joe says that Ian keeps making it worse in there with all of his apologies. They are all angry with the comments Ian made. Jenn starts to cry. Joe tells her that they will fix it. Jenn says that she wants Ian gone. Ian then comes out and Jenn leaves. Joe tells Ian that Jenn is pissed at him.
Superpass Live Feeds FREE 3 Day Trial then:
Watch the last month of Big Brother 14 for ONLY 50 Cents a DAY!
1am Frank tells Ian that he was in the 5th grade and Jenn was a grown woman living in New York when that happened. Ian says he was just using it as a historical reference. He says that he is just really drunk right now. Frank tells Ian to just tread carefully Bubba! Ian says that his biggest problem in this game is that he has zero clue what is appropriate. Joe says I just love this awkward f***ing house! Ian says that he feels sick to his stomach. Frank tells Ian that he could have gotten really far in this game if he would not have back stabbed him and Boogie. Ian tells Frank that he likes him a lot, you're a great dude, you really are. Ian says that he is proud of how far he got and that he could go home now and be happy about it. Ian is drunk.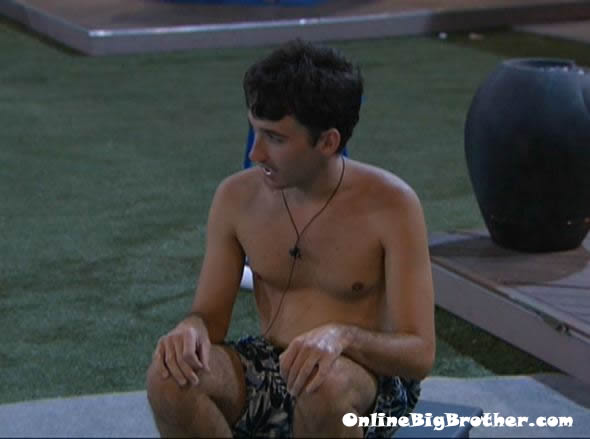 Ian tells Frank that his competition game is great, his strategy game isn't bad, but that his social game is s**t. Frank says don't tell me my social game is s**t! Frank tells Ian that people like me. Frank raises his voice and tells Ian that he can go jump in a lake with that s**t! Ian says he that he might throw up and heads inside the house. Frank says that he can't believe Ian just said that.. Joe and Frank are talking. Frank tells Joe that they have to get Dan, Shane and Danielle out. Frank tells Joe that he can get Jenn out for him. Joe says this is our moment. Frank says that Ian has to go, we have to get rid of him quick! Frank says that he is worried that Dan is going to think about taking Ian to the final two. Frank says f***ing Dan! Frank says that he wishes we could send two people home. Joe says we just need to get past these two f***ing weeks.
Re-Watch ALL THE DRAMA on FlashBack: Big Brother 14 Live Feeds – 3 Day Trial!
1:40am Shane and Danielle are in the bathroom talking. Danielle tells Shane that she trusts him. Shane says that he hopes he at least has that. Shane says he feels like he should trust Frank because he has been straight with them. Danielle tells him that she will protect him. Shane says that if we have a chance I would feel much better if you back door Frank. Danielle asks Shane, you do know that I trust you right. Shane says he hopes. Danielle asks you hope or you know? Shane says he knows he can trust her and has known that since week four. Shane says that he doesn't have that with Britney anymore. Shane tells Danielle that Joe gave me his word he's keeping you, I'm keeping you, and Jenn is keeping you. Shane says that he wants it to be him, Danielle, Joe and Jenn as the final four. Danielle mentions how they need to play nice with Dan so that he will take out Frank. Danielle also says that she will back door Frank if she gets the opportunity. Danielle comments on how Britney said that she just wants to use the money to buy her husband a new truck without having to pay for it. Ian joins them in the bathroom. Shane asks Ian if they were making fun of him outside. Ian says they were. Shane says that they are mean people, stay in here with us. Ian says that they were asking him if it was Mardi Gras because he is wearing he bead necklace. Ian says that he brought it on himself..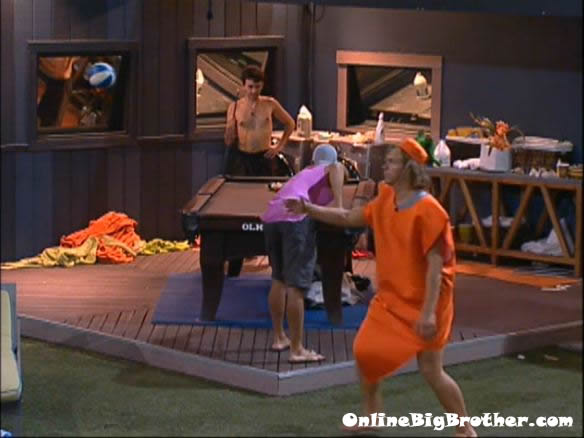 2:30am Frank, Dan, Joe and Shane are in the backyard shooting hoops. Ian is also out in the backyard on the lounger by himself. Ian and Shane play a game of pool. Shane and Ian then head to bed after their game.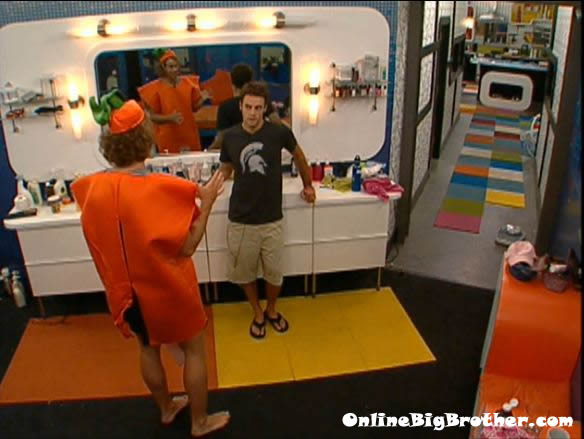 3am Frank and Joe head inside and Frank says that little f***er! Frank and Dan head into the bathroom to talk. They talk about how Britney is going this week. Frank says that they were going to tell her tonight but that production.. BB cuts the feeds. Frank says that he has been selling Ian to the rest of the house guests so that even if him or Dan don't win HOH, whoever does, will put up Ian. Dan tells Frank that Ian wants to put Frank up against Jenn if he wins HOH. Frank says that they just need to get past next week and that getting rid of Ian would buy them that week. Dan asks why does Shane wants me out? Frank says that Shane hears from everyone that Dan is a dangerous player. Frank tells Dan not to worry about Shane because the two of them can beat him at physical competitions. Frank says that the most important thing this week is to not let Ian win HOH or POV this week. Frank and Dan finish their conversation and head to bed.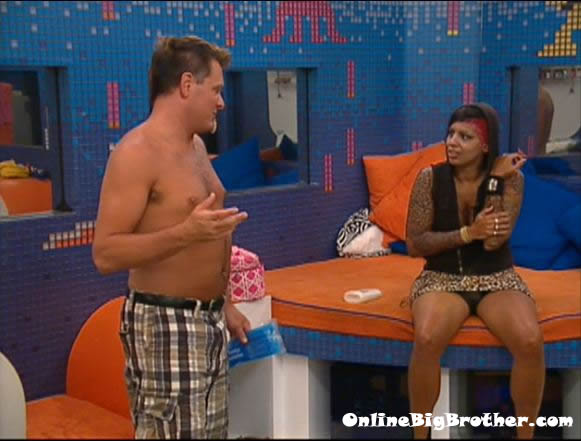 3:30am Jenn and Joe are in the bathroom talking. Joe comments on how Ian is a dead man walking. They both agree that they can't let Ian win HOH this week. Joe says that Ian is an a**h**e. Jenn agrees. Joe says that Ian has been hiding that side of himself and that he is the type of guy who will just dig himself a deeper hole. Jenn and Joe then head to bed.
8:30am All the house guests are still sleeping..
Share it YO!!
Tweet