POV Holder:
Jenn
Next POV:
Sept 1 (Saturday)
POV Used
Yes
POV Ceremony
Aug 27 (Monday)
HOH Winner:
Frank
Next HOH:
Aug 30 (Thursday)
Original Nominations:
Dan And Danielle
Current Nominations:
Danielle And Britney
Have Nots
Dan
Last Evicted Houseguest
Boogie and Ashley
Pandora's Box POwer
Ian -> Has a veto power
***POV Results
1) Dan in solitary dance party for 24 hours
2) Carrot top wears a carrot suit for 24 hours
3) Danielle and Britney are handcuffed for 24 hours
4) Jenn has POV, Burns clothes and is on slop for the rest of the game
5) Frank gets "chum" bath 24 hours (Frank was also Disqualified from the competition)
6) Shane took no punishments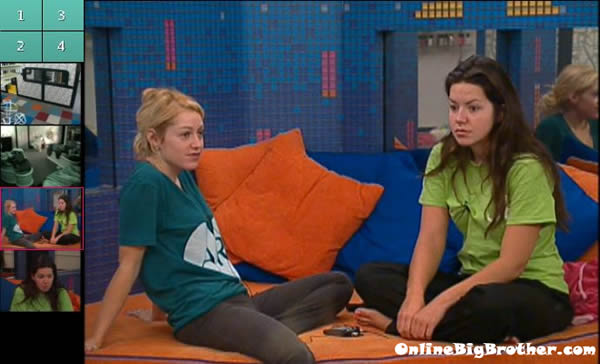 10:10am – 10:30am Danielle and Britney are the only house guests awake and in the bathroom. Britney tells Danielle that we are locked out of the backyard by the way, it's going to be endurance. Britney is worried if she said a bunch of curse words or something. Danielle tells her that she was even nice to Frank and that she has nothing to worry about last night. Britney says that she can't believe how much of a douche Ian was being. She says that she feels bad and a bit guilty because she was wanting him to drink with her. Britney says that she is embarrassed with herself. Danielle keeps telling her she was fine she wasn't cursing or slurring her words. Britney recounts how she got drunk and told the story about her and her husband doing it and getting caught be his dad. And how after his dad said he was a stud. Britney says that his family could have been watching that last night. F my life. Britney asks is it possible if I told that story after mid night. Danielle says no. Britney says F my life. Ryan wants to punch me in the face right now. Britney gets called to the diary room.
10:40am Big Brother wakes up the house guests.
Big Brother Live Feeds FREE 3 Day TRIAL: Watch the last few weeks of BB14 for ONLY $14.99!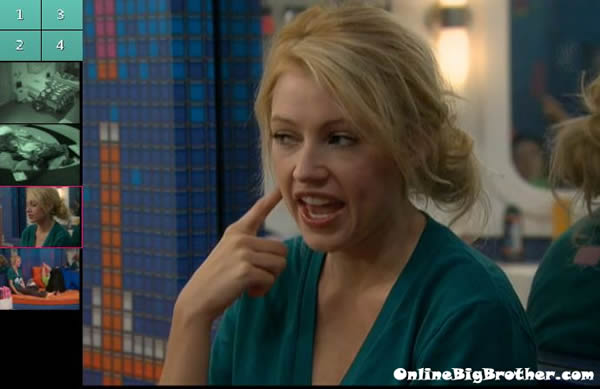 10:50am – 11:10am Dan and Britney are talking in the bathroom about last night. Dan talks about how they were playing basketball in the backyard and how Ian was watching the whole time and that Ian got up, grabbed the basketball hoop, which he wasn't a part of and chucked it into the pool. Frank joins them. Dan says that he, Joe and Frank all stood there stunned. Britney talks about how she can't believe BB made an announcement to check on me to make sure I was okay. Dan says that they just wanted to make sure you were okay in the pool. Britney says that she can't believe that she the negative Nancy was all positive last night. Dan says that she was making fun of Kathy in the pool. They comment on how Ian kept interrupting her last night. Dan says that Ian never mouths off to Big Brother and he was just mouthing off all over the place. Frank brings up how Ian brought up 9/11 and how he said he's been wanting to play BB since before planes flew into the twin towers. Britney says oh my god that's horrible. Frank brings up how Ian said he graduated high school at 16 years old. They wonder if is his already in his master's degree. Dan says that it makes sense why he is more socially awkward. Frank also brings up how Ian told him his social game is s**t. Britney says that Ian said she deserves to be here and that she is leaving all because of that carrot! Dan talks about how Ian was pouring cereal and milk all over out side the bowl. Dan says that Danielle told him he was getting it all over the place and that Ian snapped back thanks I am aware of what's going on. Frank says when Ian said he said he graduated high school at 16 he said wups I shouldn't have admitted that.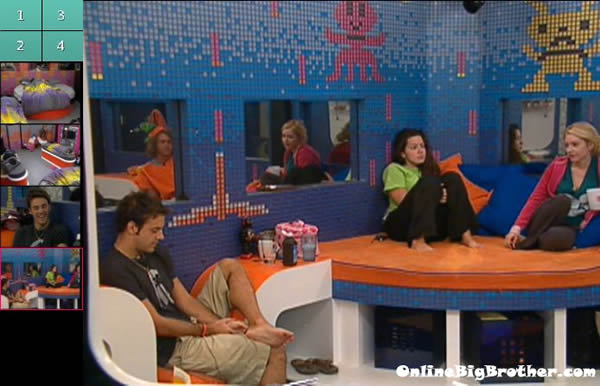 11:20am – 11:35am Frank, Dan, Danielle and Britney talk about 9/11 and all the conspiracy theories. Dan and talk about lying in the game. Britney talks about how she doesn't care if people lie in the game but that she does if they say how honest they are and that they never lie and then you find out they lied about everything. Dan says that he doesn't like that as a viewer when he watches and sees someone talk about not lying and then you watch one more episode and they've told like 10 lies.
11:50am – 12:25pm Dan, Danielle and Frank talk about if it's endurance this Thursday and strategies for winning the endurance competition. Frank says that it sucks that I can't even compete in it. They talk about how there will be six of them competing and it will be everyone against Ian winning it. Danielle keeps humming and Big Brother tells her to stop singing. Danielle gets mad that BB always picks on her. Danielle and Dan head into the arcade room to talk. Dan tells Danielle that it seems like Shane is pretty infatuated with her now. Danielle says nods her head and asks you can tell? Frank joins them. They talk about past seasons of big brother and the jury questions. They start talking about Jojo. Danielle starts talking about how Jojo told her that guys probably cheat on her because she isn't good in bed. Dan asks what Ian's face was like when he was yelling for his beer back the other day. Frank says his eye's were all bug eyed. They talk about how obsessed Ian is with Britney. Danielle says that he said he has a final two deal with Britney last night. Frank says that he would have been way better off with him.
12:40pm – 1pm Frank talks about how he was suspicious of Ian and how he would tell Mike about it, he says that he would always see Ian whispering to Britney and wonder what the hell they were whispering about. Dan says that Ian told him if he put voted out Britney he would rip his face off. Dan starts talking about how drunk people were last night. Frank tells says yeah but we aren't supposed to talk about that. Dan asks what? Frank starts to say about Britney … Big Brother switches all four cams. The cams switch back, Britney joins Dan, Danielle, and Frank in the arcade room. Britney talks again about the story she told about being caught doing it. The conversation changes to talking about schools and drugs that students do in high school now a day.
1:15pm In the arcade room, Britney continues to talk about New York. Dan keeps asking her questions and she tells stories about he life in New York.
1:40pm Dan continues to try and get Britney to be a realtor. He tells her that if he saw a pretty girl on a bill board he would be more likely to go with her than someone else. The conversation turns to talking about football. Ian is up and sitting by himself on a bed in the stereo room. Danielle gets called to the diary room, so she goes to the bathroom to put on her makeup. Power House Joe is still sleeping..
1:45pm – 2pm Dan starts talking about Dr. Will and how he lied about how much he got paid to do BB All-stars. Dan whispers to Britney and says that Dr. Will wanted him to invest in Tattoff. Dan says that he looked into it and ran the numbers with a financial person and it just didn't make sense. Frank and Ian join them. Britney continues to talk about her place in New York.
Share it YO!!
Tweet