POV Holder:
Frank
Next POV:
Aug 18 (Saturday)
POV Used
Yes
POV Ceremony
Aug 20 (Monday)
HOH Winner:
Shane
Next HOH:
Aug 13 (Thursday)
Original Nominations:
Boogie And Frank
Current Nominations:
Boogie And Jenn
Have Nots
No Have Nots This Week
Last Evicted Houseguest
Wil
HOH temptations
Britney Safe this week, Boogie gets 10grand
11:30am Frank, Boogie and Ashley head into the kitchen to make breakfast. Dan is in the arcade room reading the bible. Ashley says that she had to ask for early stipend just to pay her bills and says that her parents who had no means to help her said that maybe she shouldn't because it will look like you are too greedy and they might cut you. Big Brother cuts the live feeds.


11:50am – 12pm Ian is out in the backyard talking to Dan. Ian tells Dan that Joe is supposed to give them an answer today about who he is working with. Dan says that no one will figure it out and no one will rat you out. Ian says that we will just blame Joe, no one will believe Joe, right? Ian says that Joe's word dirt. Dan tells Ian that he will be fine as long as he doesn't sell incriminate himself. Ian says oh no I wouldn't, I just feel dirty. Ian says that he just feels bad about it and that he had to talk to Britney about it last night. Dan says that he would pay to see Ian's diary room message. Ian says that it won't be mean. Ashley joins Ian on the hammock. Ian brings up how Britney asked her to get his batteries because he had morning wood. Ashley tells him that Joe had wood out here on the lounger. Ashley then tells Ian about how Britney caught Joe mastu*bating. Ashley says that she is having that problem too, all the blood rushing down there.. Ian tells her that he can help her out with that and that maybe she can help him out with it too. Ashley says Ian!? Ian tells her that no one would know if she just gave him a H*** j** under the covers. Ashley says that they could still tell. Ian goes to leave and tells her to consider that offer.
Watch what happens, AS it happens: Big Brother 14 Live Feeds!FREE for 3 Days, then ONLY $14.99 per month!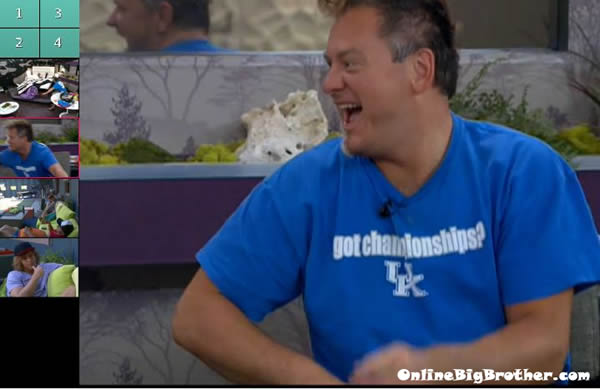 12:20pm – 12:30pm Joe is up in the HOH room talking to Shane. Joe says that the funny thing is that they wanted to know my answer by noon and I woke up at noon. Joe says that Boogie said in the last few days he has talked to Ashley on a gaming level and that she not airy or dumb. Joe says that they also threw Ian under the bus saying that he is fraternizing with the other side. Joe says that Boogie said that Ian is on their sh*t list. Joe says what is funny is that is that they are telling me everything. Joe says what is great is we can use Ian for a vote and pretend to bring him in to our alliance. Shane says we should do that. Joe says that they threw Jenn under the bus too, saying that she has no social game, she hasn't won any competitions, she can't win anything. Shane tells Joe to tell Jenn that. Joe says that is the first time I have seen him throw her under the bus. Shane says that we can use that as ammunition. Joe says that once I heard that Ashley is with then 100% and Ian is wishy washy… I am not with them. Joe says he is going to head down stairs and if you hear anything its because I told them no DEAL! I am going to make it a public affair… Shane says that he wants to see that!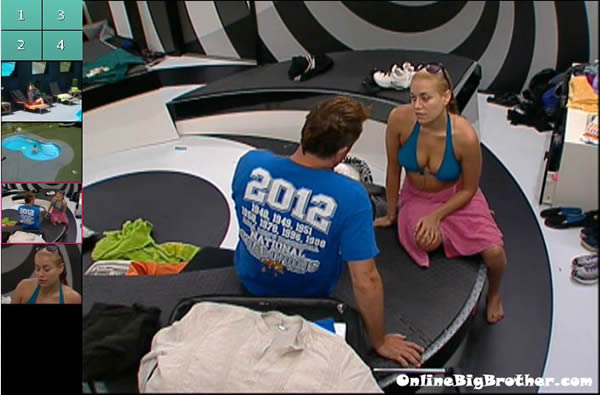 12:30pm Joe and Ashley go into the have-not room to talk. Joe says that obviously the lines are drawn and I am just going to say it how it is…. I talked to them last night. I can't just make a one week deal, I want to ride to the end, if we lose, we lose. It comes down to what side you want to be on and who you want to be with. Ashley agrees and says that she wants that too. Ashley says that is why she talked to him and wanted him to know that she didn't cheat and that she wanted the noms to stay the same anyways. Ashley says that she is picking Frank and Boogie's team. She says that she thinks she is nothing to them (Shane, Danielle, Dan and Britney) Joe says that he is going to make a decision today, as it stands he needs to talk to Boogie one more time. He says that he has a few more questions for him about the he said, she said sh*t. Ashley says we are in the best position in this house. Ashley tells Joe that if Jenn stays in the game she is out for blood for you. Joe says yeah and I don't know why. Ashley tells Joe that even if he goes to that side she still wants to be friends with them. Joe says if Boogie goes that means there is only one more week before we aren't safe. Ashley says yeah that's the thing, we are targets if he goes. Joe says that he thinks he had a panic attack yesterday. Joe says talks about the cheating and tells her that if he thought they cheated he would have told someone, cheating is cheating. They call it advice, but cheating is cheating, it's the same thing.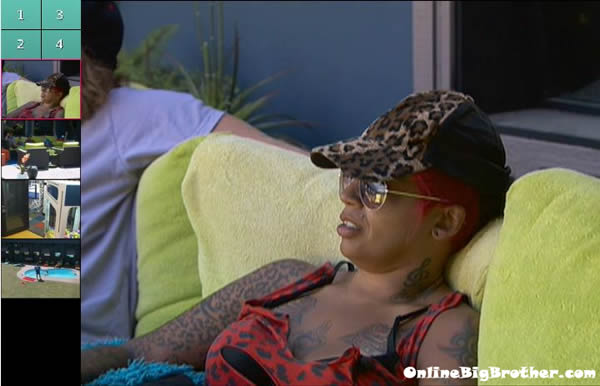 1pm Joe, Frank, Boogie, Ashley and Jenn are out on the backyard couch talking about random stuff. Britney, Ian and Dan over by the pool telling personal stories from school. Joe goes to the bathroom and tells Danielle that he talked to Ashley about how she is 1005 with Boogies team. Danielle asks well who is she voting for. Joe says that she is voting out Jenn. Danielle asks are you serious. Joe says that he is going to tell them NO DEAL! Joe says that Frank just told him outside that if Dan goes home Shane wants to work with Frank. Danielle asks if he has told Shane that yet? Joe says no he just told me. They talk about how they need to tell Britney that Ashley is with them 100% so she needs to be careful. Danielle says that she knew Ashley would do that. Joe says that they threw Ian & Jenn under the bus so we now have ammo to use against them.
1:20pm – 1:40pm Jenn, Frank and Boogie are talking on the couch. Jenn says if you happen to stay this week it is going to be a murder scene. Frank and Boogie say that it is going to be a murder scene either way. Jenn says that she can't wait to talk to Shane too. Fu*king Di*k! Jenn says that she blames Dan for getting her nominated. Frank says that they are already sweating, we need to win HOH and go at them. They talk about how they see that Britney is trying to distance herself from any responsibility. Joe heads out by the pool and then after a bit he heads inside with Britney. They go to the bathroom and Joe tells Britney and Danielle about how he is going to tell them no deal. Joe heads back outside. Britney tells Danielle that they haven't even talked to her yet. She says that she will bring up how she heard they brought up her name in the living room the other day. Danielle and Britney head out to the pool.
Big Brother Live Feeds FREE 3 Day TRIAL:
Try them and see what's happening right now!


2pm Joe and Jenn go into the arcade room to talk. Jenn says that it's tough to go up against Boogie, even though she has been told she is the pawn. Jenn tells Joe to keep in mind that Boogie has been here before and that she is a fighter and wants to be here. Jenn says that she will stay true to her word. She says that Boogie has won the money and has a child at home to get back too. Joe says that he will leave you with this; it is absolutely I have not said anything in hell about you, and without a shadow of a doubt that you will not have my vote on Thursday (you will stay). He is not voting her out and she does not have to ever worry about it. They hug.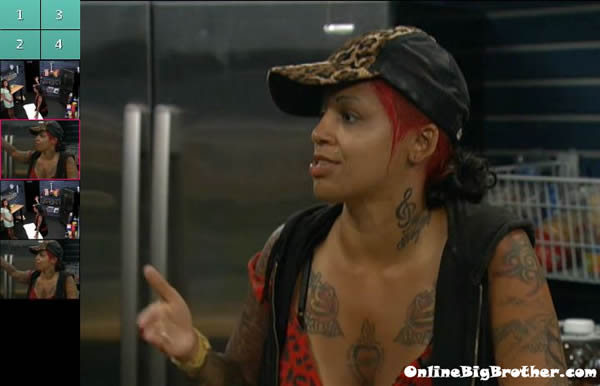 2:10pm Jenn and Danielle are in the storage room. Jenn says that she knows that Danielle knew she was going up on the block. Danielle says that she heard that she might be, but that she didn't know for sure and thought that someone else was going up. Jenn says that she remembers a day when they told each other that they would tell each other if they were going up. I know you knew, I just had a feeling! Danielle denies it and says that she has her back and really didn't think she would go up. She says that she even went up and asked Shane what the hell. Jenn says that Shane had other options and that he just made a brand new target from me. I can win stuff and I have a tight social game! Danielle tells her that she has her back and that she will not vote her out. Danielle tells her that she really likes her and wants to be her friend. Danielle says that if you go out there talking about me then we will have a problem. Jenn says that people have seen a new Jenn and I will continue to be like this, I am fired up! Jenn says and to be up against Boogie he has gotten out of worse situations so I know I am not safe as the pawn. Danielle starts crying and says that she wont vote her out, I wont put you up and if you and I were in the final 2 I would be happy if you won. Jenn says that she was asleep the first while because I didn't need to be fired up and now I am. Jenn ask I need you vote. Danielle says that she has it. Danielle asks are you going to be coming after me? Jenn says I don't want too, I feel like I have bigger things to go after than you. Danielle tells Jenn she had her vote, Britney's and Dans vote. They hug it out and leave the room.
2:25pm – 2:40pm Joe, Shane and Dan are up in the HOH room. Joe is telling Dan and Shane all about his conversations with Frank and Boogie. Joe tells them that Frank and Boogie are going to be pissed at me because I made them expose all their secrets to me and got them to expose Ashley too. Joe talks about how they exposed Ian too for fraternizing with both teams and that he can't be trusted. They talk about using Ian but knowing they can't trust him. Joe says that last night Boogie was telling me Restaurants, Restaurants, Restaurants. Dan tells Joe that Boogie won't help you with anything outside this game. Danielle comes up and tells them that she had a talk with Jenn and that things are better. Joe says that when Frank and Boogie talk to him again he will tell them no deal! They talk about how Joe will tell Jenn that Ashley is campaigning against her right now and when Jenn finds out she is going to blow up! Shane says that they will name their new alliance "The Head Hunters" (Dan, Joe, Danielle, Shane and Britney)


2:45pm – 2:50pm Dan and Jenn go into the storage room. Dan tells her that she should know she has his vote. Jenn says that she knows Boogie and that she knows it is something he can pull off. She says that she is concerned that she is not just a straight up pawn. I get pissed and then I chill out. She brings up that Boogie does not need the money he drives a Bentley. Dan tells her that if he wins she is untouchable. I will not come after you or vote you out. Dan says that you never did anything against me and you did say that you said that I was dangerous but you told me you said that. Dan says no matter what you have my vote and there is no way I would change that even if it was 7 votes to other way. Dan says I will do whatever it takes to keep you in this game and up against him are you kidding me?! Jenn says that its hard because she is up against Boogie who has done this before and has a partner in crime. Dan tells her that after this week is over you will have options because both sides will be pulling at you. They hug and leave the room.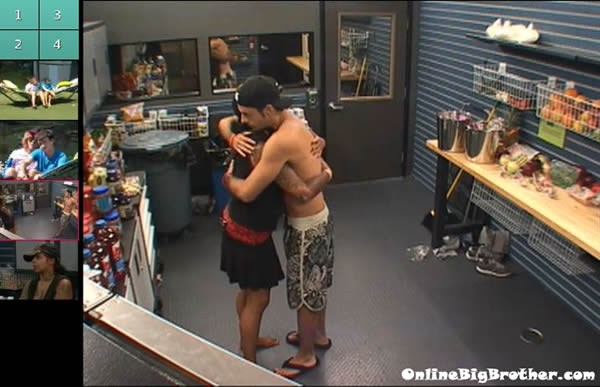 2:55pm Ian and Danielle are in the storage room. Ian says that Frank came up to him and told him that someone told him his vote is up in the air. Ian asks do you know who would have said that? Danielle says no, it must have been Joe. Danielle tells him that she would never do that to him and that they have his back. They leave the room. In the kicks room Frank and Boogie are talking. They talk about how Joe is trying to fu*k with Ian and how they will confront him about it after Thursday because they don't want to lose his vote.
Share it YO!!
Tweet