POV Holder:
Frank
Next POV:
Aug 18 (Saturday)
POV Used
Yes
POV Ceremony
Aug 20 (Monday)
HOH Winner:
Shane
Next HOH:
Aug 13 (Thursday)
Original Nominations:
Boogie And Frank
Current Nominations:
Boogie And Jenn
Have Nots
No Have Nots This Week
Last Evicted Houseguest
Wil
HOH temptations
Britney Safe this week, Boogie gets 10grand
9:10am Frank, Ashley, and Boogie are talking in the backyard. They tell Ashley that they talked to Joe and he said that all he needed was to know that Ashley would be voting to keep Boogie and then he would work with them. Boogie says that it will be awesome if we make this happen because then Jenn will be evicted and they will tell us it's time for the HOH competition. He says they will be so stunned and have to come out here and compete. It will be You, me, Frank, Joe and Ian against Danielle, Britney and Dan.
Big Brother Live Feeds FREE 3 Day TRIAL: Try them and see what's happening right now!
Boogie talks about how he wants to get Jenn riled up to flip out on Joe today to get her to dig her own grave. Ashley says that she thinks she can get Joe, she says that she knows how he thinks and says that she can get him. Boogie comments on how he told Joe that he is the last guy on the totem pole with Shane, Dan, Britney and Danielle. Ashley says that she thinks she can get Joe. She says he is all about ride or die, I am loyal! Ashley says make sure you talk game with him because he loves that. Boogie says I will, we were up until 3am talking game. Boogie heads inside to get more coffee. Frank tells Ashley that he is happy Boogie has a fire inside him again. Ashley wonders what Joe does with them up there. Boogie says that he just wants to be a part of something, so we will make him feel like he is a part of something. Boogie comments on how Joe says yesterday that you could cut the tension with a butter knife. Boogie says that it was real easy for Joe to run to them because they just laid the hammer down. What they don't know is that we will have the votes and their power reign is over. Frank and Boogie explain that going forward we will have the votes. They start talking about scenarios of who to put up if they win, they talk about putting up Dan & Shane or Shane and Danielle.
9:40am – 10:15am Boogie does his impression of Danielle doing her kissy face in the mirror. They talk about how Danielle thinks she has already won this because Dan has told her that since the beginning. Boogie says what you won 1 HOH and 1 POV. Boogie says I would love one fu*king week to smash it in their faces and then we win HOH! I would love for that to happen. Ashley says that is what big brother is all about. Ashley talks about how Jenn doesn't want to be here. Frank asks why Ashley never voted for him back in the beginning. Ashley says because you never asked for my vote. Boogie says well I am not asking for your vote I am begging for your vote. Frank says that he love that the lines are drawn. Boogie agrees. Frank says that Shane told him that no matter what happens if he makes it to the end he has Shanes vote. Boogie says father Dan and his number 1 altar boy. And you know what people are thinking with that one.. I can say it without having to say it! Frank says if us four forge ahead and get to the jury that's a "W" for one of us. I would rather one of us gets it than them. Ashley remembers how she told Frank if he wants to fly with the eagles then he needs to be an eagle. They all laugh. Frank says that he wants to grind their bones and make bread with them. Boogie says he wants to cremate them.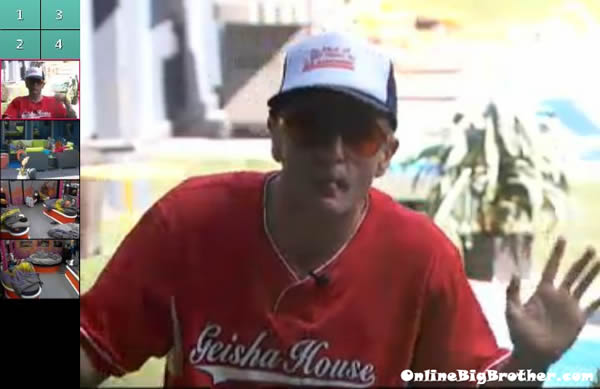 10:20am Boogie, Frank and Ashley talk about how the have-nots will be back this week. Boogie says having Shane, Danielle, Dan and Britney as have nots would be awesome. Frank says that if he is on a team with them he will just throw it so that they are have nots. Ashley says watch I will win an HOH on a double eviction and be up there all flabbergasted. Boogie says that it will fucking seal it if Jenn goes off on Joe. Boogie says that Jenn said she would go Brooklyn on his a$$! Boogie says yeah do it!! Ashley gets called to the diary room. Boogie tells Frank that girl is a gamer!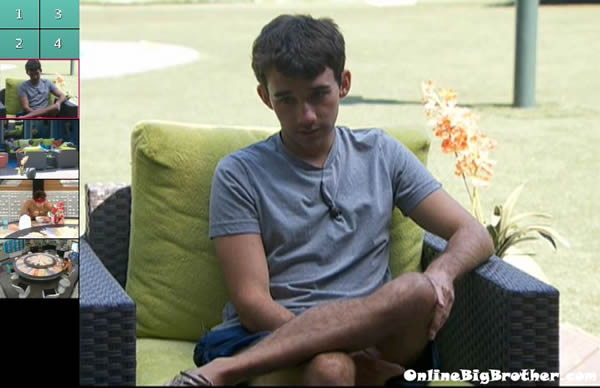 10:35am – 11:10am Frank is alone in the backyard and talks to the camera. He says that he hopes his family and the viewers see yesterday for how it was. He says that he and Boogie have been lied to and that they are speaking the truth. Ashley joins him. Frank says that it killed him to see Boogie down yesterday. Frank tells Ashley that Ian actually wanted to start a fight with Shane yesterday. He says that he talked him down from it and told him to let him and Mike take the heat from this. Frank says that if we get the votes and win HOH we will see a war time Ian. They talk about how Ian is just happy to have friends. Boogie says well I am about to take some of his playmates away. Ian comes out into the backyard. They start talking about the votes. Ian says that Joe is supposed to tell us if he is with us or not. They joke around that they will call their alliance the snack pack. Ian says fu*king Joe the fate of the game rests in Joe. Frank says that the thing with Joe is that he is loyal, he was loyal to Janelle. We can't expect him to win competitions, but we will control the votes and how goes home. Boogie talks about the speech he will give and that he needs it to be a good one to cement Joe's vote.
Big Brother Live Feeds: FREE for 3 Days then $14.99 a month!
11:25am Frank asks Boogie if he trusts him to take him to the final two spot, right?! Boogie says yeah of course. Frank says you know if we both make it to that spot they need to give us both half a million. Boogie says yeah like that would happen. Boogie says gamer Ashley, who knew. Frank says that he didn't give her enough credit for how much she knows about the game. Frank says that he is glad we didn't blow up on Joe now. Frank says that Joe said he would bust Danielle or Britney for cheating too if it was them. Boogie says integrity. Frank says that he wants Dan, Shane and Britney sitting next to each other so we can look at them in the eye when the vote is read. Boogie says that he doesn't even want to look at Julie.
Share it YO!!
Tweet