POV Holder:
?
Next POV
Aug 10th
POV Used
?
POV Ceremony
Aug 12th
HOH Winner:
ANDY
Next HOH:
Aug 15th
Original Nominations:
Current Nominations:
Last Evicted Houseguest
David, Nick, Jeremy, Kaitlin, Howard, Candice, JUDD
Have Nots
Aaryn, Helen , GM, Elissa
2:22pm GM and MC Backyard couch They are talking about the money and how much they need it.
GM saying she wishes there was 100K prize for second place and 10K for third. She's hoping to get a couple g's. She mentions America's player is a possibility but thinks first prize is out of reach. MC says third place is the worst the only good thing is it gives you the chance to win more luxuries. GM says her 'Surgeries" cost her 200 a month they are like car payments.
2:28pm HOH Andy and McCrae
Talking about every single HOH they have controlled except for Aaryn's second one. Andy wants to come out of this week without anyone gunning after him he feels he's played a smart game and made sure nobody is targeting him. Andy says the only thing that could derail their plan is if Jessie or Spencer win the Veto then they will have to put GM up.
McCrea tells him GM is more valuable than Jessie he wants Jessie gone they have to make sure the Veto isn't used. Andy wants GM to stay this week as well.
McCrae: "Me and Amanda just talked to Elissa and we're solid now.." McCrae was worried about her earlier.
McCrae telling him JUDD didn't like Andy because Andy and JUDD played the same type of game. McCrae thinks JUDD was a good guy but he should have stuck with the goof troop instead of branching off.
Andy says Helen was pissed at McCrae for taking the 5 grand during the POV competitions a couple weeks back. She's forgotten what it's like to be young and without money. 'She's 37 and she has money"
Andy says he's frustrated with CBS they never ask him questions about his strategy and game. He feels he's never called into the Diary room and they never focus on the game just silly things. Andy believes he's been one of the more active game players this year and should get the credit.
Andy: "I don't want to be an Ashley.. every f*** vote every week I've known what is going one"
MC: "You have been crucial with mine and Amanda's game.. the live feeders know the game you're playing"
Andy says Nick and Jeremy thought he was floater and completely disregarded him in the game "Go f*** yourself who do you think you are I'm here to play and I have the numbers'
MC points out that the MVP twist really screwed with their Jeremy and Nick's game.
MC mentions the game has gone their way the entire time. This is why he's worried because that never happens in Big Brother. Andy adds he's gotten his way every week. Andy says the time when he turns his back on Helen will break his heart but he thinks she'll understand from a game perspective.
McCrea: "It's going to get tough and dicey after this week"
2:55pm Bathroom Aaryn and GM planning out a dance
You can re-watch ever second on the feeds using the flashback feature.. It's just like a DVR and is super easy to use. click this link for a Free Trial —> Subscribe to the Big Brother Live Feeds
3:10pm HOH Helen and Andy
Helen is saying she knows Andy and knows where he's from she's closer to Andy than Elissa. Amanda asked Helen today who she was closer to and even though Helen didn't tell Amanda straight up she alluded that she wasn't as close with Elissa.
Helen adds that Elissa has hurt her game a bit whereas Andy has done nothing but strengthen it.
Andy: "I've talked to Amanda and McCrae and they have your back Helen now is not the time to make the move.. with 9 people still here it's not the time"
Helen agrees.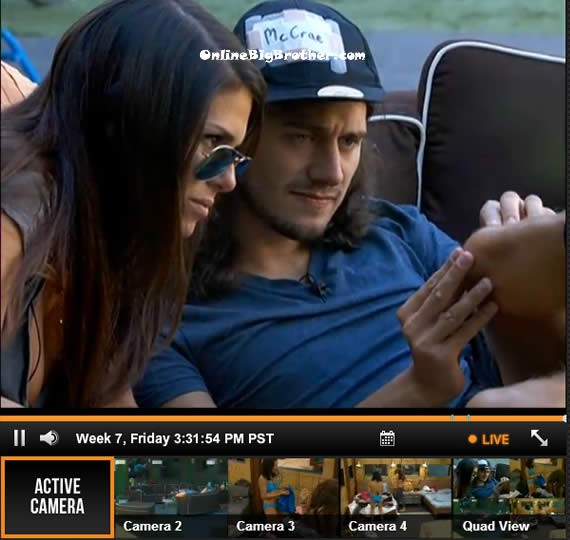 3:33pm McCrae and Amanda
McCrae: "what the hell is that"
Amanda: "Looks like a wart"
She tells him he should ask teh DR about that "Stuff" for his hand. McCrae doesn't want to because they will probably take it out of his stipend. Amanda says "Dr Scholls" is only $30. McCrae doesn't care about that 'Sh!t"
3:43pm Storage room McCrae, Ellissa and Helen
They got a package of mackerel the price on it says $42. they also got a bunch of Mung Beans. The cooking instructions has butter in it which is usually not allowed for Have nots to eat.
3:49pm Amanda and McCrae Bedroom
Amanda is a bit worried about McCrae now that JUDD is gone. McCrae tells her not to worry his problem is he's feeling like his position in the game is worse now that JUDD is gone.
Amanda says McCrae deserve to win over her because Big Brother is his dream.
Amanda says aaryn told Andy she would rather GM go over Jessie.
McCrae: "No way"
Amanda says their eviction list is Jessie, GM and Spencer. "Eventually Elissa has to go up as the pawn"
Amanda: "I would never go against you I love you and want a life with you after this"
Amanda wants to win the money so they can start a life together.
Amanda: "I have a career and money after we get out of here.. I have 10 thousand dollars plus the 13 we get here.. "
Amanda wants him to move and get a car. She clarifies he'll get his own place and be able to do what he wants.
Amanda: "I don't want you to question me ever"
4:14pm Backyard Helen and Aaryn
Talking about relationships Candice, friendships and careers
4:19pm Bedroom Elissa, McCrae, Amanda, spencer, GM
Random chit chat.
Elissa says they have a lot of cars but doesn't drive their Audi SUV as much as some of the other ones because the maintenance is high. Amanda tells them she only drives a luxury vehicle because she needs to for her business.
4:41pm Bedroom Everyone but Aaryn and Helen
They are teasing Candice, impersonating her voice and the whole Candyland thing. Amanda, Andy and Spencer are doing the impersonations. Everyone is laughing. Elissa laughs but tells them they shouldn't talk about Candice when she's not around to stick up for herself.
4:50pm cam 3-4
Still talking about Candice. They all seem to agree she wasn't the most considerate roommate. She did stuff like slam doors and use other people's things without asking.
GM: "She had no manners.. she was low class"
GM: 'And I even said it at least my mom likes me.. "
Spencer: "I know.. you cut deep on that one GM"
GM laughs (See image) nobody else laughs.
GM: 'Sorry.. " GM explains that Candice brought up her living with her parents it was tough after she lost her place she had to move back home.
Andy says he understands. GM brings up how Candice said she wore blue contacts like it was going to upset her. She doesn't care that people know she wears blue contacts.
5:20pm Nominations Ceremony
(No need to get too excited Jessie and Spencer are going up)
6:10pm Still TRIVIA..
[polldaddy poll=7309671]