| | | | |
| --- | --- | --- | --- |
| POV: | FES | Next POV: | July 21st |
| POV Used | Yes | POV Ceremony | July 23rd |
| HOH: | Sam | Next HOH: | July 26th |
| Noms: | Kaitlyn and Haleigh Rockstar | Have Nots | Scottie, Rachel, Bayeligh, Kaycee |
Big Brother Spoilers Kailtyn is still going but I bet they flip one more time just to make sure Dawg doesn't get any sleep tonight. 😉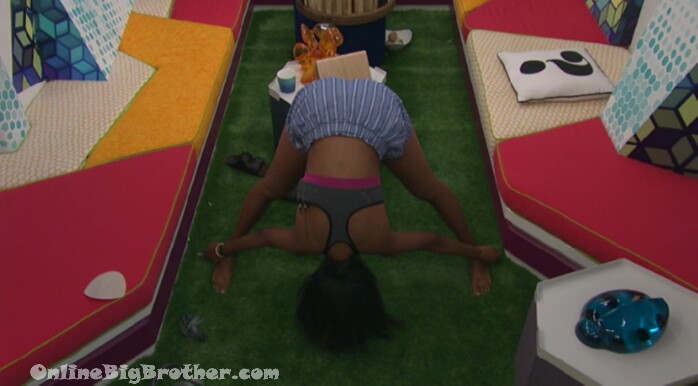 4:17pm Stretching
Bayeligh says nobody wants ROckstar out.
H – if it's 6-4 people flipped and she stays all hell will break loose
B – that's not going to happen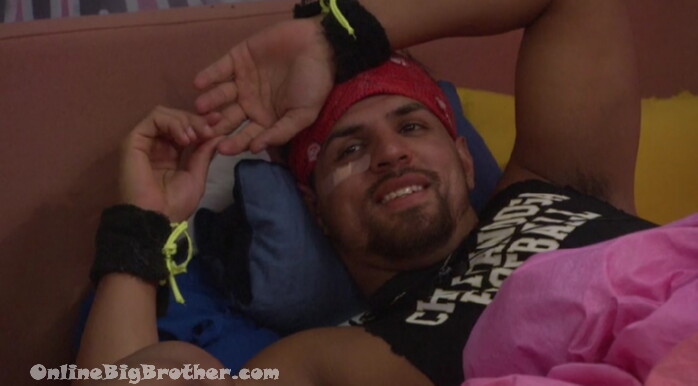 4:20pm FEs and Bayleigh
Bayleigh says if something goes wrong and they are nominated they'll use the "thing" on them (not 100% what they were getting at here the feeds jumped in)
Fes – Haleigh is onboard
Bay – absolutely
Bay – if worse comes to worse throw her and Tyler up against each other.. (sam/Tyler?) walk away from it..
Fes says if they use her power during an Angela or Brett HOH they'll think it was Rockstar that used it.
Bay whispers in his ear says if Brett wins it she'll put up Angela and Rachel
Fes – they'll think Rockstar did it
Bay – 100%
Bay – if Rockstar doesn't stay we don't have anyone to blame it on.. (LOL)
Fes – what if Angela or Kaycee win it.. You're not going up I will..
Bayleigh says if Kaitlyn goes and Swaggy comes back they'll be good as f**
bay – I only have you in this game if I go to that side I'm on the bottom..
Fes says if Kaycee and Brett win the HOH he's going up
Fes tells her he was worried because she as spending so much time with teh other side.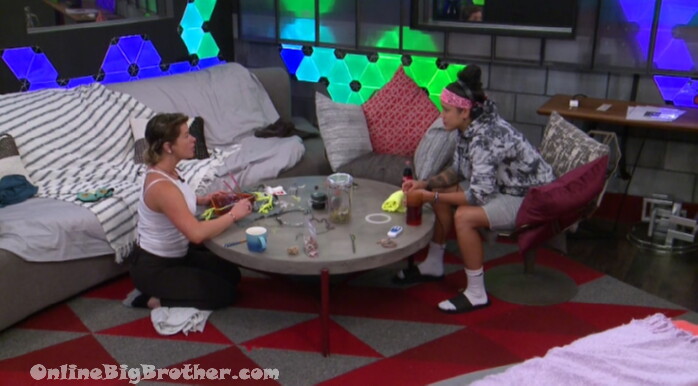 4:33pm Sam and Kaycee Talking about getting kaitlyn out..
Sam – just because we're in here doesn't mean we're the last people on earth.. you don't have to choose one of these mother f*ers
Sam – I know personally I'm not attracted to any of them (i think you are)
kaycee – me neither
they laugh
Sam – not because i'm coming off a heartbreak..
Kaycee says she doesn't care about gender in the house if she has good vibes with the person she"ll work with them. kaycee says there's a couple guys and a couple girls she has good vibes with in the house.
Sam – that'a cheap way to play a cheap cope out f** that.. I did not come in her with that in my mind at all (being a flirt with all the boys)
Sam – I cam in here real as f* i'm leaving real as f* .. I didn't want to make those girls look bad I cried and cried I felt terrible
Sam – I forget it's a public thing… very plainly I thin it's a cheapo cope out
Sam – it's not necessary and I think that is why girls always lose ..
Kaycee says seeing the girls chase the guys irritates the f* out of her.
Sam – don't be hanging all over everybody and you gotta tie your shirt up or you gotta f*ing do this.. it's not fair
Kaycee – if fes didn't use it on her she was like the night before if he doesn't use it on me then i'[ll go after him and all this stuff.. we're done we're done
KAycee – she doesn't use it on her and the next day they're good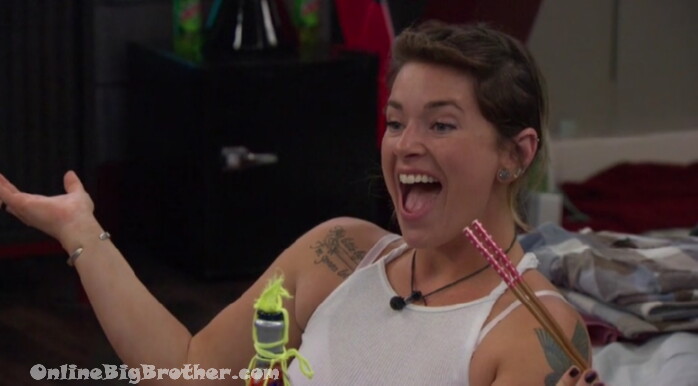 Sam laughs..
kaycee – we can't trust her
Sam – I can't count on a,ll my fingers and toes she saying "Fessy I love you no matter what.. I'm going to love you forever.. "
Sam – then she's F** you Fes.. Crazy bi1tches..
Sam impersonated Kaitlyn
"Fessy I love you no matter what.. I'm going to love you forever.. then she's F** you Fes.. Crazy bi1tches.. " #BB20 @DawgsBigBrother pic.twitter.com/JQKcehSd1Q

— OnlineBigBrother.com (@bigbspoilers) July 26, 2018
Sam – Fes is heartbroken.. in case you haven't noticed.. Fes is very naive.. that's putting it mildly.. he's not even sure what he's doing
They agree he's extremely immature
They mention the way he talks to girls is very disrespectful.
Sam thinks it's highly unlikely that Fes has his own place.
Sam – I love Fess he's beautiful.. he's a beautiful person with good intentions and he's getting pushed pulled through a wringer and it's not fair
Sam says she saw Fes almost explode watching haleigh and Brett have swing time for 10 minutes.
Sam goes on how much she likes Fes on the inside.. says what Haleigh is doing is f**ed up.
Sam – I am personally against that double standard … they can call the shots and we can't .. .
They talk about women empowerment.. Sam says the same things she said with Tyler Kaycee says she agrees with her and respects her.
Sam says she's seen her little brother who she's seen "tore up" by girls
Sam – I do not like it, I will choke a b1tch out.. I mean snatch her up by the hair of the head and turn her inside out..
Sam – I swear to god my brother is my whole life..
Sam says the person in the house that reminds her of her brother is Scottie.
Sam – so Kailtyn's out
Jaycee yeah
Sam – ok cool .. next week what
Kaycee depending on how it goes.. Rockstar and Fes…
Kaycee – I feel like some people may be onto Scottie.. he's hard to read
Sam – he's all over the place
Kaycee – Haleigh really can't do much
Sam – I'm not officially committed to anybody except you and Tyler.. underneath that is Scottie and Angela.. underneath that is.. muddy … it's all in the same level..
Sam – the real hardcore commitments.. are you and Tyler the second semi hardcore commitments is to Scottie and Angela.. (Angela?)
KAycee warns that even she has trouble connecting with Scottie.
Sam – I love scottie.. yeah…
Sam knows Brett would probably want him out and "the crazy girls that are saying Get rid of all the guys"
Sam – Scottie has weird mini teams with everybody
Kaycee – he's dedicated to the other side
Sam – I love Scottie as a competitor he's very versatile
KAycee – he's hard to read
Sam – no he's hard to trust he's hard to pin down..
Sam – I don't want Scottie to think there's anything in his mind.. a crush thing.. I will shut down that ..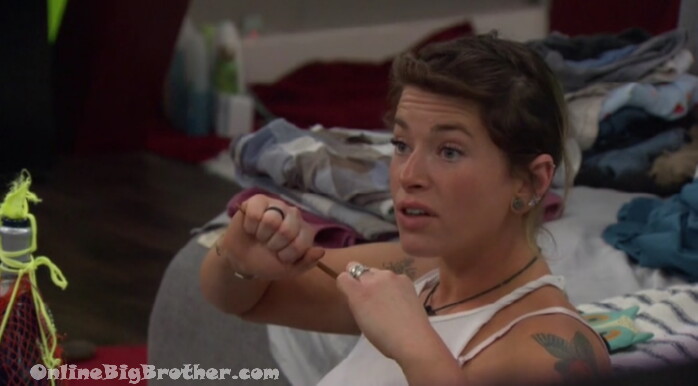 Kaycee tells her she doesn't like the "rumour" going around that her and Rachel are a pair
Sam says when people say they heard a rumour means they are making it up.
Sam – you want to know the honest truth.. for real..
Sam – the Same way JC kinda talks to everybody on that side but he's on our side.. in a lot of ways he's protecting people…
Sam – I don't know why but it's occurred to me I think that you are very smart and I think you are like this secret sleeper agent.. we're in NASCAR you are right here riding the line.. I can't wait for you to drive past me.. I love you Kaycee..
Sam – there's that old saying keep your friends close and your enemies closer..
kaycee – you think Rachel is an enemy.. spit it out
Sam – that's what I'm saying.. Rachel is kinda a wild card.. she's on our team but who knows..
Sam says she thought Rachel was Kaycees "friend"
Kaycee – no
Sam – oh..
The clear up Sam didn't mean kaycee was romantically interested in Rachel.
Kaycee – there's something about her she's been through a lot.. something she's not telling us.. It's just weird.. she's one of those nobody cares or loves her.. I want to be that one
Sam – I'm been there with her I agree.. I know Rachel is 100% self-made.. she worked her a$$ off to be where she is.. she didn't bat her eye lashes I'm fully aware Rachel is much much deeper and I like Rachel..
KAycee – do you think people think I care about her as a friend because of game. .
Sam – I don't know Kaycee, that's what I thought..
Sam – Rachel said I had a final 2 with Tyler..
Kaycee – Rachel said that
sam – who told me that….
Sam – it's just talk..
Sam – that's why I don't talk game with anybody.. (LOL except for everybody you talked to today)
Sam tells Kaycee the other players in the house getting by flirting and making relationships are cheating in a sense because there's only 1 lesbian and only 1 gay person and they can't employ that strategy in the game. Sam thinks it's cheating.
Sam says it's selfish..
Sam – I've been the only girl at work in a sea of dudes.. everyone deserves a fair shot..
Sam – I am very old fashion (you're shitting me)
Kaycee – I'm the same way..
Kaycee – I love you
Sam – I love you too..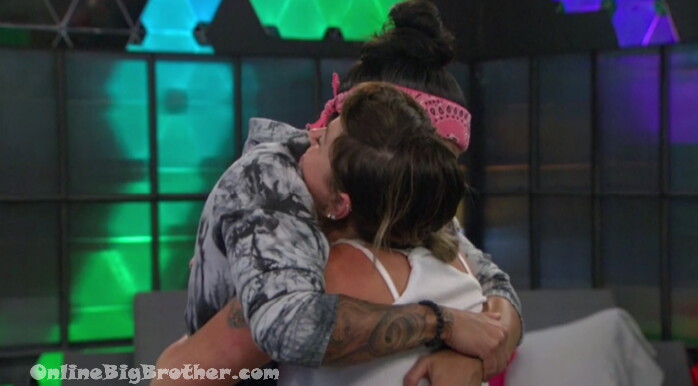 they hug it out…. "I love you so much"
A creation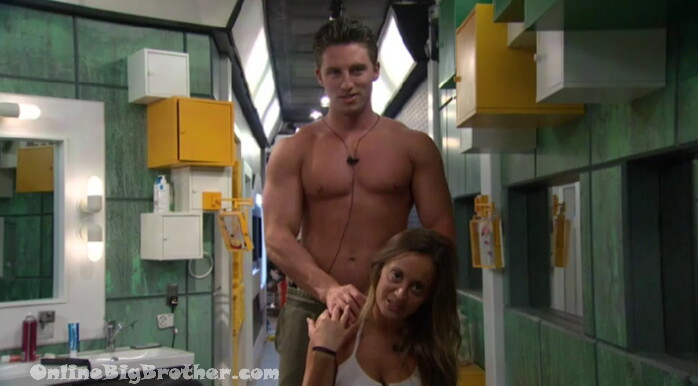 MAssages…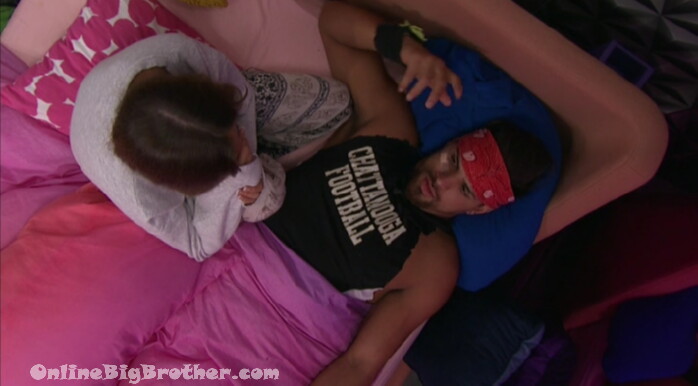 5:50pm Baby talk "best friend I've every had"
Fes says he doesn't even feel like playing the game. .
Kaitlyn says she thought she was friends with JC but apparently he doesn't want her here.
Fes – you and Tyler ok
K – yeah
Fes- you and Brett
K – I think yeah..
K – this is weird.. it's wrong and weird.. and straight up bizarre I can't help this..
Fes – this is such a crazy year and we're in the middle of all this kaitlyn like f*** this is such a crazy scenario .. like you have a boyfriend
Kaitlyn – STOP
fes – what I'm just saying
Feeds flip..
when we're back..
kailtyn – you never want to talk about it.. I might be going home tomorrow
Fes – I told you because it's weird .. is it not..
Kaitlyn – ok..
fes – alright
kaitlyn – ok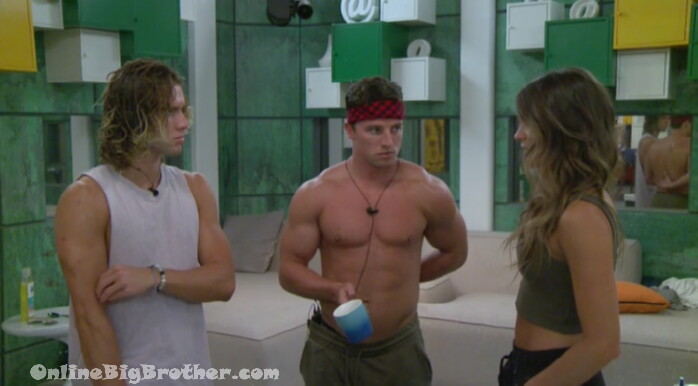 5:58pm Angela, Tyler and Brett
Brett – I'm just taking a leap of trust with you guys if we do it but my guts.. the only way it works if we keep Kailtyn is if it's a split vote..
Tyler – I agree..
"I literally don't care either way there's pluses either way..
Brett and Angela saying their guts are telling them Kailtyn
Tyler – I trust your gut
Still sounds like Kailtyn is going..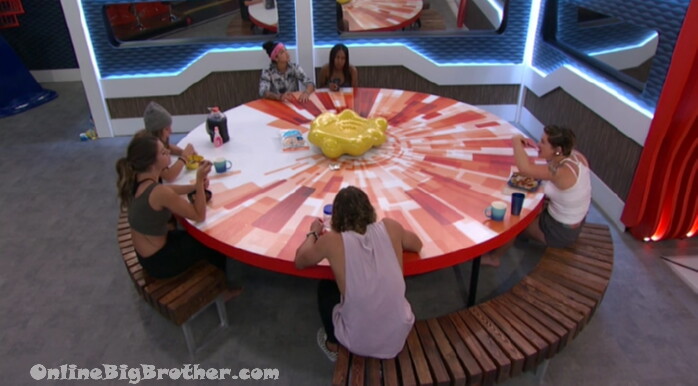 6:06pm Family dinner made by ROCKSATR>.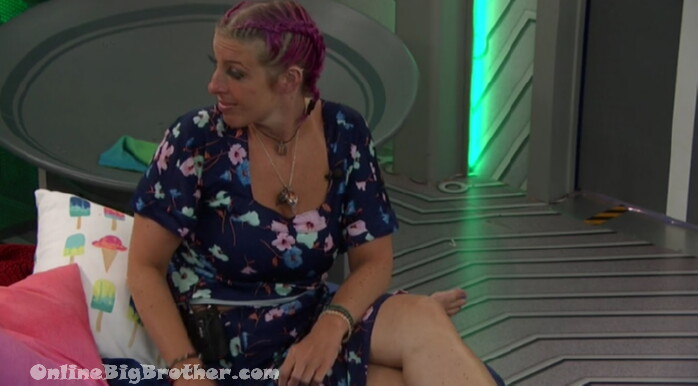 6:56pm
chit chatting about past house guests they may get to see hosting competitions.
Rockstar – I really wanted to see Frankie Grande.. (so when people ask why we don't like rockstar.. here it is)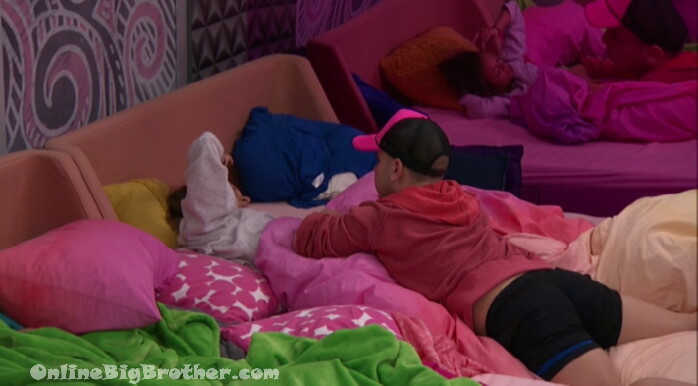 7:12pm Kaitlyn and JC
K – I already know where your heads at it's ok..
Kaitlyn – I've had a lot of people tell me they're voting for me to stay
Kaitlyn tells her there's people telling him they are voting to evict her because they want him to vote that way but they are really keeping her. They want to pin the vote on you
Kaitlyn – people are scared who my target would be if I stay.. I heard that.. don't be on the wrong side of it..
JC leaves.. Kaitlyn moves over to Haleigh whose in another bed close..
Kaitlyn tells Haleigh that JC is saying the house is split.
Kaitlyn tells her to be careful because people are going to keep her so she targets them if she comes back.
Kailtyn says there's been private a$$ conversations "What am I missing'
Haleigh – all day.. I'm done talking about it.. i'm done the whole situation
7:22pm RS and Haleigh
Haleigh doesn't want tomorrow to happen..
RS – did you talk to Angela
haleigh says Agnela told Kailtyn everything she said to her, "I'm not speaking to her ever again"
RS – wow.. that's un-good
RS – I just need one more than our 5 .. I hope JC is still good..
RS – just really sucks..
7:28pm JC and Tyler
JC says they need to work to get the votes to be unanimous. Says the only person they aren't 100% with the vote is Rachel. JC tells him he's down with going to the end with Tyler. JC stresses how perfect the house setup is. Fes wants Rachel out Rachel want fes and Scottie out. Each side wants the other out they just have to play their cards right..
7:30pm KAycee, BAy, Rachel, Rockstar and Haleigh.. chit chatting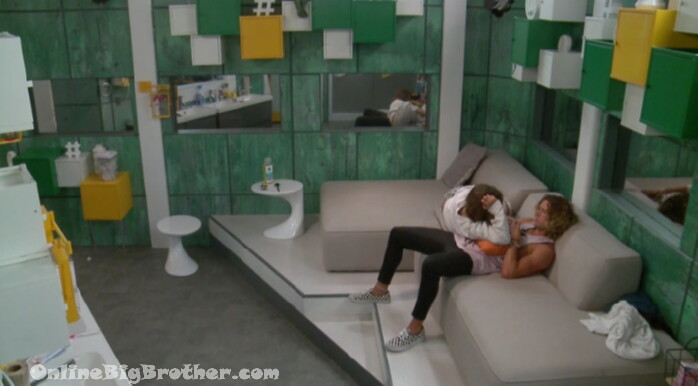 7:40pm Angela and Rs are messing with the pin wall
Kailtyn – can you write something nice about me.. like my Instagram handle I'm not good with that thing..
Kaitlyn in a baby voice to Tyler – you were there for me when no one else was and I'll never forget that.. and number 2, I like playing games with you and number 3 .. ummm… .I like when we pinky promise
Kailtyn spells out her Instagram handle to JC.. It's just her name
JC thought it would be something with more energy like "Kailtyn underscore Herman the witch from energy world."
Kailtyn asks Tyler who can she trust
Tyler – Angela, Rachel, KAycee
Kailtyn – those are all the people i can trust
Tyler – I think so
Kaitlyn brings up what she says in the Diary room.
Kailtyn – Tyler's so confusing I think we love each other I think we're best friends..
Feeds cut..