| | | | |
| --- | --- | --- | --- |
| POV: | FES | Next POV: | July 21st |
| POV Used | YES | POV Ceremony | July 23rd |
| HOH: | Sam | Next HOH: | July 26th |
| Noms: | Kaitlyn and Rockstar Haleigh | Have Nots | Scottie, Rachel, Bayeligh, Kaycee |
Big Brother Spoilers Kailtyn is 100% on crack right now..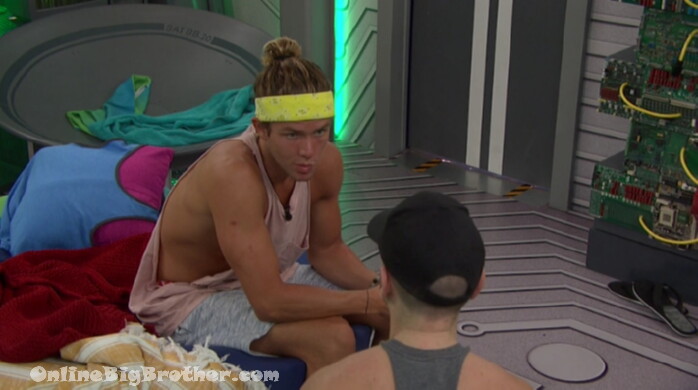 12:48pm JC and Tyler 
Tyler thinks that everyone evicted is gone and the person evicted this week gets a chance to come back in.
Jc is talking about Kaitlyn going out this week.
JC says he's going to lay low after these last 3 days. He's not going to talk to Fes.
JC – the four or three they always come to me for the vote
Tyler – we'll have to do what they f*ing want
JC – Rachel wants to keep Kaitlyn
Tyler- we can't go against them
JC says Haleigh is voting Kaitlyn out
Tyler- if we vote with them and they want kaitlyn out.. This side wants Rockstar out..
JC says Brett is smarter than they think "he wants Kailtyn out, it's good for his game"
JC calls Rs just a number
Tyler – Brett will want RS out how would he not want her out..
Tyler doesn't want to vote with FOUTTE "they are f*ing sketchY.. we're not with them.. "
JC – we're voting Kaitlyn out.. you and me
Tyler shakes his head.. says "they" (rachel/Kaycee) will be against them
Kaycee comes in..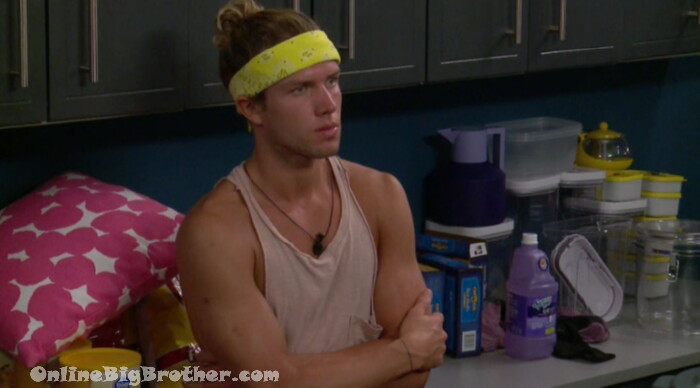 1:10pm Tyler and Fes
Tyler – can you vote against Kaitlyn.. I can't vote against Kaitlyn
Tyler – if Kaitlyn goes.. that's my closest person I can't vote against her
Fes – I can't either.. when she goes where do we go..
Tyler – is she your number 1 too
Fes nods.. says the only thing that f*ed them up was that whole swaggy thing.. I knew she would never go against me to the end..
Fes – if Kailtyn leaves..
Tyler – we kinda just have each other..
Fes – if Kaitlyn leaves.. you cool with Scottie.. if Kaitlyn leaves I think you me and Scottie can win all these HOH's.. I don't know where you all heads at.. I don't even know where my heads at..
Tyler is worried about the girls alliance..
Fes – it's real it's there..
Fes explains that the girls have some loose thing going on they are going to keep each other.
Fes – I think Kaitlyn has a good chance to stay
Tyler- I'm going to make sure she doesn't turn ont you
Fes explains how the girls are putting ideas into their heads if you win HOH put up brett put up Scottie they won comps..
Tyler – I came to you with that..
Haleigh comes in.. Tyler leaves…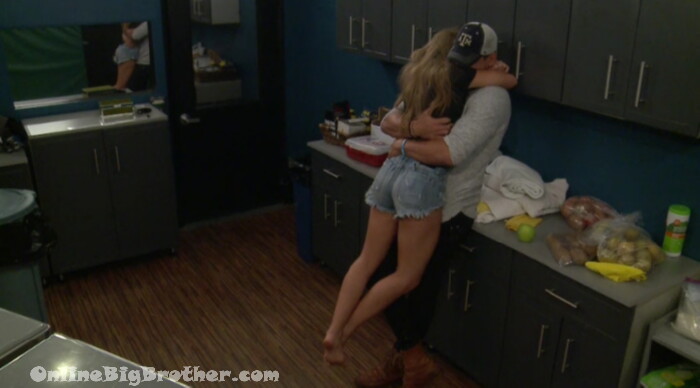 1:18pm Haleigh and Fes
FEs – I told you I got you.. you got me… you looked so hot up there..
Haleigh – Shut up .. Be serious
Fes – Kaitlyn says everyone was shocked..
Fes says Kailtyn was upset saying all her life men have lied to her face.. She was made at him for telling Both haleigh and Kailtyn he would use the veto. He did this to make sure he played so he can double his chances of getting pick so he can take them down.
Fes didn't want SAm to win and the noms to be the same.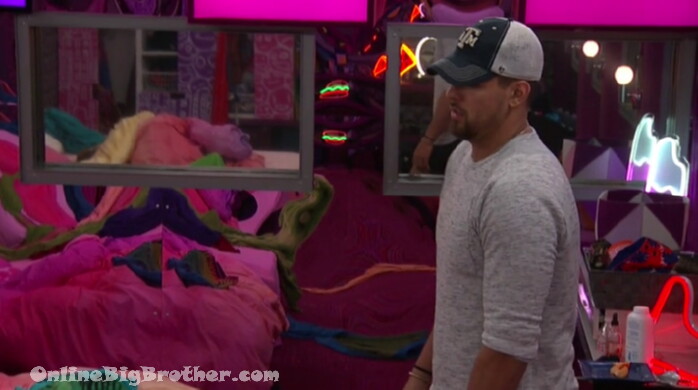 1:29pm Fes and Kailtyn
Fes – do you understand a little bit or no
K – mmmmhmmm
Fes – the biggest deciding factor was swaggy.
K – I heard
f – you didn't do that I pick you over her everyday of the week..
FEes – why wouldn't I, even if did like the girl so much.. I would have picked you weather you believe that it's up to you
K – you gave me an eviction sentence.. you know it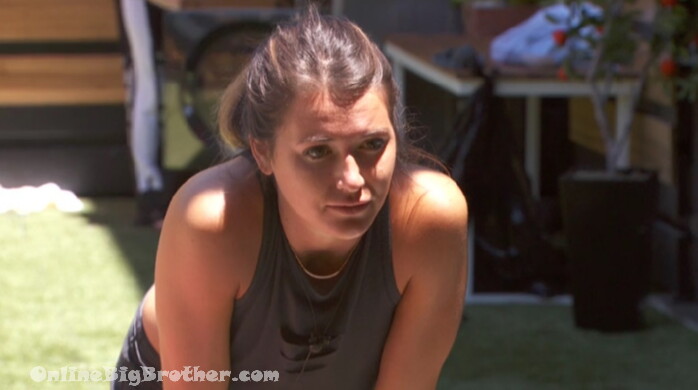 1:30pm Sam, Angela, Brett
Angela telling her that all her critics can go f* themselves "they are not in your shoes.. they don't know what it's like to make a decision like that in 30 seconds"
sam – I love you
Angela – I love you
Angela – I have no hard feelings i'm not upset at all, nothing has changed at all
Sam – that makes me feel better..
Sam tells her to win the HOH next week.. .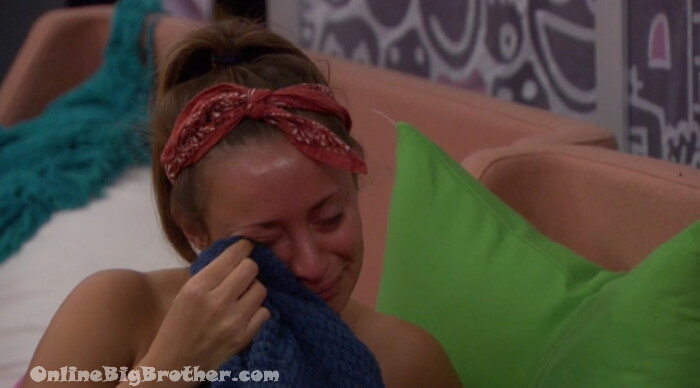 1:30pm Kaitlyn and Fes
Kaitlyn going on about Fes knowing her intent when she put up Swaggy. "It had nothing to do with you"
K – I apologized for that
Fes – it affect my game.. I still love you
K – no you don't f* off
F – F off really
K – don't lie to me anymore
F – really .. here we go..
K – you know well and f*ing good I don't have their vote
Kaitlyn says if Fes is still affected by what she did to swaggy that means next week he will be and the week after that. "You'll always choose someone over me becuase of what I did to you week 1"
K – That's the way this is now you've made it loud and clear.. you know they are not voting me over her..
kailtyn crying that she doesn't have Haleigh or Fes' vote because of what she did to swaggy
K – why did you do that to me unless you can look at me in the f**ing eye and tell me I shouldn't be here
F – that's not what I'm saying
K – you know there are not voting to keep me and since you knew that I know I am going home
fes – i'm… honestly .. when I was making the decision.. I wasn't looking forward to weather you were going home
K – but you know I would If I was on the block
F – no I won't know anything
K – you know.. Are you voting for me to stay
F – YES.. why wouldn't I
K – why would you say you are saving me when you are not.. I mean words are words at this point
F – I told you why I said that.. why I was saving you
K – I can save myself Fes… I could have done it.. I could have won with my family watching.. (OMG ZOMG)
F – don't give me that everyone has a family watching Kaitlyn c'mon
K – Fessy you understand what it is like going your entire life putting your trust in me and being rejected.. you understand what how this makes me feel it makes me feel like i am not worthy of being saved..
F – we all have a past
K – forget the past.. I'm not worthy of being saved
K – look at me in my eyes and tell me you are voting to keep me Thursday
F- why do you do that..
K – You can't…. you can't… it's ok
Fes – Kaitlyn I am voting for you to stay.. the thing is if you stay you can't turn your f(**ing back on me because I didn't use the veto on you
Kaitlyn – Fee… _ just want to stay if you give me a f*ing chance..
Kaitlyn going on how Fes needs to campaign for her
F – OK
K – I just can't having him do it it needs to be from you (Tyler)
F – ok
K – you know bayleigh will keep rockstar over me.. if your end plan was for both of us to be here.. and Statistically speaking you knew I didn't have the votes.. I would be RUNNING around doing whatever it is I could to make sure she (haleigh) was safe..
K – Imagine how that feels that just happened and she doesn't even come to me.. I haven't even seen Haleigh.. you are safe and now you are chilling..
K – do you know what she is going to do? like these are the facts you knew ..
K – do you not want us both to be ehre..
Fes – I do.. given how the last 3 weeks have gone I didn't base my decisions on the votes..
F – the past three weeks we thought we had the votes..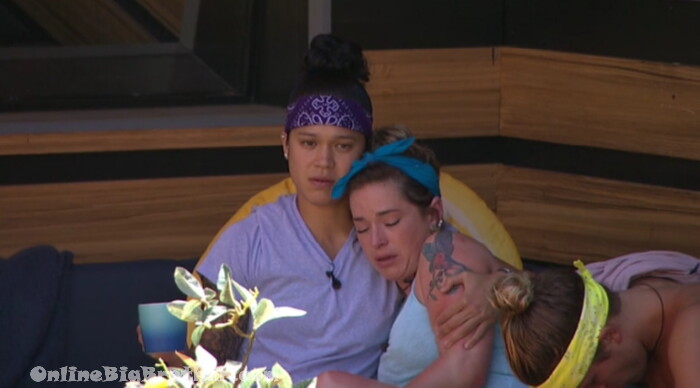 1:46pm Sam, Rachel,Kaycee Tyler, Bayleigh
Sam crying, "I feel like a jerk.. everybody is going to be mad at me.. "
Rachel – you are one of the most authentic person..
Sam goes on about being hated.
Rachel says all these moments will subside..
Sam – will everything be like yesterday
They all tell her yes
Rachel – unfortunately they don't want every day to be yesterday..
Bayleigh – I'm not judging you I don't hate you
RAchel – same here
KAycee – for sure
Bay leaves..
Tyler – You know who's had you back since day one
Rachel – we've been there since day one
Bay comes back..
Tyler – that was the craziest veto ceremony ever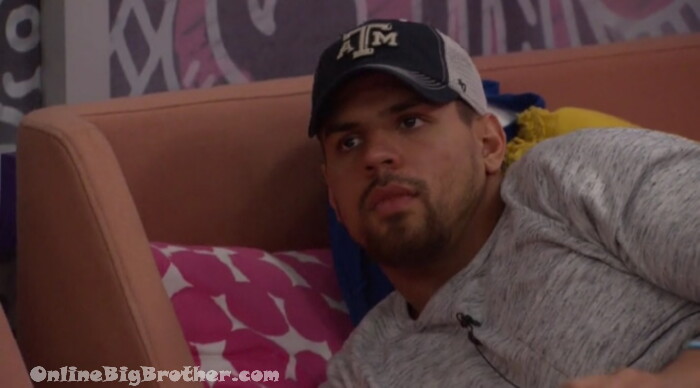 1:48pm Kailtyn, haleigh and Fes..
Kailtyn still crying.. "I need 6 votes to stay in this house.. Bayleigh isn't voting to keep me she's still hurt about swaggy"
kailtyn talks like a little girl whining, crying, whimpering and repeating everything over and over..
Kaitlyn – I'm not worthy of being saved..
Kailtyn says the only 2 votes she has locked are Tyler and Brett.
K – what are you going to do.. I just want to know who.. because if you don't intend on keeping me I want to know
F – you have Brett and Tyler.. you have me and her
K – do I..
F – all Rockstar has is us you have other people.. if we vote to keep you we need that loyalty.. moving forward.. does that make sense..
K – Fessy you said the one thing you wanted to do this week is to make sure we are here.. if you go into that room and vote her to stay.. I can't..
F – if we do this… than me and her take preference over Tyler..
K – don't vote to keep me if that's not what you want to do.. if your gut and intuition doesn't tell you than don't do it
K – Choosing you over Tyler
Fes – no I'm shooting you straight here..
Fes tries to explain on a game level that RS has nobody they needs Kaitlyn to be loyal to them more than Tyler.
Fes – if we vote to keep you it's use three it's not us you with Tyler and us three over there.
K – you mean moving forward it's the three of us rocking it moving forward to the end.. Where along the way did you think that was not my intention
Fes – when you win HOH and tell me you need time in there with Tyler
kailtyn defends her swaggy decision..
K – whats smart for my game and whats smart for my business.. do I regret it sure
Haleigh leaves.
K – you are done.. I thought you were part of this
Haleigh says its more their conversation now..
Kailtyn crying "you promised you would save me"
Kaitlyn starts giving him shit for not being confident with his answer about voting to keep her. Says when he is not Haleigh won't get it.
Fes – ok I will.. you need two more..
K – Rachel and kaycee..
Fes – I can try and work on Bayleigh.. She's not super close with Rockstar
Fes – just stop freaking out.. it's a game. Why would I want Rs out over you
Fes – no more crazy unexpected sh1t from you..
Fes says they must look stupid sticking with her.
K – they know my intentions..
Fes – who flipped last week
K – I don't think anyone did… Maybe Brett had a power.. I still believe a power was used.. I don't care what she [sam] says
Chit chat…
2:50pm Enjoying the Popsicles..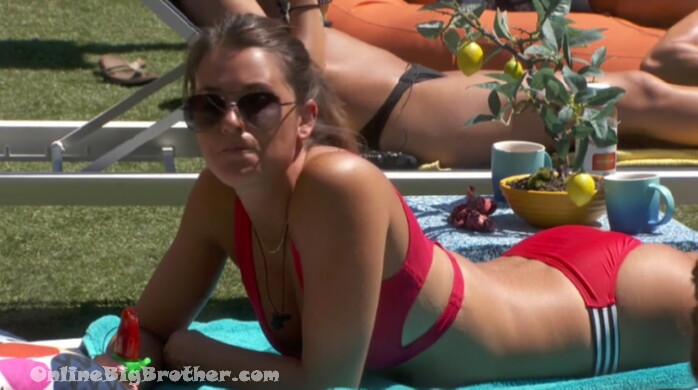 2:50pm Angela and kailtyn 
Kailtyn going on about how she never needed Fes to save her she can save herself.. Angela says she will vote to keep kailtyn. Kaitlyn thanks her says Haleigh and Fes will be voting for her as well.
Kaitlyn says fes looked her in the eyes and she put all her trust in him, "it was a one to one moment .. we had two of them.. he looked me in my eyes in bed and said I want to save you make sure you pick me"
K – I said ok .. 5 minutes before the veto we're dressed and he was nervous.. said I don't want to go up.. so I said how about I don't win you win and we can make sure we're both safe and he said yeah
K – we shook hand and looked each other in the eyes
Kaitlyn – I threw it to him and he didn't save me
A – his word means absolutely nothing…
Kailty – each week I'm being shown more and more of his character.
kailtyn – you feel like you are not worthy of being saved.. that triggers childhood stuff.. someone else is more worthy of that.. it didn't have to be that way he could have let me win..
Kailtyn talks about her boyfriend and she is her everything.. I know he's watching me right now.. If I stay I have the ability to redeem myself
K – do we really have an all girls alliance if she put up two girls.. I'm still in it..
Angela thought the girls alliance was solid..
K – I love Tyler to death he's the only one I can lean on but like I said I would choose a girl any day.. that's just the way I roll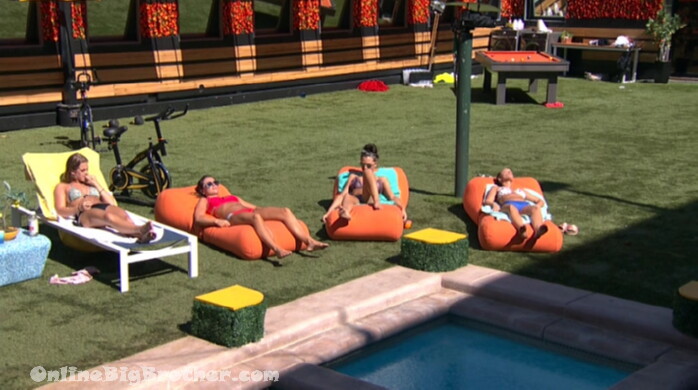 3:55pm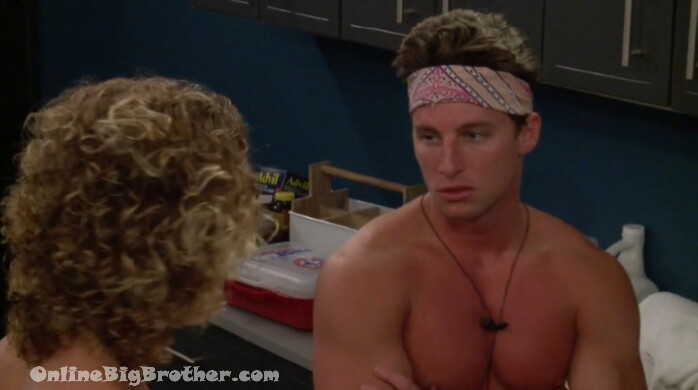 4:00pm Tyler and Brett
Tyler says JC is Anti Fes and Kailtyn is anti fes
Brett – it's going to be a uphill battle to keep kaitlyn..
Tyler says the tough 6th vote will be JC and they also have to convince Sam to not be pissed about it.
Brett – I'm down keep me updated..
For all you folks that need a VPN I use this one
Rank the houseguests!
Easiest way to Rank the house guests use link below