POV Holder:
Andy
Next POV
Aug 17th
POV Used
NO
POV Ceremony
Aug 19th
HOH Winner:
ANDY
Next HOH:
Aug 15th
Original Nominations:
Jessie and Spencer
Current Nominations:
Jessie and Spencer
Last Evicted Houseguest
David, Nick, Jeremy, Kaitlin, Howard, Candice, JUDD
Have Nots
Aaryn, Helen , GM, Elissa
8:02pm BBQ Spencer and McCrae
McCrae brings up talking to Jessie where him and Amanda told her they were voting out Spencer. Jessie told him and Amanda congratulations for making it to final 8. After Jessie left they realized they never said congratulations back to her. MC hopes Jessie didn't clue into that.
Spencer talks about his speech veto speech today he says he got it from Larry Flynt movie.
McCrae: "I just need to figure out how to finagle her cigarettes before she leaves.. I don't know how i'm going to do that.. getting those cigarettes would be bada$$"
MC says the cigarettes that Jessie smokes are really expensive, Parliaments. MC says Parliaments have a recessed filter.
Spencer says when working at the gas station he would call Virginia slims v@gina slimes.
Andy joins them
Andy asks them if he m@sterb@ted in the HOH shower the feed cameras would catch him. Spencer and MC think people won't see his hand/d!ck/Sp$rm but they would probably knows what he is up to by his motions.
Andy says he's starting to go crazy again.
Spencer: "I've been wanting to b$at off bad"
Andy says he thinks about it every day multiple times.
Specner says he's had "3 night Jizims" I never had one until you mentioned it
Andy: "Release the floodgates"
8:04pm HOH Aaryn and Jessie
Jessie says Elissa is dumb as a rock. Jessie: 'She tries to use all these words to make her look 'Prestigious'.."
Aaryn laughs mention how elissa talks with long pauses between thoughts.
Jessie: "I see her being one of those really dumb wives that doesn't know what the f**** is going on"
Jessie: "Elissa is nice.. she's not a vindictive she's just dumb"
Aaryn wonders if they had stuck to their side week 2 if they would be in a better spot now. (Jessie was one of the people that flipped to vote Nick out)
Jessie says Helen flirts with Spencer and it's getting on her nerves, "It's so obvious.. they (Elissa/Helen) have all been overly happy today because they know they are in the final 8.. not one of them has said anything to me today. you know you're safe… we have your back.. NOTHING"
Aaryn: "If you are going home then I'm in the not know and i'm going next"
JEssie thinks they are voting her out and Andy doesn't know about, "It';s so obvious they (Helen/Elissa/Amanda/MC) are in a final 4 alliance they are not even trying to hide it"
Aaryn: 'I don't even think they are"
Jessie: 'I've been on the block 4 times f*** everyone.. you know the way Helen and Ellissa have been treating me.. f*** them to"
Jessie: "Now that I'm seeing their true colours Helen and Elissa I think I would rather duke it out with them and be with Amanda/McCrae"
Aaryn tells her to tell Andy.
Jessie is afraid to tell Andy that because he's close to Elissa.
Jessie says Helen and Andy are so close if she really wanted Jessie off the block she would have been able to do it. Jessie: 'I don't think she gives a shit"
Aaryn agrees. Tells her she should go to Amanda and McCrae make a deal.
Jessie says she cannot stomach Amanda/McCrae or Elissa winning the 500K but she could stomach Helen winning because she's played a good game.
Jessie: "I still firmly believe Spencer is going home I'll be completely blindsided if he's not"
Jessie says Elissa has never once came to her After nominations, Veto, Veto ceremony. Jessie thought they were close. Aaryn says this is why she was pissed at Jessie for voting to keep Elissa week two she knew this would happen, "If you do go home it's clear they were just using you for a vote"
Aaryn: "I was not using you for a vote I was legitimately serious about working with you"
8:28pm Storage room Aaryn and Andy
Aaryn says Jessie is ranting about Helen and Elissa because they are treating her like scum.
Andy: 'I still think she needs to go.."
Aaryn: 'She thinks she's going home because of the way Elissa and Helen are acting"
Andy: "I'll need to talk to Elissa"
Aaryn: "she wants to work with Amanda and McCrae"
Andy: "So does Spencer and he's not all over the place"
8:48pm Bedroom Andy and Jessie
Jessie is worried about Helen and Elissa moving forward after this week.
Jessie: "Helen literally hasn't looked me in the eyes for two days"
Andy: "really":
J: She's spending all her time with Spencer"
mentions he told Helen he wanted her to sell to Spencer that he's safe
Jessie says If Helen and ELissa are not going to have her back and there is a chance Amanda and McCrea will she would consider switching plans and targeting Helen and Elissa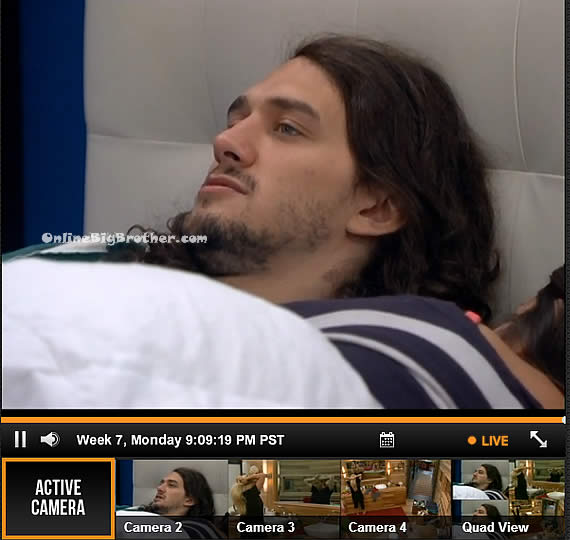 9:10pm MC and Amanda
MC has been reading the bible they discus a few ideas.
MC doesn't understand why god has to always Come down to talk to the people isn't he powerful enough to just send the message to earth
Amanda thinks it's to give proof of his existence.
MC: "He gave Moses a burning bush"
Amanda: "that was metaphorical they were talking about Chlamydia".
Andy joins them says Aaryn told him Elissa and Helen are treating JEssie really shitty and it's making Jessie nervous
Andy brings up that Jessie now wants to work with you Amanda and McCrae, "this just shows how she flips flops"
Andy: "I don't know if it was poopey trying to get her to stay but she's got to go
Amanda: "There is nothing that will change my mind"
Amanda mentions that Spencer told her he thinks Aaryn is concocting something with Jessie.
Amanda: 'I'm like NO.. " they laugh
Andy says it's done Jessie is going home but he wants the vote to be 6-0 so he'll have to talk to Elissa and Helen. Amanda thinks it's going to happen she says this is a really easy week.
Amanda: 'I think they're (Diary Room) are just making sh!t up"
Andy: "Of course when I get HOH everything gets boring.. they (Diary room) are stretching for things"
Amanda and Andy laugh at their Diary room sessions. They think production is really scrambling for footage. And are trying to incorporate their plans to Backdo*r Helen next into into this week so they have something to talk about.
Amanda: "Elissa has been brutal to Jessie today.. "
Andy says Jessie thinks she's staying she already planning one what she wants to do next week. Andy plans on talking to Helen and Elissa and tell them to stop being sh!tty to her.
Amanda :'They have the worst poker faces'
Andy: "Totally"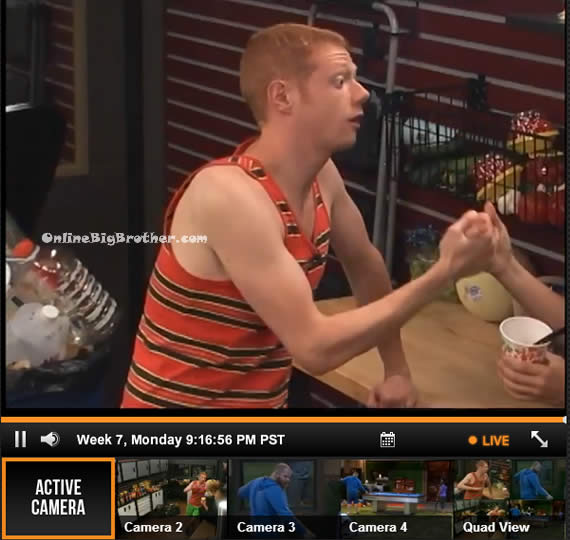 9:18pm Storage room
Andy says he wants Jessie to be blindsided this week. GM confirms she's voting out Jessie.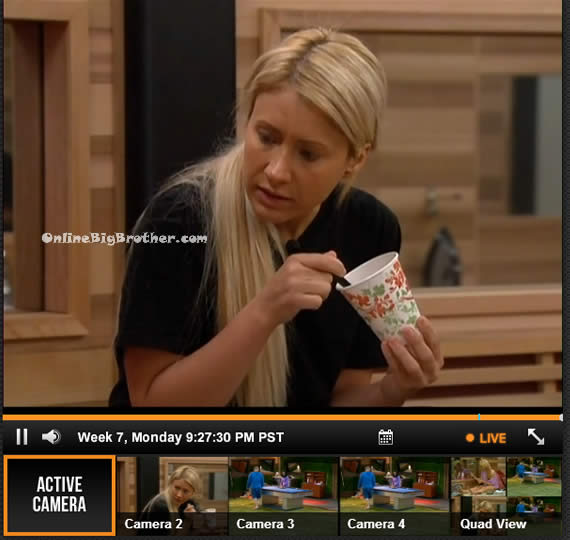 9:30pm Aaryn and GM
Aaryn saying "they" want Jessie out because she has a deal with Aaryn and they know Spencer will probably come after them.
[polldaddy poll=7309671]