POV Holder:
Andy
Next POV
Aug 17th
POV Used
NO
POV Ceremony
Aug 19th
HOH Winner:
ANDY
Next HOH:
Aug 15th
Original Nominations:
Jessie and Spencer
Current Nominations:
Jessie and Spencer
Last Evicted Houseguest
David, Nick, Jeremy, Kaitlin, Howard, Candice, JUDD
Have Nots
Aaryn, Helen , GM, Elissa
9:50pm Bedroom McCrae, Amanda, Spencer and Andy
Joking that Elissa has been the Saboteur all along. Amanda: 'This week you will be a b!tch to Jessie"
Andy tells Spencer Jessie pulled him aside and told him Helen has looked her in the eyes for two days. Andy adds that Jessie is now claiming to be targeting Helen and Elissa. Spencer Mentions how Jessie and elissa were in the hot tub being friendly just now.
Amanda: 'That's because Jessie is kissing Elissa's a$$ right now"
Andy: "Look now the target will be switched back to you two"
They laugh.
Andy needs to go talk to Elissa and Helen get them to be nicer to Jessie. They just don't need the drama if Jessie starts to scramble thinking she is going. Andy: "I'm telling you there is 19 hours of footage of me saying HELEN" (he slaps his head Joking about having to talk Helen down so many times)
Big Brother 15 N*de flashback times here
9:53pm storage room Andy, Elissa and Helen
Andy: "You guys need to get better pokers faces with Jessie she is on to it she's come up to be three times today she's like Helen and Elissa are treating me differently, Helen and Elissa will not look at me "
Helen: 'Elissa just spent an hour with her"
Andy: 'This is just me telling you .. just try to work on it better because I don't want her to get any inkling something is up and she is and it's with you two"
Andy: 'Be super BFF's with her till thursday"
Helen: 'I haven't seen her all day she's been sleeping.. She needs so much affirmation.."
Andy says she wants to flip on helen and Elissa now, "That is why she is so dangerous and has to go.. every day it depends on who looks at her right.. JUDD was right about her"
Helen: 'Does she know this game"
Andy: "Yesterday her plan was to backdoor Amanda now the plan is go come after you two"
Andy: "Even though she is irritating please be her best friend for the next two days"
10:08pm HOH Aaryn and Helen
Aaryn says if Spencer is left in the house he will be her target because she knows Spencer will put her up. Helen: "Well then that is who we take out next week"
Aaryn adds she thinks Spencer would put her up as a pawn but she doesn't think Spencer will want her out. She thinks Spencer isn't scared of her so if he gets HOH he'll make a big move.
Helen: 'He should be scared of you"
Helen thinks Spencer will try to take Amanda out because of their bad blood. Helen: "He's wanted her out Week one with the moving company"
Helen says spencer would never go against McCrae or Andy she's thinking the boys have an alliance.
Helen: 'If JUDD had stayed he would have been the glue for the 4 of them .. Taking out JUDD was really key"
Helen: "MC can't do much unless Amanda is around.. Amanda runs that showmance if you ask me I think MC is along for the rid.. he has no blood on his hands at all"
H: 'As long as Amanda is in the game she's a bigger target than McCrae… he's been able to be safe.. I can't read MC.. I still trust him alot I do I've trusted him since the beginning but when it comes down to his thoughts would he work with Spencer and Andy.. Maybe.. shield himself more.. maybe"
Aaryn says since JUDD got evicted Amanda never talks to her anymore. She thought they were closer but as it turns out they are not.
Helen: "I have a lot of influence with Amanda and we owe you.. I really like you.. I have surprisingly grown to like you a lot.. it would be personally hard for me to take you out of this game"
Jessie joins them
(Keep in mind Helen has been telling people she wants Aaryn out next week. Aaryn knows this because Andy, Amanda and McCrae filled her in during the 3am alliance talk last night)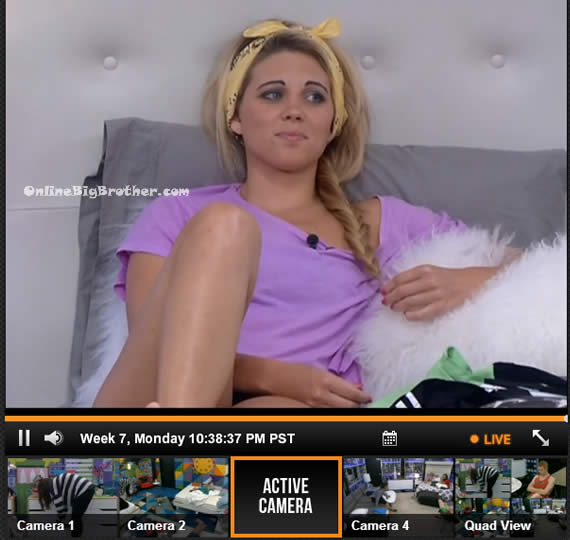 10:35pm HOH Elissa, Spencer, Andy, Helen, Jessie
chatting about what Julie Chen meant when she said the Jury members are still in the game. They figure it's either someone is coming back, The jury gets to vote MVP or nothing as the jury is technically still in the game because they get to decide the winner.
Aaryn thinks someone is coming back she's sure of it.
Helen: "As long as we're all on the same page it'll be fine.. that person better be good at winning comps"
Aaryn: "It's annoying me that Gm is hanging around Spencer a lot"
Elissa: "why"
Aaryn: "I can't stand Spencer.. I think he's fake" She adds he's Parading around the house making up all these stories acting like he loves us all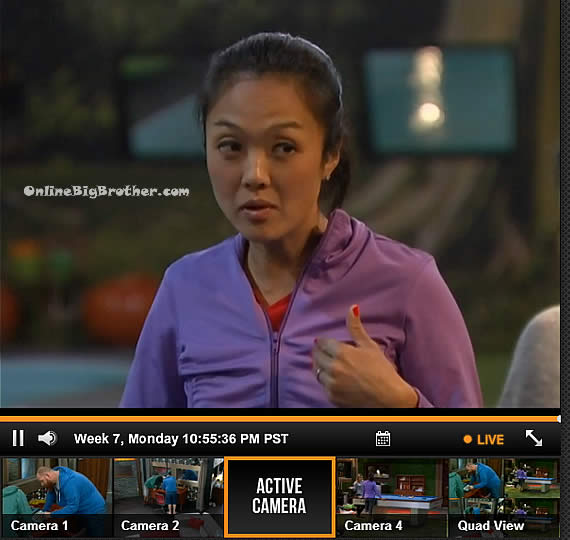 10:54pm Helen and Jessie
Jessie: OK Helen I have something serious to talk to you about"
Jessie says she felt like when she said to Aaryn Jessie was targeting Amanda she threw her under the bus
Helen: "I'm sorry everyone kinda knows that"
Jessie: 'Well how does everyone know that"
H: "It's going around you had that Huge fight in front of the house.."
J: "Well you saying it makes it sound like more than a rumour"
H: "I'm sorry it came out that way i'm happy to fix it'
J: "I don't think you can fix that.. I am on the block this week and that is going to hurt my game"
J: "You are becoming more distance with me and I don't know why"
H: "Sorry I thought It was public knowledge.. Judd made everyone know that"
J: "I didn't know that was public knowledge"
helen says JUDD and other people told the house she was going after Amanda
J: "you leave me in the dark with conversations that deal with me that leads me to believe you are not looking out for me"
H: "Listen jessie lets not forget.. you were the one that tried to flip the house on me and Elissa"
J: "How was I trying to flip the house on you and Elisa"
H: 'You were trying to get Amanda out you were trying to change the power in the house.. Candice said you were flipping the house on me Elissa, McCrae and Amanda"
J: "OK I have never ever come after you ever before.. you are trusting Candice more than me which is basically putting everyone ahead of me"
Jessie: 'Candice was the one telling me that all four of you were in an alliance"
Helen: "Let not forget you were running around the house saying Elissa and I do not need the money"
J: "I said that to one person in a moment of anger"
H: 'A bunch of people were there I was told"
J: 'NO it was McCrae and Amanda those were the only two people in there and I said it in a moment of anger and I apologized and you accepted my apology"
Helen: "Other people have told me to that you said it all over the place"
J: 'Thats not true"
J: "Will you ever give me the benefit of the doubt ever I have been nothing but loyal to you for the past three weeks"
Helen storms out says she a liar
(helen will now tell everyone in the house this conversation. Keep in mind that Helen knows Jessie told Andy she wants to go after Helen and Elissa now. )
You can re-watch ever second on the feeds using the flashback feature.. It's just like a DVR and is super easy to use. click this link for a Free Trial —> Subscribe to the Big Brother Live Feeds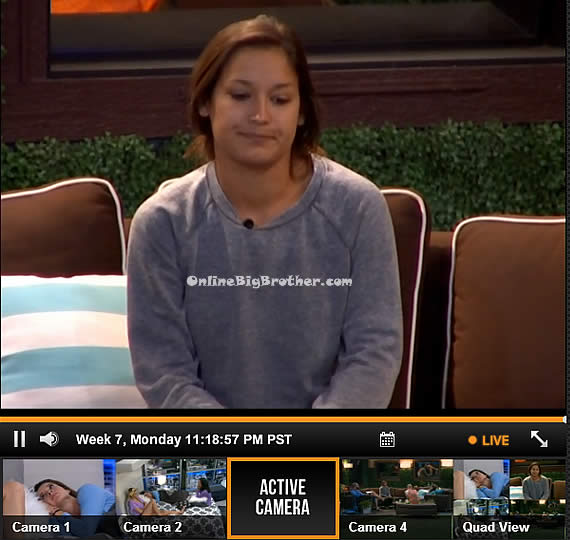 11:19pm Backyard MC, Jessie , Specner and Andy
MC saying if JUDD wasn't MVP he's going to be so pissed. Amanda: 'He was still coming after me"
Amanda and MC leave. Jessie goes over her conversation with Helen. She highlights that once she got to the bottom of things Helen stormed off.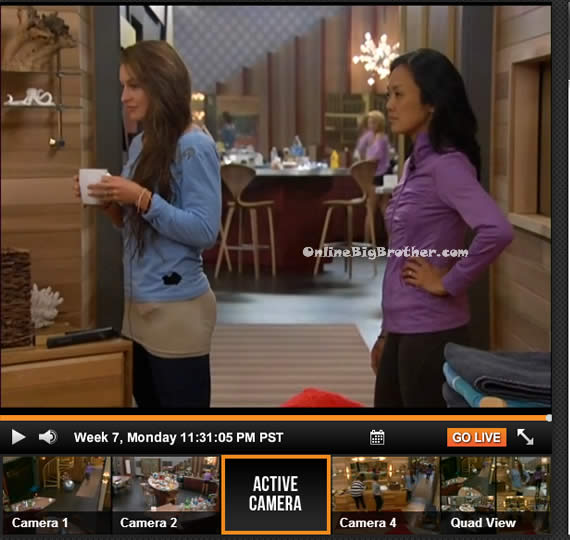 11:23pm Bathroom Elissa, Jessie and Helen
(prior to this Helen was in the HOH with Aaryn. Elissa and AManda. Amanda was telling Helen she better squash this thing with Jessie because Jessie is going around telling people her and Elissa were coming after Amanda. Helen wants to go confront Jessie. Elissa doesn't it takes some convincing on Helen's part to get Elissa to do it)
Helen: "can you explain why you are telling everybody we're targeting Amanda"
Jessie: 'Because you were"
Helen: 'No we weren't.. no one is going to believe you Jessie"
Elissa: "we never said that Jessie"
Jessie: Yes you did"
Helen: 'OK i'm not even going to fight with you because it's not worth my time.. you're the one on the block"
Helen storms out
Elissa: "I never said I wanted Amanda up I just said I didn't want Candice to go"
Helen comes back into the bathroom
H: "Why are going around saying this to people.. I thought you were protecting me "
Jessie says she was protecting Helen until she found out Helen was using her and lying to her.
Helen: "If we wanted Amanda out we would have done it"
Helen: 'Ok ceya.. you are leaving thursday"
Helen goes into the kitchen opens the glass door and says "She leaving Thursday"
Elissa comes up to Jessie asks her why she is saying she was targeting Amanda.
Jessie: "There was a conversation where Helen said you were on board with getting Amadna out"
Elissa: "I never said that"
Jessie: "Helen did then"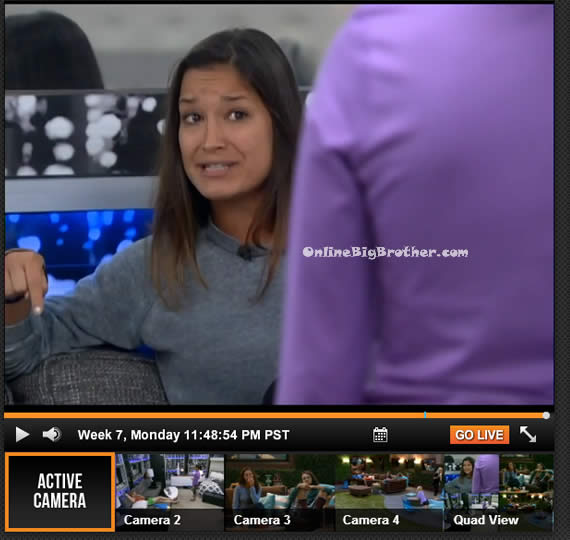 11:37pm HOH Helen, Andy and Jessie
Jessie says Helen got her and Elissa together and they were working towards trying to get Amanda out.
Helen says she was only doing that because she wanted to see what Jessie would do. Helen adds she never wanted to get Amanda out because she needed Amanda to get JUDD out.
Helen: "I never had any intention of getting Amanda out until JUDD left this house"
Jessie: "So either way you are lying to me when you are telling me you are protecting me"
Helen: 'Jessie you have lied to me a ton"
J: "no I haven't"
H: Yes you have.. and every week we have this conversation and I tell you this isn't the week to get her out"
J: "Andy did she not ask you and JUDD this is the week to get her out"
Andy says he talks a lot of scenarios with Helen and he never thought it was a definite plan.
J: 'It look liked a definite plan from my end.. so basically she was setting me up"
Helen storms out "I'm done I'M DONE"
Helen comes back "Oh my gosh.. I never was setting you up"
J: "You just admitted to setting me up you said you wanted to see what I was going to do"
Helen storms out again "I'm DONE i'm DONE"
Helen comes back "I never set you up jessie"
Helen says it was never a plan to get amanda out .
Jessie: "You can say that but I know otherwise"
Helen: "you can think whatever You want'
jessie: "OK and so can you"
Helen: 'OK so we are going to disagree that is fine"
Jessie: 'Helen you got Elissa and came to me saying I have Elissa onboard"
H: "I never did"
J: "Yes you did and you just looked to the right that means you are lying"
Helen storms out "OK OK I'm DONE"
LOL and she's back
Helen: 'I never lied"
Jessie points out that Helen has stormed out 3 times already.
Helen: 'I never meant for Amanda to go out of this game before JUDD"
Helen: 'I'm not going to let you argue with me I'm done i'm so done" and she storms out again
Andy stars talking and she comes back he says he only heard the plan the one time and said it wouldn't work that was the last he heard of it.
Jessie says that was the last she talked about it to and now she's getting thrown under the bus.
Jessie brings up Helen keeps storming out of the conversations., She wanted to talk to Helen at the pool table but helen just stormed out because Helen wanted to make sure she got to Amanda first to throw Jessie under the bus.
Jessie: "I had to do this to defend myself because I am on the block this week"
Helen: 'OK great ya keep doing it .. go do it.. i'll take it all … go I'm not on the block"
Helen storms out for the last time.
Jessie: Well that was very mature"
Andy: "I'm not going to lie to you you got to fix this"
Jessie says Elissa and Helen told her to go start making out with JUDD to get his vote because then we wouldn't have needed Andy's vote.
(Jessie rehashes everything to Andy.. Helen rehashes the conversation with everyone in the house 3 times over. I'm not going to bother covering it all
You can re-watch ever second on the feeds using the flashback feature.. It's just like a DVR and is super easy to use. click this link for a Free Trial —> Subscribe to the Big Brother Live Feeds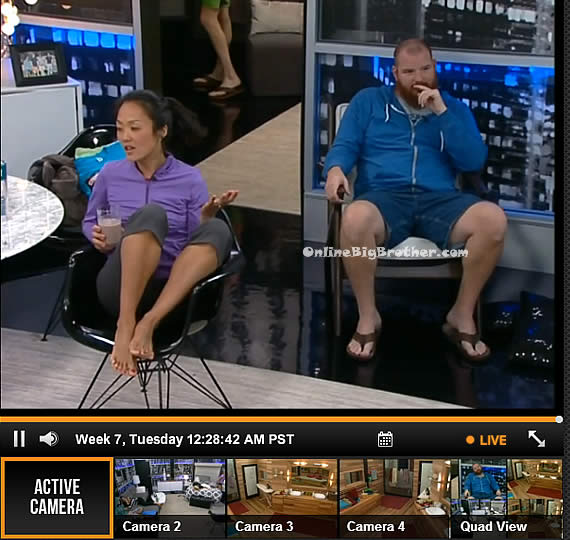 12:29AM HOH everyone but Elissa and jessie
Helen is backtracking about the "Kissing Strategy" She says Elissa is going to explain it basically had something to do about Jessie getting back in good with JUDD by kissing with him and flirting with him. (The kissing Strategy was Elissa's idea to get Jessie and JUDD back together so they had JUDD's vote to evict Amanda)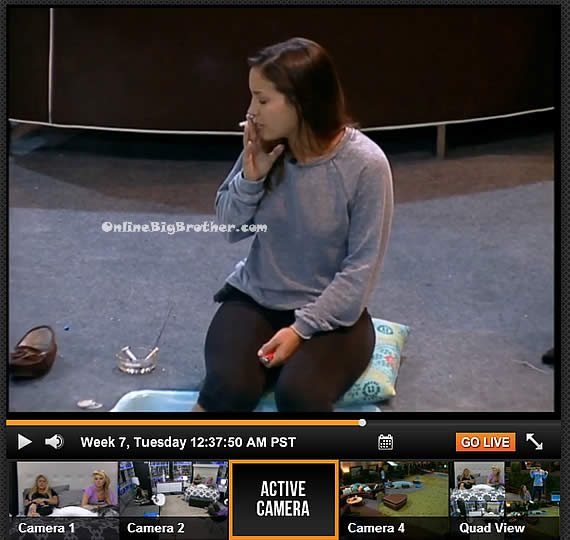 12:35am hot tub Jessie and Elissa
Elissa wants to know why she brought her into the conversation tonight. Jessie says she was explaining the plan last week and you were part of the plan last week.
Elissa says she wanted Spencer out last week she never "technically" wanted Amanda out.
Jessie: "I don't even know why you are talking to me after the comment you made to me upstairs do you know how rude that was"
Jessie: "To look at me and say are you on any medication that is probably the rudest thing that has been said all season"
Jessie tells her everyone in the house talks about Elissa and how crazy she comes off. Jessie would have never said that to Elissa.
Elissa: 'Well what comes off crazy that I do"
Jessie: "I dunno ask everyone in the house.. everyone talks about you behind your back"
Elissa: 'Really.. like what and When"
Jessie: 'Just how loopy and weird you get.. all the time every day"
Elissa: "Like who are the main people"
Jessie: 'Why would I tell you that you just insulted me in front thousands of viewers"
Jessie: "It was a really f**** up thing to say Elissa.. it hurt"
Elissa: "I'm trying to be nice and you are pushing me away"
Jessie: 'You didn't even apologize for your comment"
Elissa: "You didn't apologize for your comment"
Jessie: 'Which was what"
Elissa says bringing her into a conversation that wasn't accurate.
Jessie: "Elissa you were involved.. if you are not going to tell the truth what did you want me to say"
Elissa pulls a Helen and Leaves says she just wanted Spencer out.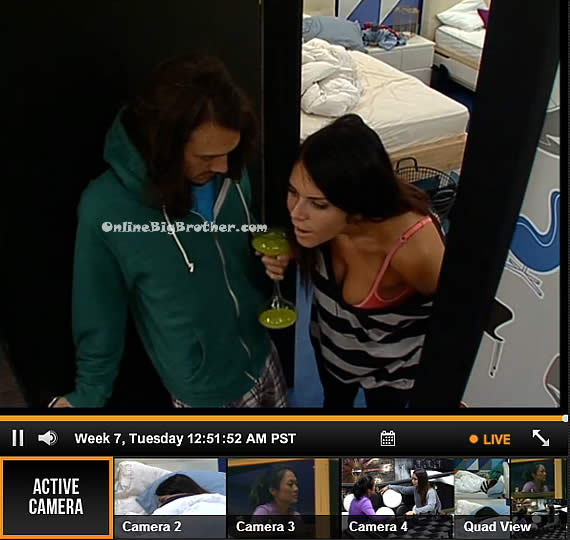 12:53am
Jessie and Helen are arguing at the chess board.
Amanda and McCrae listening in from the bedroom
The argument is fairly long basically it comes down to Helen denying that She brought Jessie into the storage room and telling her they had Elissa on board to vote out Amanda. Helen says she honestly cannot remember saying that. Jessie says how convenient. Helen pulls a Helen and storms out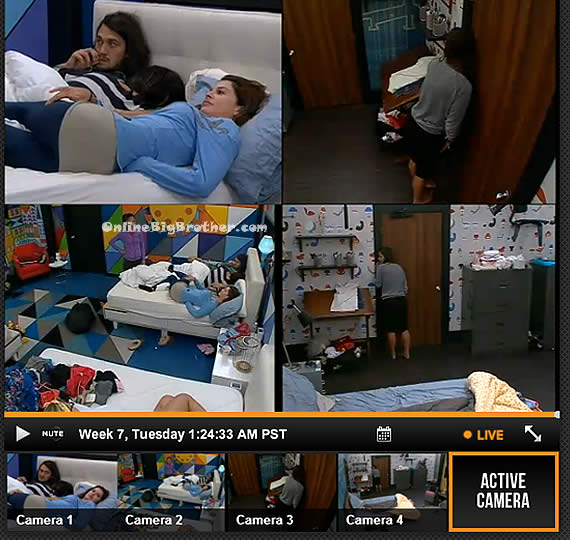 1:10AM Jessie listens in one Amanda, McCrae, Elissa, Helen and Aaryn. She learns that she's going home, everyone has been lying to her, Andy told Helen about her wanting to target Helen/Elissa, etc etc..
Aaryn says that Jessie thought Andy was working with her and she told him something in confidence that he told Hleen, Elissa, Amanda and McCrae.
Helen: 'I never brought up Andy to her"
Aaryn: "She saying Andy said something to Y'all and it got back to her"
Helen says she brought up with Jessie that someone told her Jessie has been saying they are not close anymore. Jessie told Helen she only has told one person that. Helen: "I just said I didn't know what that conversation is and denied it.. Even though Andy Told me I stilled denied it… I was like I don't' know what you are talking about"
Aaryn: "That is why she knows the house is against her.. she now knows everyone has been lying ot her"
Elissa laughs, "Opps"
McCrae: "It's going to be way easier to get her cigarettes"
Amanda: "Oh my God McCrae"
Jessie sprints to the HOH to confront Andy about telling Helen that she could be coming after them. Of course he denies it.
[polldaddy poll=7309671]