Head of Household Winner – ENZO YO!
Have nots –
Nominations –
Power of Veto Players are –
POV Host:
Power of Veto holder –
Power of Veto Ceremony –
Safety Suite –
Live feeds —-> Grab your Live feeds here. Try it free.
Rank the houseguests —-> Big Brother 22 Ranking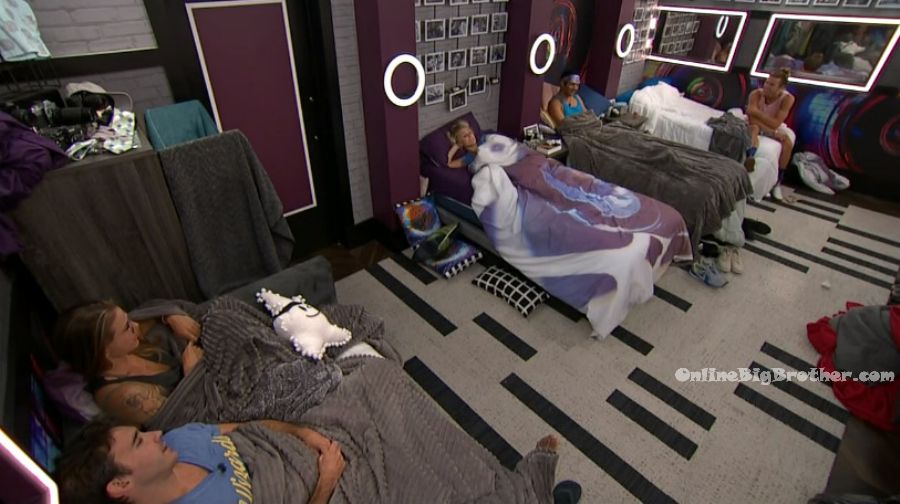 9:25pm Bedroom. Nicole, Kevin, Dani, David.
Christmas – I want to get this HOH experience over so that I can cry myself to sleep. Christmas gets called to the Diary Room. Kevin – your babies back? David – uh oh they want the babies back. Christmas – no.. well they can have the crying babies. Dani – I literally cannot believe that Julie doesn't ask us questions anymore. It blows my mind! Nicole – I know. What do you think that she thinks we suck?! Dani – she hates us! She's been specifically asked to not ask us questions. Kevin – that mean something shaddy is going on. Nicole – are you sure because on shaddy seasons there are questions? Ian joins them.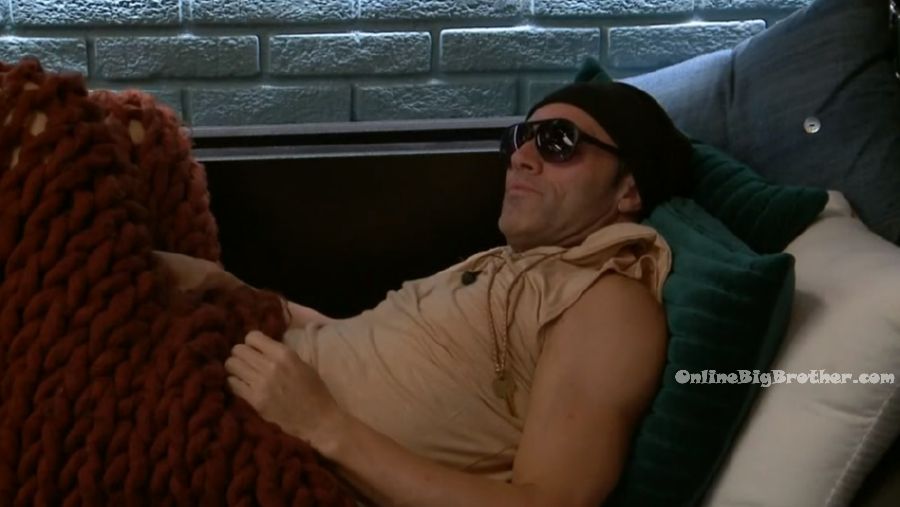 9:57pm Outside the HOH room. Enzo and Cody.
Cody – so what are you thinking? Enzo – I don't know .. Memphis is saying that he didn't do it. Cody – this is between you and f**king me. Yesterday, Dani came in the back room and asked do you think that you're more susceptible to doing something crazy if you're on slop? I asked what are you asking? She said lets vote the opposite way tomorrow to try and pin it on two people. She wanted me to do that. I was like F**K NO! Enzo – I am telling you YO! Cody – don't say a word! Enzo – I want to talk to everyone and see who they're going to pin it on. (It was Enzo and Dani LOL) You know what I mean? I want to see who they pin it on! Because yo! you're never going to find out. No one is going to say nothing. Cody – no. But the only person that .. she asked me to do it. Enzo – I know. I asked Tyler and he thinks it was Bay and Ian. Cody – Bay is f**king pissed!! Enzo – because people are going to pin it on her. Day and Bay! Cody – I walked into the back today and asked Dani who did you get to ..who did you convince to do that? She said I didn't do that. Once you said no, I wasn't going to do it. I was like… Enzo – I am telling you YO! We have to not this week but we have to make a move on them Yo! F**king crazy yo! Cody – isn't that crazy.. she asks me to do it and then a day later it happens. Enzo – yeah. Could be Day and Bay too yo! Memphis.. Memphis was f**king with her. She is capable of anything.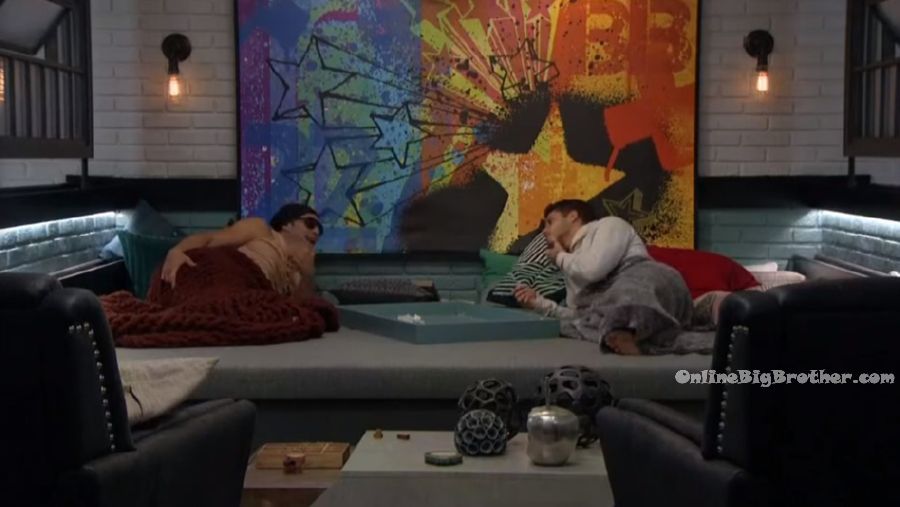 Cody – do you think once she asked me and I said no it scared her or do you think she just asked someone else. Enzo – Kevin could have definitely did it. Cody – the only thing that makes me feel weird is that she asked me to. Why would she not just come out and say I did it .. what the f**k. Cody – because someone is trying to f**k sh*t up. Enzo – that is what I'm saying. Someone is trying to pin it on two other people. F**k bullsh*t YO! Between you and me I'm putting up Kaysar and a pawn! F**k it! And if Kaysar wins veto, I will f**king backdoor Ian! I don't give a f**k YO! I DON'T GIVE A F**K! I want to backdoor one of the girls yo .. but its to early! Cody – na! Enzo – but its going to come to a point where if they don't win something I will say you're out of the alliance. WIN SOMETHING YO! If I backdoor Ian .. I can be like he was the CHAMP! Or whatever! I don't give a f**k! I want to see with those girls who they throw under the bus. Everyone is going to f**king throw everyone under the bus. Everyone is thinking there is a battle back and if Janelle comes back they will be like I voted for you. I voted for you! Cody – I love Dani but I don't trust her. That was weird. I'm not going to say anything to anyone but I want to see who's names start coming up. Enzo – Day better win something YO! She ain't getting a free ride. I want to talk to everyone .. everyone one on one! You and Tyler are my boys! You're number one! These f**king girls ain't winning nothing! Lets Go! Next week one of them better win something. I think Christmas is going to win the endurance and she can start going after these girls.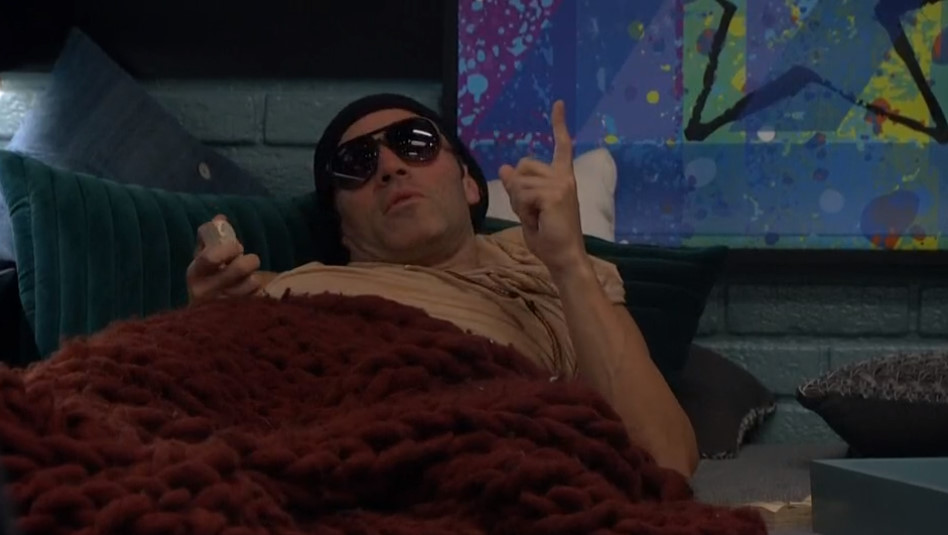 10:22pm Big Brother calls Enzo to the diary room…
10:35pm Bedroom. Memphis and Kaysar.
Kaysar – if Cody and Tyler are in his ear they're going try and get us put up. Memphis – no Cody and Tyler are both talking sh*t about Tyler. So we need to keep that dialog going. Kaysar – Cody and Tyler are also saying David, David, David to you? Memphis – YES! I think if we just step back a couple days he (David) is going to spin out and do it himself (get himself put up on the block). Kaysar – this is so crazy. Memphis – that is what I am saying if you just step back people will spin out by themselves. No one is going to want to be in jury with that dude! I think we back off and let David do his stupid sh*t that he's doing. People do not want to be stuck in jury with a crazy dude. Its perfect for us .. so maybe we can just sit back.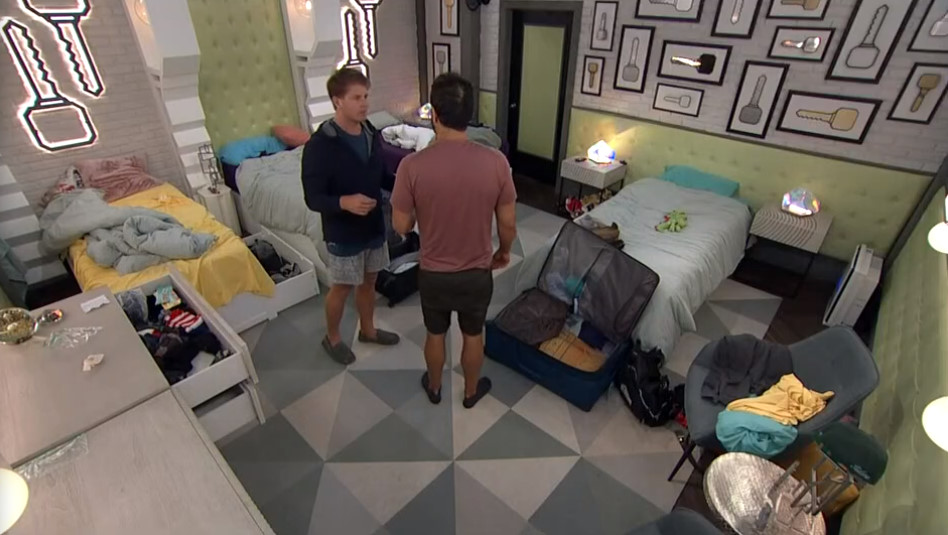 10:50pm Storage room. Dani and Cody.
Dani – what I was thinking was if both you and I had thrown our votes too.. that would have been 4 (votes)! That would have been crazy town!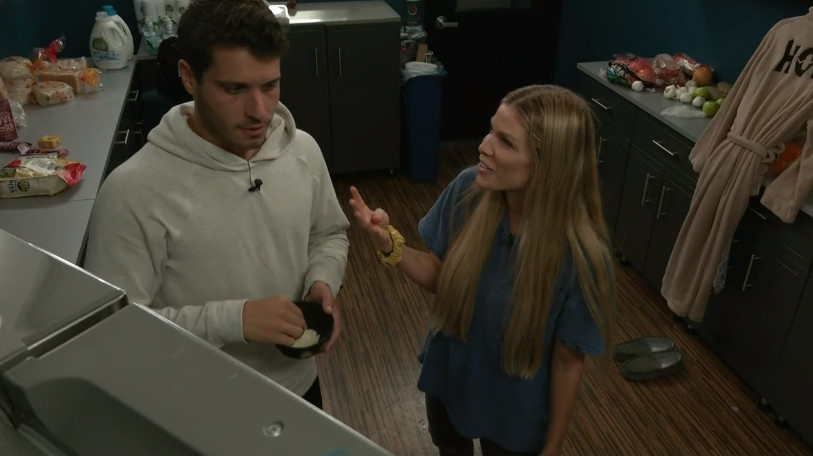 11:18pm – 11:35pm the feeds return from being blocked. Enzo got his HOH room. Enzo – I am already starting to feel tipsy yo! I'm starting to feel nice! Tyler – I can't believe this is your first one (HOH win). Enzo – the position I was in on my season I really couldn't win anything. I don't even know what the f**k I was doing on the season. I didn't know anything about the show .. I was learning as I went. I was in such a good spot where there was no need for me to win. I did try to win some .. I just couldn't.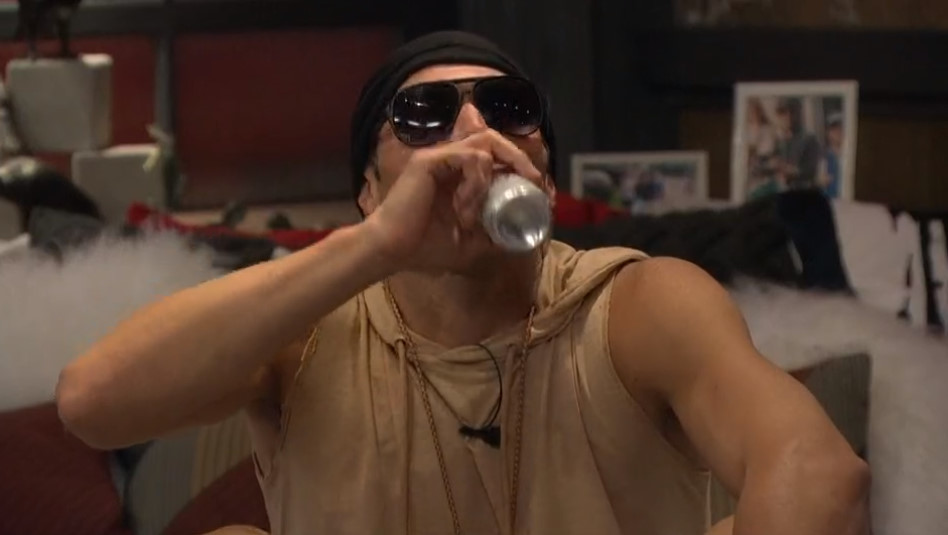 HOH room. Christmas and Enzo.
Enzo – I like you! I already gave you the plus one ..you know you're good with me. You and me have to like work with each other. Christmas – I love it! Enzo – I f**king love you! What I love about you .. you know who to talk to and what no to say. You know what you're doing and how to compete. Just be loyal to me and I'll be loyal to you. Christmas – I love it. Done! Enzo – you have nothing to worry about this week. Just do your thing. Don't worry about it. Christmas – that girls are obviously working together but they're sensitive about working together. They tried to loop me into a few things.. and I was like I'm listening, I'm listening but I am not in it. Bay and Janelle were really close. Supposedly Janelle had Bay locked in. And I am telling you this .. Memphis is my boy.. Ezno – I like Memphis a lot. Memphis is save. He won HOH and he kept me safe. And I am big on actions speak louder than words in this house. You won HOH and kept me safe.. I am keeping you f**king safe. Christmas – she (Janelle) said that she had Bay and Memphis locked in.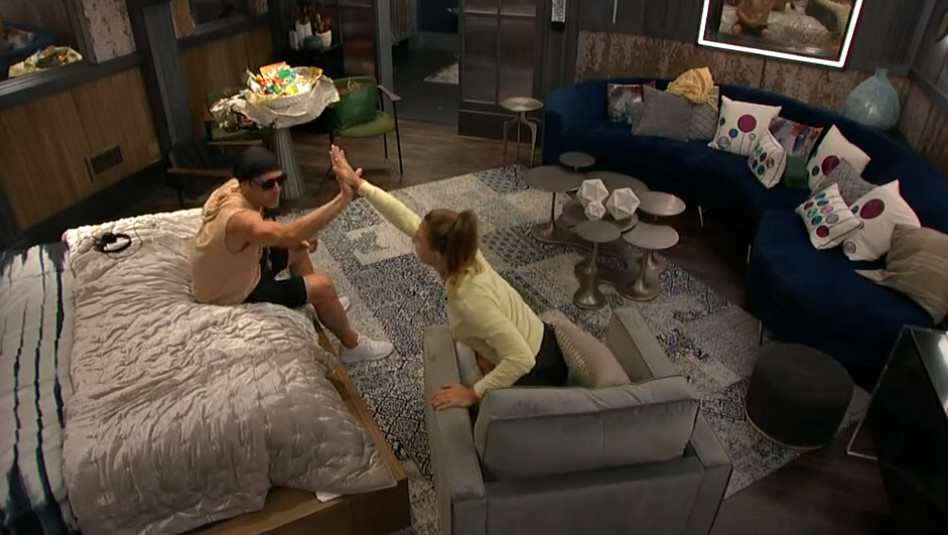 11:50pm – 12:05am Outside the HOH room. Dani and Kaysar.
Kaysar – We need to look after each other. I need your help! Dani – okay. Kaysar – And I would be eternally grateful. Now that Janelle has gone home .. I am assuming people still want me out. If there is anyway you could use your influence to keep me safe I would be eternally grateful. I do not want to go out like this. Dani – No, I don't blame you. Honestly, I don't know what he (Enzo) is going to do. I don't know where his head is at. Kaysar – who is he close to? Who can I talk to that would have any influence on him? Dani – I feel like he might be close to Cody. IF he (Enzo) puts you up ..and if we can get him to put up David… I don't know I think he is annoying everybody. Cody joins them.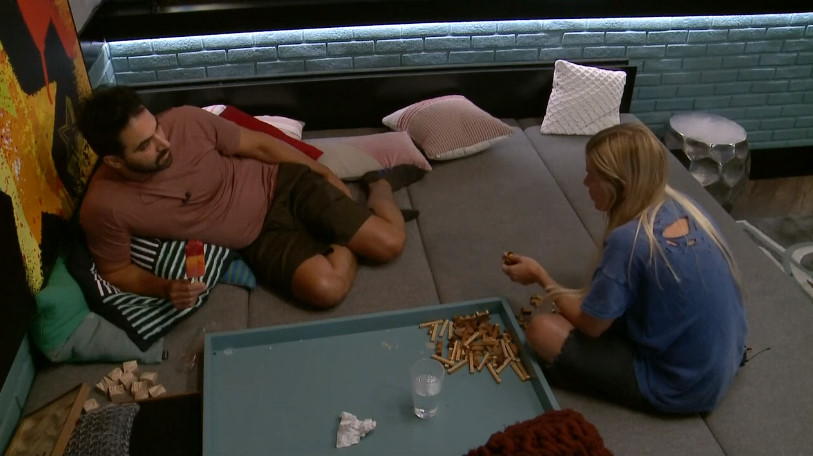 2am Bedroom. Christmas and Bay.
Bay – what do you think he is going to do? Chrsitmas – I don't know. Bay – you were with him by yourself.. He didn't tell you? Christmas – we were just talking about the game We don't talk like that. I told him how this was his HOH. And that he doesn't have to do what anyone else wants. I don't know who he is thinking. I don't know who he is thinking. I don't know if he knows.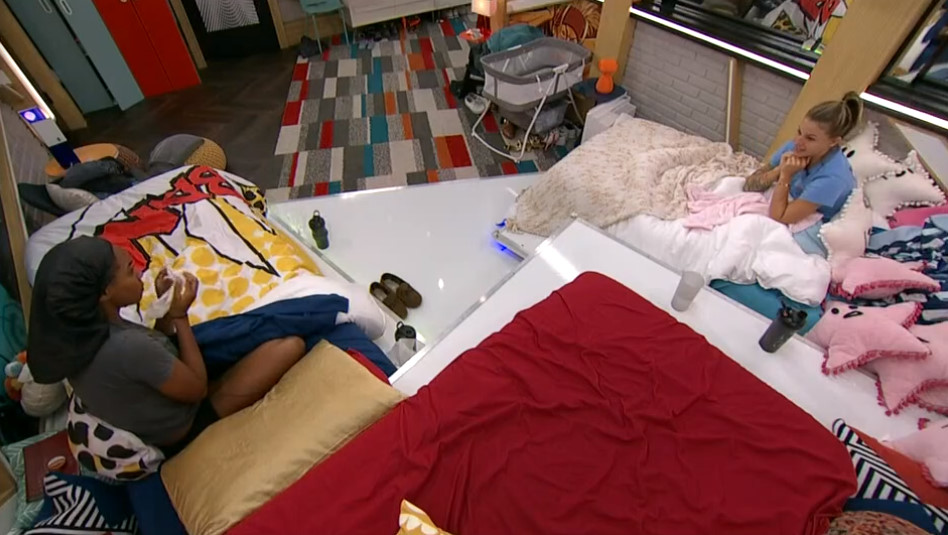 2:30am – 3:15am Bathroom. Dani, Nicole and Cody.
They talk about who the rogue votes might have been. They think it could have been Day. Dani – Nicole and I were just talking .. we think it will be a regular eviction and then next week will be the first double. I think this week will be an endurance and the one after will the double eviction.
Cody – I just really don't know what this new power is going to be. Cody says that Memphis is trying to get David put up on the block. I was like hey guy you're making it really weird so that you keep trying to cover for f**king Kaysar. I am not letting you play patty cakes with Kaysar. Nicole -we had no say in Memphis's HOH. Cody – and I am not letting him play patty cakes with Kaysar so he can stay here and then throw me on the f**king block! Nicole – Tyler needs to be careful.. he tells people too much information. Kevin joins them.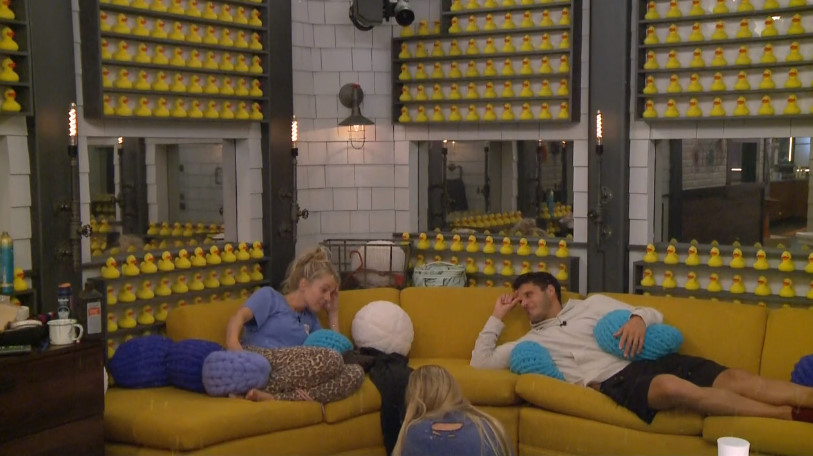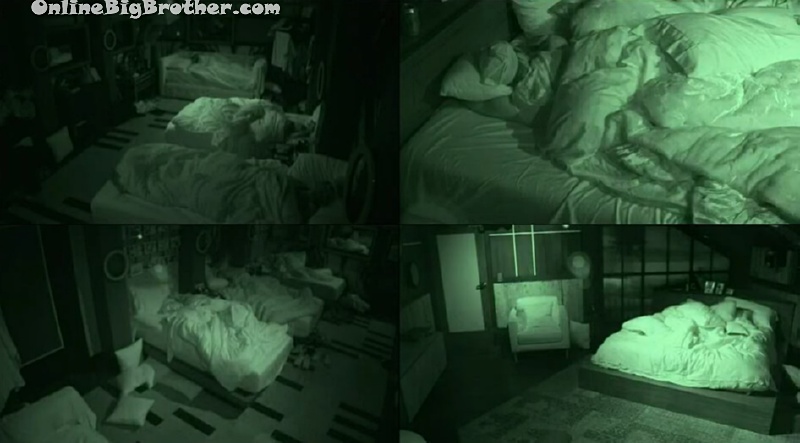 7:10 am Sleeping yo
8:25 am Memphis is up picking his nose.
8:44 am Memphis and Dani
Memphis continues to pick his nose. They Chit chat about how horrible the have nots beds are.
Dani says her butt was going numb. She considered sleeping on the floor.
10:16 am people still waking up eating getting dressed etc etc …
Sounds like Dani and Chritsmas want Bayleigh and or Da'vonmne gone this week.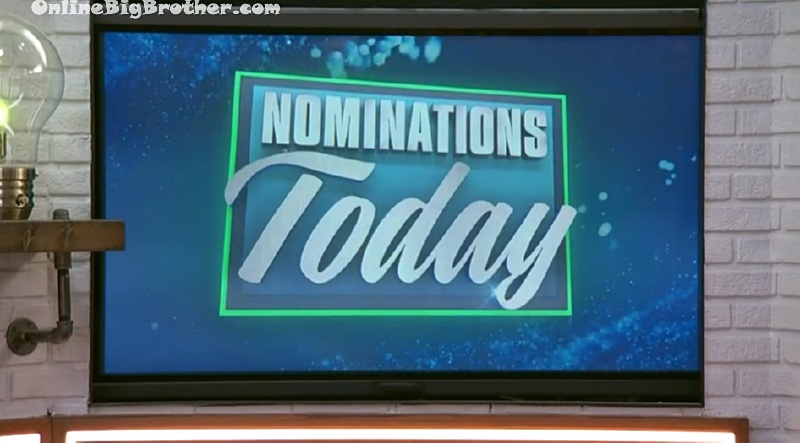 10:37 am Nominations today yo.
Show your support by making a donation.
If you're enjoying our live feed updates this season, please consider donating.
Any amount is greatly appreciated! Your donations go directly to paying the fees required to run this site.