Head of Household Winner – ENZO YO!
Have nots – Dani, Tyler, Da'Vonne
Nominations –
Power of Veto Players are –
POV Host:
Power of Veto holder –
Power of Veto Ceremony –
Safety Suite –
Live feeds —-> Grab your Live feeds here. Try it free.
Rank the houseguests —-> Big Brother 22 Ranking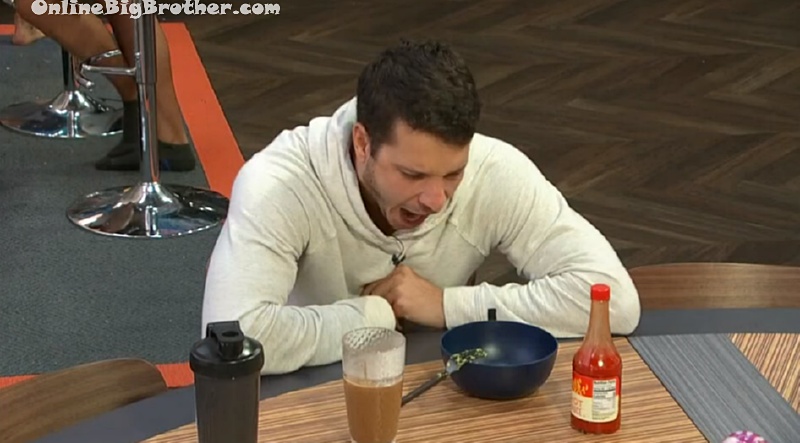 10:43 am Cody and Tyler
complaining about twists that Mess with the game. Tyler telling him about the hacker twist on his season. "It was crazy"
Tyler says nobody used their powers "The first entire twist nothing happened"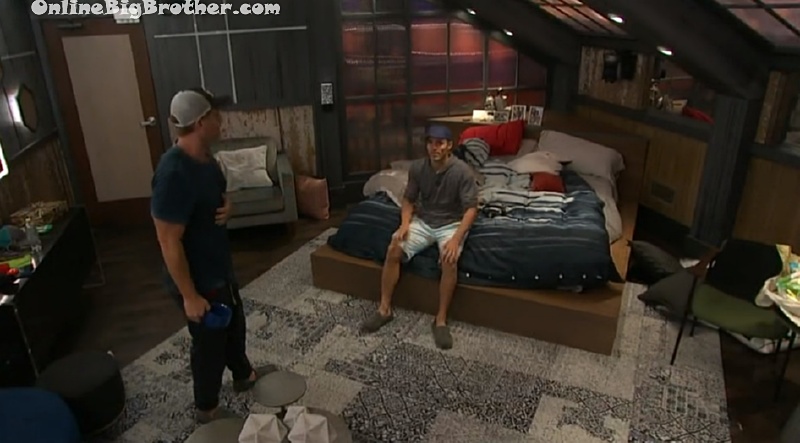 10:56 am Enzo and Memphis
Enzo – you know you're good bro
Memphis – once we get to the second half of this game
Enzo – do what you gotta do .. I'll do what I gotta do action speaks louder than words.. you kept me safe
Memphis sleaves Cody comes in .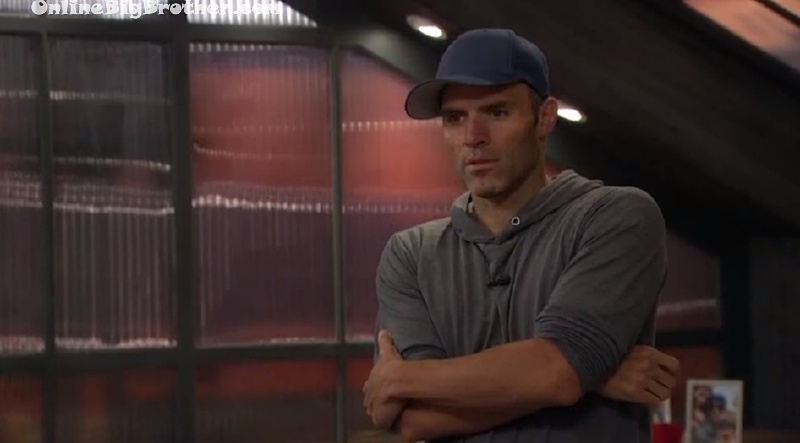 Cody and Enzo
Enzo says he'll talk with everyone then they can have a bullshit slick 6 meeting. they'll then have a meeting with just Bay and Day then they'll have a real meeting with the core 4
They agree to not take a shot at Memphis.
Cody – no way
Enzo – they better win shit..
Cody – what are you thinking
Enzo – I got targets.. thinking kaysar
Cody – the easy ones .. like kaysar
Enzo – Kaysar.. I might put up a pawn..
Cody – who Kevin or David
Enzo – Kevin ..
Enzo – Yo Dave keep him in this game because he's a target for all the girl's Day doesn't like him bayleigh is going after him Christmas is saying shit about him too keep him in the f***ing house f** it
Cody – nominated Kasyar and a pawn Kevin then you have to figure out if one of them comes down that is where the gameplay is.. can you toss David up there and send one of them out..
Cody says Kevin and David are numbers for DAy and Bay over them.
Cody – any number that is for someone else over us has to go Like Ian is like.. he's with Nicole
Cody – the thing I don't like about Ian is he always comes up after an HOH
Enzo – I don't trust him
Enzo – if I cut Ian out then Dani and Nicole come to us even more
Enzo is worried they will be upset with him "But I don't give a F*** I don't care"
Cody – no no not upset. If you cut Ian now Nicole doesn't ahve that person to sit next to
Enzo – we'll force her to play this game.
Cody – she has to win competitions.
Enzo – Day, and Bay need to start winning shit I will only give them a grace period.. We're going back to back to back.. Tyler, you POV and me..
Cody says he's worried about Memphis because he's so close to Kaysar.
They talk about getting rid of Kaysar so they can have Memphis all to themselves..
Enzo says he's not listening to Day or Bay on this HOH he's doing his own thing. "We win Veto we do whatever the f* we want"
Cody warns him to tell Kevin he's the pawn because he'll run around the house telling everyone.
(So Kaysar is the primary target, Ian secondary, and Daivd/Kevin tertiary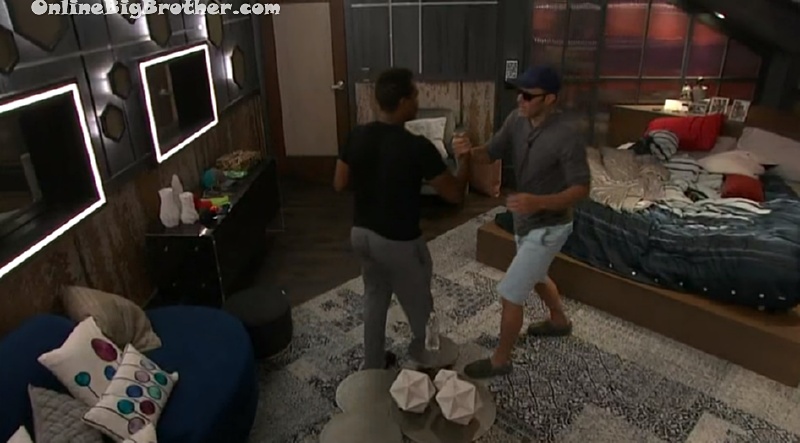 11:09 am Enzo and David
Enzo who do you think are the votes .. the two f**ing votes.. I don't really care yo
David goes on about being a rookie.. Enzo says if he wins HOH he can take out Memphis because Memphis put him up.
David says that Memphis is close to Kaysar. Adds that Da'Vonne is as well mentions that when Janelle was here they spread information to try and break up the groups.
Enzo complains about some of the girls cheering for Kaysar during the HOH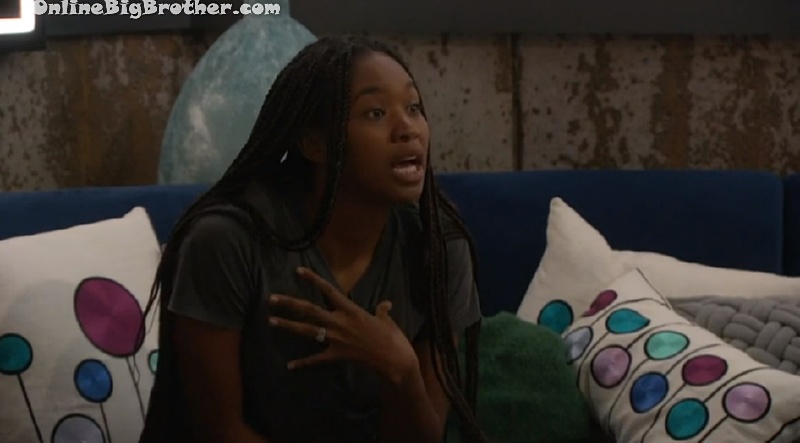 11:18 am Bayleigh and Enzo
trying to figure out who put the two votes on Janelle
Bayleigh says it was Dani, her or Dav'onne she thinks it was Dave and Maybe Memphis.
Enzo says maybe Kevin..
Enzo – do you think someone in our slick 6 is trying to be too slick
Bayleigh – no
Enzo says out of all the girls he's got the best connection with Bayleigh.
Bayleigh – real talk if you and me are at the end I'm happy either way
Enzo – yeah.. that's it yo ..
Enzo says they should keep David in the house he's a target. Adds the same thing with Memphis keep him in the house as a target.
Bayleigh asks who he's thinking
Enzo says "they" won't let him say but it'll be the obvious person and a pawn.
Bayleigh – that's good
Enzo wants to have a slick 6 meeting
Bayleigh – that will be amazing (LOL poor baby bird)
Enzo says no one suspects their slick (sh1t) 6 alliance.
Bayleigh – Christmas last night was like Enzo is cool with everyone in the house he could go anywhere..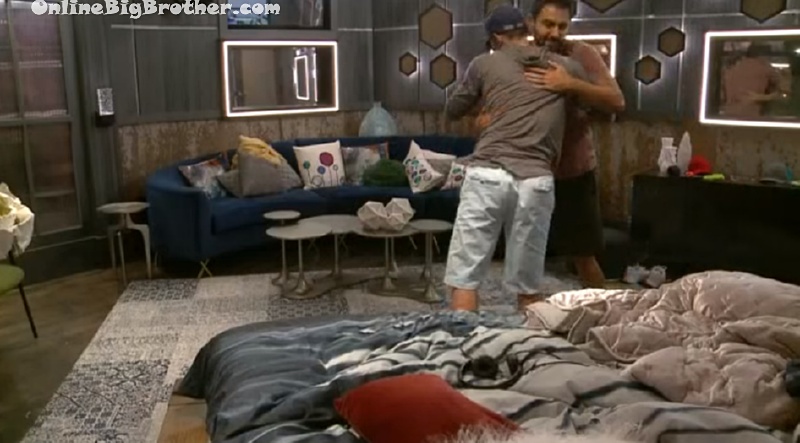 11:28 am Kaysar and Enzo
Enzo apologizes for having the HOH locked last night
Kaysar explains that he was quiet after the HOH not because he wasn't happy for Enzo he was just upset that he wasn't getting a picture of his Family "I was little heartbroken for that.. I'm super happy for you man "
Enzo talk about how hard his decision is "I like everyone in this house'
Kaysar says he respects Enzo and he's never said anything against Enzo.
Kaysar – I want to make sure we're still in good standing.. I know you will do what is best for our game.
Kaysar – just make sure you know I got your back.. You and I for whatever reason we get along really well.. I hope I can stay as long as possible so I can have your back.
Kaysar points out how trustworthy he is "if there is anything I can say or you are looking for I would be happy to entertain it"
Enzo – I have no targets in my mind nothing. I have to put up two people it's not personal man.
Enzo tells him his nomination will be his not based on what the hose is telling him.
Kaysar says he doesn't respect the floaters in the game says he's not going to name names but this being Allstars he was people that compete and fight to stay in here
Kaysar – I'm here to play.. I'm here.. I'm hoping you and I maybe not today but we can earn each other's trust.
Enzo says he doesn't like floaters agrees with Kaysar . Enzo starts complaining about people cheering for other people in the HOH competition says he say people bring out POM POMs
Kaysar – just know I can be there for you in the long term.
Kaysar leaves..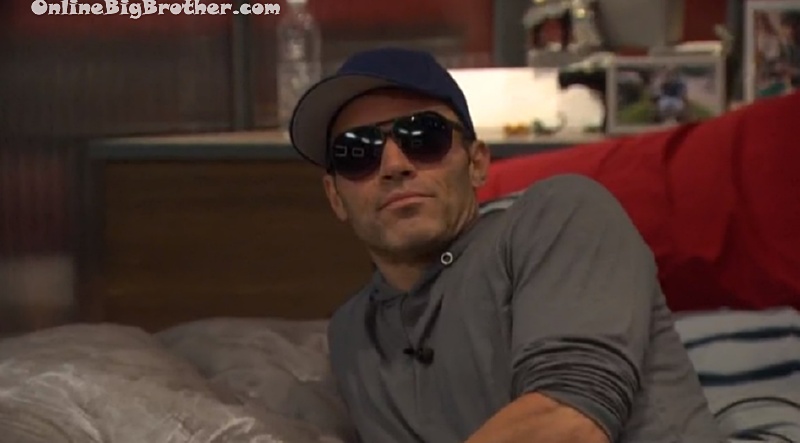 Enzo talks to the camera .
Enzo – he's a good guy he's a good kid but he talked no game with me for 4 weeks bro.. but he didn't say anything bad about me but he might have to Janelle, Memphis and whoever his circle was
Enzo – I like the guy but what am I going to do he hasn't talked any game to me so I can't trust him right now..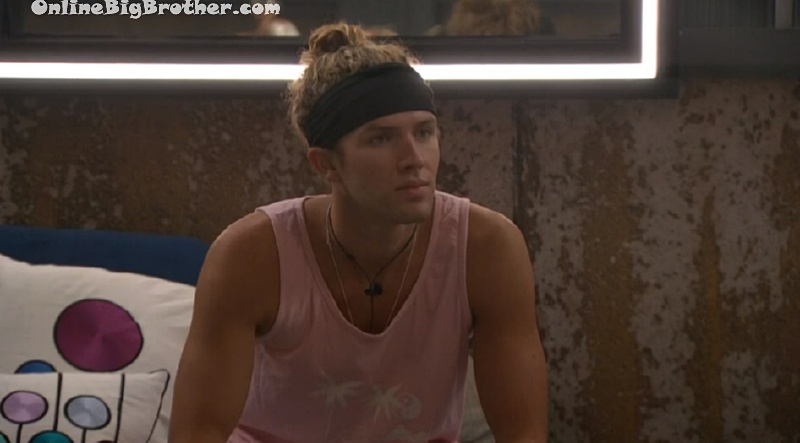 11:36 am Tyler and Enzo
Tyler says they have to get bay and day out then Dani "she's fueling the fire"
Enzo brings up kasyar now wanting to talk game with him havin gnot for the last 4 weeks.
Tyler – who are you thinking, him and Kevin
Enzo – him and a pawn man..
Enzo – you, me and Cody can run through this f**Ing house
Tyler says he's worried that a power will screw him. Tyler says if one of the girls in their alliance gets a secret power he thinks they'll use the opportunity to take him out./
Enzo – I don't think so yo.. not if me and Cody have anything to do about it ..
Tyle r- you know Da'Vonne it throwing me up Dani is throwing me up
Tyler – I think Dani was one of those vote s
Enzo – I'm starting to think that to. she's trying to stir things up in the slick 6 and trying to get Da'Vonne and Bayleigh in trouble and she'll do that with them about us.
Tyler- that's all she does first time she gets a chance when Da'Vonen isn't in the room she talks sh1t about Da'vonne
Enzo – shes' in every f**Ing room every F***ing place
Tyler – I've caught her whispering with every person in the house
Enzo – she's (Dani) is planting seeds everywhere she wants to make sure its growing.
Enzo – we can use Christmas to do some sh1t for us too
Enzo says Christmas told him she's friendly to kasyar. "I thought good I'm going to cut that fat off your hands I want you as my f***ing pitbull"
Tyler – she wants to latch onto kaysar if he stays
Enzo says Ian and Nicole scare him because he doesn't know where they are at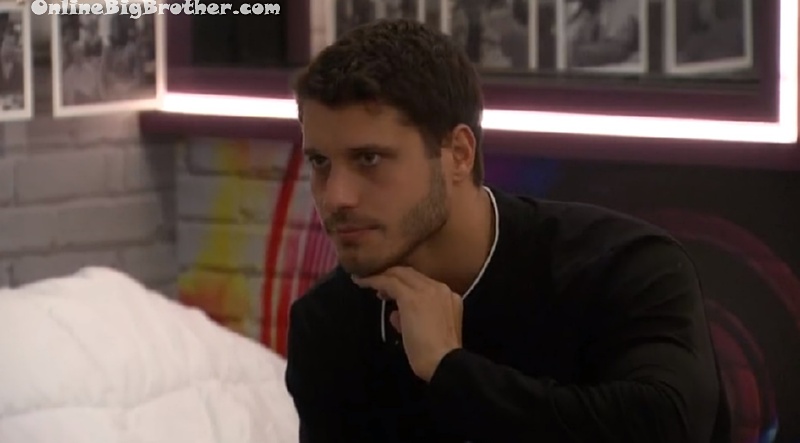 11:45 am Cody and Nicole
Talking about keeping Ian off the block.
Nicole says Tyler is Cody's Ian.
Cody says Nicole is still his number 1.
Nicole – I'm fine getting rid of ian.. just not this week
Cody – Enzo is hell bet on not letting a winner win a season.

11:50 am Enzo and Dani
Dani is fanning the flames about Da'Vonne and Bayleigh cheering for Kasyar last night.
Dani says the best part of their alliance is they all trust each other
Dani – what is up with the two votes, It has to be bayleigh and Da'Vonne
Enzo thinks it might be Kevin
Nicole comes in..
Enzo – yo just stay loyal to the four..
They ask him about the nominations
Enzo says Kaysar and a pawn "somebody weak.. this guy her Kevin"
Dani suggests David over Kevin because Kevin will stay mad at Enzo after.
Enzo says a lot of people are targeting David keep him in the house.
Cody joins them…
They talk about David saying he would put up Da'Vonne and Memphis. dani doesn't think he'll touch Da'Vonne.
Cody tells them Kaysar has to go.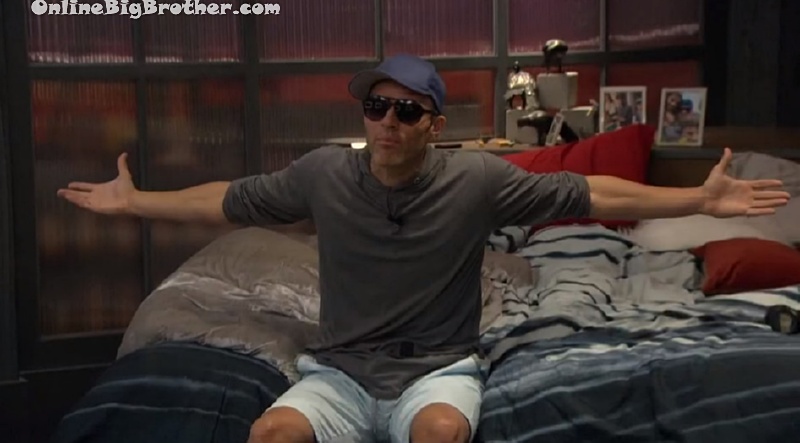 12:11 pm Enzo and Da'Vonne
Enzo says David's day's are numbers in this house.
Enzo – you know Memphis is going after him to
Day – yeah
Enzo – he's a target man
Da – Yeah
Enzo – Christmas even said something about him
Day- yeah he's rubbing a lot of people the wrong way
Enzo – we're good just the slick six.. Like I said we'll do the slick 6 tonight just enjoy it this week chill relax. Hopefully one of you guys win it next week so I can f***ing relax
Day – yeah agreed agreed
Enzo – I think we can F****g ping pong this sh1t just keep winning back and forth
Day – with the 6 of us we should be able to
Enzo – we're the six strongest people in this house.. for real yo we can navigate right through this to 6
Talking about day one telling each other they trust
Enzo – you know who I am with I'm with the connect and the slick 6 you can't be with too many people you have to go after people then it gets too m essy
Enzo – we can't go after Nicole we'll get someone to go after her. That's how it is
Da – if it's the 6 and she' the 7th.
Enzo goes on about how much he doesn't like being HOH. Da'Vonne chimes in every couple words with a "yeahhhhh"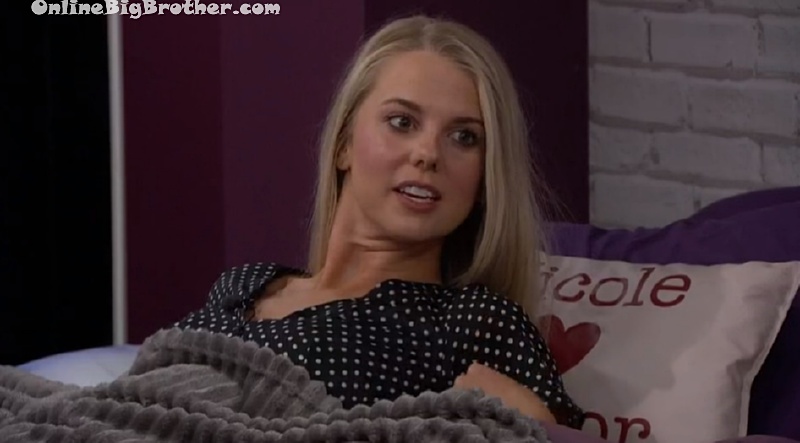 12:26 pm Nicole and Cody
Nicole – did Enzo mention backdooring Ian this week
Cody – yeah, but he won't do it.
Nicole – that's what makes me worried I'm worried he doesn't trust me to even tell me that. I wouldn't take it personal I get it
Cody – he talks to me like ..
Nicole – like a brother
Nicole – that's crazy how many times I've had to save ian and if he doesn't repay why bother
Nicole – it will pay off if we're sitting next to each other