Quick Big Brother Spoilers
Big BroChella SIDE
Brochella HOH (Inside the House):  Michael
TEAM BroChella:  Brittany, Jasmine, Monte, and Taylor.
Nominees: Jasmine and Monte
POV Players:  Michael, Monte, Jasmine, Brittany, and Taylor
POV Winner: Brittany
Veto Ceremony:
Havenots:  None this week
Dyre Fest SIDE
Dyre Fest HOH (Backyard):  Terrance
TEAM Dyre Fest: Alyssa, Joseph, Kyle, and Turner
Nominees: Joe and Turner Kyle
POV Players: Terrance, Alyssa, Joe, Kyle, and Turner
POV Winner: Terrance
Veto Ceremony: Terrance used the power of Veto on Turner.
Havenots:  None this week
Lock your ranks in before midnight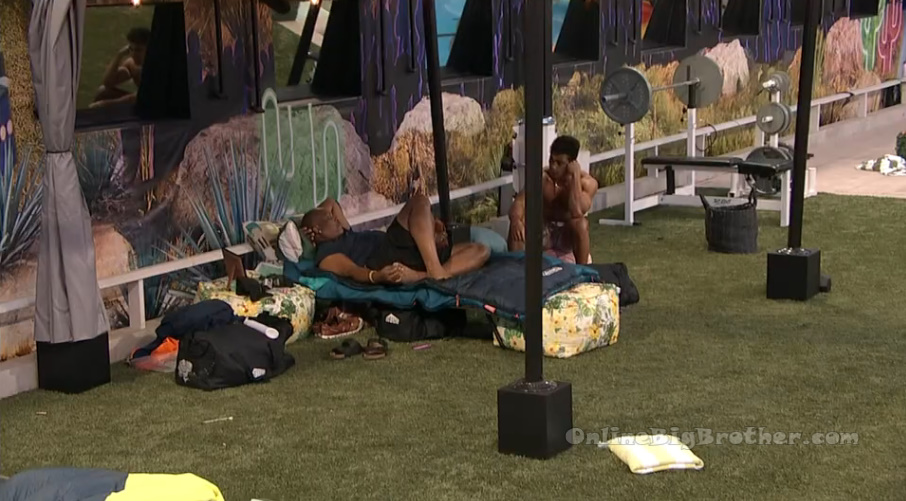 7pm Backyard Terrance and Joseph
Joe – I am on the downside like the same way if I walk in there which I've got a plan. Like the same way if I would have to front and protect y'all. He knows I can do it because I came out here. He seemed a little more perceptive (receptive?). He said Alyssa told me at this point bro no one wants me to know I am going home. He will be more honest with me than you. Alyssa told me I can respect everything you did as a player. She was like I think you did a great game. She was like I am so sorry. It was like it was a lot to take in. She said I think you betrayed me but Kyle did worse because you and me never talked like me and him did. She was like I just want you to know that I am not just gunning at you for everything that happened. Which if that is true, then I should hopefully have her vote. I promise you Terrance Kyle has betrayed that girl way more than I ever could. Terrance – cause remember neither one of them are really talking to me like that or letting me know what they're moving with just yet so. Joe – yeah so I am going to pull you three together one more time pitch this last .. you and Alyssa bro like .. you made a really good point to me like what why? Why you? And I am going to show the same way I came out here and I was willing to go home for those two to reset the game. I am going to do the same thing for you and Alyssa. And I think you know no matter what Kyle tells you he would never do what I would. I am thinking of a way I can ensure you two.. if I have to leave next week. Terrance – right. Joe – and I am thinking of a way that I can ensure you two don't leave next week. Terrance – I am telling you I am great at playing this game .. like you think this formula that I just pulled off out here. I would go in there and just really go crazy.. But no one would pick my brain to tell me what they're trying to do. Joe – that's what I am going to try and do. One thing I am going to try and do for you Terrance.. even if it costs me my game. I am going to give you that second chance and if you do… when you do bro I hope you are up there so that at least I could get some credit that you helped you to the end. I do believe in you. If I have to in order to smoke you and Alyssa.. I was like I can't see my self saving Alyssa. Its because the whole time I was thinking about saving myself. My game is gone. I am going home.. so I need to be willing to do something that Kyle isn't willing to do. He has Alyssa as his plan-B. I am going to be really with you, I don't have it. Terrance – if you can get Turner to flip.. that's what I need. Joe – I will and I promise I don't care what Kyle. I am going to give you that… Big Brother switches the feeds.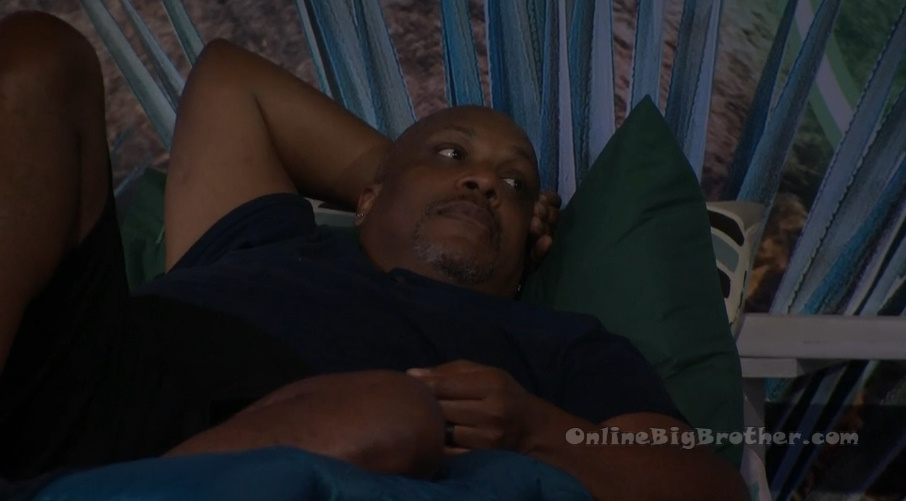 8:07pm Alyssa and Terrance.
Terrance – the thing with me is there is no point to having a one on one with me. I don't have a vote. I am not here to sway any of you. I will talk to know how you guys feel. I think we have a solid plan. Alyssa – why were you upset earlier? Terrance – Because he was irritating me. Get the f**k out of here. We was just like Bro you got me f**ked up.. Shut the f**k up with this goofy sh*t. Alyssa – oh okay, I am glad you're not mad at me. Terrance – mad at what? Alyssa – I don't know, I was like what kind of snack would you want. And you were like I don't know.. Doritos?! I was like damnit Terrance is upset with me. I pissed him off. Terrance – we were talking about what ifs.. and I was like I don't have a vote. Without one vote, you have nothing. Alyssa – He was trying to get in my head ..he was like you need to vote with Turner and Terrance.. Big Brother switches the feeds.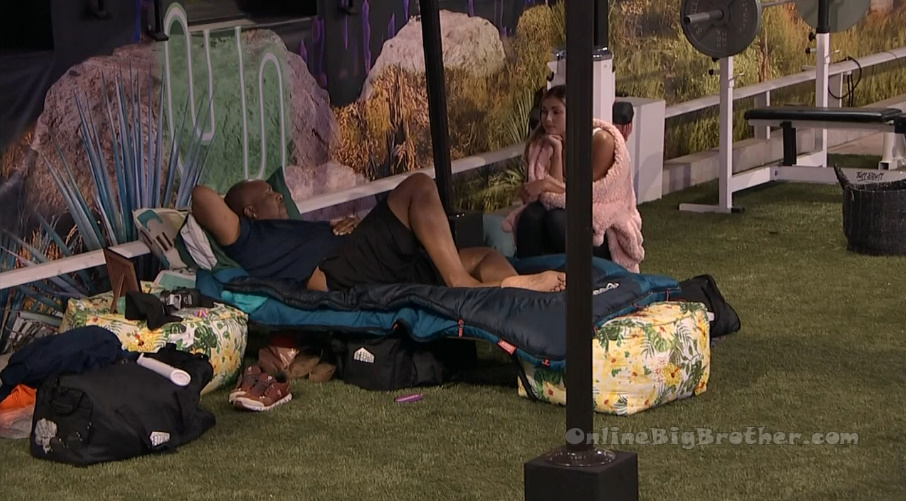 8:20pm Hammock – Turner, Kyle and Joseph.
Kyle – I think the worst part about being out here is the ants. Joseph – the bugs do suck. Kyle – I really don't mind the food. I can't believe Brittany and Taylor avoided being have nots and.. Joe – this! Kyle – Brittany avoided all the punishments too and this. Joe – I am the opposite. I hit every punishment and got in here. Kyle – Brittany is out here playing her best game. Joe – yeah, she hit the block twice I think. Turner – yeah maybe three times. Joe – I wonder how Michael would have played without Brittany. Turner – I wonder how Brittany would have played without Michael. Joe – that too. Turner – a lot different! Joe – oh yeah. Turner – I don't necessarily see what advantage Michael gets from Brittany but I DEFINITELY see the advantage Brittany gets being next to Michael. Joe – yeah, yeah for sure. I guess maybe a number.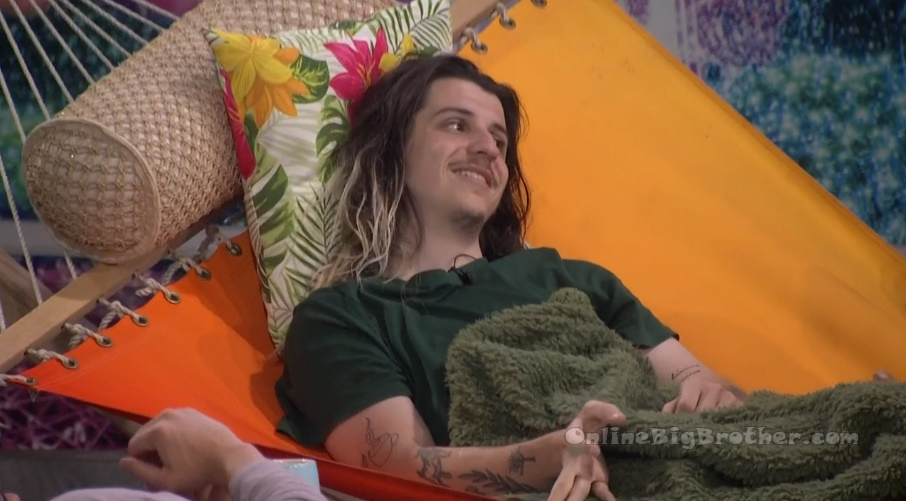 8:40pm – 9:26pm Inside the house Monte is teaching Jasmine how to play chess. Meanwhile in the backyard – Joe, Turner, Kyle and Alyssa are playing corn hole.
9:35pm Alyssa and Kyle.
Kyle – I feel like you're on one tonight .. you're just wild. Alyssa – I am just really bored and not happy. Kyle – why? Alyssa – because this sucks! Kyle – is there something going on? Alyssa – no. Kyle – are you sure? Alyssa – I'm just paranoid. Kyle – you talked to Terrance. Alyssa – I asked him why he was upset today and he said Joseph was irritating him. He said he was pissing him off. Kyle – oh okay, perfect! Alyssa – he said my best advice is to just chill. I just feel like I want to go back inside. This is fine .. we just have nothing going on. Kyle – there is nothing going .. I am just nervous going back in as four but its fine.. Alyssa – I hate that you can't even lie next to me in bed. Kyle – I can't .. his (Terrance) big pitch is the showmance so I don't want to make that any worse .. you know what I mean? Is that alright? Sorry. Alyssa – yeah. Kyle – this just sucks for me. Alyssa – does it? Kyle – yeah. Alyssa – tomorrow is our last day out here…. last full day.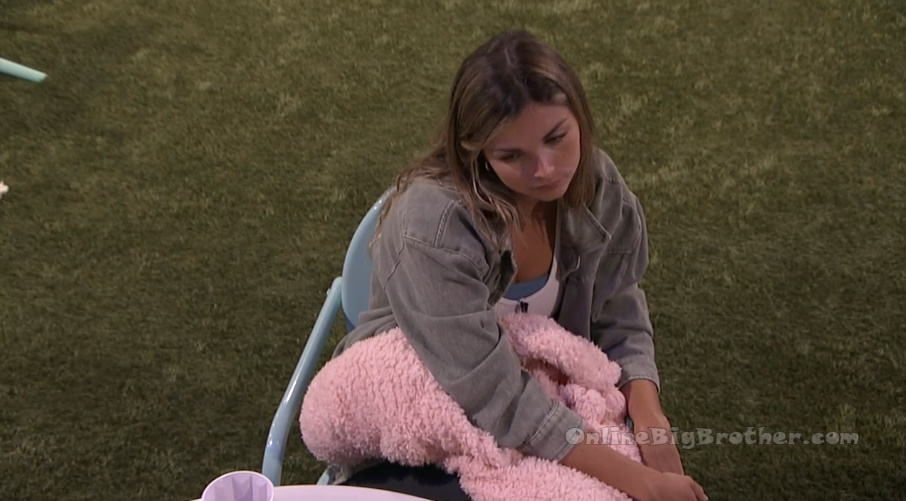 10:06pm
Inside the house – Jasmine and Monte still playing chess. Monte – 10 o'clock? Everyone can go to sleep now. Backyard – its Chinese Checkers time.

10:30pm Kitchen – Monte and Jasmine.
Monte – what do you think is happening on that side? Jasmine – I definitely think its going to be Kyle or Joseph. Monte – you think so? Jasmine – yeah, I really do. Monte – I think so too. Jasmine – because you just think if you didn't get HOH, why wouldn't you make that move. And I think he (Terrance) really likes Turner and he likes Alyssa. Like why would you waste you.. like I can't even see that. Monte – yeah I do agree. Jasmine – it depends on how the veto went.
11:32pm – 11:47pm Bedroom – Taylor and Brittany just laying next to each other not saying much. Taylor – if anyone takes out Michael before final four… I would say the fans are going to hate them. Brittany – yeah. Taylor – like how people loved Derick X on his season… and I think Sarah Beth took him out. I think people liked Sarah Beth until that point. Brittany – I got a feeling that Michael is really liked. I mean how could you not, he's a nice guy and a comp beast.
Meanwhile out in the backyard – Turner, Kyle, Alyssa and Joseph are chatting about the past evicted house guests. They start building a fort.
12am Backyard – Alyssa, Turner, Terrance and Kyle.
Terrance – I am going to go in there quite and sit in my car like normal. I'll come out and talk to people and that's going to be it. Kyle – I was going to say if you and me are all of a sudden super tight its going to be obvious. Terrance – yeah it would look weird so I am going to keep my same normal behaviour. Turner – they're definitely going to want to pull as much info as possible. Kyle – like we have to be on the same page about details. Like we came out, we didn't talk… there was no privacy or anything. Joe didn't spill the beans about anything. He took that .. like the Leftover stuff with him. Like these guys still don't know. Terrance – I was real secretive about who I put up. I won veto and made my own decisions. Turner – would there be an reason to say you put me up and then Kyle …or just.. Terrence – they don't know none of that. Kyle – yeah because Joseph will be gone, you could say that you put me up from the beginning or whatever. Terrance – that will even f**k them up if they find out I put you up from the beginning. Like we tried to get Alyssa out.. I'm sorry .. like that's what they're expecting.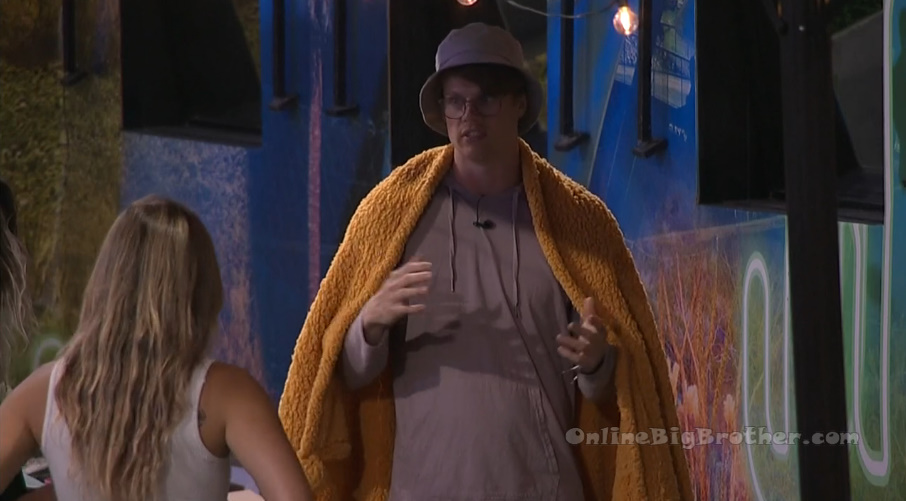 1:20am – 1:55am HOH room – Monte, Michael, Jasmine, Taylor and Brittany are hanging out chatting about random things.