Quick Big Brother Spoilers
Big BroChella SIDE
Brochella HOH (Inside the House):  Michael
TEAM BroChella:  Brittany, Jasmine, Monte, and Taylor.
Nominees: Jasmine and Monte
POV Players:  Michael, Monte, Jasmine, Brittany, and Taylor
POV Winner: Brittany
Veto Ceremony:
Havenots:  None this week
Dyre Fest SIDE
Dyre Fest HOH (Backyard):  Terrance
TEAM Dyre Fest: Alyssa, Joseph, Kyle, and Turner
Nominees: Joe and Turner Kyle
POV Players: Terrance, Alyssa, Joe, Kyle, and Turner
POV Winner: Terrance
Veto Ceremony: Terrance used the power of Veto on Turner.
Havenots:  None this week
The Sitz
As of right now Joe and Jasmine will be evicted. The outsiders have a new alliance called the afterparty.
Lock your ranks in before midnight
1:00 pm Alyssa and Turner
Alyssa – his campaign to me is no matter what he'll go home before me so if I'm on the block he'll volunteer to go on the block next to me. That's such bullshit.
Alyssa – you and me (Joe) need to go in there and pretend we're not working together.. BULLSh1t. Do you feel any other type of way after talking to him?
(Turner doesn't have his microphone on hard to hear.)
Alyssa says if it's Turner and Kyle on the block she'll pick Turner to stay "I genuinely like you as much if not more.. "
Turner – okay sick
Production tells Turner to put a Microphone
Turner – this whole entire summer I've been in one alliance at the time so If I'm "Afterparty" that's all
Alyssa says she felt least betrayed by turner because of that fact.
Turner – we made a group that's what I was in.
Alyssa – Going into next week iF Monte is there I would put up Monte and Taylor
Turner – I would put up .. I might do the same thing or put up Michael and Taylor. Actually, I wouldn't want to put Michael up first it wouldn't work in our favour
Alyssa – If Monte is gone they we have Jasmine and it's 5 V 3
Turner – so dope (LOL)
Turner says if Monte is gone he would put up Michael and Taylor
Alyssa says Taylor is the bigger threat over Brittany
Alyssa asks if they are going to act like it was Kyle and Joe all the time. Turner isn't keen on this idea because then people can use the excuse that he's never been up when looking for a pawn.
They go over what to say. Turner and Joe were the initial nominations. Terrance won the veto and Joe outed the alliance.
Turner – when joe outed it he took me down and put Kyle up to see if there was any more information from all three of us going up
Alyssa – perfect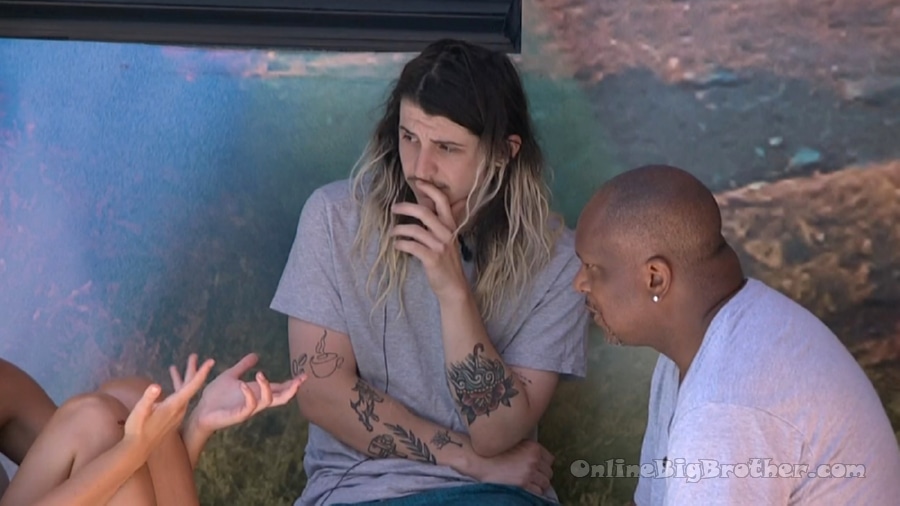 They call Terrance over. They explain the new pitch to tell the inside half that Turner was an initial Nomination.
Turner – I don't want to be put up next week because I haven't been on the block when I have been on the block.
Terrance wants them to have a clear story walking back into the house
Terrance – at the end of the day it's just us. you know what I'm saying. I know I can count on Turner I know I can count on you (Alyssa) and you have Kyle.
Terrance – there's a lot for me going into the house
Alyssa – we need to be united we need to be a unit.
Alyssa says she was never taken seriously in any of the alliances she was in.
Terrance feels the same way. Afterparty is his first alliance.
Turner – You, Alyssa, and Kyle are the only people in this house that I will trust with my game.
Alyssa – I will do anything for each and every one of you
Terrance – I'm ready to go to war I just want to make a plan
Alyssa says Joe's pitch is "not realistic.. I'll go out before you, I'll volunteer to go on the block.. I'll go home"
Alyssa – that doesn't make sense to me.
Alyssa – you say you'll go on the block but they might not put you on the block. You just don't go on there.
Alyssa – he said last night that Taylor, Michael, and Brittany asked him to be in a four thing and he said no. You will never say no to something. That means he's locked in with them too.
Terrance – he's fully locked. My best bet is to go with Kyle
Turner – 100%
Terrance – everything else is just bullshit
Alyssa thanks him for not putting her on the block
Turner – I have this line. As soon as he put me on the block I wanted to kiss his big bald head (Yikes this is a family show, Turner)
Terrance says he wanted to have them in the best spot going back into the house so at least they have a fighting chance. In my mind it'll be a single eviction next week then it'll be a double
Terrance – I want us to be aligned and ready
Terrance brings up how he was played during the Ameerah vote. Alyssa was the only person to give it to him straight.
Terrance- even with the Daniel situation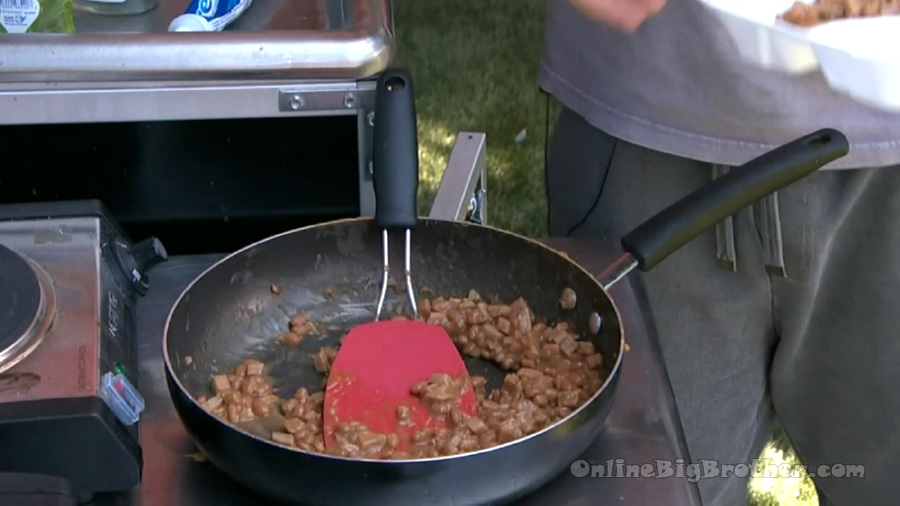 1:18 pm Afterparty food
2:10 pm Brittany and Michael
They talk about Telling Jasmine she's going to Jury. Brittany says jasmine is still salvageable as a Jury vote as long as everyone stays nice and friendly. Jasmine will have a couple of weeks in jury to cool down.
Michael thinks she'll be the most pissed at him.
They talk about what Jasmine did wrong in the game.
Brittany says Alyssa is worried if she does make it to the end people will say she didn't have a game and just rode Kyle.
They speculate what to do if KYle goes. They think Alyssa will not have any options other than going with them.
Michael says Alyssa won't go with Tyalro after the London debacle
Britt – MOnte and her aren't good
Micheal – she's got to realize that Joe is closer to them than her.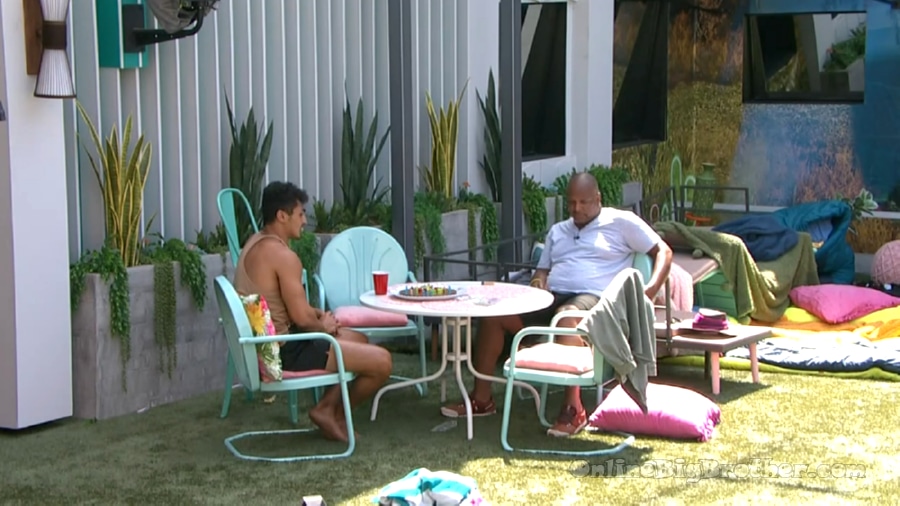 2:30 pm Joe and Terrance
Terrance says he doesn't have a vote unless it's a tie.
Joe is saying it Terrance is "Building a team to go after the unknown" he would value Turner over Kyle.
Joe says if he stays and it's because of Terrance he will do everything he can to make sure Terrance goes as far as he can.
Terrance – I got to talk to Turner when he comes here.
Joe – I'll walk away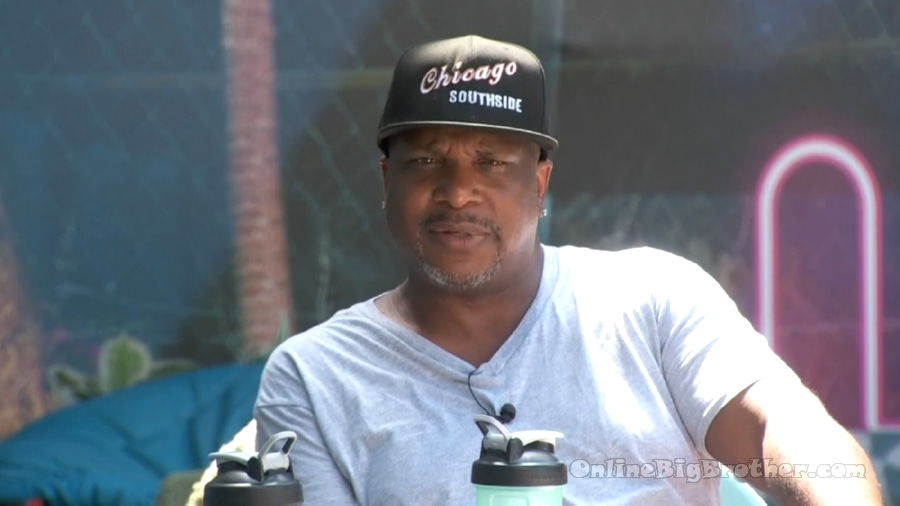 2:53 pm Terrance and Turner
Turner is telling him that Michael and Brittany cannot stand Jasmine. he's pretty sure she's on the block.
Turner said there was a time when jasmine dropped a glass on the ground and never picked it up, "Brittany is so anti-Jasmine it's insane"
Terrance – I'm in the same boat bro.
Terrance talks about the Ameerah vote and how they did him "Dirty as hell"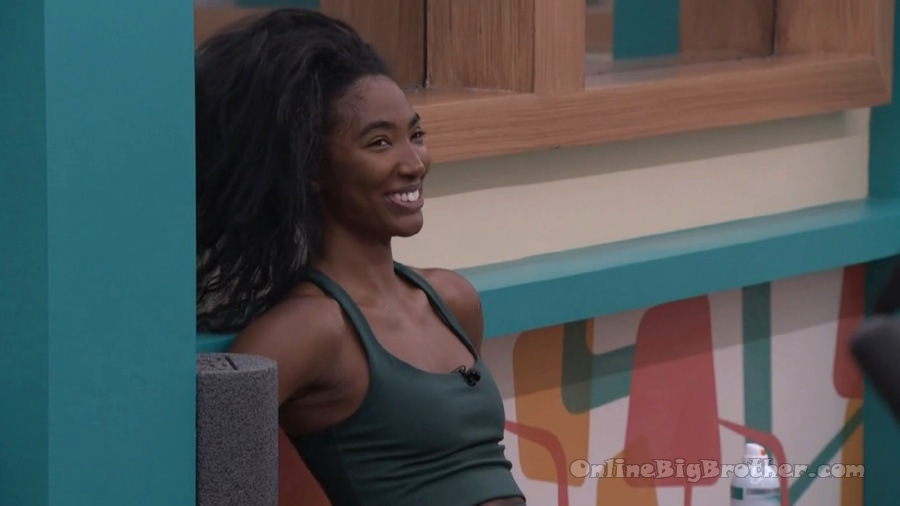 3:15 pm Chit chat with the inside crew.
3:39 pm They have built out a sundial. Apparently, it doesn't really work
3:39 pm HOT
Kyle, Turner, and Alyssa are talking about having less than 24 hours in the backyard.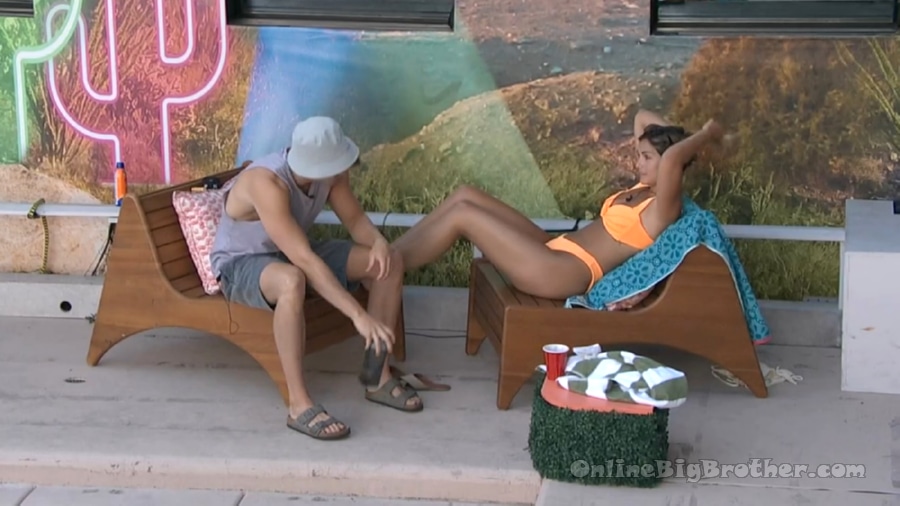 3:45 pm Alyssa and Kyle
Kyle – if Turner flips.
Alyssa – there's no way
Alyssa says since they've been outside she's noticed something different about Turner's personality.
Alyssa – there is no way (he's going to flip)
Kyle says this is their last 24 hours "I already won I met you"
Kyle – If I go you have to go next week so we have a full month in the Jury house. You down?
Alyssa – yeah I'll be there
Kyle doesn't see how if Turner flipped they can go back into the house thinking they are unified after blindsiding Alyssa.
Alyssa – he wouldn't do that
Kyle wonders if he should campaign more.
Kyle says Joe is "Straight up better at everything. I really think he's the best player in the game. Seeing how he can lie to people and manipulate people and have no remorse"
Alyssa – he's not going to stay over you. I know Turner. Turner will never do that. Maybe I'm an idiot for thinking that.
Alyssa – I wholeheartedly believe that.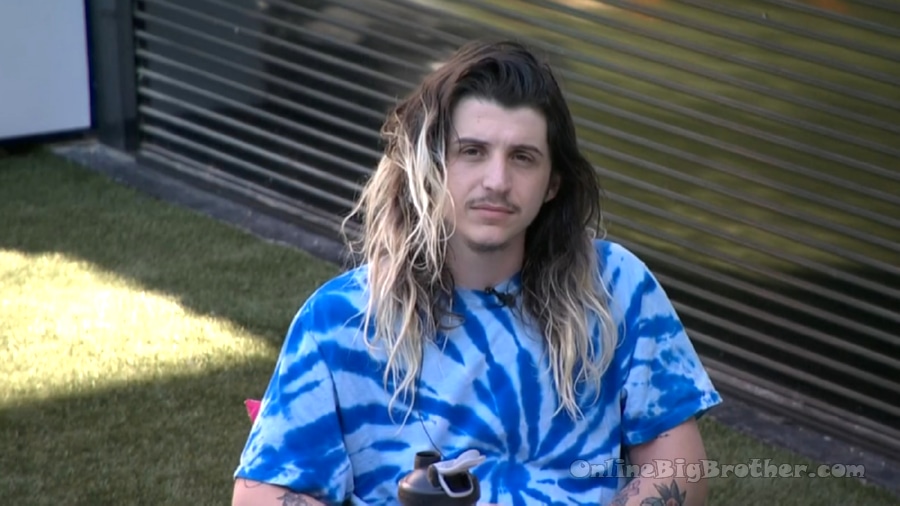 4:23 pm Turner and Kyle Chit chat about cameras.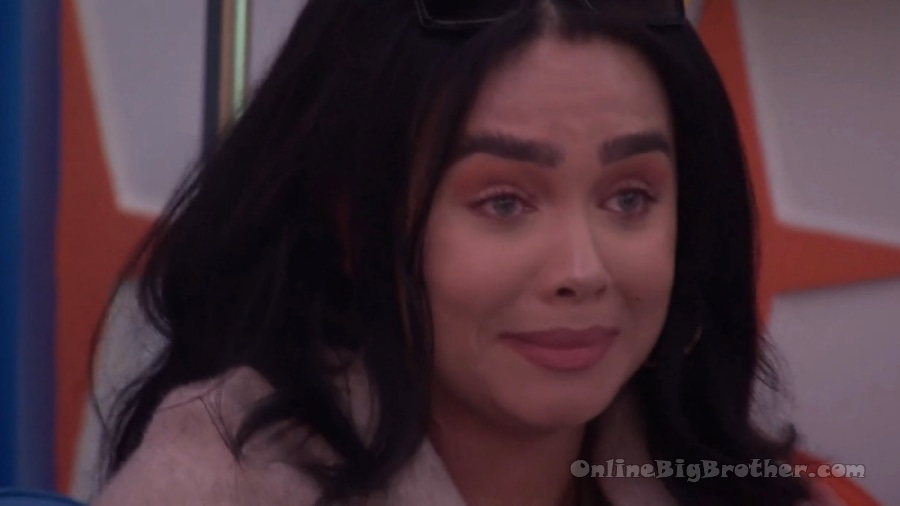 5:13 pm Taylor, Brittany, and Michael tell Jasmine she's more or less going home.
It's a boring conversation… Jasmine cries and is delusional
Jasmine – I'm going to Jury it's not a big deal..It's okay it's really okay
Jasmine- I've done a great job. I came into the game and made my dad proud.. I really do respect each and every one of Ya'll I think if he was here he would be proud of me for how far I have come and I am really happy I have come to be able to play with you guys and get to know you guys and meet you guys.
Jasmine – Now I feel like I have a family for life.
Jasmine – I've very proud of Ya'll I am really routing for Ya'll.. just don't let Turner win.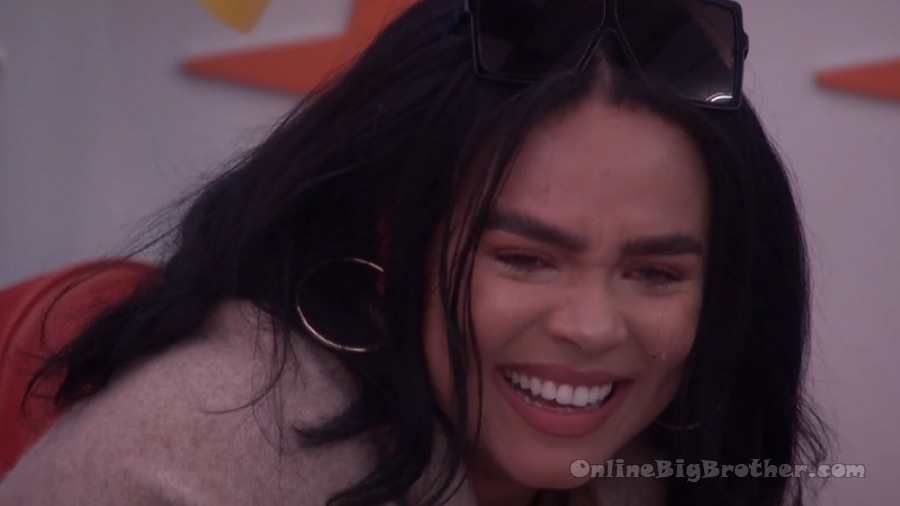 They laugh
Jasmine – please do not let Turner win.
Taylor – not on my watch
Jasmine – I can't wait to make it to Jury and tell them how great you are all at this game. Thank you for being honest with me and being upfront with me and being transparent. I love you guys I can't wait to see what we can do outside.
Jasmine goes on about how her "relationship with god is so good" when she prayed she knew she was going out.
Jasmine – if it's not for me it's not for me..
Jasmine – I fought hard with an injury and I've tried the best that I can. I played for the honour of my dad I'm hoping that I made him proud when he's up there"
Jasmine asks them if they know who is going out on the other side.
None of them know that is what has them so nervous.
Jasmine cries more. Says she's proud of herself "I could have given up a long time ago"
Michael – you had an ankle injury and you've taken out a strong male player.
Jasmine – I never thought I would win HOH so I thought I would have to depend on my social game.
Jasmine – I feel so blessed I got to celebrate my birthday and my dad's birthday (LOL)
Taylor – OTEV.. trip to London
Jasmine – Zingbot give him a hug for me.
(The monster they are for voting out Jasmine on her Birthday month.)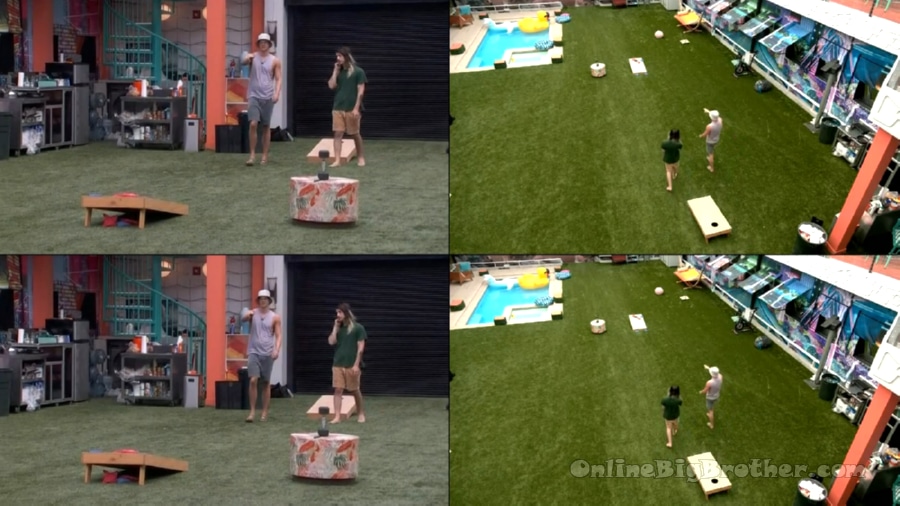 5:35 pm cornhole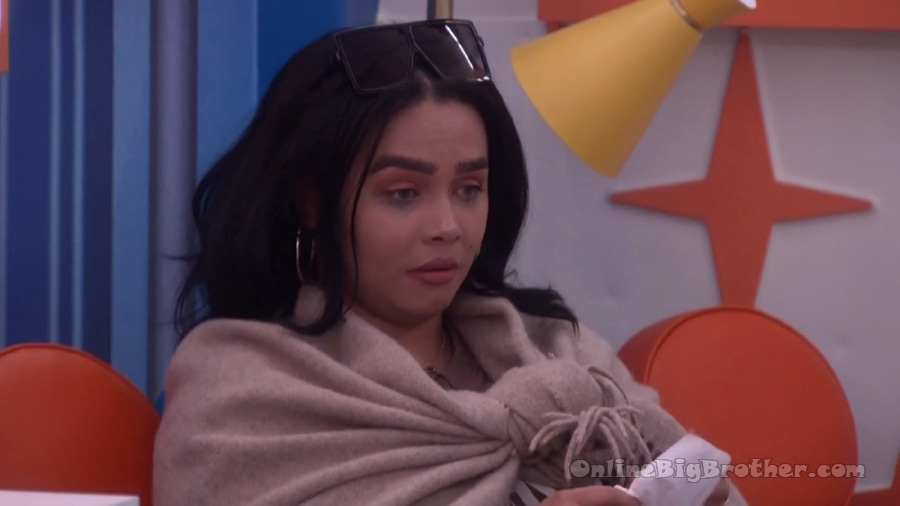 5:43 pm Jasmine alone
"You did it Jasmine be proud of yourself you have overcome some crazy odds in this world so you be proud of yourself I really got to play Big Brother I'm okay going out like this"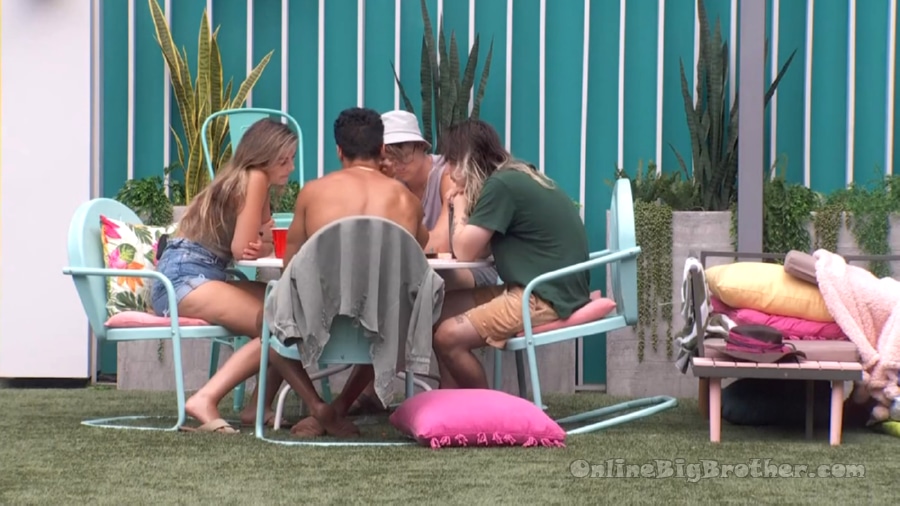 6:16 pm Checkers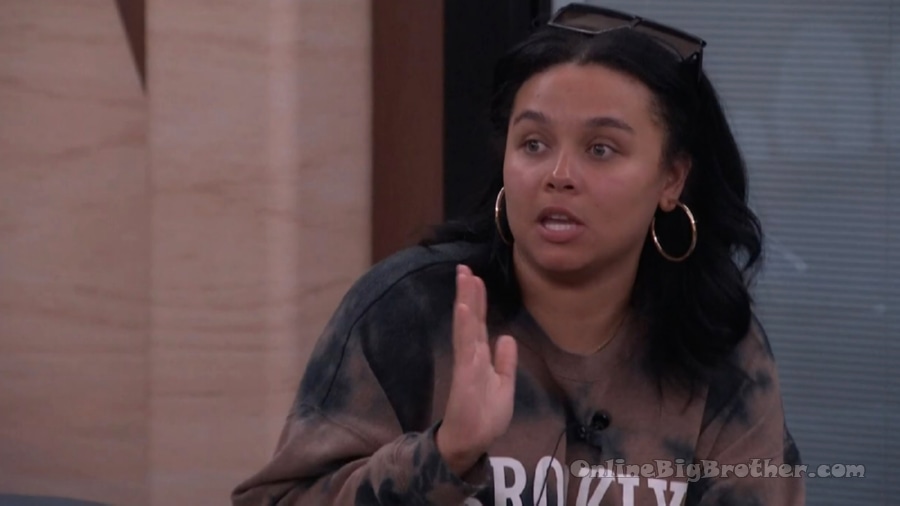 6:27 pm Jasmine and Monte
They've been talking for a while about the game. With everyone knowing she's leaving now they can speak a little more relaxed. Jasmine mentions Joe would come to her and say he's not working with Monte and he felt like it was bullsh1t.
Jasmine – is that true.. ya'll not really close or are you close?
Monte – what do you think?
Jasmine – yes
Monte – whatever you feel makes the most sense in your head may or may not make sense. I know he's still in the game.
Monte – do you think joe was playing the game or was floating?
Jasmine – guess time will tell
Jasmine says during Mciahel's speech he called her a social threat "ohh thanks that really means people think I am a social person"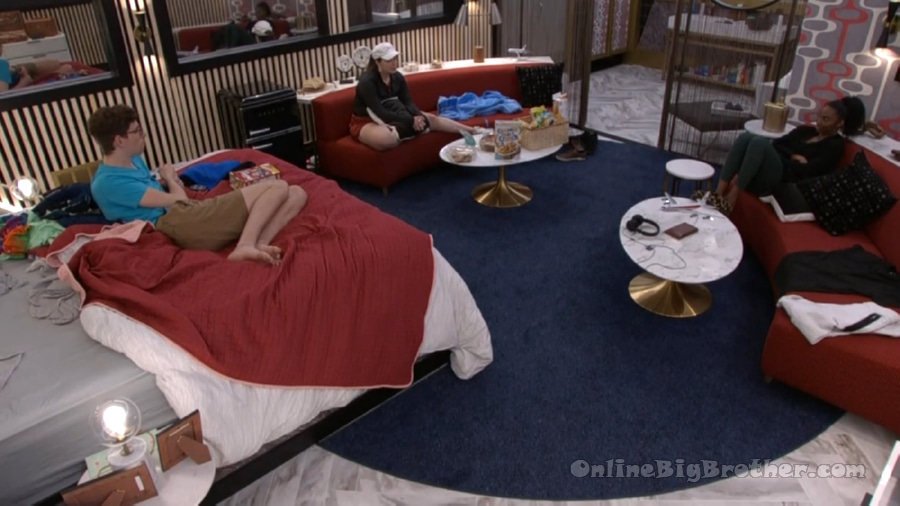 6:41 pm Taylor, Brittany, and Michael
They are talking about the hilarity of Jasmine, Turner, and Indy being in the Jury house.
Taylor – she does not think Alyssa is going AT ALL
Brittany – that would make sense she doesn't know any of the things that would suggest she's going
They talk about Joe could never do any wrong in Jasmine and indy's eyes.
Brittany says Indy and Jasmine have blinders on they haven't been able to clue what he's doing
Taylor – they don't think he's smart.
Monte joins them. They go over what Jasmine has been saying today and how ridiculous she is.
Monte says Jasmine played too hard just like Nicole and Daniel did.
They agree Jasmine has Alyssa's back still.
Michael says they have to make sure that Jasmine doesn't leave a message for Alyssa using makeup.
Taylor – like an arrow towards a bed..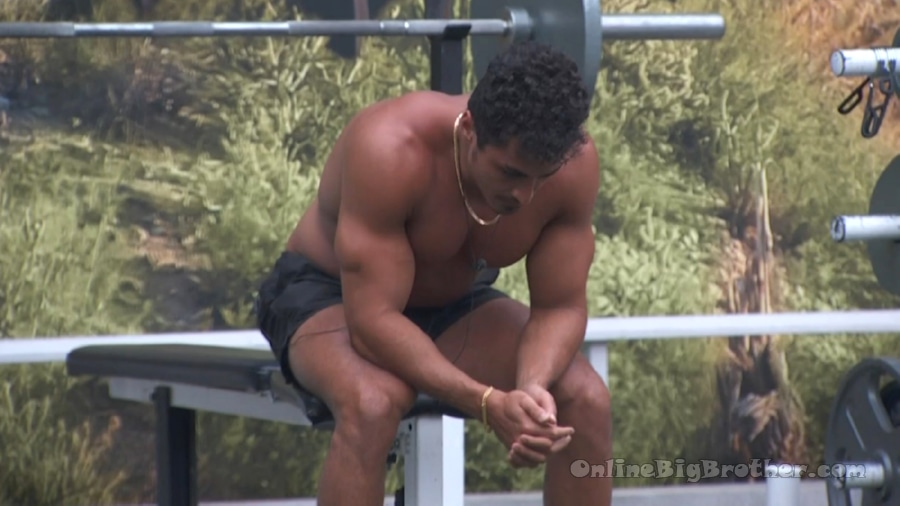 7:00 pm Joe alone.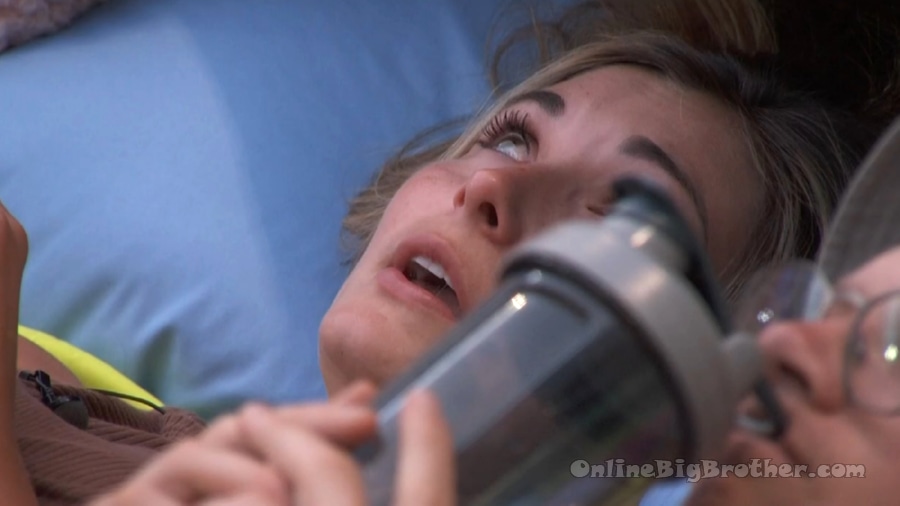 7:08 pm Alyssa and Kyle
Alyssa cries. Alyssa says she's angry and lists some reason why
-He lied to her for a month.
-She had a panic attack last week and she couldn't find him he was probably with the leftovers talking about getting her out of the house.
-I care about you so much
– I feel like my heart is broken and this is how the game has gone
– Angry that you told them stuff that I told you.
– I'm angry you said you would vote me out
-I'm angry when I'm sitting in a room and all I can think about is how lucky I am to have met you all all them are daying how bad they want me out.